If you're looking for easy Halloween cookies for kids, then you are in the right place, my friend! Get LOADS of cute and spooky Halloween cookie ideas to try with your kids this fall! And most of these Halloween treats recipes use store bought cookies or cookie dough, so they're super easy too!
Fall is upon us… so go ahead and loosen your belt buckles, ladies! Between Halloween candy that you sneak from your kids' trick or treat bags and the dozens of Christmas cookies you'll be baking to give out to friends and neighbors, it's hard to get away from the SUGAR!
So, why not just indulge a little more with some cute Halloween cookies that your kids will LOVE to help you make? Because more is more, right?! You can eat healthy after the holidays. 🙂
Baking some of these easy Halloween cookies for kids is a great way to spend some quality time together in the kitchen. And some of these Halloween cookie recipes are so easy that your older kids could even make them by themselves.
Yup, just like these 7 Decorated Halloween Brownies from One Pan and these 4 Ingredient Mummy Cherry Pies, a lot of these cookie recipes call for store bought, pre-made ingredients. That's my kind of recipe! No fuss but loads of FUN!
With just a few standard cookie ingredients and a few minutes of your time, you can transform plain cookies (either homemade or store-bought) into spooky and fun Halloween treats that will be enjoyed by all!
Here's 25 spooky cute Halloween cookie ideas to get those creative juices flowing:
Monster, Ghost, and Mummy Halloween Cookies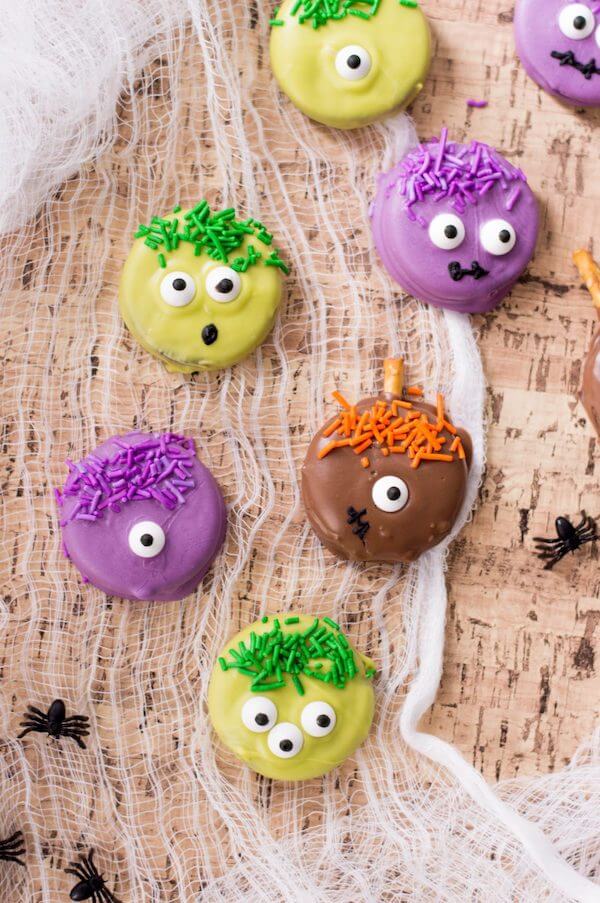 These easy Halloween cookies for kids are perfect if your kids love Oreos. You and the kiddos will have a ton of fun making and eating these spooky cute monster cookies.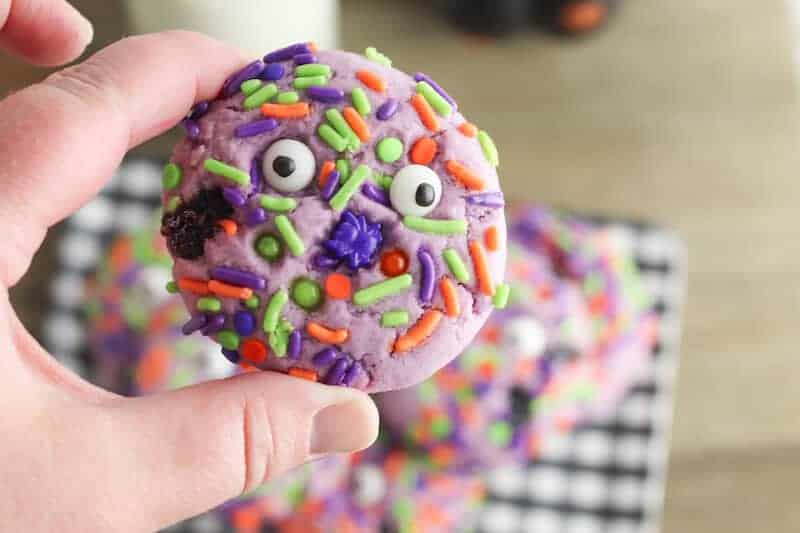 These spooky Halloween cookies are so easy to make, and your kids will have fun rolling them in sprinkles and putting on the candy eyeballs. Plus, the addition of cream cheese to these cookies makes them soft and super delicious!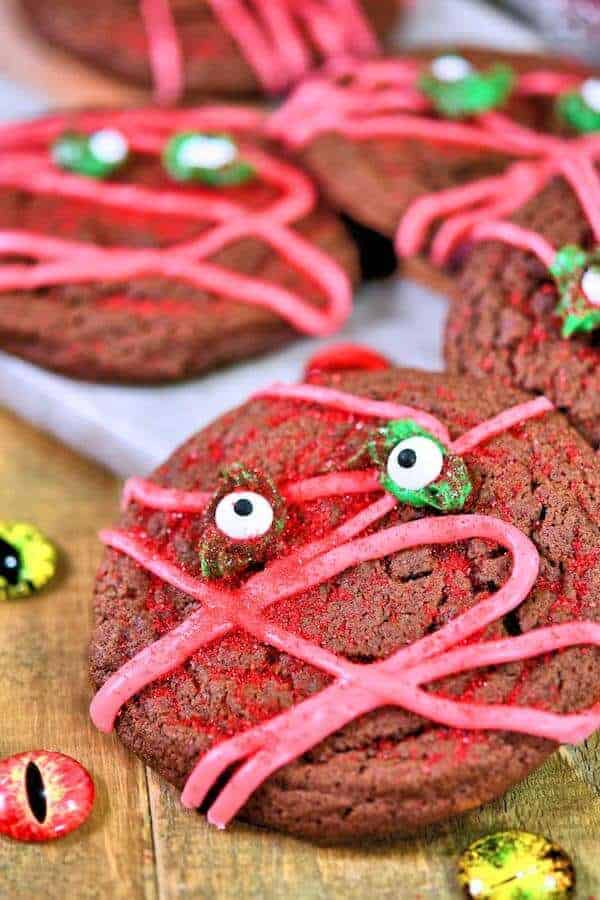 Chewy Chocolate Cookies Ooey Ghoulie Recipe
These chewy chocolate cookies are so soft and gooey that they will rival your current favorites. They make for the perfect backdrop for some drizzled icing for cute and easy Halloween cookies for kids.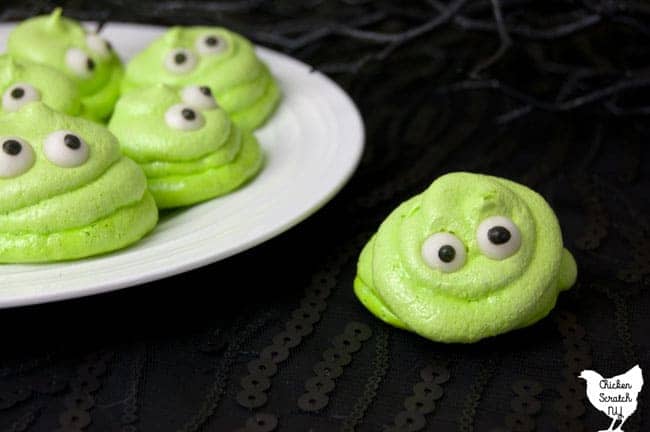 These easy Halloween treats look gross, but they taste delicious! If your kids love the Halloween movie, Hotel Transylvania, then they will LOVE these treats!
Turn a basic batch of meringue cookies into adorable edible monsters inspired by Blobby from Hotel Transylvania with candy eyes, bright lemon flavoring and cheerful food coloring.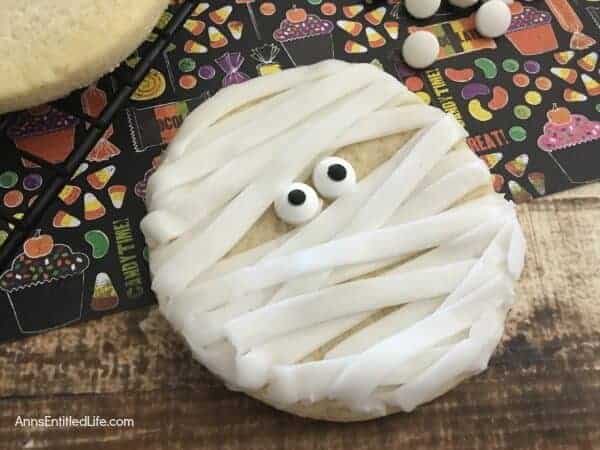 These adorable Mummy Cookies are a spook-tacular Halloween treat! Great for Halloween parties, lunch boxes, dessert or an afternoon treat, your entire family will enjoy these tasty cookies!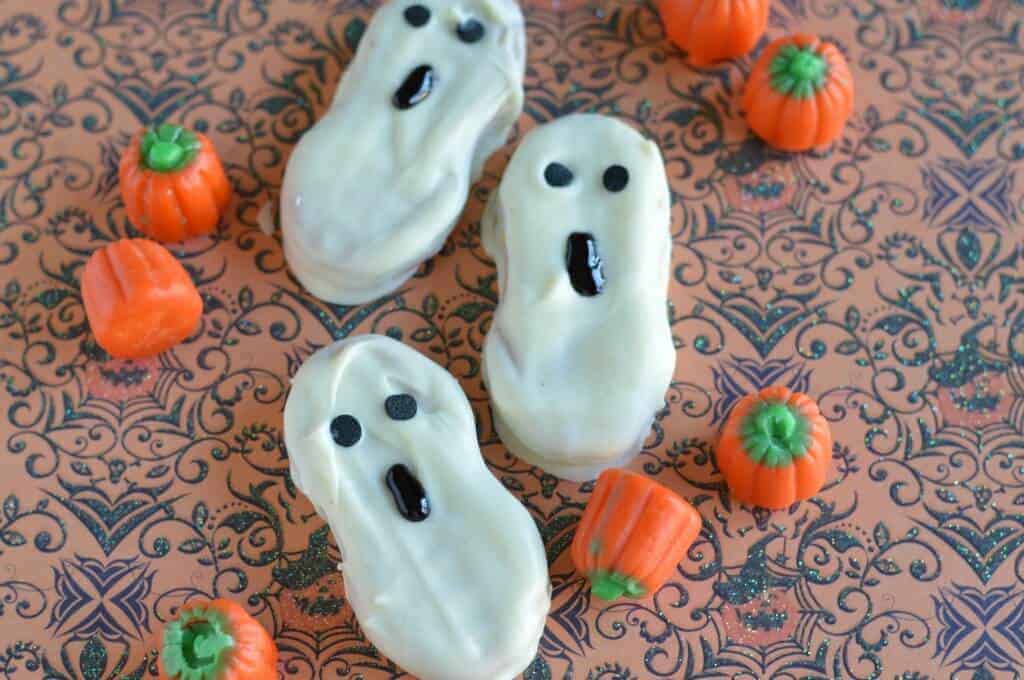 These ghoulishly good ghost dip cookies are so easy to make for your kids' classroom Halloween parties! Plus, they're made using store bought cookies, so there's absolutely NO baking involved. That's my kind of recipe! 🙂
Eyeball Halloween Cookies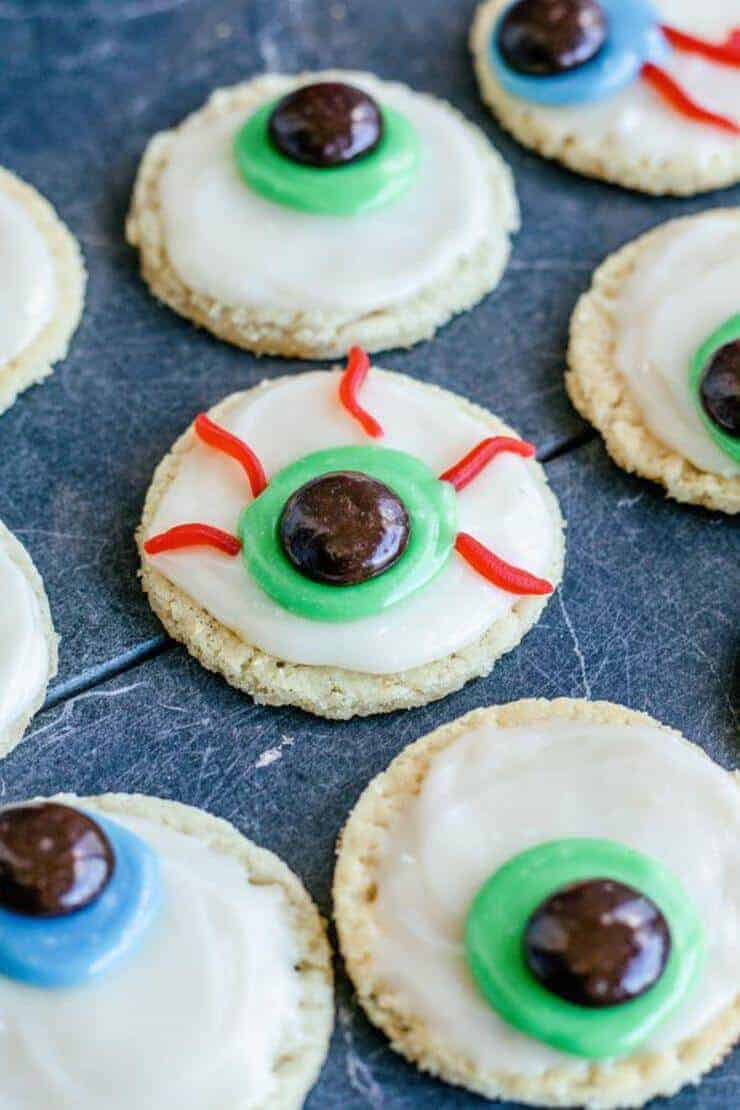 Try these creepy but delicious eyeball Halloween cookies for kids! These cookies are made with Pilsbury sugar cookie dough, so your older kids could even make these spooky treats by themselves!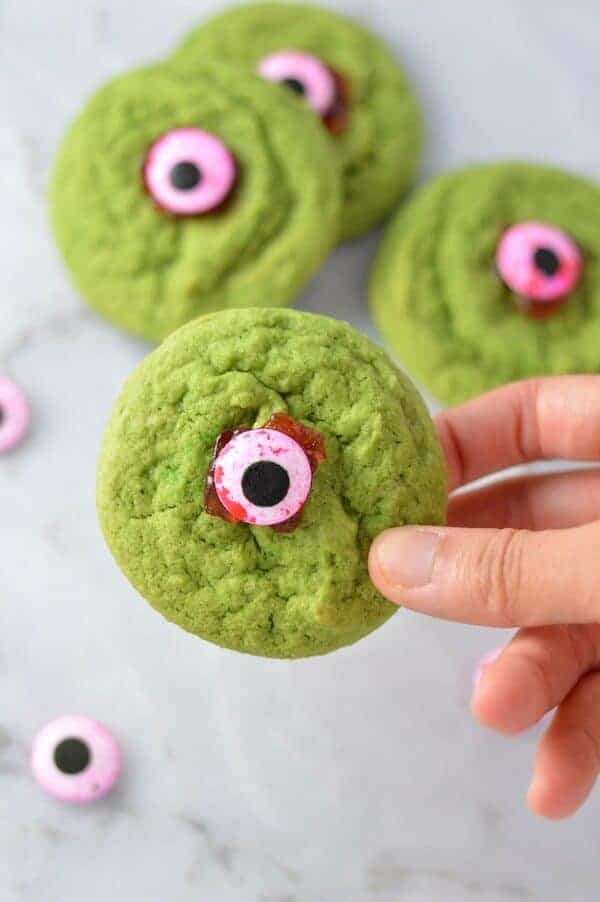 Grossly-Green Monster Eyeball Cookies
A brown crinkle sugar cookie with green food coloring and a disgusting looking eyeball! These are visually effective to set the mood for a spooky and fun Halloween party!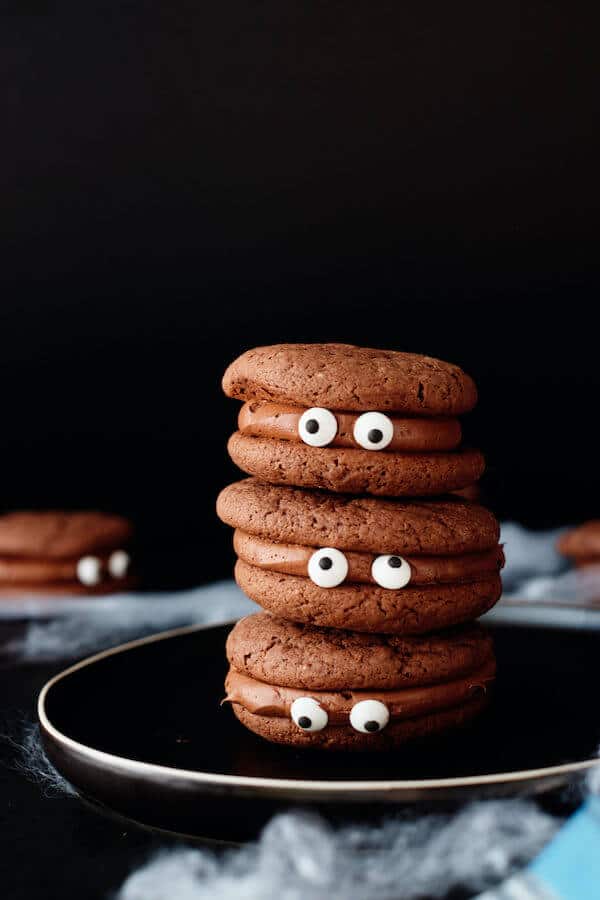 These Halloween Monster Eyeball Cookies are an easy Halloween treat to make requiring only 3 ingredients. So simple to make that even your kids could make them unsupervised!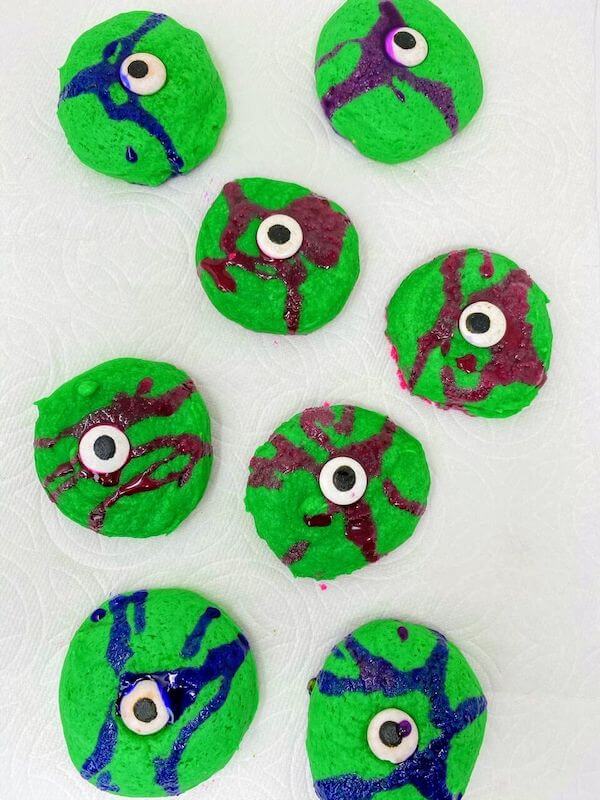 These cyclops monster cookies are super fun and simple, and your kids will love experimenting with the "veins" of the eyeballs!
Easy Halloween Spider Cookies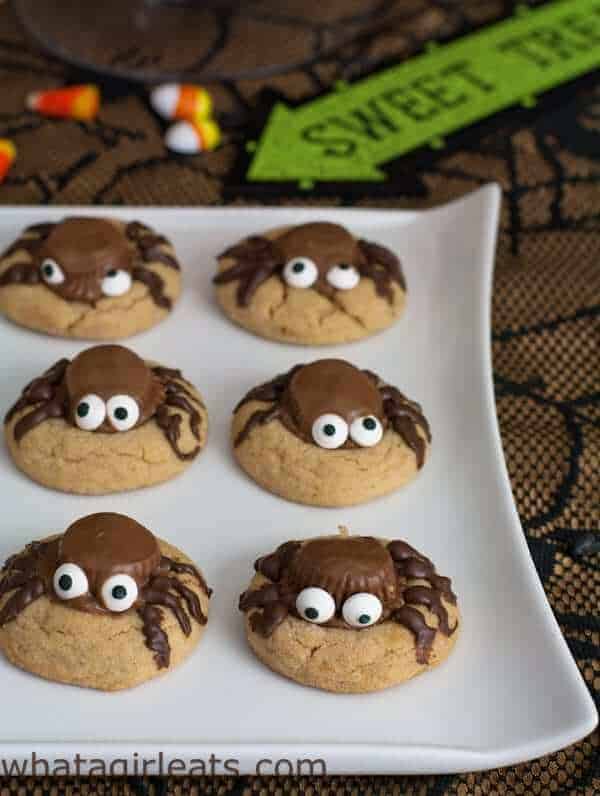 Peanut Butter Cup Cookie Spiders
Peanut butter cup spider cookies are a fun, homemade treat for Halloween. Adorable peanut butter cup spiders sit on top of soft, chewy peanut butter cookies. These Halloween cookies for kids are perfect to make if everyone in your house fights for the last Reese's cup in the trick or treat bags!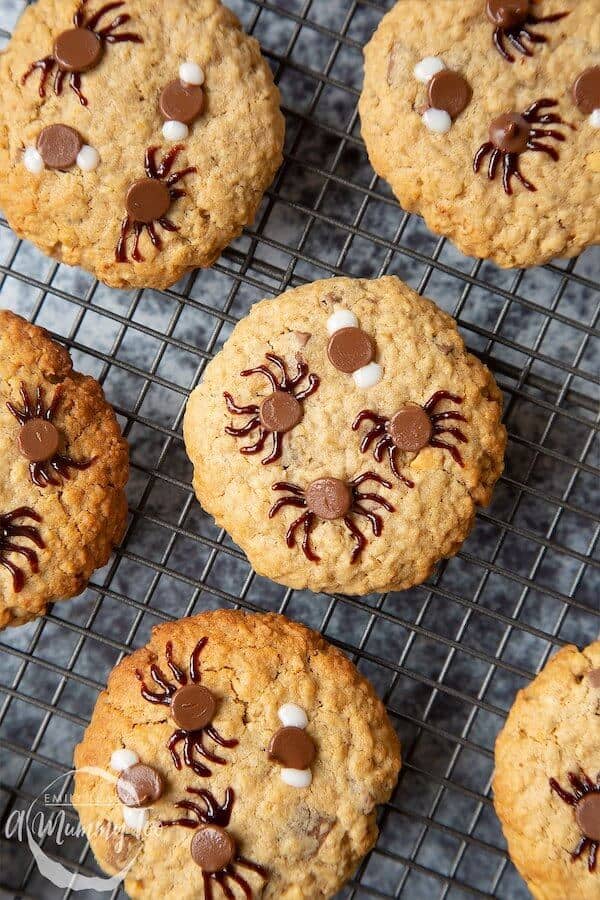 Halloween Peanut Butter Spider Cookies
These Halloween peanut butter spider cookies are as delicious as they are spooky! Enjoy a peanut butter and oat cookie that's packed with chocolate chips and decorated to feature spiders and flies! What a creepy, crawly treat!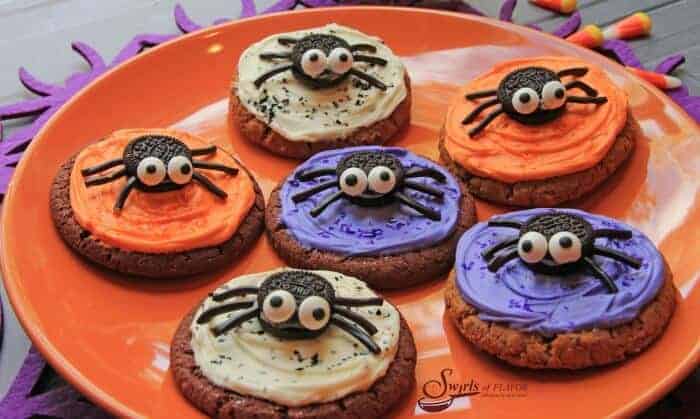 With their big googly eyes and creepy little legs, these no-bake Spooky Spider Halloween cookies will be the hit of your ghoulish celebration.
Bat Halloween Cookie Recipes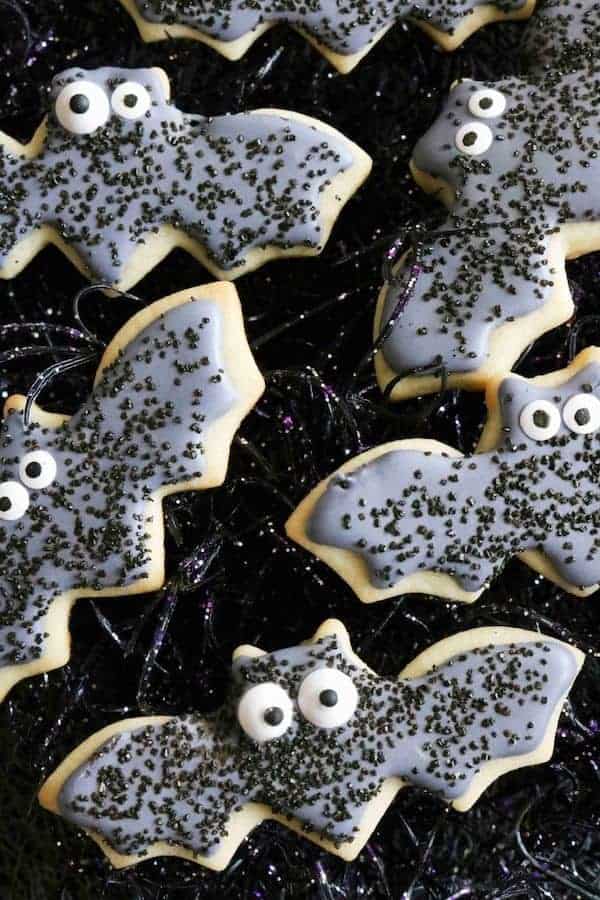 Halloween Sugar Cut-Out Cookies
You don't need to be an expert in cookie decorating to make amazing Halloween Sugar Cookies! Learn how to make these super cute bat cut-out cookies for your kids' Halloween classroom parties!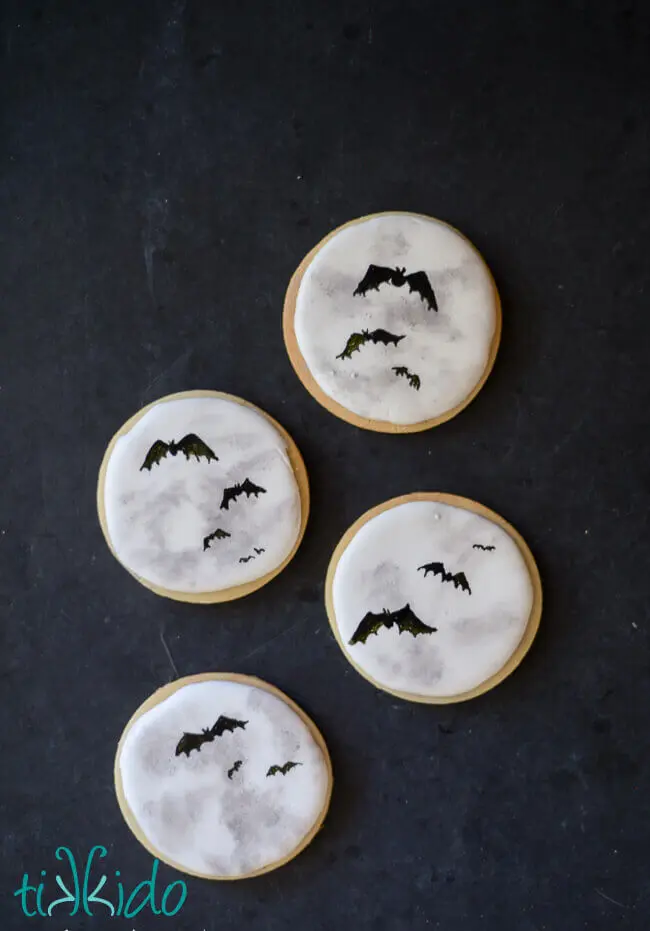 These Full Moon Sugar Cookies are truly a piece of art! If you have older kids that love to paint and dray, these would be awesome Halloween cookies to make with them!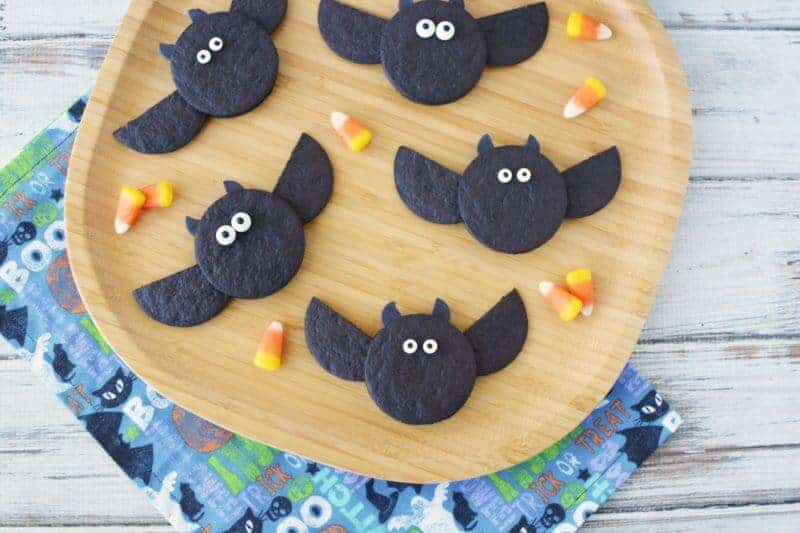 These no-bake Halloween cookies are spooky cute, and they're super easy to make with store bought chocolate wafers!
Healthy Halloween Cookies for Kids
Halloween is all about one thing… SUGAR! So no judgement if you want to sneak in some healthy Halloween treats to offset all of the candy, cupcakes, icing, and sweetness overload!
These healthy(ish) Halloween cookies for kids are still super cute! And what better way to get your kids to eat some veggies than disguising them in a cookie or cutting them into cute Halloween shapes?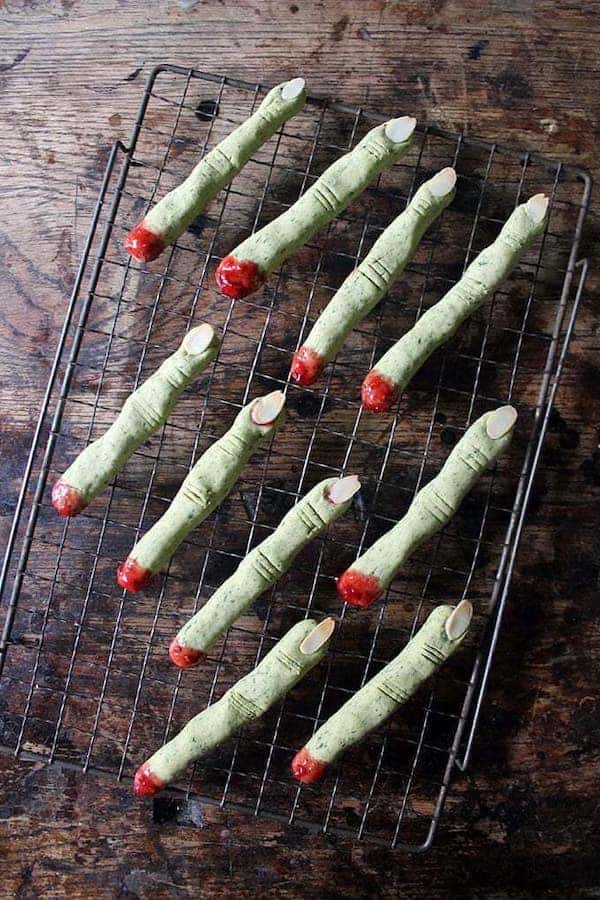 Naturally Green Peanut Butter Witch Finger Cookies
These Halloween Witch Finger Cookies are naturally green with hidden… spinach! You can't taste the leafy greens as they taste like peanut butter cookies with jam 'blood'.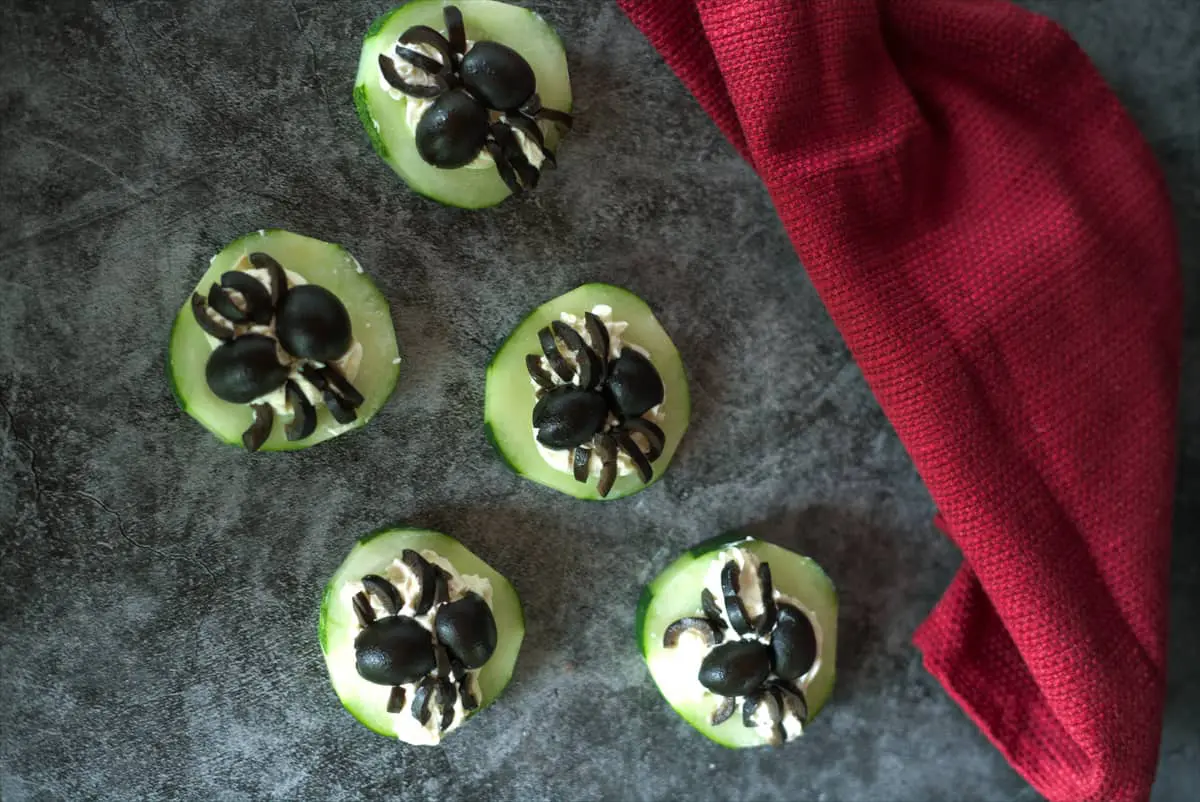 Keto Halloween Cucumber Spiders
Okay… so these technically aren't Halloween COOKIES, but I'm sneaking them on to this list anyways, because what better way to get your kids to eat some veggies?
These cute Halloween snacks are keto-friendly too, so they're great to serve at your adult Halloween party or to make for healthy afternoon snacks for yourself!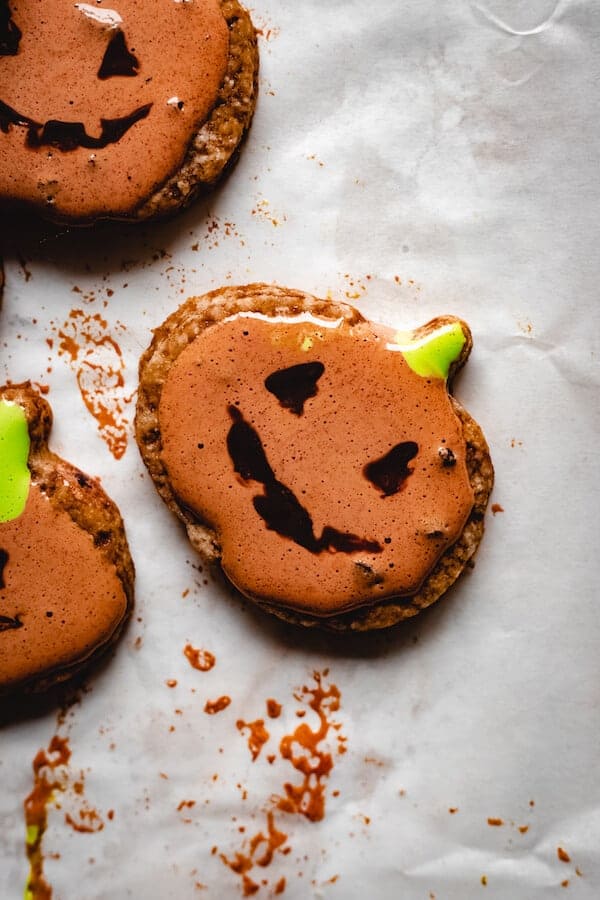 These pumpkin Halloween cookies are VEGAN, and they're loaded with good-for-you ingredients like flaxseed and pumpkin puree. So if any of your Halloween guests have special dietary restrictions, these are a great option!
Even More Spooky and Easy Halloween Treats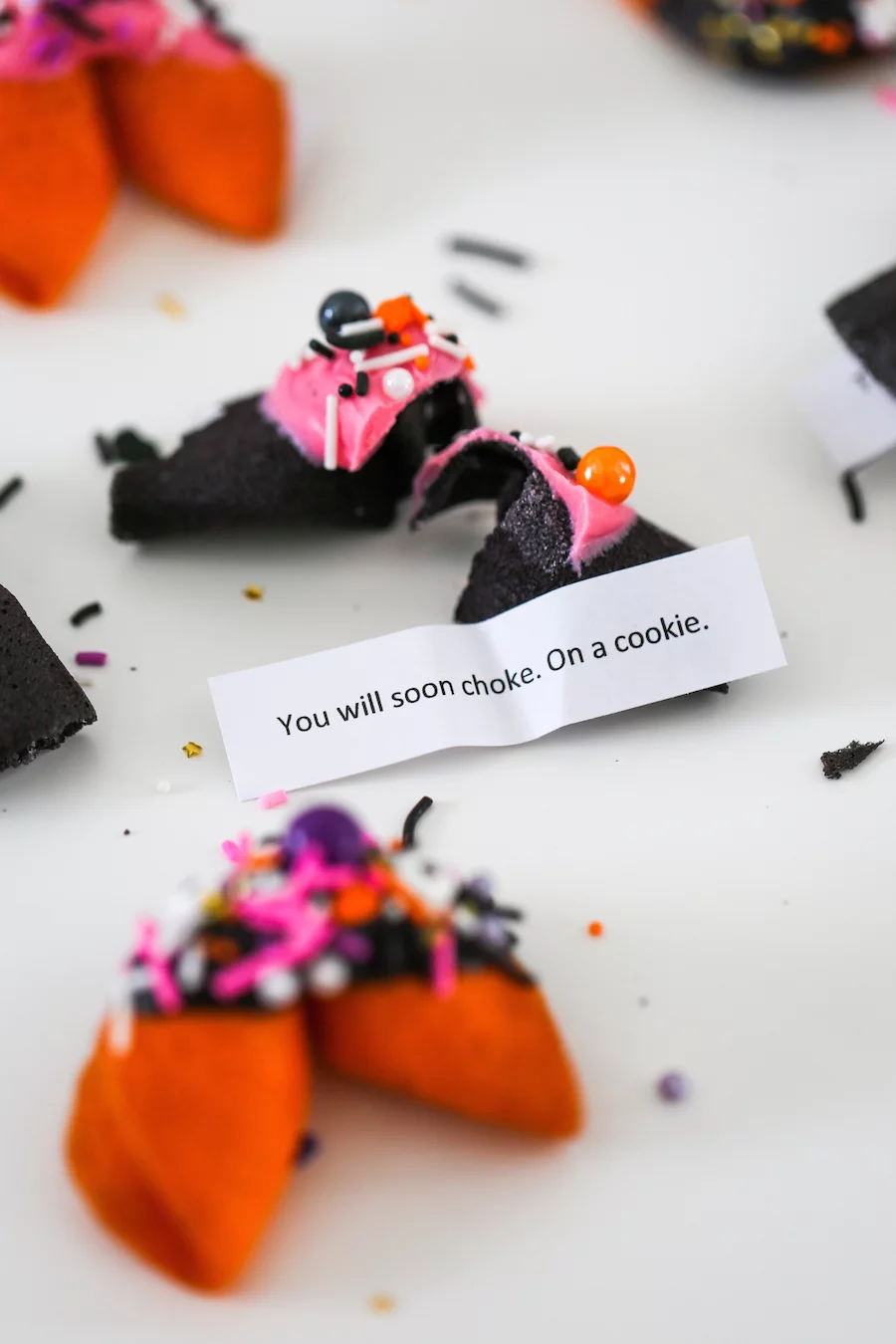 These Halloween cookies require just a little more prep work… you ARE making homemade fortune cookies, after all! But the result will WOW your Halloween party guests!
Print your own "misfortunes" to tuck inside these Halloween Misfortune Cookies for your guests to find! Such a cute and interactive Halloween party food idea!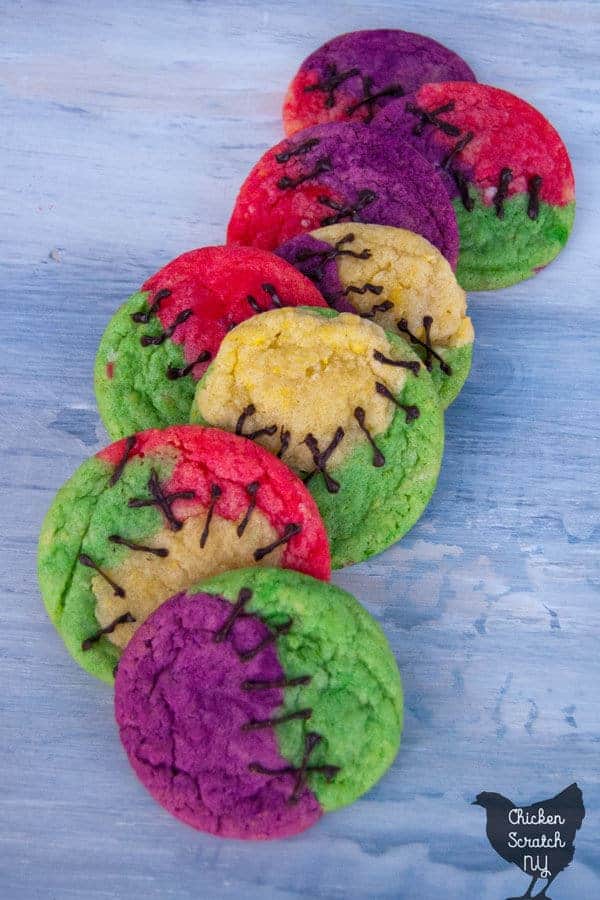 Tim Burton's Twist on Halloween Sugar Cookies
If you have Tim Burton fans in your house, then these easy Halloween cookies for kids are sure to please!
Whip up a batch of easy Halloween sugar cookies with a Tim Burton twist thanks to food coloring and chocolate stitches inspired by Sally's dress from The Nightmare Before Christmas.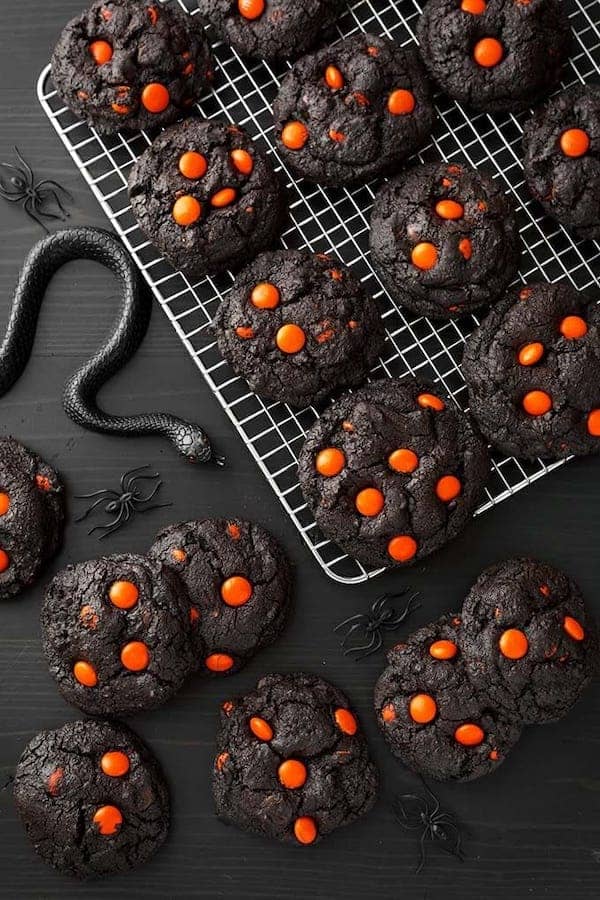 Dark Chocolate Halloween Cookies
A spooky and tasty treat! These dark as night chocolate cookies are the perfect backdrop for the pumpkin orange candies. Serve these chocolate Halloween cookies at your party, or give them to friends and neighbors as delicious Halloween gifts!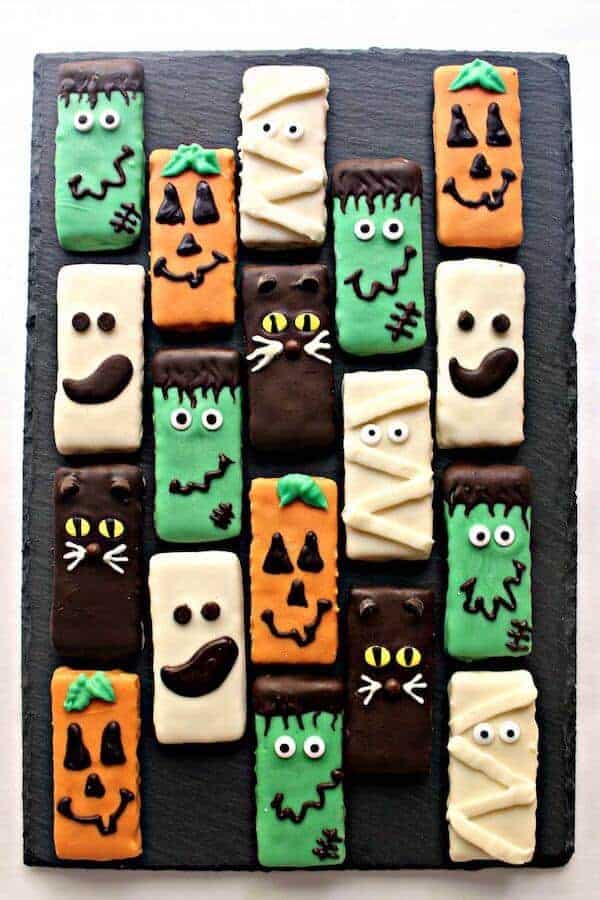 These spooky Halloween treats for kids aren't really that spooky. In fact, these delicious chocolate-covered graham crackers are more likely to cause smiles than screams, especially when you see how easy they are to make!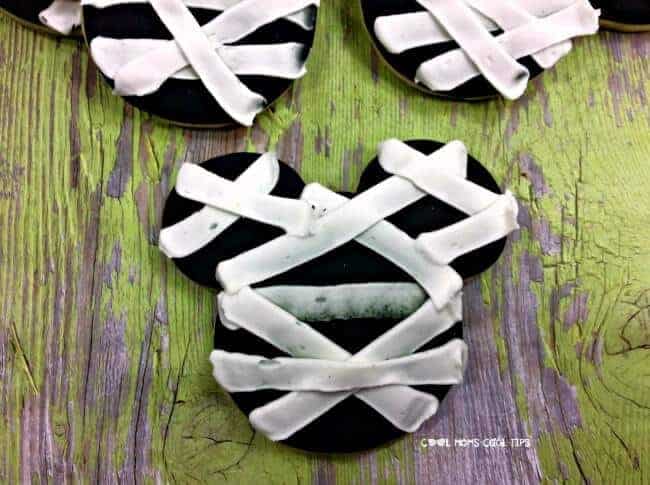 Delicious Mickey Mummy Cookies
Bringing Mickey to the party as a Mummy is a great Halloween twist for all those die hard Disney fans out there!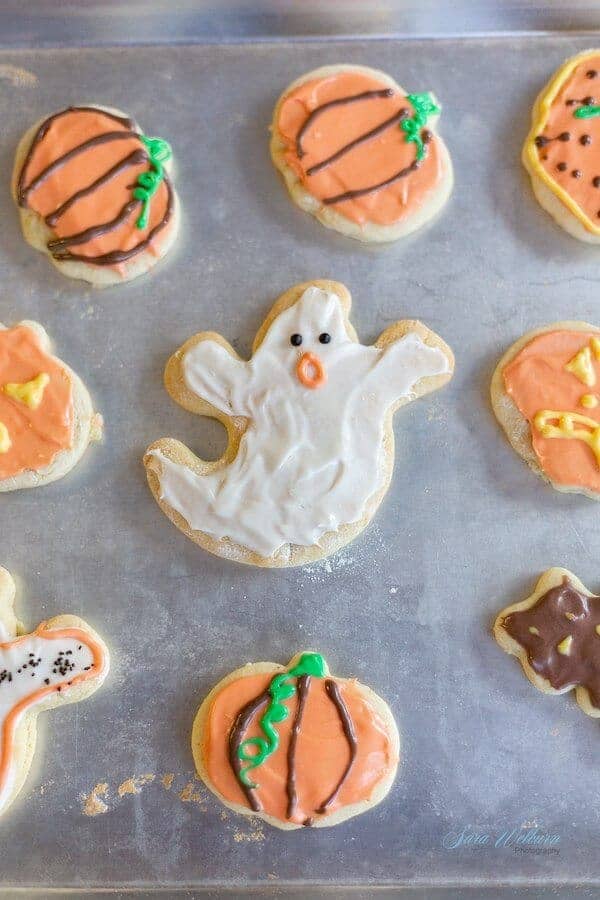 These delicious but easy Halloween sour cream sugar cookies with cream cheese frosting are light and fluffy, and they are perfect for cutting into fun shapes with cookie cutters! Your kids will LOVE helping you decorate these cute Halloween sugar cookies!
I hope you've been inspired to make some of these delicious and easy Halloween cookie recipes with your kids! Because who says you have to limit your Halloween treats to candy, candy, and more candy!
These easy Halloween cookie ideas would be great to give as neighbor gifts or teacher gifts, or to serve at your next Halloween party!
And be sure to check out some of my other Halloween ideas that your kids will LOVE:
Free Printable Neighborhood Halloween Scavenger Hunt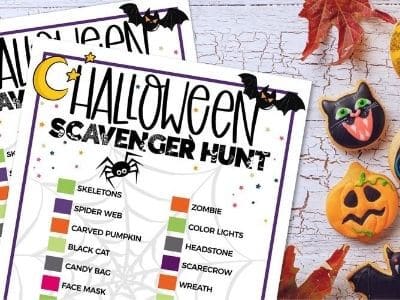 Easy Witch Hat Halloween Crafts for Kids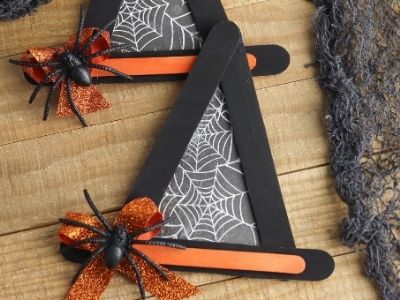 Easy Jack-o-Lantern Quesadillas