Need cute Halloween crafts for kids to keep your little ones busy this Fall? Add these Witch Hat Halloween Crafts to your list of popsicle stick crafts for kids to make this October!
Kids and popsicle stick crafts go together like peanut butter and jelly. Even when I was in elementary school 86 years ago (just kidding, it wasn't that long ago, but it feels like it!), we made popsicle stick frames and popsicle stick Christmas sleigh ornaments.
And I've got gobs of popsicle stick crafts that my kids have created at preschool and elementary school, too. Though, technically they're called "craft sticks".
Yes, "craft sticks" are one of my youngest daughter's favorite craft supplies, so I knew that she would LOVE making these cute Witch Hat Halloween Crafts. There are a few steps that require hot glue that you'll have to do for your kids, but for the most part this craft will keep your little ones busy for about 30 minutes or so, so you can catch up on some "Mom" work.
And that's a WIN in my book!
Here's how to make these cute Halloween crafts for kids using wooden craft sticks…
Supplies for Witch Hat Halloween Crafts
Here are the supplies you need to make these cute kids Halloween crafts:
Large craft sticks – these are the ones that look like tongue depressors
Small craft sticks – like popsicle sticks (sometimes you can catch both sizes of craft sticks on sale at Hobby Lobby!)
Black paint – the 89 cent bottles of acrylic paint are fine, or you can also use the washable Crayola paints
Orange paint
Elmer's glue
Hot glue gun and glue sticks
Spiderweb scrapbook paper – or other Halloween scrapbook paper of your choice
Orange ribbon – you can usually find this sparkly ribbon at Dollar Tree
Plastic spiders
How to Make these Halloween Popsicle Stick Crafts:
1. Paint the craft sticks.
Paint your large craft sticks black, and paint the small popsicle sticks orange. Let them dry completely before moving on to the next step! (Maybe go on a Halloween Neighborhood Scavenger Hunt while your paint sticks are drying!)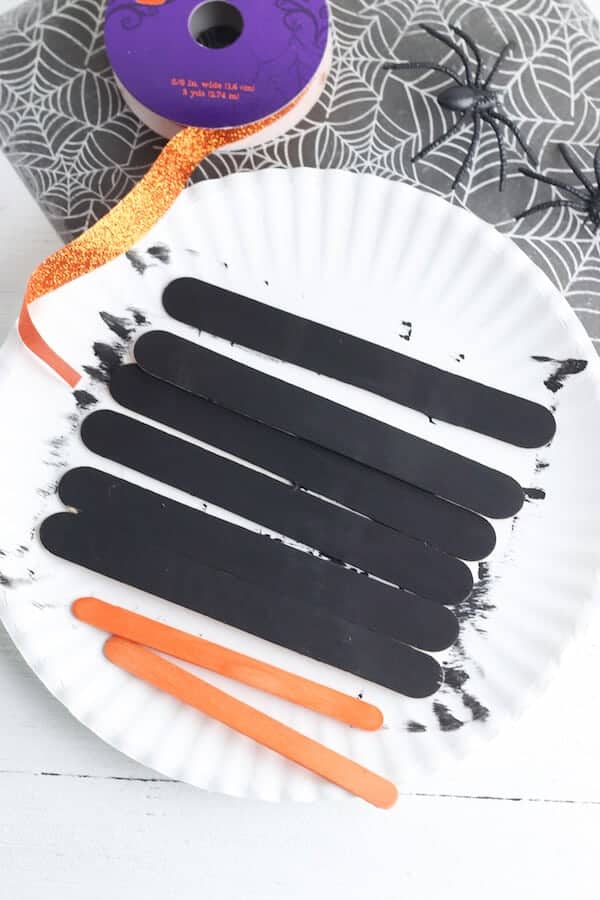 2. Glue popsicle sticks together.
Using Elmer's School Glue (the white liquid kind), glue the 3 large black craft sticks together to form a Witch Hat shape.
Then, glue the orange popsicle stick to the bottom of the Witch Hat craft.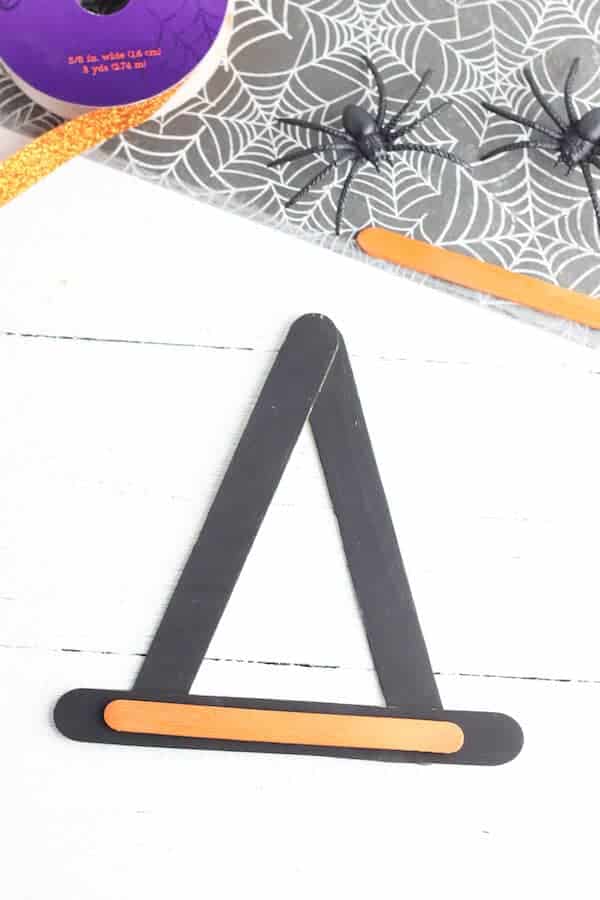 You can also use hot glue if you're going to be gluing the crafts together for your kids. But, obviously, hot glue guns and young kids aren't a good mix, so you will need to do that!
3. Assemble the Witch Hat.
Cut your Halloween scrapbook paper into a triangle shape that is large enough to cover the Witch Hat, and glue it to the back with Elmer's glue. You shouldn't have any paper hanging past the popsicle sticks.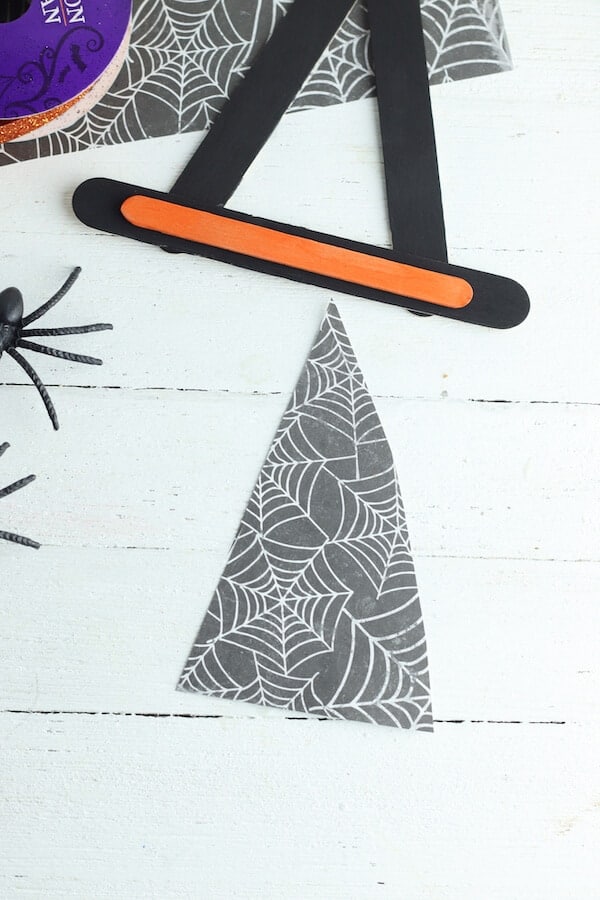 Want to turn this easy kids craft into a Halloween Picture Frame?
Instead of scrapbook paper, glue a photo of your child to the back of the craft sticks. You could even take a picture of your kids in their Halloween costumes to use, and then you've got a super cute Halloween keepsake!
*If you happen to be a preschool teacher, this would be a GREAT Halloween craft to do with your preschool class, too!
4. Decorate your Halloween Witch Hat Craft!
Fold pieces of orange ribbon over to form two sides of a bow. Then glue the two pieces on top of each other like this to form a bow shape: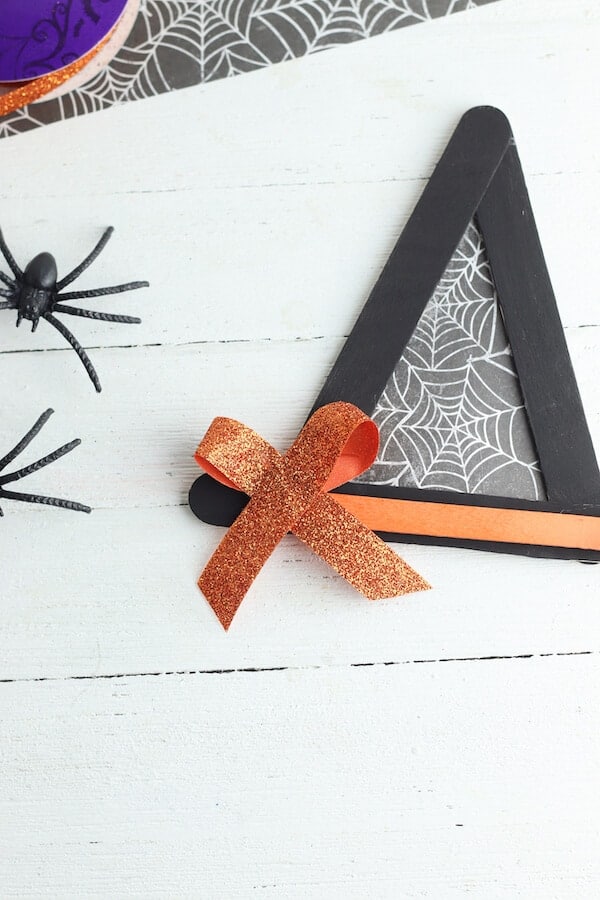 Glue the orange bow one side of the Witch Hat crafts. Then, you'll need to use hot glue to glue the plastic spider on top of the ribbon. Don't let your kids do this!
And then your cute Halloween kids crafts are done!
You can hot glue a magnet on to the back to stick these on your fridge, or add a loop of ribbon to make them a cute hanging Halloween decoration.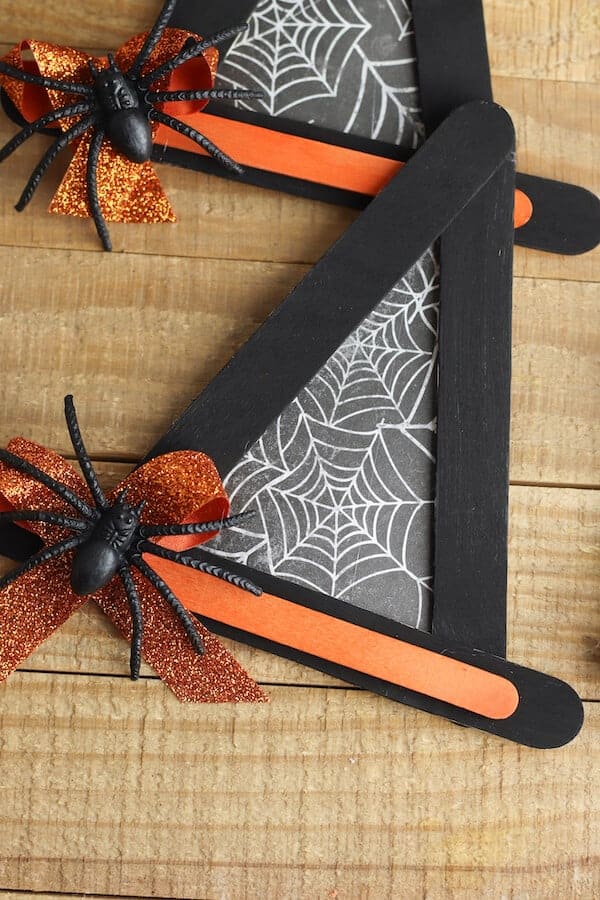 And if you're looking for more fun Halloween activities for kids, then try these easy ideas:
Or visit Country Living for even more cute Halloween crafts for kids!
And happy nesting!