If you're in need of some help with your Thanksgiving Day preparations, this Thanksgiving countdown checklist is just for you! Get an easy to follow plan in the weeks and days leading up to Thanksgiving that will make hosting this special day a breeze.
I've been hosting Thanksgiving dinner for years! Last year, I even hosted over 35 people… in our 2,100 square foot house! So, I know a thing or two about preparing for Thanksgiving Day and a house FULL of guests.
And it ALL comes down to preparation and PLANNING!
When it's your turn to host your family for the most iconic meal of the year, there is no such thing as too-prepared or too-detailed of a list. In fact, the more detailed your Thanksgiving Countdown list, the better!
And just in case you're new to hosting Thanksgiving, or you have no idea where to start, I've created a Thanksgiving Countdown list for you! Consider this your road map for how to host Thanksgiving dinner without the stress!
Here are some helpful suggestions for tasks that you should complete, starting 3 weeks before Thanksgiving Day, all the way up to the night before: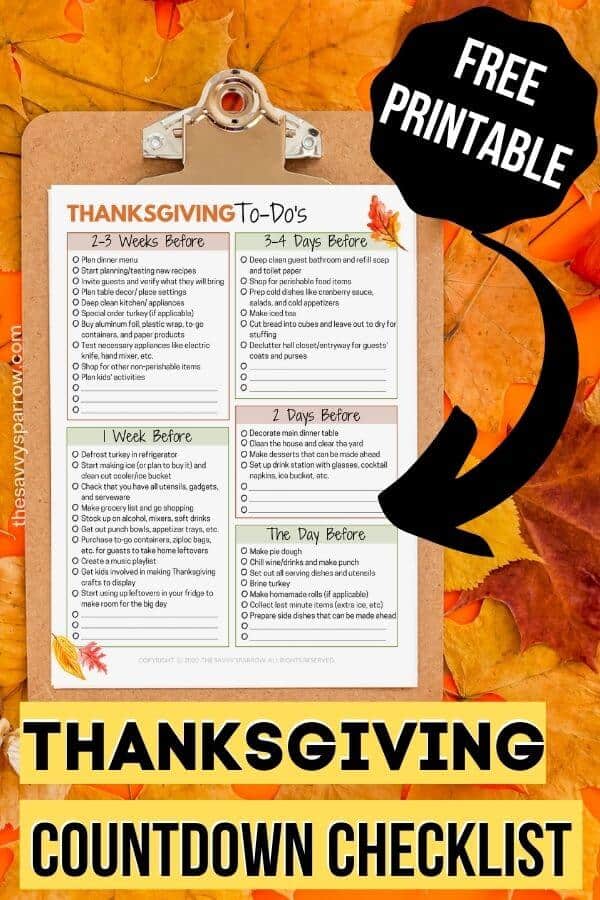 And be sure to grab the FREE Printable Thanksgiving Countdown Checklist at the end of this post!
Thanksgiving Day Countdown
Things to Do 3 Weeks Before Thanksgiving
Make your guest list of family members and friends that you'd like to enjoy this special day with.
Send your guests an invitation. There are many pretty digital invitations online, otherwise a simple invitation in an email or text will do!
Once your guests have responded, ask those attending what they intend to bring as their contribution to food and/or snacks. Remember, you can delegate certain dishes so that you don't end up with duplicates.
Take stock of your cookware, cutlery, glassware and serving dishes to ensure that you have enough for everyone. If you don't feel like dealing with a ton of dirty dishes, consider purchasing some pretty disposable plates and cups.
Decide on your decor for the house and for your table: napkins, candles, tablecloths etc. Some of these you may already have at home, otherwise set a budget for purchasing extra decor as needed.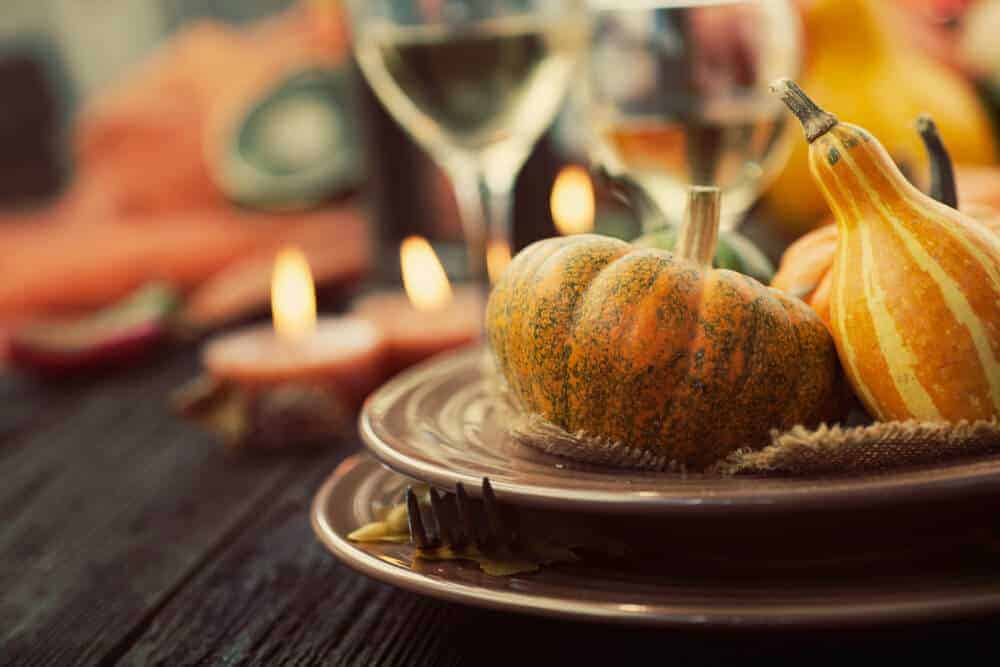 Start thinking about the dinner menu.
Set a Thanksgiving budget. Divide your budget into categories like food, decor, extra kitchen supplies, etc.
If you want to serve dishes that you haven't made before, now is the time to test those recipes. You don't want to attempt brand new cooking techniques or recipes on Thanksgiving day when you have a house full of guests!
Deep clean the kitchen and kitchen appliances.
Organize your freezer and do a freezer inventory so that you don't buy ingredients that you already have on hand. You can grab a FREE Printable Freezer Inventory Sheet here!
If you're going to special order a turkey from your grocery store, now is the time to do that so they don't get too booked.
Test small kitchen appliances that you will need for Thanksgiving day to ensure they work (electric knife, hand mixer, etc).
Plan kids' activities. You can get some free printable Thanksgiving activity sheets HERE. Buy some individual packs of crayons to put in the middle of the kids' table. You could even purchase a big roll of kraft paper to use as a "tablecloth" so kids can color while they're at their seat.
But paper goods like aluminum foil, plastic wrap, to-go containers, disposable plates, etc.
Stock up on other household essentials like toilet paper, hand soap for your bathrooms, and paper towels.
Complete any DIY fall home decor projects that you want to do. This easy DIY Fall Leaf Wall Hanging would make a pretty backdrop for your drink station. Or make this 5 minute DIY Fall Burlap Banner to hang on your mantel.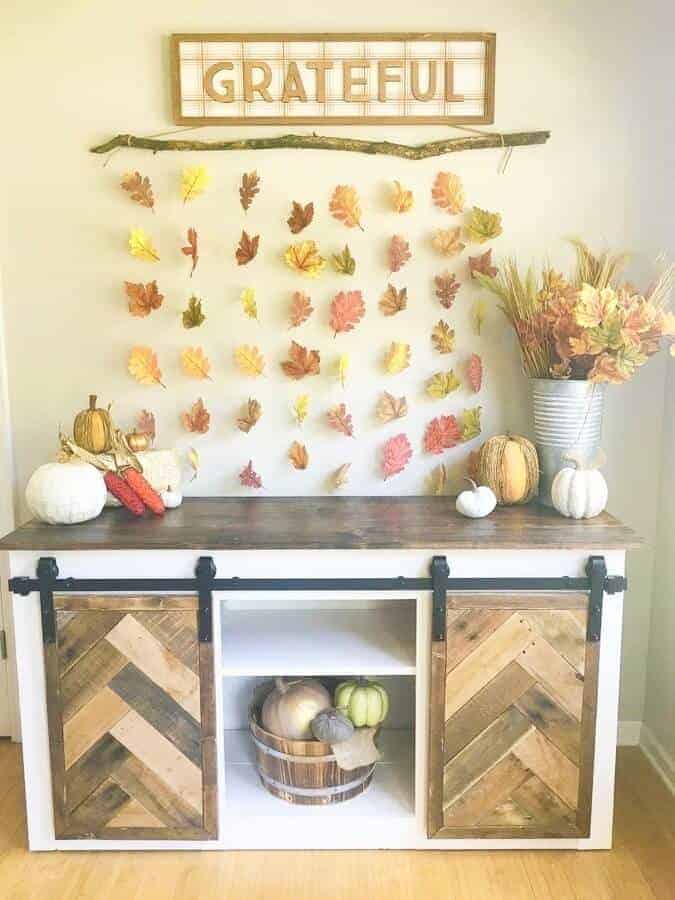 Things to Do 2 Weeks Before Thanksgiving
Finalize the menu, now knowing what you will make and what your guests are bringing.
Shop for non-perishable items like sugar, tea and coffee.
Select your turkey. If you decide to buy a frozen turkey, then buy it now.
Make and freeze a meal for the day before Thanksgiving. This will really help you in that day before to not have to worry about making a meal for yourself and the family. Or, you can just plan on ordering pizza delivery like we do!
Things to Do 1 Week Before Thanksgiving Day
If you've bought a frozen turkey, now is the time to remove it from the freezer, place it in a tray and let it thaw in your refrigerator. Allow 1 day of thaw time for every 4 pounds of bird.
Get your kids involved in making Thanksgiving crafts that can be proudly displayed in the home as decor. Plus, this is a great way to keep your kids busy while you do other prep work.
Start making extra ice to store in your freezer (or plan to buy it), and clean out your cooler or ice bucket.
Check that you have all utensils, gadgets, and serve ware that you will need.
Think about how you will label dishes if you're doing a potluck style Thanksgiving, and be mindful of food allergies. These printable food labels for potlucks are available in my Thanksgiving Planner!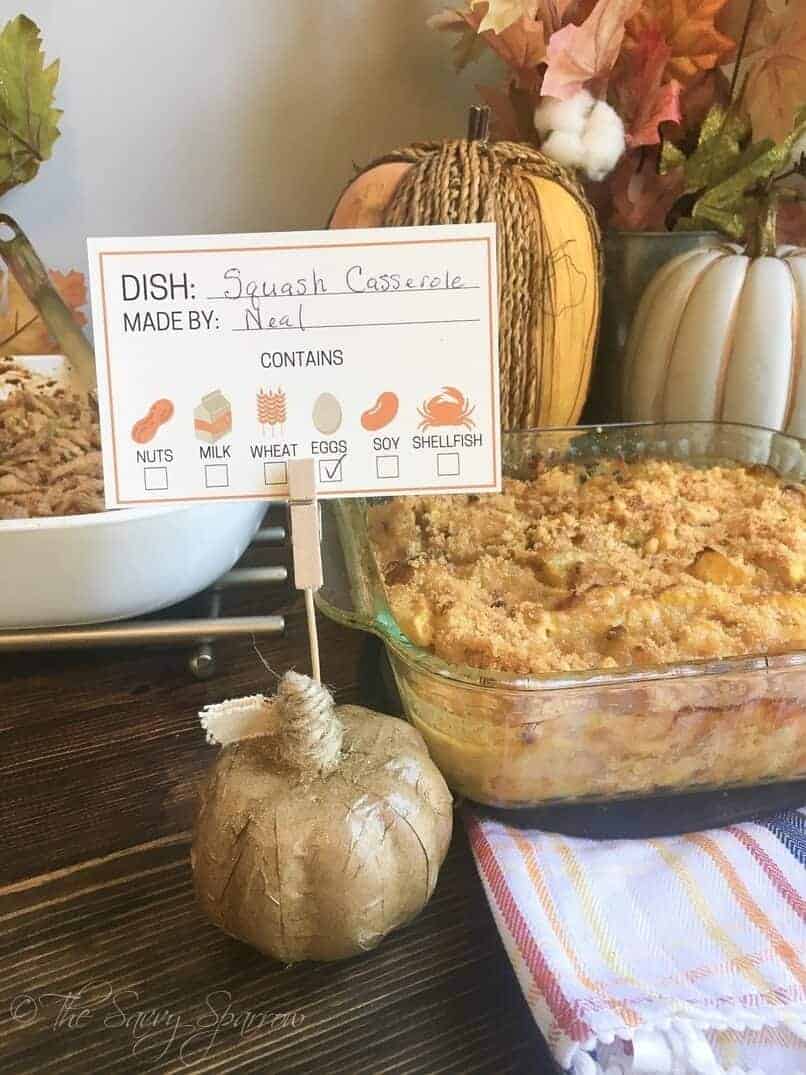 Get out punch bowls, appetizer trays, and other infrequently used items and make sure they are clean. Specialty dishes like that tend to sit in a closet and collect dust!
Create a music playlist.
Start using up leftovers in your fridge to make room for make-ahead dishes and drinks.
Make a detailed grocery list and go shopping for non-perishable items that will be used for recipes, like canned goods, nuts, etc. I find it easiest to break your grocery shopping into 3 trips, so that you're not trying to get everything all at once. Plus, then you only have to get a few perishable items when the grocery stores are busiest.
If you're going to be using place cards, go ahead and think about seating arrangements and place card holders. You can even make your own easy DIY Thanksgiving Place Card Holders!
3-4 Days Before Thanksgiving
Deep clean the guest bathroom and refill soap and toilet paper.
Shop for perishable food items (fresh produce, fresh pies, etc.). For ease, group the items together in your fridge or pantry according to the recipe that calls for them.
Declutter the hall closet or entryway to make room for guests' coats and purses.
Cut bread into cubes and leave out to dry for stuffing (if applicable).
Make iced tea.
Declutter and organize kitchen cabinets and pantry. You'll probably have guests rifling through those areas looking for different items, and you don't want to be embarrassed by the mess.
2 Days Before Thanksgiving
Set up your drink station by choosing an allocated space in the house and start gathering glasses, cocktail napkins, an ice bucket, a bottle opener, sweetener, straws, etc. I prefer to set up my drink station AWAY from my kitchen, because the kitchen will probably already be super crowded. You don't want everyone roaming in to make themselves a drink while you're trying to get things out of the oven.
Set the main table with a tablecloth, fall centerpiece, and other decorations if it doesn't interfere with your family's need for eating at the table, otherwise leave this for the day before.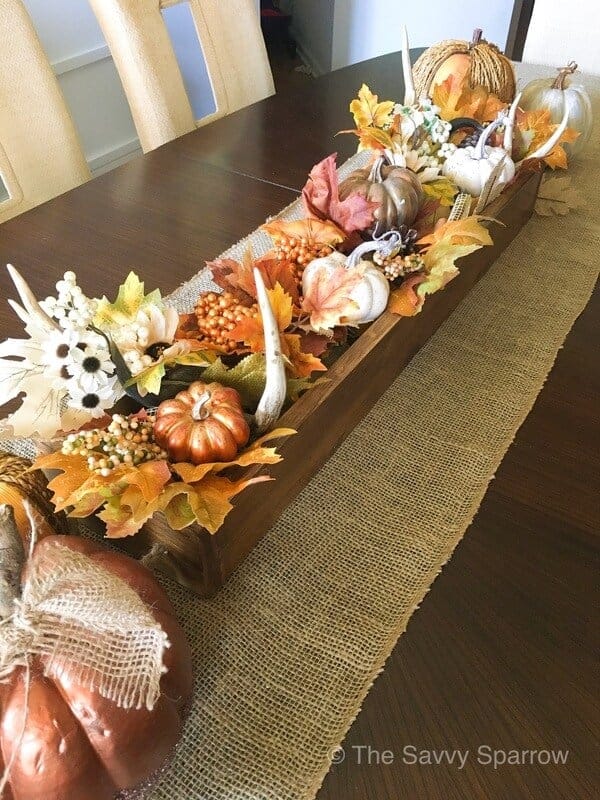 Clean the house… don't forget about tidying up the front porch, too!
Make any desserts that will stay good in the refrigerator. Plan on one and a half servings per person, because most people like sampling ALL of the desserts!
The Day Before Thanksgiving
Prepare side dishes that can be kept overnight without spoiling. You can prepare salads, but don't add any salad dressings until you serve it the next day.
Collect any last-minute items like extra ice.
Set out all serving dishes and utensils.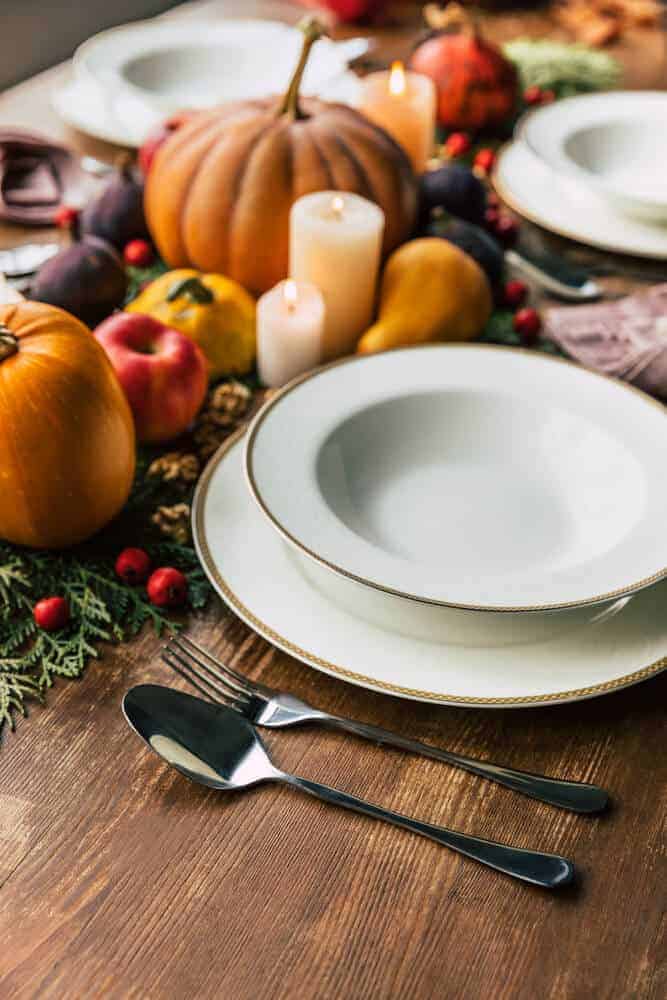 Make any beverages like punch and chill all your beverages so that they are ready for serving upon your guests' arrival.
Brine turkey (if applicable).
Make homemade rolls (if applicable).
Make pie dough (if applicable).
FREE Printable Thanksgiving Countdown Checklist
You can also download this Thanksgiving Day Countdown Plan for FREE to keep with you as you go about your preparations. Use it to check off the items that have been completed and as a reminder of those Thanksgiving tasks that still need to be done.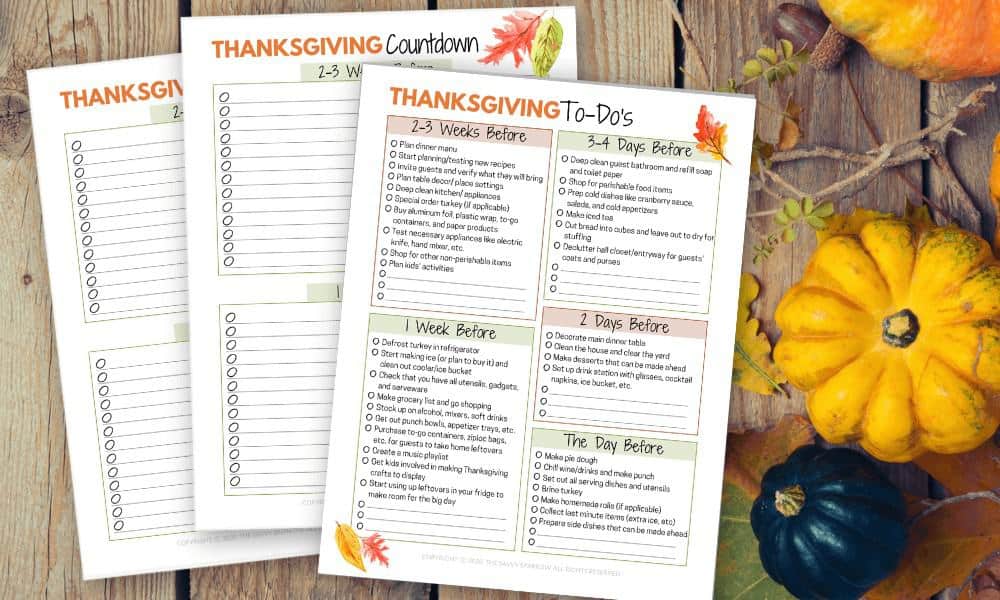 I'll send you the password to my FREEBIES library as a FREE gift when you sign up for my FREE email newsletter! (That's a lot of FREE!). Inside the FREEBIES library you'll find the printable Thanksgiving Countdown plus LOADS of other free printables!
Just fill out this form:
What do your Thanksgiving preparations look like? Any tips to pass along to a fellow hostess?
Leave me a comment down below! I'd LOVE to hear from you!
And happy nesting!