This DIY Farmhouse Window Frame is made with Dollar Tree supplies, so it's perfect for your farmhouse wall decor on a budget! Learn how to make your own rustic faux window frame to use in your farmhouse decor!
I don't know what screams "farmhouse" more than layering a simple greenery wreath over an old, distressed window and hanging it on your wall. Just scroll through Pinterest and you'll find 1,000s of photos of rustic windows used as farmhouse wall decor.
But, what if you can't find distressed windows to use as wall hangings? Or, you just don't want to pay $50 for an old window at a garage sale?
Then you can make your own DIY Farmhouse Window Frame using some cheap stretch canvases!
This DIY hack only costs a couple dollars because a lot of the supplies are from Dollar Tree, and you'll still end up with beautiful distressed window decor that you can use all year long. Just swap out the evergreen wreath for a boxwood wreath, eucalyptus wreath, or a pretty floral wreath!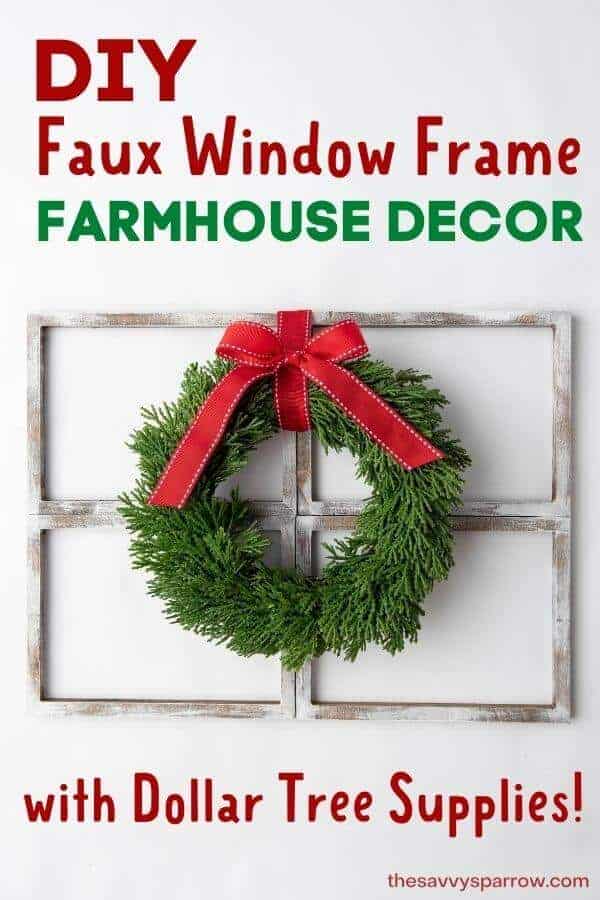 Here's how to make this cute DIY Farmhouse Window Frame for your wall decor:
Supplies for DIY Farmhouse Window Frame
Here's what you need to make your own DIY Farmhouse Window Frame Decor: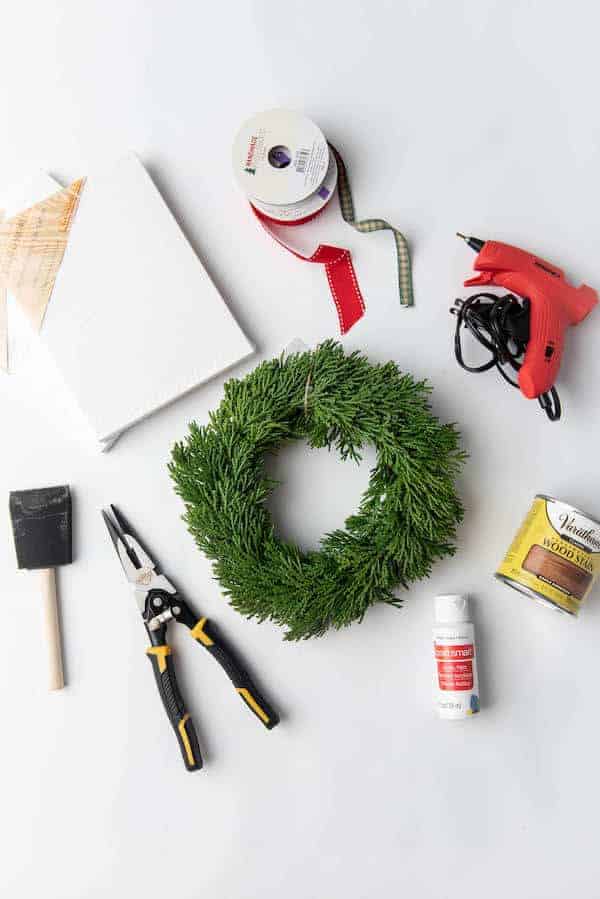 • 4 – 5×8 stretch canvases – Or, for larger DIY distressed window decor, you can use larger canvases from the craft store. You can find value pack canvases at JoAnn's, Michael's, and Hobby Lobby, and use a coupon to make a larger window without spending a fortune!
• White matte paint – You can find the mini bottles of acrylic paint for less than a dollar at the craft store.
• Stain
• Paint brush – A small, coarse bristle brush is best to paint your DIY farmhouse window frame.
• Sponge brush
• Ribbon – I love the look of the bright red ribbon against the DIY distressed faux window for Christmas. You could also switch out the ribbon after Christmas to something that is not seasonal.
• Pliers
• High heat hot glue gun with industrial grade glue sticks – Be sure to look on the package of the glue sticks to make sure they are suitable for wood!
• Faux mini wreath – This one is a faux cedar wreath that measures approximately 10 inches in diameter.
How to Make Faux Distressed Windows for Christmas Decor
Step 1: Remove canvases from the frames.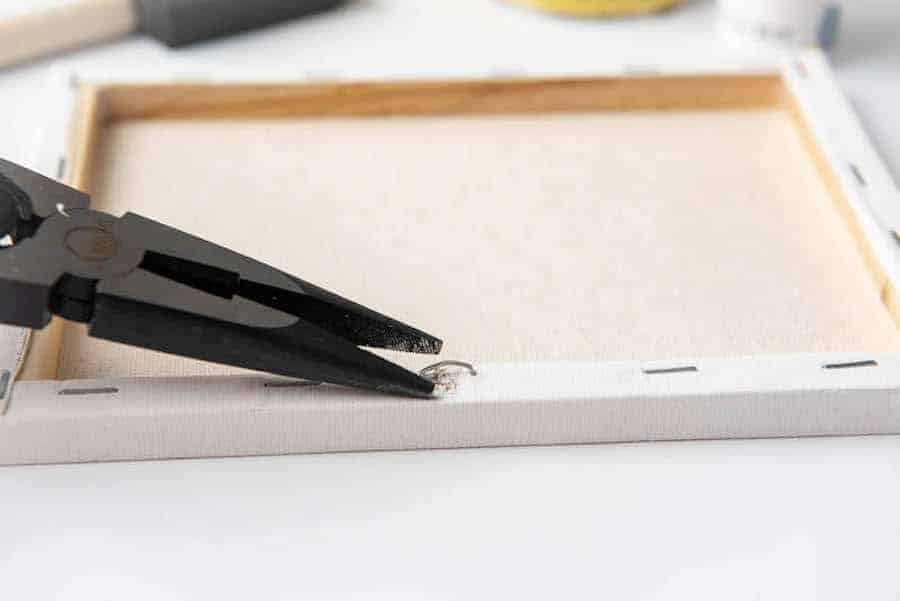 Start by carefully removing the staples from the backs of the Dollar Tree stretch canvases using pliers. You can save the canvas material for another craft project, or just throw it away.
Step 2: Stain the Dollar Tree stretch canvas frames.
Stain the four frames using a foam brush or paint brush. Just brush on the stain in a thin layer. You may want to wear disposable gloves so that you don't end up with any stain on your hands.
Once your frames are stained, allow them to dry for a full 24 hours so that the stain has ample time to soak into the wood.
Step 3: Glue the frames together to form a DIY Window Frame.
Next, use a high heat glue gun with industrial strength glue sticks to glue the stained frames together to create a faux window frame, like this: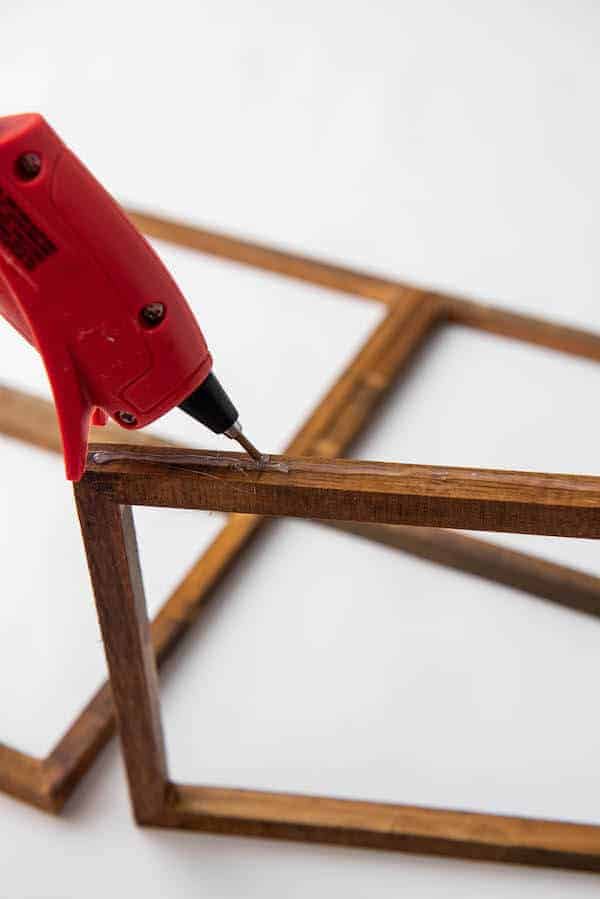 If you want a larger DIY faux window frame, you can use more stretch canvas frames to create a faux distressed window with 6 or 8 window panes.
*NOTE – Be sure to check the package of whatever glue that you are using to ensure that it is suitable for wood projects. If you can't find industrial strength hot glue, you can also use gorilla glue or E6000 glue.
Step 4: Dry brush your DIY Farmhouse Window Frame.
After the glue on your faux window frame is completely dry, use the "dry brushing" technique to paint the frame white.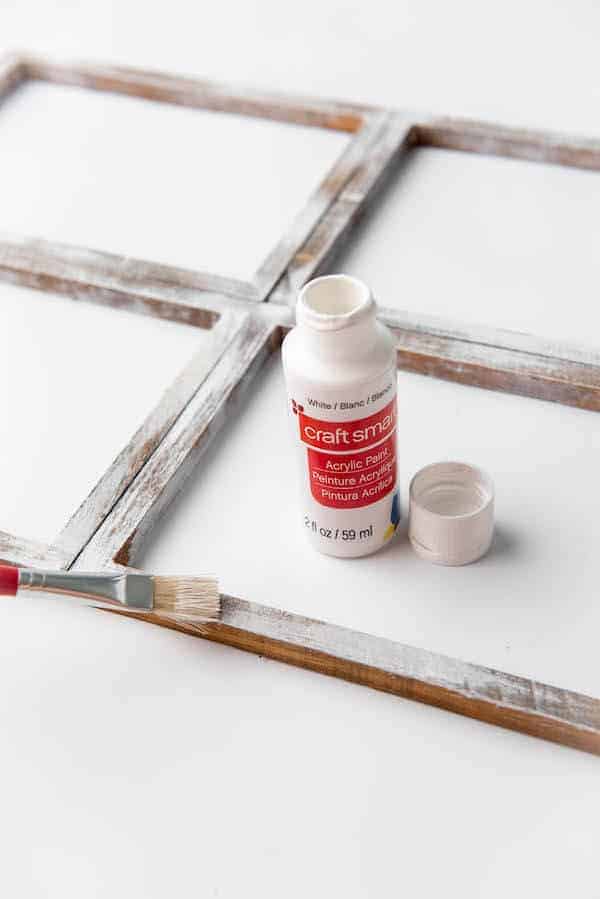 To dry brush the DIY window frame, simply apply a very small amount of paint to your brush, keeping the brush mostly dry, and lightly apply paint to the frame. Be sure to not get too much paint on your brush, or your brush will be wet, and the finished look will be more solid white than distressed and "chippy".
*You can go here for a full dry brush painting tutorial!
Step 5: Tie a wreath onto your new DIY Farmhouse Window Frame.
To finish off your cute new DIY fake window frame decor, use your choice of ribbon to add a pretty wreath on top.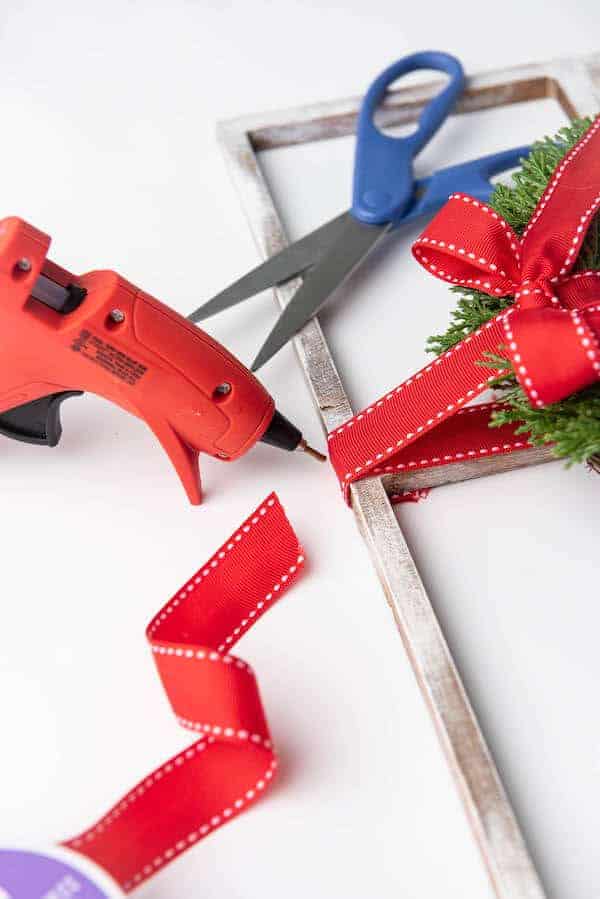 Be sure to cut enough ribbon to allow the wreath to hang in the middle of the window frame. Then loop the ribbon through your wreath and bring it back up and over the top of the faux window frame.
You can hot glue the two ends of the ribbon to the back of the frame using a small line of hot glue. That way, you can easily cut off the ribbon and change it out from season to season.
Step 6: Hang your DIY Window Frame as wall decor!
This step is totally optional, but if you want to hang your DIY distressed window frame on the wall, then add command strips or picture hangers to the back of the frame. You can also display your cute new faux window frame on a fireplace mantel or a buffet table with some other farmhouse decor items.
And that's it!
This DIY distressed faux window is SO easy to make, and since it's made with Dollar Tree supplies, it's also inexpensive. So why not make two?! These faux window frames would look awesome on either side of a large mirror or farmhouse wall art in a dining room or living room. Or, you could make a bunch to sell at craft fairs!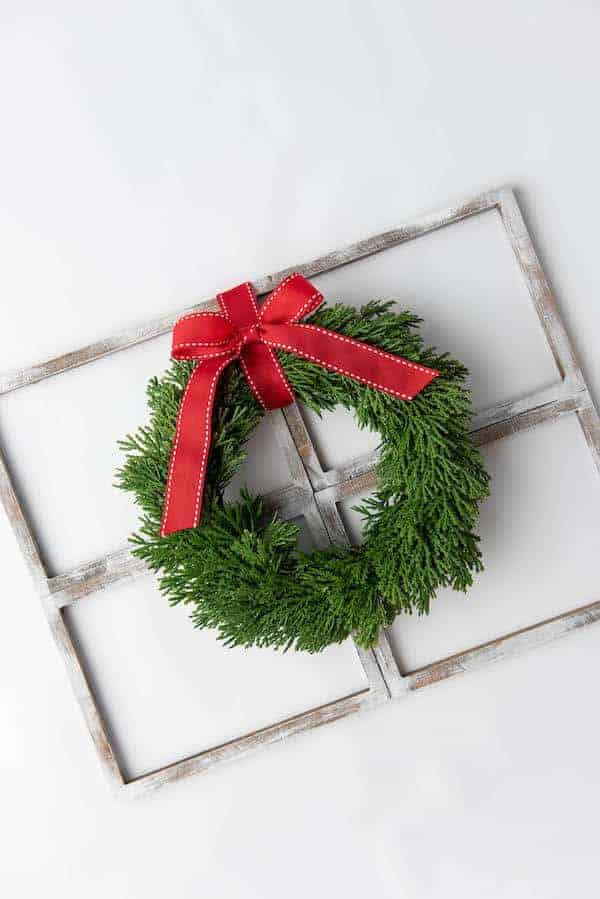 And be sure to check out some of my other DIY farmhouse decor posts:
And happy nesting!