Learn how to clean out old candle jars and remove old wax to repurpose for craft projects or DIY storage containers!
I LOVE the Bath and Body Works candles. Not only do they smell great and disguise the stench of stinky dog, but they also come in the cutest glass candle jars.
Old candle jars are the perfect containers to repurpose, but how do you remove the old candle wax from the jar to create a DIY masterpiece? It's actually super easy and only requires a few supplies that you probably already have in your kitchen.
Here's how to do it:
Supplies Needed
old candle jars
water
butter knife, if needed
Your old candle jar will probably have some remaining wax in it, which will need to be removed before you can repurpose it. Removing the wax is super easy and only takes a few minutes:
Step 1: Add boiling water to the old candle jar.
Bring about 2 cups of water to a boil. Then carefully pour the boiling water into the candle jar.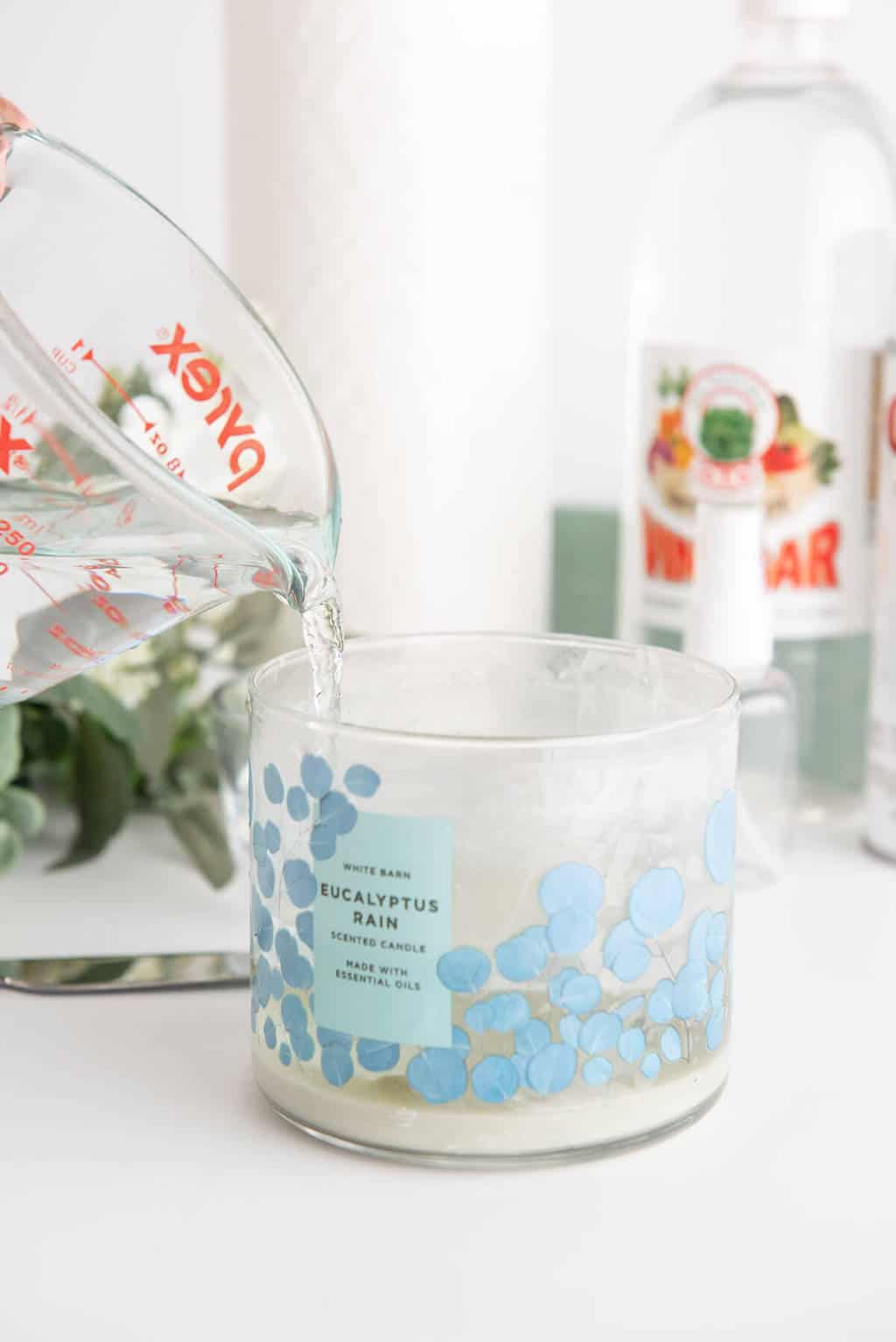 Allow the hot water to sit in the jar to give it time to soften and melt the remaining wax. You will probably see the old wax float to the top of the jar, which is great because then you can remove it like a "puck", break it up and use the pieces for wax melts.
The heat from the water also helps to warm up the outside of the jar so that it's easier to peel off the label. Don't worry about trying to get the leftover sticker residue off the outside until the end… that way you don't spill any of the hot water or burn yourself.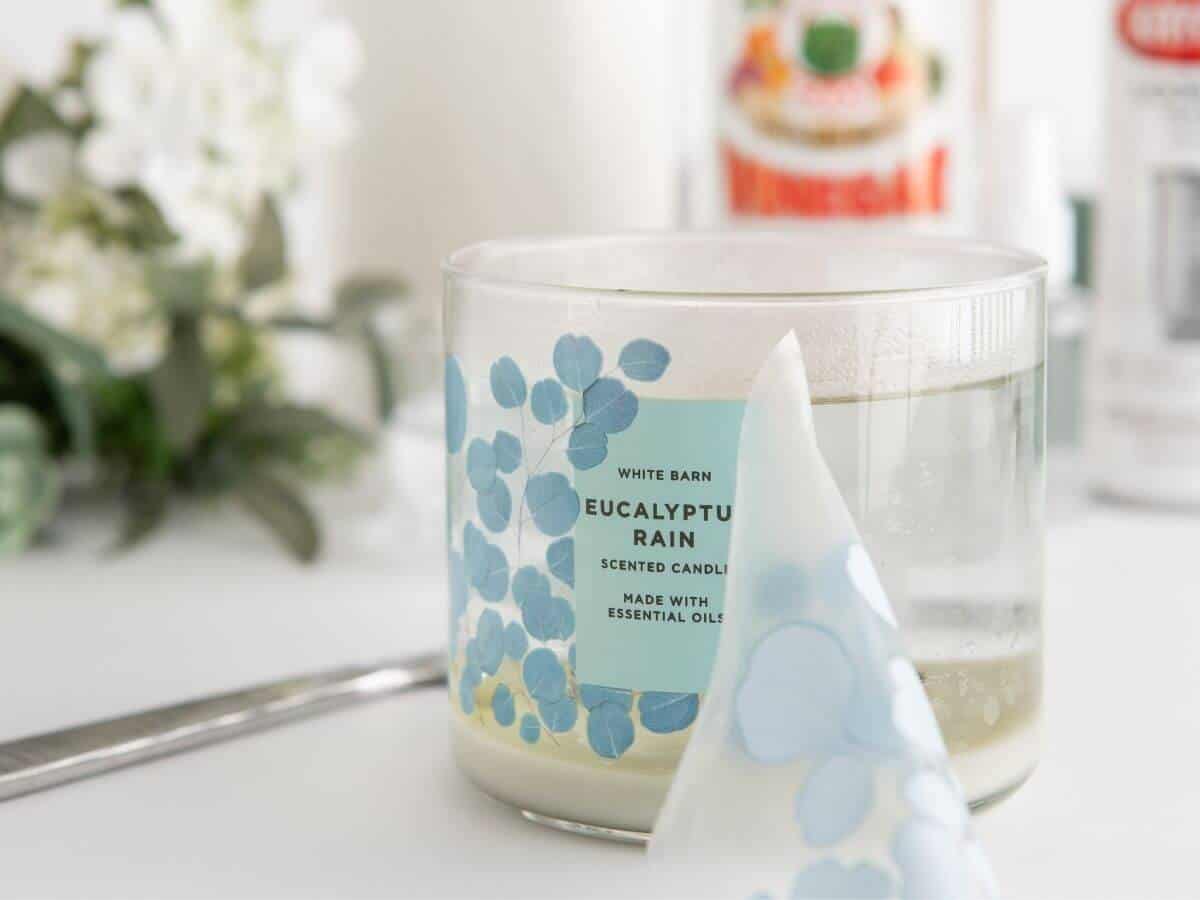 Step 2: Use a butter knife to break away the wax.
Gently run a butter knife along the side of the wax to help separate any remaining pieces from the side of the glass jar. You may also need to use the knife to carefully break up any smaller pieces of wax and the wick tabs left behind.
See how the wax floated to the top of the water: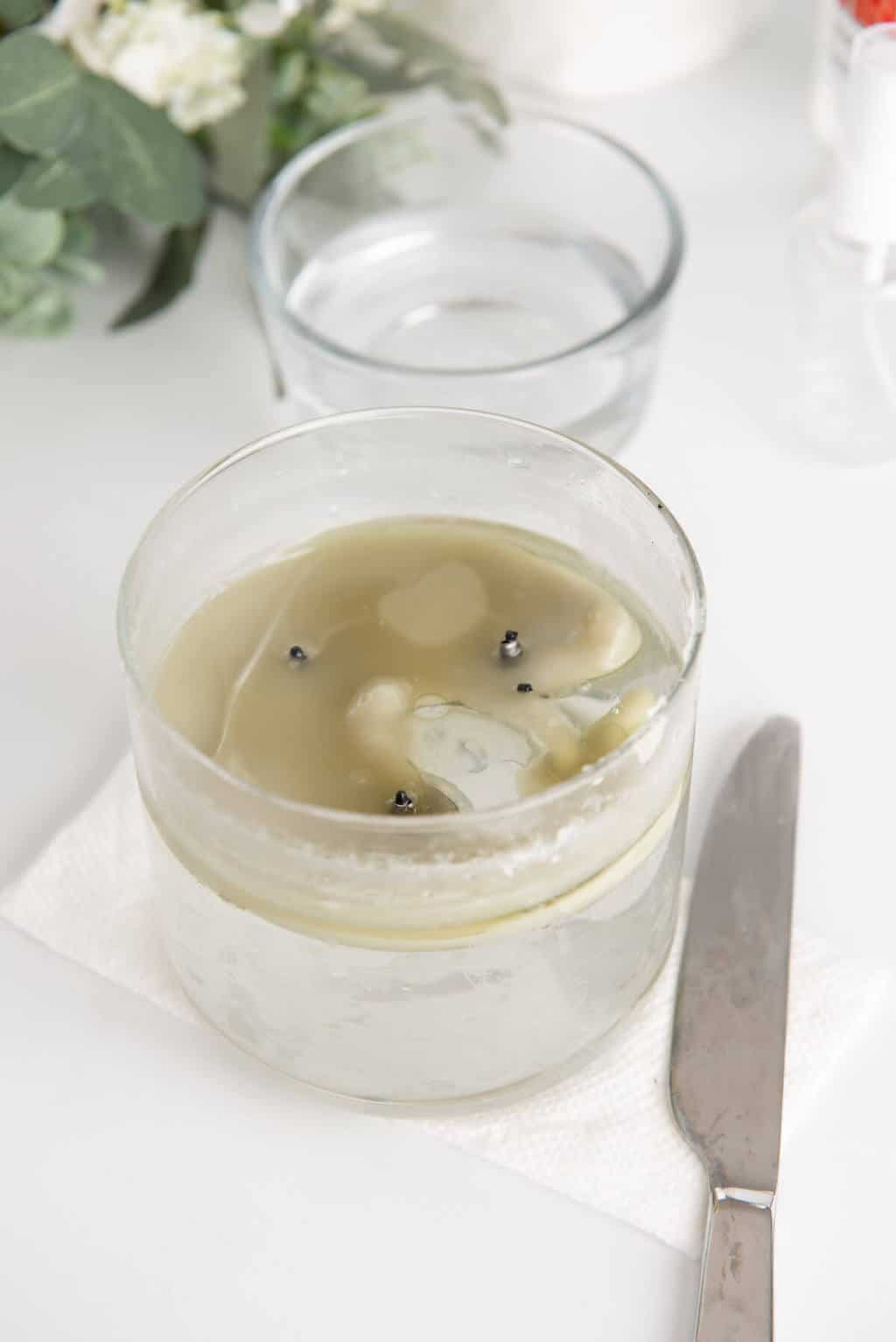 Step 3: Remove label and adhesive.
After the inside of the candle jar is nice and clean, it's time to give the outside of the jar a good scrub to remove any remaining labels and sticker residue.
You can just wash the jar with hot water and dish soap to remove any sticky residue, and then your old candle jar is ready to repurpose!
How to Repurpose Your Candle Jars
After you've removed the old wax and cleaned your glass candle jars, you can use them for a wide variety of DIY projects or storage uses. Here are some ideas:
Bathroom Countertop Storage
Shallow candle jars like the ones from Bath and Body Works are perfectly sized to use for countertop storage. Here are some things you can store in your candle jars:
makeup brushes – You can add some glass beads or vase fillers to help your brushes stand up straight.
Q-tips
cotton balls
cotton face pads
nail polish
toothbrushes and toothpaste (if you have a taller candle jar)
hair brushes, combs, and hair ties
Office Supply Storage
Old candle jars are also perfect for storing small office supplies or craft supplies like:
paper clips
rubberbands
pens or markers
binder clips
push pins
extra staples
receipts, business cards, or post it notes
DIY Painted Vases
With a little painter's tape and some acrylic paint you can turn any glass jar into a beautiful vase, perfect for table centerpieces! I've got the full tutorial for how to make these cute glitter painted striped jars here!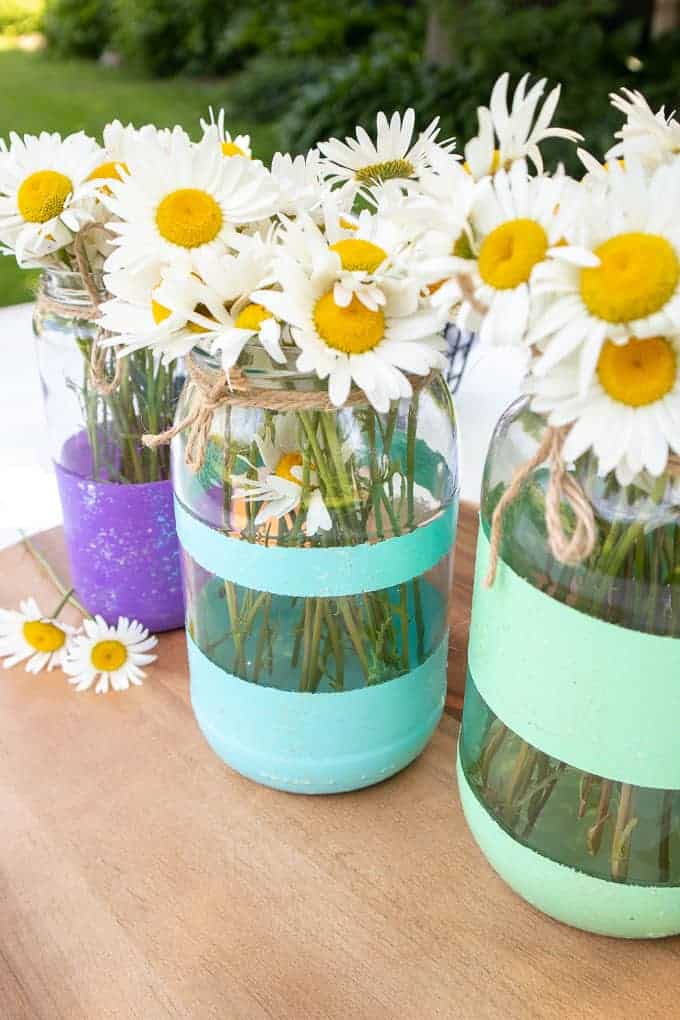 DIY Kitchen Canisters from Old Jars
If your candle jars have screw-on lids, then they could be turned into DIY kitchen storage for flour, sugar, or spices. These DIY Kitchen Canisters are actually just chalk-painted mason jars, but old candle jars would work well also!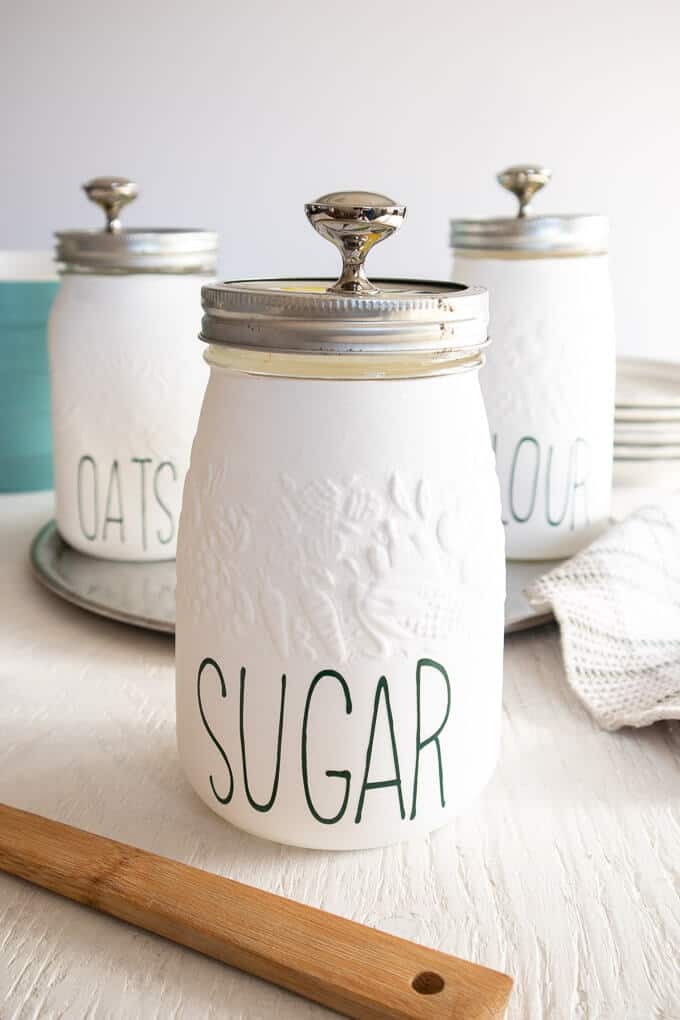 Or, visit Apartment Therapy for more ideas for how to repurpose your old candle jars!
I hope you've seen just how easy it is to clean out your old candle jars, and you're inspired to repurpose your jars rather than just trashing them.
How do you use your old candle jars? Leave me a comment down below!
And happy nesting!