You don't have to spend big bucks on mercury glass vases and storage jars, when you can easily make your own DIY faux mercury glass with spray paint and this easy tutorial!
Mercury glass is all the rage right now, but a quick search on Amazon will tell you that it's not cheap. Just a small mercury glass vase is about $15.00. But with the right kind of spray paint, a paper towel, and old glass jars, you can have a whole bunch of DIY faux mercury glass vases for the price of one store-bought piece.
Use these adorable and easy to make DIY vases for centerpieces for a wedding, or give them as hostess gifts. Or, you can turn your faux mercury glass into pretty bathroom countertop storage for makeup brushes or cotton swabs.
*And be sure to check out my other DIY glitter striped mason jar vases also!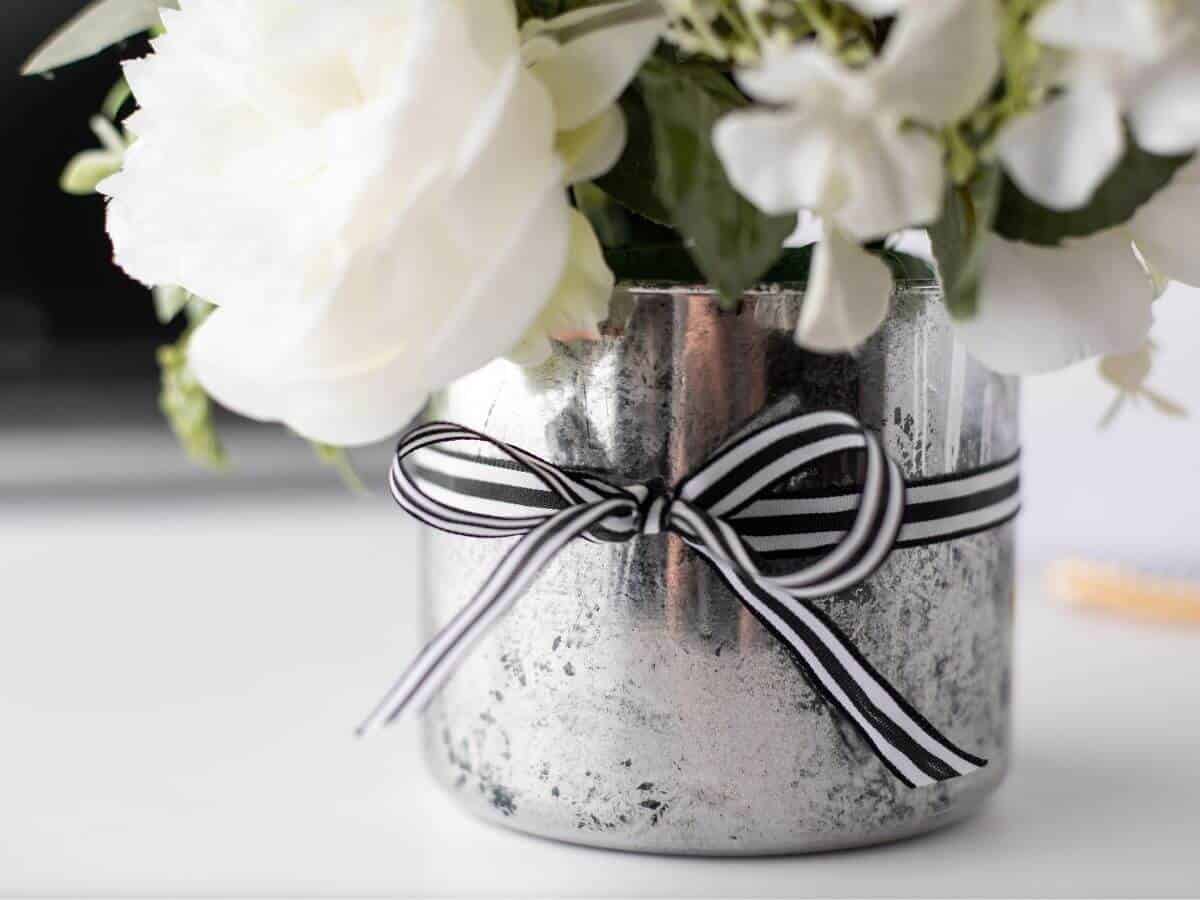 *This post contains affiliate links, which means if you click a link and make a purchase, I earn a commission at no additional cost to you. See Terms of Use for more details.
Here's how to make this adorable DIY faux mercury glass vase:
Supplies Needed
Here are the supplies you need to turn any old glass jar or vase into faux mercury glass: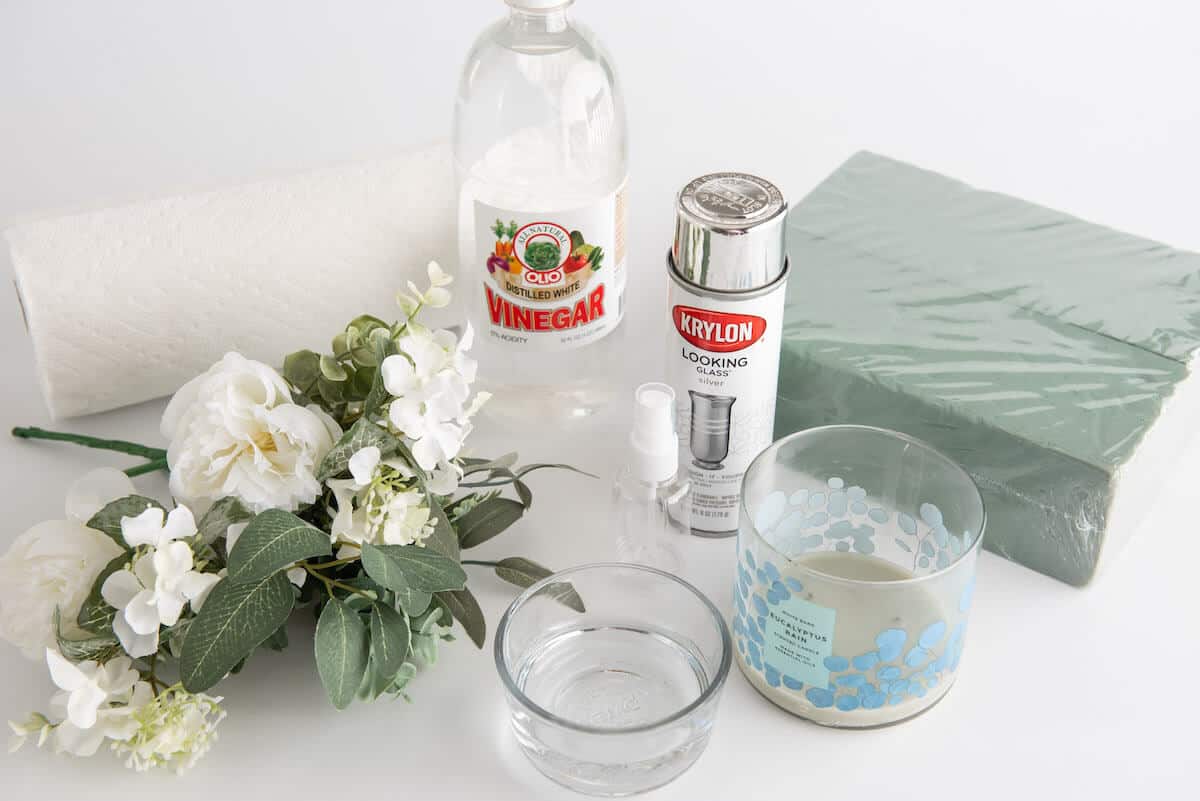 To make the cute DIY mercury glass centerpiece above you will also need:
floral foam
floral stems (real or silk)
ribbon of your choice
How to Make Faux Mercury Glass with Spray Paint
Step 1: Prep a spray bottle with vinegar and water solution.
Simply fill a plastic spray bottle with a 1:1 ratio of vinegar and water and set aside. A mini craft spray bottle like the one pictured below works best: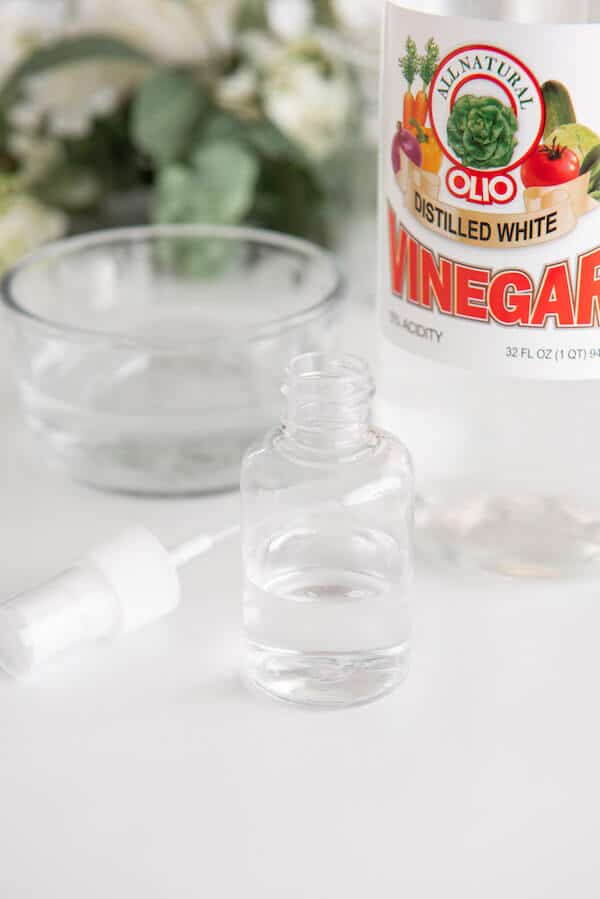 Step 2: Spray the inside of the glass jar with the Krylon Looking Glass spray paint.
Lightly spray the inside of the glass jar first, making sure to get a nice even coat of paint on the bottom and side walls of the jar.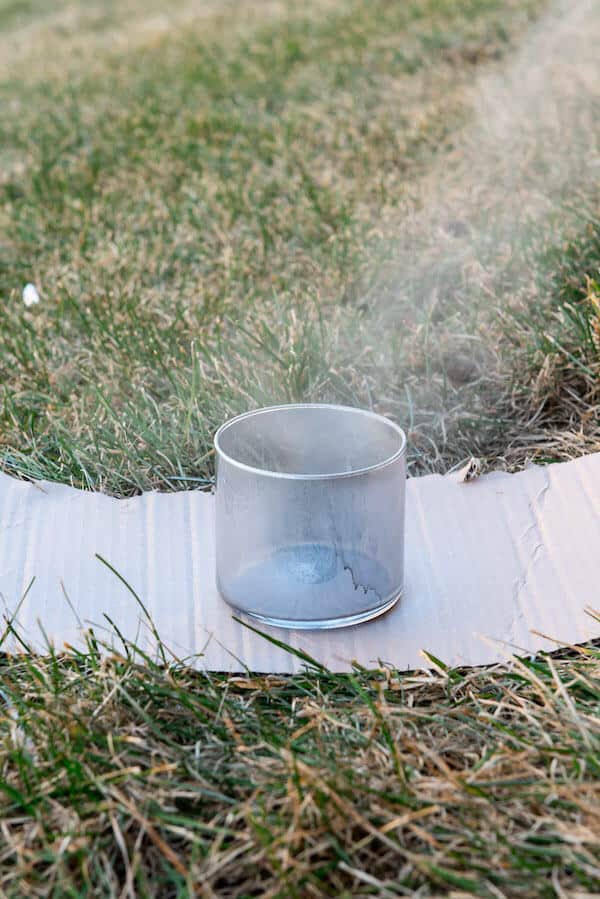 Step 3: Spray the vinegar water mixture inside the jar and blot with a paper towel.
Almost immediately after spraying on the paint, spray the vinegar water mixture on top of the paint, and blot it with a paper towel. When blotting, you want some of the glass to show through to give you the look of real mercury glass.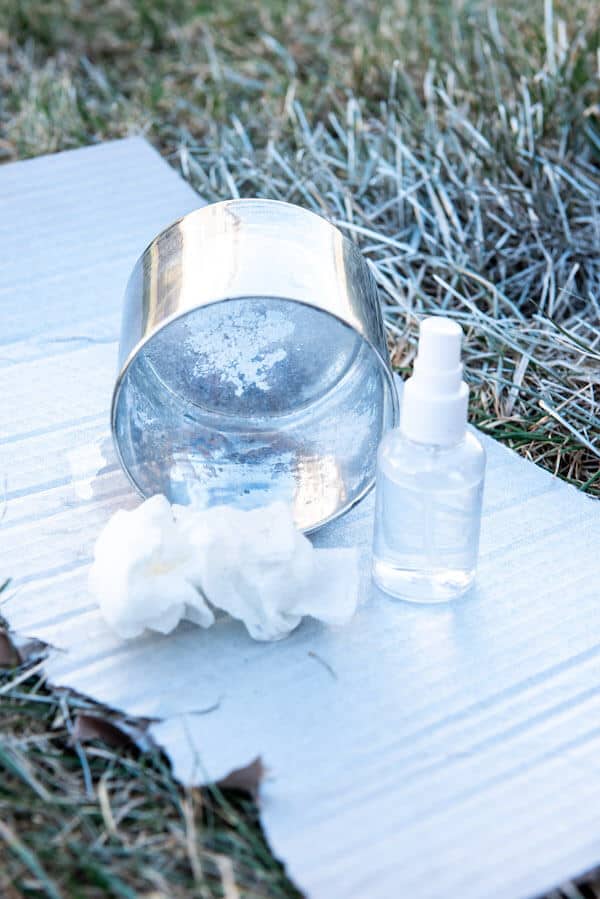 Step 4: Spray paint and blot the outside of the glass jar.
After the inside of the jar is finished, it's time to paint the outside. Just flip the jar over and lightly spray the outside of the glass like this: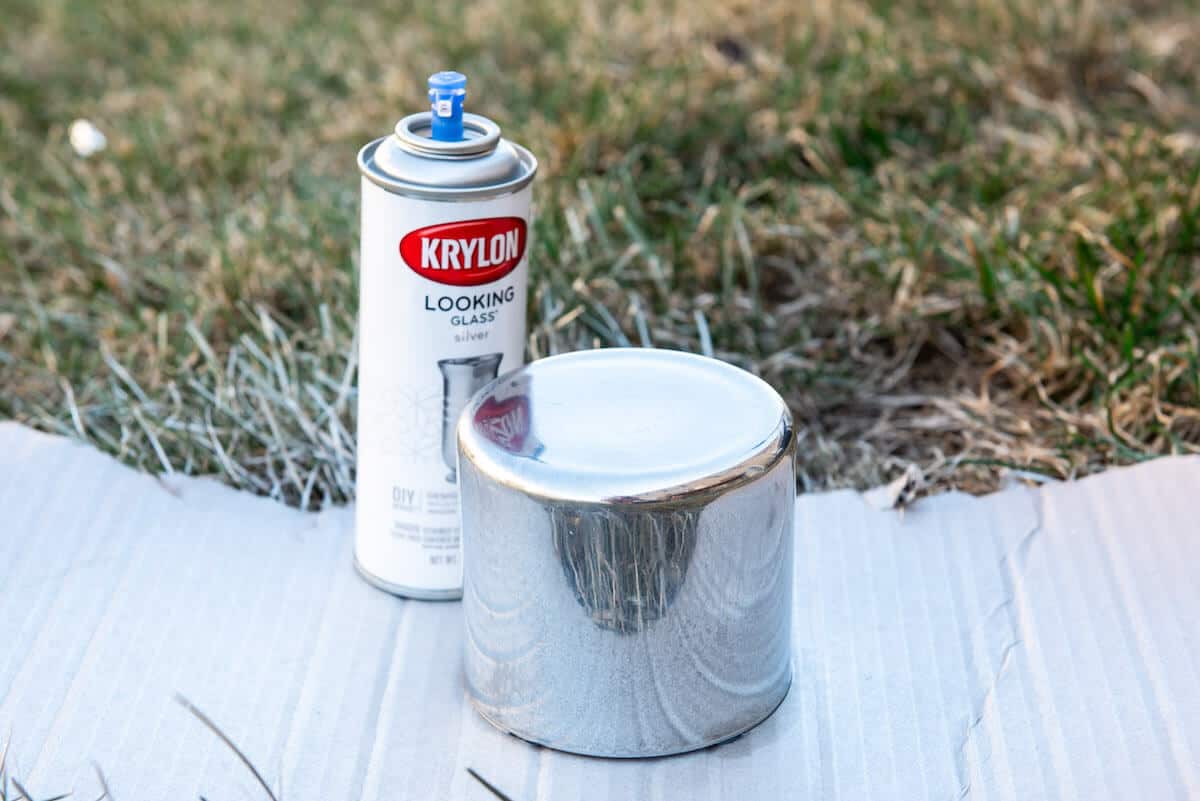 By painting the inside of the jar first, you cut down on the drying time, because you can work on the outside of the jar without messing up the inside that you've already done.
After you have a light, even coat of paint on the outside of the glass, repeat step 3 (spray vinegar water mixture and blot with a paper towel). Your spray painted glass jar should be looking like mercury glass at this point, with spots of glass peaking through the paint.
*NOTE – If the vinegar water mixture is not giving you the desired look, you can also try acetone instead. Just replace the vinegar with acetone in the 1:1 water mixture and use the same blotting technique.
Step 5: Allow your DIY Faux Mercury Glass to dry fully.
Before using your faux mercury glass, allow the piece to dry completely so that the paint doesn't smear.
Step 6: Use Your DIY Mercury Glass as a Vase or Countertop Storage!
If you want to make a cute DIY mercury glass vase like I did, then simply use a knife to cut a piece of floral foam down to the size of your vase opening. You want the floral foam to fit nice and snug in your glass jar, so it's easiest to use a marker to trace the outside of the jar directly on the foam like this: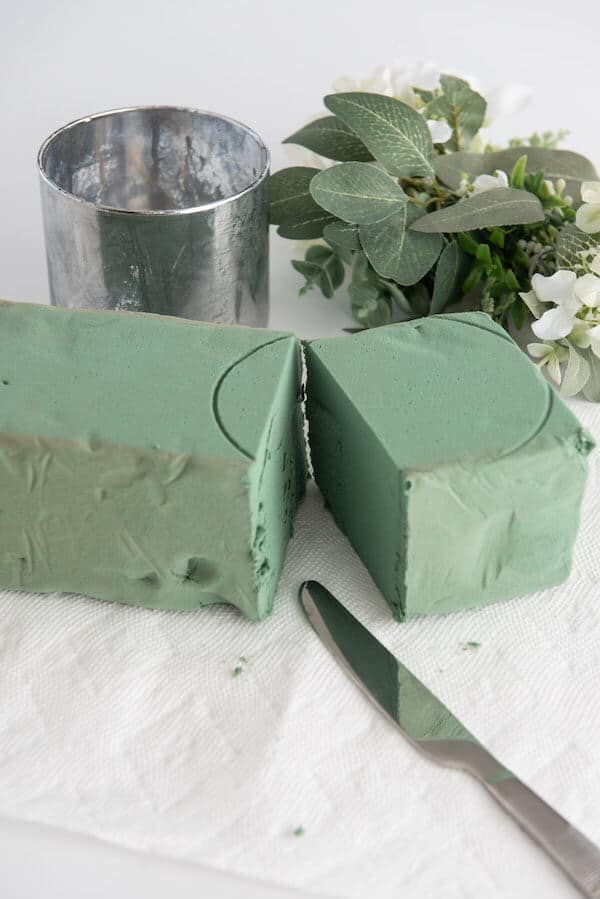 Then, add your flowers by sticking the stems into the foam. *NOTE – If you're using real flowers, then you should use wet foam and soak it in water before you put it into the glass jar. For silk flowers, you can use dry floral foam.
You can also tie a ribbon around your faux mercury glass vase like I did, or just leave it as is. If you're using these as wedding or party centerpieces, then you can tie a ribbon around the vase to match your theme colors. You can also easily switch out the flowers and ribbon with the changing seasons!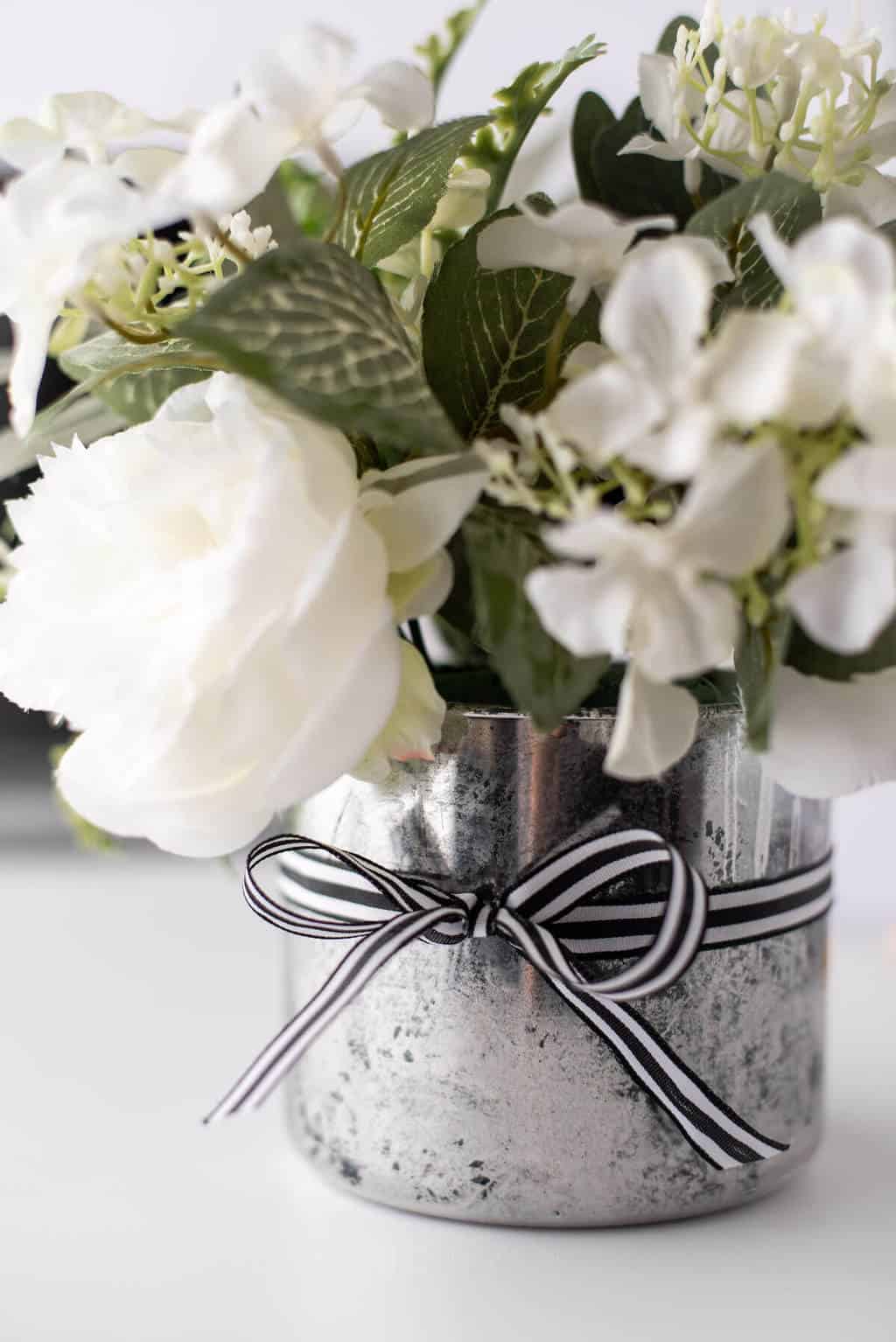 Isn't the end product gorgeous! This is definitely one of my favorite ways to repurpose glass candle jars! And it's perfect if you need a bunch of inexpensive wedding centerpieces, or you can also make your own mercury glass vases and fill them with live succulents for awesome teacher or hostess gifts!
And don't forget to PIN this post for later: