Having a weekly plan for how you will spend your time each week is a great way to get organized and increase productivity! Learn how to get started weekly planning and create the perfect schedule to maximize your time with these easy tips!
I'm sure you've heard the Benjamin Franklin quote "By failing to prepare, you are preparing to fail". And while that may be cliche, it's so true.
A well organized plan with action steps and micro-goals can serve as a roadmap to accomplish pretty much any goal. Even if that goal is just to make it through the week or keep up with your household management duties.
Without a weekly plan, you can easily waste your time and all of a sudden it's Saturday and you haven't accomplished 1/10th of what you wanted to get done for the week.
But this post can help! This post covers:
What is a weekly plan?
Why you should spend time creating a weekly schedule
Actionable steps to create a weekly plan that works for you
Other weekly planning tips
Things to include in your weekly schedule
The best weekly planners (paper planners, digital planners, dry erase calendars, apps, etc)
Plus, you can grab a FREE Printable Weekly Planning Template at the end of this post to help you successfully schedule out your entire week!
What is a Weekly Plan?
A weekly plan is exactly what it sounds like…
"an action plan to accomplish everything that you need to get done in a given week"
Your plan can include anything from your annual doctor's appointment to your child's dance recital to picking up the dry cleaning, and it's a great way to schedule your week so that you can finish your most important tasks and be more productive.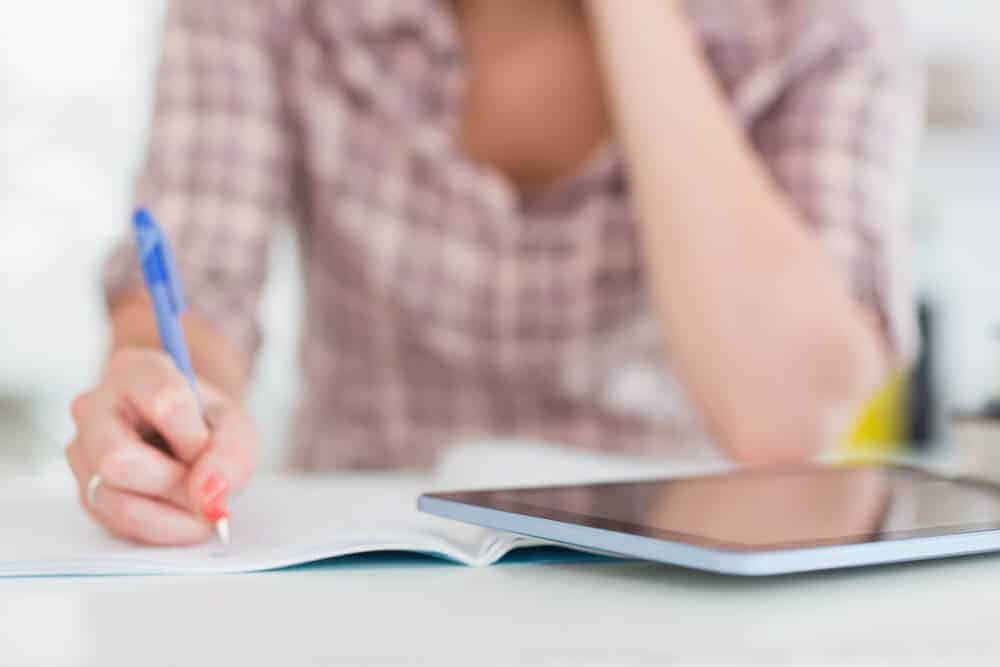 *This post contains affiliate links, which means if you click a link and make a purchase, I earn a commission at no additional cost to you. Read my full disclosure here.
Why You Should Spend Time Creating a Weekly Schedule
A Weekly Plan helps you keep track of things.
If you're busy doing ALL THE THINGS, then a weekly plan can help you keep track of everything so that things don't fall through the cracks. Writing your to-do list down each week and scheduling your time out in advance will give you something to reference so you don't forget anything important.
A Weekly Plan can make you more productive.
I don't know about you, but when I don't have a plan of action or to-do list for the day, then I feel like I waste a lot of time thinking about what to do next. A weekly plan eliminates that down time and instead gives you an action plan of things to get done and in what order to do them.
No more twiddling your thumbs when you accomplish one task and you're trying to determine off-the-cuff what needs to be done next.
A Weekly Plan can help you say "no".
Have you ever overcommitted your time without realizing it? Like you said "yes" to volunteering at the school bake sale, and you also said "yes" to attending your husband's work party on the same night.
Scheduling your week can help you avoid overlap in time commitments, and it can also show you when you need to say "no" because you're simply too busy.
How to Create the Perfect Weekly Plan for You
Before you dig out your planner and get started on making your weekly schedule, let's go over some important steps so that you can get the most out of the time you spend on your weekly planning: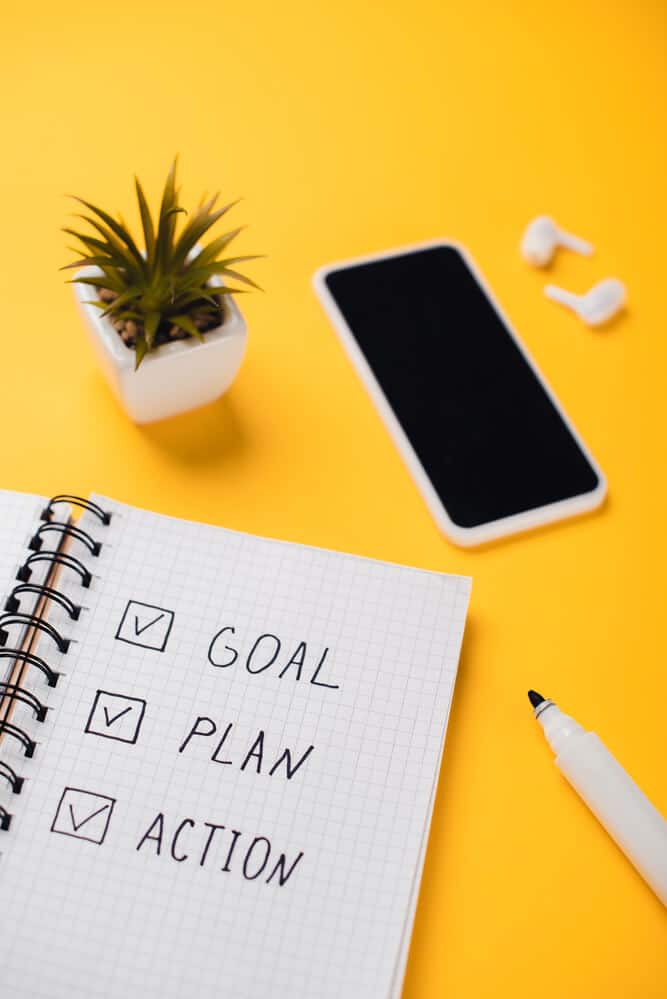 Step 1: Set your goals for the week.
Start by writing down your top 3 goals for the week. These could include something as simple and general as taking one hour to read a magazine and relax in the bathtub, or more specific goals like decluttering and organizing the hall closet.
Those 3 goals should be your weekly "nonnegotiable" tasks, meaning that come hell or high water, you will get those 3 things done!
Step 2: Determine what your "work hours" will be.
Could you accomplish everything on your to-do list? Probably. But would that require you to work well past midnight and neglect family time or time needed to just unwind and take care of your SELF?
When weekly planning, it's important to set your "work hours", preferably those times that you know that you can be most productive. For instance, my "work hours" are from 7:30am to 2:45pm, because that is the time that my kids are at school and I can get the most done.
It doesn't make sense to try and schedule errands, appointments, and work-related tasks during times that you know you can't be productive, like when you're getting your kids ready for bed or when you're spending quality time with your husband.
Step 3: Get it ALL out on paper.
Next it's time to get your to-do list on paper. You can use a scrap piece of paper or a blank notebook to jot down ALL of the things that you need to get done for the week, including appointments, kids' activities, work tasks, etc.
Think of this as a big brainstorming session, where there are no wrong answers. Don't worry about fancy handwriting or spelling… just "empty" your brain.
Step 4: Prioritize your weekly tasks.
After you've got a big list of weekly tasks to accomplish and events and appointments to attend, it's time to prioritize everything.
You can do this a few different ways. Either use a simple number system to rank items in order of importance, writing number 1 next to the highest priority agenda item and so on. Or, you can also use a highlighter to highlight those tasks that are most important and can't be skipped so that you're sure to make room for those in your weekly plan.
Step 5: Fill in your weekly schedule.
Next, transfer your weekly plan to whatever type of planner you are using, whether it's a regular planner, a dry erase board, or a planning app.
Go through your prioritized tasks and start adding them to your schedule starting with the highest priority tasks.
Step 6: List "carryover items" for next week.
As you fill in your weekly planner, you'll probably start to notice that there just aren't enough hours in the week to get everything done. In that case, the items that were low on your list of priorities will have to be pushed off until next week or even the week after.
Those "would be nice to do" tasks (like cleaning out the pantry or decluttering sentimental items) that don't necessarily HAVE TO be done, can be noted in a "carryover" section of your weekly plan.
That way, you still have a visual record of those low priority jobs to remind yourself, but you don't feel obligated to get them done this week if there isn't time.
On the same accord, if you end up with extra time at the end of your week (like from "flex time" that was never used), then you can choose to work on those carryover items.
Weekly Planning Tips
Now that you know how to schedule your week with an AWESOME organized plan, here are some other weekly planning tips:
Don't overbook yourself.
I don't know about you, but I feel the most stressed when I am SUPER busy. Running from one place to the next, or trying to accomplish TOO MUCH in a single day can lead to burnout and overwhelm. No good!
Don't be afraid to say "no" if you're too busy, and don't feel bad about putting off low priority tasks until a future date.
Add some flex time into your weekly plan.
Things that require your immediate attention are bound to come up during the week, so it's important to have some "flex time" built in to your schedule so that you can accomplish pressing tasks without falling behind on your other pre-planned activities.
Your child could get strep throat and need to be taken in to the doctor, or you may get a nail in your car tire and have to stop in to get it plugged. Without flex time built in to your weekly plan, then these unanticipated items would be taking away from other things that you had already planned on doing.
However, if you block off a few hours each week, and don't schedule anything during that time, then you can use those extra hours as a "catch up" period.
Do a brain dump so you don't forget anything.
If you're super busy doing ALL THE THINGS, then you may need to do a brain dump throughout the week or even before you start creating your weekly schedule.
A brain dump is a great way to get anything and everything (to do lists, grocery lists, favorite quotes, Netflix shows you want to watch, etc) out of your brain and on to paper.
Go here to read more about how to do a brain dump, and grab this FREE printable brain dump worksheet:
Don't forget about self care.
Self care is SO important, especially if you're super busy and could become overwhelmed by the sheer amount of things that you need to get done each week. And while it may seem like a waste of time to enjoy a bubble bath or read a book, studies have actually proven that self care can actually make you MORE productive.
Want self care ideas to incorporate in to your weekly plan, check out this post: 30 Day Self Care Challenge for Moms and grab the FREE printable self care challenge!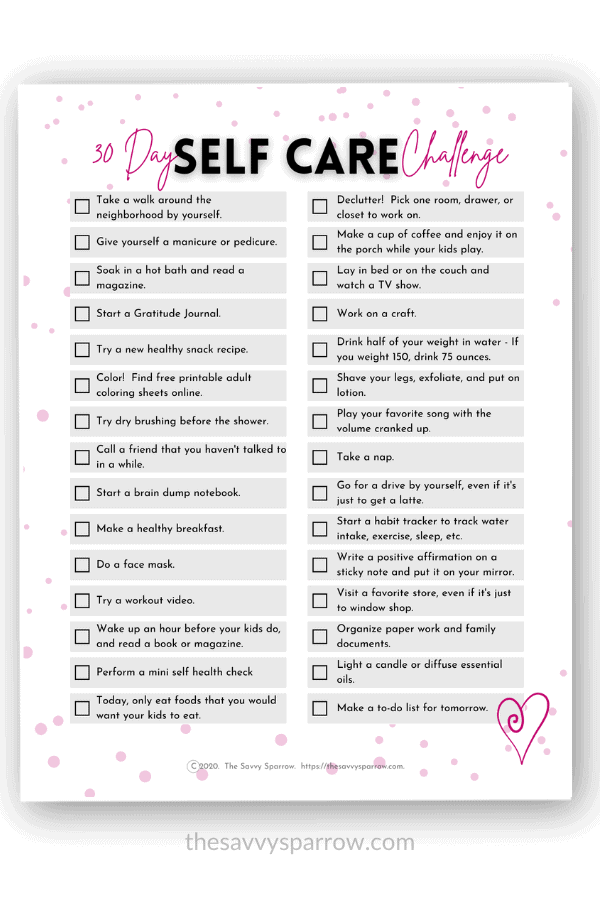 Don't be discouraged if your plan doesn't go as planned.
Taylor Swift once said,
Just because you made a good plan, doesn't mean that's what's gonna happen.

Taylor Swift
And she's right… and yes, I see the humor in the fact that I went from quoting Benjamin Franklin to Taylor Swift!
I could also spout off a ton of quotes about "the best laid plans" and so on and so on, but the point is that you can't PLAN everything. Life happens, and you will need to adjust.
Don't beat yourself up about it, but instead just move those items that didn't get done to the following week. And remember, when things don't go your way, you can either dwell on it and feel bad for yourself, or you can adjust and move forward.
Things to Include When Planning Your Week
Here are some ideas of things to include in your weekly plan to get you started: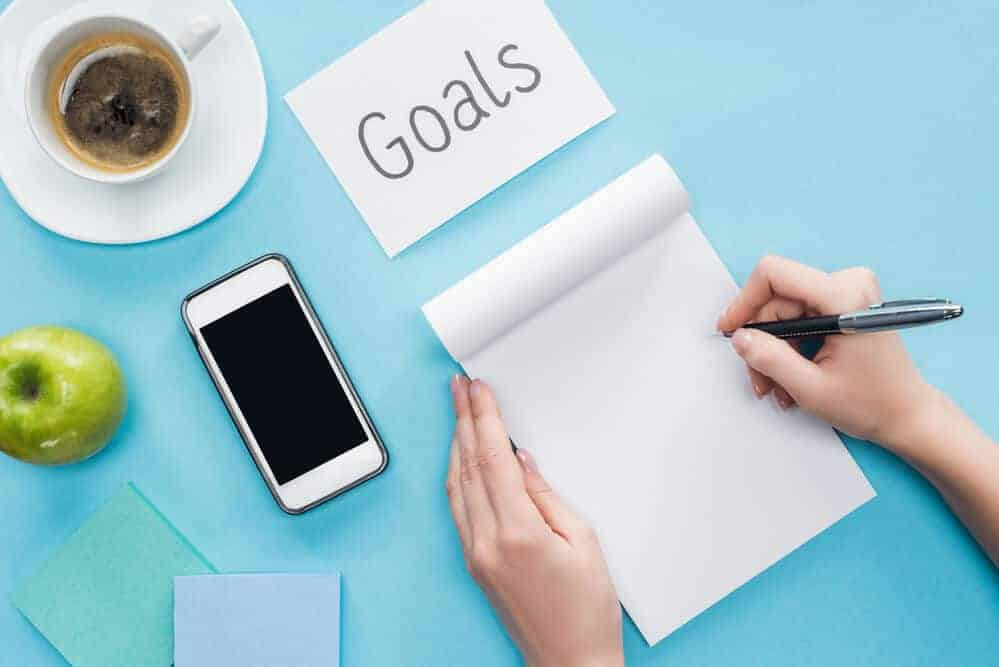 Household Jobs
Family Obligations
Dropping your kids off at their extracurricular activities
School ceremonies, events, or field trips
Date night with your husband
Weekly phone call with your Mom
Sunday night family dinner
Appointments
Doctor's appointments
Lunch dates
Car maintenance appointments
Errands
Be sure to include all errands that need to be completed during the week, including anything that needs to be done outside of the home, like:
Picking up the dry cleaning
Dropping off an Amazon return
Going to the post office
Renewing your driver's license
Work-Related Items
If you have a job (besides the one you do for free as the household manager, chauffeur, kid-wrangler, etc), then you probably have certain work obligations that need to be included in your weekly plan.
Even if it's just the time that you will actually be AT work, or your regular work schedule including commuting time, be sure to include those hours in your schedule for the week so that you don't overbook yourself.
Scheduled "down time"
It's important to have planned down time included in your weekly schedule also. Whether it's watching your favorite show with your husband each night, or making time for a relaxing bubble bath at the end of the week to wind down, be sure to include that important time for self care.
Want some ideas for what to do with your down time each week? Check out this 30 Day Self Care Challenge for Moms and grab the printable list of self care ideas to include in your weekly plan!
Time for reflection and planning for next week
This important time is often left out of a weekly plan, because you don't typically think about setting aside time for planning. But in order to maximize productivity week after week, it's important to build time for planning into your weekly schedule.
I suggest blocking off 30 minutes to one hour each Saturday or Sunday to set your schedule for the upcoming week and to reflect on the previous week. You can also use this time to set your intentions for the week, outside of specific to-do's.
Weekly Planning Tools
If you're new to weekly planning, then I suggest that you invest in a planner, calendar, or app to help you keep track of everything that you want to accomplish each week.
Trying to just remember your plan for the week is never a good idea, because you're bound to forget something and constantly going over a weekly to-do list in your head can actually cause you to be LESS productive and MORE stressed… that's why I advocate for doing brain dumps!
Here are some awesome tools that can help you with keeping track of your weekly plan:
Weekly Planner
There are about a gazillion different weekly planners that you can use if you're more of a pen and paper kind of gal.
I personally LOVE the Happy Planner, so much so that I wrote an entire post to help you get started using this awesome planner system: The Happy Planner – Everything Beginners Need to Know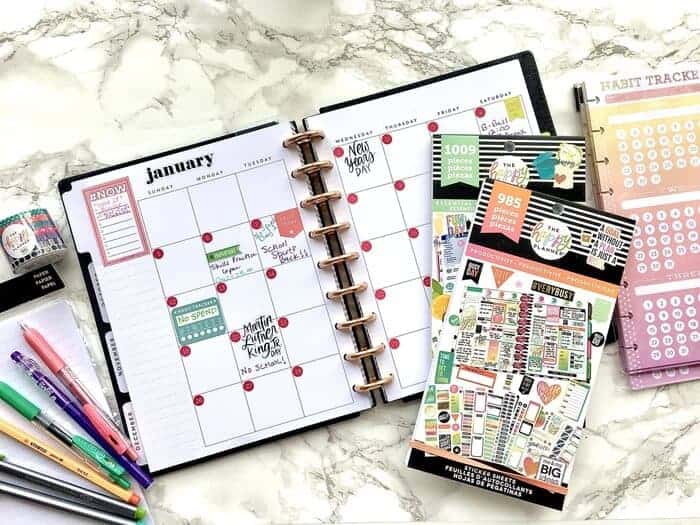 But if you think that all of the pretty coordinating accessories and stickers will be more of a distraction than a productivity boost, then you may want to consider a more basic weekly planner.
I've got some AWESOME weekly planner suggestions in this post: The Best Mom Planners to Get Seriously Organized
And if you want a little extra motivation to stick with your weekly planning, then try some fun new colorful pens to help you color code your schedule… kind of like getting a cute new workout outfit can help you stick to your gym routine!
Here are some of the BEST Pens for Planners – I tested 12 different popular pens to find out which don't bleed or smear!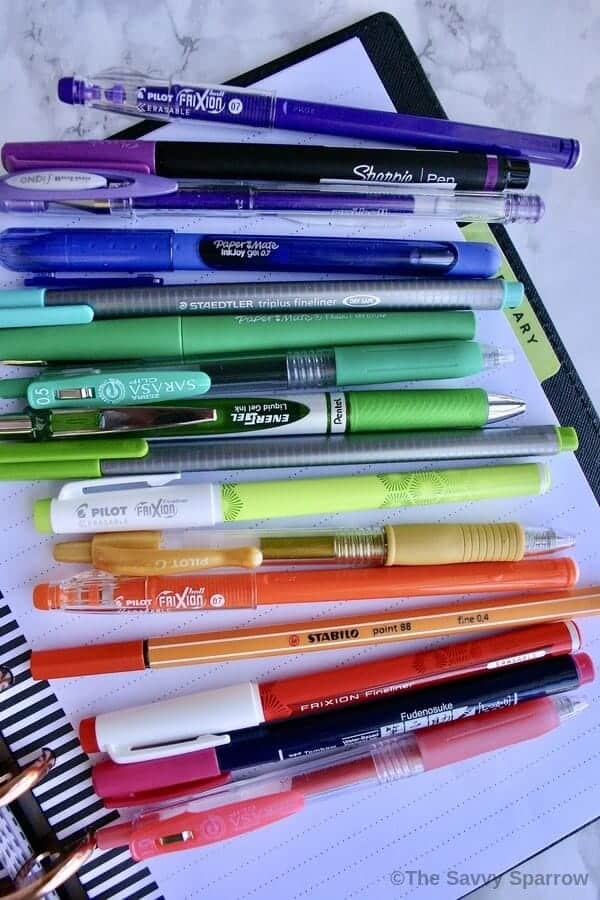 Weekly Planner Tear-Off Desk Pad
If you like to focus on one week at a time, and then throw that plan out to move on, then you may like a tear-off desk pad like this one to schedule your week. This particular weekly planner pad is great because it includes plenty of room for notes (where you can record your "carryover" items for next week) AND space for habit trackers!
Dry Erase Board Weekly Calendar
In addition to my Happy Planner, where I record more detailed and family-specific information, I also use a dry erase board calendar for work-related tasks.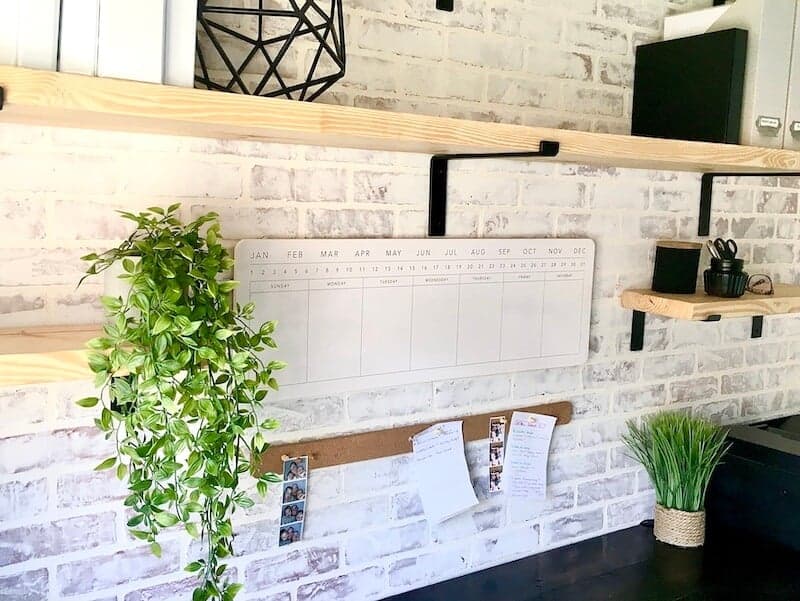 I found the awesome dry erase weekly calendar above at HomeGoods, and it hangs above my desk so I can plan everything that I want to get done for my blog each week. Unfortunately, I couldn't find another one this size, but you can find smaller dry erase weekly calendars on Amazon that are perfectly sized to hang on your fridge.
Weekly Planning Apps
If you prefer an electronic method of planning over actually writing things down on paper, then a convenient cell phone app may be right for you. Check out some of the best planner apps for 2021 here!
Digital Planners for iPad
If your iPad or tablet is pretty much attached at your hip, then you may consider using a digital planner. Digital planners are typically in PDF form and can be uploaded to a notes app like Keynote. Then, you can use your stylus or Apple Pencil and write directly on your screen to fill in your planner.
You can find a TON of cute digital planners on Etsy!
Free Printable Weekly Planner Template
If you want to plan your week without spending money to buy a planner, then you can use this FREE printable weekly plan template!
I created this printable weekly calendar to include some of the key elements to a good schedule, like daily goals, top priorities, and space for next week's tasks.
You can grab the FREE printable weekly planner as a gift when you sign up for my free email newsletter… and I'll also send you the password to my FREEBIES library as a "Thanks" for joining my list!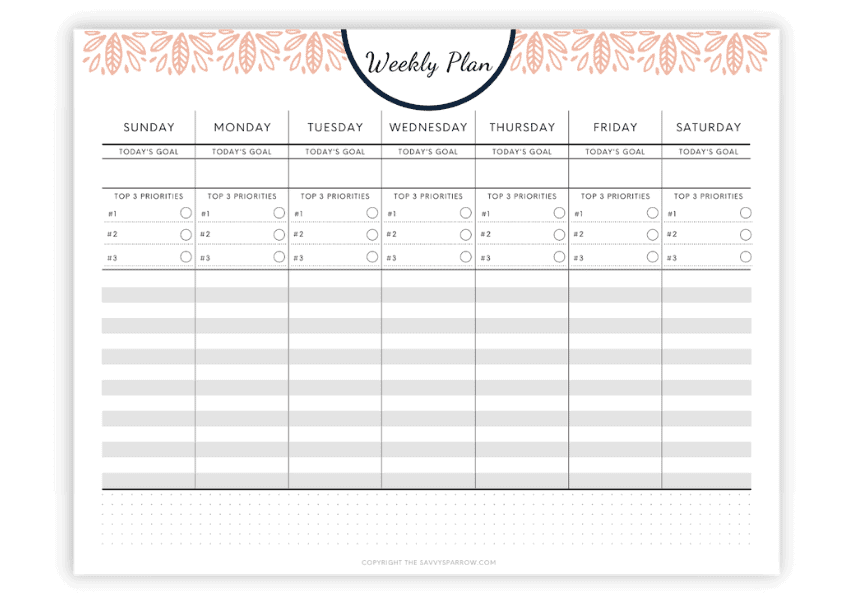 Time to Plan!
I hope that this post has given you some ideas for how to start creating a weekly plan so that you can be more productive with your time.
You will be amazed at how much more fulfilled you'll feel after having a productive week and crossing loads of items off your to-do list! Sure sitting on the couch and watching Netflix in the middle of the day is nice, but there's something super satisfying about knowing that you actually accomplished a good bit each week.
And don't forget to grab my FREE printable weekly planning worksheet! And PIN this post for later!