A self care kit filled with your favorite things to help you relax and destress is a great way to keep up with your self care routine. Here are some of the best self care kit ideas!
Self care should be an essential part of every busy mom's schedule. If you've ever lost your temper after stepping on the 56th Lego of the day, or pulled an all-nighter while your daughter had an awful bout of food poisoning, then you know what I'm talking about.
However, self care looks different for everyone. Maybe your "self care" involves 30 minutes of kid-free time roaming around Target or an hour long bubble bath when you actually get to shave both of your legs at the same time.
Whatever form of self care works best for you, a self care kit can help you to not forget about taking care of your own well-being. And it can also make sticking with your self care routine easier, because you won't have to waste valuable time looking for your favorite journal or thinking about what self care activity to do for that day.
But what should you put in your self care kit?
These are the general types of items I suggest for someone wondering how to create a self care kit:
Relaxing Scents
Bath & Body Products
Creative Outlets
Things for Self-Improvement
Things That Make You Feel Good
There are a variety of products that could fall under these different categories. Think through the different categories and check out my list below to give you some inspiration. You're well on your way to building the perfect self care kit for you!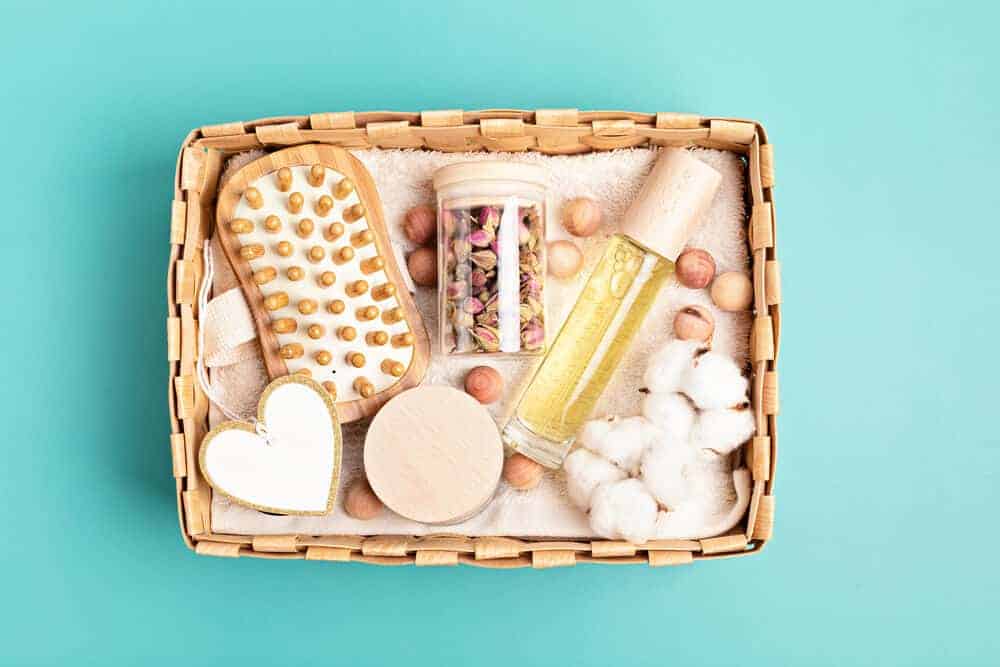 What is a Self Care Kit?
Self care is the practice of being kind to yourself. As you might've guessed, a self care kit is a bag or box full of things that make you feel good and support your emotional health. They may include things for your mind, body, or spirit.
The perfect self care kit for you will be a bag, box, or other container that is filled with activities and items that help you relax and become centered.
Your self-care kit is specific to you and speaks directly to your well-being areas that tend to be compromised due to a busy lifestyle.
As moms, we are notorious for giving, giving, giving, and never really taking time for ourselves. A self care kit is designed to help you take intentional time for yourself. It should be filled with things that uplift you and encourage you to be your best self. This looks different for various people, but the end result is the same: find things that make you a better version of yourself and use them.
Why Should You Create a Self Care Kit?
Creating (and using) a self-care kit is an investment in yourself and those around you. Although it is focused on your own well-being, it will affect your family also. Several studies indicate that a mother's lifestyle and overall health have a direct impact on her children.
If you're a mom who feels guilty for taking care of herself, think of it as a way to protect your kids. If you are unhappy, stressed, overweight, etc., they will feel the burden of those conditions, as well. However, if you take the time to practice self-care, you will not only feel better, but you will also be better for your family.
And if you struggle with stay at home Mom guilt or you feel bad for prioritizing YOU, then read this post: Stay at Home Mom Guilt: To the Woman Who Does it All, But Still Feels Like She's Not Doing Enough
23 Self Care Kit Ideas to Try
If you really want to focus on the well-being of your mind, body, and spirit, you need to start by thinking about what that means to you. For example, some people prefer meditation to relax their mind, while others listen to music.
Deciding what to put in your own self care kit is an important and personal decision. But if you're not sure where to start, I've got some great ideas to guide you.
You can consider:
Things that help you de-stress
Things that help you relax
Things that help you improve your mindset
Here are some of my favorite ideas for items that should be included in a self care kit:
*This post contains affiliate links, which means if you click a link and make a purchase, I earn a commission at no additional cost to you. Read my full disclosure here.
Relaxing Scents
Many people associate certain fragrances with memories of their childhood. Others associate them with specific benefits such as stress relief or mood enhancement. Either way, below is a list of some great ways to incorporate fragrances in your self care kit.
1. Candles
A candle is one of those things that can help you relax almost instantly. Whether it's the beauty of the flame or the sweetness of the fragrance, it can help you feel calm. If candles have that sort of effect on you, I highly recommend you include them in your self care kit. You can use regular scents or aromatherapy candles.
2. Essential Oils
Many people use aromatherapy, which is the therapeutic use of essential oils. These oils are typically derived from plants and are believed to help with a variety of health issues. The most notable benefits of using essential oils include improved sleep and reduced stress. If you're unfamiliar with essential oils, there is a ton of information available online.
3. Diffusers
If candles or oils aren't your thing, you might benefit from a diffuser. You can get the same great benefits of aromatherapy by using a diffuser to disperse the fragrance into the air for you to inhale. This can be done in a small room to make the fragrance more powerful or a larger space to make it more subtle.
4. Misters
Aromatherapy misters are a great option if you're on the go. Although I encourage women to practice self care when they're not out and about, that's not always possible. Check out some small misters containing various aromatherapy fragrances you can use while you're grocery shopping, picking up the kids from school, etc.
Bath & Body Products
If you're like most moms, getting a moment alone in the bathroom can be heavenly. It also never seems to happen! However, it's still an important part of your self care routine, so here are some ideas for bath and body products to include in your kit:
5. Bath Salts
These come in a variety of scents and can turn your bath into an oasis. Some are filled with organic salts from exotic locales, and others are simple Epsom salt with lavender. The salts can be in granular form, or you can find them in bath bombs.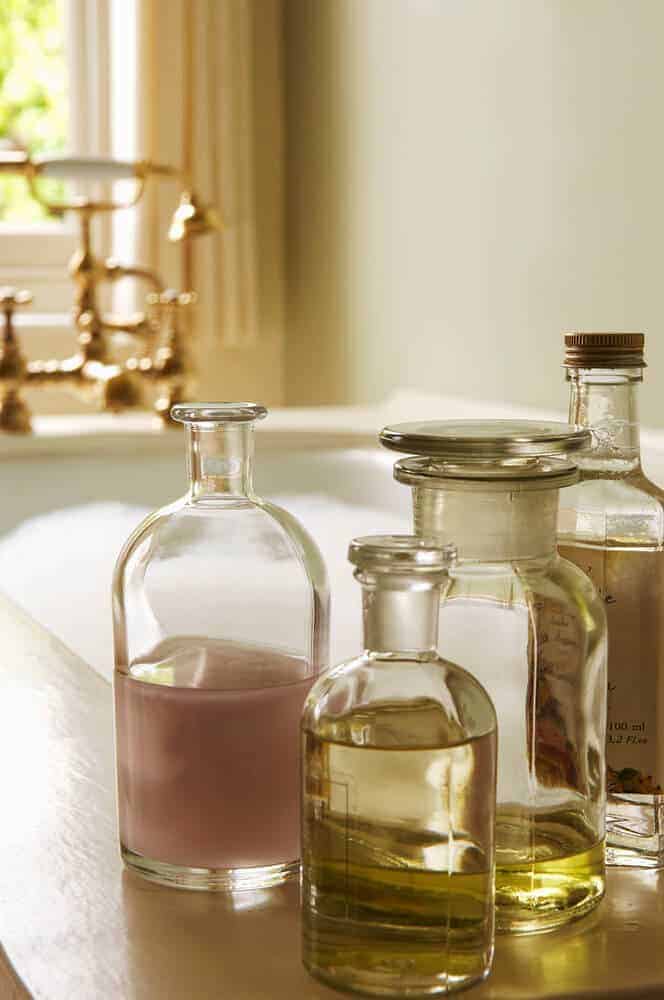 6. Bath Oil
Just like bath salts, these come in a variety of fragrances, as well. The nice thing about bath oils is that they will also hydrate your skin while soaking away your stress. The only caveat to this one is that you need to clean the tub afterward, so you don't slip in the oil's residue!
7. Creams or Lotions
Whether we choose to admit it or not, our skin starts to change as we get older, after we've had kids, etc. Creams and lotions can be a 2-in-1 self care regimen that moisturizes your skin and helps you relax with a nice fragrance, so a bottle of your favorite lotion is a great thing to put in your self care kit.
8. Clay Mask
Whether it's clay or another type of mask, this is also an extremely relaxing thing to do. It's good for your skin and your sanity to apply a facial mask and then lie down in the bathtub or the couch and close your eyes for a bit. It will also help clarify your skin and make it shine, so that's a win-win! I personally use and love this clay mask.
9. Nail Care Items
Giving yourself at-home manicures or pedicures is a great way to relax and save money. Plus, I feel much better about myself when my nails look nice.
I recently discovered these glue-on french tip toe nails and they are legit my favorite new self care item! My toe nails look a mess because I pick at them (bad habit!), but these give me perfectly polished toes in less than 10 minutes!
Creative Outlets
If you're a creative or even someone who just likes to get your mind off of everything you're responsible for, some of these items might be helpful to you. Expressing yourself through words or other creative means helps relieve stress. Getting things out of your head and onto paper can really make a difference.
10. Journal
Put a journal in your self care kit so you can record how you're feeling on any given day. Sometimes, you will feel the need to express your gratitude for everything in your life. Other days, you might feel completely defeated and just need a place to put your thoughts to avoid getting frustrated with your toddler or your boss. (And sometimes your toddler is your boss!).
Whatever the case, journaling can help you channel these thoughts into a single place. It is a peaceful way to let your thoughts come out – the good, the bad, and the ugly. The best part is that no one is there to judge your words!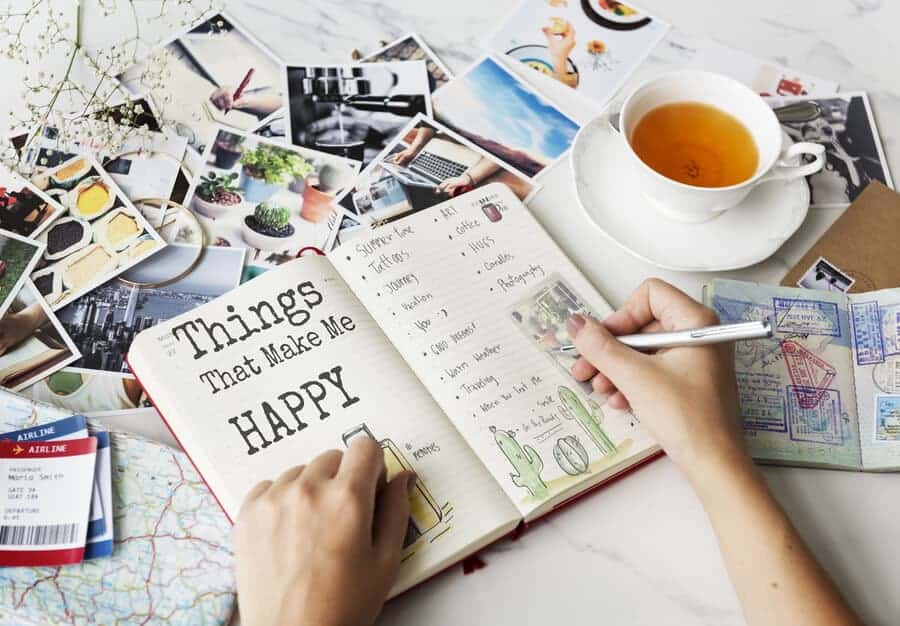 You can even start a daily gratitude journal, which has been proven to have many health benefits. Grab some gratitude journal prompts here: How to Start a Gratitude Journal – Plus Daily Journal Prompts!
11. Adult Coloring Books
Coloring may seem childish, but coloring in adult coloring books is actually a great, mindless thing to do when you just want to forget about everything else. The intricate details require some concentration, which can actually be a great way to "turn your brain off".
I personally am an over-thinker, and my brain is always going a mile a minute, but using adult coloring books, watching movies, and using this free printable brain dump worksheet are all things that help me to relax my mind.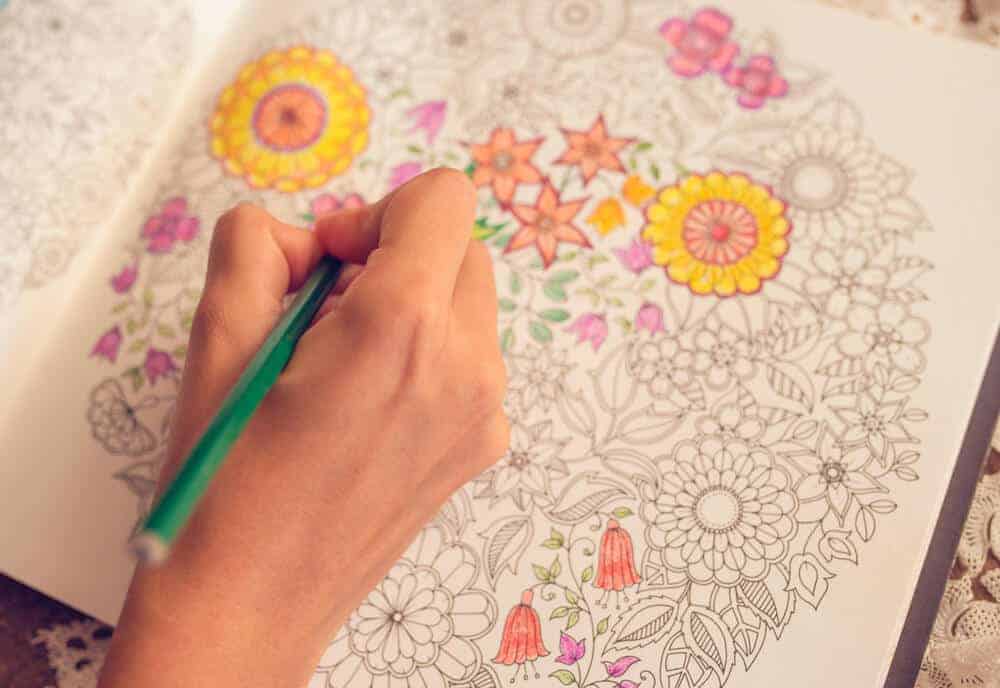 12. Sketch Pad
If you're extra creative and have a little touch of artistic ability, try putting a sketch pad in your self care kit. This might bring you back to your childhood days of doodling on everything and creating fun pictures. You can definitely do this with your kids if that's what needs to happen, but I recommend finding some time to yourself to let those creative juices flow!
13. Note Cards
If you enjoy sending thank-you cards, congratulations cards, etc., this is a no-brainer for your self care kit. Doing something nice for someone else is a surefire way to feel good about yourself and your life. Taking the time to write some note cards to people who have made a difference in your life is an excellent way to spread joy.
14. Fun Colorful Pens
If your self care kit includes a journal or planner, then you'll need some pens also!
I like to get some really fun pens to go along with these self care activities, because writing with a cute, colorful pen is kind of like a small luxury for me. You can check out my review of some of the best planner pens here!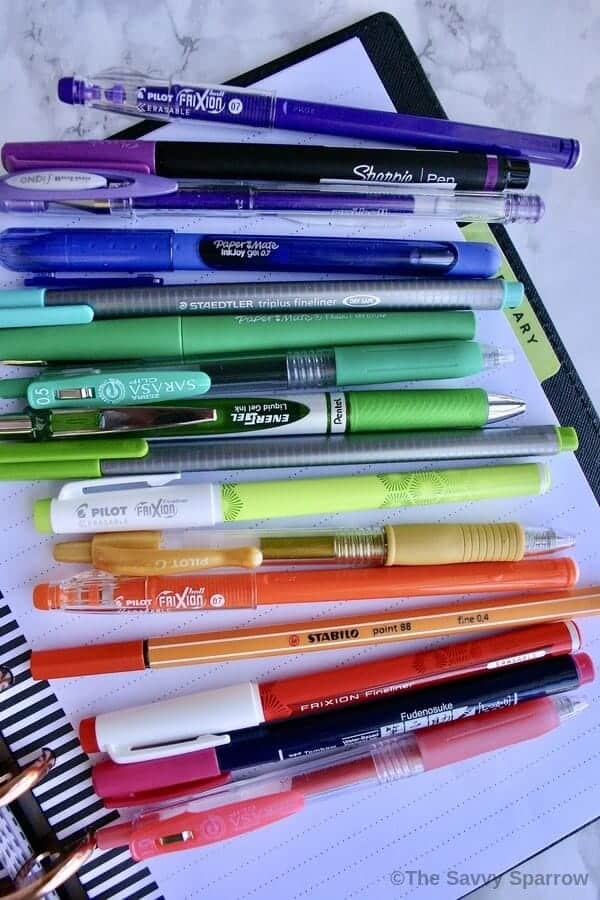 Things for Self-Improvement
Truly caring for yourself includes allowing yourself to grow in ways that you feel are important to who you are. Moms have a tendency to take care of everyone else around them and then forget to take care of themselves. If you have some self-development items in your self care kit, you're more likely to make time to use them.
15. Self-help Books
There are a ton of inspirational and self-improvement books on the market today. These are always a great addition to a self care kit because they allow you to focus on yourself. These books' topics can span a broad range. Here are a few suggestions:
Health and well-being
Creating a positive mindset
Running a successful business
Regardless of the topic you choose, you're sure to gain some insight from a book like this. Being inspired by another mom's story of success can have a huge impact on you, so try to find one that's written by a mom. You can also find books written by a variety of other women who have powerful stories to tell.
Need some book suggestions? Try Everything is Figureoutable by Marie Forleo or Girl, Wash Your Face by Rachel Hollis.
16. Earbuds
Sometimes, you just have to turn off the noise of your life and turn on something uplifting, so earbuds are a great item to include in your self care kit. Whether you listen to your favorite tunes, an audiobook, or a good podcast, a good pair of earbuds can help you temporarily zone out of your real-life and into whatever you're listening to in your time of escape.
17. Yoga Mat
Placing a yoga mat in your self-care kit will remind you to care for your body, as well. Pulling out your mat after a stressful day and going through some light stretching can make an impact on your mood. You'll get the blood flowing and start to feel more energized.
If you prefer, you can sit cross-legged on your mat and do some meditation instead. Regardless of what you do, your mat will inspire you to take a few moments to yourself and just… BE.
18. Planner
This one probably seems really odd, but check it out. Some of us are planners. We plan everything from meals to school clothes to family outings. If you're always busy taking care of your family and making sure everyone does what they need to do, planning for yourself sometimes falls by the wayside.
If you take some dedicated time to fill in your planner, you will feel more organized and more prepared each day. This act will automatically take your stress level down a notch because you already have a plan for the day. It might seem like a very small thing, but in the heat of the moment, it's a lifesaver!
You can read more about how to create a weekly plan (and some of my favorite planners!) here. And you can even grab this FREE printable weekly planner template to get you started!
19. Brain Dump Worksheet
If you've never done a brain dump, and you're a super busy Mom, then stop what you're doing and go read this post: Free Brain Dump Template to Get Yourself Organized
This brain dump worksheet is a great item to include in your self care kit, because doing brain dumps can help you alleviate the stress of constantly trying to remember all. the. things. Plus, if you're not always mentally running through your to-do list, then you can be more present with your family and you'll be less likely to forget stuff.
Things That Make You Feel Good
Last but not least, you should throw a few items in your kit that just make you feel good… call them "simple pleasures":
20. Positive Affirmations
Whether they are individual cards or a list printed off the internet, positive affirmations are an awesome addition to your self care kit! Learning to affirm yourself each day positively is critical to creating a positive mindset and being your best self.
And if positive affirmations sound a little too self-help-y for you, then try these funny, don't-take-life-too-seriously affirmation cards!
21. Your Favorite Magazine
Yes, I know that some consider magazines kind of obsolete these days. But sometimes, you just want to kick back in your fuzzy socks and read your favorite magazine. Personally, I love to get in a hot bubble bath with the latest copy of my favorite Hollywood gossip magazine or Food Network magazine and just relax.
22. A Feel-Good Book
Although we discussed self-improvement books earlier, that's not always a great fit for everyone.
But a fun, light novel can be the perfect solution to a rough day with the kids or that pesky PTA meeting. Even if you can only read one chapter per day, you'll be doing something you enjoy and taking time for yourself, which is the whole purpose of a self care kit.
23. Coffee or Tea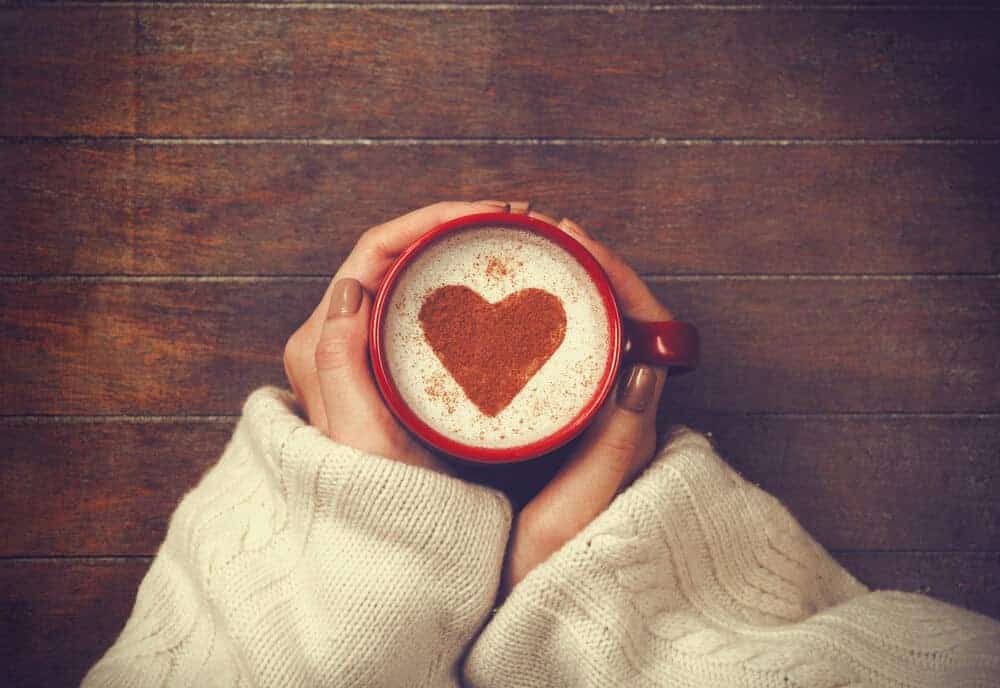 If you're someone who really enjoys a hot cup of herbal tea or coffee, I say go for it! Sometimes, just holding the hot mug and enjoying the aroma is enough to relax your stressed-out mind, and tons of herbal teas are believed to have anti-stress benefits too!
More Self Care Ideas
If you need other self care kit ideas, then try reading through my 30 Day Self Care Challenge for Moms!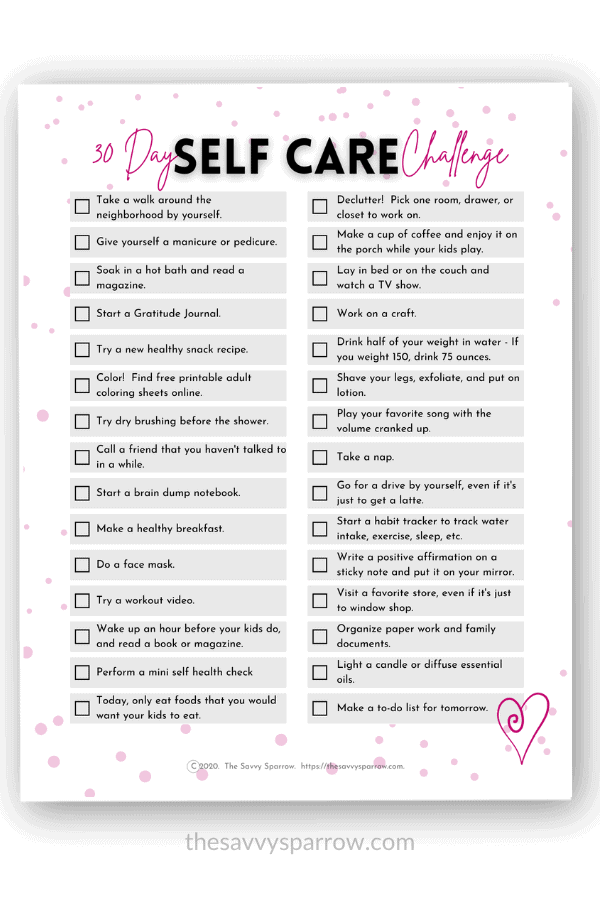 You can even grab a free printable checklist of self care ideas to add to your routine, like:
Make a healthy breakfast.
Try dry brushing before you take a shower.
Make a to-do list for tomorrow.
Try a new healthy snack recipe.
Play your favorite song with the volume cranked up.
and more!
Conclusion
Overall, a self care kit should be designed as a way for you to take time for yourself and CARE for yourself. Each self care box will look different, depending on your unique needs and interests, but they all have the same intent. Although you may feel like you don't have time for self care, it's essential to those around you that you take the time.
Being a healthy, positive role model is exactly what your kids need from you. Take some time to think about what should be in your kit and then put it together. Put it somewhere that is easily accessible to make it convenient to take care of yourself!
What about you? What is one thing that would absolutely HAVE TO go in your self care box? Leave me a comment down below!
And don't forget to PIN this post for later!