Want to find out more about the gratitude journal trend? Learn how to start a gratitude journal, and find out how it can help better your life! Plus, don't miss the 30 gratitude journal prompts to help you get started!
I'm thankful for my gray fuzzy socks.
My husband bought them for me about two years ago, and whenever I want to feel extra cozy I put them on. They fit perfectly, and they're made of the softest chenille known to man.
And I'm thankful for french fans from Publix. These bakery treats consist of two puff pastry cookies stuffed with vanilla buttercream and dipped in chocolate, and they're my Friday night treat for after I put the kids to bed.
Of course I'm also grateful for my family, our health, and having the resources to provide what we need.
But those things are obvious.
Being TRULY GRATEFUL for the big things AND the small things is important, and I think that's one of the main reasons that I'm such a happy-go-lucky, positive, and care-free person. Because I am THANKFUL for everything that I have, rather than feeling like I don't have enough.
Yes… I would say that gratitude is one of the keys to happiness. There is beauty in contentment.
In a social media world, it can be so easy to get wrapped up in what other people have, where others are going on vacation, and how physically perfect others seem to be. And…
"Comparison is the thief of joy."

Theodore Roosevelt
You have shelter. You have food. You have clothing. Be thankful.
And if you need help in the gratitude department, then why not start a Gratitude Journal! Taking just a few minutes to journal something that you're grateful for each day has been found to have significant health benefits, and it's much cheaper than botox or therapy.
Here's how to start a gratitude journal to help you express thankfulness for the many blessings that you have…
But first…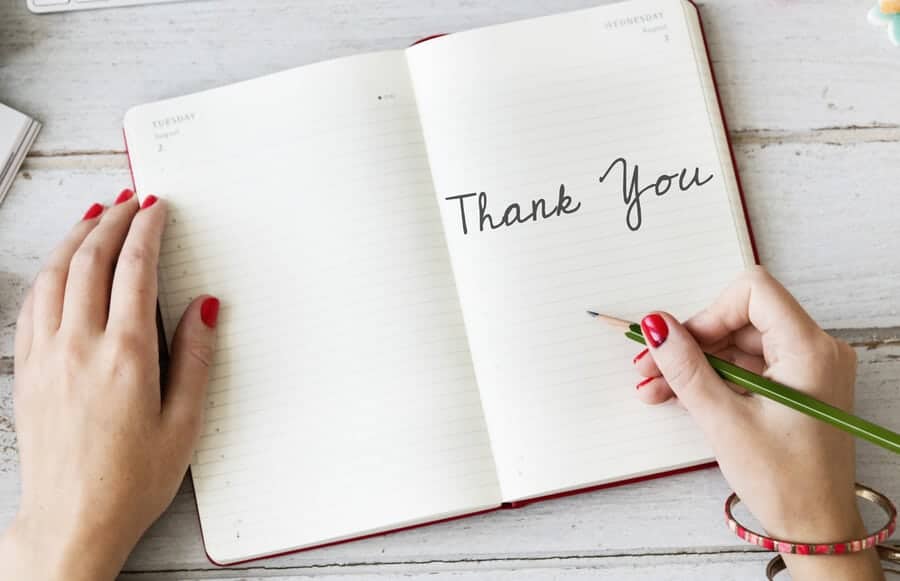 What is a Gratitude Journal?
Before we answer that question, it's important to talk about the word "GRATITUDE". Merriam-Webster offers the following definition:
"the state of being grateful: THANKFULNESS"
And they define "GRATEFUL" with a few key phrases:
"1: appreciative of benefits received, expressing gratitude; 2: affording pleasure or contentment"

Merriam-Webster
So it stands to reason that a Gratitude Journal is simply a place for you to record different things in your life that you're grateful for. It can be an actual paper journal that you write in, an app on your cell phone, a few pages in your bullet journal, or a Google Docs document that you add to each day.
Life can be tough.
You may lose your job, fracture your relationship with a loved one, or feel like you're buried under debt. But there is still plenty in your life to be thankful for.
A Gratitude Journal helps to negate the effects of a rough day and instead helps you focus on the positive things in your life.
Why You Should Start a Gratitude Journal
The benefits of expressing gratitude have been the focus of many scientific studies, and time and time again, the results have shown a significant correlation between gratitude and physical and emotional well-being.
Here are just a few of the scientifically-proven benefits of expressing gratitude:
Still not convinced that a Gratitude Journal is right for you? Check out this VERY informative post from Happier Human on the 31 Science-Backed Benefits of Gratitude.
How to Start a Gratitude Journal
1. Pick a Journal
Picking a Gratitude Journal is like picking what to have for dinner… there are SO MANY OPTIONS… unless you're like me and can't cook… Then maybe you have two options: 1) Salad or 2) Frozen Pizza. 🙂
All you have to do is walk down the journal aisle at Michael's or search "Journal" on Amazon, and you'll have a TON of different journals to choose from.
Here are some of the choices you'll have to make when picking the perfect journal to use for your Gratitude Journal: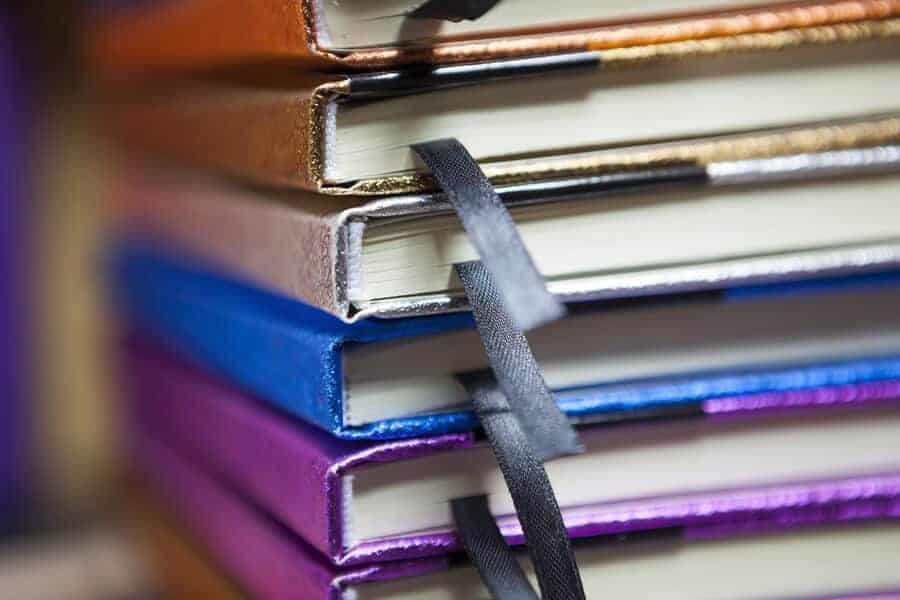 Journal Binding Choices
First, you need to decide what type of binding you want your journal to have:
Spiral bound – This is my preference, because the spiral wire binding allows the journal pages to lay flat.
Disc bound – I also LOVE a disc bound notebook or planner. This binding is what makes the Happy Planner so unique… If you're interested in the Happy Planner, then be sure to check out Everything You Need to Know about Happy Planner for Beginners!
Regular book binding
Guided or Non-Guided Journals
A guided gratitude journal will offer journal prompts to give you ideas for what to write about. These are great if you feel like the act of journaling will get monotonous, or if you're afraid that you will run out of ideas for your gratitude journal.
A non-guided journal is simply a journal with blank pages that you fill in by yourself. This type of journal offers more freedom of expression and does not restrict you to certain topics.
Lined, Blank, or Dot-Grid Pages
I personally prefer regular lined journal pages, but if you're more artistic and want to incorporate drawings or doodles in your gratitude journal then blank or grid pages may work best for you.
Journal Apps
If you don't want to actually WRITE in your gratitude journal, then you can also use a journaling app.
Here are some awesome apps to use for a digital gratitude journal:
Day One – This is one of the most highly-rated journal apps, and it's won multiple awards including Apple's App of the Year and Editor's Choice. The free version offers plenty of handy features including:
The ability to use offline
Daily reminders to journal
Unlimited text entries
One photo added to each entry
Templates
On This Day flashbacks
Five Minute Journal – This journal app is geared towards the habit of gratitude journaling, and it's great for beginners that may need daily journal reminders and prompts. There is a one-time fee of $4.99 for this app, but if you need someone to hold your hand and walk you through the journaling process, this could be the app for you.
Here are some of the key features of the Five Minute Journal app:
Timed journal prompts
Answer three questions in the morning to encourage gratitude and productivity
Answer two questions in the evening to reflect on the positive aspects of the day and your intentions for tomorrow
Ability to add a photo to each entry
Ability to export as PDF
Other Non-Paper Journal Options
If you're looking for even more non-paper journaling formats for your gratitude journal, then here are some other options:
Word processing software – You can use the programs available on your computer or phone (Notes on iPhone, Pages on MacBook, Word, etc.)
Google Docs – If you don't have a good word processing program available on your devices, then try Google Docs. As a Mac user, I don't have Microsoft Office (Word, Excel, Power Point), so I've used Google Docs for years and LOVE it! And best of all, it's FREE!
Voice Recordings – If you're short on time, you can also do daily voice recordings on your smartphone or other device. However, be sure that you have plenty of storage available as this journaling method could take up more of your digital space.
2. Decide on the Format for Your Gratitude Journal
After you've selected a journal, then it's time to decide what FORMAT you will use for your journal. Here are some questions to ask yourself when you consider the right format for your gratitude journal: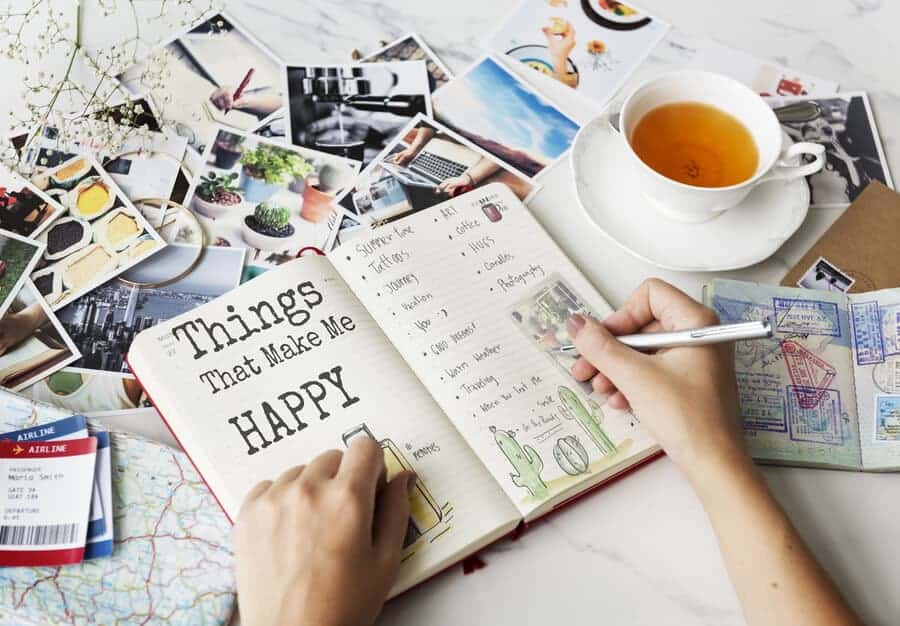 Will you just quickly jot down one thing that you're thankful for each day?
Will you try to think of something specific from that day?
Will you write one sentence or a full page?
Will you include doodles or photos?
How much time will you likely have each day to spend writing in your journal?
What if you miss a day of journaling? Will you make it up?
By asking yourself these questions, you can establish a set of "rules" or guidelines for your personal journal.
3. Incorporate Journal Writing into Your Routine
After you've found a great journal and you've established your personal journaling guidelines, then it's time to incorporate the act of journaling into your daily routine.
A 2009 study published in the European Journal of Social Psychology concluded that it takes 66 days on average for a new habit to be formed, so you will need to develop a good, sustainable journaling routine and keep at it for about 2 months or until it becomes automatic.
If you want to reflect on the day's blessings, then you may want to journal each evening when you get in bed. Or, if you want to start out the day on a positive note, then wake up 5-10 minutes earlier than normal to write in your journal.
Whatever the case may be, find a time in your daily routine that works for you and that has the least possibility of interruption.
4. Think About What You're Thankful For
The final step in how to start a gratitude journal is to actually write about the specific things, people, and experiences that make you feel thankful.
The act of intentionally practicing gratitude doesn't have to be too complicated, and you don't always have to write about seriously thought-provoking life lessons or experiences. Many times we take the small things in life for granted… like the ability to pull through the Starbucks drive-thru and order a $4 coffee on a whim. Or the fact that you scored the last pair of super cute sandals in your size.
If you're stumped about what to write in your gratitude journal, then here are a month's worth of gratitude journal prompts to get you started…
30 Days of Gratitude Journal Prompts to Get You Started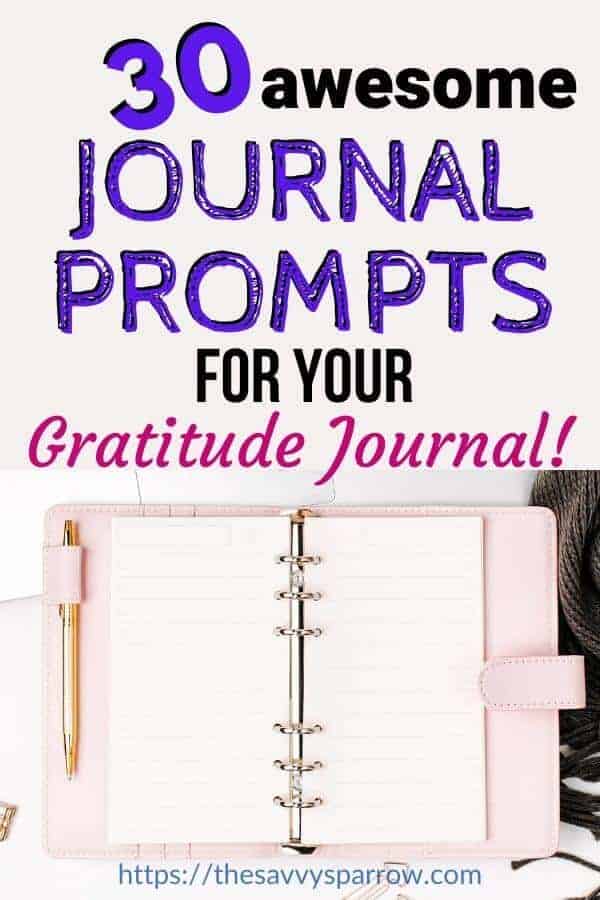 Things About Yourself that Make You Feel Gratitude
Something that you do well
A personality trait of yours that you're grateful for – Are you incredibly patient, even in the most trying circumstances? Can you empathize easily with others? What about your personality do you love the most?
A favorite quote or bible verse that motivates you
Something important that you learned from a parent – This could be something very specific like how to cook the best roasted chicken, or something more broad like how to have a great work ethic.
A physical feature of yours that you're thankful for
A compliment that you received
An accomplishment that you're proud of
The thing that you love most about yourself
Something about your childhood that you're thankful for
People and Things that You're Grateful for
A gift you received that made you feel thankful
A material possession that you're grateful to have
One specific thing about your home that you appreciate
Two family members that you're grateful for and why
The material thing that you treasure the most
A specific place that you're grateful for
A friend or co-worker that you appreciate
Memories or Experiences You're Thankful for
A song that reminds you of an important moment in your life – After being in the ICU for 8 days, I was finally able to get out of bed for the first time and take a shower. (You can read about my full story and testimony HERE). I remember I sat on the shower floor and cried and sang the song "God of Angel Armies". It was a pure moment of praise and GRATITUDE because I knew that God had literally SAVED my life. What song makes you feel grateful?
Something bad that happened to you, that you're actually grateful for – Was there a moment in your life that was really tough, but it taught you a valuable lesson?
A meal that you ate that made you feel thankful – Maybe it was Thanksgiving a few years ago when you got to see your Grandma for the last time, or a business lunch that went really well and propelled your career forward.
A chance that you took, that ended up working out in the long run
A person that you are grateful to have met
A special memory
A big milestone experience that had a significant impact on your life
Your favorite childhood memory
Things from Today that Made You Feel Gratitude
One small thing about today that you would normally take for granted – Like a good cup of coffee
A person that you came in contact with today – This could be a family member or a complete stranger who was kind to you today.
Something small that helped you get through the day – Like knowing that you got to watch the next episode of your favorite Netflix show that night
Something nice that someone else did for you today
One thing that made you happy today
Something that you did well today
The Best Gratitude Journals
Now that you know how to start a gratitude journal, and you've got some great gratitude journal prompts to get you started, here are some of the best gratitude journals that you can buy on Amazon:
*The following are affiliate links, which means if you click a link and make a purchase, I earn a commission at no additional cost to you. Read my full disclosure here.
Gratitude: A Night and Day Reflection Journal (affiliate) – The great thing about this gratitude journal, is that if offers specific daily prompts for both morning meditation and night time reflection. This would be a great journal for you if you have a bit more time to reflect and journal.
The Five Minute Journal (affiliate) – This is another highly rated gratitude journal, with over 2,600 5 star reviews on Amazon. This journal also offers daily prompts, including space to write daily affirmations and amazing things that happened today.
Daily Gratitude Journal for Women (affiliate) – The great thing about this daily gratitude journal is that it includes so much more than just journaling space. This journal also has coloring pages to help you unwind, breathing exercises, and monthly self-reflections.
I hope you've been inspired to start your own gratitude journal to reflect on all of the blessings in your life, especially in this crazy time! Not only does gratitude journaling improve your physical and mental health, but it can also help you Stress Less! And who doesn't need less stress in their life, right?!
And since we're talking about gratitude, I just want to say that I AM THANKFUL FOR YOU! Thanks for visiting the blog today!
And happy nesting!