Getting started with The Happy Planner? You're in the right place! This Happy Planner for Beginners guide will answer all your questions about how to get started with The Happy Planner, including The Happy Planner sizes and what accessories you should buy if you're just starting out!
It's the first of the year… and that means time to make some New Year's Resolutions!
Lose weight, drink more water, work out consistently… I'm sure you've had one of these resolutions at least once in your life. But as the kids get older, life gets more and more hectic, so maybe your resolution is to get your life organized.
And maybe you've thought about purchasing The Happy Planner to do just that!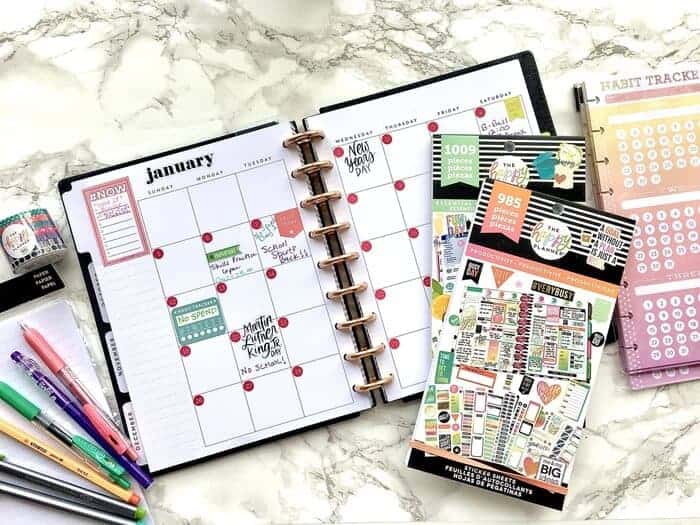 I've recently gotten a lot of questions about which planners I recommend, so I thought I'd go ahead and write a GIANT post about one of my absolute favorites!
I started using a Happy Planner about a year ago when my trusty old Blue Sky weekly planner expired – I used that planner to track my family's expenses in just 5 minutes a day using this easy method!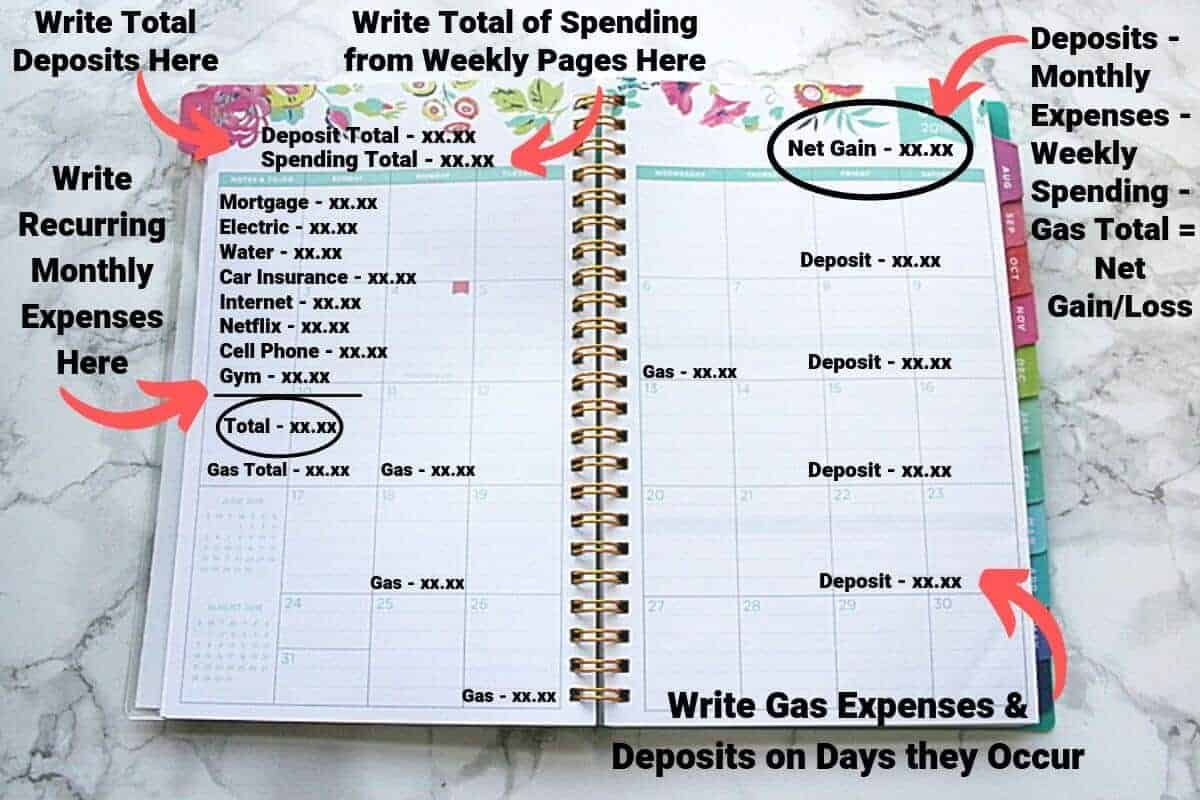 I had been tempted by the long aisles of cute planner accessories from Happy Planner, and when it came time to buy another planner, I caved to the cute stickers, washi tape, and planner charms.
Heck, yes I want to bling-up my planner with some fringe tassels!
But beyond the cute add-ons, the Happy Planner (sometimes called the Create 365 Planner) is actually REALLY well designed and super useful!
If you just jumped on the Happy Planner bandwagon, then here is everything you need to know as a Happy Planner beginner.
*This post contains affiliate links, which means I earn a commission from these links if you make a purchase, at no additional cost to you. Read my full disclosure here.
First off, let me answer some common questions from Happy Planner beginners:
FAQs from Happy Planner Beginners:
Who makes The Happy Planner?
The Happy Planner (sometimes referred to as the Create 365 Planner or the MAMBI Planner) is made by Me and My Big Ideas.
What is a Happy Planner?
The Happy Planner website puts it best…
The Happy Planner is a disc-bound planner system that combines your love for Creativity with your need for Organization.

The Happy Planner
Did you notice the part about the wildly popular planners being "disc-bound"?
That's what sets the Happy Planner apart from your normal planners. Happy Planners have a nifty disc binding that's kind of like a cross between a 3-ring binder and a spiral notebook.
The discs that hold the planner together not only look BEAUTIFUL, they're also extremely functional and brilliant!
And the discs are just one example of how the makers of the Happy Planner are super detail-oriented… notice the cute heart in the center: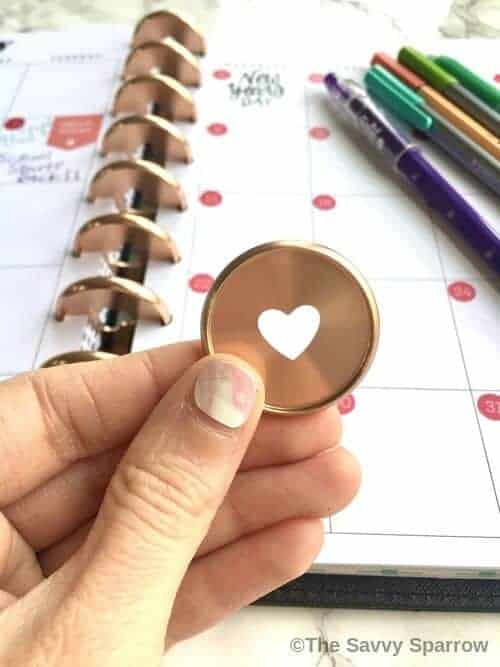 And, of course, the people at Me and My Big Ideas (the makers of Happy Planner) spoke to our whimsy-loving hearts and created the discs in a multitude of colors, sizes, and finishes!
You can purchase the Happy Planner discs in pastel colors, bright colors, rainbow packs, and metallic finishes. Plus, you can choose metal or plastic discs. And, as if that wasn't enough customization options (and remember… we're only talking about the disc binding here!), you can also get the discs in classic or large sizes depending on how thick your planner will be.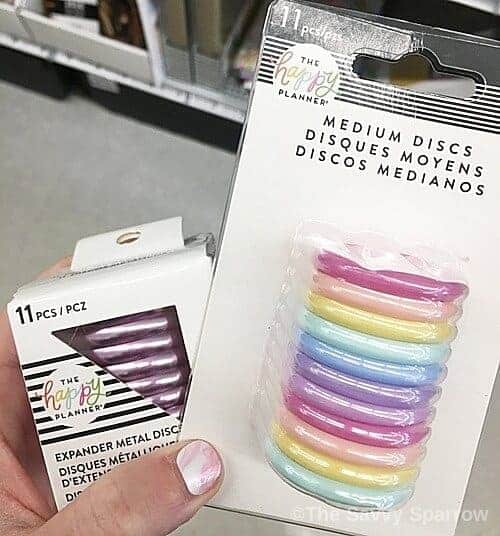 I have the gold metal classic size discs, and I LOVE them, though they are a bit pricier than the plastic option.
What sizes does The Happy Planner come in?
The Happy Planner comes in three sizes:
The Big Happy Planner – The pages of the Big Happy Planner are the standard 8.5″ x 11″, and the cover size is 9″ x 11.25″. The nice thing about the Big Happy Planner is that you can easily add your own printables without having to go through the hassle of resizing them.
The Classic Happy Planner – The pages of the Classic Happy Planner are size 7″ x 9.25″ and the cover measures 7.75″ x 9.75″. It seems to me that there are WAY more accessories available for the Classic size.
The Mini Happy Planner – If you want a purse-sized planner that's still cute, then this one is for you! The Mini Happy Planner pages are size 4.5″ x 7″, and the cover measures 5.125″ x 7.5″.
I have the Classic size and it suits my needs just fine. I actually don't think that there is much difference in the box sizes on the calendar pages from the Classic to the Big size.
Here's a picture of the three Happy Planner sizes for reference: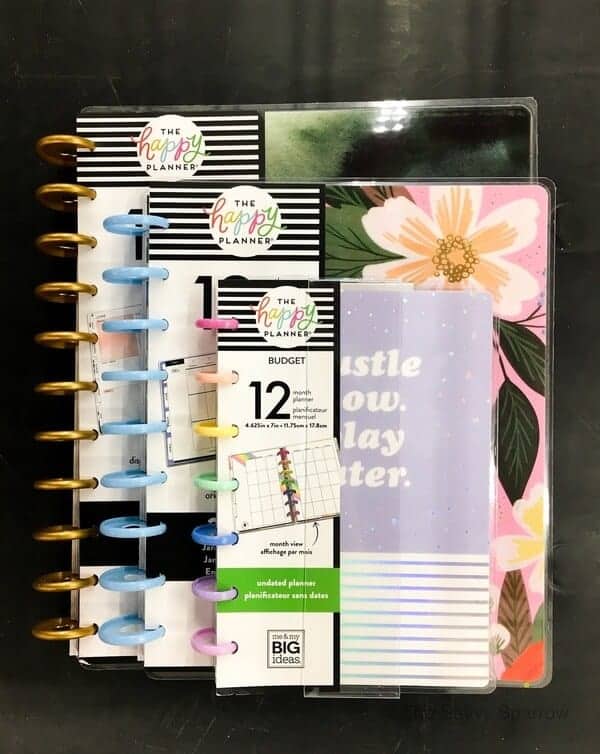 Does The Happy Planner have refills?
Yes! And loads of them, with most priced below $12!
The calendar/planner style refill pages are called "Extension Packs", and they come in a LOAD of different varieties based on how you use your planner.
You can also buy regular lined or bullet journal dotted style paper packs, perfect for taking notes or practicing your doodles.
I use the Classic Extension Pack (for the monthly calendar and weekly pages) combined with the Budget Extension Pack (to track our income and expenses).
Here are a few different Happy Planner Extension Packs that you can purchase for the Happy Planner:
Classic Extension Pack – The classic 6 month undated extension packs are great all-around refill pages for your Happy Planner. They include space for to-do lists, shopping lists, errands, etc. The Classic Extension Packs are more for your regular planning stuff with weekly and monthly views.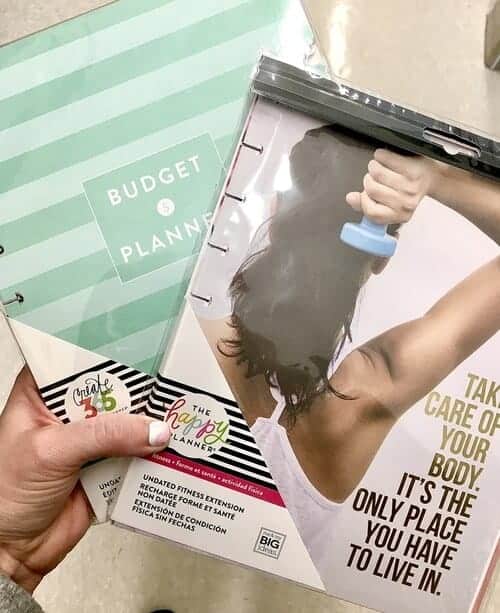 Budget Extension Pack – This is the one I have, and I LOVE it! It's got space to track all of your monthly expenses and budget. I use separate Expense Tracker pages to track my blog's income and expenses and our family's recurring monthly bills.
Fitness Extension Pack – This one is great if you want to track your food and water intake and your exercise goals.
Home Extension Pack – Keep track of your grocery lists, chores, meal plans, and more home management stuff with this extension pack.
Christmas Extension Pack – Great for keeping track of all things holiday related… or check out The Ultimate Christmas Planner here!
Wellness Extension Pack – This extension pack is focused on self care and "feeding your soul".
Wedding Planner Extension Pack – The PERFECT tool if you're going to be planning a wedding!
The great thing about the Happy Planner extension packs is that most of them come with their own coordinating stickers and dashboards, too!
Which brings me to my next question…
What is a Happy Planner dashboard?
A Happy Planner dashboard is like a thicker, super cute divider page.
The dashboards are a great place to stick your sticky notes, decorate with motivational quotes, add photos, doodle, or write down your goals for the month.
You can make your dashboards reflect your personality and motivate you to start your day off right when you first open your planner in the morning and notice that you've got 326 things to do for the day.
Or you can just leave them as-is and treat them as monthly dividers.
The Happy Planner dashboards are so cute already that you don't need to do a thing to them!
Here are some of the dashboards from the Happy Planner extension packs that I have: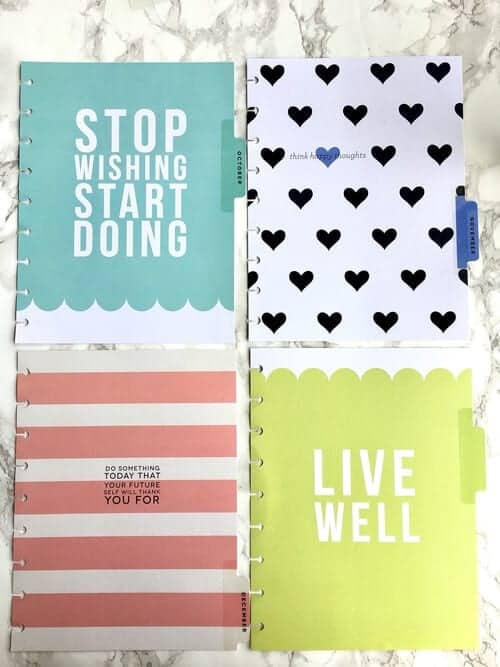 Is a Happy Planner dated or undated?
Both! You can get undated and dated versions based on your personal preference.
Most of the refill packs (or "extension packs") come undated, which is great because you can start off with whatever month that you need, rather than buying a 2020 Happy Planner in April and missing out on being able to use the first three months.
What do I need to get started with a Happy Planner?
If you find yourself overwhelmed and standing in the planner aisle of Joann's wondering what the heck to buy, don't worry!
It can be tempting to load your buggy with ALL THE THINGS, but if you're just starting out, I recommend buying only a few basic supplies. That way, you can get a feel for your planning style and what you like and don't like.
I recommend that you start out your Happy Planner journey with:
Why just one sticker/accessory pack?
Well, those little sticker and accessory books contain A TON of stickers! And a lot of the packs come with different sticker finishes and sizes… some of the stickers are matte and some are clear-backed. Some are GIANT to fill up an entire day's box and some are the size of a dime.
Just one pack should give you plenty of variety if you're just starting out, without overwhelming you.
What if I can't find a Happy Planner cover that I like?
Well, I was in the same boat when I first started!
I looked and looked for the perfect Happy Planner… I wanted one that had a lined weekly layout, and I didn't want anything too cute-sy or brightly colored.
What can I say, I'm a neutral girl at heart.
So, what did I do?
I bought a BEAUTIFUL black quilted cover, gold metal discs, and an extension pack, and I created my own planner! The cover that I have is now discontinued, but you can still get similar plain leather covers.
If you go this route, you can choose from a HUGE variety of refill/extension packs based on what you want to track in your planner. And you can choose from a HUGE variety of discs to bind your sheets together, too.
If you're a Happy Planner beginner and you want a LOAD of customization options, then this is the way to go!
Any Happy Planner ideas for what to track in my new Happy Planner?
Why… I'm glad you asked!
I've got a list of over 75 things to track in your planner to help you get organized!
Whether you want to track your water intake, how many miles you ran last week, or what show to add to your Netflix watch list, I've got you covered!
Where can I buy the Happy Planner and accessories?
I purchased all of my Happy Planner goodies from Joann's, because I felt like they had the best in-store selection.
If you don't have a Joann's nearby, you can also get Happy Planner supplies from:
Michael's
Hobby Lobby – Though my Hobby Lobby has a really tiny selection.
My Favorite Things about The Happy Planner
Okay, now that I've explained what Happy Planners are and answered some common questions from Happy Planner beginners, here are my absolute favorite things about the planner with a cult-like following:
1. You can easily take pages in and out and change the order or pages.
Let's face it… life is crazy… sometimes it's Thursday and you could have sworn it was Tuesday…
And plans change. Sometimes you need to take out a whole page from your planner and put it in a whole new section. The Happy Planner makes it super easy to do that!
The design of the planner rings allows you to remove pages without damaging the page, see: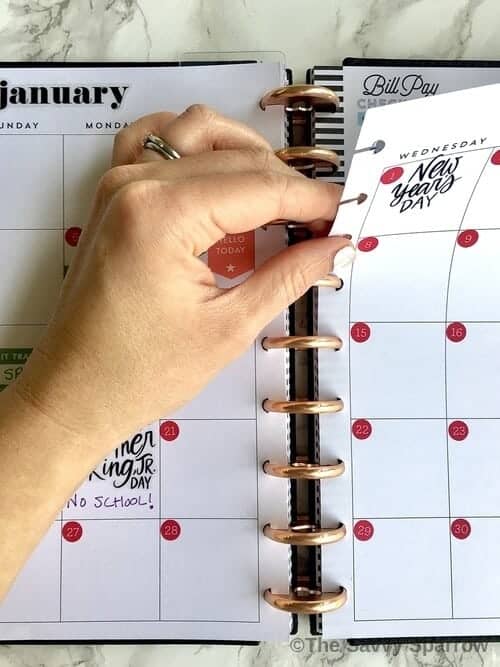 2. The Happy Planner pages are heavyweight.
This is a major plus for two reasons:
Heavier weighted pages means that your markers and pens aren't as likely to bleed through.
The pages are much less likely to tear when you're taking them in and out.
3. The Happy Planner has so many fun accessories!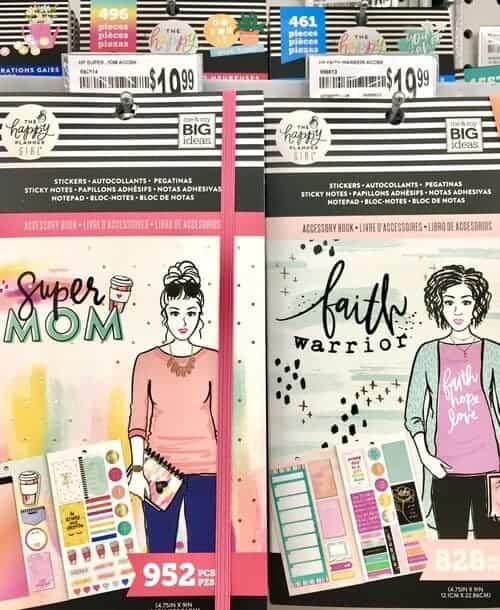 Stickers, washi tape, pen bags, bookmarks, tassel charms, stamps, dashboards, oh my!
From modern black and white to whimsical pastels, you can find a wide array of planner accessories to fit your style!
4. The Happy Planner Extension Packs are the BEST!
The extension packs are SO well designed and SO helpful for keeping my crazy life organized!
There is ample space to track anything and everything that you could ever want to track.
For me, that's every single penny that my family spends and earns and my HUGE to-do list for this blog. And, of course, basketball games, doctor's appointments, birthdays, social events, and the regular planner stuff.
The Best Happy Planner Tips for Beginners
If you're just starting out with The Happy Planner, then here are my absolute best tips for Happy Planner beginners:
Use erasable pens!
Your plans will change, and you WILL accidentally spell "birthday" B-I-R-T-D-A-Y.
If you're a perfectionist like me, then it will drive you CRAZY, and you won't want to whip out the ugly white-out every time that you make a mistake.
Lucky for you (and me!), you can buy really GREAT erasable pens! These pens are an absolute favorite of mine, and I've tried them ALL!
Don't go overboard on buying Happy Planner accessories.
Load up on washi tape, stickers, refill papers, and 38 pens and before you know it you've spent $200 on your planner… eek!
Stick with basic supplies in the color combo of your choice, and slowly add more accessories as you start to go through them. The sticker books have a TON of stickers in them, and it will probably take you a while to use them up.
For pens, you probably only need 8 different colors at max, because eventually 3 different shades of pink will all look pretty much the same. Resist the urge to buy the GIANT pack of pens that include slight variations of every color.
Shop the 50% off Sales or use a Coupon!
If you have a Joann's or Michael's nearby, then take advantage of the high value coupons that you can find pretty much any day of the week. And be sure to sign up for their mailing lists, because both retailers send great coupons in the mail all the time.
I recently bought the Classic Happy Planner hole punch to be able to insert my own printables into my planner. I waited to buy it until I had a 60% off any regular price item from Joann's, which was a HUGE savings on this $30 tool!
And, both craft stores accept competitor's coupons – something that I take advantage of ALL the time!
Also, about once a quarter Joann's also puts their Happy Planners and accessories on sale for Buy One Get One FREE or 50% off, which is a great deal! Wait for a sale to replenish your sticker books or washi tape for huge savings.
If you're a perfectionist that can't write in a straight line, then this tool will be your best friend.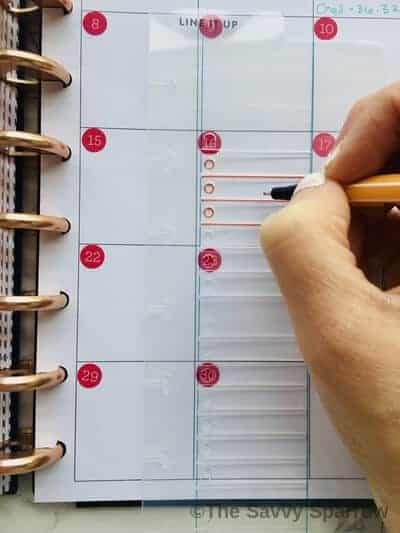 Most of the monthly calendars in the planner don't have lines, so this little gem is great for adding your own lines to certain boxes that have a lot of writing. And, you can also add cute checklist boxes to your lines to make your own perfectly straight and even to-do lists!
I DO recommend having a super fine tip pen to use with this stencil… 0.3 or 0.4 mm tips work best!
More isn't always More. Don't over-decorate!
Leave room for last minute things that come up! You don't want to cover your pages so much in stickers and washi tape that you don't have room to add things to your calendar.
Use a sticker to cover up mistakes or schedule changes.
Make a mistake?
Throw a sticker on top of it!
Easy-peasy!
Extension packs and refills are your friends!
There is absolutely NO reason to have to invest in a brand new $30 planner every year!
Just save your discs and your Happy Planner cover and switch out your old pages! Most of the extension packs are around $12 and come with everything you need for 6 months. Grab your refills when you've got a 50% off coupon for even more savings!
Use the Habit Tracker Half Sheets to track daily goals!
If you plan to track water intake, exercise, or anything else really, then you will LOVE these inserts.
The Habit Tracker half sheets come in a pack of 60 and can easily be placed wherever you want them as a reminder to get in your steps, update your budget, workout, etc.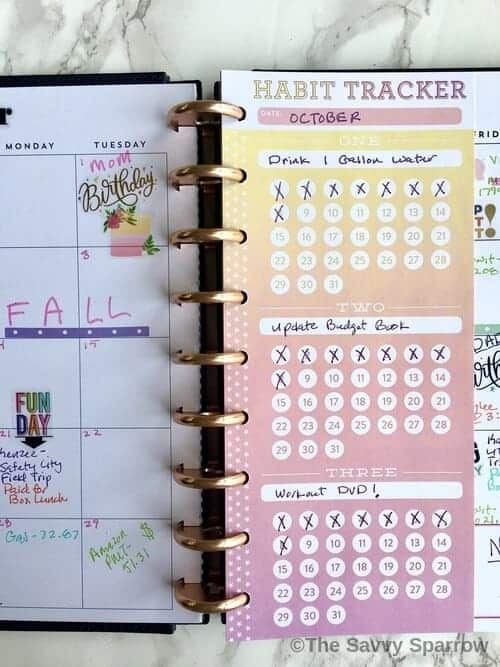 And there you have it! Pretty much everything you need to know about the Happy Planner for beginners, and then some!
I hope that I've answered all your burning questions! And I hope that I've inspired you to get organized this year using a planner.
Whether you want to track your daily workouts, remind yourself to drink more water, keep track of your kids' 68 extracurricular activities, or just jot down your daily reminders and to-do lists, I'm sure that you will LOVE The Happy Planner as much as I do!
Happy Planning!
And Happy Nesting!