LOVE sushi but HATE carbs?! Then these easy sushi bowls with cauliflower rice are the perfect low carb, no-cook dinner recipe for you! Learn how to make deconstructed sushi bowls using sashimi-grade tuna, crab meat, or shrimp! Just like your favorite sushi rolls!
My hubby and I LOVE sushi!
Tuna, salmon, eel, octopus, or imitation crab… we'll eat it all!
So, naturally, this sushi bowl recipe is one of my favorite easy, no-cook dinners.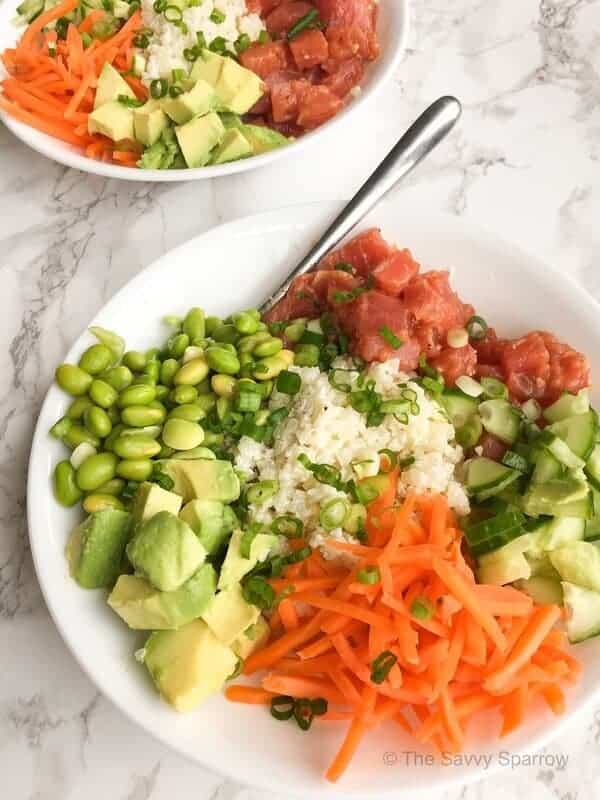 Okay… before I go any further, here's where I need to put in a disclaimer about how consuming raw fish can be bad for you. We used raw, sashimi-grade ahi tuna in our bowls, but ONLY because it was marked as "sashimi-grade" at our grocery store… meaning the seller has determined that it's safe to eat raw.
If you're not comfortable with raw fish, then you can definitely substitute imitation crabmeat (just like a California Roll), cooked salmon, or cooked shrimp. We've made this same recipe with imitation crabmeat, and it's just as fabulous!
Okay, now that I'm done covering my backside (eat raw fish at your own risk!), let's get back to these easy low carb sushi bowls that are sure to earn a spot in your weekly menu rotation…
This is our go-to recipe when our grocery store puts their sashimi-grade ahi tuna on sale for Buy One Get One Free! So, we get two tuna steaks for $8! A great deal considering a sushi dinner at a restaurant can easily cost you $40.
This recipe calls for two tuna steaks (about 8 ounces each), but with all the filling veggies, you can easily split one tuna steak for two adults.
Here's how to make your own easy sushi bowls, without turning on the stove…
How to Make Sushi Bowls:
Step 1: Gather Your Ingredients.
Here are the ingredients needed to make sushi bowls: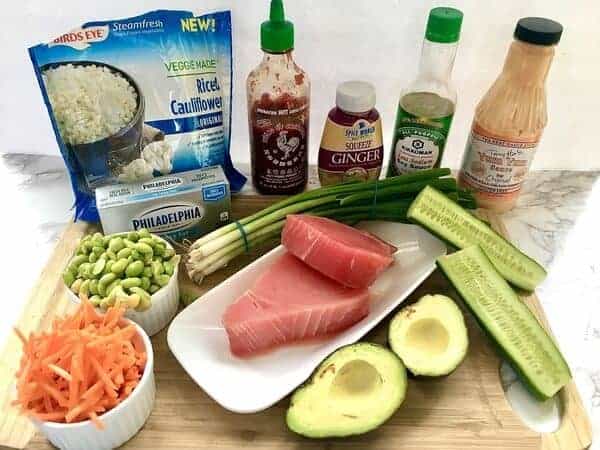 For the Dressing:
Soy sauce – We use low-sodium Kikkoman's soy sauce.
Minced garlic
Ginger puree – We use Spice World Squeeze Ginger. It comes in a squeeze bottle, and it's super handy for asian recipes and salad dressings!
Siracha – Use as much or as little as you like depending on your tolerance for spice.
Yum Yum Sauce – This is optional, but recommended!
Step 2: Make the sushi bowl dressing and mix in your protein.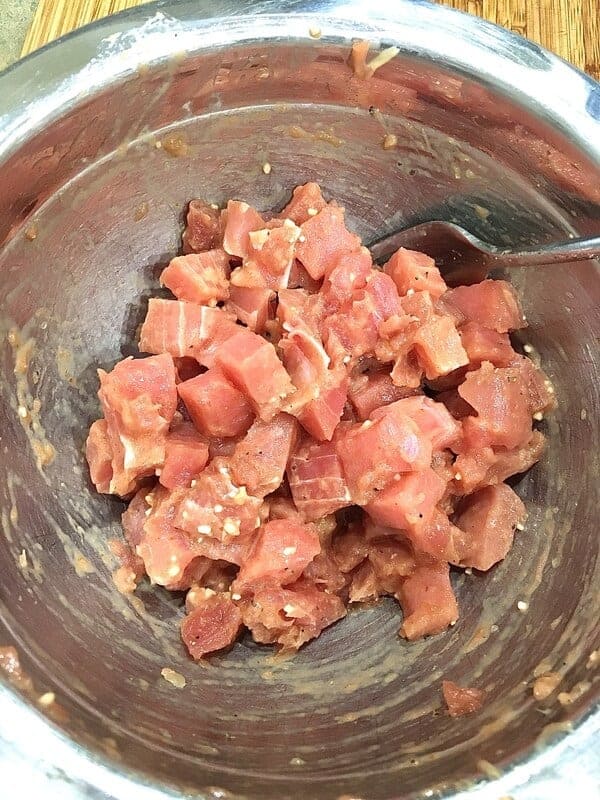 Add all of the dressing ingredients to a medium bowl and mix to combine. Then, toss in your protein.
This is the ahi tuna that we used, and it was so good with just this sauce that I couldn't stop eating it straight out of the mixing bowl!
Step 3: Prepare the Cauliflower Rice mixture.
If you're using frozen bagged cauliflower rice like we did (highly recommended!), then microwave per package instructions and allow to cool to room temperature.
You can also thaw the frozen cauliflower rice in your fridge overnight.
Then, mix the cauliflower rice with cream cheese and garlic powder. Why cream cheese? Because the sushi rolls with cream cheese are our favorites, so we add cream cheese to the cauliflower rice to mimic those.
Step 4: Prep the vegetables for your sushi bowls.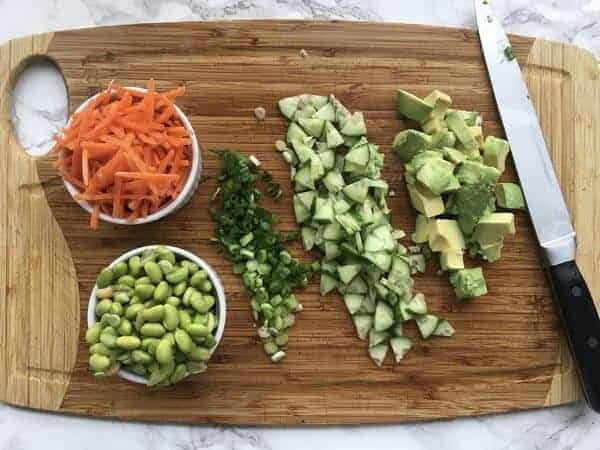 I like to buy pre-shredded carrots from the produce section when I know that we'll be making these easy deconstructed sushi bowls. Plus, we use frozen shelled edamame, so most of your toppings are already done for you.
Just chop cucumber, avocado, and green onion and you're ready to assemble your sushi bowls with cauliflower rice!
Step 5: Assemble your sushi bowls with cauliflower rice!
You can assemble your sushi bowls like a "buddha bowl" with all of the ingredients separated around the bowl like this: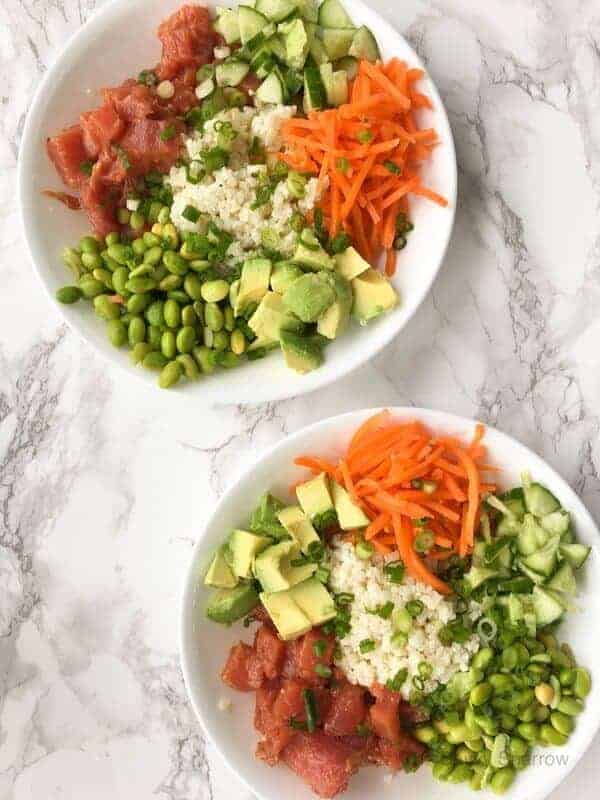 Or, pile all the ingredients on top of the cauliflower rice mixture like this…
This photo is from a different time that we made these sushi bowls (told you they're a favorite of ours!). We topped these bowls with an extra drizzle of Yum Yum sauce and some Asian teriyaki sauce that we had in the fridge: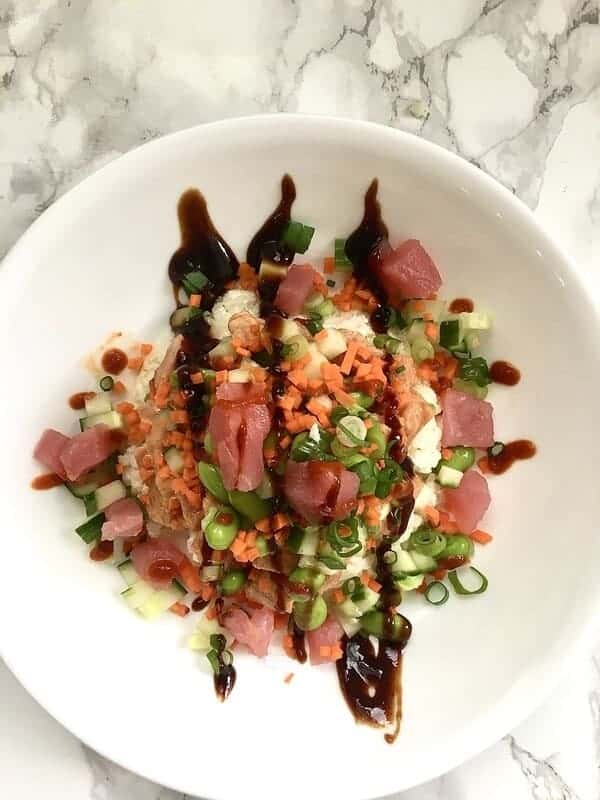 Both plating styles are equally scrumptious-looking, don't you think?!
You can add your favorite Asian dipping sauce or just plain old soy sauce on top of your sushi bowls for extra flavor.
And, while these deconstructed homemade sushi bowls aren't exactly like your favorite California Rolls (let's be honest… there's really no substitute for white rice!), at least you can feel good about eating these easy and healthy veggie-loaded bowls.
Here's the recipe for these yummy Asian bowls:
Yield: 2 bowls
Sushi Bowls with Cauliflower Rice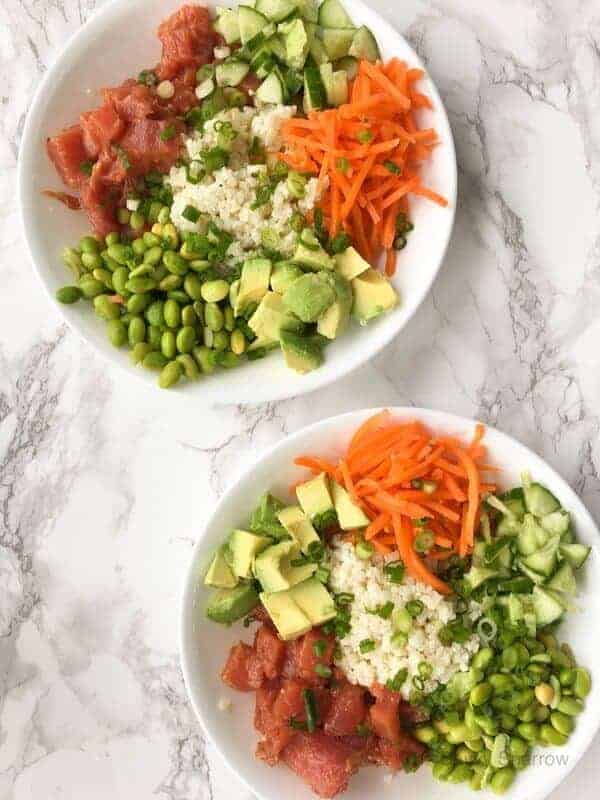 These easy sushi bowls with cauliflower rice are the perfect low carb dinner for when you're craving sushi rolls! Customize your sushi bowls with your favorite protein! You can substitute imitation crab, salmon, or pre-cooked shrimp for the sashimi grade ahi tuna!
Prep Time 15 minutes
Cook Time 5 minutes
Total Time 20 minutes
Ingredients
2 sashimi-grade ahi tuna steaks (about 6-8 oz. each), cubed - Or substitute cooked salmon or shrimp, or imitation crab
1 10 oz. bag frozen cauliflower rice
2 oz cream cheese, softened
1 tsp garlic powder
1/2 cup diced English cucumber
1 large avocado, peeled and diced
1 cup shredded carrots
1 cup shelled edamame (frozen)
salt and pepper
Yum Yum sauce - for serving (optional)
Siracha - for serving (optional)
For the Dressing
2 tbsp low sodium soy sauce
1/4 tsp ginger puree (we use Spice World Squeeze Ginger)
1/4 tsp minced garlic
1/2 tsp Siracha (you can use more or less depending on how spicy you like)
Instructions
Microwave frozen cauliflower rice according to package instructions. Drain excess water from cauliflower rice, and allow to cool to slightly above room temperature.
In a medium bowl, combine cooled cauliflower rice, cream cheese, and garlic powder. Add salt and pepper to taste, but be careful to not over-salt because the protein mixture will contain soy sauce.
In a separate bowl, mix together all dressing ingredients. Add prepared protein of your choice and toss to coat. Add salt and pepper to taste.
To assemble sushi bowls, divide prepared cauliflower rice mixture among 2 or 3 bowls. Top each with prepared veggies and protein.
Top each serving with soy sauce, siracha, Yum Yum sauce, or your favorite Asian-style dipping sauce.
Notes
This sushi bowls recipe yields 2 large servings. You could easily prepare 2 medium-sized bowls for dinner and make a 3rd smaller bowl to store in the fridge for a lunch. Just separate the dish components into 3 bowls as you are assembling.
Nutrition Information:
Yield:
3
Serving Size:
1
Amount Per Serving:
Calories: 572
Total Fat: 30g
Saturated Fat: 8g
Trans Fat: 0g
Unsaturated Fat: 19g
Cholesterol: 117mg
Sodium: 1279mg
Carbohydrates: 31g
Fiber: 11g
Sugar: 12g
Protein: 47g
Nutritional information provided and calculated by Nutritionix. Nutritional information is provided as a courtesy and is an estimate only. Different online calculators may calculate nutritional information differently. Also, the addition of optional ingredients and varying brands and products may change the information. For the most accurate data, you should calculate the nutritional information with the actual ingredients that you use.
And don't forget to pin this recipe for later!