This bedroom cleaning checklist will give you a step-by-step plan to clean your bedroom! Whether you need daily, weekly, or deep cleaning checklists for your bedroom, you can find it here!
Cleaning your house can be overwhelming, especially if it's a hot mess and you're short on time. But that's where cleaning checklists come in handy!
Sometimes when you're overwhelmed with the sheer volume of "stuff" that you have to do, it's best to write it all down so you can check things off as they're completed. If you're a list-maker too, then be sure to check out my FREE printable brain dump worksheets!
The same goes for cleaning your bedroom. Whether you're cleaning a small guest bedroom or your master bedroom, this bedroom cleaning checklist can help you get it done!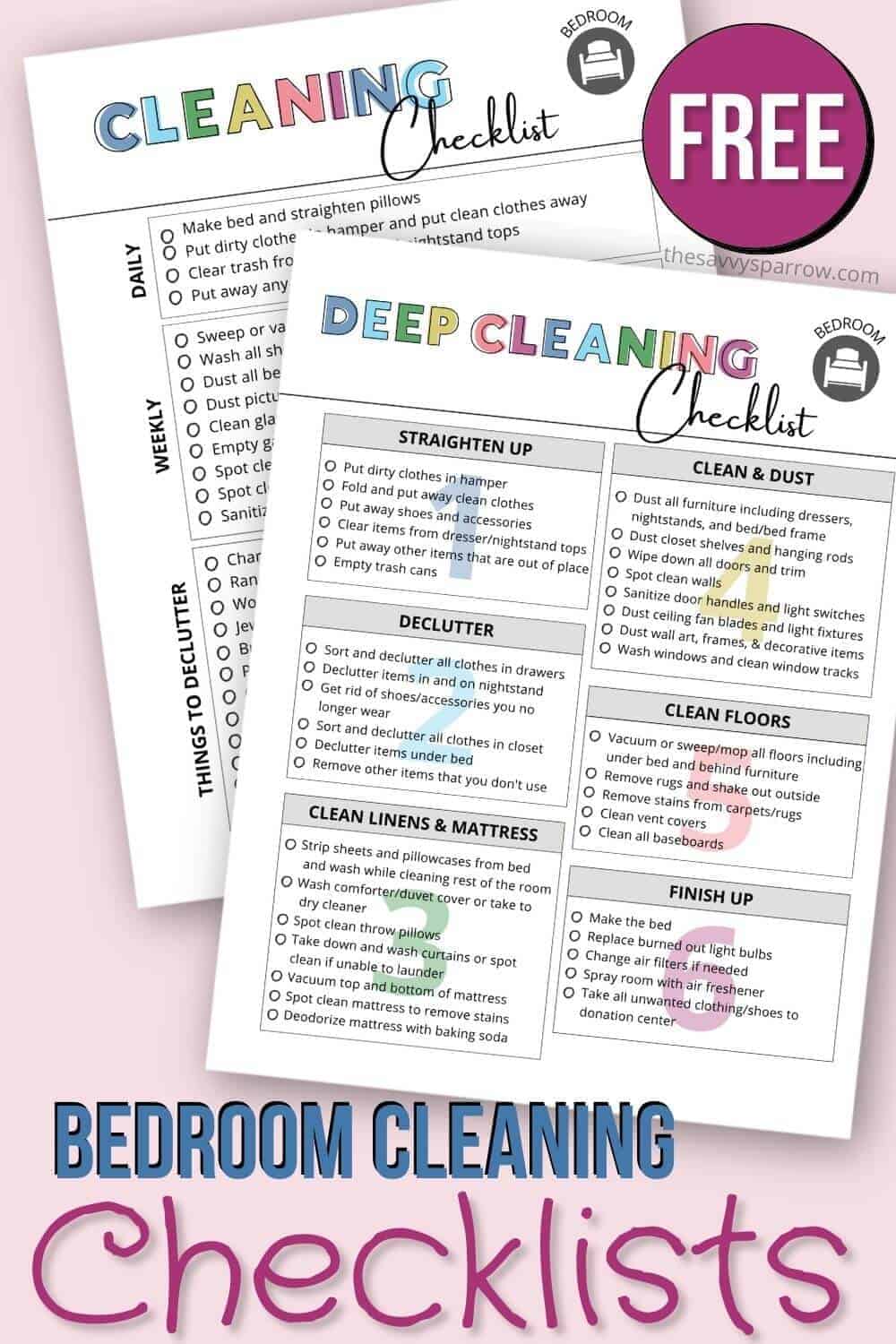 Daily Bedroom Cleaning Jobs
To keep a clean bedroom, it's important to do these things every single day:
Make the bed and straighten throw pillows and blankets
Put dirty clothes in the hamper
Clear trash and clutter from nightstand and dresser tops
Put away other items that are out of place
Doing these 4 things every single day will help your bedroom stay nice and clean, and when it comes time for deep cleaning you'll be less overwhelmed because you won't be starting with a HUGE mess.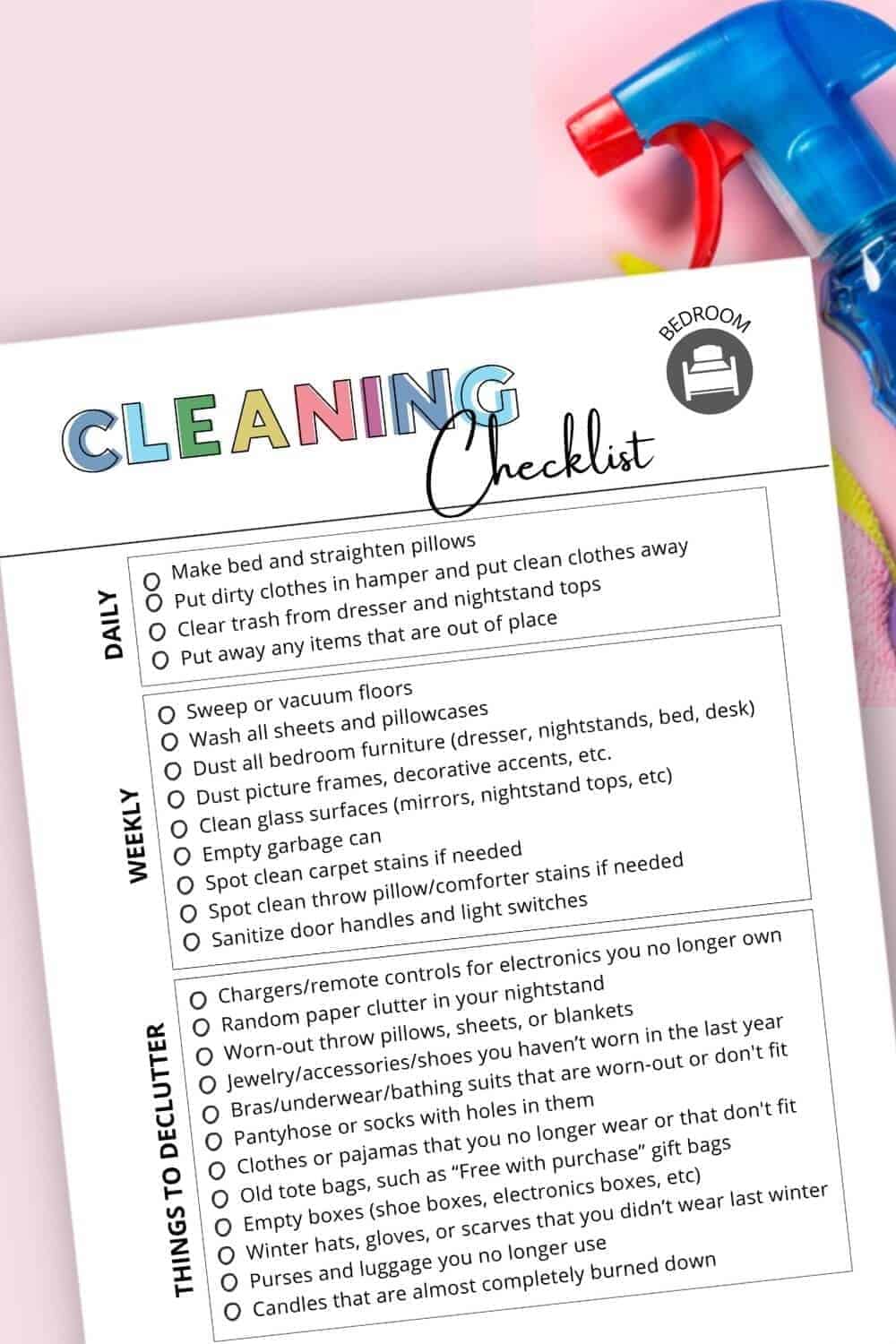 Weekly Bedroom Cleaning Jobs
Here are some cleaning jobs to add to your weekly bedroom cleaning schedule:
Sweep or vacuum floors
Wash all sheets and pillowcases
Dust all bedroom furniture (dresser, nightstands, bed, desk)
Dust picture frames, decorative accents, etc.
Clean glass surfaces (mirrors, nightstand tops, etc)
Empty garbage can
Spot clean carpet stains if needed
Spot clean throw pillows and comforter stains if needed
Sanitize door handles and light switches
Bedroom Deep Cleaning Checklist
When it comes to deep cleaning any room in your house, you can get overwhelmed easily. But given that you probably spend at least 30% of your life in your bedroom, that room can be especially difficult to deep clean because of the amount of use it gets (and the amount of clothes that you probably have!).
So this detailed bedroom cleaning checklist can help! Just start by straightening up anything that is obviously out of place, like dirty clothes on the floor or trash on your nightstand, and then work through the rest of the cleaning checklist.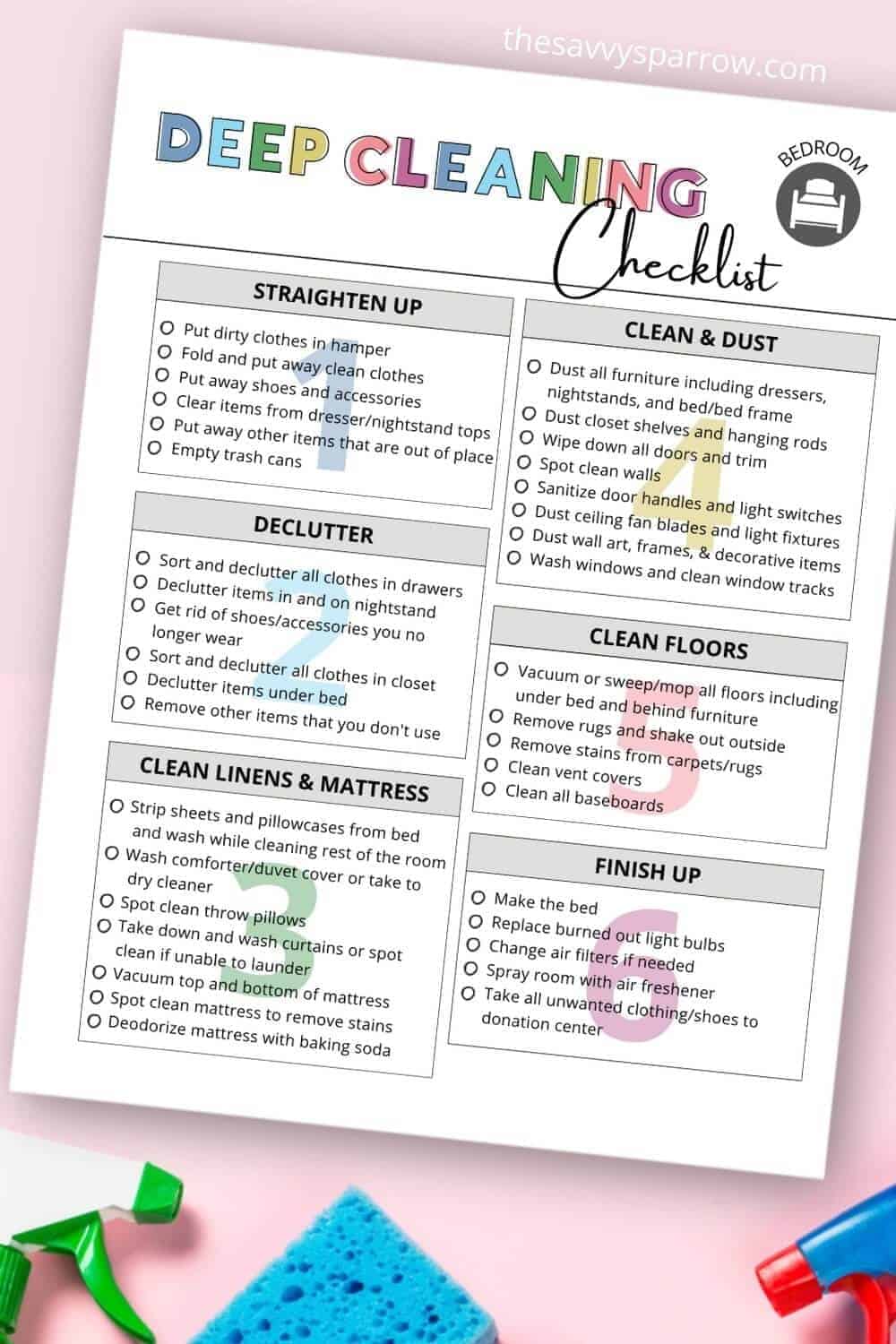 When you're done, your bedroom will be super clean and you'll be able to sleep peacefully! Yes, it's been scientifically proven that having a clean bedroom improves your sleep quality!
1. Straighten Up the Bedroom
The first step to deep cleaning ANY room is to straighten it up. You should tackle the big things that are out of place before you move on to the "detail cleaning".
Here are some things you may need to do in your bedroom to "straighten up":
Put dirty clothes in hamper
Fold and put away clean clothes
Put away shoes and accessories
Clear items from dresser/nightstand tops
Put away other items that are out of place
Empty trash cans
After you've completed this step, your bedroom should LOOK clean, meaning that there shouldn't be anything glaringly obvious that needs to be put away.
2. Declutter
Decluttering is an important step in cleaning any room, because extra clutter can make even the cleanest room look messy.
And you definitely don't want to go through the hassle of deep cleaning the bedroom and still have it look like a hot mess because you've got way too many clothes hanging in your closet or books stacked up on your nightstand.
Here are some things that you may need to declutter in your bedroom:
Chargers for old electronics that you no longer own
Remote controls for electronics you no longer own
Dead batteries
Random paper clutter in your nightstand
Worn-out throw pillows that you no longer use
Sheets or blankets that are in poor condition
Jewelry or accessories that you haven't worn in the last year
Shoes that you haven't worn in the last year
Bras that are worn-out or no longer fit
Pantyhose with holes in them
Socks that are missing a mate or have holes
Worn-out underwear
Old t-shirts that you no longer wear
Old pajamas
Old bathing suits
Old tote bags, such as "Free with purchase" gift bags
Empty boxes (shoe boxes, electronics boxes, etc)
Hats you no longer wear
Winter hats, gloves, or scarves that you didn't wear last winter
Clothes that haven't been worn in the last year
Clothing and shoes that no longer fit
Damaged or stained clothing
Purses you no longer use
Luggage you no longer use
Old prescription eyeglasses
Games and puzzles that are missing pieces
Candles that are almost completely burned down
Random items under your bed
And if you're feeling extra ambitious after you're done with this bedroom cleaning checklist, then head over here to see how to declutter your whole house: How to Declutter Your House in One Week – A 7 Day Room by Room Challenge!
3. Clean bedding and other linens
After you've gotten rid of the clutter in your bedroom, it's time to move on to the actual cleaning. I like to start by washing all of the linens in a room first, because the washer and dryer can be running while I work on cleaning the rest of the room.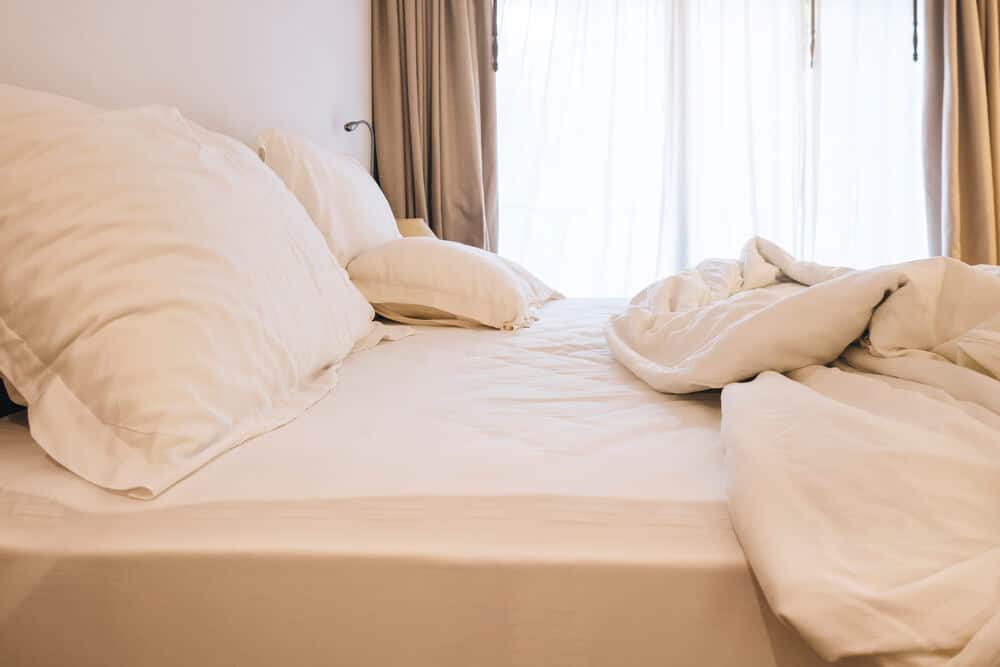 Here are some helpful tips for cleaning bedding and other linens in your bedroom:
Wash sheets and pillowcases first
First, strip the sheets and pillowcases from your bed and throw them in the washer so that they can be washing while you clean the rest of your bedroom. Also, the sheets will have to be put back on the bed first, so it makes sense to wash them first.
Wash comforter or duvet cover
If you have a fluffy comforter that won't fit in your washing machine, then you can wash it by hand in the bathtub. We used to wash our comforter in the tub ALL THE TIME, before switching to a duvet cover because it was easier to clean.
Be sure to check the care instructions on the tag of your bedding first, but this is how we washed our comforter at home:
Add about 6 inches of warm water to your tub. When it is almost done filling, pour laundry detergent into the tub where the faucet is. The water pressure will help the detergent to disperse through the water.
Gently hand wash the comforter by rubbing different sections together, kind of like you would spot treat a stain prior to washing.
Drain the water from the tub.
Fill the tub back up with another 6 inches or so of fresh water, and "agitate" your comforter to rinse the detergent out.
Drain the water again and refill with another 6 inches of fresh water.
You may have to repeat the rinsing process several times to completely get the laundry detergent out of your comforter. Or, you can also try to rinse it in the shower.
If you want to skip the multistep process of washing your comforter by hand, you can also take it to be dry cleaned or drop it off at a laundromat for them to wash it in one of their larger commercial machines.
Or, you can always switch to a duvet cover like we did!
Spot clean throw pillows
You can spot clean stains on your throw pillows with upholstery cleaner. Just be sure to test a small area on the back of the pillow first to make sure that the cleaner won't damage the fabric.
Wash or spot clean curtains or drapes
If your curtains are machine wash safe, then you can throw them in the washing machine according to label instructions. While the curtains are washing, you can dust and polish your curtain rods and other window hardware before re-hanging the curtains. Go here for more detailed instructions on how to clean curtains at home.
If your window treatments can't be machine-washed, then you can spot clean them as needed. Just be sure to test a small area on the edge of the back side of one curtain panel first, to be sure that the fabric won't bleed, bleach, or stain from the cleaner.
4. Clean the mattress
While your bedding is off the bed and being washed, it makes sense to go ahead and clean the mattress too.
Here is an awesome guide for how to clean a mattress, from vacuuming to deodorizing to stain removing.
After your mattress is clean, go ahead and flip or rotate it also.
5. Clean furniture, walls, and fixtures in the bedroom
Dust and polish furniture
After you've cleaned your bedding, mattress, and other linens in the room it's time to break out the dust rag!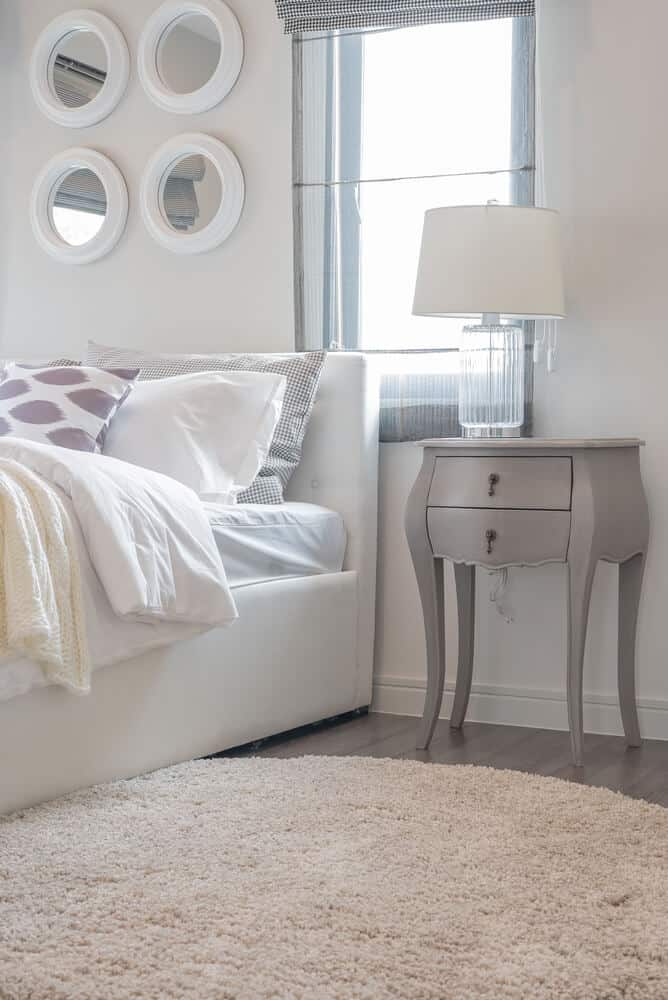 Remove any picture frames, lamps, or knick knacks from your furniture to dust. I like using the Pledge furniture polish and a microfiber rag to dust my furniture. And be sure to clean the front, sides, and handles or pulls on your dresser and nightstands also, not just the tops.
Clean the walls, baseboards, doors, and trim
When deep cleaning the bedroom, people often forget about cleaning the walls and trim, but these can be a hot spot for dust also. HGTV has a GREAT tutorial for how to clean walls here!
Dust ceiling fan blades and other light fixtures
You will be surprised at how dusty the blades on your ceiling fan can get! We dust all of our light fixtures once every few months by getting on a ladder and using a microfiber rag and dusting spray. And don't forget to change any burnt out light bulbs while you're up there!
Want even more cleaning and decluttering printables? Check out my ultimate Home Management Binder here! It has over 200 printable pages to help you manage your home, including monthly cleaning schedules like this one: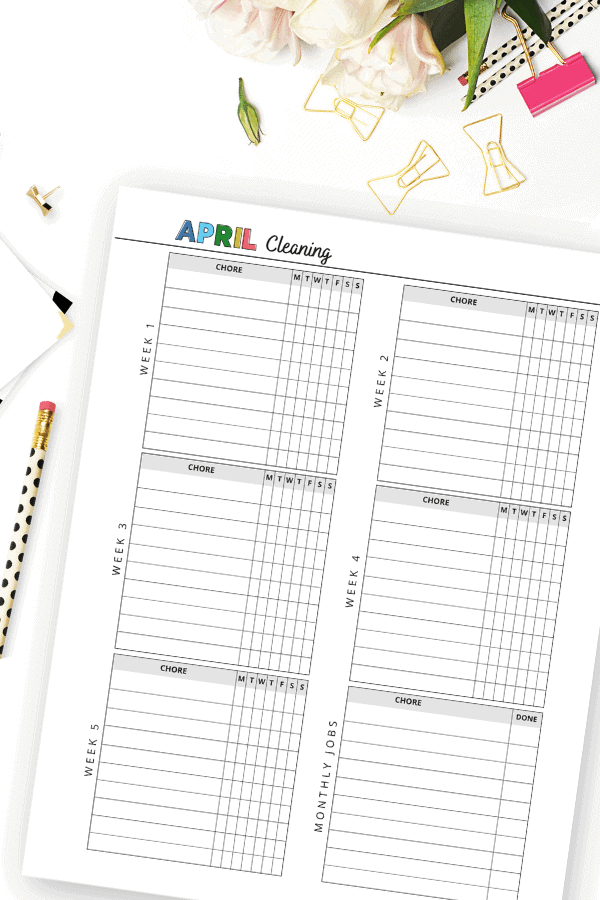 6. Clean the floors
Cleaning the floors is my LEAST favorite job… but that's not why I save it for last! You should sweep, mop, or vacuum your floors after you complete all of the other jobs on your bedroom cleaning checklist, because if not then dust and dirt from your other cleaning jobs will just fall on to your freshly cleaned floors.
Here are some things to remember when cleaning your bedroom floors:
If you have area rugs, roll them up and take them outside to shake them out. You can also vacuum your rugs outside before moving them back into the bedroom.
Don't forget about cleaning the floors under the bed and behind furniture. Dust and dirt collects easily in those spaces since they are pretty much untouched.
Spot clean any carpet stains while you are deep cleaning your bedroom. You may even want to rent a carpet cleaning machine (like Rug Doctor) from your local grocery store.
Be sure to clean your in-floor vent covers and baseboards too!
7. Finish Up!
Okay, all the hard part of deep cleaning your bedroom is done, and now it's just time to put the finishing touches on your nice and clean bedroom.
The "Finish Up" stage consists of completing those final few jobs that will ensure that your bedroom is 100 percent done and looking and smelling fresh!
Here are some final jobs to complete in this step of your bedroom cleaning checklist:
Re-make the bed with your freshly laundered bedding
Replace burned out light bulbs
Change air filters if needed
Spray the bedroom with air freshener or scented room spray
Take all of the unwanted clothing and shoes that you decluttered to a donation center
Free Bedroom Cleaning Checklist Printable
Want to grab the FREE bedroom cleaning checklist printables that I use to clean my bedroom like a pro?! Just use the form below to sign up for my FREE email newsletter, and you'll get the password to my entire freebies library as a "Thank you" gift!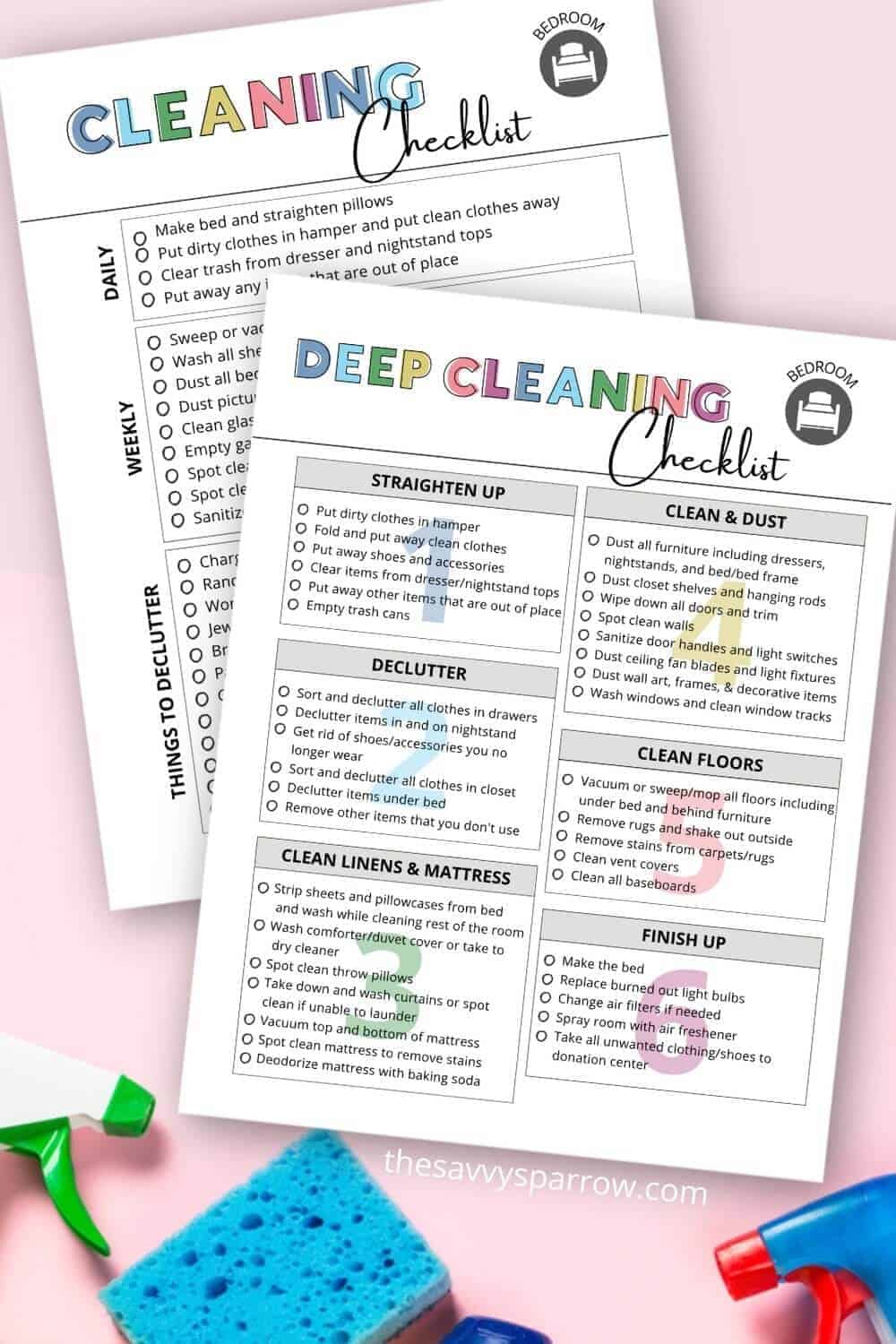 Check out The Happy Home Binder here! The ULTIMATE Home Management Binder to get you SUPER organized!