Need to declutter your bedroom? Read this easy guide for bedroom decluttering and grab the free printable checklist!
The bedroom is often one of those spaces that can get pushed down the list of priorities when it comes to decluttering. Probably because when guests come over, it's easy to just close the bedroom door to hide the mess.
Out of sight, out of mind, right?
But having a messy environment where you sleep doesn't exactly make for a peaceful night's slumber. So why not prioritize your own special space too?
Having a decluttered bedroom can give you a calm and serene area to retreat to at the end of a stressful day or when you just want to relax. But where should you start?
Here's an epic guide for decluttering your bedroom, from decluttering steps to specific things to get rid of, all from a girl that just recently spent a full 10 hours decluttering her own bedroom! And be sure to grab the free printable bedroom declutter checklist at the end of this post to help you out!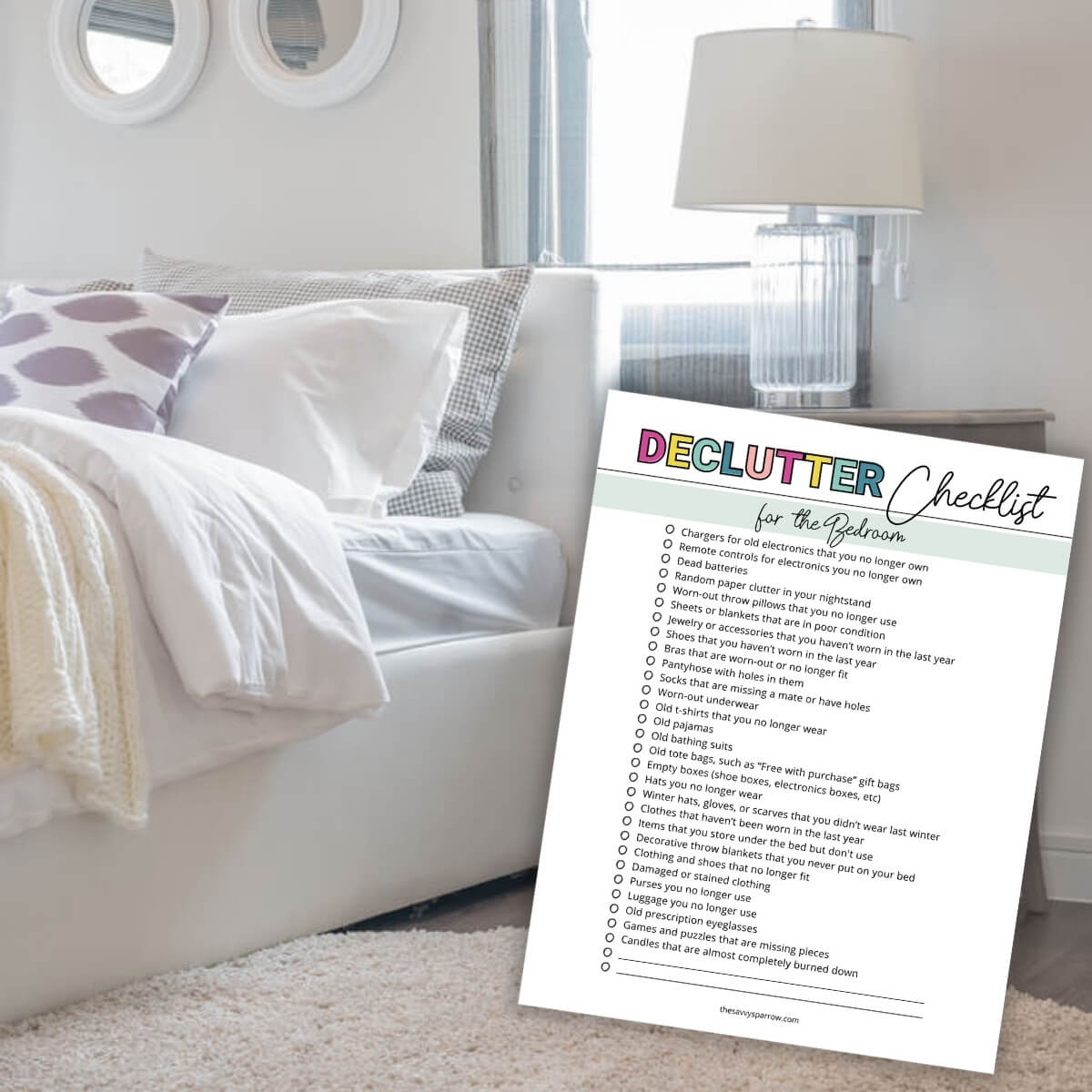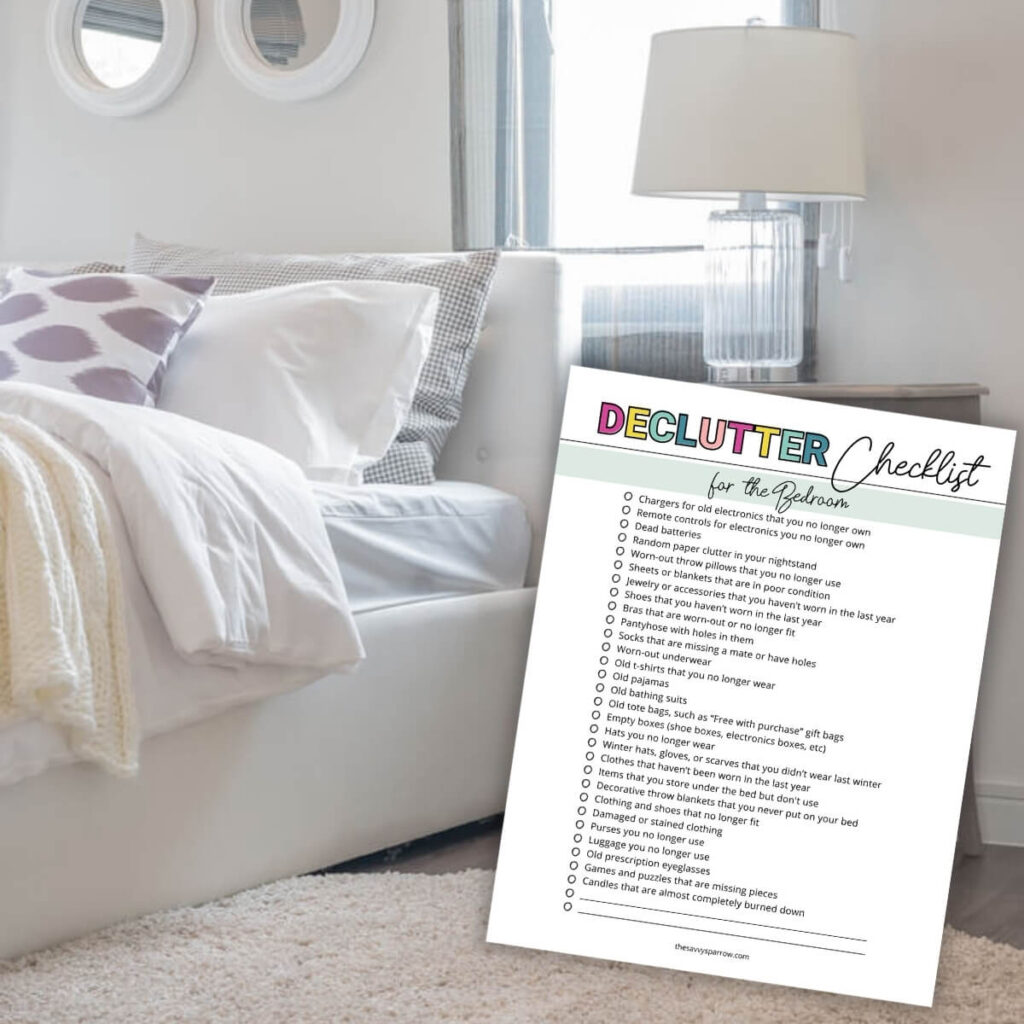 How to Declutter Your Bedroom
If your bedroom is super cluttered, it may be overwhelming to even get started! But the key is to take baby steps. A bunch of small decluttering tasks strung together can lead up to big progress!
Here are some tips for how to declutter a bedroom:
Step 1: Make boxes for Keep, Donate, and Trash.
The first step in any decluttering session is to get boxes or bags for the piles that you will be making. Depending on how much clutter you have, you may need more boxes or you may want to separate your stuff into more than just these 3 categories.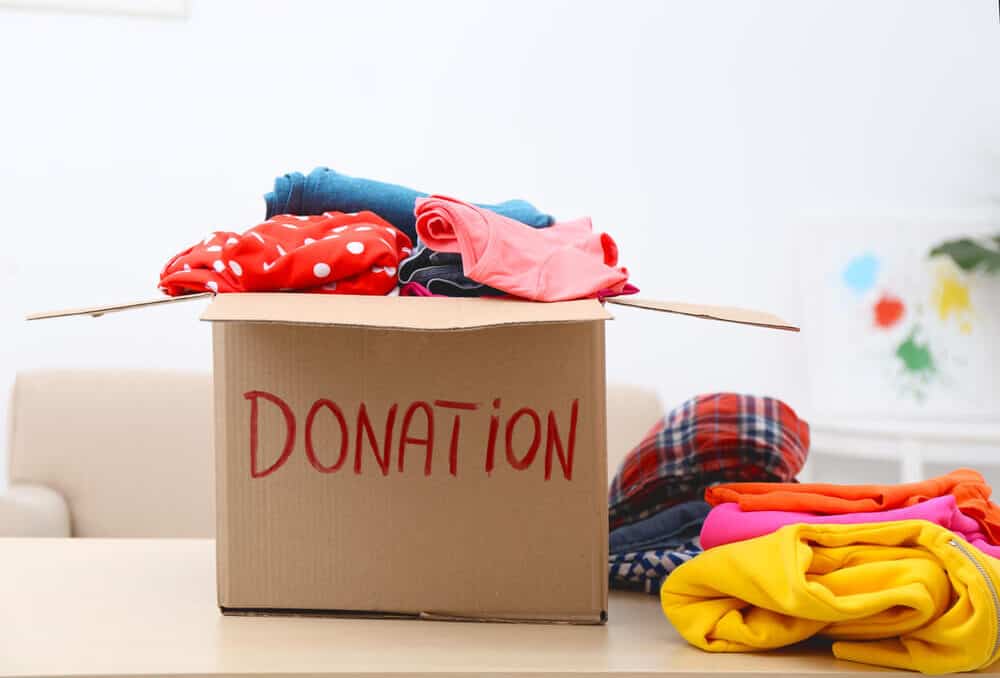 Sometimes, you may need other piles when decluttering like:
Family/Friends – Items in good condition that you think your family or friends would love to have
Sell – Items that you feel are of value and are worth your time trying to sell on Facebook Marketplace, Craigslist, or Ebay… You can also go here for other ideas for selling your old clothes
Relocate – Items that you wish to keep, but belong in a different room of the house
Store – Items that you need to keep for sentimental reasons, or items that are only used seasonally
Repurpose/Fix – Items that you think can be up-cycled or that may require small fixes (Only save these items if you will commit to fixing or reusing them)
I also recommend using something that's disposable when separating out your bedroom clutter, like cardboard boxes or trash bags. That way, you don't have to mess with transferring your items into a different receptacle when you go to drop them off at the thrift store or give them to friends.
Step 2: Work on one area of the bedroom at a time.
One of my best tips for decluttering your bedroom is to focus on just one area at a time. This helps you to not get overwhelmed, and it's great for decluttering when you only have a short period of time each day.
Here are some suggestions for splitting your bedroom up into "zones" for decluttering:
Sock drawer
Underwear drawer
Pajamas drawer
Each clothing drawer individually
One nightstand drawer at a time
Hanging clothes in the closet
Folded clothes in the closet
Top shelves of the closet
Shoes in the closet
Accessories in the closet
Jewelry box
Under the bed
Dresser tops
Nightstand tops
Decorative shelves in the bedroom
Step 3: Completely empty one shelf, drawer, or area at a time.
Once you have your bedroom split up into "zones" to declutter it's time to start actually decluttering the bedroom.
I recommend completely emptying one area at a time. So if you're working on your sock drawer, take every single pair of socks out and lay them on your floor. Then, you can easily see what you had hiding in that drawer and you can begin to sort through things that you don't need from that area.
Step 4: Ask yourself decluttering questions.
Once you've got all the contents of the first area spread out on your floor, it's time to start asking the tough questions.
To better determine what things you need to keep and what things you need to get rid of in your bedroom and closet, ask yourself:
Have I used or worn this in the last year?
Does this item bring me joy? (as suggested by Marie Kondo)
Does this item have sentimental value?
Will I need this item for special events? (Like a semi-formal dress that you don't necessarily wear every year, but that you may want to keep for weddings, galas, etc). Sometimes it's best to hold on to certain clothing or shoes that don't get used very frequently but that have a high replacement cost. You may not want to buy new wedding attire every year.
Would somebody else benefit from having this item? For instance, underprivileged high school girls may love your old prom dress or shoes!
Does this item have holes or is it worn out? If clothing or shoes are in bad condition, you're probably not likely to get them repaired or wear them again.
Step 4: Sort and declutter bedroom items and organize what remains.
As you ask yourself questions to determine whether or not you need to keep bedroom clutter, sort the items into piles. For instance, if you determine that you haven't worn something in the last year, add it to the appropriate box to donate, sell, or gift to family or friends.
After you've sorted everything, it's time to organize the items that you'll be keeping. Think about the best ways to categorize and sort the bedroom items that "made the cut". It's best to just look at the pile of things that remain in the one area that you're focusing on, and group similar items.
If you're working on your sock and underwear drawer, for example, group full coverage underwear, sexy underwear, ankle socks, winter socks, pantyhose and tights, etc.
Once you have everything from that space organized, it's time to replace it in the drawer or shelf. As you're putting things back, keep like items together. You may also want to invest in some organizational dividers, drawer inserts, small acrylic boxes, etc so that everything stays nice and tidy.
This is my daughter's vanity drawer in her bedroom… clutter free and organized!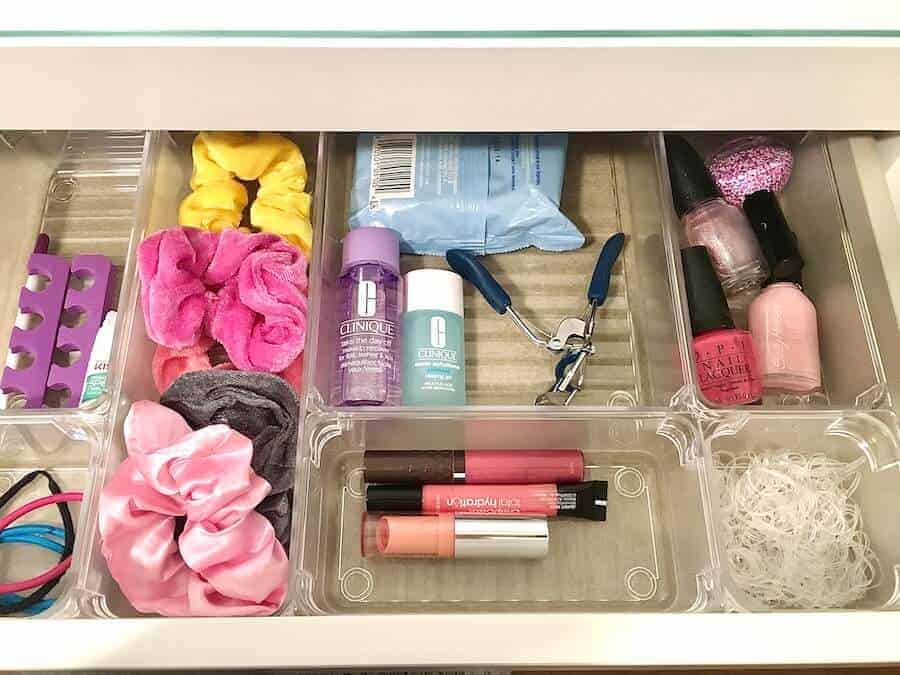 Step 5: Get in the habit of keeping your bedroom clean.
After you're done with your bedroom decluttering session, you'll want to maintain your nice and clear space. And the key to maintaining a clutter-free environment is HABITS.
You have to get in the habit of putting things away as you get them out. Or, if you tend to do a lot of clothes or shoes shopping, get in the habit of picking one item from your closet to donate whenever you bring something new home.
It's also a good idea to have a good bedroom cleaning plan in place to help you maintain your decluttered bedroom. You can go here for a free printable daily, weekly, and deep cleaning checklist for your bedroom!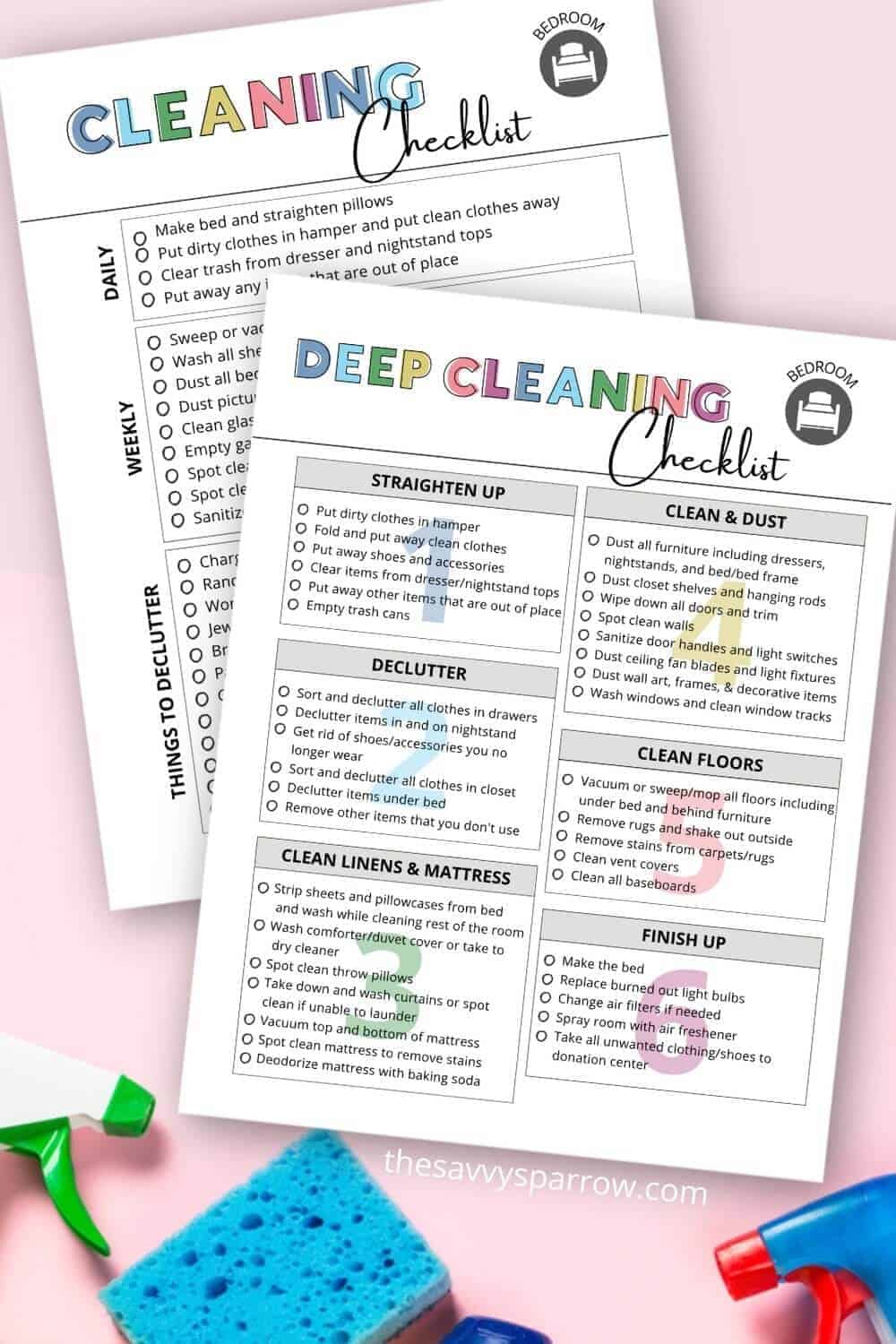 Things to Declutter in a Bedroom
As you're starting to declutter the bedroom, you may be wondering what specific things you should look out for.
Here are some common bedroom items and spaces that you'll probably need to declutter in your room:
Your Clothes
One of the most obvious things to look at when doing a bedroom declutter would be your clothes.
You know the old saying, "Out of sight, out of mind"? Well, you probably keep all of your clothes hidden away in dresser drawers or behind your closet door, so it's easy to accumulate clothing clutter because you're not constantly looking at it.
If you don't necessarily want or need to part with any clothes, then a great tip is to sort your clothing by season. You can also pack away seasonal clothing, like boxing up your winter clothes for the summer and vice versa. This helps to create space and allows you to store your clothes better.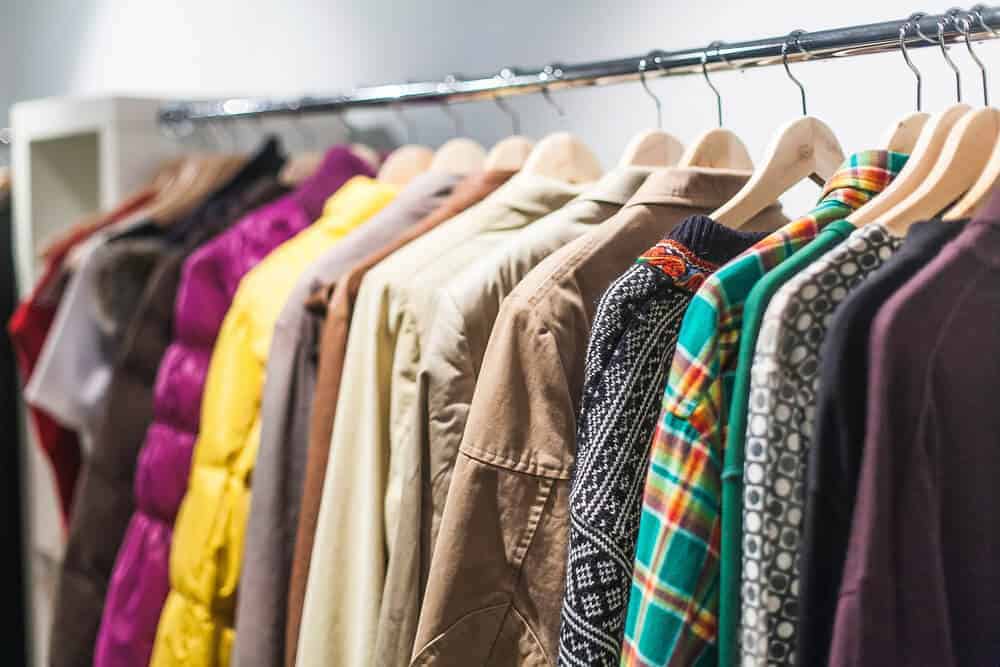 You should also think about getting rid of clothes you no longer love, clothes that don't fit you, or things you feel have seen better days. Whether you sell online, donate, or recycle, you will start to feel much better tackling this big decluttering job.
Shoes
Shoes are another thing we don't tend to declutter very often, so you may want to start looking through your collection and seeing what you have. Decluttering your shoes will allow you to display and store them better. Again, there may be styles that no longer fit well or that have worn out, so be sure to ask yourself the decluttering questions above when you're sorting through them.
Accessories
Next would be any accessories like bags, scarfs, hats, belts, and sunglasses, just to name a few. Look through what you have and get rid of what you don't need. Then, rethink your storage as you may find that if you can see these things, you might wear them more often.
Plus, an added benefit of doing a bedroom declutter is that you'll have extra space to display accessories that you love, like your prized hat collection or your grandmother's costume jewelry collection.
Nightstand drawers
Your bedside tables are a magnet for clutter and you probably don't even realize it. From lots of medicine packets to chargers and paperwork, your nightstands probably have it all. So take some time to think about what you have in there and what you can get rid of. Reorganizing and decluttering the drawers means you can access the things you need when you need them.
You can also tackle my One Drawer a Day Decluttering Challenge when you're done with your bedroom!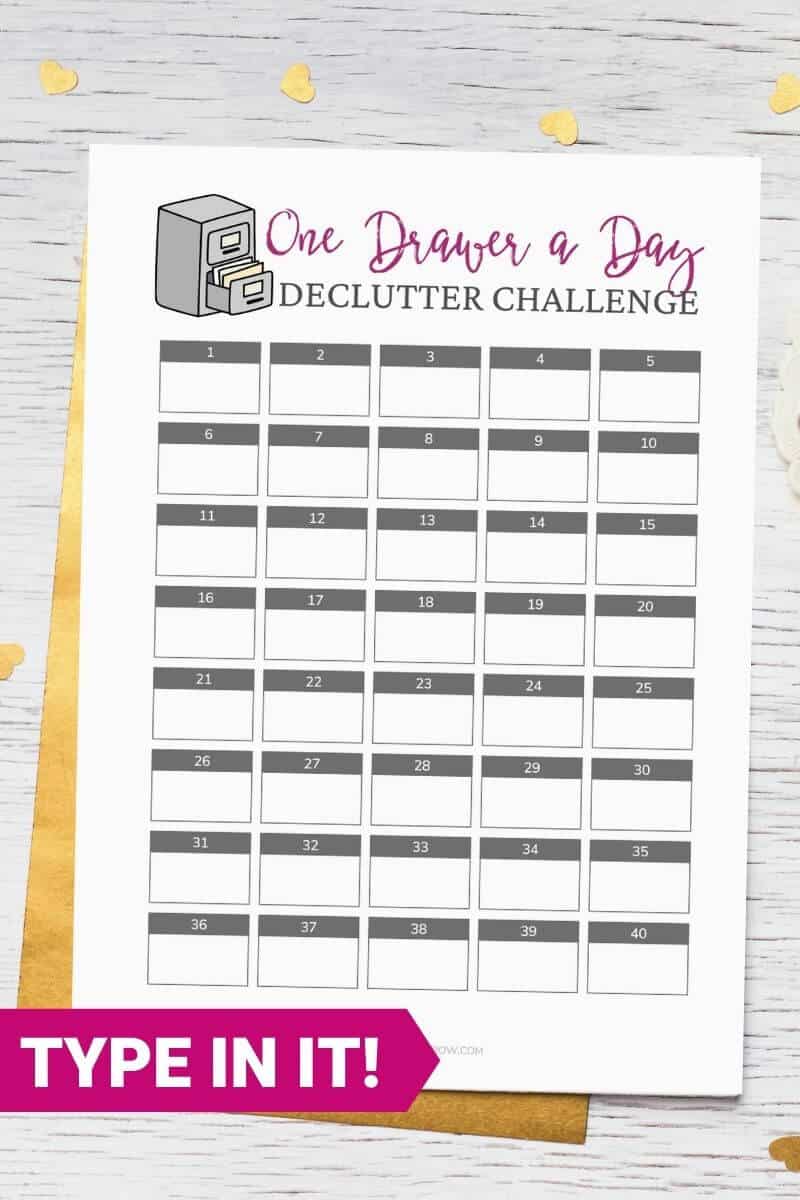 Ottomans and under the bed
We all have areas of our home that we hide things away in, and if you have space under your bed or have an ottoman storage bench in your bedroom, then these are the locations that will need some attention when decluttering.
You may have old clothes, old bed linens, and other things stashed in there that you haven't seen or needed for some time. When I recently decluttered under my own bed, I even found a leaf to a dining table that we don't even own anymore!
Accessories and pictures on display
We all like to display things in our bedrooms such as pictures and accessories that we liked, but do you still love them? Are the pictures still relevant or do they give you a nice feeling or memory when you look at them?
Sometimes it is good to get rid of photos or decor items that you don't like anymore, and rethink what you want to be displayed in your bedroom. And remember less is more, and a calming space can be achieved with minimal items on display and surfaces free of clutter.
Books
Books are one of those things that we can have piled high on our bedside table, or cluttering shelves in our bedrooms… The books we have loved reading, and the ones we are hoping to get around to reading. Your bedroom is the ideal space to relax with a good book, but that relaxing habit can cause stress too, if you have books cluttered everywhere.
Declutter some of the books you have read and don't plan to read again. You can donate these to thrift shops or pass them to friends who may enjoy reading them.
Unwanted cosmetics or beauty products
Many of us will have drawers and dressing tables filled with unwanted cosmetics and beauty products.
If you're like me, you may even get beauty subscription boxes that automatically send you new beauty products to try every month. But yet, I still tend to stick to my main "holy grail" products. And that means lots of extra bedroom clutter!
Doing a good clean out of your beauty products gives you the chance to organize these things more effectively, and helps you to see what you have. Maybe you'll be inspired to try something new, or at least throw out products that are well past their expiration dates.
Jewelry
Jewelry is another thing that can accumulate over time, and if not stored correctly, necklaces and bracelets can get tangled up. So you may want to see about decluttering these things and then looking at how you store your jewelry. We all know that jewelry can help transform an outfit, so it would be nice to have more key pieces and to be able to see what you have. Plus you could donate or sell the things you no longer want or need.
Any bills or paperwork
Finally, you might want to think about decluttering paperwork and bills from your bedroom. For some reason, this can be a place where these things are collected and stored, but it can often create anxiety and stress which is not what you want from your bedroom. Declutter your family paperwork, and then organize the papers that you need to keep.
But beware… This decluttering job alone may take an entire day. If you have a TON of papers to sort through, check out this post to help you: Organize Paperwork: How to Setup a Filing System for Family Papers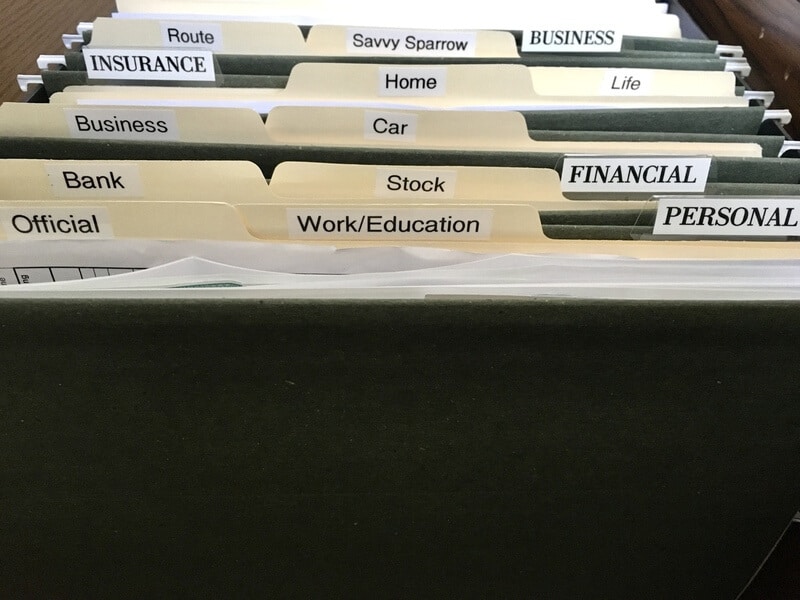 Other items to declutter in the bedroom
Here are some other more specific examples of things to declutter from the bedroom that you may not think about:
Chargers for old electronics that you no longer own
Remote controls for electronics you no longer own
Dead batteries
Worn-out throw pillows that you no longer use
Decorative throw blankets that you never put on your bed
Sheets or blankets that are in poor condition
Bras that are worn-out or no longer fit
Old tote bags, such as "Free with purchase" gift bags
Empty boxes (shoe boxes, electronics boxes, etc)
Winter hats, gloves, or scarves that you didn't wear last winter
Luggage you no longer use
Old prescription eyeglasses
Games and puzzles that are missing pieces
Candles that are almost completely burned down
Free Printable Decluttering Bedroom Checklist
Want a free printable declutter bedroom checklist to use as a guide? You can download my super cute and FREE bedroom decluttering checklist below: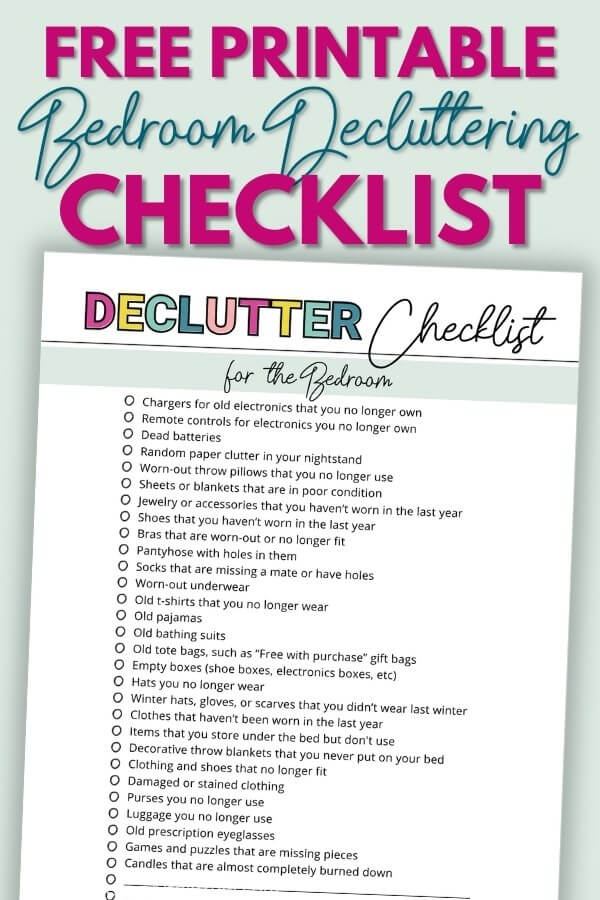 Click HERE to Download the Free Bedroom Decluttering Checklist!
Let's hope these tips help you when decluttering a bedroom. And don't forget to PIN this post for later: