These Easter bunny Peeps sugar cookies are a fun Easter treat that your kids will love!
Making cute desserts is a fun way to celebrate any holiday – especially Easter! And when it comes to baking for the holidays, it doesn't get much better than sugar cookies.
With this quick and easy Peeps sugar cookie recipe, you can whip up a delicious sweet treat for your kids for Easter. They'll love the marshmallow buttercream on top, and you'll love how easy these bunny cookies are to make!
And after you're done with these Easter bunny cookies, be sure to check out these cute Bunny Rice Krispies Treats that you can make without a cookie cutter!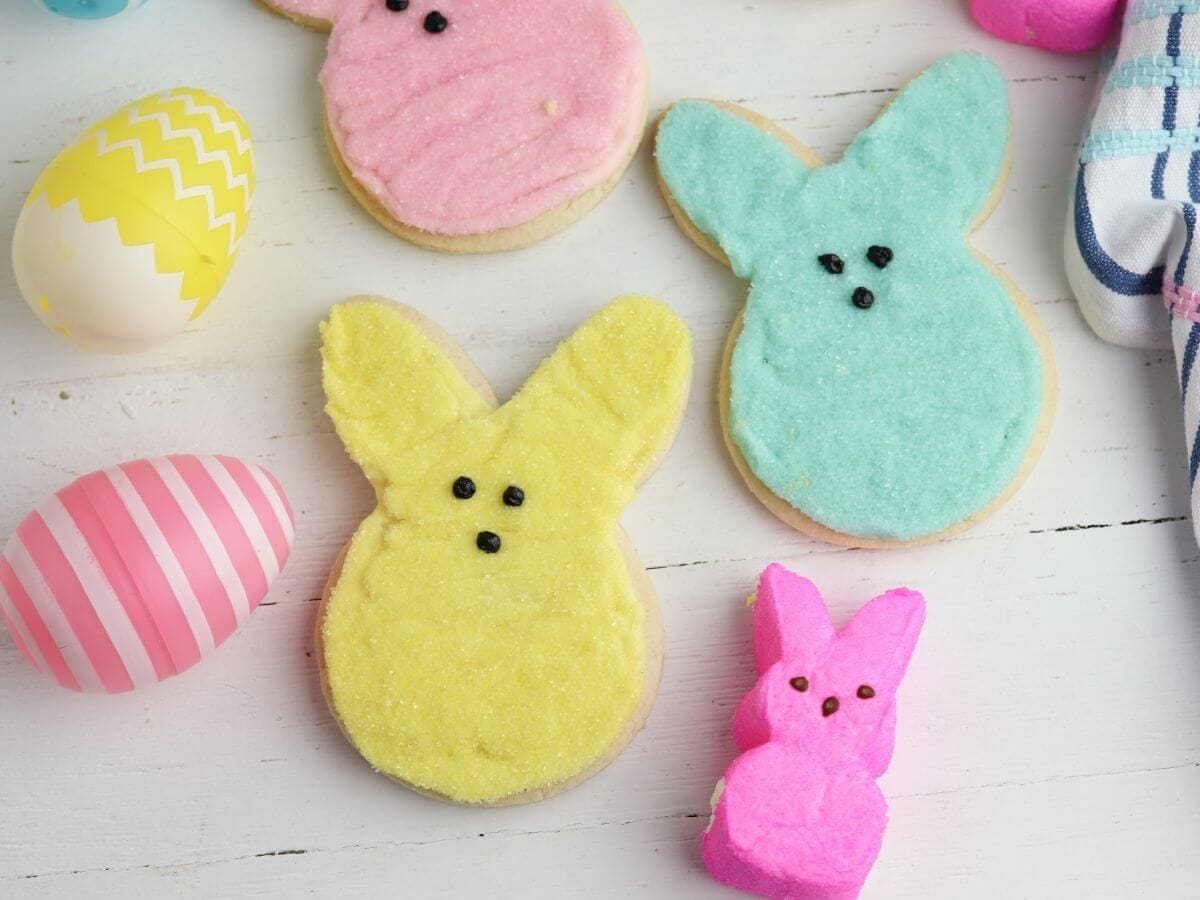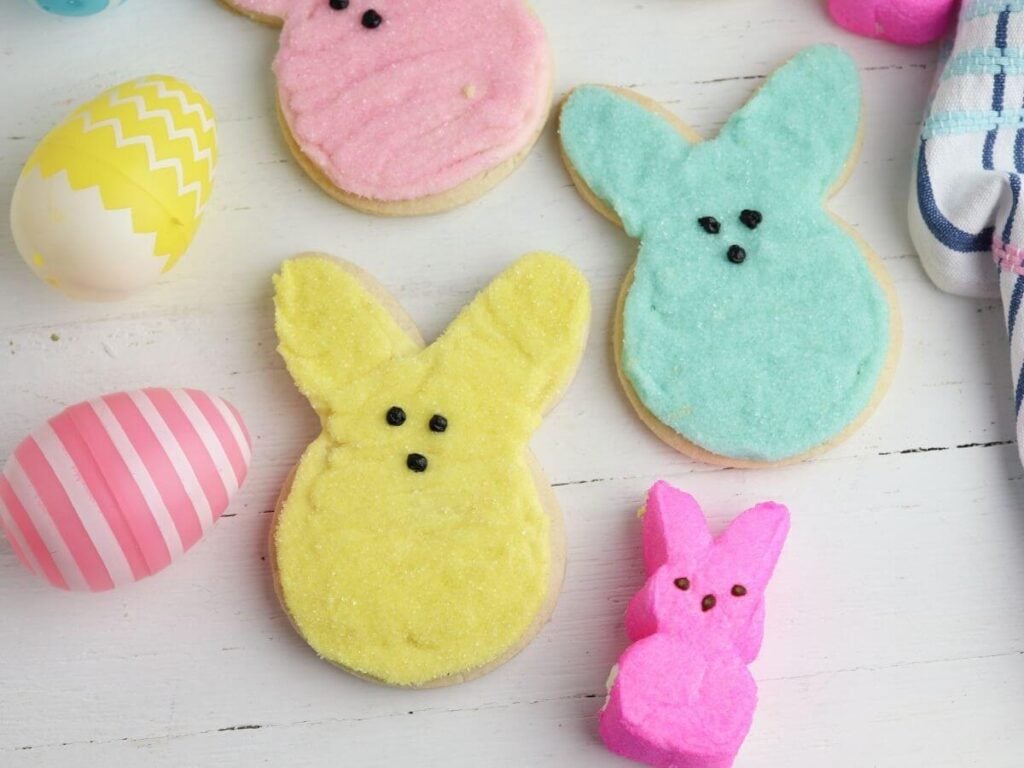 Ingredients for Peeps Sugar Cookies
This one-bowl sugar cookie recipe couldn't be simpler to make. And when you top the baked cookies with a delicious marshmallow frosting and colorful sugar sprinkles, you can create an adorable treat that's perfect for Easter.
But the best part about this simple recipe is that you only need a handful of ingredients to prepare it. To make your own Peeps sugar cookies at home, you'll need: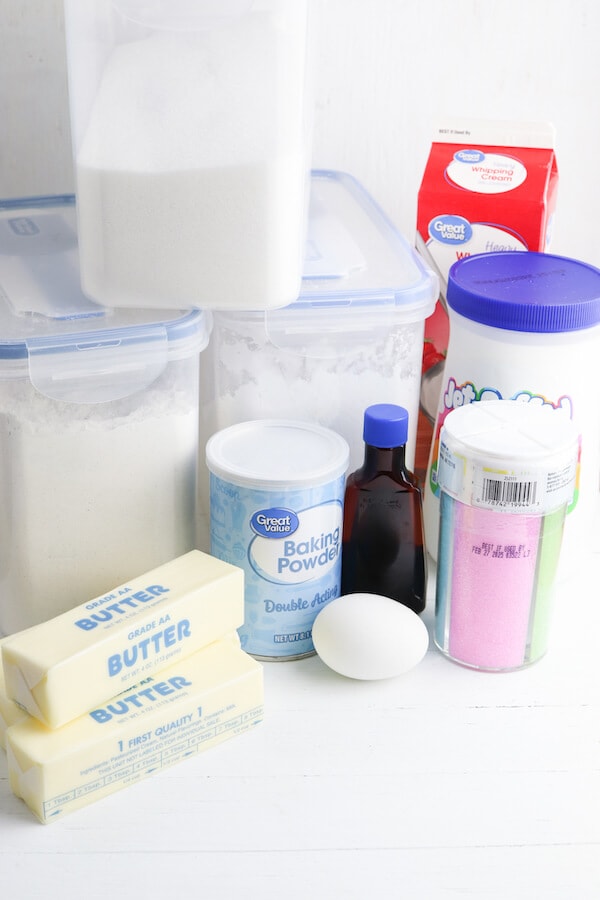 Butter
Sugar
Egg
Flour
Baking powder
Salt
Marshmallow crème
Vanilla extract
Heavy cream
Powdered sugar
Food coloring
Sanding sugar
Black gel icing
You will also need a bunny shaped cookie cutter. I found mine at Walmart.
How to Make Easy Peeps Sugar Cookies
Since you only need one bowl to prepare these quick and easy sugar cookies, this is going to be your go-to recipe every time you want to create an easy treat. To make these quick cut-out cookies, you'll need just a few simple ingredients and a few minutes of your time.
Step 1: Make the sugar cookie dough.
The first step to making this simple cookie recipe is to cream the butter and sugar together. Before combining the butter and sugar in your bowl, make sure the butter is softened. This will make combining the two ingredients together much easier and will ensure that your cookie dough is the right consistency.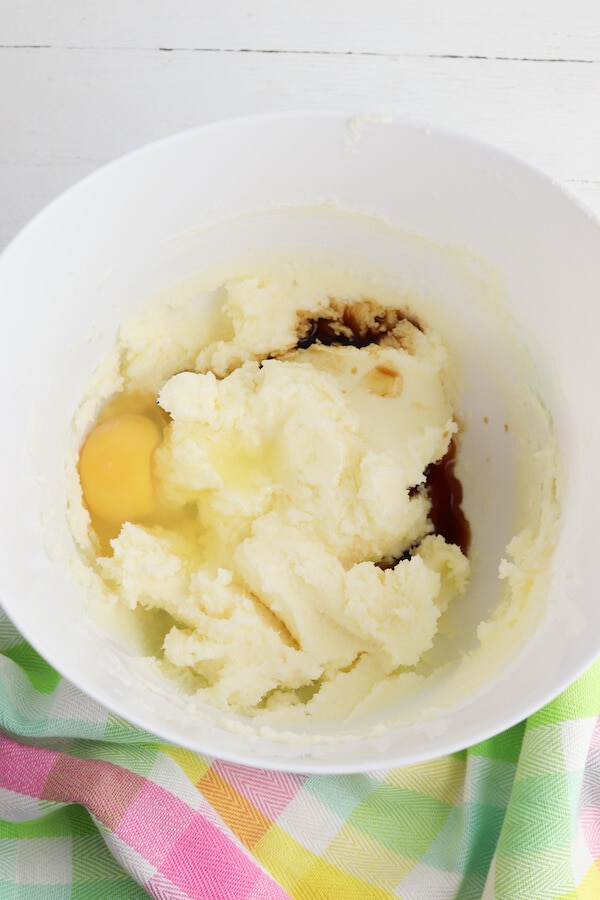 Once the butter and sugar mixture is light and fluffy, add the egg and vanilla extract. Beat the ingredients together again, making sure the egg is well combined into the butter mixture.
After that, add the flour, baking powder and salt to the bowl. Beat the dry ingredients into the butter mixture, setting the mixer to low speed at first. After the flour is fully mixed into the other ingredients, you can increase the mixing speed, if needed, to be sure all the cookie dough ingredients are well combined.
When the dough begins to stick together, use a spoon or spatula to scrape the sides and stir the dough one more time. Then separate the dough into two disks. Wrap the disks with plastic wrap and place them in the refrigerator to chill for at least four hours. The dough can be left in the refrigerator up to overnight, if needed.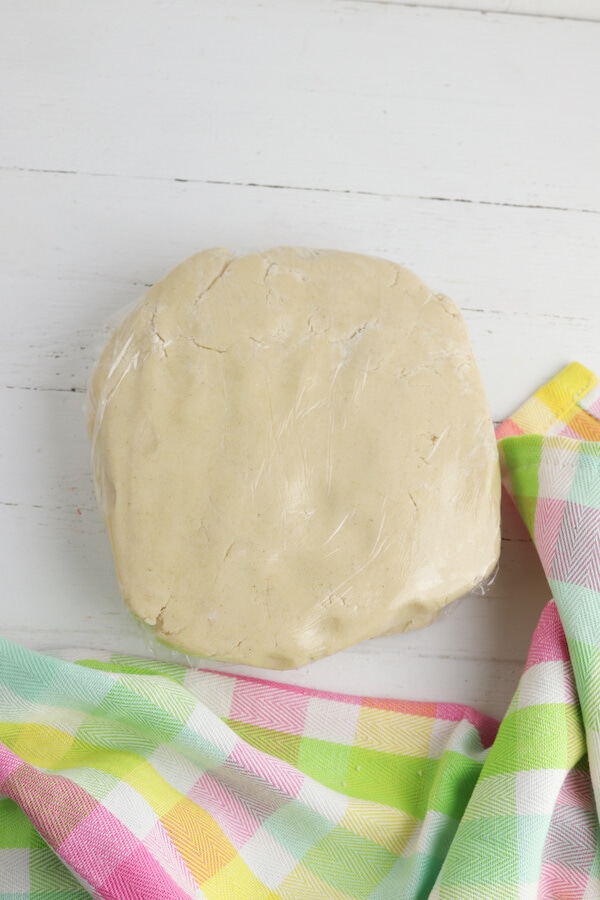 Step 2: Cut out the Peeps Easter Bunny sugar cookies.
After the dough has chilled and you're ready to start baking your cookies, preheat the oven and remove one of the cookie disks from the fridge. Lightly flour your work surface and roll out the dough until it's around 1/8 inch thick. Use your bunny cookie cutter to cut out the cookie shapes and place them on a parchment paper lined baking sheet.
Step 3: Bake your Peeps sugar cookies.
Bake the cookies for 10 to 12 minutes, until the edges of the cookies are just beginning to brown. At this point, the center of the cookies may still look soft.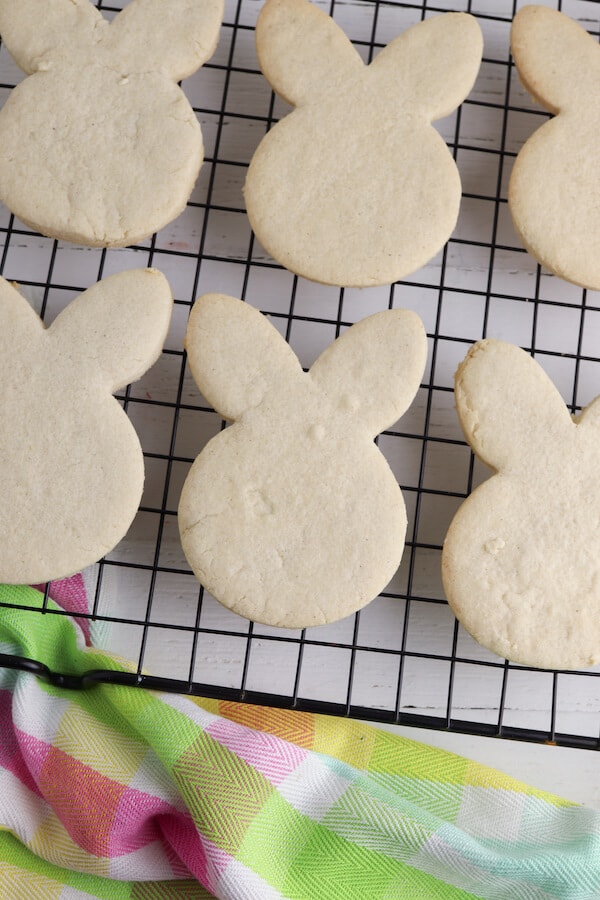 After removing the cookies from the oven, allow them to continue cooking on the baking sheet for around five minutes, then transfer them to a wire cooling rack to cool completely.
Step 4: Make the marshmallow buttercream icing.
While your sugar cookies are cooling, you can take the time to start preparing your buttercream frosting. Since these cookies are designed to look like marshmallow Peeps, why not decorate your sugar cookies with marshmallow frosting?
Turning plain buttercream icing into marshmallow flavored buttercream is easy! Simply mix some marshmallow crème into your icing to instantly add the flavor of marshmallows into your cookie topping.
To make your marshmallow buttercream, start by beating together the butter, marshmallow cream, and vanilla extract until well combined. Make sure to start with softened butter to ensure there isn't large chunks of butter in your icing.
After that, mix in half the powdered sugar and one tablespoon of heavy cream. Once the icing ingredients are well blended, you can add the remaining powdered sugar. Beat the icing until it's smooth and creamy.
If the icing seems too thick, you can add more heavy cream to the bowl. Start with one teaspoon. Blend the cream into the icing and test the thickness. You can continue adding more cream one teaspoon at a time until your desired consistency is reached.
Step 5: Decorate your sugar cookies to look like Peeps Easter bunnies.
Now that you have the cookies prepared and the buttercream icing ready to go, it's time to start decorating! But before you can start spreading the icing on your bunny cookies, you'll need to take a few minutes to prepare it for decorating.
Start by deciding what colors you want your Peeps cookies to be. We used pink, yellow and blue icing and sanding sugar to decorate our cookies, but you can use any colors you want! When you've figured out the colors, separate your icing into enough bowls for each color. Add the food coloring and stir until it's mixed into the icing, then transfer each color to a piping bag.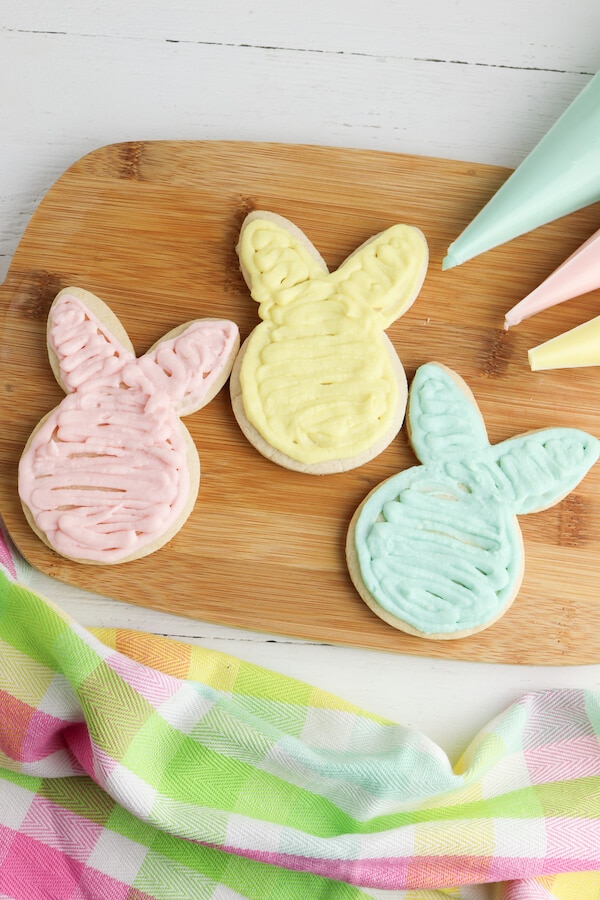 Once your icing is ready to go, grab one small plate for each color you'll be using. Pour each color of sanding sugar onto each plate. Pipe the icing on top of each cookie, then immediately dip the cookie into the sanding sugar. Lightly press it into the sugar to make sure the sprinkles stick to the frosting, then lift the cookie up and shake it to knock off the extra sugar.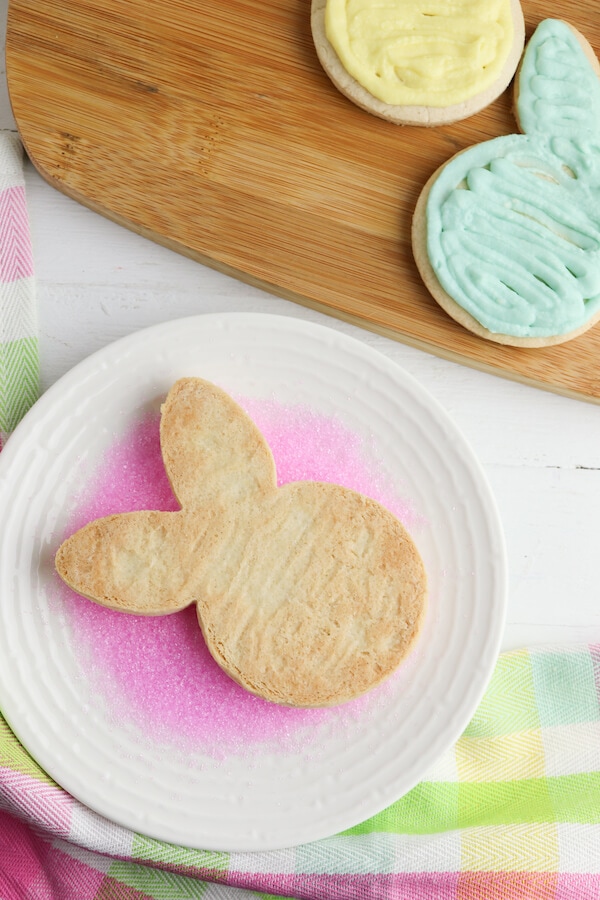 Finish by drawing two eyes and a nose on top of each cookie to give it the look of a marshmallow Peeps bunny.
Then your cute and tasty Easter sugar cookies are done!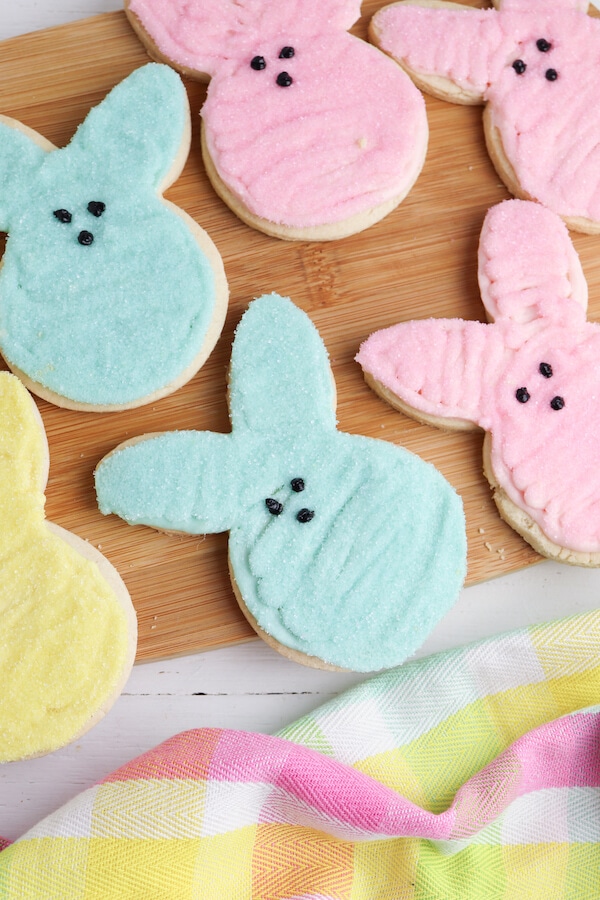 Want a fun way to gift these Peeps cookies? My free printable Treats for My Peeps gift tags are perfect for that! I used the cute tags to create Easter treats with actual Peeps marshmallow candies, but you can use them for these cute sugar cookies as well.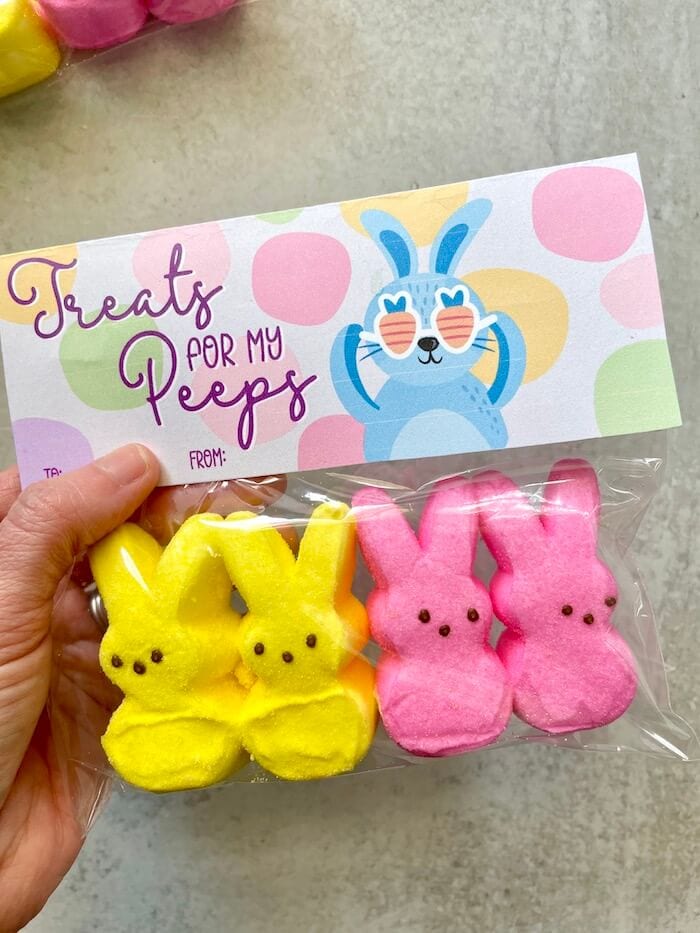 You can package these Peeps sugar cookies in cellophane bags, tie on a pretty ribbon, and attach one of these Peeps gift tags! These would make super cute and inexpensive gifts for teachers, neighbors, or classmates.
Frequently Asked Questions
Do you have to chill the sugar cookie dough?
Since these roll-out cookies need to be cut using a cookie cutter, it's important that you take the time to chill your dough. That's because the dough is too soft to roll out and cut immediately after being mixed. To help firm up the dough and make it easier to cut, make sure to place your cookie dough in the fridge for at least four hours.
What if my sugar cookie dough is too hard?
If the dough is too hard to roll out, let it rest at room temperature for 10 to 15 minutes. After that, the dough will soften slightly, making it easier to roll and cut.
Can I use store-bought icing to make Peeps cookies?
Absolutely! If you want to skip a few steps and make these cute Easter sugar cookies even easier, then you can buy canned icing and add in some food coloring gel.
How many Peeps bunny cookies does this recipe make?
This recipe should make about 24 Easter bunny cookies. However, this could vary a bit depending on which Peeps cookie cutter you choose to use.
I hope you enjoy these cute and yummy Peeps Easter bunny sugar cookies!
Check out more Easter sugar cookies here, and don't forget to PIN this post for later: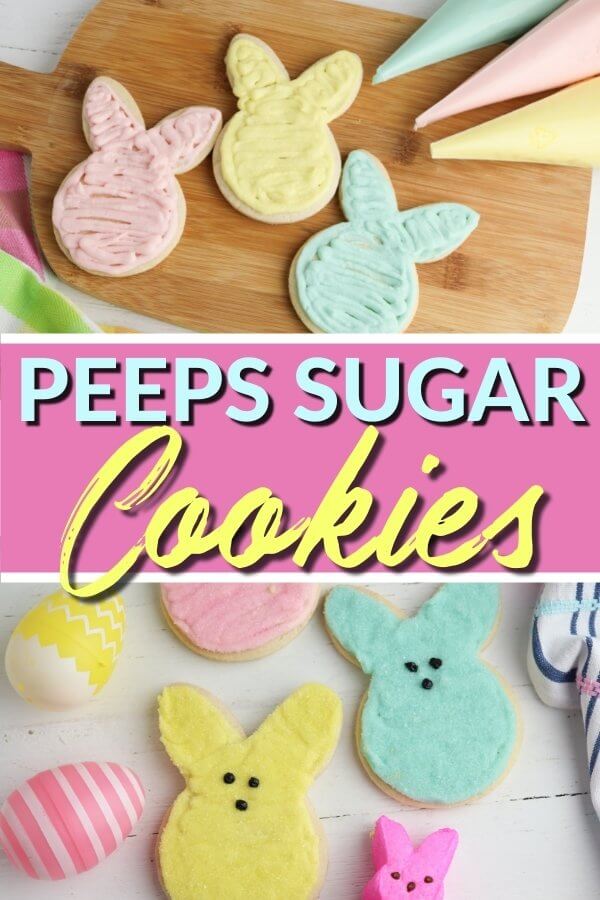 Yield: 24 cookies
Peeps Easter Bunny Sugar Cookies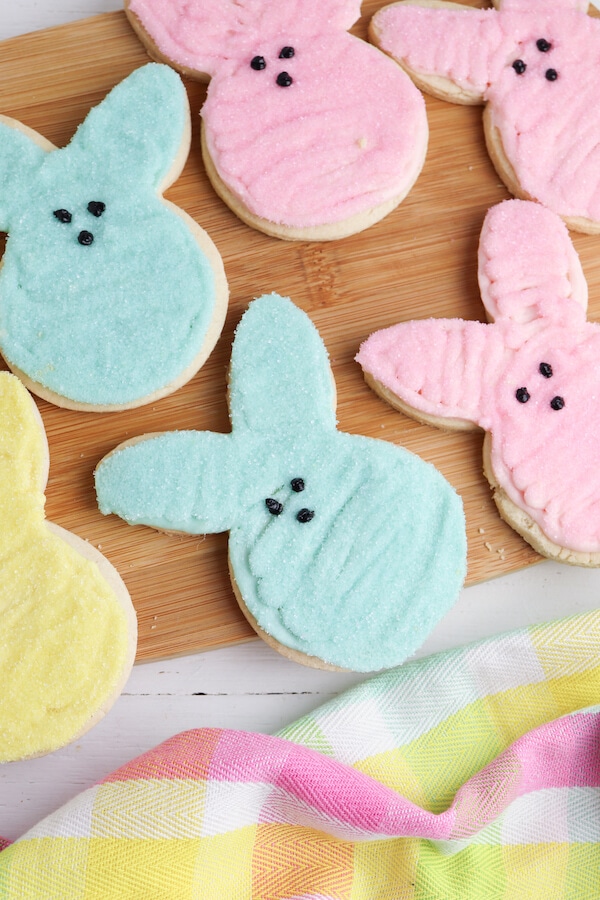 With this quick and easy Peeps sugar cookie recipe, you can whip
up a delicious sweet treat for your kids for Easter. They'll love the
marshmallow buttercream on top, and you'll love how easy these cookies are to
make!
Prep Time 30 minutes
Cook Time 12 minutes
Total Time 42 minutes
Ingredients
1 cup butter, softened
1 cup sugar
1 egg
2 teaspoons vanilla extract
3 cups all-purpose flour
1 teaspoon baking powder
1/4 teaspoon salt
Bunny cookie cutter
For the Icing:
1 jar (7 ounces) marshmallow creme
1 cup butter, softened
1/2 teaspoon vanilla extract
1 to 2 tablespoons heavy cream
2 1/4 cup powdered sugar
pink, yellow, and blue food coloring
pink, yellow, and blue sanding sugar
black gel icing
Instructions
Beat together the butter and sugar until smooth and creamy.
Add the egg and vanilla to the creamed butter and sugar mixture and beat to combine.
Add flour, baking powder, and salt to the butter and sugar mixture. Beat until you have a soft cookie dough.
To prep the dough for chilling, separate it into two equally-sized balls. Flatten each dough ball into a disk shape. Wrap each disk of dough with plastic wrap and chill for a minimum of 4 hours or overnight.
When ready to bake the Peeps sugar cookies, preheat oven to 350 degrees.
On a floured surface, use a rolling pin to roll out the dough until it's around 1/8 inch thick.
Use a bunny cookie cutter to cut out the dough. Place the cookies on a baking sheet lined with parchment paper.
Once the oven is preheated, bake the cookies for approximately 10-12 minutes, until the cookies are just starting to brown on the edges.
Allow the cookies to cool on a baking sheet for 5 minutes, then transfer the cookies to a wire cooling rack.
When the cookies are completely cool, prepare the marshmallow icing. In a bowl, beat together butter, marshmallow creme, and vanilla extract until fluffy.
Add half the powdered sugar and one tablespoon of heavy cream to the marshmallow butter mixture. Beat to combine.
Add the rest of the powdered sugar and beat until smooth. For thinner frosting, add more cream as needed.
To color the icing, separate it into three bowls. Add your choice of food colorings to each bowl. Stir each icing bowl until the food coloring is evenly distributed throughout the icing.
Transfer each icing color to a separate icing bag and pipe the icing onto the sugar cookies.
Immediately dip the frosted cookies into a plate of sanding sugar.
Using black icing gel, add two eyes and a nose to each Peeps sugar cookie.

Nutrition Information:
Yield:
24
Serving Size:
1
Amount Per Serving:
Calories: 287
Total Fat: 17g
Saturated Fat: 10g
Trans Fat: 1g
Unsaturated Fat: 5g
Cholesterol: 50mg
Sodium: 175mg
Carbohydrates: 33g
Fiber: 0g
Sugar: 20g
Protein: 2g
Nutritional information is provided as a courtesy and is an estimate only. Different online calculators may calculate nutritional information differently. Also, the addition of optional ingredients and varying brands and products may change the information. For the most accurate data, you should calculate the nutritional information with the actual ingredients that you use.