This printable Easter Bunny Money is great to use for non candy Easter egg fillers! Your kids will LOVE these Easter coupons that they can redeem for special treats, dinners, books, and toys!
Coming up with egg filler ideas for your plastic Easter eggs can be tough… especially if you don't want to fill them with the same old candy year after year.
And I don't know about your kids, but mine get enough sweets without me stuffing their plastic Easter eggs full of sugar too. So this printable Easter Bunny Money is going to be filling my kids' Easter eggs this year!
Also, the great thing about these Easter egg coupons is that they'll last well after Easter, rather than your kids getting an Easter basket full of candy and devouring it all in two days. Plus, some of the coupons allow you to sneak in some quality family time together too!
Just print out the Easter coupons, cut them out, fold or roll each coupon up, and stick one in each plastic egg. You could even use the printable bunny money as prizes for your Easter egg scavenger hunt with clues!
And you can even print more coupons, year after year, for a fun new Easter tradition that your kids will look forward to!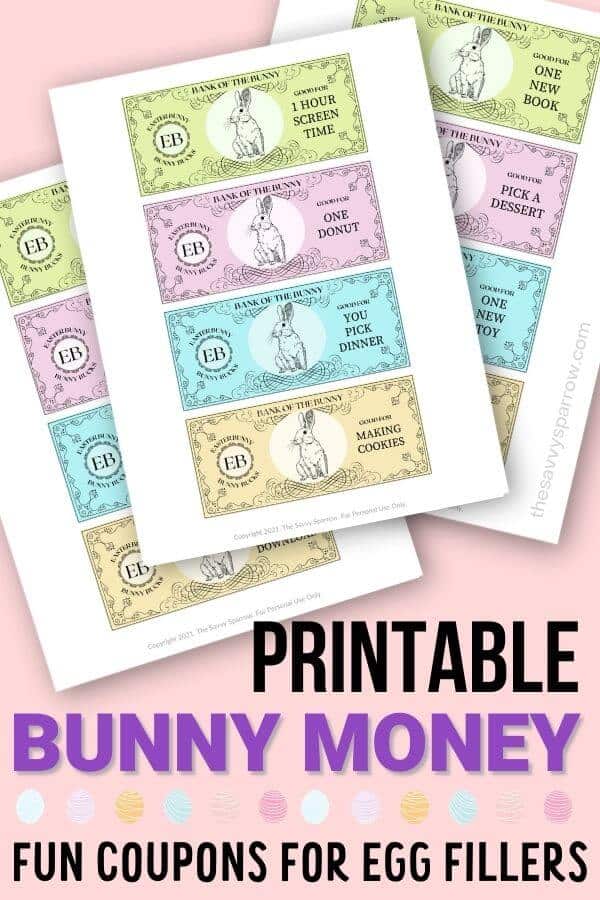 Easter Bunny Money Ideas
If you want to make your own Easter coupons to put in your plastic eggs, here are some awesome ideas for you to use:
Pick the movie for family movie night
Go to bed 30 minutes late
Let Mom do two of your chores
Pick out a treat from the store
Breakfast for dinner
Pick what you want for dinner
Pizza for dinner
Get a Kid's Meal from your favorite restaurant
Pick a dessert
1 hour of video game play
Pick a game for the family to play
Pick a book from the book store
1 scoop of ice cream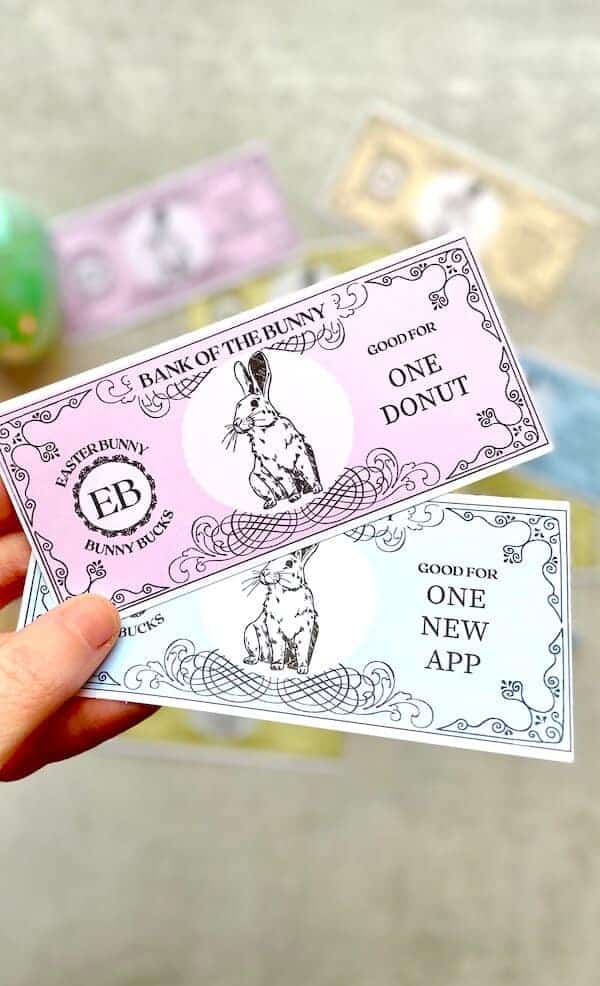 1 doughnut
1 new app store or music download
1 slushie
Trip to the Dollar Store
Making cookies with Mom
1 whole candy bar
Pancake breakfast on the weekend
Tips for Using the Printable Easter Coupons
If you want to use this easy idea for your plastic egg fillers, here are a few tips for prepping your Bunny Money:
Print on card stock or heavier weighted printer paper. I like to use a 32 lb. printer paper for my colored printables because the end product looks much nicer than regular 20 lb. paper. Plus, the heavier weighted paper will stand up to your little kiddos better, and it's less likely to get torn or wrinkled.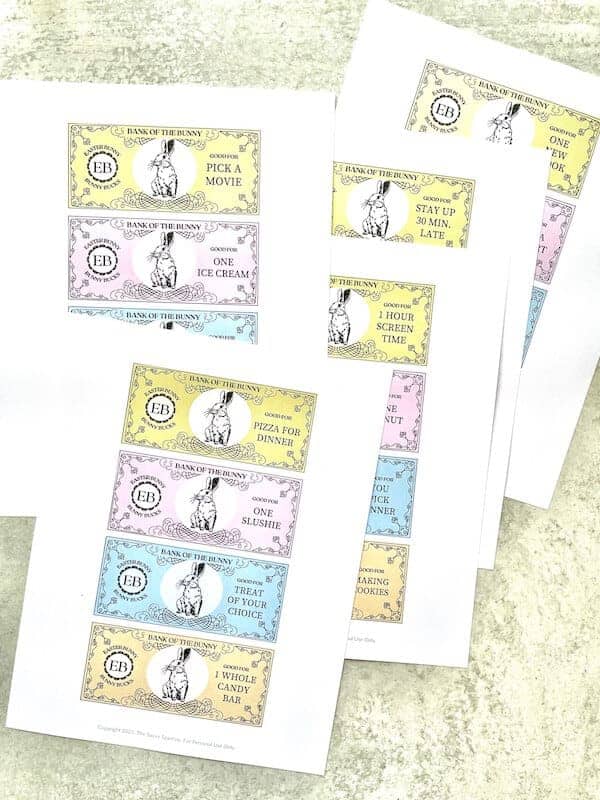 Use a paper trimmer for straight cuts. Your Easter Bunny Money will look much nicer, and the cutting will go much quicker with a paper trimmer.
Roll the Easter Bunny Money to fill your eggs.
Larger plastic eggs work best. These printable Easter coupons are about the size of an actual dollar bill, so the larger size of plastic eggs works best. You can also include a small piece of candy or another little toy with the coupon in the larger eggs.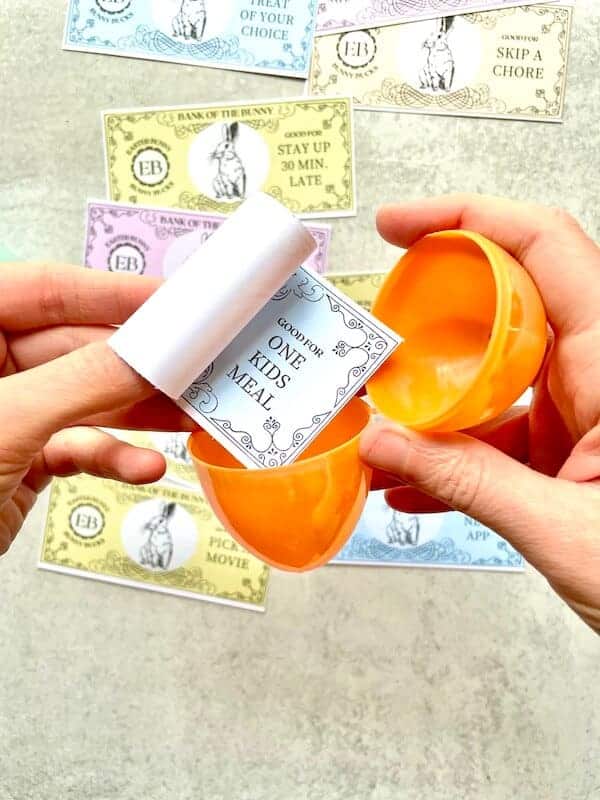 Printable Easter Bunny Bucks to Use as Egg Fillers
You can grab my Easter Egg Coupons to use as egg fillers in my shop HERE!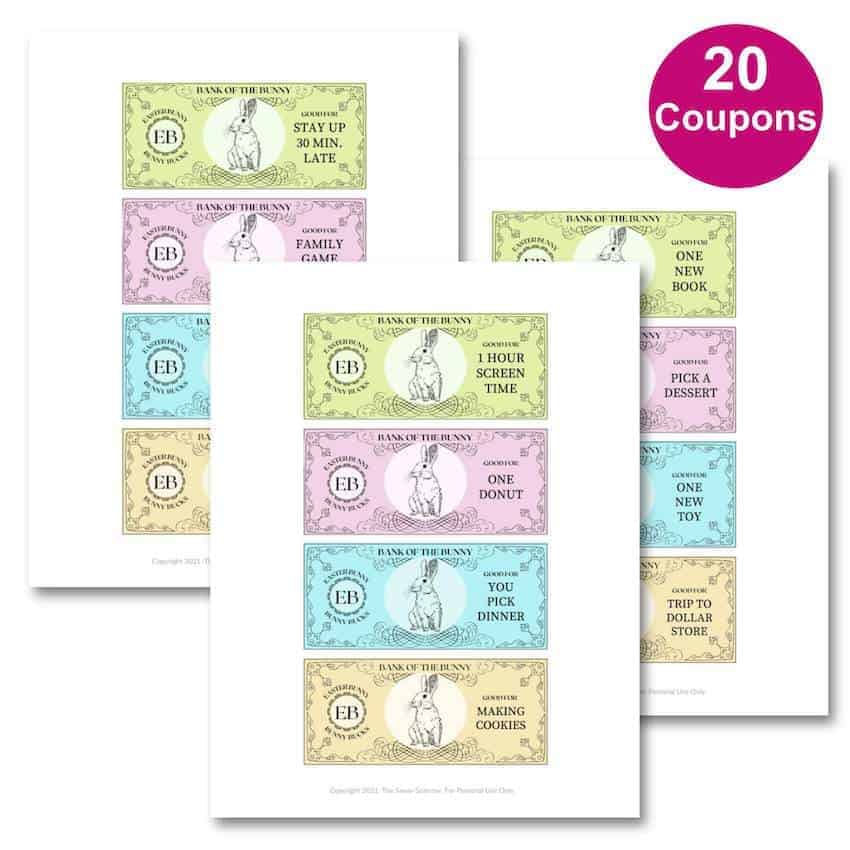 If you loved this post, check out some of my other posts with printables for kids:
Or visit Happiness is Homemade for other non candy Easter egg filler ideas!