Want to make your child's Easter "egg-stra" special this year? Try this fun Easter egg hunt with clues! Learn how to set up a super fun Easter scavenger hunt with this free printable that your kids will LOVE!
Easter egg hunts are an early morning Easter tradition for most families. But as your kids get older and their egg hunting skills improve, it can seem like the egg hunt is over in about 5 minutes.
That's why I started doing this super fun Easter egg hunt with clues for my kids!
Instead of just hiding the Easter eggs around your living room or your front yard, turn your egg hunt into a fun Easter scavenger hunt! Hide egg hunt clues all around your house with plastic-filled Easter eggs in each clue location. Then, when your kids get to the last clue, they'll find their Easter baskets as the grand prize!
So it's like combining an Easter scavenger hunt and an Easter egg hunt into one fun activity! Here's how to do it: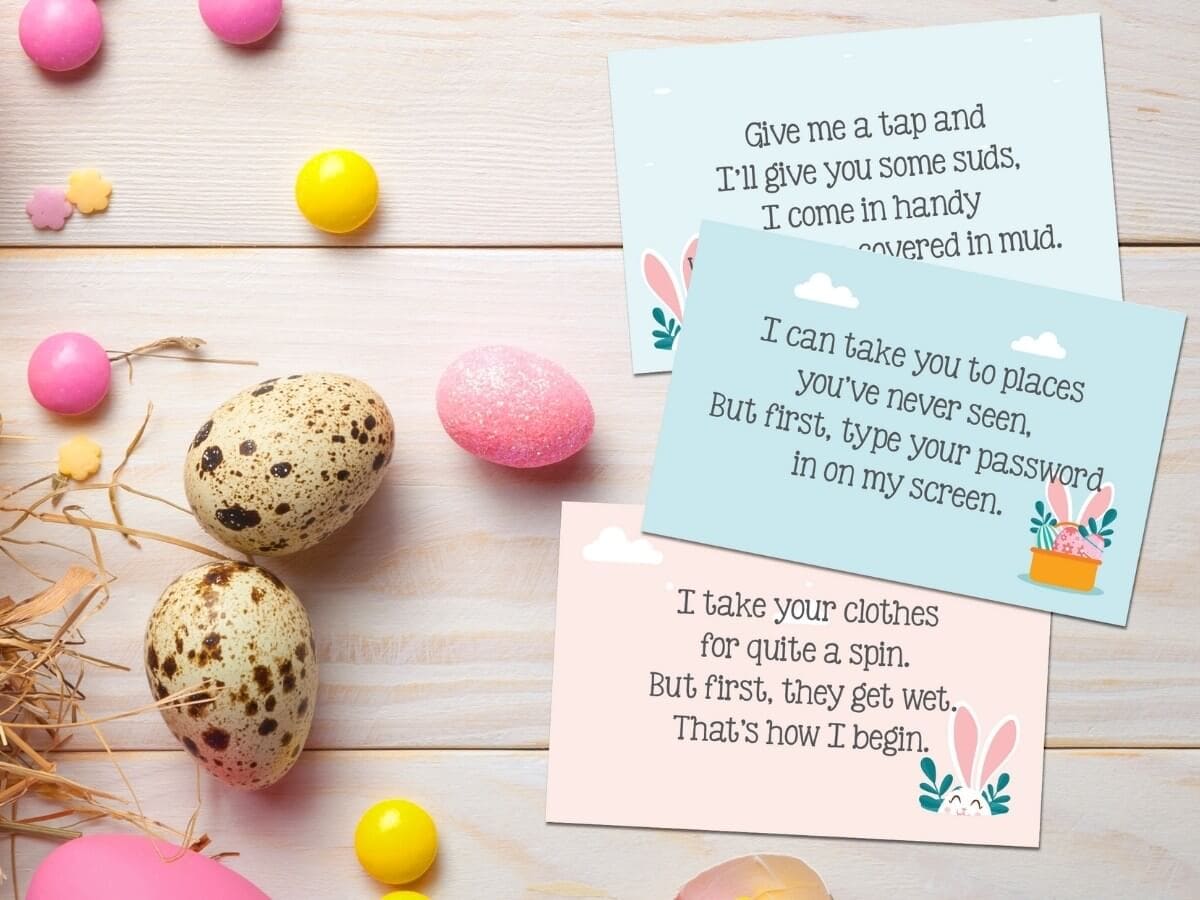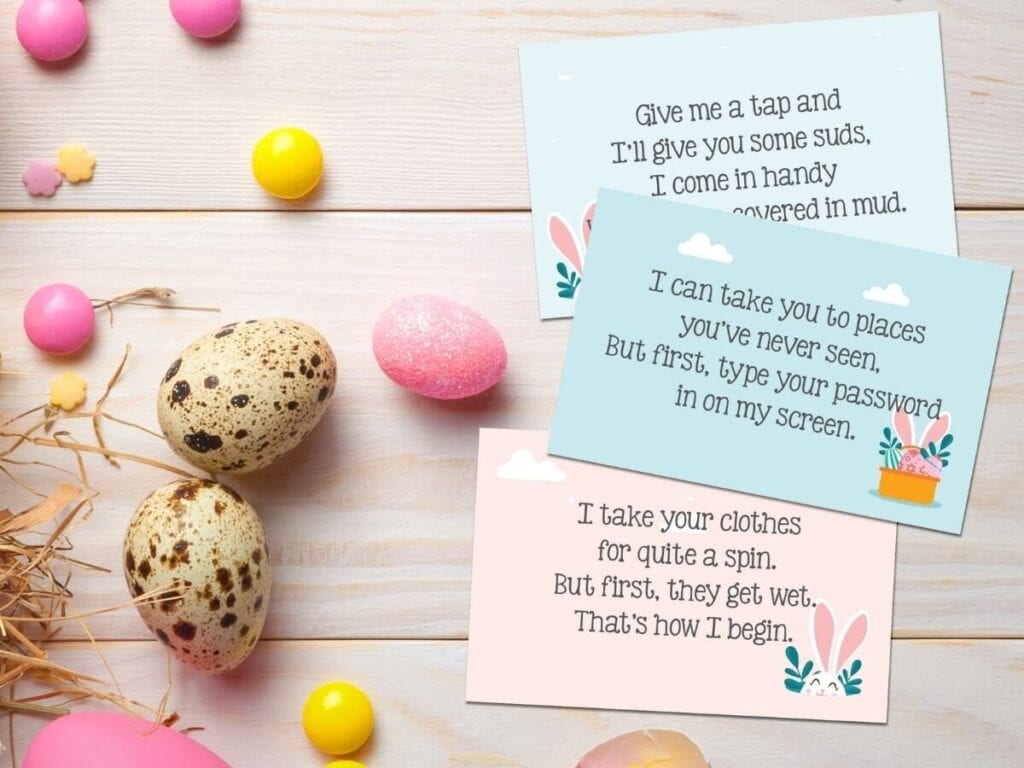 How to Do an Easter Egg Scavenger Hunt with Clues
Planning an Easter egg scavenger hunt that your kids will LOVE is easy! Just follow these steps:
Step 1: Prep your plastic filled Easter eggs.
First, you need to fill your plastic Easter eggs that you will be hiding in each location.
I suggest using a different color plastic egg for each child, especially if your kids are different ages and may enjoy different egg prizes. For instance, your toddler may like a mini container of slime, but your tween may want an Invisibobble hair tie. Before the Easter egg hunt starts, you can let your child know which plastic egg color they've been assigned.
Step 2: Decide on a final prize for your Easter egg hunt.
You may want to have your Easter egg scavenger hunt lead to a larger final prize for your kids to discover at the last clue. Here are some ideas:
Your child's Easter basket – This is probably one of the most popular ways to do this Easter egg hunt with clues… turn it into an Easter basket scavenger hunt!
A new book for each child
A new video game your kids can play together
A new outfit for each child
A few new board games
If you've got a family vacation coming up for Spring Break, you can also hide tickets to an attraction, theme park, etc.
Step 3: Download and print the free Easter scavenger hunt clues.
Whether you're planning an indoor or outdoor Easter egg hunt with clues, I've got some awesome free printable clues you can use to make your hunt super easy to set up. You can download the scavenger hunt clue cards at the end of this post, and then print them from home or send them to a print shop.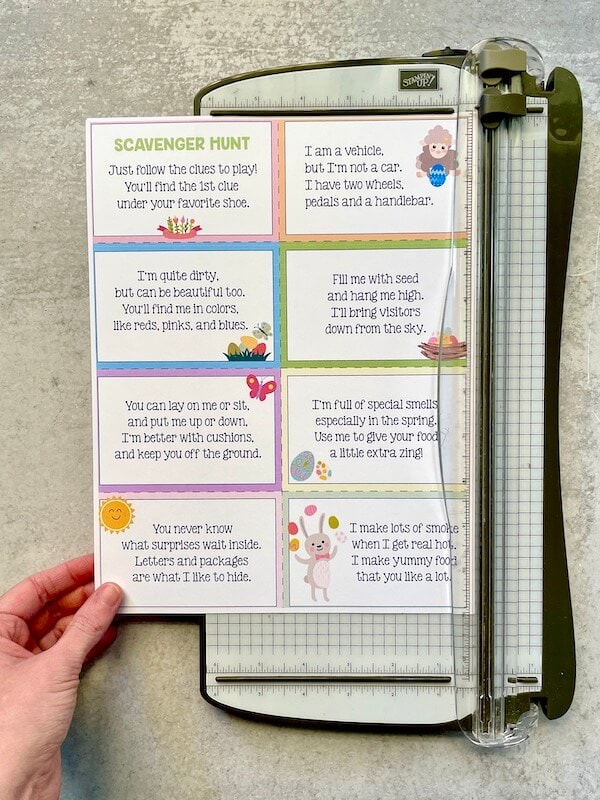 Be sure to print your Easter treasure hunt cards on white card stock for best results. Then, just cut them out, and you're ready to set up your Easter egg hunt.
Step 4: Set up your Easter egg hunt with clues!
Find the first Egg hunt clue… It's the one that says,
"Just follow the clues to play… You'll find the 1st clue…."
Then, place that first clue somewhere that your kids are sure to find it before the Egg hunt starts. You can have it taped to the side of their breakfast plates on Easter morning, or tape it to the top of the toilet seat so they see it when they first wake up.
Then, tape each Easter scavenger hunt clue to a different location. But, be sure that you don't tape a clue to the spot that the clue describes… For instance, you wouldn't tape the clue card that says
"My job is to put an end to sleep. I do this with music, a buzz, or a beep."
to the actual alarm clock. Instead, you would tape that card to the location right before it.
Free Easter Egg Hunt Printable Clues for Indoors
You can't have a fun Easter egg hunt with clues without the actual cutely-worded Easter scavenger hunt clues!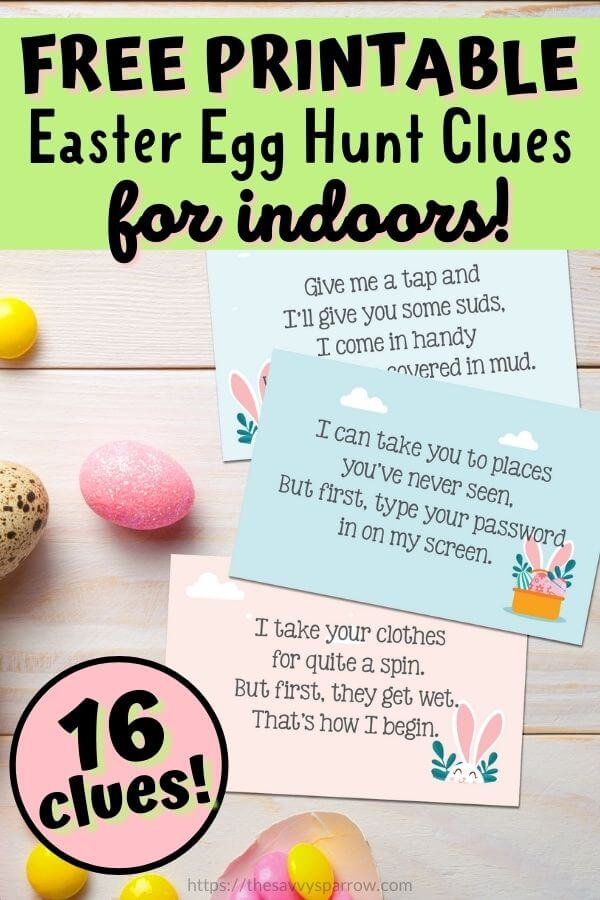 Here are the clues that are included on the free printable indoor Easter egg hunt clues, and what location each riddle refers to:
I'm filled with feathers or other soft fluff. To sleep without me can be quite tough. (Pillow)
I make it possible to have fresh food. Everyone agrees I'm one cool dude. (Refrigerator)
I'm not a selfie, but I do show faces. Find me in bathrooms and a few other places. (Mirror)
Paper comes in and paper goes out. But adding words and pictures is what I'm all about. (Printer)
Watching your favorites is lots of fun. But don't watch too much! Kids need to play and run. (TV)
I'm hungry, I'm hungry! Please feed me a slice. I'll spit it back out all brown and nice. (Toaster)
It's my job to give all your clothes a tumble, which I do while making a bit of a rumble. (Dryer)
My job is to put an end to sleep. I do this with music, a buzz, or a beep. (Alarm clock)
I can take you to places you've never seen. But first, type your password in on my screen. (Computer)
I rain on you when you need a scrub. I'm very much like my friend the tub. (Shower)
Cross off all of the X's and circle the remaining letters to find the location of your next clue. XXSXXXHXOXXEXXX (Shoe)
I take your clothes for quite a spin. But first, they get wet, that's how I begin. (Washing machine)
Paper comes in, and paper goes out, but adding words and pictures is what I'm all about. (Printer)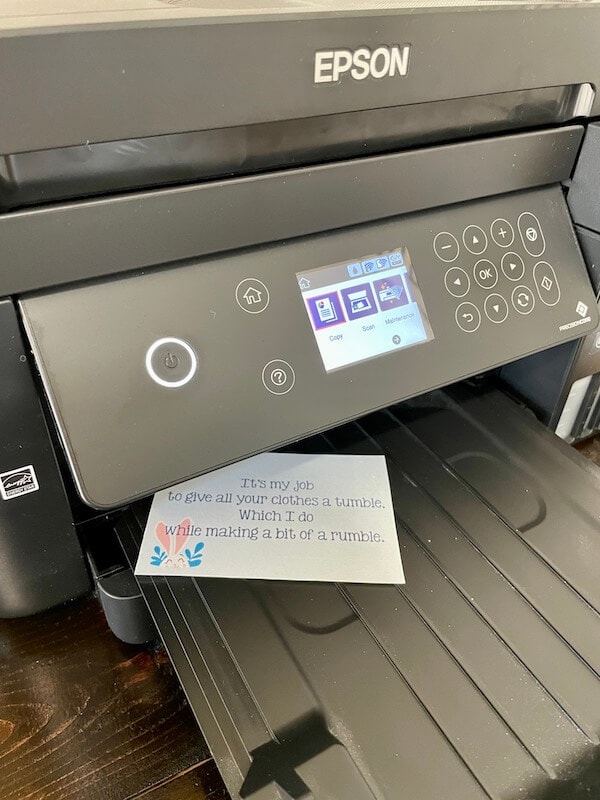 Give me a tap and I'll give you some suds, I come in handy when you're covered in mud. (Soap dispenser)
I've got buttons and numbers, and can give things a zap. I'm here to warm and heat up your snacks. (Microwave)
You use my top for homework, and to put things inside, I'm a good place for pencils and paper to hide. (Desk)
*Note – If one of the locations doesn't apply to you (like you don't own a printer), then you can just leave that clue out.
Free Printable Easter Hunt Clues for Outdoors
Want to do an outdoor Easter egg hunt with clues? I've got that covered for you also! Here are the Easter scavenger hunt clues for an outdoor Egg hunt: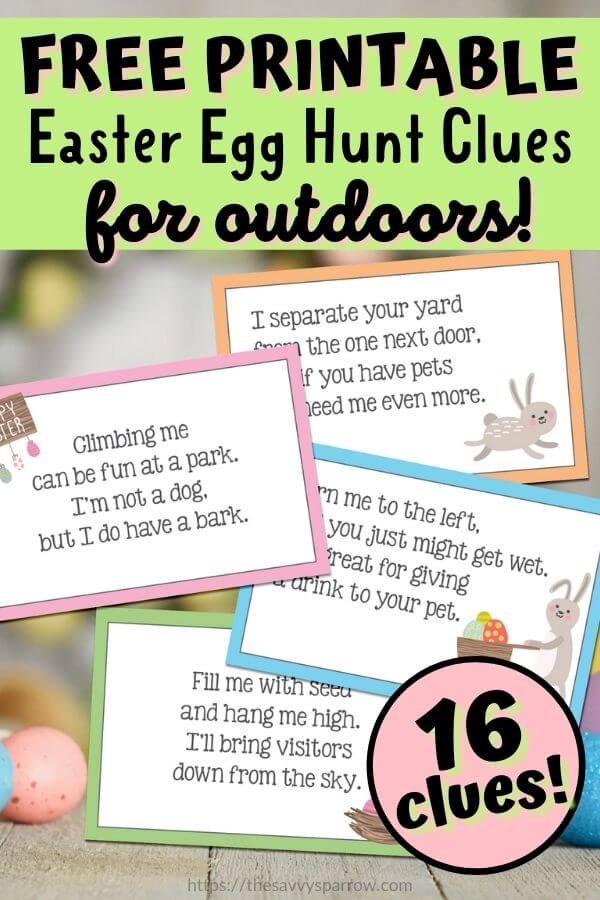 I'm a vehicle, but I'm not a car. I have two wheels, pedals, and a handlebar. (Bike)
I'm quite dirty, but can be beautiful too. You'll find me in colors, like reds, pinks, and blues. (Flowers)
Fill me with seed and hang me high. I'll bring visitors down from the sky. (Bird feeder)
You can lay on me or sit, and put me up or down. I'm better with cushions, and keep you off the ground. (Outdoor chair or bench)
I'm full of special smells, especially in the spring. Use me to give your food a little extra zing. (Herbs)
You never know what surprises wait inside. Letters and packages are what I like to hide. (Mailbox)
I make lots of smoke when I get real hot. I make yummy foods that you like a lot. (Grill or smoker)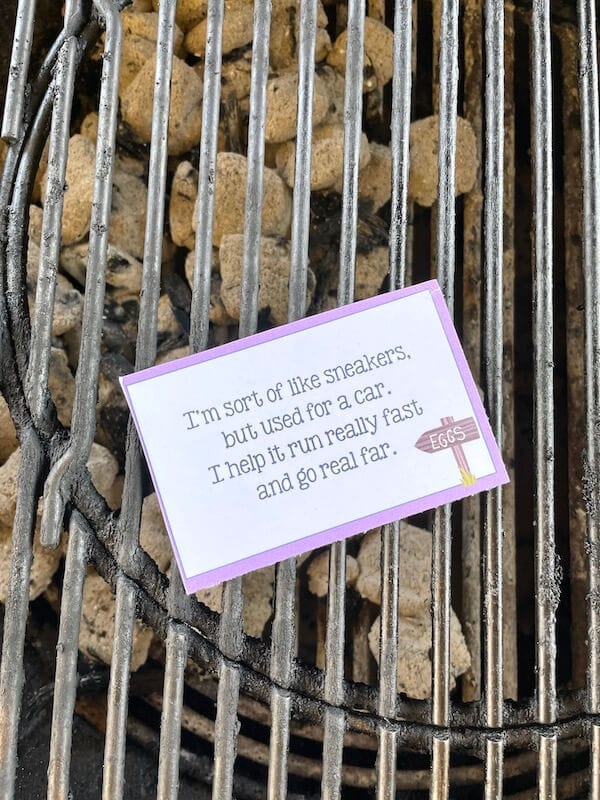 Climbing me can be fun at a park. I'm not a dog, but I do have a bark. (Tree)
I separate your yard from the one next door, and if you have pets you need me even more. (Fence)
Turn me to the left, and you just might get wet. I'm great for giving a drink to your pet. (Water spigot or hose)
Some people think I'm stinky and yuck. I get emptied each week by a special type of truck. (Trash can)
I'm sort of like sneakers, but used for a car. I help it run really fast and go real far. (Car tire)
Choose a seat and sit down quick. So we can have a nice little picnic. (Outdoor dining table)
Visitors and guests, I'm the first to greet. Hi! Welcome! Please wipe your feet. (Front door mat or rug)
I swing out and in to let you through. I sometimes creak, and that's your last clue (Gate). Since this Easter egg hunt clue specifically mentions that it's the last clue, you can hide an Easter basket or other large prize here.
Grab the Free Printable Easter Scavenger Hunt Riddles HERE
These super cute printable Easter riddles are available in my Freebies Library, along with over 60 other free printables! To get access to the library, simply use the form below to join my free email newsletter, and I'll email over the freebies link as a Welcome Gift:
Other Fun Easter Ideas for Kids
Want to check out some other fun Easter ideas for kids? Check out these posts:
Printable Easter Bunny Money – This is my kids' absolute FAVORITE thing to get in their Easter baskets or their plastic eggs!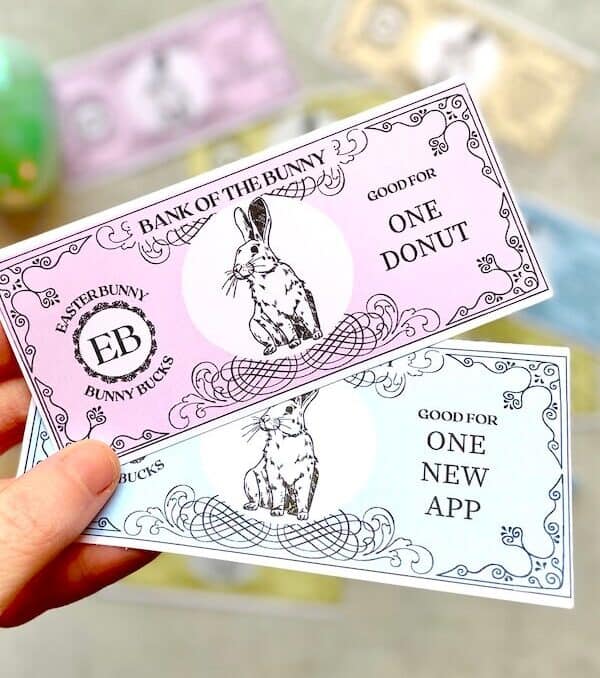 Easy Paper Plate Bunny Craft for Kids – with Template! – Need an easy Easter craft for your kids to do? This is it!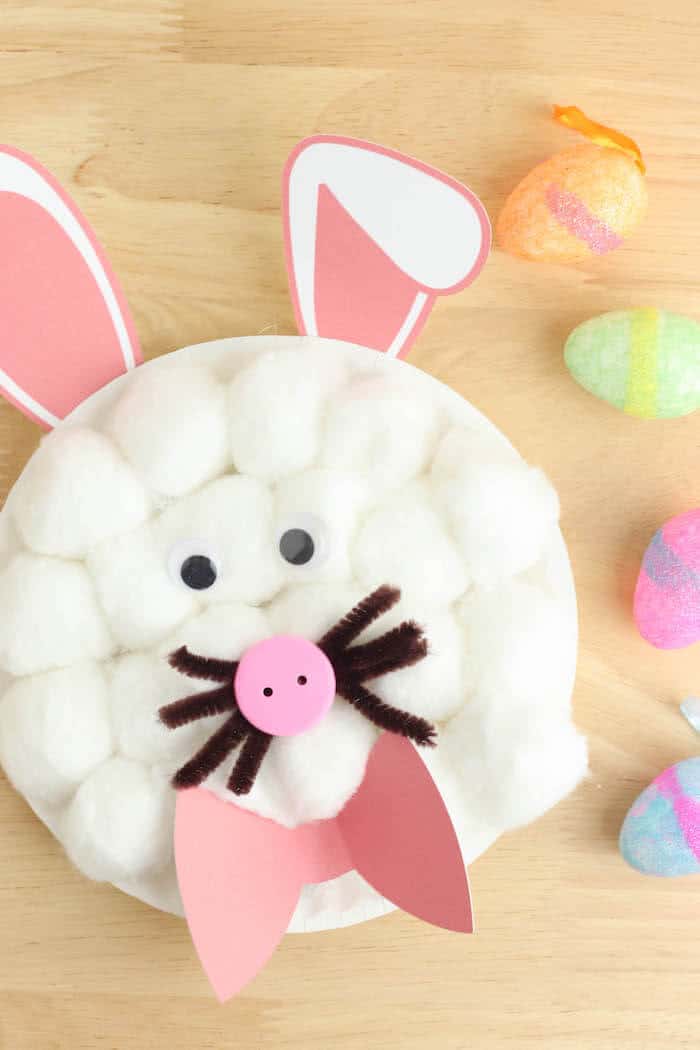 How to Dye Easter Eggs with Markers – Want to try a fun new Easter egg dying method this year? This awesome idea is perfect for little ones, because it's less messy than regular egg dye!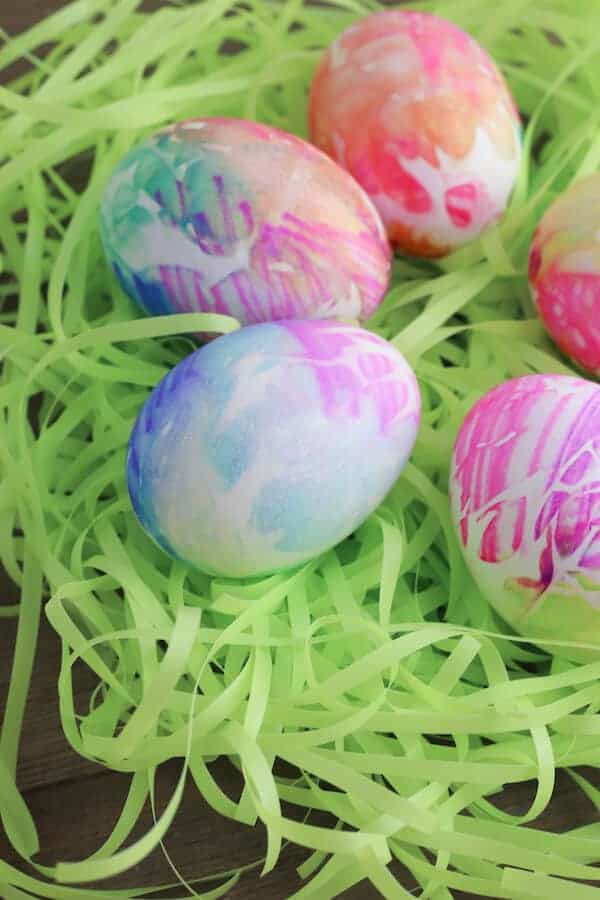 I hope you and your kids enjoy this fun Easter scavenger hunt idea! You could even combine the indoor and outdoor riddles to create one EPIC Easter egg scavenger hunt, perfect for toddlers to teenagers!
What are some of your favorite Easter activities to do with your kids? Leave me a comment down below!
And don't forget to PIN this post for later: