Self love affirmations are an incredible way to boost your self confidence and self esteem. Be sure to take your favorite affirmations (or use them all) and leave some love for yourself around the house. Read on to learn what affirmations are and how to use them, and grab the free positive affirmations printable list at the end of this post.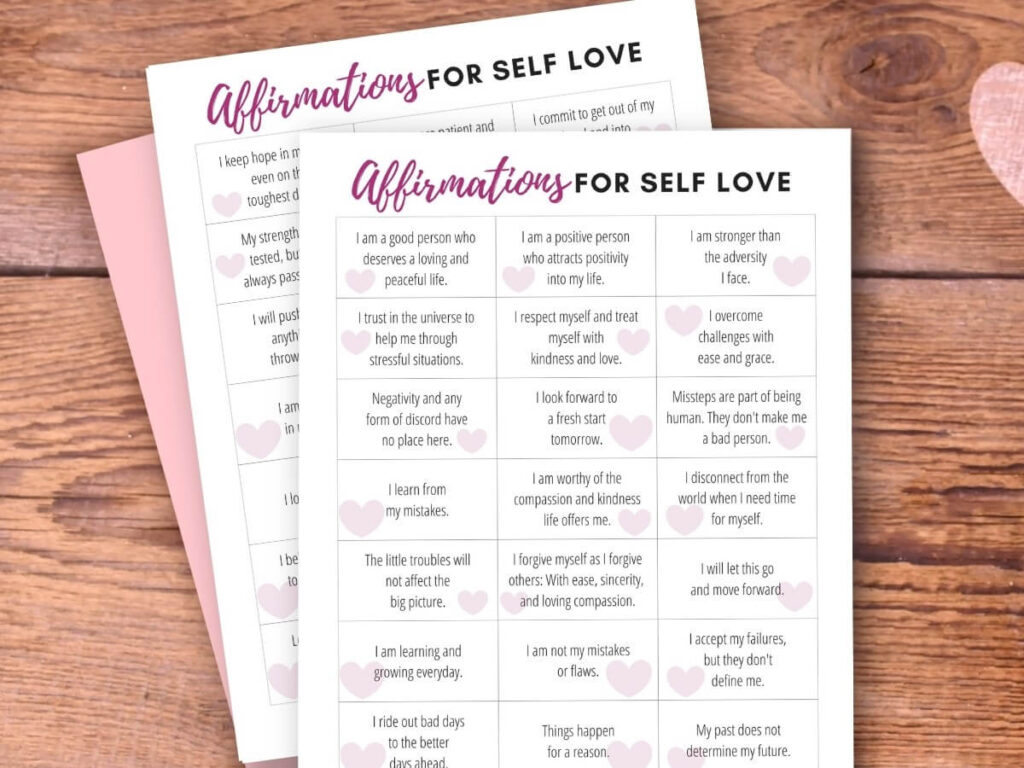 Another day, and another sink that keeps filling with dishes you swore you just washed. Oh, and what about the basket of laundry you set aside that magically tripled overnight? Frankly, being a chef, a maid, a chauffeur, and a mom is overwhelming.
Don't get me wrong, I love my kids and my hubby. Honestly, I don't even mind keeping the house in order. It's just that sometimes, it feels like I just can't quite keep up.
I know I'm not failing. But when you're expected to do it all, it gets kind of overwhelming. I don't know about you, but if I'm going to do something, I want to do it well.
But feeling like I'm being pulled in a million different directions makes it hard. And don't even get me started about hardly making a dent on my never-ending to-do list. I mean, who else can relate to feeling like a jill of all trades, but master of none?
But don't fret. I want to share with you a small act of self-care that will give you just the boost you didn't know you needed. Enter, affirmations on self love. The right self love affirmations will help you feel more confident, not only in your personal life but also in your abilities as a wife and Mom.
What are Affirmations?
All of that sounds great, but what exactly are affirmations, you may ask?
According to Psychology Today, "They are simply statements designed to create self-change." And yes, that change can be something as simple as giving yourself grace when everything feels like too much.
Affirmations will inspire you to take on today and every day head-on. But they also are much-needed reminders about the fact that the way we talk to ourselves and about ourselves matters. If you beat yourself up when you miss the mark, you start to believe you're incapable of nailing it. And my friends, I promise you that couldn't be further from the truth.
As mothers and wives, it's second nature to lift those up around us who we care about most. Honestly, one of my favorite things to do is affirm my love for my husband.
And, of course, I can't forget my favorite gratitude journaling practice. Leading with gratitude helps us focus on the good, even when things don't seem to be going the way we hoped. It's something I can do for myself or something we can do together as a family.
But truthfully, above all else, incorporating positive affirmations in my day-to-day has done wonders for my self esteem, self-confidence, and the most important of all, my self love.
How Self Love Affirmations Can Help
Positive Psychology reminds us that the act of affirming our intentions and goals has more than just anecdotal evidence to support the practice.
Using self love affirmations on a regular basis helps you to banish and relearn hurtful or unkind beliefs you hold about yourself. Like instead of I always mess up, try replacing that with a self love affirmation: I learn from my mistakes.
Negative self-talk can be detrimental to you in real life. One way to stop this bad habit in its tracks is to replace it with words that affirm your self-esteem, confidence, and self love.
Affirmations are different than praise. When praise is given, it is usually because of something you did. But affirmations remind us that we don't have to work to deserve good things in our life–we deserve them.
114 Affirmations for Self Love
You know, ever since I was a little girl, I focused on how I could make everyone else happy. I always wanted to make sure they knew they were loved and appreciated.
I definitely still do that to this day because, honestly, it brings me so much joy. The difference between now and then is that I hold space to do the same thing for myself.
Incorporating self love affirmations every single day has been a game-changer. And, literally, there is an affirmation for every season of life.
To help you get started incorporating self-love affirmations into your daily routine, I rounded up 114 of the best self love affirmations. And yes, there is something for everyone.
From affirmations for when you've messed up, self esteem boosting affirmations, positive affirmations for your self confidence, and affirmations for when life feels hard.
Self Love Affirmations for When You've Messed Up
1) I am a good person who deserves a loving and peaceful life.
2) I am a positive person who attracts positivity into my life.
3) I am stronger than the adversity I face.
4) I trust in the universe to help me through stressful situations.
5) I respect myself and treat myself with kindness and love.
6) I overcome challenges with ease and grace.
7) Negativity and any form of discord have no place here.
8) I look forward to a fresh start tomorrow.
9) Missteps are part of being human. They don't make me a bad person.
10) I learn from my mistakes.
11) I am worthy of the compassion and kindness life offers me.
12) I disconnect from the world when I need time for myself.
13) The little troubles will not affect the big picture.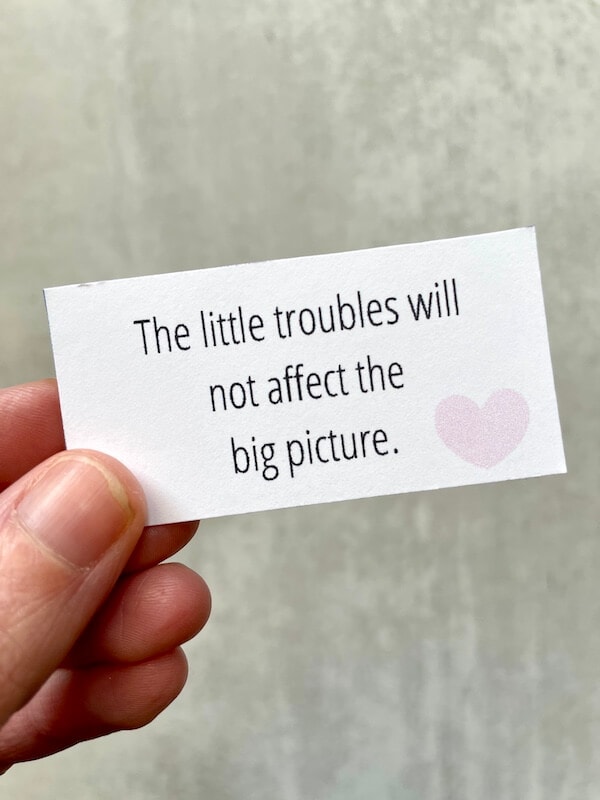 14) I forgive myself as I forgive others: With ease, sincerity, and loving compassion.
15) I will let this go and move forward.
16) I am learning and growing every day.
17) I am not my mistakes or flaws.
18) I accept my failures, but they don't define me.
19) I ride out bad days to the better days ahead.
20) Things happen for a reason.
21) My past does not determine my future.
22) I keep hope in my heart even on the toughest days.
23) I grow more patient and understanding of others by forgiving myself.
24) I commit to get out of my head and get into the world.
25) My strength will be tested, but it will always pass the test.
26) Every problem I encounter has a way through.
27) I find ways to constantly improve my life because I am worthy of greatness.
28) I will push through anything life throws at me.
Positive Self Love Affirmations When Accepting Your Body is Hard
1) My Creator smiled the day He made me.
2) Today, I choose me.
3) I am at home in my body.
4) Negative self-talk does not serve me.
5) I am beautiful inside and out.
6) I love who I am.
7) I am grateful for my body. I treat it with love and respect.
8) I am strong and healthy.
9) I believe in my ability to truly love myself for who I am.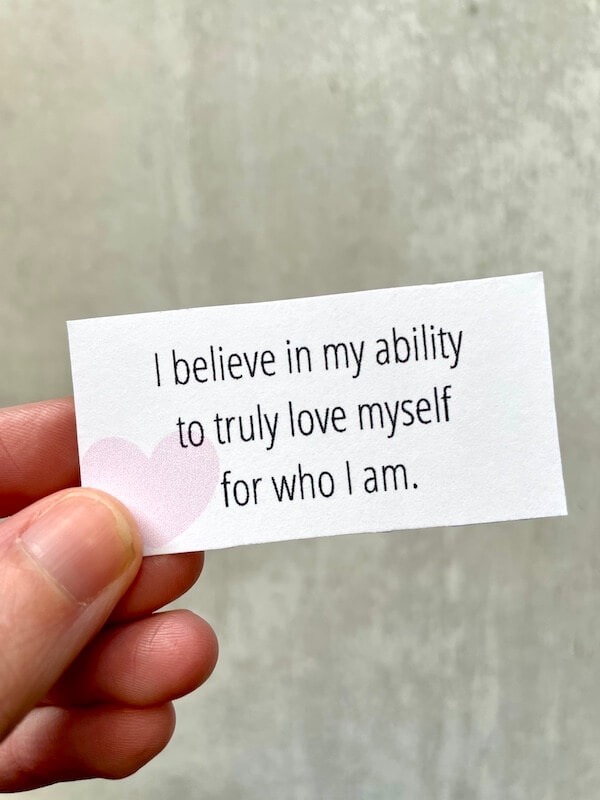 10) I am worthy no matter how I have changed.
11) I take care of my body, and my body takes care of me.
12) Loving myself comes easily and naturally.
13) I am a work of art.
14) I love my imperfections.
15) My body is perfect in its own way and doesn't need to look like anyone else's.
16) I accept all of me unconditionally.
17) My body deserves love and respect.
18) I release all shame about my body.
19) I am beautiful.
20) I listen with love to my body's messages.
21) I am allowed to take up space.
22) Hating my body won't make me healthier.
23) My body is a masterpiece.
24) I feel all self-hatred melting away.
25) There is more to me than just my physical body.
26) I am surrounded by love and acceptance.
27) I am one of a kind.
28) As I say yes to life, life says yes to me, no matter what I look like.
Positive Affirmations to Boost Self-Confidence
1) I am learning to support my best self.
2) I accept myself unconditionally.
3) I can say no when something doesn't serve me.
4) I am one of a kind.
5) I won't apologize for being me.
6) I have a lot to offer the world.
7) The more I practice loving myself, the more lovable I become.
8) I am worthy of love, flaws and all.
9) I accept compliments easily.
10) I deserve everything I want for my life.
11) I shower myself with compassion.
12) I radiate love.
13) I have the power to change my world.
14) I am kind to myself.
15) I deserve to follow my dreams and manifest my desires.
16) I am open to receiving unexpected opportunities.
17) I always see the good in others and in myself.
18) I am constantly growing into a better person.
19) I am a powerful creator. I create the life I want and enjoy it.
20) I am a positive and vibrant person.
21) I am the creator of my best reality.
22) I am getting better every day and in every way.
23) Every day, I become a better version of myself.
24) My body, mind, and spirit are powerful and profound.
25) I am naturally confident and at ease in my own life.
26) I am a strong and beautiful person.
27) I celebrate myself every day.
28) I radiate with self-confidence and charming energy.
29) I am a strong, intelligent woman. I should not be doubted.
Positive Affirmations for When Life Feels Hard
1) I am reclaiming my power.
2) Even though this season feels hard, I understand this feeling and season is temporary.
3) My peace is my power.
4) Even devastation is an opportunity for transformation.
5) I find healthy ways to cope when I feel overwhelmed.
6) I let go of what was so I can welcome what is.
7) My life is a blessing.
8) I realize the power of my mind and put my thoughts to good use.
9) Even when the world is immersed in darkness, I walk forward in faith, love, and light.
10) I believe in my ability to get through tough times.
11) I use obstacles to motivate me to learn and grow.
12) I have so much to love about myself.
13) I trust the process of life.
14) I face challenging situations with confidence, courage, and conviction.
15) I do my best to avoid situations that make me feel stressed out or hectic.
16) I overcame past struggles and will overcome this one.
17) I see strength when I look in the mirror.
18) I know new beginnings come with new blessings.
19) I attract positive healing energy to myself.
20) I fight through the bad days and earn my best days.
21) I am replacing painful words from my past with a calm, loving voice of positivity.
22) I am aware that struggling is part of the process.
23) I accept my setbacks as lessons, not failures.
24) I take a step back and rely on the universe to guide me.
25) I am powerful and in control of my reality.
26) There is nothing I am unable to overcome.
27) I can have a new beginning.
28) Today, and every day, I remember my worth.
29) I am more than enough.
Free Positive Affirmations Printable List PDF
Want to grab the affirmations for self-love PDF list? You can download it for free using the link below!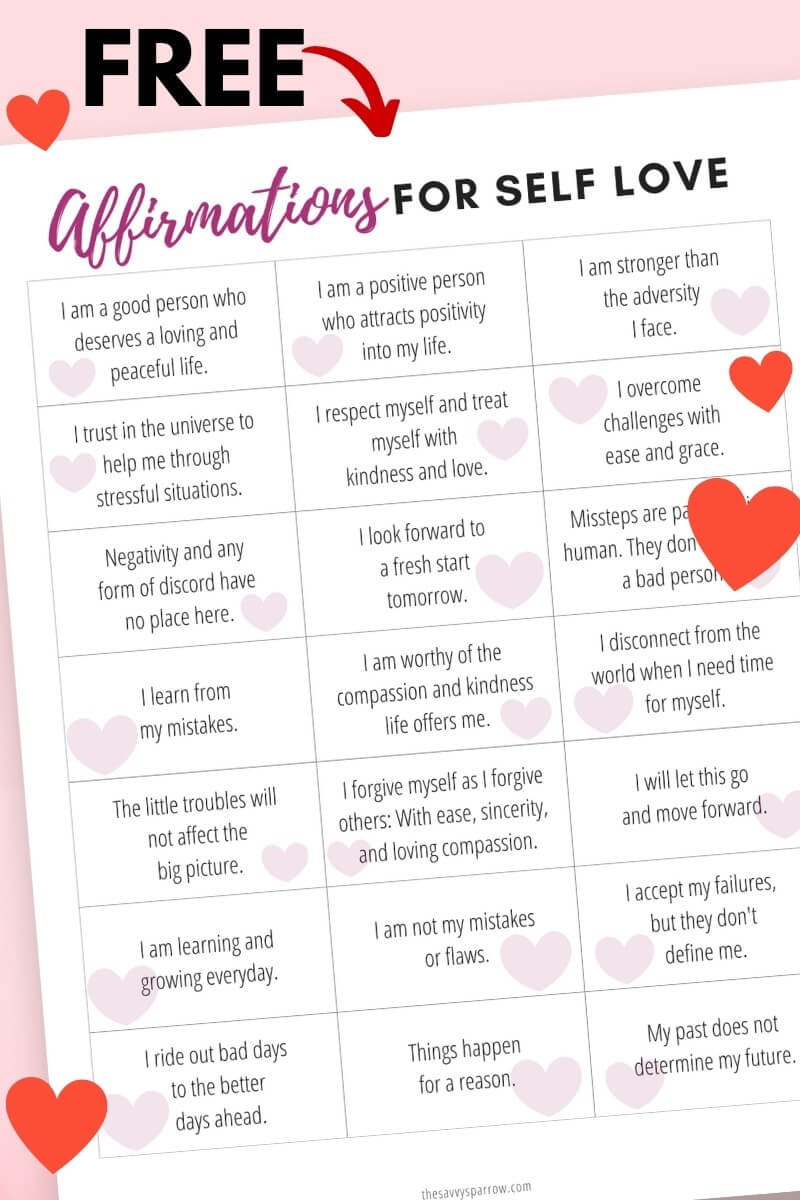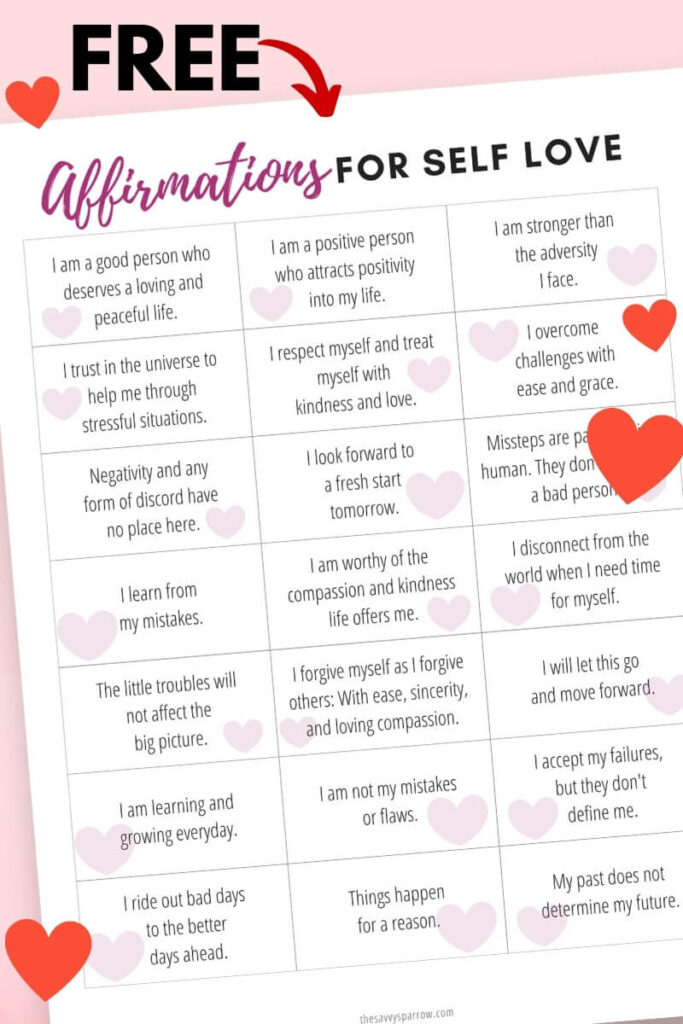 The positive affirmations PDF is designed so that you can cut out the self love mantras into individual strips of paper and then hide them around the house… like little loves notes to yourself that you may find when you need a little pick-me-up!
Or, you can also just download the printable affirmations list and write them in your planner or copy one new affirmation per day on your whiteboard in your family command center. Whatever works for you!
Click HERE to Download the Self Love Affirmations PDF List!
What is Your Favorite Affirmation for Self Love?
"I forgive myself as I forgive others: With ease, sincerity, and loving compassion."
I really needed that affirmation last week when I completely forgot to pick my daughter up from school. I was so focused on work that I didn't even realize the time, and even though I was only 10 minutes late and there were still parents in the car line, I was really disappointed in myself.
As Moms and wives, it's easy to beat ourselves up when we're not "perfect". But affirmations can help us learn to give ourselves grace. We don't have to be perfect. But we can strive to be present and positive.
Positive affirmations of self love can work wonders in helping you change your attitude from one of "I'm not good enough" to "I'm freaking awesome!".
Have you ever tried affirmations for self-confidence? If so, how did they work for you? Do you have any favorite self love affirmations? If so, drop them in the comments!
And don't forget to PIN this post for later: