Are you searching for some fresh adult coloring page inspiration? Then, you've come to the right place! These FREE Easter egg mandala coloring pages feature 15 gorgeous mandala designs that are perfect for a post-egg hunt relaxation session.
Each Easter egg mandala coloring page has a different pattern, giving you plenty of options to choose from. They also make an excellent activity for older kids, and you can even start a new Easter tradition by having an egg coloring contest as a family!
In this article, I'll touch on several benefits of coloring for adults (just in case you need an excuse!) and how you can snag these Easter mandala coloring pages to use at home.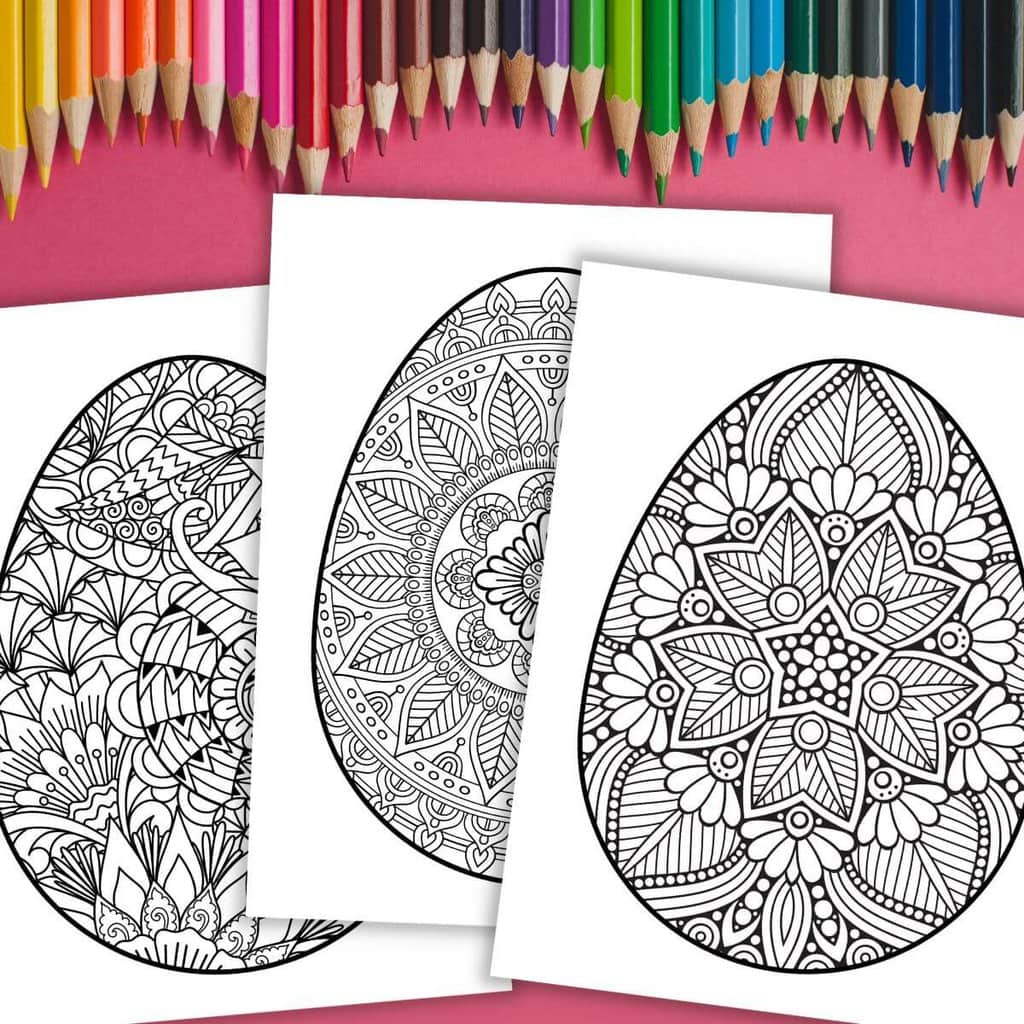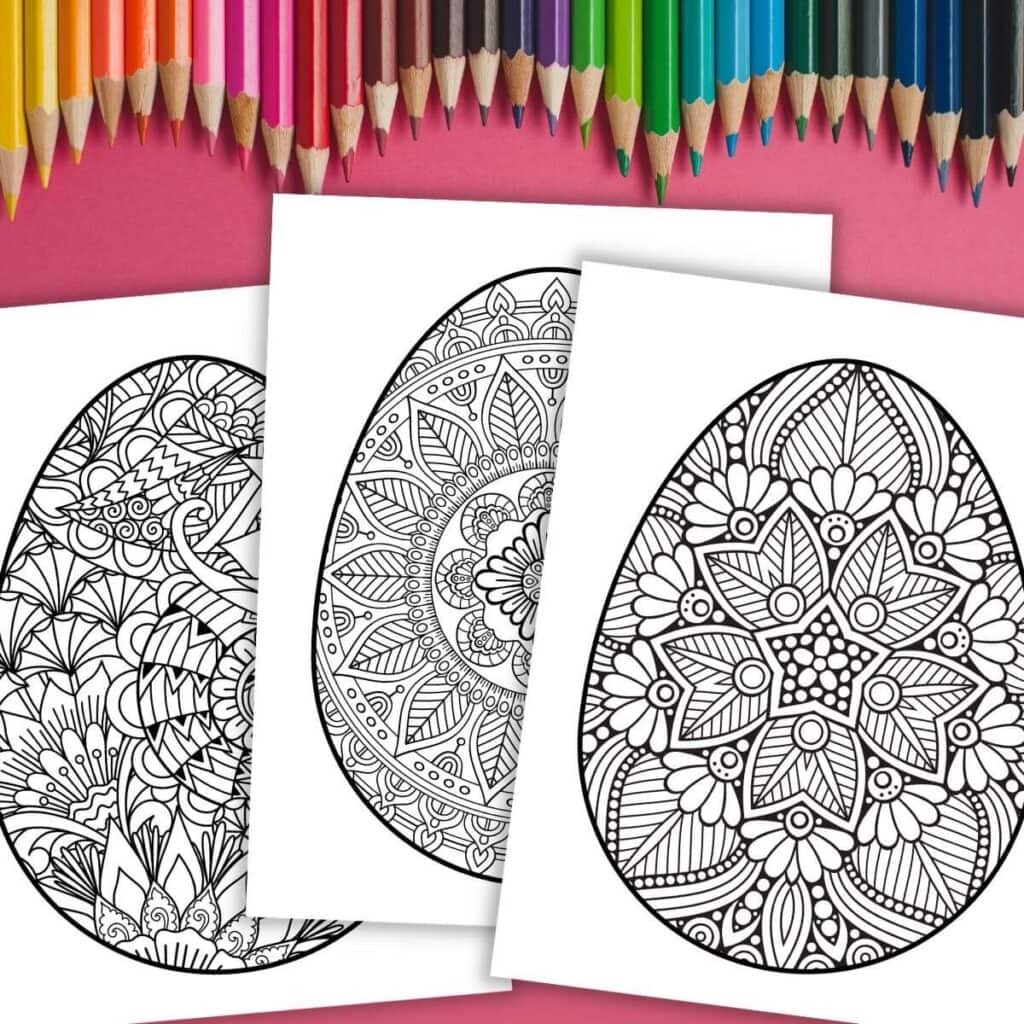 Benefits of Coloring for Adults
On the rare occassion that I have a few minutes of free time, I love to sit down at the dining table with a super-detailed adult coloring page and some fine liner markers. Here are just a few of the many benefits of coloring for adults:
Relaxing
One of the biggest benefits of adult coloring is how relaxing it is.
Mom life can be super stressful, especially if you have littles. And it can be challenging to find more than five minutes to yourself on any day that ends in "y." The good news is that even five minutes of coloring can help calm your mind and help you forget about the mountain of dirty laundry in the other room.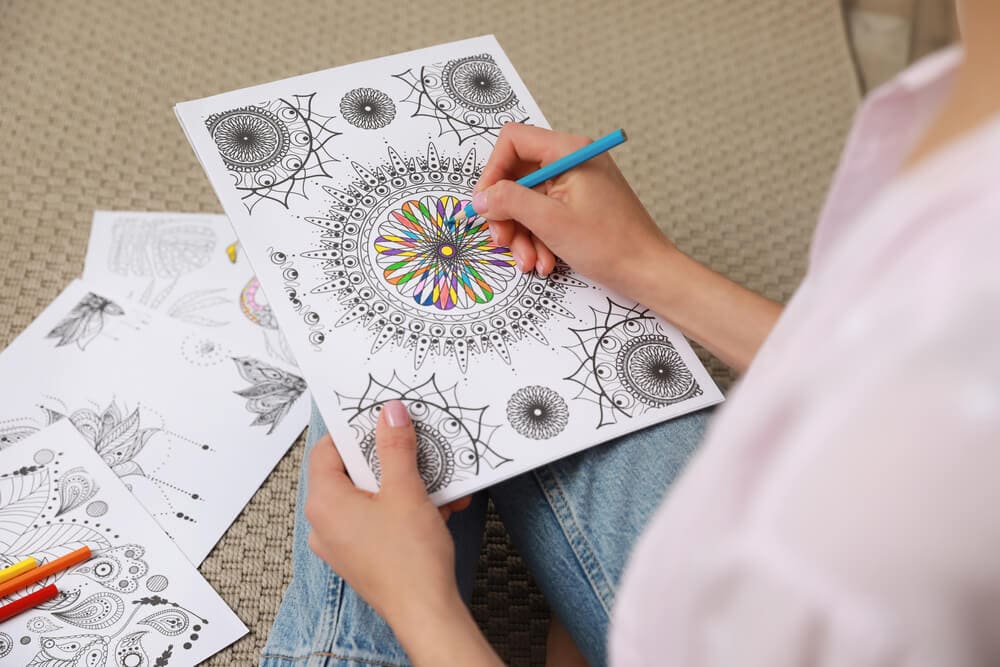 Promotes Mindfulness
According to a recent Mayo Clinic post, coloring can increase your mindfulness by forcing you to focus on the task at hand. By concentrating on what colors you're using and staying inside the lines, you're better able to slow your mind down. This is a huge plus, especially given how many thoughts are whirring around our brains at any given moment!
Reduces Stress & Anxiety
Adult coloring pages are also an effective and healthy way to relieve stress and anxiety. When you color, you're calming your brain and allowing yourself to relax. This sets off a chain of positive reactions in your body, such as decreasing body aches and improving your sleep.
Stimulates Brain and Improves Motor Skills
Did you know that adult coloring activities may slow dementia? Some doctors believe that coloring, brainteasers, and crossword puzzles improve brain function and hand-eye coordination. So instead of spending your free time endlessly scrolling through your newsfeed, try coloring an Easter egg mandala. It's good for your brain!
Provides Opportunity for Creative Play
As adults – and especially as moms – we are so focused on providing creative play opportunities for our kids that we forget how important it is for us. Simple activities like adult coloring pages can help us take a break from our to-do lists and connect with our inner creativity.
How to Use the Easter Mandala Coloring Pages PDF
Excited to get your copy of these beautiful Easter egg mandala coloring pages? Read on to find out how to get your own FREE PDF file to use as many times as you like: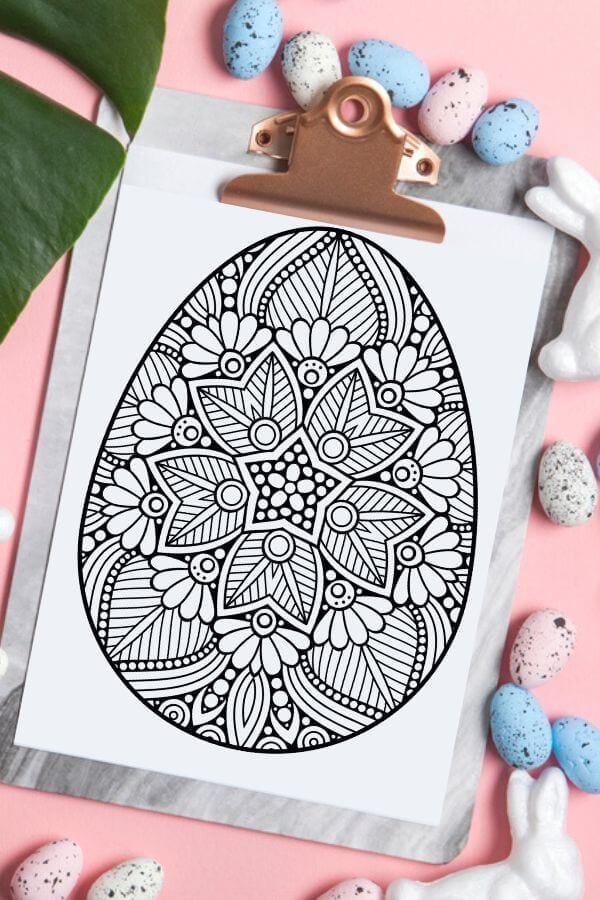 Click the link for the Easter mandala coloring pages PDF
A new Dropbox window will appear
Download to your computer by clicking the "Download" link in the upper left-hand corner of your screen
Once the file is downloaded, click to open
Print at home or a local print shop
Tip: I recommend printing these mandala coloring pages for adults on heavier-weight printer paper or cardstock if you plan on using fine-tip markers. Since each mandala Easter egg is very detailed, I suggest using a finer-tip marker or coloring pencils.
Free Printable Easter Egg Mandala Coloring Pages
Want to grab the free Easter egg mandala coloring pages? Just click on the link below to download all 15 of the Easter mandalas to color and grab your favorite markers!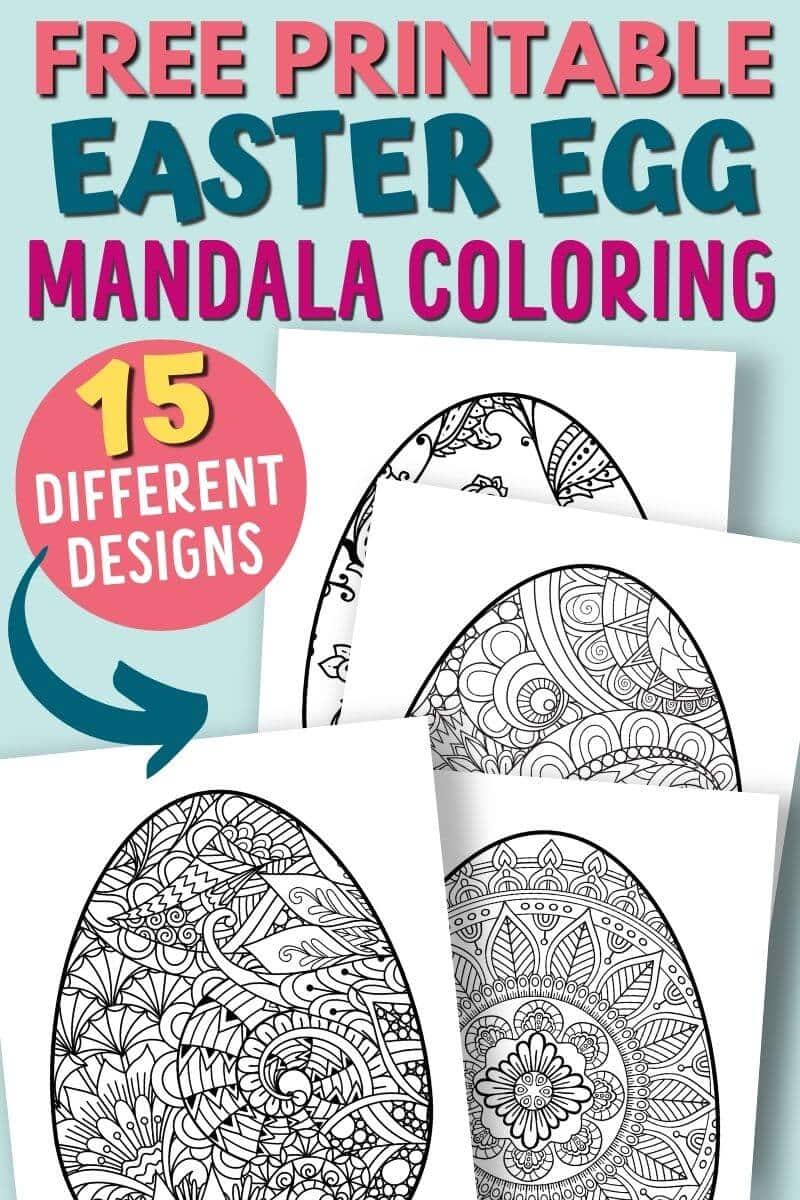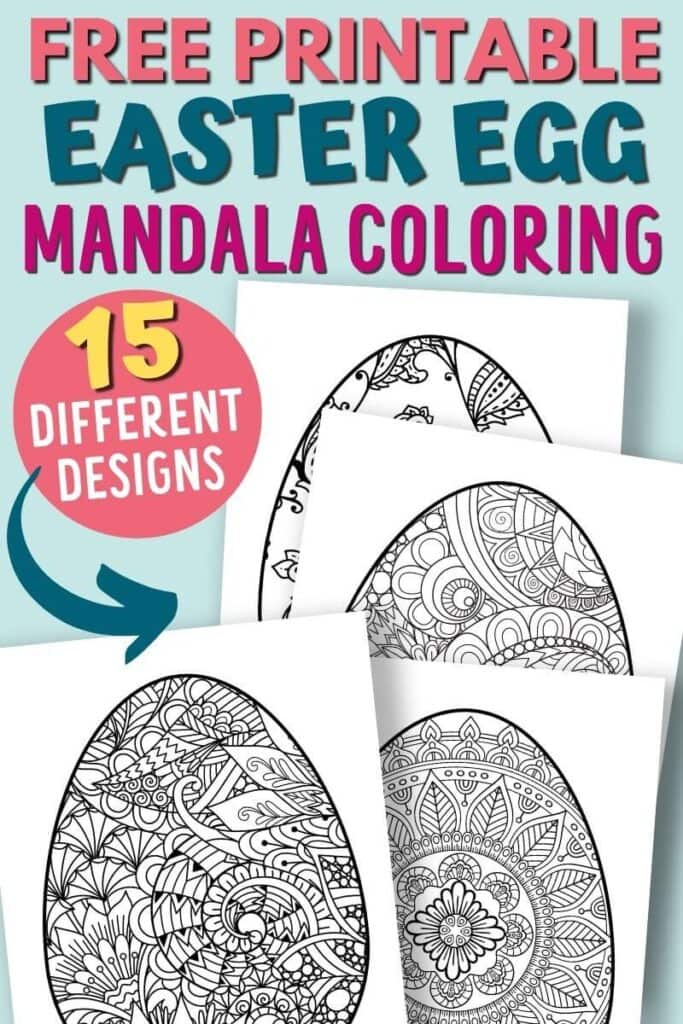 Click HERE for the Easter Egg Mandalas to Color
Other Easter Crafts for Adults
Are you looking for other fun Easter crafts for adults? Check out the following posts for more Easter-themed inspiration!
DIY Mini Bunny Topiary – These mini bunny topiary crafts are the perfect way to spruce up your Spring decor. Place them on your mantel or entryway table to show off your DIY Easter decor skills!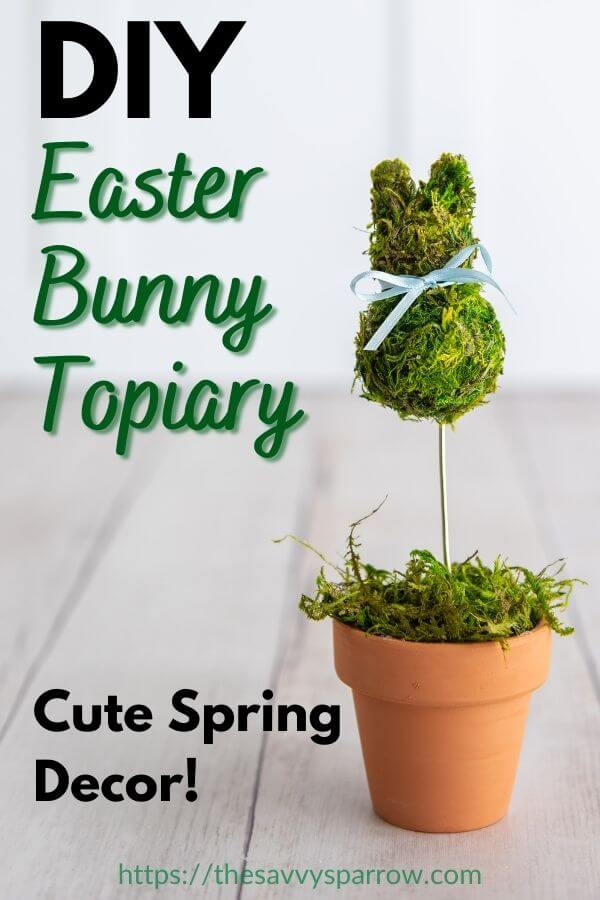 Adorable DIY Twine Easter Eggs – I love rustic DIY crafts, and these twine Easter eggs don't disappoint! They're an inexpensive Easter craft, and you probably have most of the supplies already!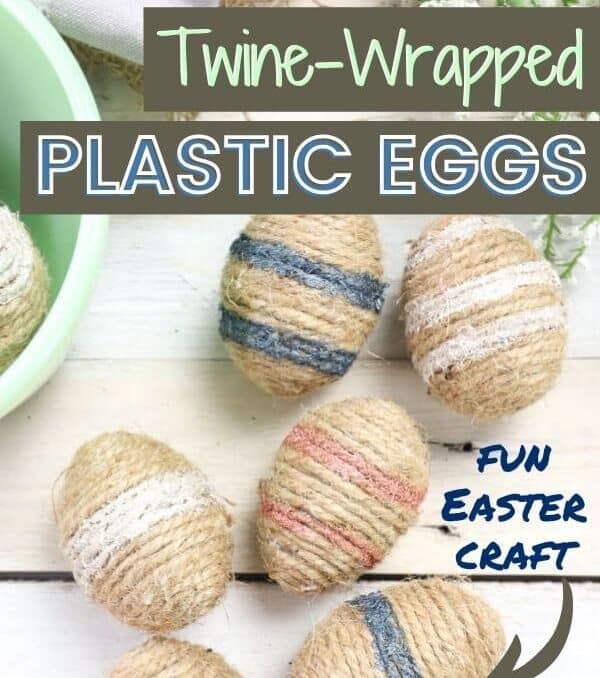 I hope you enjoy the Easter egg mandala coloring pages! And if you want some free printable Easter activities for your kids to do while you complete your Easter coloring sheets, then check out these free Spring activity coloring placemats!
Happy Easter!