Need Easter basket ideas for your husband? Find some awesome Easter gift ideas for men down below so that Mr. Easter Bunny himself isn't left out of the fun!
Who says that the tradition of getting an Easter basket filled with sweet treats and gifts is just for the kids?! I don't know about your husband, but mine has the same excitement level as a toddler on Christmas morning, so why not get him amped up about a surprise Easter basket, too?
But what can you put in a man's Easter basket? After all, most of the Spring-themed goodies that you find at the stores are geared towards kids, and I doubt that your husband would want some egg-shaped sidewalk chalk or a jelly bean flavored Lip Smacker lip balm. Though some of these Easter Bunny money coupons could be fun!
Here are some Easter basket ideas for you husband and tips to make the best Easter gift for him: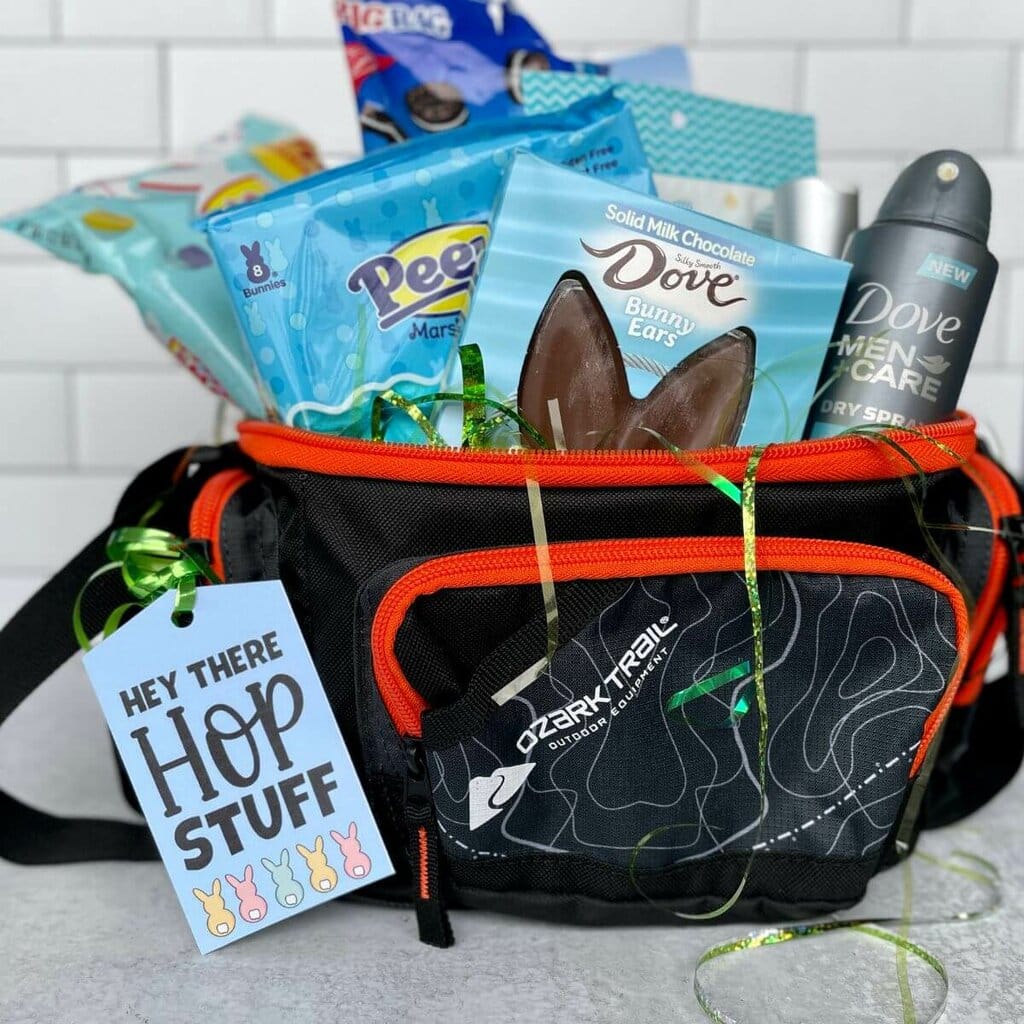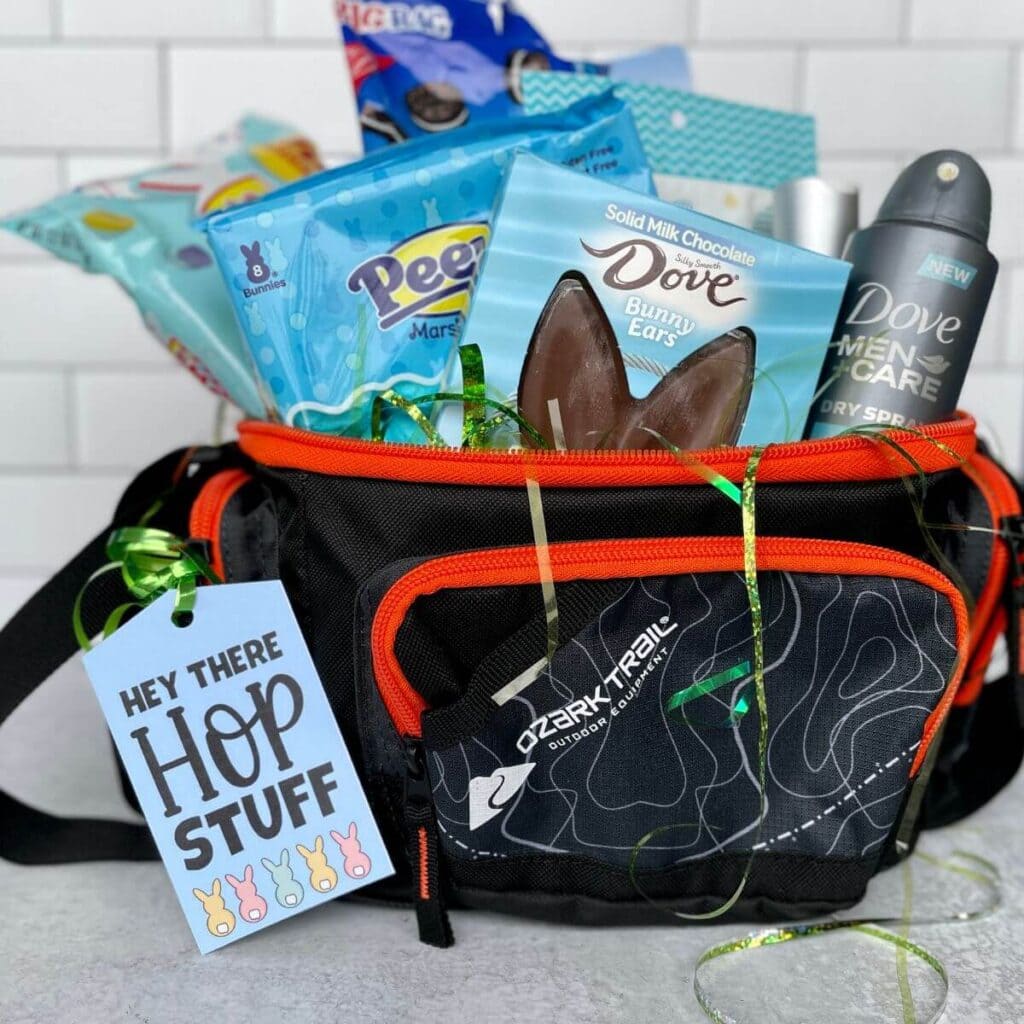 *This post contains affiliate links, which means if you click a link and make a purchase, I earn a commission at no additional cost to you. Ready my terms of use for more info.
Tips for Making the Perfect Easter Basket for Your Husband
Before we get into the ideas for what to put in your Husband's Easter basket, here are some tips to remember as you're planning for his Easter gift:
Use something unexpected for your husband's Easter basket.
Chances are your husband doesn't have a special basket in the attic that has his name embroidered on the front.
So if you're starting from scratch anyway, then think outside the traditional basket for Easter. There's no rule that says that an Easter basket for him has to be an actual wicker basket, so why not buy him something that he'll use throughout the year in place of a pastel colored basket that will just collect dust for the next 11 months?!
Here are some awesome ideas for what to use for an Easter basket for him:
A fishing tackle box – If your husband is a fisherman, pile all of his Easter gifts and candy in a new tackle box.
A car wash bucket
A new toiletries bag
A grill caddy – Great if he has an outdoor griddle or grill and has to transport ingredients from the kitchen to the back deck.
A new gym bag
Think about his hobbies.
Sugar-coated peeps and brightly-colored jelly beans are nice… but you can do better for an Easter basket for him! If you're stumped on what to buy for Easter gifts for him, then think about smaller basket-sized gifts that relate to his hobbies.
For instance, my husband loves to go fishing so I can get him a few small packs of those squishy fishing bait lures. If your man likes to golf, add a new pack of golf balls or a golf towel to his basket.
Include some practical Easter gifts for him.
You put new underwear or socks in your husband's Christmas stocking, right? So why not tuck a few practical gifts in his Easter basket also! Filling Easter baskets is a great excuse to stock up on supplies that you would need to buy anyway, like after-shave lotion or new boxers… Kill two birds with one stone!
Tie a funny Easter gift tag on his basket.
Why not put a smile on his face first thing Easter morning? Use a funny Easter gift tag like these free printable Easter tags I made recently! Just print the tags, cut them out, and attach to the handle of his Easter basket (or tackle box!).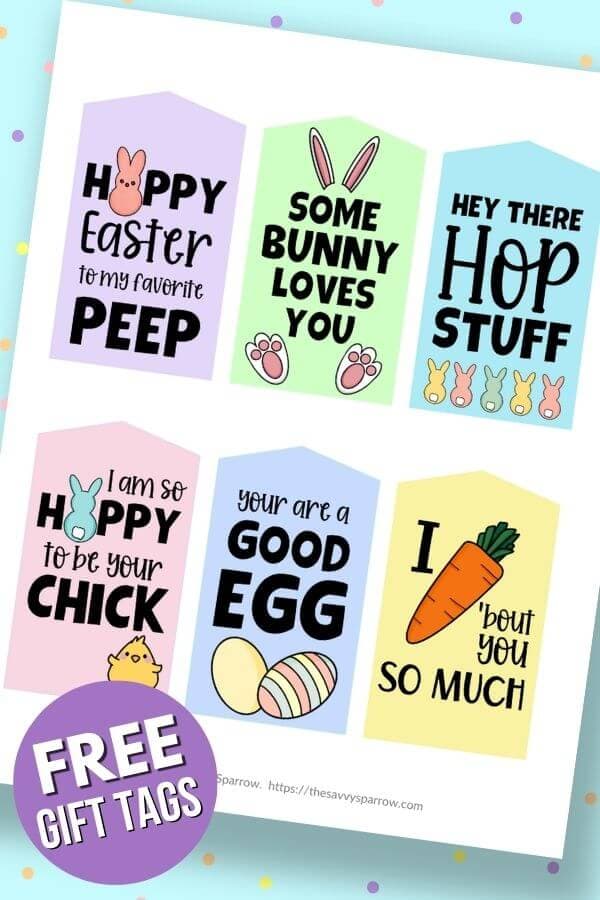 Avoid seasonal items that will only get used for one week a year.
I totally get the idea of filling your husband's Easter basket with Easter-themed gifts like Easter egg socks and a carrot-printed tie. But if the items that you put in your man's Easter basket scream "Easter", then they'll probably only get used once or twice.
Instead, opt for more generic all-purpose items. And if you're the theme queen and you can't stand the idea of his basket not looking color-coordinated, then go for some pastel spring colors instead of an Easter print. Add in a new baby blue polo shirt or a light green gym towel to stay with the Spring theme instead.
Skip the basket for a small Easter gift for him on a budget.
If you blow your Easter budget on your kids' Easter baskets and egg fillers, then rather than completely leaving your husband out of the festivities, opt for a smaller gift instead.
Just buy his favorite candy or salty snack, and tie a cute printable gift tag around it for an easy and inexpensive way to say "I love you" on Easter morning. This Dove dark chocolate Easter bunny is about $5: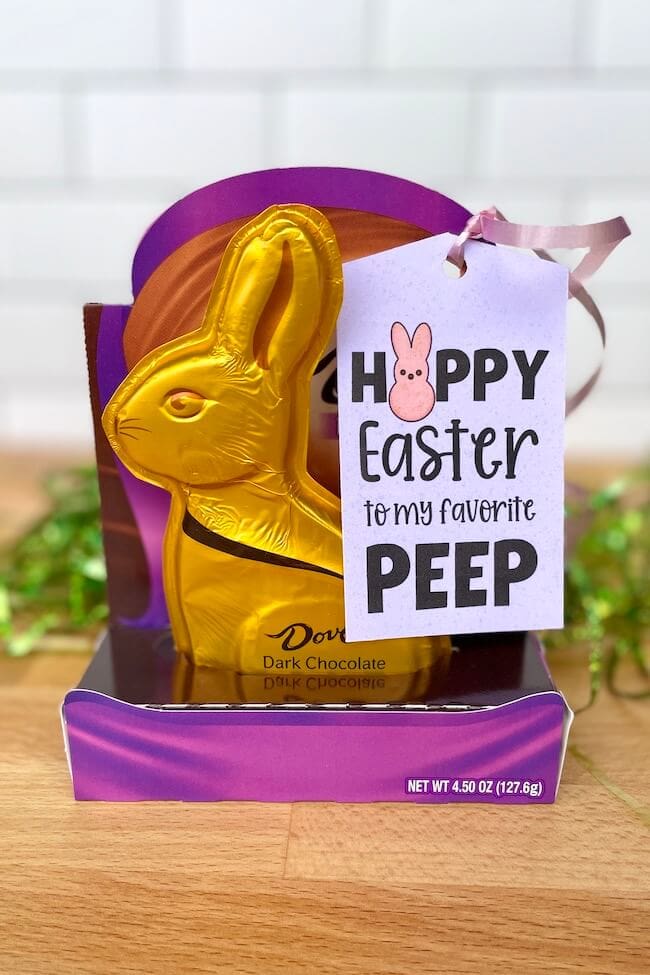 Or, a bag of Reese's pieces in a cute carrot-shaped bag with a funny Easter gift tag is also a great idea. Hide this small Easter gift for him in his lunch box or gym bag for a fun way to say "I carrot 'bout you so much"!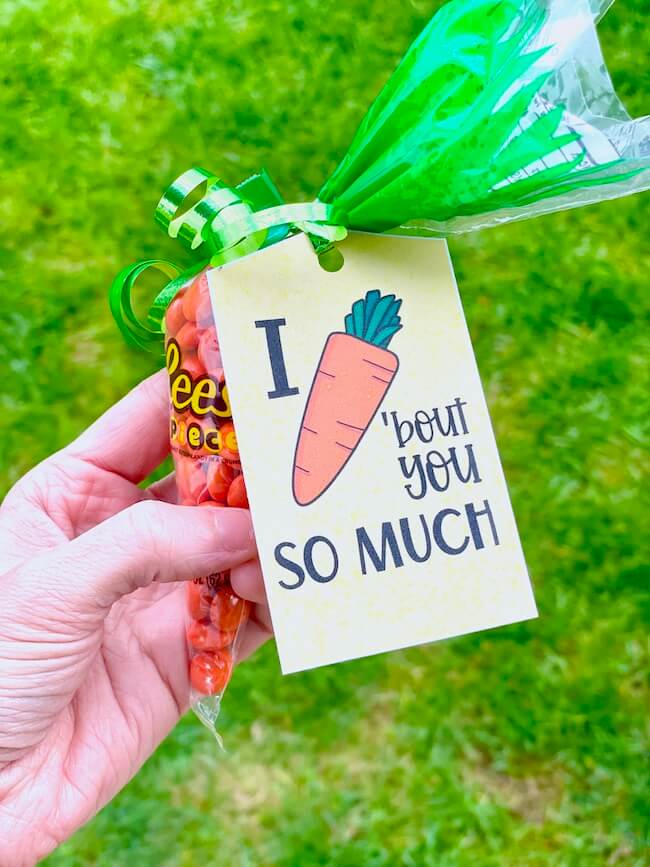 *You can grab all of the free printable Easter gift tags HERE, and use them to create your own Easter basket for him!
Easter Gifts for Your Husband's Easter Basket
Now that you've gotten some tips for creating the perfect Easter basket for your husband this year, here are some specific Easter gift ideas that are perfect for filling his basket (or other non-basket receptacle).
I recommend choosing a few small gift ideas from each category for the best Easter basket for him. For instance, you can add in some salty snacks and candy, some toiletry items, an accessory, and one or two other gifts.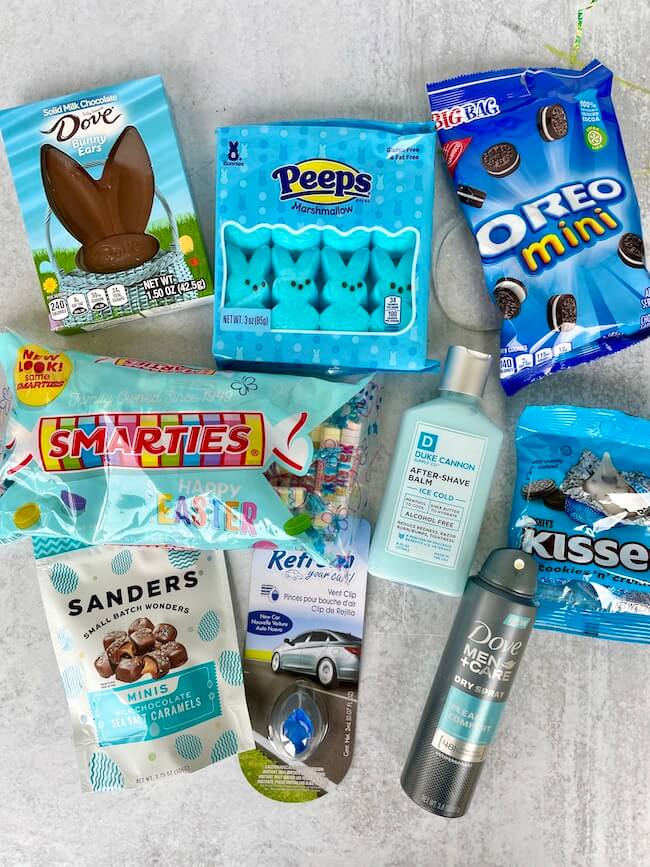 Toiletry and Personal Care Items for a Man's Easter Basket
Chapstick or lip balm
travel size bottles of a few different after shave lotions – I did this for my husband a few years ago so he could try out some different lotions to find a new favorite.
hand cream or salve
his favorite hair products (gel, hair spray, etc)
body spray or cologne
shoe deodorizers
beard oil
eyeglass wipes
Dude Wipes – like baby wipes but for stinky men… Haha!
toenail clippers or foot file
a cooling sport towel
new trimmer or razor
Accessories to Put in an Easter Basket for Him
When you're thinking about what accessories would make awesome Easter basket fillers for your husband, think about the season and the upcoming nice weather. That new pair of sunglasses that he's been eyeing or a pair of flip flops would both be great Easter basket ideas for him.
Here are some other accessories that are perfect for using as Easter basket gifts:
cozy socks for wearing around the house
underwear
a new belt
a new pair of flip flops for the Spring
cuff links – if he has a job that requires him to dress up
new Spring colored tie or a new tie clip
new wallet
money clip
baseball cap
new pair of sunglasses
sweat bands – like for his head or wrists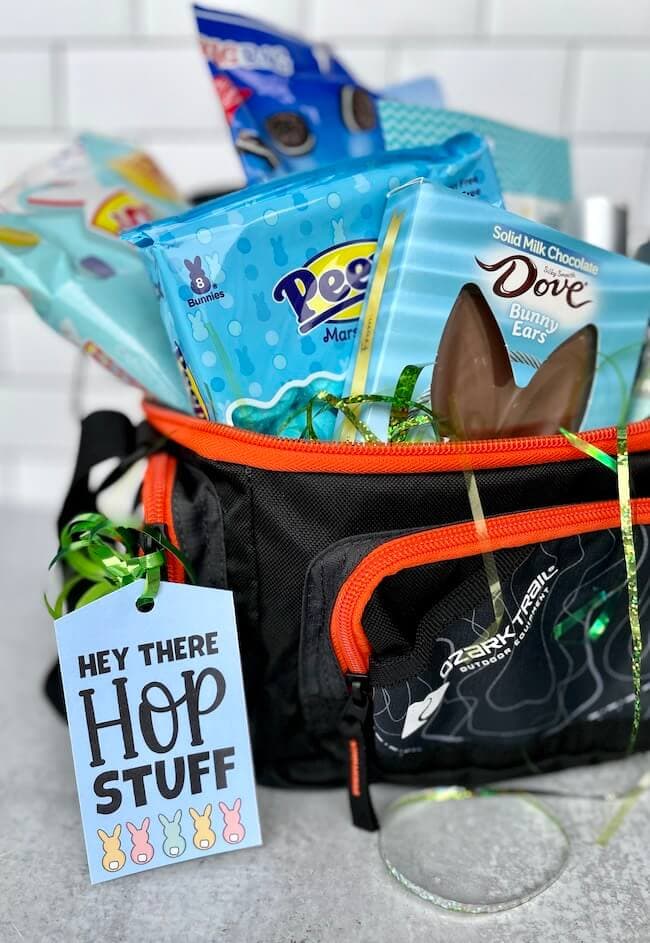 Easter Basket Gifts for His Car
car air fresheners – I found some good ones at Dollar Tree for my man's Easter basket.
microfiber car cleaning towels
small bottle of all purpose interior car cleaner
gift card for a local car wash
travel mug for his morning coffee
leather detailing wipes
tire cleaner
new keychain
printable coupon books for him – You can create your own custom coupons for "free car wash" (but be ready to wash his car for him!).
Other Easter Basket Ideas for Husband
koozie for keeping drinks cold
pocket knife
lottery tickets
a fun lighter – great for starting his grill!
gift card to his favorite fast food restaurant
gift card to a meat delivery service
Gear Tie rubber twist ties for organizing cords
tape measure
a multi-tool that fits on his keychain
flashlight
a fun couples game for you to play together – Check out this huge list of 39 awesome two player games for couples!
iTunes or Spotify gift card
hand warmers
a fun bottle opener
tools like a small screwdriver set
grilling tools like a digital thermometer, spatula, grill cleaning brush, etc.
gift cards for different dates
a new video game if he's a gamer
a pocket-sized devotional
a book of Dad jokes
I hope you've gotten some good ideas for what to put in a man's Easter basket so that you can make him feel loved on Easter morning! Is there anything that you give your husband for Easter each year, or what basket fillers have been the most successful for you?
Leave me a comment down below… I'd LOVE to hear from you!
And don't forget to PIN this post for later: