Looking for the best non candy Easter egg fillers for your plastic eggs this year? Whether you have toddlers or teenagers, you'll find some awesome Easter egg stuffers that your kids will LOVE here!
What's more disappointing to a child than opening up a plastic Easter egg only to discover that there's not a piece of candy to be found? But that disappointment can quickly turn to excitement if you stuff your plastic Easter eggs with awesome non-candy egg fillers that you're kids will actually love!
And all of these plastic Easter egg stuffers are kid-approved! (Especially the printable Easter Bunny Money!)
I actually had my own daughters (who are in 4th grade and 7th grade) gather up their favorite small toys and other mini items that would fit in plastic Easter eggs. And they had a TON of cool ideas that I hadn't even thought of! If you want awesome ideas for what to put in Easter eggs, then why not ask kids for what they actually want, right?!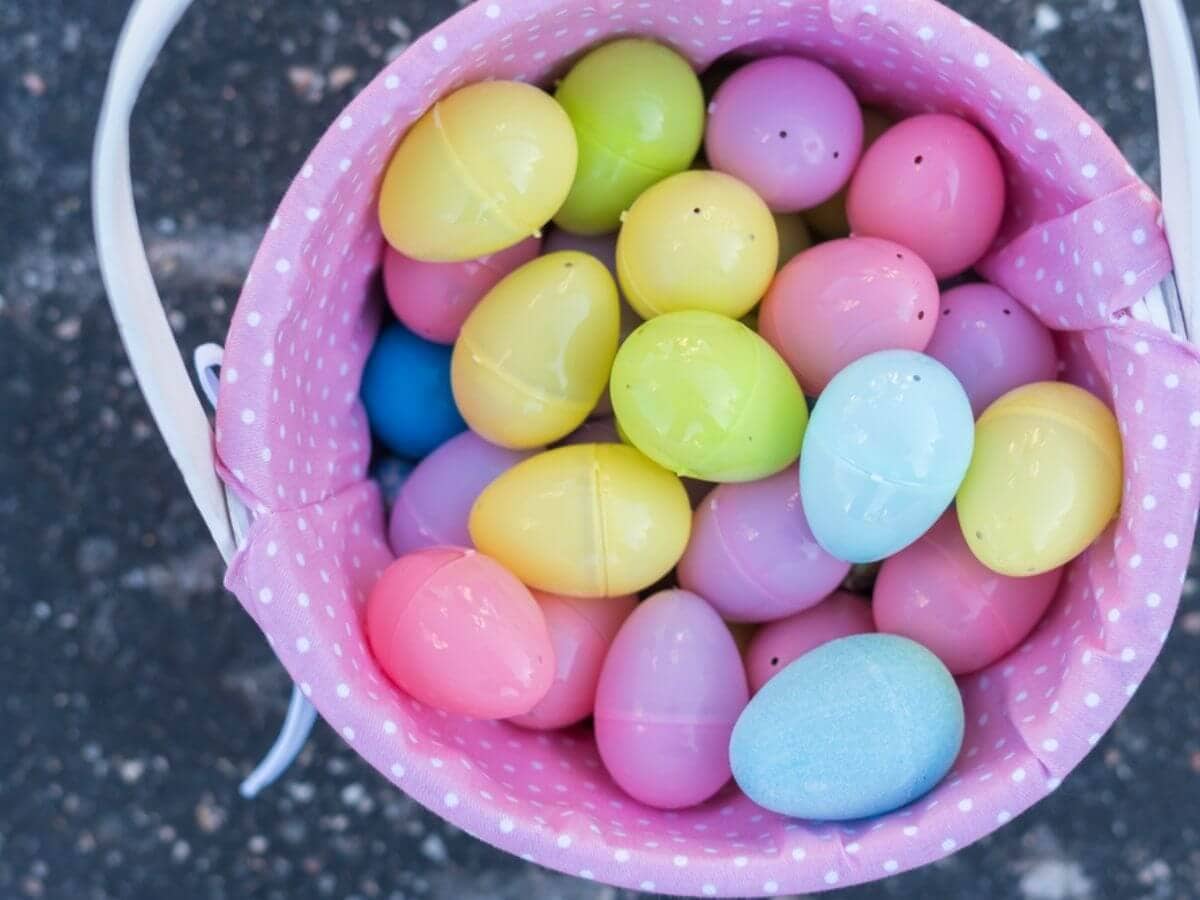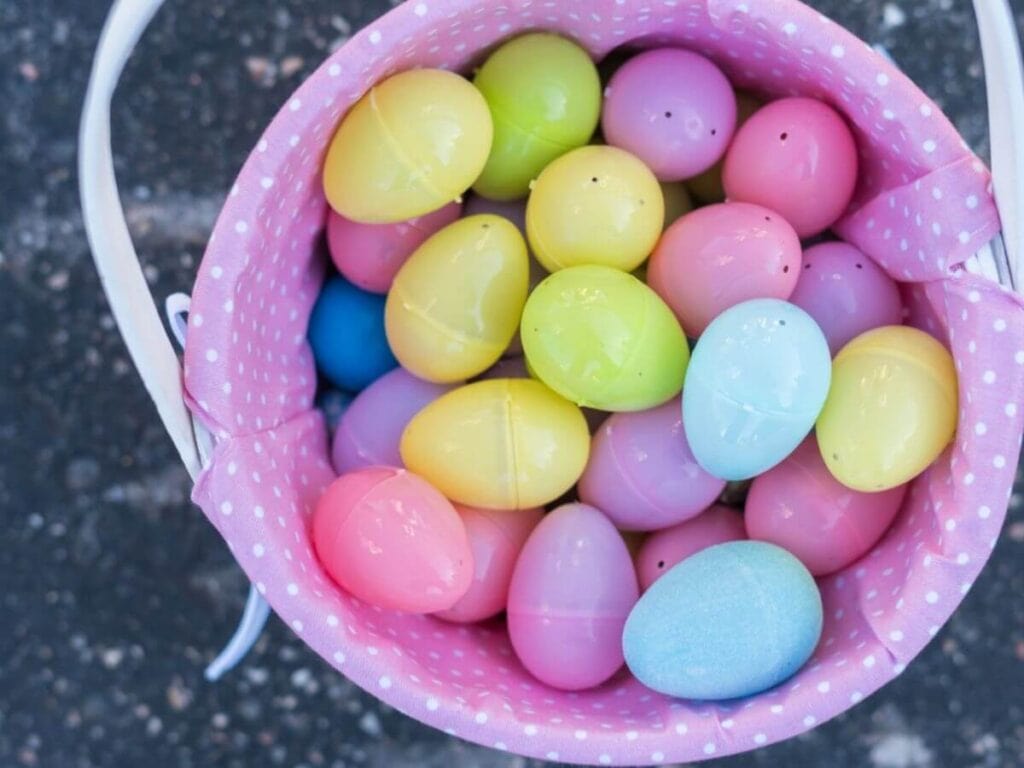 *This post contains affiliate links, which means if you click a link and make a purchase, I earn a commission at no additional cost to you. See my full disclosure for more info.
Read on for a HUGE list of the best non-candy Easter egg filler ideas for all ages, toddlers to teenagers!
Non-Candy Easter Egg Fillers for Toddlers and Preschoolers
1 Finger puppets – Like these awesome Peppa Pig finger puppets that you can also use in the bath tub!
2. Mini pull-back toy cars – Great egg fillers for boys and perfectly sized for plastic eggs!
3. Rubber bracelets – These dinosaur bracelets are awesome!
4. Mini squishy toys
5. Mini stampers – Here's a pack of 100, great for larger Easter egg hunts!
6. Temporary tattoos
7. The magic wash cloths from Dollar Tree
8. Cute Bandaids – What preschooler doesn't LOVE colorful bandaids?! These Welly brand ones have clear packaging for each individual bandage, so you can see the designs.
9. Stickers
10. Bouncy balls
11. Mini containers of slime
12. Mini containers of Play-Doh
13. Mini bottles of bubbles – Like the ones used for wedding favors
14. Toy costume rings – Like the ones in the party favor section at Dollar Tree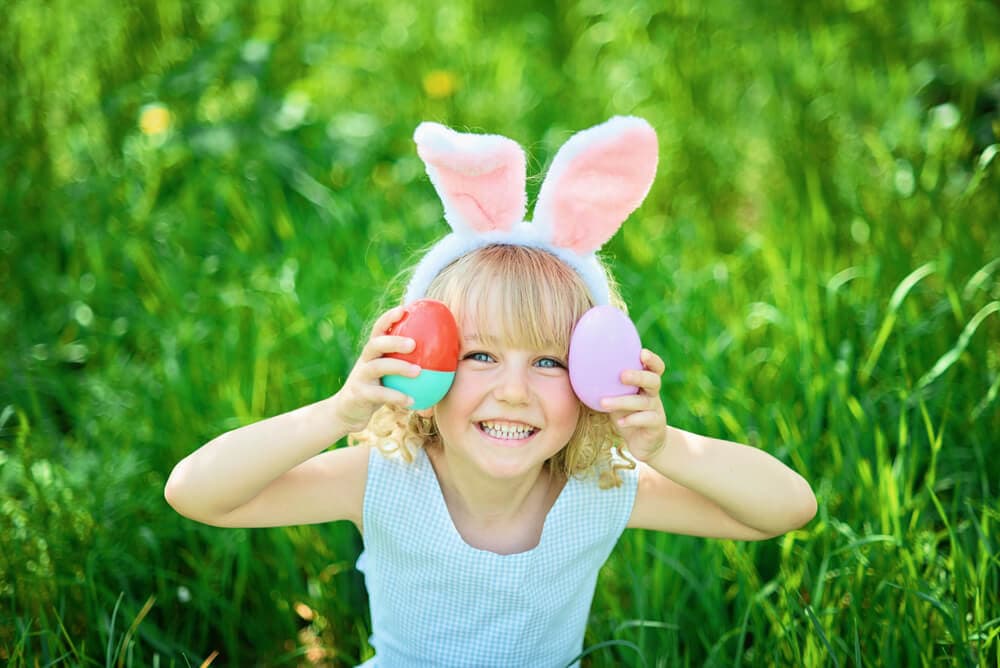 15. Fruit snacks
16. Small Ziploc bags full of a special sugar cereal that you normally wouldn't buy
17. Silly Putty – Bonus: These already come in a plastic egg!
18. Shiny, colored rocks – Lots of preschoolers collect rocks, so these are awesome inexpensive egg stuffers!
19. Tiny plastic bug toys
20. Mini toy cars
21. Little Army men
22. Lego people
23. Barbie doll accessories – Like shoes or dresses
24. Annie's brand bunny crackers
25. Letter magnets for the fridge – Put one letter in each egg, and have your kids find all 26 letters of the alphabet! This would also make a fun, interactive Easter egg hunt idea!
26. Stick on earrings
27. Splat eggs – Kind of like squishy egg toys
28. $1 or $2 bills
29. Large "punch" balloons
30. Rainbow colored (or fun patterned) shoe laces
31. Play Foam – The great thing about this play foam is that it never dries out! You can open the package (which comes with 8 different colors) and pre-portion into plastic Easter eggs. Then, your kids can use the plastic eggs as the storage for their foam later!
32. Parachute men – This 5 pack is like an upgraded version of the popular party favors!
33. Beaded necklaces – Like Mardi Gras bead style
34. Crayola Globbles – These are basically stress ball fidget toys made by Crayola!
35. Goldfish snack crackers
36. Cheerios
37. No-tie shoelaces
Non-Candy Easter Egg Stuffers for Elementary Aged Kids
38. Mini containers of slime
39. Friendship bracelets
40. Quarters or half dollars
41. Cute erasers – My girls LOVE the mini erasers shaped like pizza, doughnuts, etc. These cute erasers are 3D-shaped and highly rated!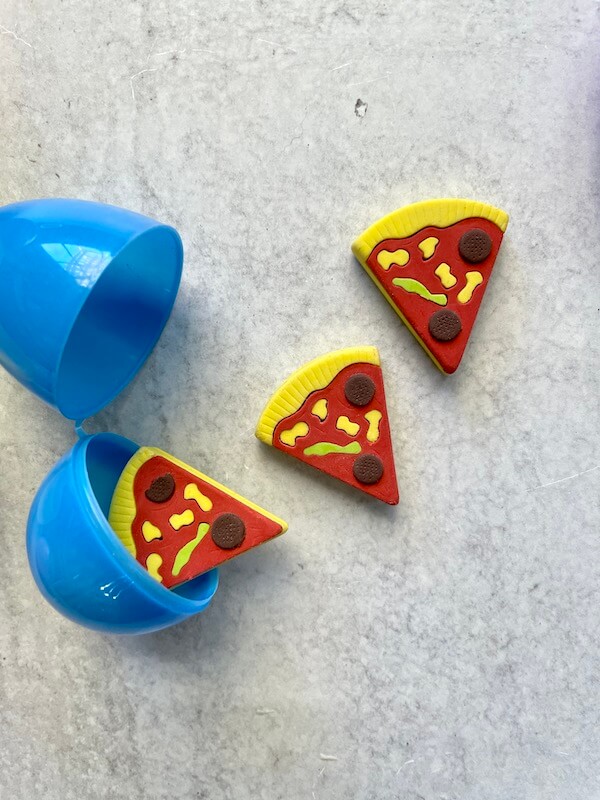 42. Rubber bracelets with inspirational messages like these
43. Hair barrettes
44. Scrunchies hair ties
45. Temporary tattoos
46. Flower seeds – After your Easter egg hunt, use them to plant a mini garden!
47. Stickers for water bottles
48. Sticky hands – This is a 72 pack for a great price, and what kid doesn't like these sticky hands!
49. Keychains to hang on their backpacks
50. Elastic headbands
51. Mini pop-its
52. Pop-it fidget bracelets like these
53. Earrings
54. Friendship necklaces – You can find some awesome and inexpensive options at WalMart.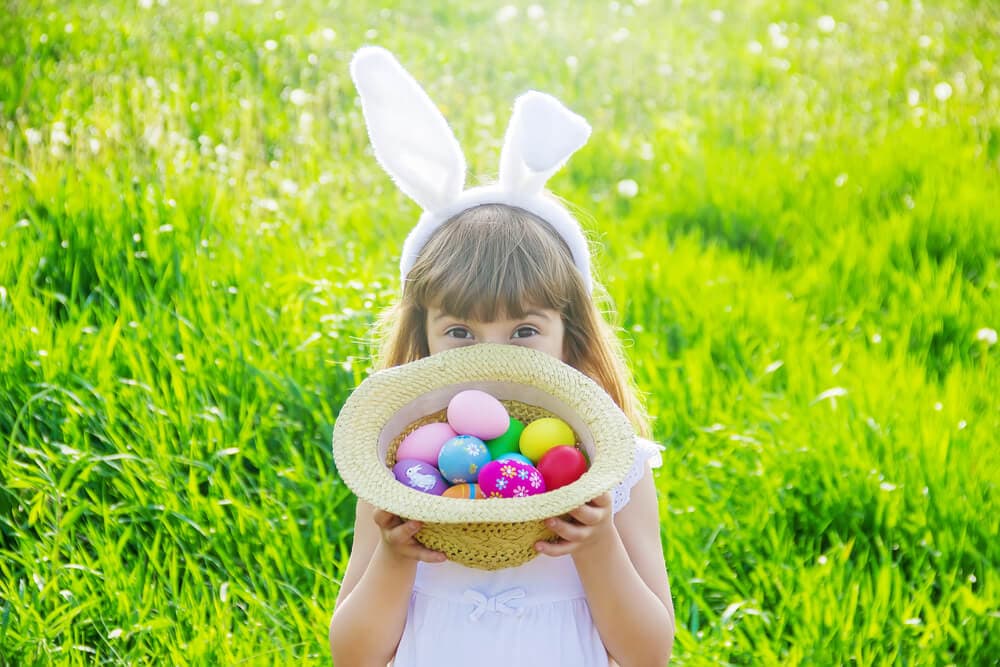 55. Charms for Crocs sandals – Here's a 50 piece set for a great price!
56. Barbie doll accessories – Like shoes or accessories
57. Pencil grips – You can find some good ones at Dollar Tree!
58. Dinosaur excavation fossil eggs – My girls have done these before, and they are so fun… and they're already egg shaped!
59. Shopkins
60. Twisty Petz – If you're not familiar with Twisty Petz, they're really cool beaded bracelets that can transorm into a cute animal shape – Kind of like Transformers, but for girls. My daughters LOVED them when they were younger!
61. Slap bracelets
62. Magic grow capsules – The kind that you add to water and they turn into animal shaped sponges… These are great for kindergarteners, just make sure they don't mistaken them for candy!
63. Mini reading light – The bendable kind can be folded up to fit in a plastic Easter egg.
64. Pencil sharpener
65. $1 or $2 bills
66. Small craft supplies like washi tape
67. Light up rings – My daughters LOVED these when they were younger!
68. Bicycle spokes decorations like these – Kind of like the idea of Croc charms, but for your bike wheels.
69. Fruit by the Foot – These fun snacks are perfectly sized for non-candy Easter egg fillers!
Non-Candy Plastic Egg Filler Ideas for Tweens and Teens
70. Invisibobble hair ties – Both of my daughters (ages 10 and 12) LOVE these hair ties!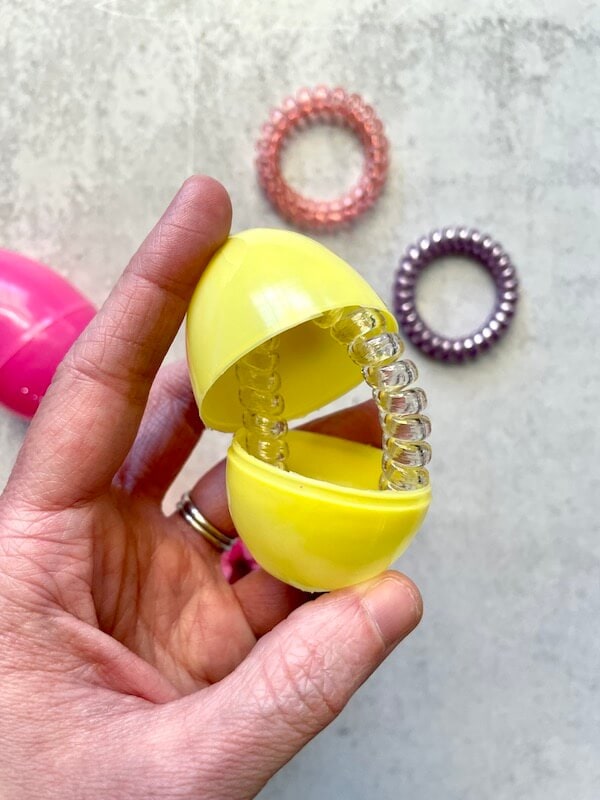 71. Scrunchies
72. Embroidery patches – These are awesome to iron-on to backpacks or clothing!
73. Sport-style headbands
74. Paracord bracelets – Even my husband loves these survival bracelets (great for teen boys!)
75. Eyeglass or screen wipes
76. Sunglasses cord straps – Another great option for teen boys!
77. Phone chargers
78. Ankle bracelets
79. Toe rings
80. Earrings
81. Face masks – Single serve face masks or sheet masks will fit in to plastic eggs!
82. Necklace
83. Kind minis – My tween daughter loves these, and they're smaller than the normal Kind bars, so they'll fit into plastic Easter eggs!
84. Sample-sized beauty products – When I get small samples from Ulta, I save them for Easter egg stuffers for my girls!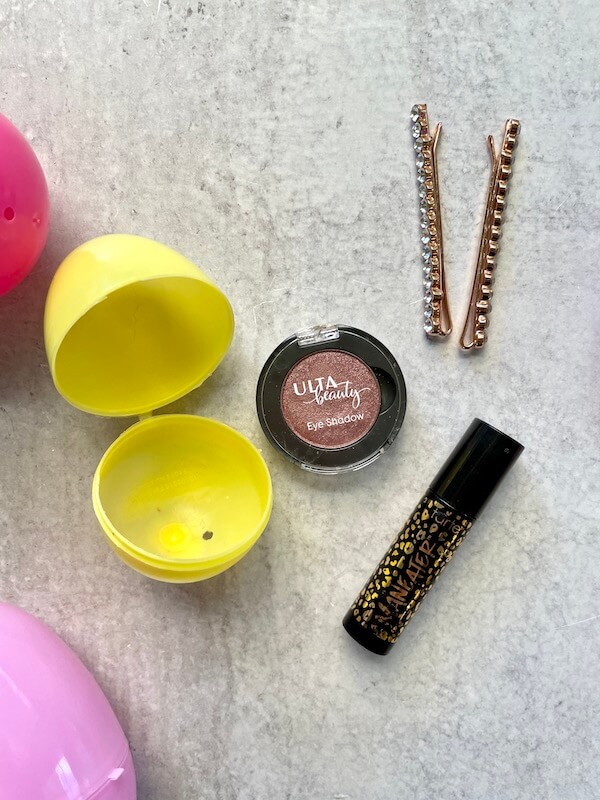 85. LED fairy lights – You can fold these up for awesome Easter egg filler ideas for teen girls!
86. Scratch-off lottery tickets
87. Cash! You can fill your Easter eggs with bills in different denominations depending on your budget.
88. Keychain
89. Mini lip balm – Like these from EOS that my daughters love!
90. Burt's Bees lip balm – These are great egg fillers for teen boys, too!
91. Beauty blender makeup sponges
92. Backpack pins – This is a cool set that would be perfect for Easter egg fillers for teens!
93. Easter coupons – That your teens can redeem for things like ice cream, new app downloads, etc. Check out my printable Easter coupons to use as non-candy egg stuffers down below!
94. Mini bottles of nail polish
95. Mini change purses – These come in a 10 pack and have super cute summer prints on them!
96. Nail stickers
97. False eyelashes
98. Ear buds
99. USB drives – A useful plastic egg stuffer for teens!
100. Embroidery floss to make friendship bracelets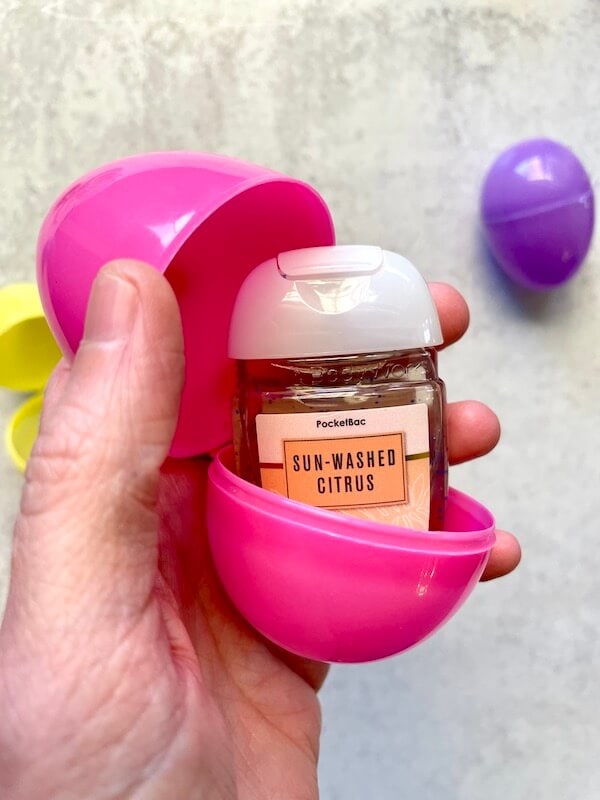 101. Mini hand sanitizers – The ones from Bath and Body Works fit in to the slightly larger plastic Easter eggs perfectly!
My Kids' FAVORITE Non-Candy Easter Egg Fillers
If you're looking for something to fill your plastic eggs with that ALL ages of kids will enjoy, then you can't go wrong with Easter Bunny Money!
These cute printable Bunny Bucks are basically coupons that your kids can turn in for special treats like a Happy Meal, a new book, a new game download, or a slushie.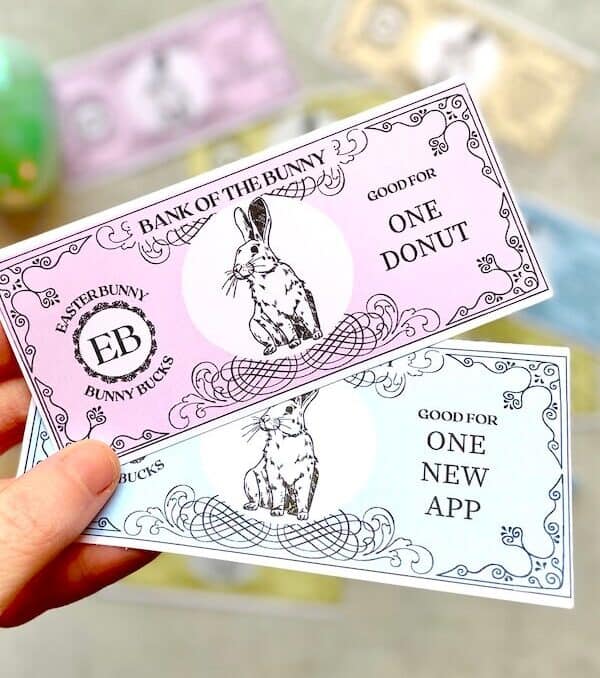 Interactive Plastic Egg Filler Ideas
If your kids are a little bit older and your Easter egg hunt is usually done in about 5 minutes (after you took 20 minutes hiding eggs), then you may want to use one of these fun ideas to prolong the egg hunting.
Here are some awesome ideas for non-candy egg fillers that incorporate other fun activities into your Easter egg hunt:
Easter Egg Scavenger Hunt
You can turn your annual Easter egg hunt into a fun scavenger hunt by using these free printable Easter Egg Hunt Clues as egg fillers!
Just print the cute scavenger hunt clues, cut them out, and fill your plastic Easter eggs! So easy, and a great way to make your egg hunt more challenging!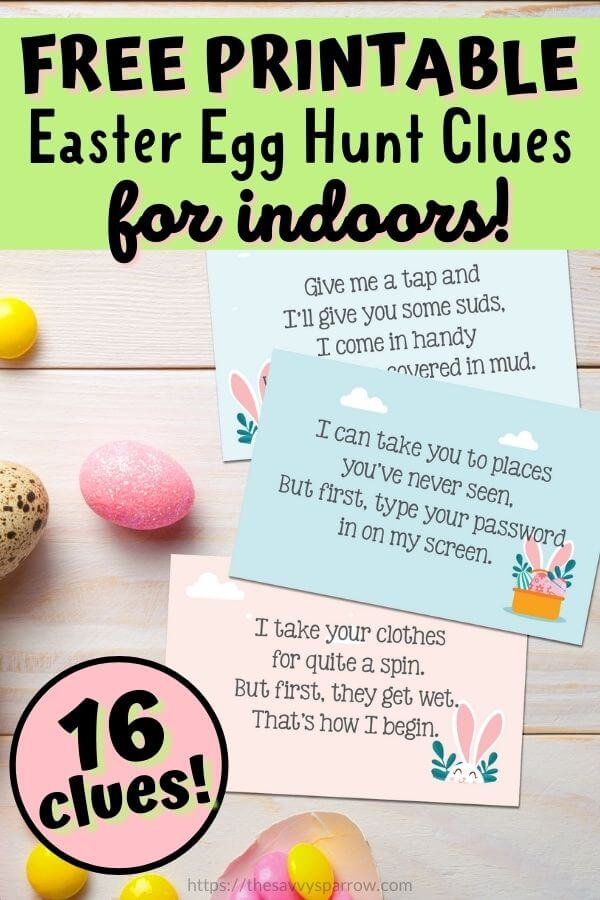 Puzzle Piece Egg Hunt
Buy a puzzle with the smaller-sized pieces (the larger toddler puzzle pieces may not fit in plastic eggs). Then, use the individual puzzle pieces as plastic Easter egg fillers.
When the egg hunt is over, the kids have to work together and combine their pieces to finish the puzzle!
Lego Set Easter Egg Hunt
Just like the puzzle idea above, select a Lego set that has under 100 pieces, like this cool Lego City Stunt Plane set. Add a few Lego pieces to each egg, and after the egg hunt, give the kids the instruction book for the set so they can put it together.
Alphabet Magnets Easter Egg Stuffers
If you have toddlers and preschoolers, why not sneak in some learning to your fun Easter egg hunt?!
Use alphabet letter magnets as non candy Easter egg fillers, and hide one letter in each egg. Then, once the egg hunt is over, challenge your toddlers and preschoolers to work together to put all of the letters of the alphabet in order on the front of your fridge.
I hope you enjoyed these awesome non-candy Easter egg stuffer ideas! What are some of your kids favorite things to get in their Easter eggs? Leave me a comment down below!
And if you want a fun and easy Easter Egg Hunt activity, then check out this Free Printable Easter Egg Exchange Dice Game! (My kids LOVE it!)