This Christmas countdown calendar printable is the perfect way for kids to countdown to Christmas this year! Just print out the cute Christmas calendar and have your kids color in each day as the month progresses.
"Mom, how many days until Christmas?"
I get asked that question at least twice a day starting on December 1st… even though my kids are older now and plenty capable of looking at a calendar or at least asking Alexa.
So out of sheer necessity and trying to maintain my sanity around the holidays, I created these awesome printable Christmas countdown PDFs!
These Christmas countdown printables are great for kids to be able to keep track of how many days til Christmas all on their own. And since these super cute printables are all black and white, you can save on printer ink! And I don't know about you, but I can use all of the savings I can get during the month of December!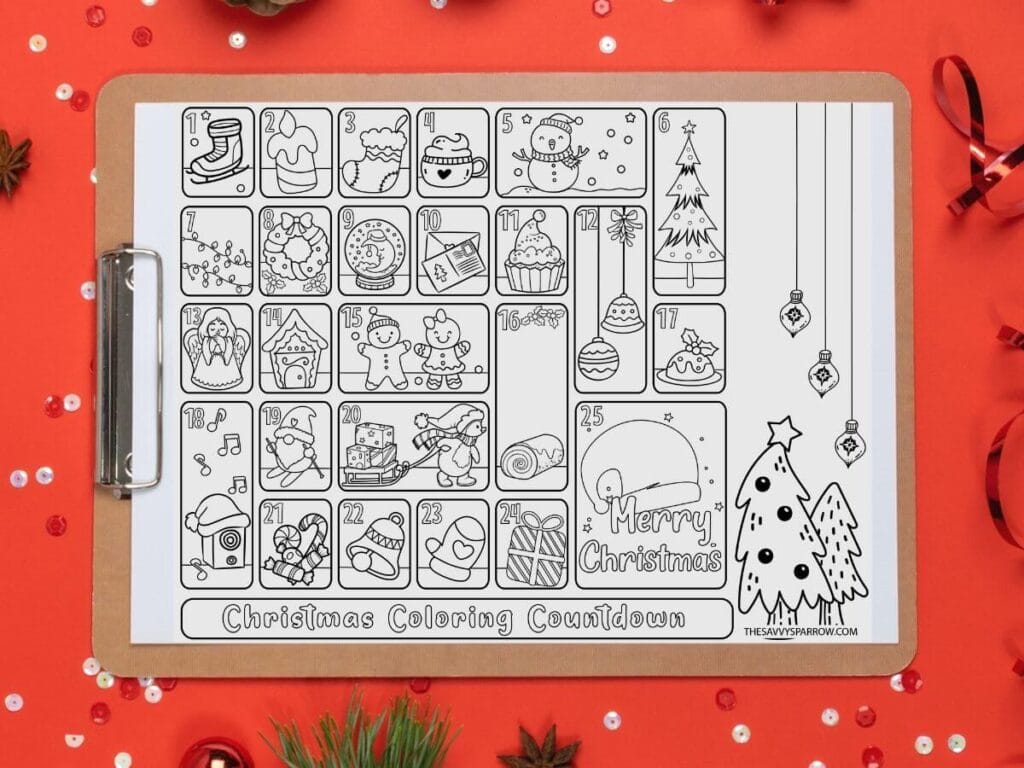 *This post contains affiliate links, which means if you click a link and make a purchase I earn a commission at no additional cost to you. Read my full disclosure for more info.
How to Use the Christmas Countdown Calendars
My kids are no strangers to using their own printable calendars to keep track of their school assignments, extracurricular activities, and which days they have gym class, so they were super excited to have their own special calendars just for counting down to Christmas.
My 9 year old daughter especially loves hanging up a calendar in her room and crossing off days in true "countdown" fashion.
If you think your kids will like this fun and easy Christmas countdown activity too, then here's how to do it:
1. Print the Christmas calendars on card stock or heavier weight printer paper.
Since your countdown to Christmas calendars will be used all month long, you want them to last. If you print them on a 60 lb. card stock or heavier weight printer paper (like 32 lb.), then they'll be more durable.
Trust me, the last thing you want is for your paper Christmas calendar to rip on December 23rd as your kids are trying to take it off the fridge, and then all of their hard work is destroyed. Do yourself a favor and print it on card stock!
2. Hang the printable Christmas countdowns up.
On December 1st, hang up your countdown calendar somewhere that your kids can easily reach it like:
on the fridge
on a clipboard in your family command center
in their bedrooms – My daughter likes to use colorful washi tape to hang up pictures on her walls, and the washi doesn't damage the paint!
Display the calendar somewhere that your kids won't forget to color it in each day!
3. Color one date at a time on the Christmas Countdown Calendar.
My free printable Christmas countdown for kids comes in two versions – one with cute Christmas characters on each day and one with blank squares like a regular calendar.
If your kids want to draw their own Christmas pictures on their countdown, the blank calendar printable is perfect for that!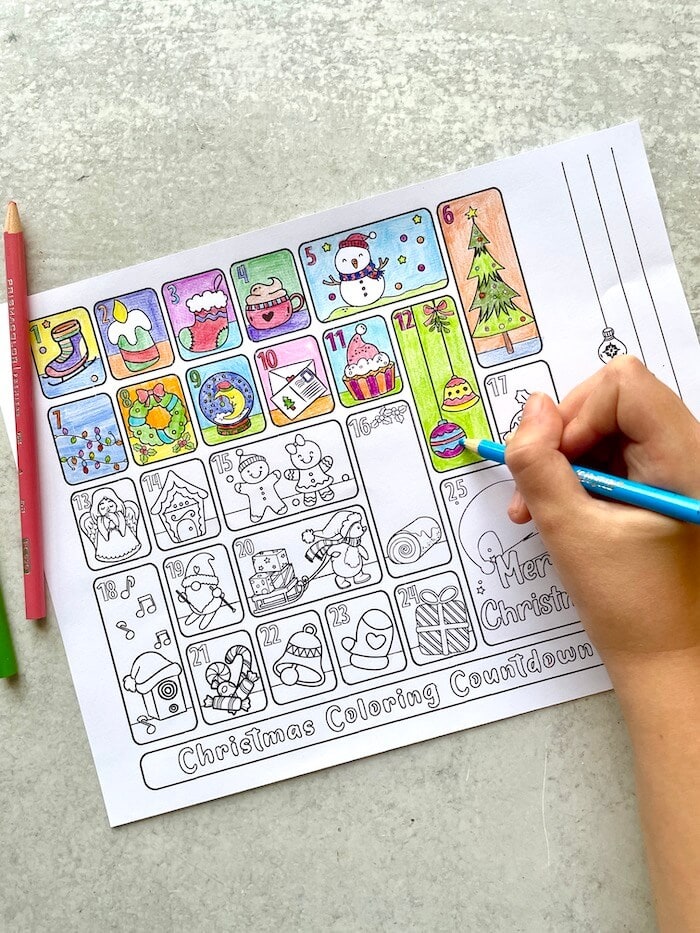 Just color the box labeled "1" on the first day of December, the "2" on the second day, and so on until you get to Christmas day!
And as you can see, the Christmas designs for each day are detailed so this easy Christmas activity will keep your kids busy for a little while. And the intricate designs make this a perfect coloring printable for your older kids, too!
Ideas to Make these Christmas Countdown Calendars Even More Special
With a little razzle-dazzle, even the most simple activity (or in this case – a free printable that you found online!), can be transformed into something special! Here are some fun ideas for "passing out" the countdown to Christmas calendar PDFs:
Buy your kids a special set of markers to use on their new Christmas countdown calendars
A fun way to introduce this easy Christmas activity is with a gift!
Buy a new set of markers or colored pencils for each child and surprise them with the printable calendar and their new coloring tools on December 1st. You could even turn this into a fun family Christmas tradition that you do each year… instead of gifting your kids holiday pajamas that they can only wear for a month, wrap up a cool set of twist-up crayons or fancy new markers instead!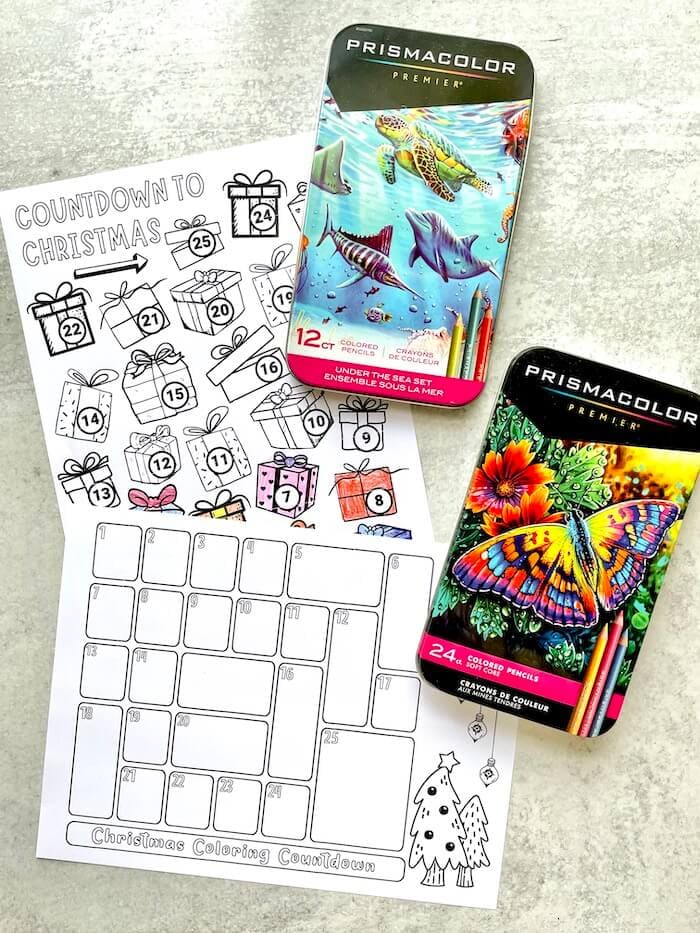 I bought my daughters these Prismacolor colored pencils last year, and they absolutely LOVE them! And while they are more expensive than the Crayola ones, this is a nice gift to kick off the Christmas festivities!
Get your Elf on the Shelf to help
If your kids have an Elf on the Shelf, you probably feel like you're always scrambling to come up with fun ideas to surprise your kids each morning when they wake up. So why not use these printable Christmas countdowns for one of the days and cross December 1st off your list?
When your Elf "arrives" in your home, you can have him deliver these printable countdowns and a little note to your kids with instructions on how to color in the calendars each day.
Have a family coloring competition
Who says kids are the only ones that want to countdown to Christmas? Why not print each family member (Mom and Dad included!) a countdown PDF and have a month-long coloring competition?!
Every night after dinner, have your family gather around the dining table and break out the markers. You can sit together with your kids and use these kids' conversation cards to enjoy some quality family time while you color.
Then, on Christmas day vote on the best or most creative Christmas coloring countdown!
Free Printable Christmas Countdown Calendar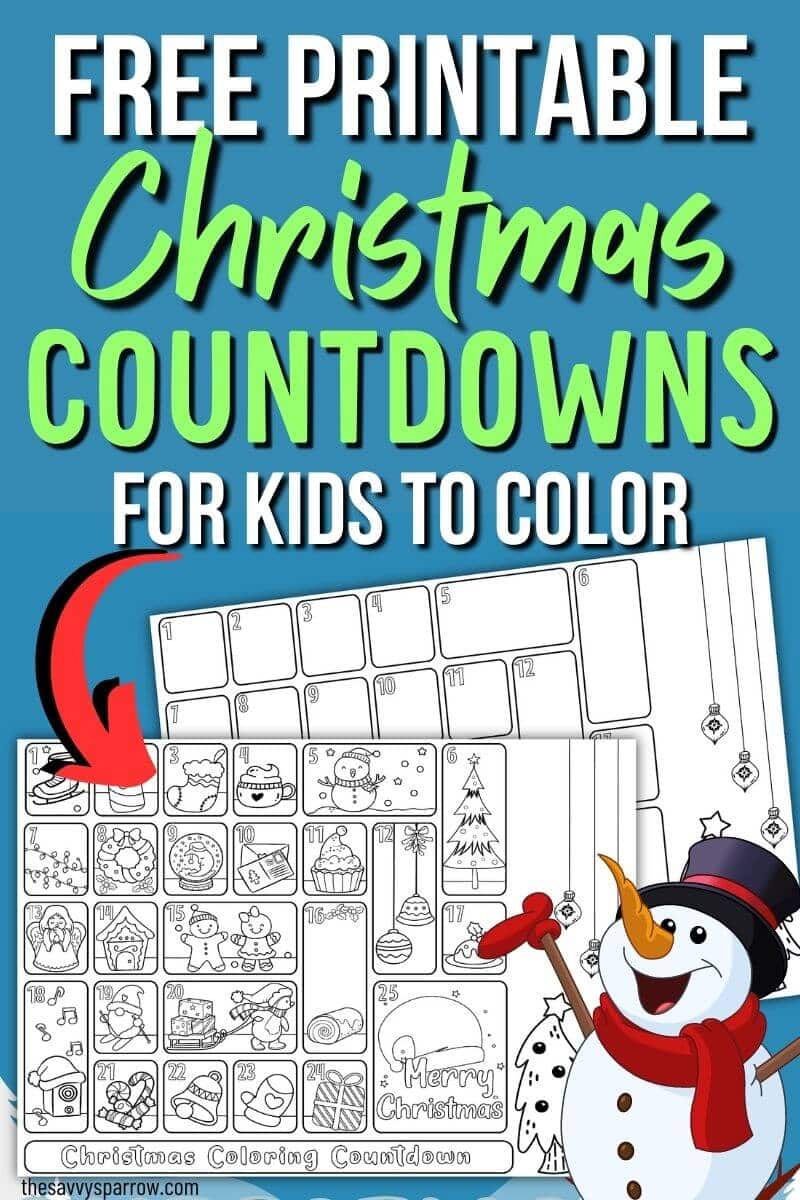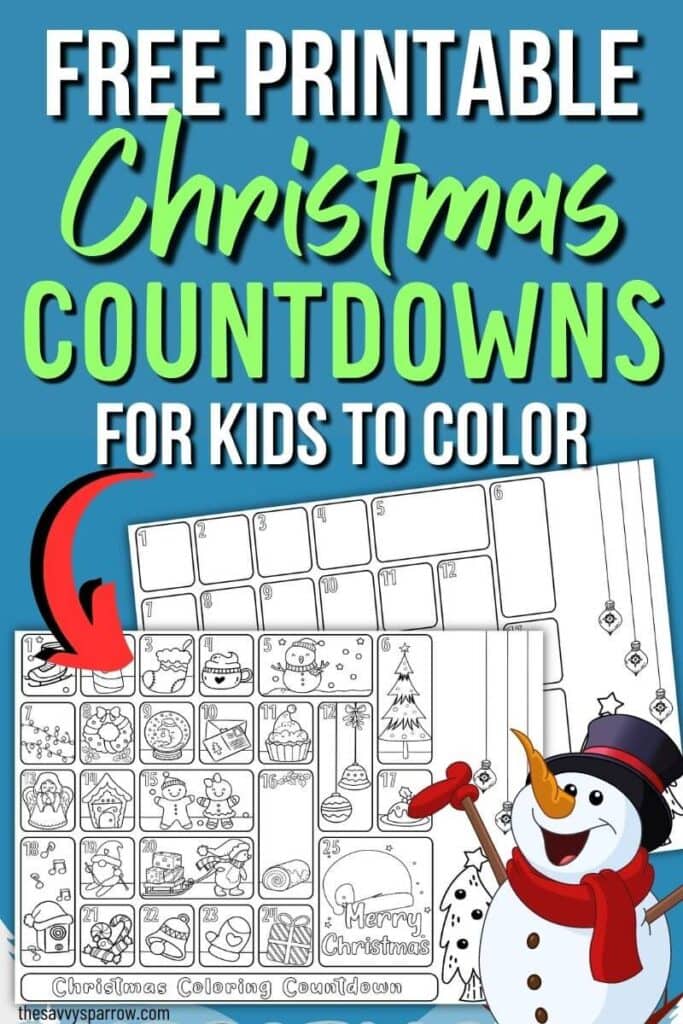 Want to grab my free printable Christmas countdown calendars for kids? Just use the form below to sign up for my free email newsletter, and I'll send them right over to you!
Plus, you'll get access to my entire library of over 60 free printables (like these printable Santa letter templates and this Christmas lights scavenger hunt)!
Need Christmas countdown ideas for your older kids, too? Check out these other fun and easy ways to countdown to Christmas.
And happy nesting!