This Christmas Light Scavenger Hunt is an easy and FREE Christmas activity that the whole family will love! Grab the free printable Christmas Light Scavenger Hunt list now!
Going for a drive to look at Christmas lights is one of my kids' favorite Christmas traditions. Every Christmas Eve, we pile into the car, make a quick pitstop for hot chocolate and donuts and cruise the neighborhoods admiring all of the pretty lights.
It's a really fun, simple, and FREE Christmas activity that your family can do together, whether you've got toddlers or teenagers!
And if you want to make the drive even more fun, you can add in this free printable Christmas Lights Scavenger Hunt!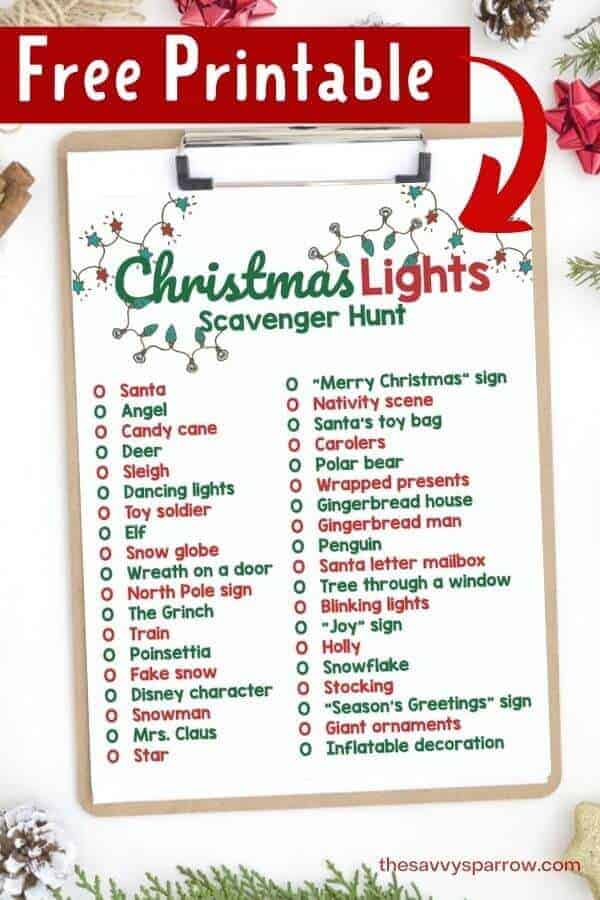 How to Do a Christmas Light Scavenger Hunt
A Christmas Light Scavenger Hunt could NOT be easier to plan… which makes it a great family activity for the already overloaded and super busy holiday season!
Here's how to do your own Christmas Light Scavenger Hunt with your family:
1. Plan a time for your Scavenger Hunt.
My family has a long-standing tradition of going on a drive to look at Christmas lights every Christmas Eve, but you could also do a walking Christmas light hunt.
If you live in a warmer climate, why not walk around a well-decorated neighborhood looking for Christmas lights? This is a great way to get some exercise (and wear out your kids on Christmas Eve!).
2. Print the FREE Christmas Light Scavenger Hunt List.
Click HERE to download the FREE Printable Christmas Light Scavenger Hunt list!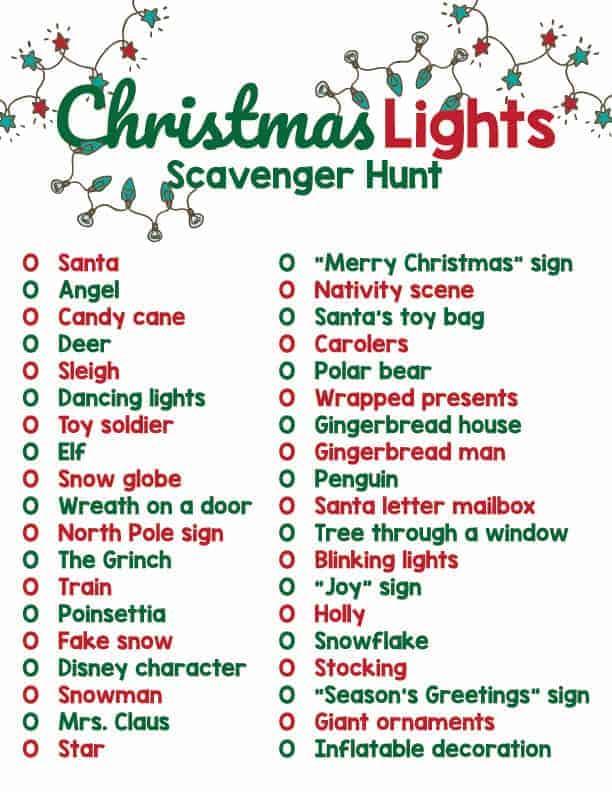 3. Bring hot chocolate and Christmas cookies!
This is totally optional but HIGHLY recommended! You can even bake your own yummy Christmas cookies with your kids, like these cute Rudolph Sugar Cookies, to bring with you on your scavenger hunt.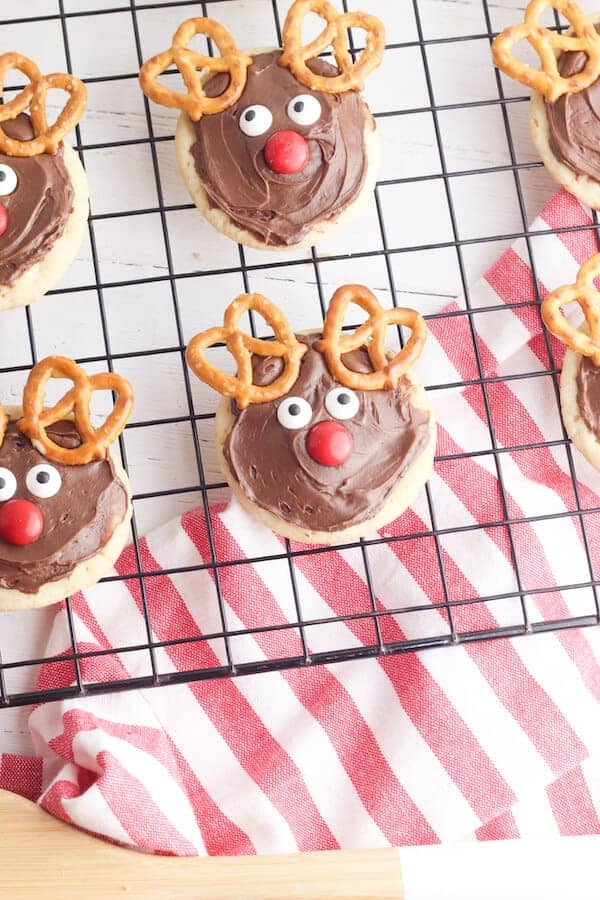 4. Have prizes for the winner!
What's a fun family activity without a little competition?! If you have older kids, you can up the ante and offer a prize for the person that finds the most items on the list.
Prizes could include:
coffee gift card
iTunes gift card
one week off of chores
getting to open the first present on Christmas Day
deciding on the Christmas movie that the family will watch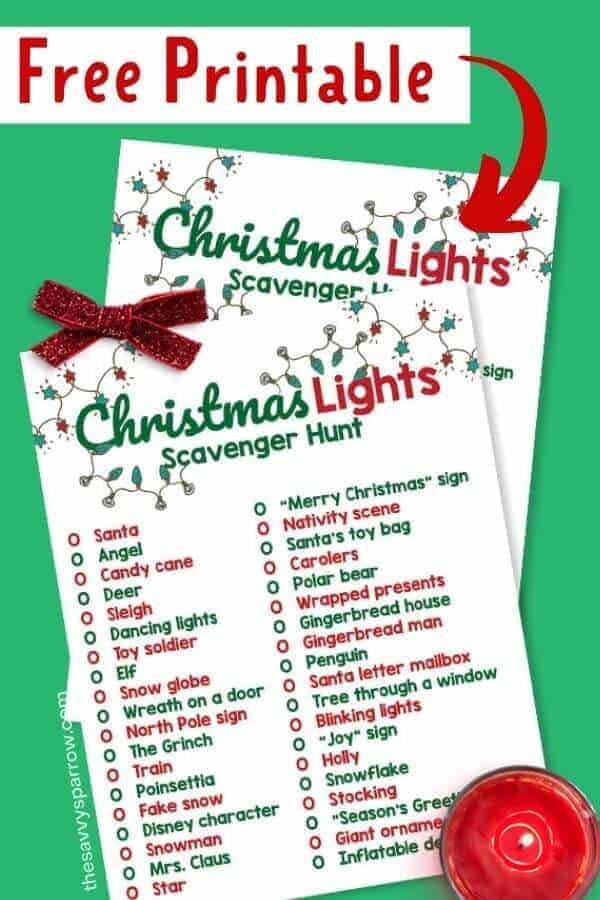 Make Your Own Christmas Scavenger Hunt for Kids
If you don't want to use the free printable, you can also make your own scavenger hunt list! Here are some awesome ideas for how to turn this fun Christmas scavenger hunt activity into an art project (to keep your kids busy for even longer!):
Have your kids cut pictures out of the December issue of a magazine and glue them to a piece of card stock or construction paper. Then, when you go on your family scavenger hunt, they have to find the items in the pictures.
Let kids draw their own pictures of Christmas items like Santa and reindeer to find during the scavenger hunt.
Have kids write out their own list of scavenger hunt items. This is a great way for them to get some extra writing practice, too!
Things to Include in Your Christmas Scavenger Hunt
Santa
angel
Baby Jesus
candy cane
deer
sleigh
dancing lights
snowflake lights
Santa's mailbox
sign that says "The North Pole"
The Grinch
Charlie Brown and Snoopy
fake snow
a Disney character
penguin
polar bear
reindeer
gingerbread house
elf
toy soldier
train
giant inflatable
snowman
Christmas tree decorated with white lights
Christmas tree decorated with multicolor lights
reindeer antlers on a car
wreath on a car
Try a Christmas Scavenger Hunt with Clues
If your kids LOVE this fun Christmas activity, then you may want to try some other fun Christmas scavenger hunts! I've got loads of fun scavenger hunts for kids like these: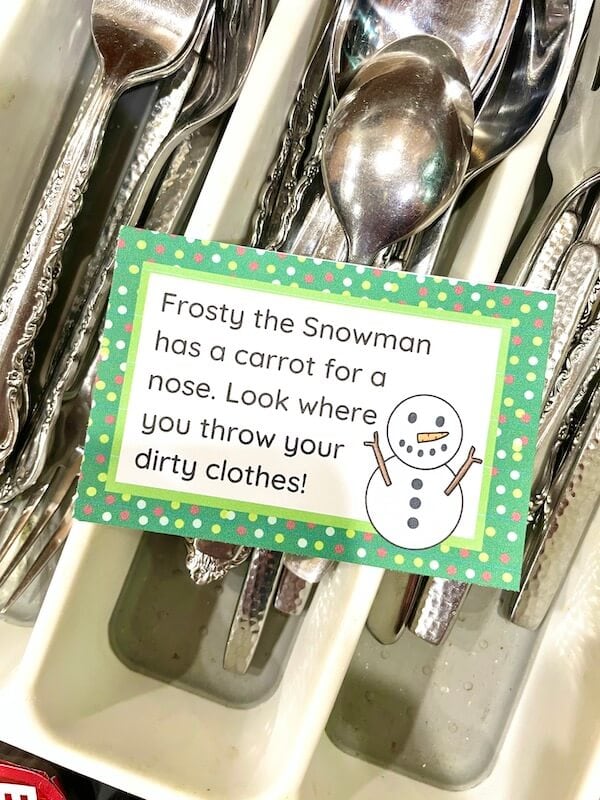 Christmas Treasure Hunt with Clues – Set up a fun Christmas scavenger hunt with rhyming clues and let your kids find their stockings or a larger gift on Christmas morning… I've got 32 awesome printable clues for you to use to make it easy!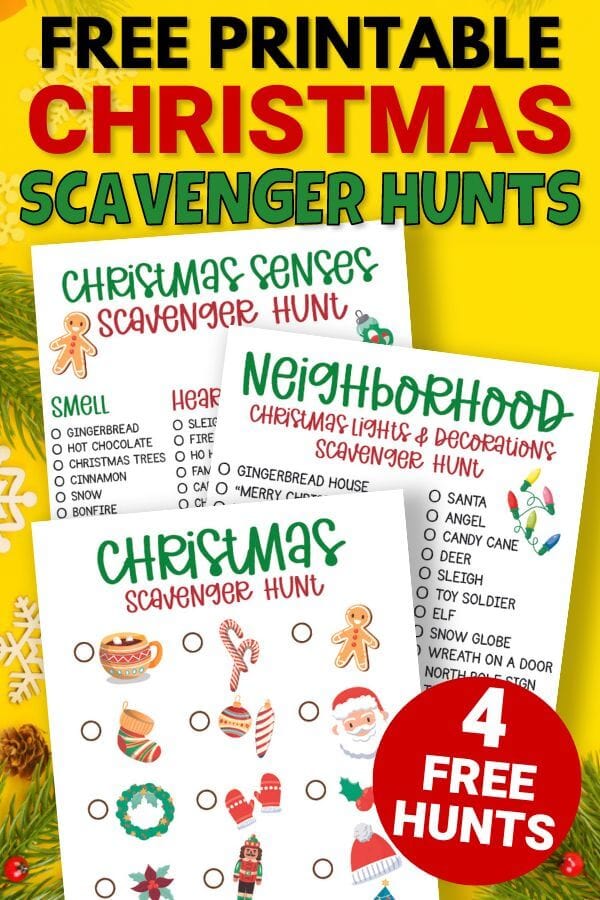 Free Printable Christmas Scavenger Hunts – Want even more free printable Christmas scavenger hunts to do with your kids? Choose from a fun selfie hunt for teens, a picture scavenger hunt perfect for younger kids, and more!
I hope your kids LOVE this fun and easy Christmas activity! And be sure to check out my other free printable scavenger hunts:
Or hop over here for even more printable Christmas activities for kids!
Happy Nesting! And Merry Christmas!