These easy reindeer sugar cookies are made with store bought cookie dough and icing, so older kids can make them all by themselves! Make some of these cute Rudolph cookies for your kids' Christmas parties, or take them to a Christmas cookie exchange!
The holidays are stressful….
There, I said it.
Between trying to find the perfect gifts for everyone on your list without having to take out a second mortgage to attending all of the obligatory holiday festivities, it's difficult to find the time to get everything done. So I fully support taking shortcuts wherever you can…
Just like these Easy No-Bake Snowflake Pizzelle Cookies that I made last year!
And these super easy Reindeer Sugar Cookies!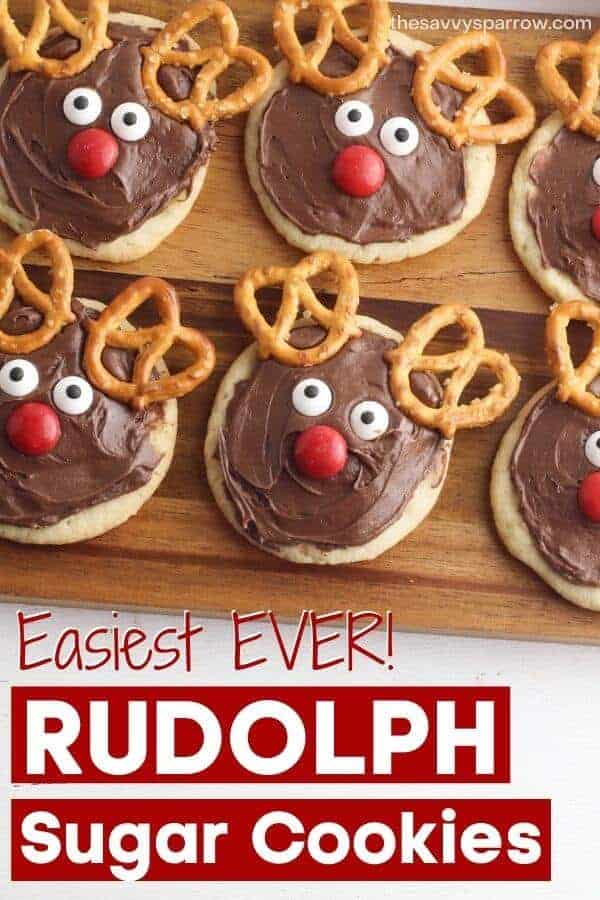 These Rudolph cookies are so easy to make that your kids could even decorate them by themselves. In fact, that would be an AWESOME idea for your Christmas parties or even Christmas dinner…
Bake the sugar cookies ahead of time so that they have time to cool, and then set them out with cans of chocolate frosting, M&Ms, candy eyes, and pretzels, and you've got a SUPER EASY kids' activity!
Here's how to make these cute Rudolph cookies for kids:
Ingredients for Reindeer Sugar Cookies
Here are the ingredients that you need to make 24 Rudolph sugar cookies:
1 package pre-made sugar cookie dough – like Pillsbury sugar cookies
1 jar pre-made chocolate icing
48 candy eyes – I use the ones made by Wilton that you can get at most grocery stores.
24 red M&Ms
48 mini pretzels
How to Make Rudolph Sugar Cookies
These easy reindeer sugar cookies could NOT be any easier to make, which makes these cookies the perfect treats for Christmas bake sales, classroom Christmas parties, or neighbor gifts! Here's how to make these cute Rudolph cookies:
Bake your store-bought cookie dough according to package instructions. Then, allow the cookies to cool completely before decorating. You could even do this step a few days ahead of time and let your kids decorate the cookies all by themselves!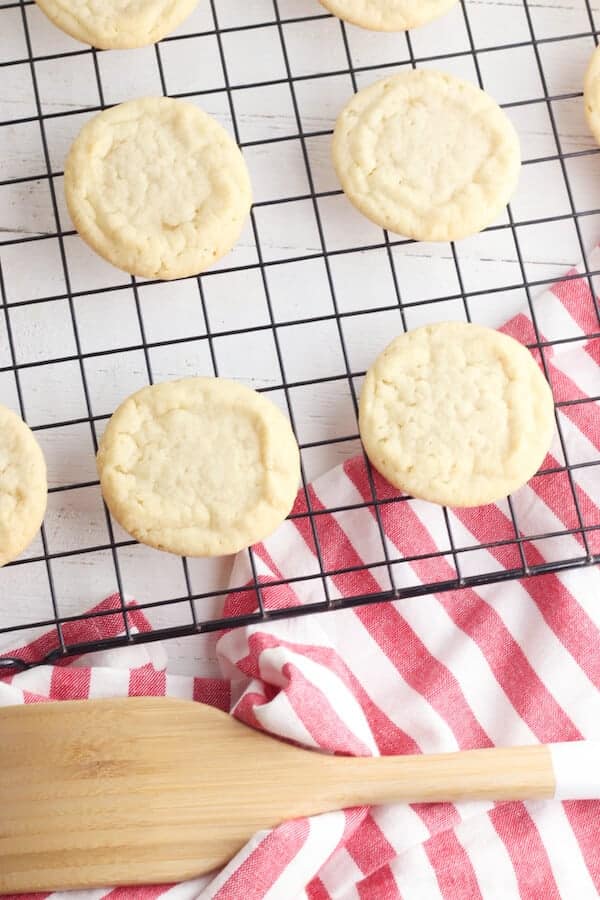 After your cookies have completely cooled, spread an even layer of chocolate icing on top of each cookie.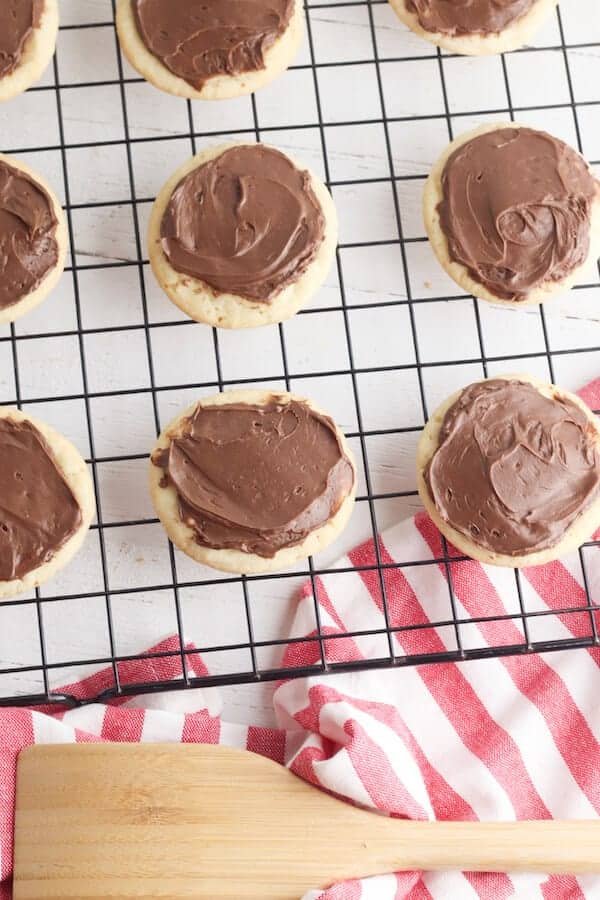 Then it's time to decorate your easy reindeer sugar cookies. Place two candy eyes in the center of the cookie. Then add one red M&M under the eyes, and place two mini pretzels at the top.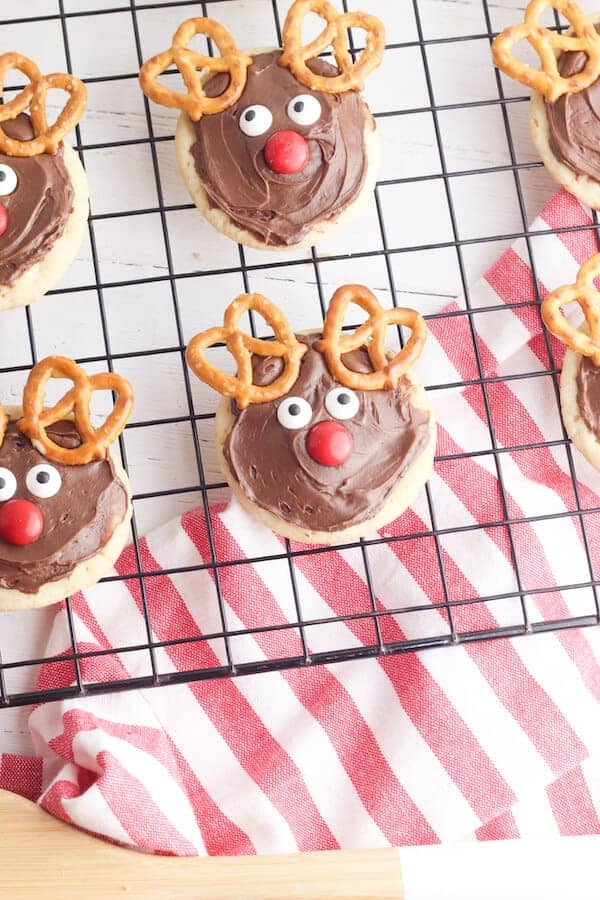 And that's it! See, I told you these cute reindeer cookies were super simple!
Add some of these cute cookies to a gift tin with these No Bake Christmas Pizzelle Cookies and these Cherry Snowball Cookies (my Grandma's recipe!), and you've got a DELICIOUS gift for neighbors or teachers! Or just make these easy Christmas cookies with your kiddos for a fun afternoon treat!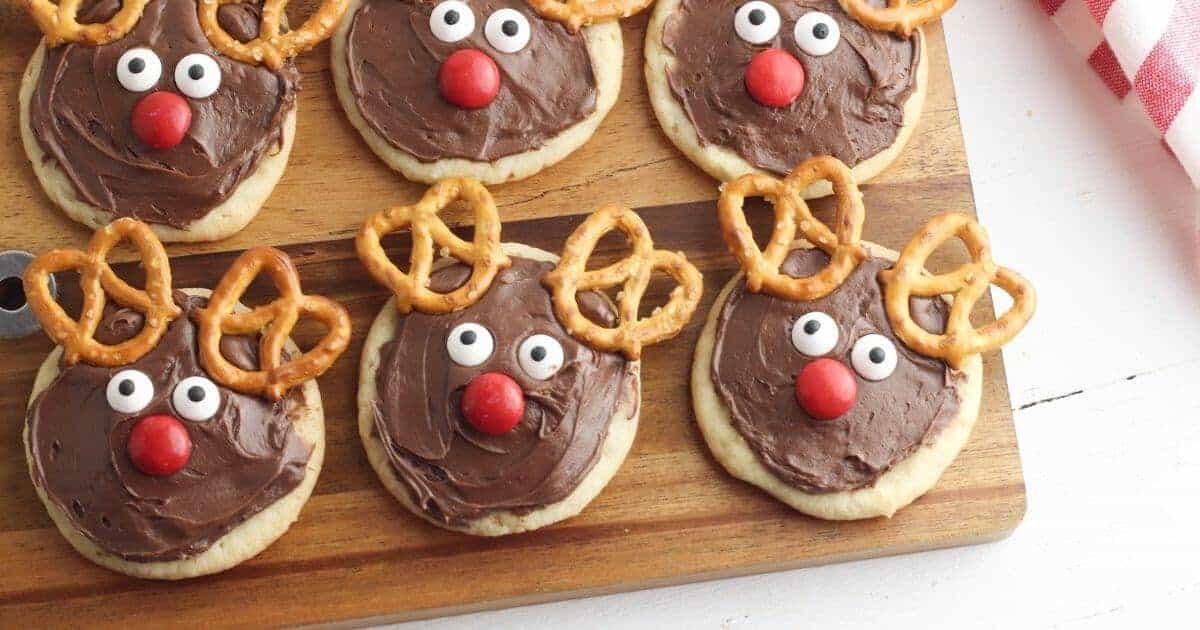 And be sure to check out some of my other Christmas posts:
Or head to Taste of Home here for even more cute Christmas recipes for kids.
And happy nesting!