Looking for Easter Bunny Bait to sprinkle on your lawn to attract the Easter Bunny this year? These cute Easter Bunny food jars and free printable tags make awesome Easter gifts to drop off to your neighbors or to make with your kids!
This DIY Easter Bunny Bait is a tradition at our house! If you've ever made reindeer food to sprinkle on your lawn and attract Santa's reindeer on Christmas Eve, then you know what I'm talking about!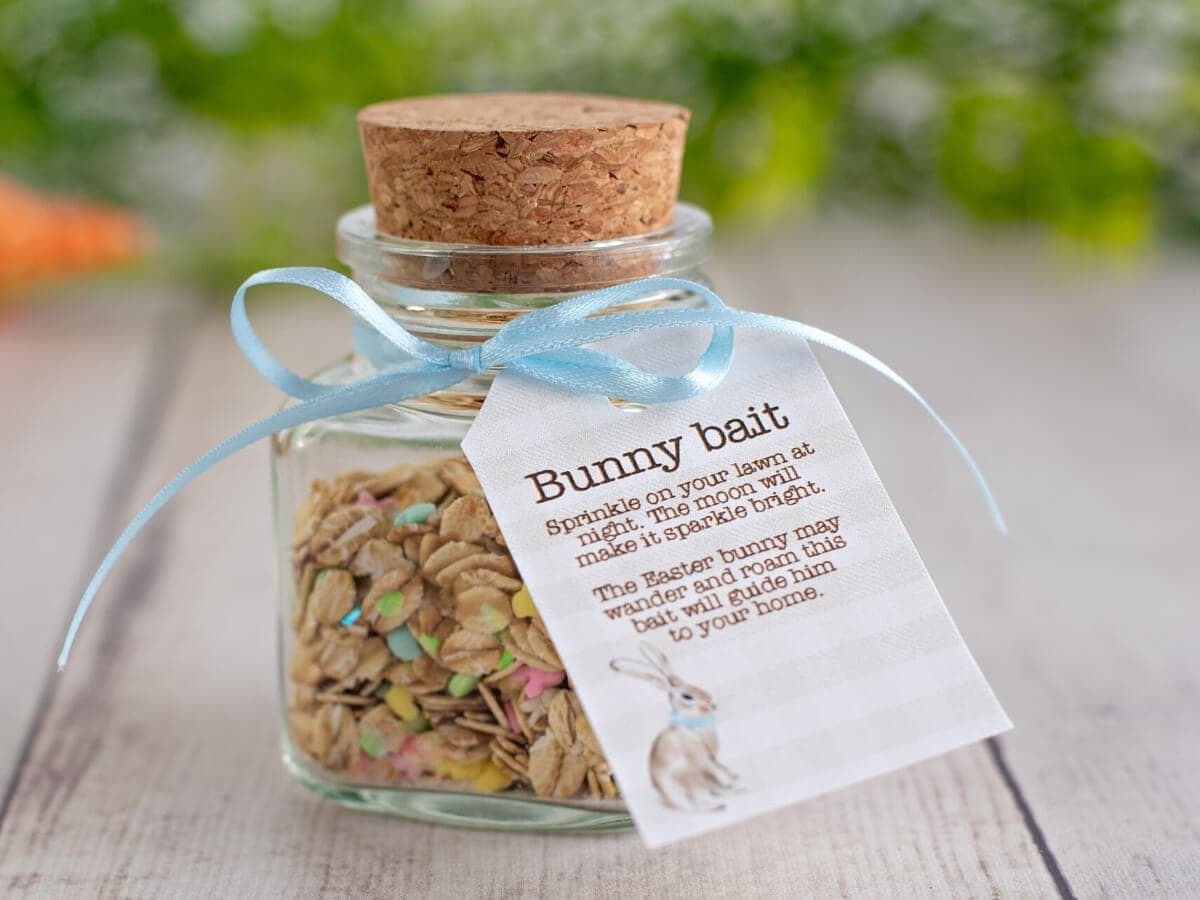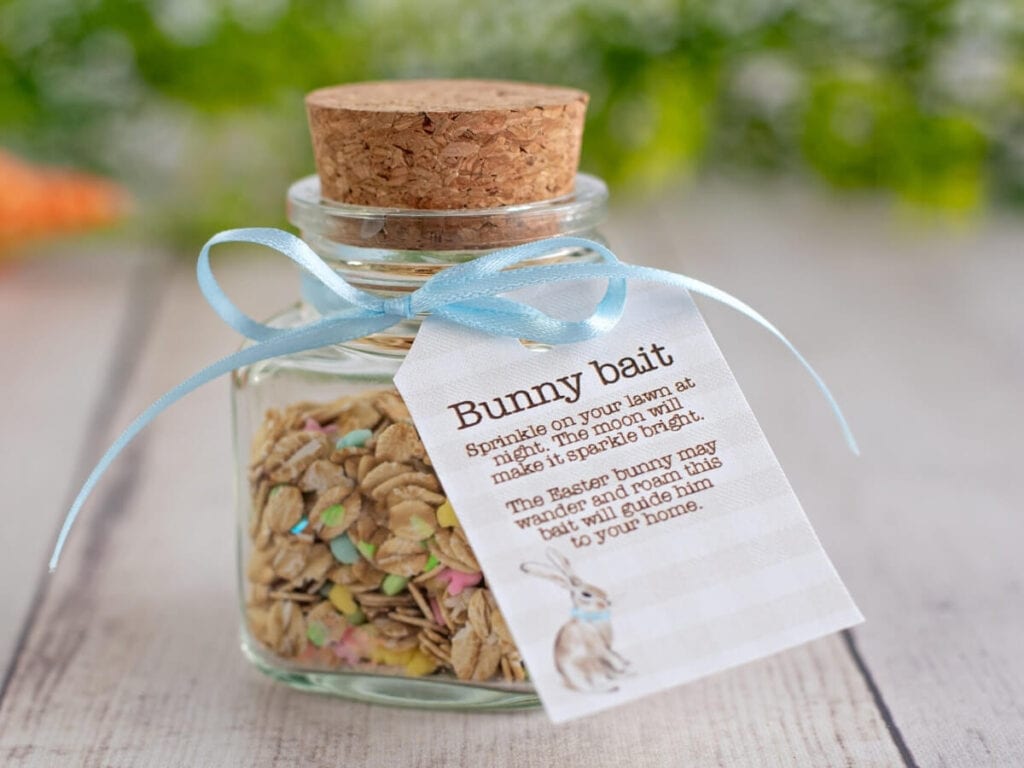 *This post contains affiliate links, which means if you click a link and make a purchase, I earn a commission at no additional cost to you. Read my full disclosure for more info.
My kids love making this simple Easter bunny food with rolled oats, sprinkles, and glitter to feed the Easter bunny and ensure that he stops at our house to leave a bounty of goodies.
And this fun Easter tradition for kids couldn't be easier! Here's how to make your own bunny food to use with your younger kids or to sell at Spring craft fairs:
Supplies to Make Easter Bunny Bait To Sprinkle in Your Yard
Very similar to reindeer food, these bunny food jars only take a few supplies: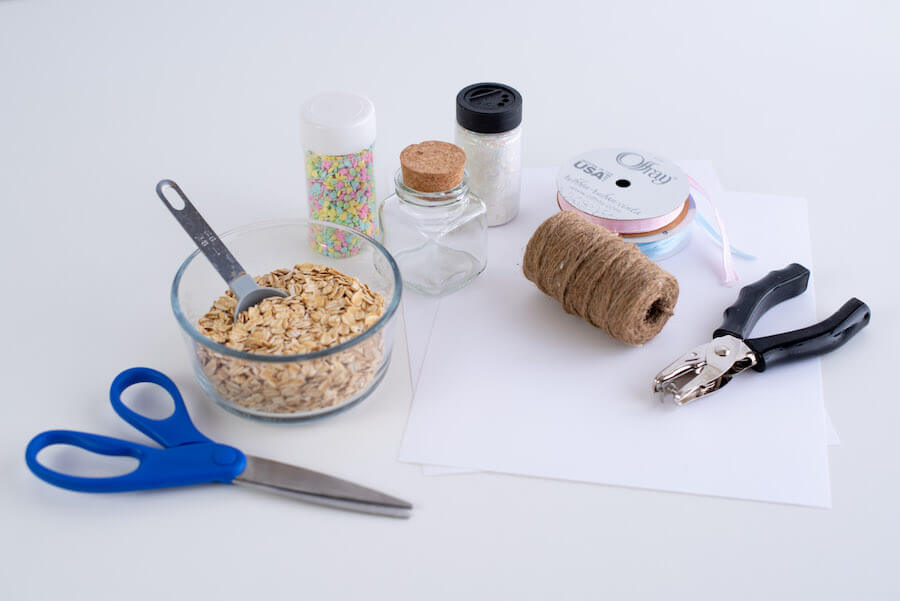 Glass jars – These are the exact jars that I used for my Easter bunny food.
Rolled oats
Easter or Spring-colored sprinkles – These are the ones that I used
Ribbon of choice
Free printable Easter Bunny Bait tags
Scissors
Hole punch
Paper or funnel – This is optional, but it helps if you'll be making this bunny food with your kids.
White card stock
Glitter (optional)
How to Make Easter Bunny Bait for Your Yard
Step 1: Print and cut the free printable bunny food tags.
These free printable bunny bait tags have a cute poem that explains the process for attracting the Easter Bunny. Here's what's printed on the tags:
Just click the link below to download the free printable gift tags to use for your bunny food jars.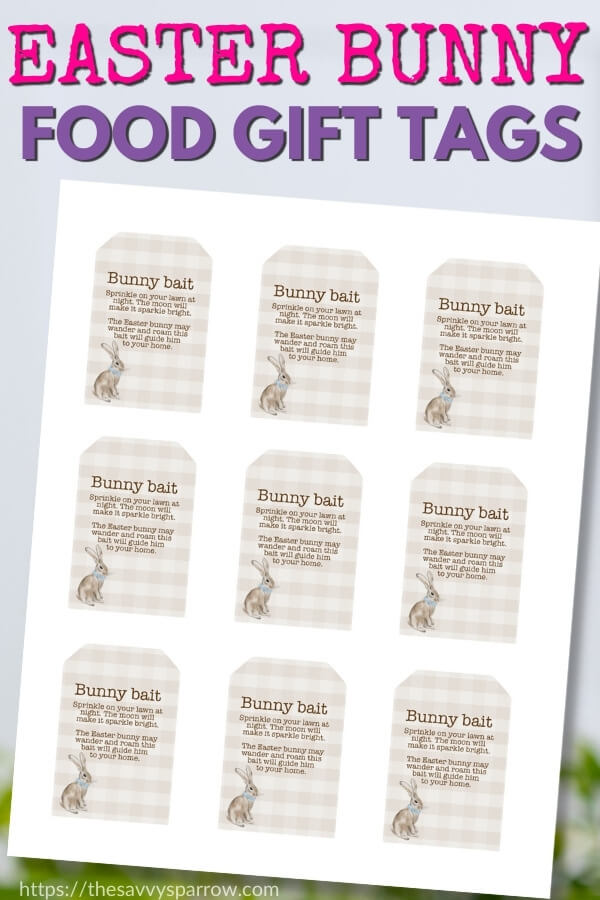 Click HERE for the Free Easter Bunny Bait Printable Gift Tags!
Then, print the tags on white card stock so they're nice and sturdy for your gifts. Use scissors or a paper trimmer to cut out each individual tag, and punch a hole in the top of the tags so they can be tied on to your glass jars.
Step 2: Fill your glass jars with Easter Bunny Bait.
Next, it's time to make the bunny food for your lawn.
Just add a tablespoon or two of the rolled oats to your glass jar. You can use a paper "funnel" or a real funnel to make it easier, especially if you'll be making the bunny bait with kids.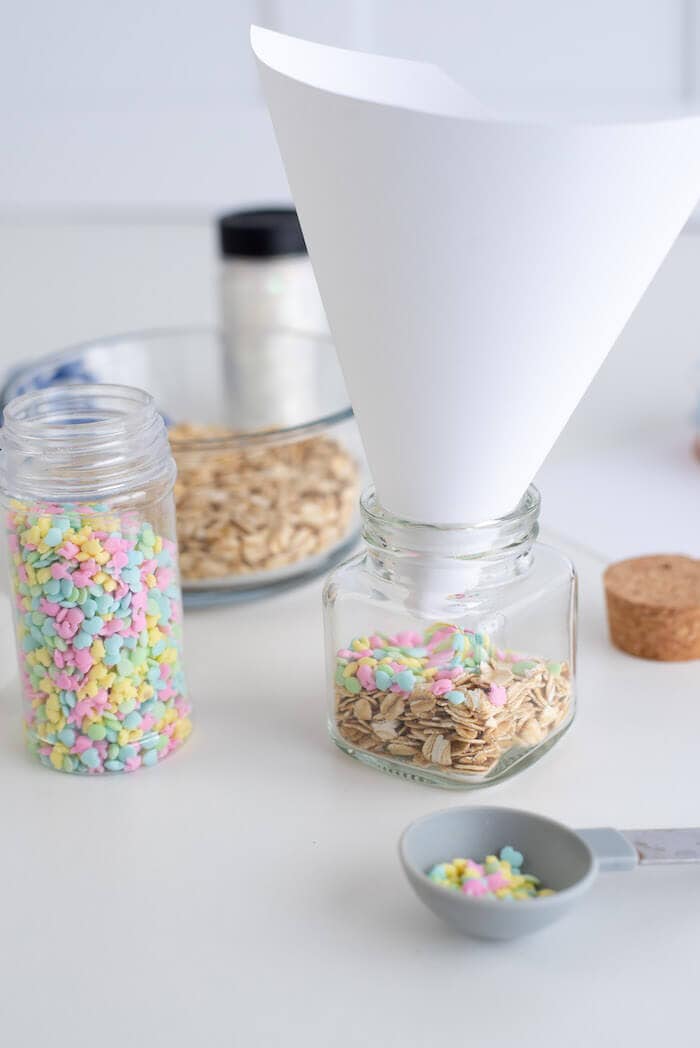 Then, add some of the Easter sprinkles to the jar and, if you don't mind getting glitter in your grass, add that in also. Put the lid on the glass jar, and shake it gently so the Easter bunny bait gets mixed up.
Step 3: Tie the gift tags to your bunny food jars.
Thread ribbon through the hole in the top of your printable tag and tie the tag to the bunny food jar. Finish with a pretty bow.
Step 4: Sprinkle the Easter Bunny Bait in your yard the night before Easter.
Here's the fun part!
On the night before Easter, go outside and sprinkle the Easter bunny bait in your front yard to attract the Easter bunny. The Spring-colored sprinkles and the shine from the glitter will lead him straight to your house!
And of course, you can also leave out some carrots on the front porch to attract the Easter bunny also!
Other Fun Easter Ideas for Kids
If you loved this bunny bait for your yard, then be sure to check out some of my other fun Easter ideas for kids:
Printable Easter Bunny Money – These Easter coupons make awesome plastic egg fillers! They might be the #1 thing that my kids look forward to finding in their Easter eggs each year!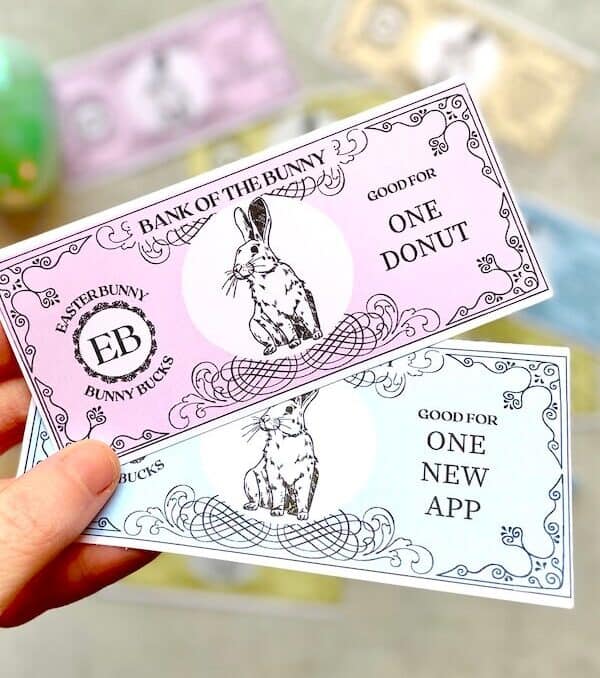 Easter Scavenger Hunt with Clues – Turn your annual Easter egg hunt into a fun scavenger hunt with these free printable clues! Get 16 clue cards for indoors and 16 for outdoors!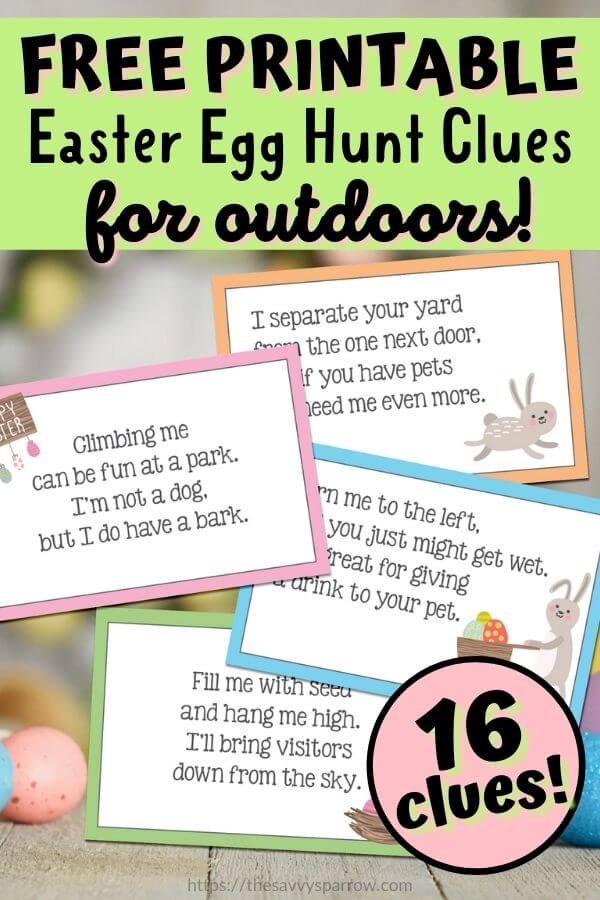 What are your kids' favorite Easter traditions? Do you leave out carrots to attract the Easter bunny? Leave me a comment down below with your ideas!
And don't forget to PIN this post for later: