Need stocking stuffer ideas for your husband? You're in the right place! Check out this huge list of stocking filler ideas for him that he'll actually like!
My husband is like a giddy five year old when Christmas rolls around. So to say that he has high expectations for what's waiting under the tree for him is an understatement. I always feel pressure to pick out just the right gifts and stocking stuffers, so as not to disappoint his inner "man child" on Christmas morning.
Sound familiar?
In this huge list of creative and fun stocking stuffer ideas for your husband, you'll find everything from printable Christmas coupon books to personalize to leather cord organizers to mini bottles of hot sauce.
And all of these stocking fillers are husband-approved! (Yes, I actually had him go through this list to make sure these stocking ideas met his criteria!)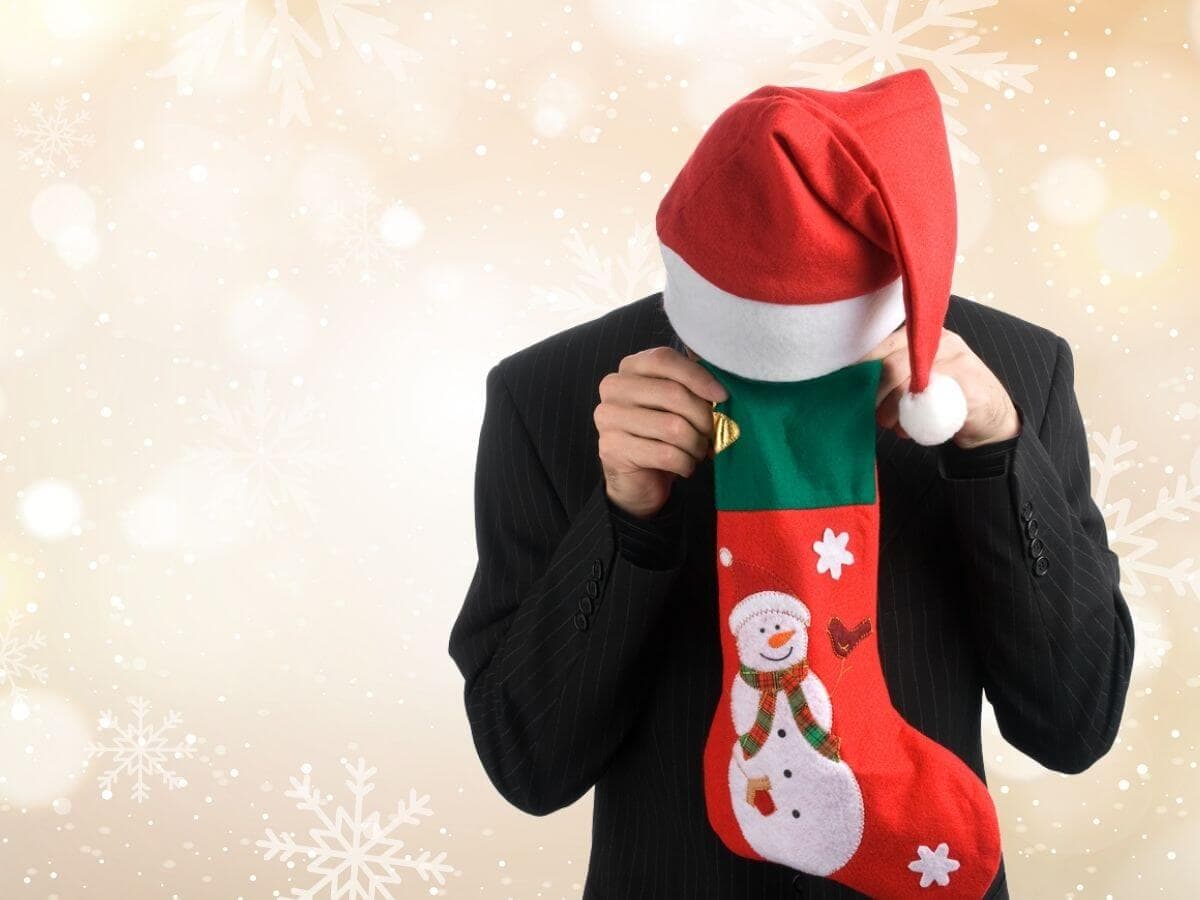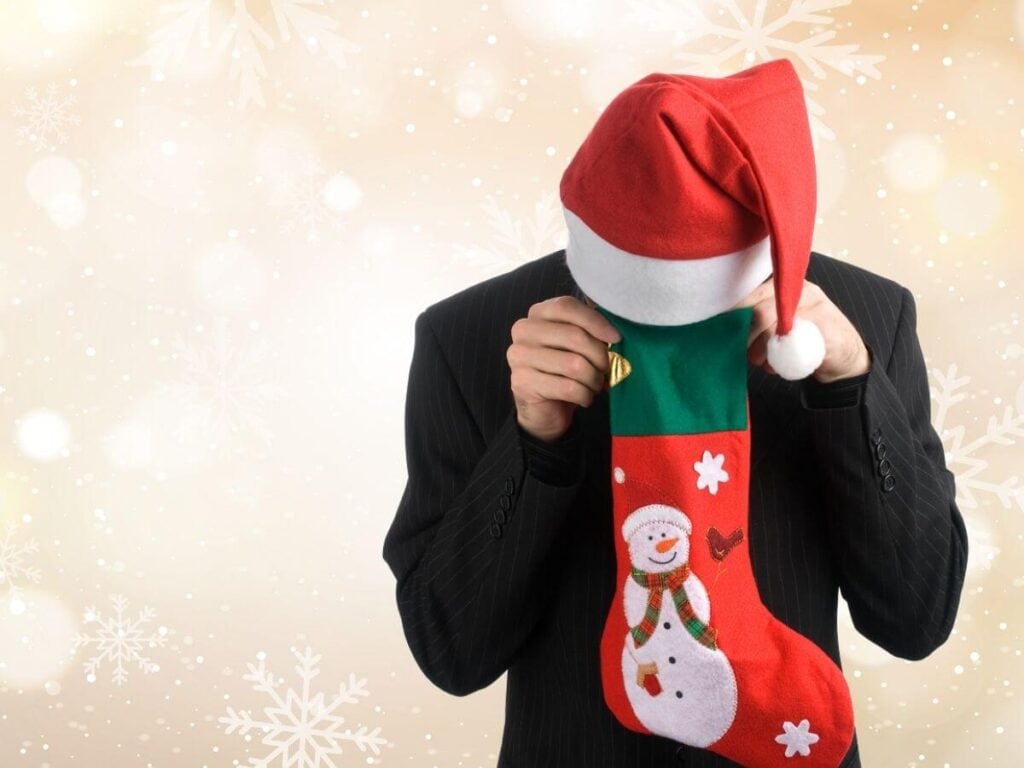 *This post contains affiliate links, which means if you click a link and make a purchase, I earn a commission at no additional cost to you. Read my full disclosure for more info.
Tips for Picking Out Stocking Fillers for Him
Include some necessity items
Filling stockings for all of your family members can get expensive, so why not include some items that you would have to purchase anyways. I saw a funny Christmas meme recently, and it was something like this:
Moms during Christmas:

"Mom, I need some toothpaste".

"Alright, it will have to be part of your Christmas though."
If that isn't the most accurate description of me during the month of December, then I don't know what is!
Pick stocking stuffers from each category
For the perfect stocking, it's best to include a variety of gifts. Mix it up and add in some edible items, some toiletry items, some accessories, and some unexpected gifts.
Try to include one surprise item in his stocking each year
You probably have your go-to items to use as stocking stuffers for your husband… Things like Chapstick, underwear and socks, and his favorite candy.
And while those things are nice, they're also expected. So try including one surprise item in his stocking each year to keep him guessing! This could be something like a gift card to a new restaurant that you all have never been to before, or a completely off-the-wall gift like liquor infused toothpicks.
Buy some stocking stuffers in bulk to use for the entire family
To help cut costs this Christmas, you can buy stocking stuffer items in bulk and divide them between all of your family members' stockings.
I usually do this with candy and salty snacks (Costco for the win!), but you can also look for other items like lip balm and toothbrushes that the whole family can use. You can even buy phone chargers in packs of 5 or 8 on Amazon and split them up between multiple family members' stockings.
Check next to the cash registers in the grocery store for stocking stuffer ideas
You know the racks of little knick-knacks that you can find in the checkout lanes of Target, Walmart, or your local grocery store? Those areas are a great place to look for stocking stuffers because those items are often smaller in size and you'll find an awesome variety of goodies.
Typically you can find things like this to use in a Christmas stocking:
mini bottles of hand sanitizers
Chapstick or lip balm
gum or mints
car air fresheners
candy bars
individually packaged snacks
gift cards
All of these things would be awesome stocking stuffer ideas for your husband… and you can conveniently grab a few items when you're in line waiting to checkout with your groceries!
Where to Find Cheap Stocking Stuffers for Him
Chain discount department stores like TJMaxx or Marshall's have a lot of smaller sized items that are perfect for stockings for him
Costco – for things like socks, underwear, and snacks
Dollar Tree – great for candy or individually packaged snacks to add to a stocking
Amazon – Just search "stocking stuffers for men" and set a price limit in the filters. You can find loads of awesome stocking fillers for under $5!
100 Awesome Stocking Stuffers Ideas for Your Husband
Personal Care Stocking Stuffers for Your Husband
his favorite Chapstick or lip balm
travel size bottles of a few different after shave lotions – I did this for my husband a few years ago so he could try out some different lotions to find a new favorite.
hand lotion made just for men – My husband loves this highly-rated hand cream!
his favorite hair products (gel, hair spray, etc)
body spray or cologne
shoe deodorizers
beard oil
eyeglass wipes
Dude Wipes – like baby wipes but for stinky men… Haha!
toenail clippers or foot file
a cooling sport towel
new trimmer or razor
Stocking Stuffers for His Car
car air fresheners
microfiber car cleaning towels
small bottle of all purpose interior car cleaner – Sometimes you can find mini bottles of Armor All branded car cleaner at Dollar Tree
gift card for a local car wash
digital tire pressure gauge
travel mug for his morning coffee
leather detailing wipes
new keychain
Accessories to Use as Stocking Fillers for Him
everyday socks
cozy socks for wearing around the house
underwear
belt
cuff links – if he has a job that requires him to dress up
tie clip
new wallet
money clip
beanie or other winter hat
gloves or mittens
scarf
baseball cap
new pair of sunglasses
sweat bands – like for his head or wrists
Sweet and Salty Snacks to Put in His Stocking
protein bars
fancy chocolates
mini airplane-size bottles of alcohol
mixed nuts
his favorite mints or gum
popcorn
individual packages of chips or cookies
homemade Rice Krispies treats
mini bottles of hot sauce
new K-cups for him to try
cookies from a local bakery
beef jerky
summer sausage – like the kind from Hilshire Farms that doesn't have to be refrigerated
Tech and Electronic Stocking Stuffer Ideas for Your Husband
new phone charger – You can never have too many of those, right?!
wireless ear buds
Tile GPS tracker – My husband is always losing his car keys, so this is something on his list!
screen wipes
new phone case
portable phone battery charger – I got this one for my husband a few years ago, and he absolutely LOVES it! It's such a great deal that I've gifted them to my parents and my father-in-law also!
a new Apple watch band
Hobby-Related Stocking Stuffers for Him
If you're stuck on what to put in your husband's stocking, then think about what he likes to do. A great way to personalize his stocking is to fill it with items specific to his hobbies. Here are a few ideas:
If he likes to fish:
My husband is a big fisherman, so I know that he would enjoy some of these items in his Christmas stocking:
assortment of lures or plastic fishing grubs
assortment of fish hooks
floating keychain for his boat keys
bobbers
fishing hat
lip balm with sunscreen in it
If he likes to golf or play other sports:
golf towel
golf tees
ball markers
new golf balls
new golf glove
gift card for a round of golf at your local golf course
sweat towel to keep in his gym bag
bottle of Gatorade or other sports drink
batting gloves
phone arm band for working out
socks specific to his favorite sport
If he likes camping or hunting:
individual packs of trail mix or other hiking snacks
packable silverware or cooking utensils
telescoping marshmallow/hot dog forks
water canteen
socks made for the outdoors
ammunition
gun cleaning kit
pocket compass
Other Stocking Stuffer Ideas for Him
koozie for keeping drinks cold
pocket knife
lottery tickets
a fun lighter – great for starting his grill!
gift card to his favorite fast food restaurant
gift card to a meat delivery service
Gear Tie rubber twist ties for organizing cords
tape measure
a multi-tool that fits on his keychain
flashlight
a fun couples game for you to play together – Check out this huge list of 39 awesome two player games for couples!
iTunes or Spotify gift card
hand warmers
a fun bottle opener
tools like a small screwdriver set
grilling tools like a digital thermometer, spatula, grill cleaning brush, etc.
gift cards for different dates
printable date night cards
a new video game if he's a gamer
a pocket-sized devotional
a book of Dad jokes
page-a-day tear off calendar like this one
a funny coffee mug
Printable Coupons to Use as Stocking Stuffer Ideas for Your Husband
If you need even more ideas for what to put in a stocking for your husband, then try printable coupons! For Christmases past, I've printed out a bunch of DIY coupons for things like a car wash, a back massage, or a night of us watching football together (which is a BIG deal in our house because I despise football!).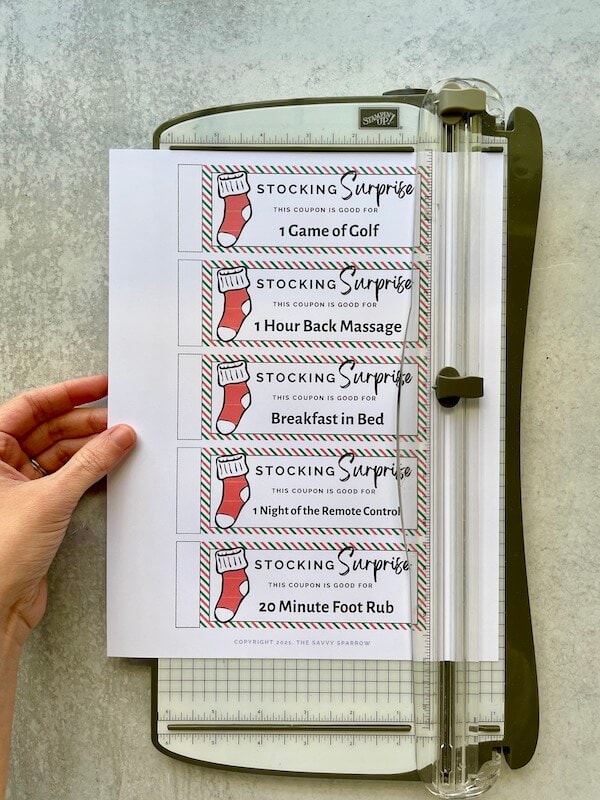 Printable coupons make awesome last minute stocking stuffers for him, because you don't have to run out to the store or fight the holiday crowds to buy whatever is left in the Christmas aisle of your local drug store… Instead you can just download some done-for-you Christmas coupons, print them, cut them out, and use them as easy stocking stuffer ideas!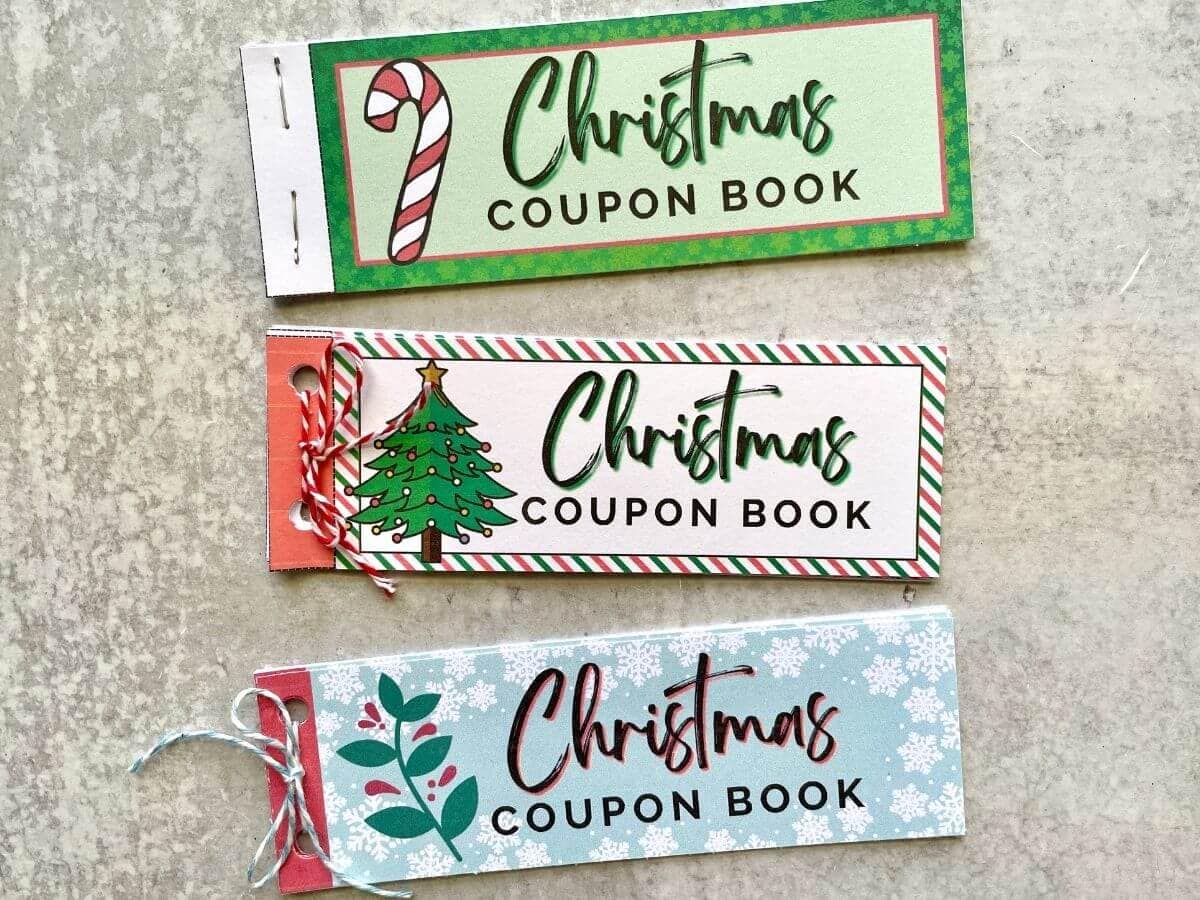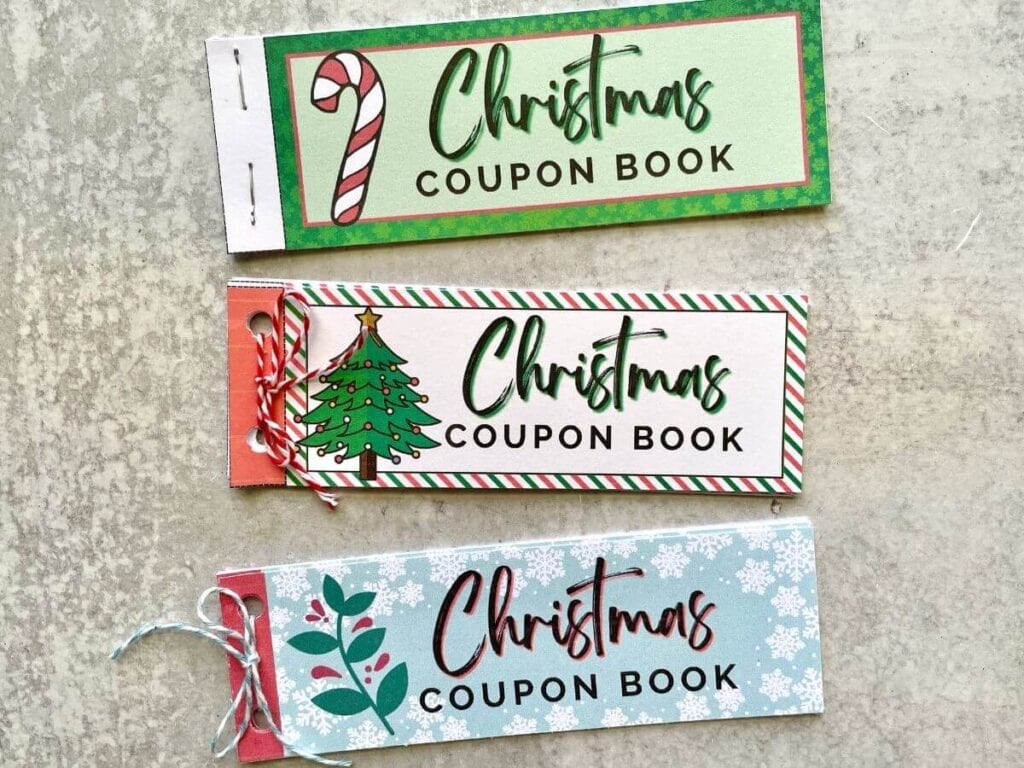 I've got some AWESOME printable Christmas coupon books here! And you can even type in them and use the coupon templates for your kids, too!
And check out some of my other Christmas posts for more fun holiday ideas:
And don't forget to PIN this post for later: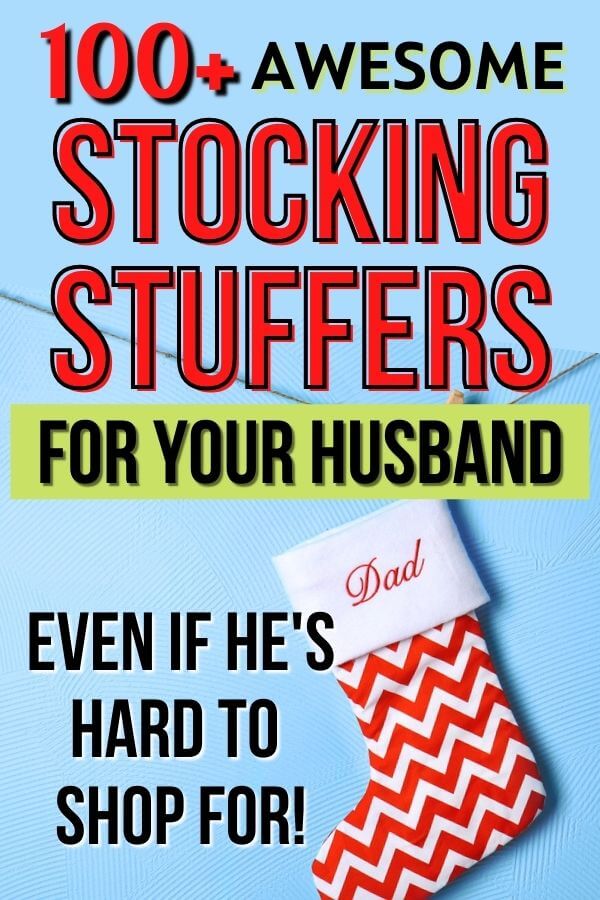 After you've filled your husband's stocking, check out these awesome Christmas gift ideas for him!