These DIY Christmas gifts aren't your Grandma's crocheted potholders! (Love you Grandma!). These are some of the BEST homemade Christmas gift ideas that your friends and family will actually WANT to receive this year!
Christmas is the most magical time of the year, but if you add up the cost of presents, cards, food, and decorations, it can quickly become a huge strain on your budget.
If you're looking to save money this Christmas, or you simply want to use your time to get creative and make your own Christmas presents, here are some of my favorite DIY Christmas gifts that your friends and family will actually LOVE!
I tried to get my family to do ONLY DIY Christmas gifts for our big gift exchange a few years ago, but I was quickly vetoed because they said they weren't "crafty" enough…
Well, if you want to give personalized DIY Christmas gifts that your friends and family will actually WANT to receive, then no craft skills necessary! Some of the items on this list, like the DIY Sangria Kit and the DIY Simmering Potpourri jars, don't require ANY special craft talents… perfect for those that can't tell the difference between a glue gun and a bedazzler!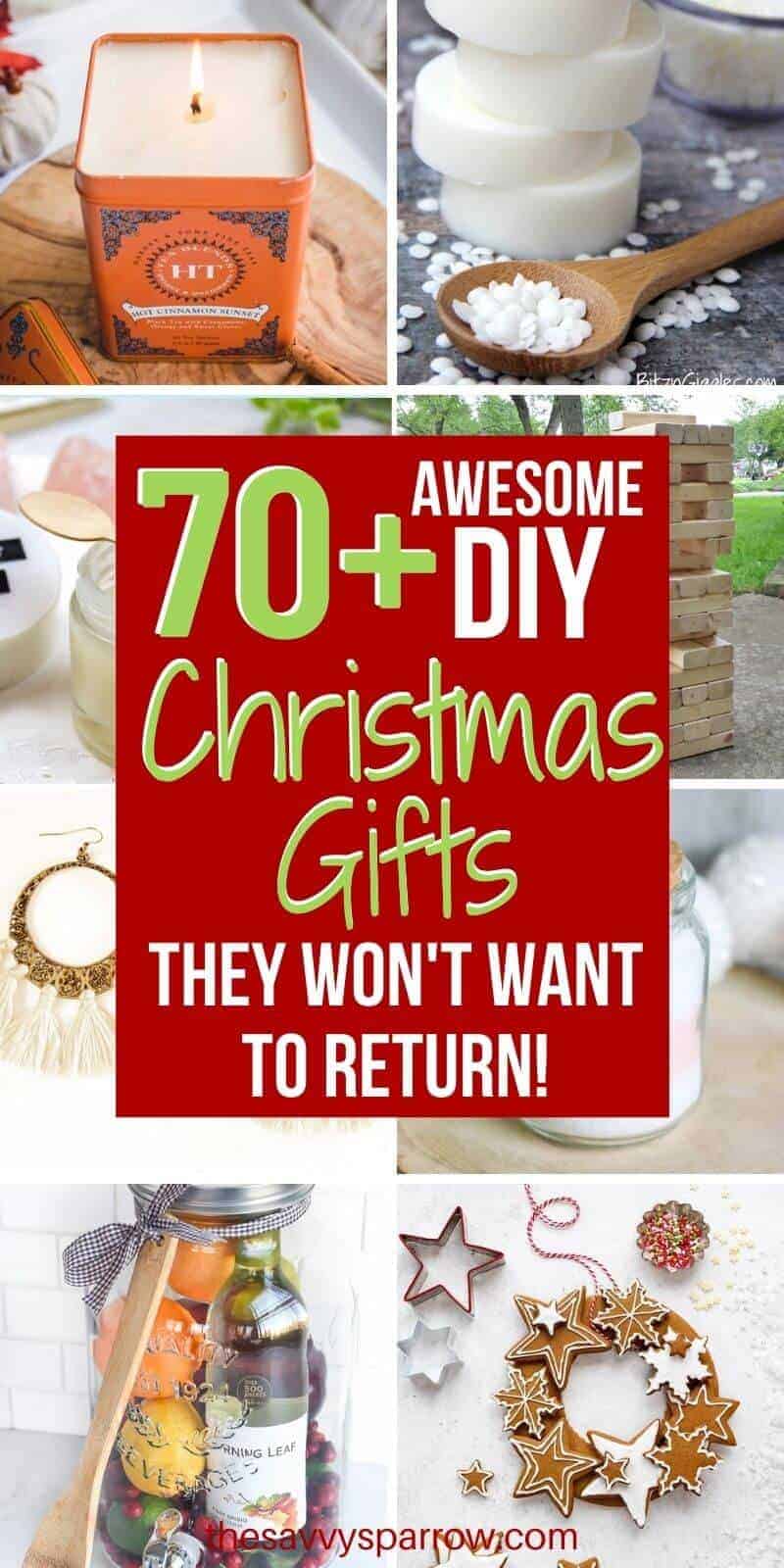 Why DIY Christmas Gifts are a Good Idea
If you're like my most people, then you hear "DIY Christmas Presents" and you automatically think about crocheted dish cloths or knitted Christmas sweaters that you'll wear once… but these homemade Christmas gifts aren't your typical forced-smile-as-you-open-it Christmas presents!
In fact, homemade Christmas gifts can actually be really GREAT… here's why:
Homemade Christmas Presents show you care.
What better way to show your loved ones that you care than by taking your time to make a handmade gift?
Just think about the gifts that you've received that you treasure the most… it's probably not the belt or fuzzy sweater… it's probably the cool art piece that your daughter made for you or the handmade photo ornaments that you're so excited to hang on your tree each year.
DIY Christmas Gifts can be budget-friendly.
Depending on which homemade gifts you decide to make, you could save a TON of money compared to the store-bought versions. For instance, the tea tin candles and leather cord wrap organizers on this list look EXACTLY like those that you see at the fancy department stores for about $30 a piece!
Plus, you can find supplies to make some of these handmade gifts from the thrift store!
DIY Gifts are a great way to recycle or upcycle things you already have.
If you've got a TON of half-used nail polish bottles, then make the DIY marbled coffee mugs on this list! Or, if you've got sweaters that you no longer wear, turn them into Christmas stockings.
And we can't talk about DIY Christmas gifts without mentioning gifts in a jar! If you've got empty glass jars that you've been keeping for a rainy day, then use them to make your own hot cocoa mixes, brownie mixes, or soup mixes.
You can make a bunch of gifts at once!
You may think that making DIY gifts would be more time consuming than just going to the store and buying Christmas presents.
But, some of the homemade Christmas gifts on this list can be made in big batches (like the seasoning blends and the Christmas cookies), and then split up into decorative Christmas tins or mason jars. So you could easily make 8 or 10 gifts at one time.
These gifts are especially great for people that you don't know very well, but that you still want to show your appreciation for, like teachers, mailmen, bus drivers, neighbors, etc.
How this List of DIY Christmas Gifts is Organized
You're about to be bombarded with a TON of DIY Christmas gift ideas, so I did my best to organize them by category for you. Here's how I grouped these awesome homemade gift ideas, so you can easily find the perfect gift for everyone on your list:
DIY Home Decor Gifts – think personalized wall art and DIY Christmas decor
DIY Gift Ideas to Make Your Home Smell Nice – like DIY candles, reed diffusers, and room sprays – These gifts are especially great for party hostesses or coworkers that you don't know very well.
DIY Christmas Gifts for the Kitchen – like DIY kitchen canisters and spice racks
DIY Christmas Gifts for Kids – loads of great options for kids ages 2 to 16!
Edible DIY Gifts – everything from sweet hot chocolate bombs to savory spice blends
DIY Bath Products to Give as Gifts – homemade hand soaps, sugar scrubs, and more
DIY Jewelry and Accessories Gifts – great homemade gift ideas for your girlfriends or sister
DIY Gifts for Men – I left the men for last, because they're typically the hardest to pick out gifts for. But ALL of these Christmas gift ideas for men were given the stamp of approval from my husband!
So without further ado, here are 70+ Awesome DIY Gift Ideas that will actually get used!
DIY Home Decor to Give as DIY Christmas Gifts
Personalized Wall Art
This easy personalized watercolor painting from Pretty Delightful is perfect for your Etsy-fanatic friend that loves farmhouse decor! The cute olive branches look like they were freshly-plucked from Joann Gaines's backyard, and though the handwritten font looks pretty ambitious, it's actually really easy to do!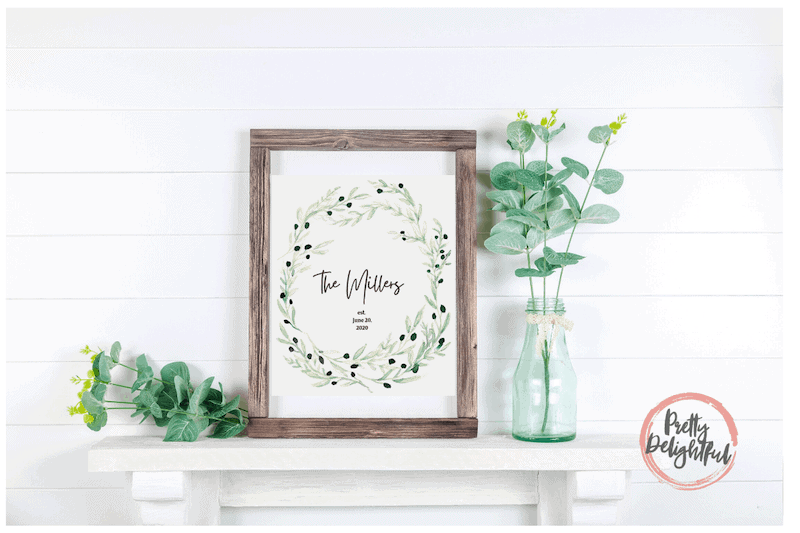 DIY Driftwood Clock
If you've got a friend or family member that lives by the beach, or loves rustic neutral decor, then this DIY Driftwood Clock from Sustain My Craft Habit would be the PERFECT DIY gift! And it's easy to make with a store-bought clock making kit!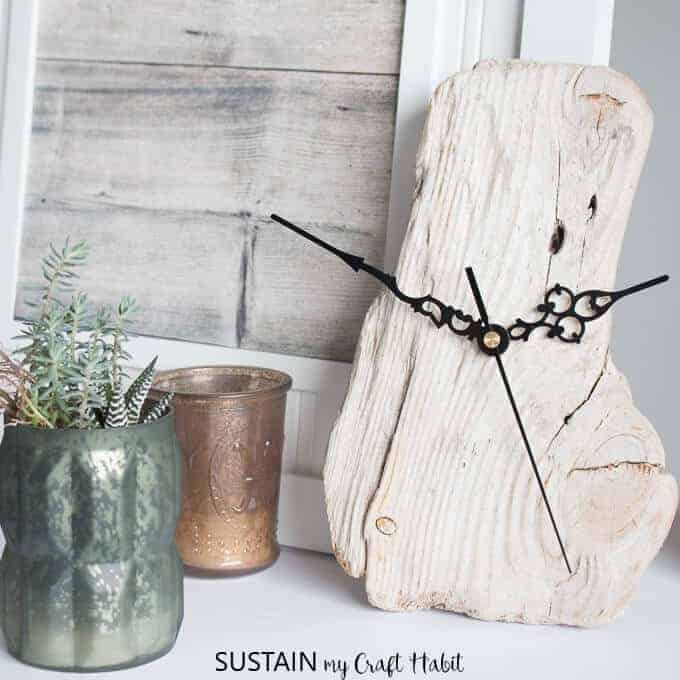 While you're at it… go ahead and make one of these cute DIY Christmas gifts for me too, okay?
DIY Wall Art with Framed Printables
If you're really on a tight budget this year, then these SUPER easy DIY Christmas gifts are perfect for you!
Just find some free printable wall art that you LOVE (like these Christmas prints from A Country Girl's Life), download it, print it out, and pop it in an inexpensive frame! No skills necessary for this easy DIY gift idea… you just need to know how to work a printer!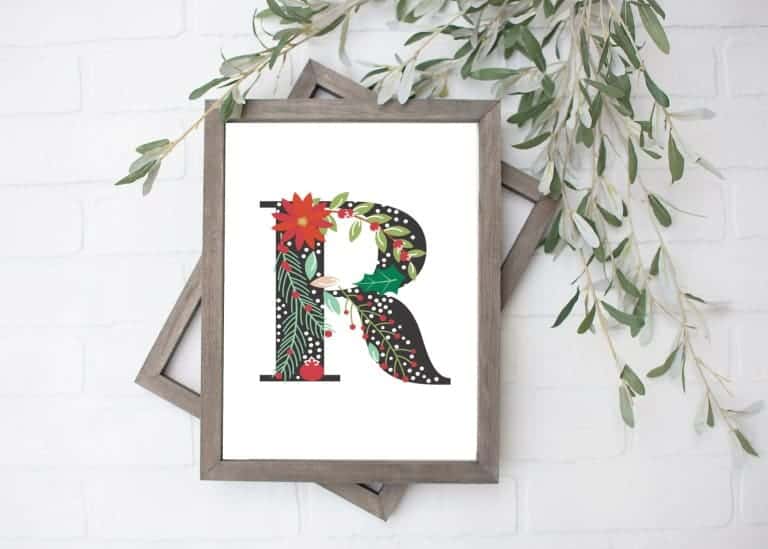 DIY Letter Board
My DIY Letter Board would be an awesome homemade gift idea for your friend who loves farmhouse decor, or even your teenage daughter.
You may even want to keep it for yourself!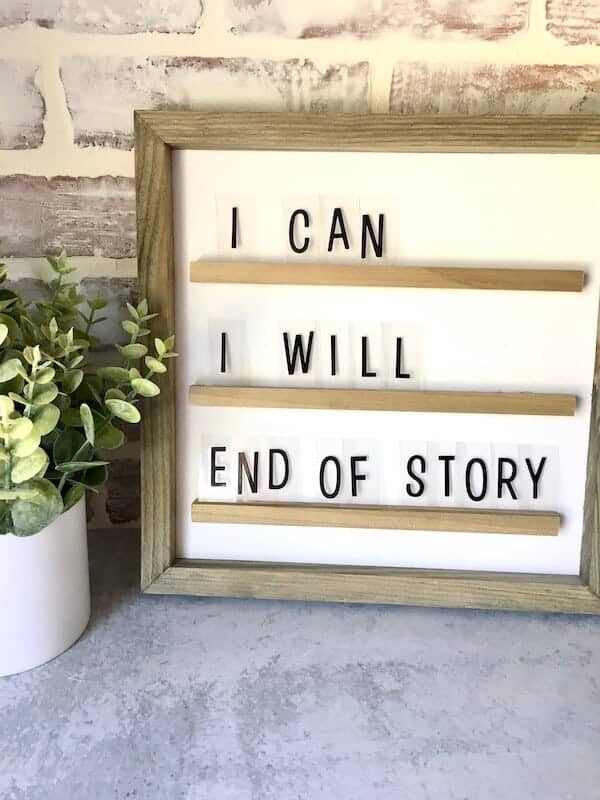 DIY Scroll Signs
I can confidently say that these DIY Scroll Signs would be great DIY Christmas gifts, because I've already gotten a few requests to make them for family members.
Using a simple roll of kraft paper, some printable sign templates, and a Sharpie marker, you can easily make your own cute farmhouse style scroll signs. My scroll sign even has 9 other designs on it, so I just unroll it to change it to a different saying!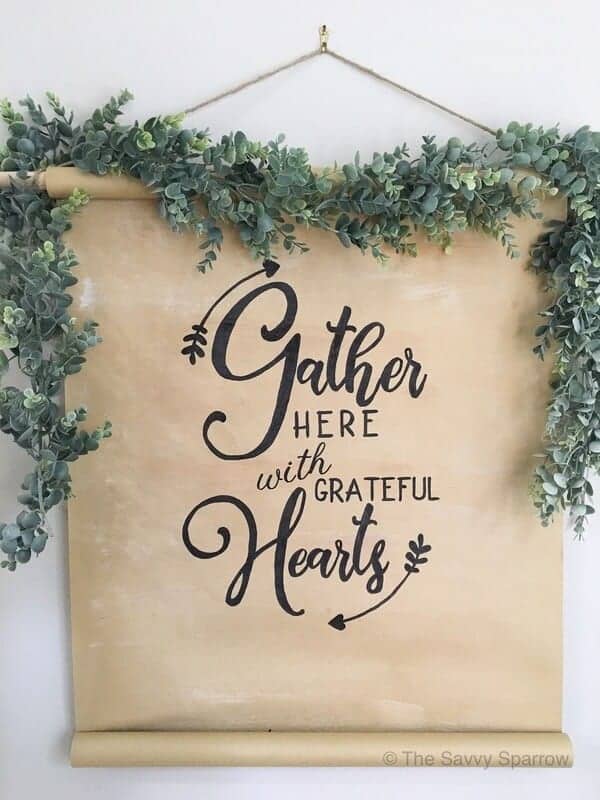 DIY Christmas Decor with Twigs
You can easily make your own DIY Christmas gifts by just spray painting some twigs and creating some beautiful home decor pieces with them!
Head over to the park, find a twig lying around, spray paint it white, place it in a glass vase, hang a few signature ornaments from it, and you've got yourself a signature Christmas present for that friend who loves Scandinavian home decor.
Not only does this present look amazing sitting on a table, but it also costs just a few cents to make (and looks fancy enough to trick people into thinking it cost a fortune!).
Or, you can also use FREE twigs to create rustic Christmas stars to use as wall decor. Just get five twigs that are around the same length and width, arrange them into the shape of a star, use jute string to secure them together where the twigs meet and add an extra touch with yellow fairy lights.
You can get jute string and fairy lights at Dollar Tree, so this DIY Christmas gift idea only costs you about $2.00!
Sweater Stockings
We all have sweaters that we haven't worn in forever that seem to be collecting dust in our drawers. If you don't, you can head over to your nearest Goodwill or thrift shop and buy a few for just a couple of bucks.
Then cut them up using a stocking template and sew them into Christmas stockings. This would be a great idea for siblings or 20-something family members that may not have their own Christmas decorations yet.
DIY Wood Signs
You can easily create DIY wood signs with ANY sayings to give as DIY Christmas gifts that your friends will LOVE. Once you know how to transfer the lettering onto wood (which is super easy!), the possibilities are endless!
You can make DIY signs with lyrics from a first dance song or a favorite bible verse like these DIY farmhouse style wood signs!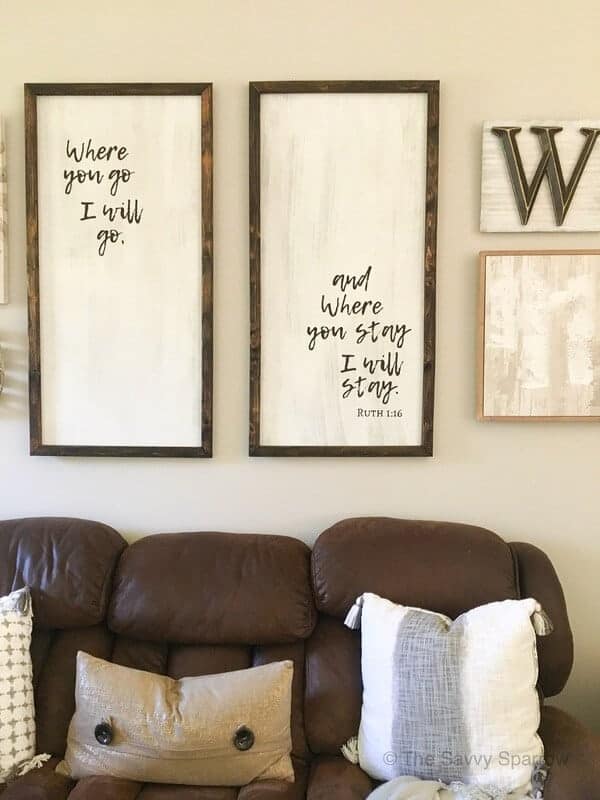 DIY Wood Slice Photo Ornaments
If you want to give DIY Christmas gifts that are actual Christmas decor, then these cute wood slice photo ornaments are a great choice! These ornaments are a cinch to make, and they're a great keepsake gift for grandparents!
I'll actually be gifting these to my own parents this year!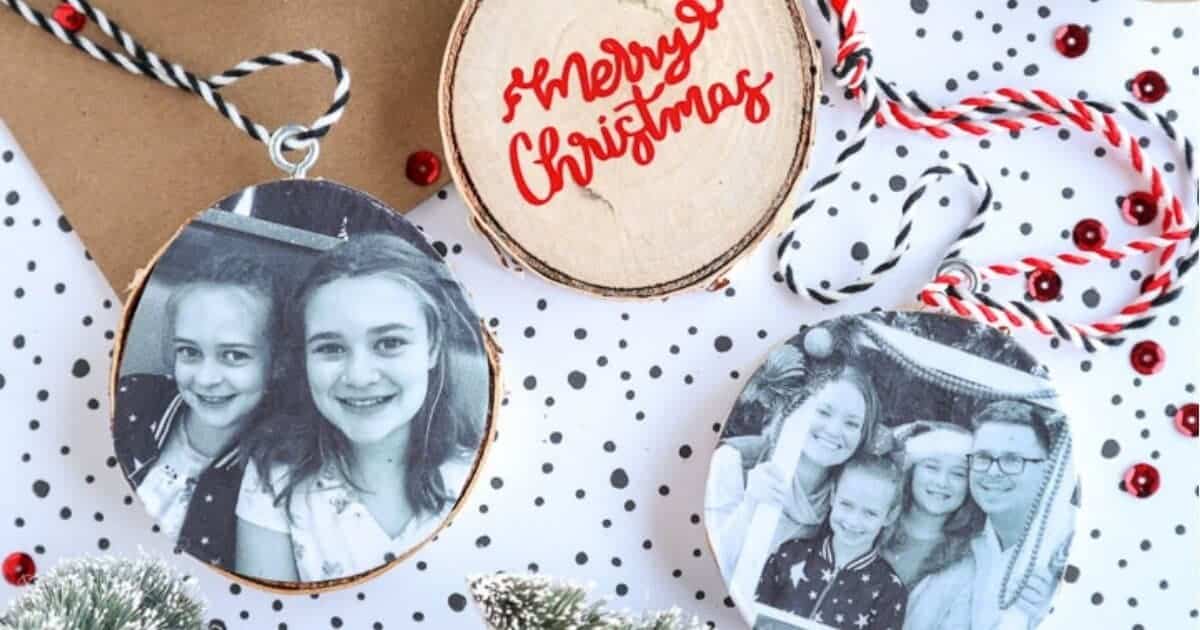 DIY Christmas Gifts to Make Your Home Smell Nice
Mason Jar Potpourri
You can never go wrong with homemade Potpourri, especially when you're trying to come up with a present for someone you don't know very well. Get all sorts of Christmas-y items like oranges and apples and create your own potpourri to place in a mason jar.
Or, try DIY Simmering Potpourri Jars like this one from She Saved: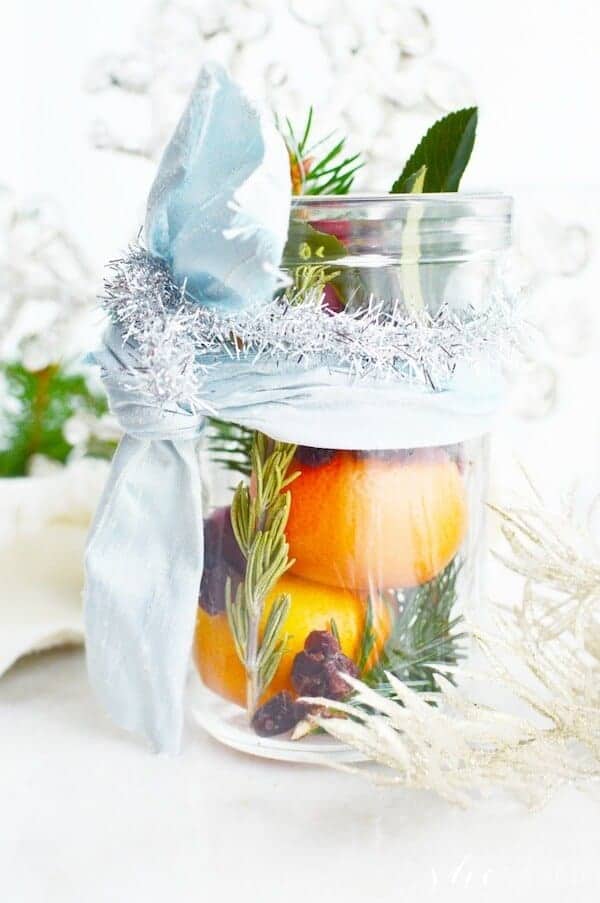 DIY Candles to Give as Christmas Gifts
Candles are great DIY Christmas gifts for those hard to shop for people on your list, like co-workers and neighbors that you might not know very well.
These DIY Dried Lavender Candles from Crafts by Amanda make awesome gifts because they're not only easy to make, they're also really pretty!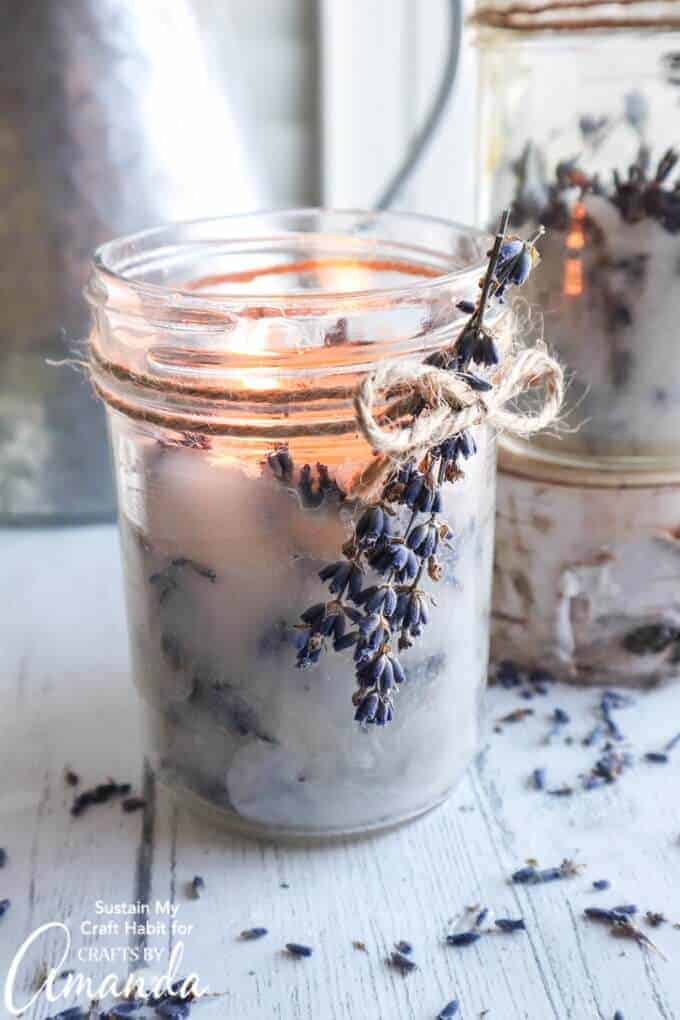 Or, if you're a tea drinker, try making homemade candles in your old tea tins to give as DIY Christmas gifts!
This DIY Tea Tin Candle from Sweet Cayenne looks like the expensive candles that you would buy in a fancy department store for about $30 a piece! Even if you're not a tea drinker, it may be worth it to buy a cute tin of tea just to make this sweet DIY Christmas gift!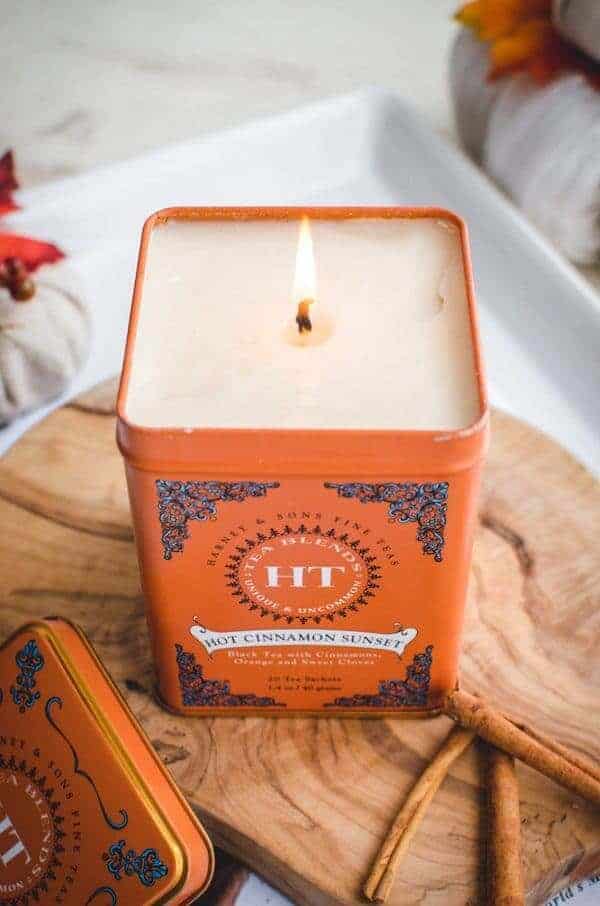 DIY Reed Diffusers
Reed diffusers are great DIY Christmas gifts because they're so easy to make, and they make your house smell amazing! Trust me… I pretty much always have a reed diffuser set up in my living room.
These DIY Christmas Reed Diffusers from Craft Invaders are pretty to look at, and the addition of holly berries and evergreen branches make them great for bringing a touch of Christmas into your home!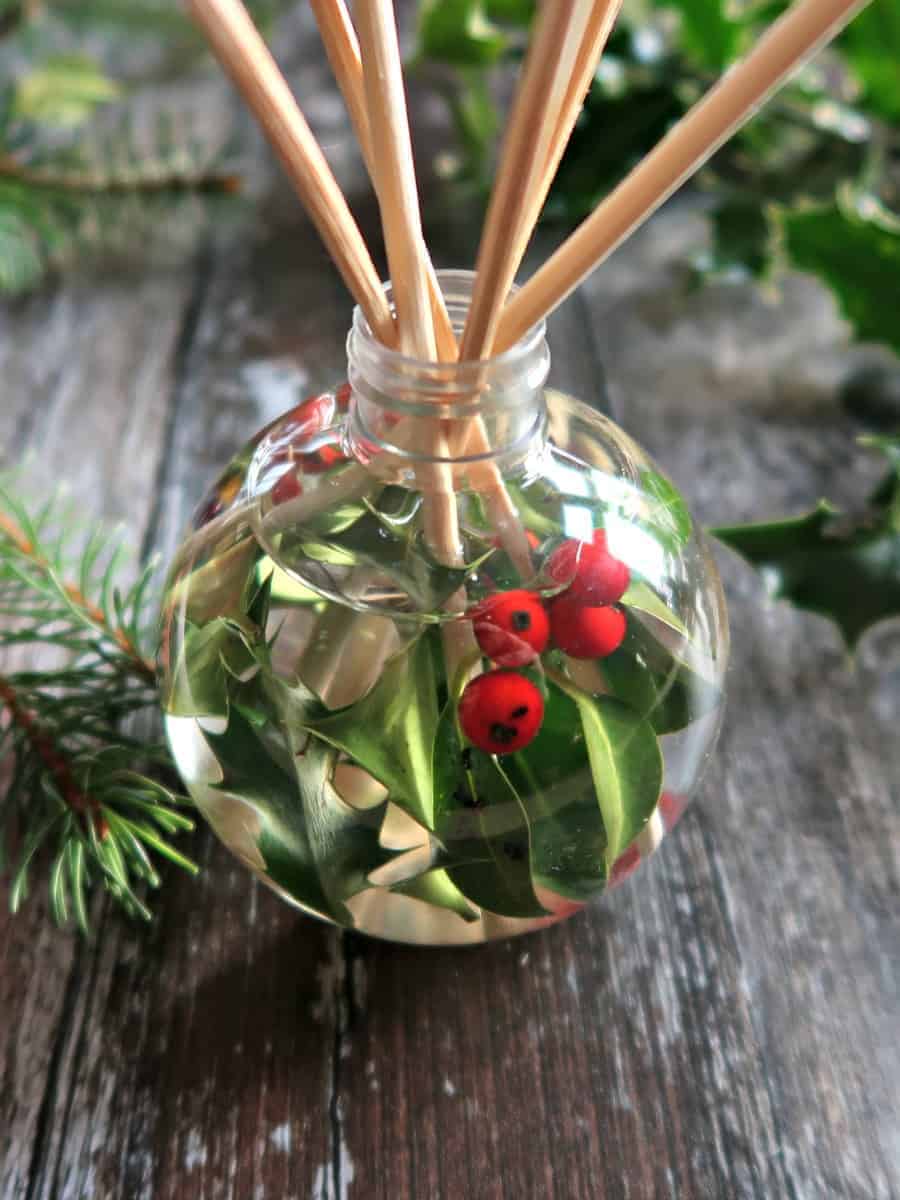 DIY Room Sprays to Give as DIY Christmas Gifts
Room sprays are another great gift idea for party hostesses and coworkers. These DIY Holiday Room Sprays from Happy Home Happy Heart are super easy to make with essential oils, and they'll make your home smell just like Christmas!
And, as a special bonus, you can grab the FREE printable labels, perfect for your DIY Christmas gifts!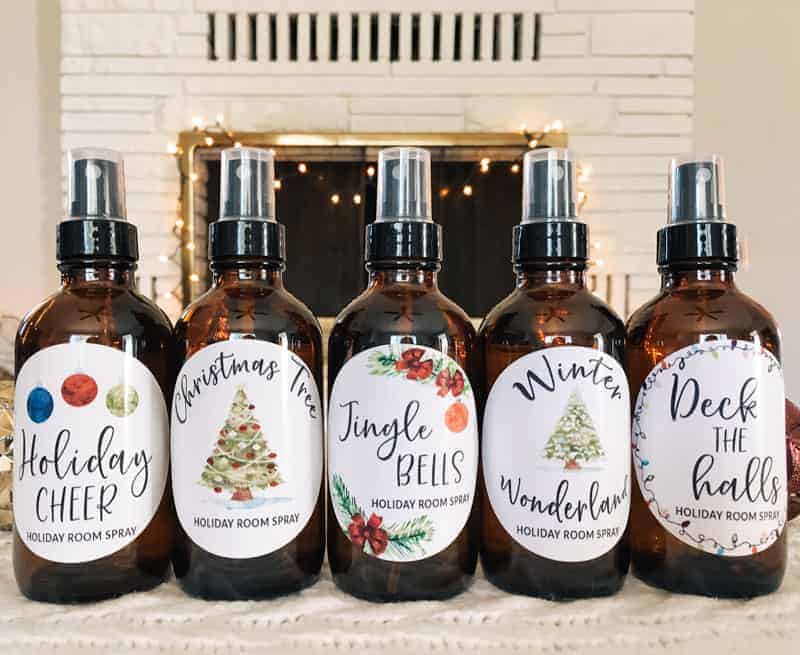 DIY Christmas Gifts for the Kitchen
DIY Spice Rack
If you happen to be a woodworker, or you've got some tools and you want to dip your toe into the woodworking pool, then this DIY Test Tube Spice Rack from The Handyman's Daughter is an awesome project to try! DIY Christmas gifts that are cute AND functional… you can't go wrong!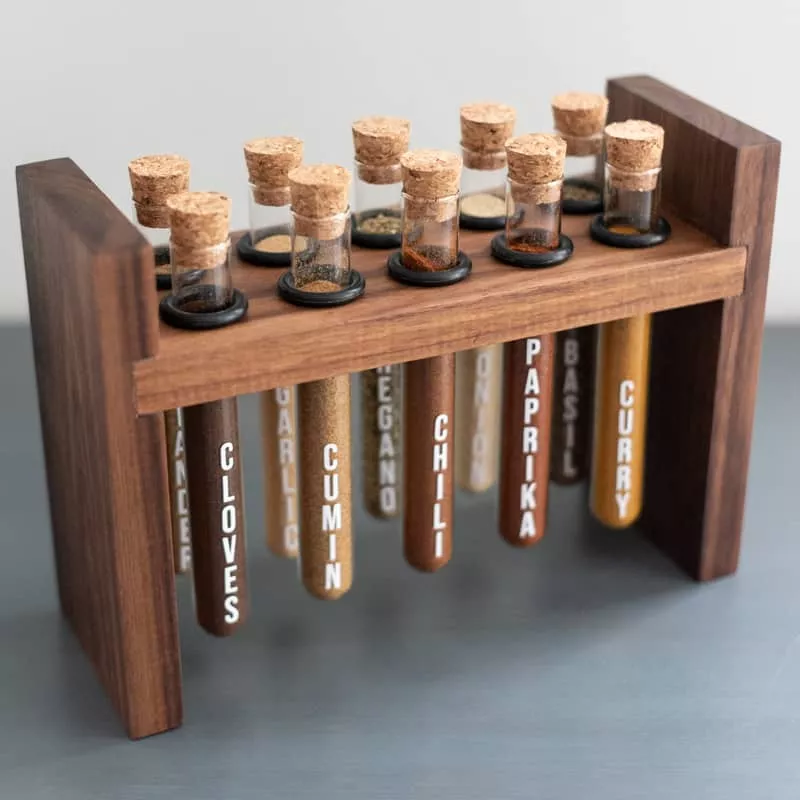 DIY Wine Caddy
If you're looking for DIY Christmas gifts for your wine-obsessed friends, then look no further than this DIY Wine Caddy from The Inspired Workshop. This cool gift is a unique statement piece plus a handy wine serving tray in one!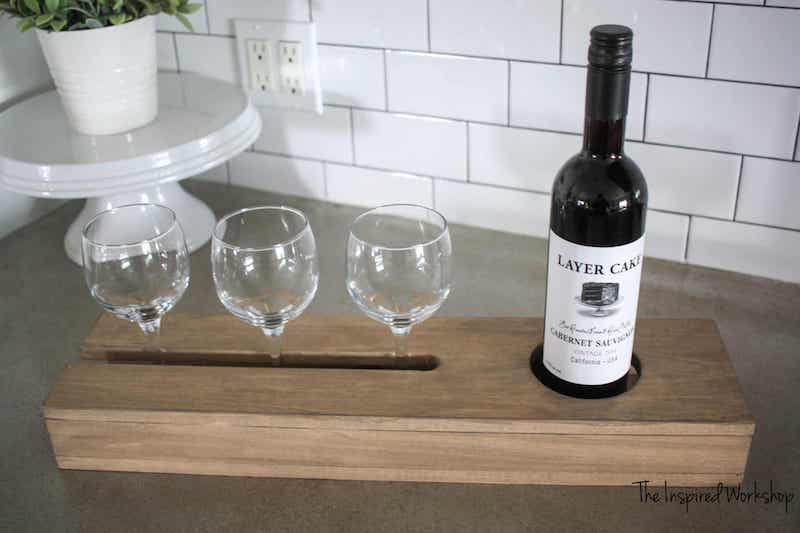 DIY Kitchen Canisters
These DIY Kitchen Canisters are great DIY Christmas gifts for your friends or family that have farmhouse style kitchens. Use recycled glass jars to make these easy budget gifts that are functional AND pretty!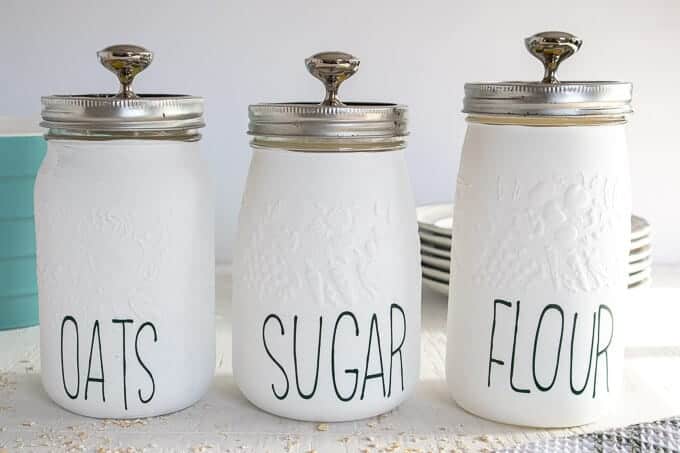 DIY Decorated Coffee Mugs
If you've got a coffee-lover friend, then there are SO many different handmade coffee mugs that you can make to give as gifts.
I especially LOVE these DIY Marbled Nail Polish Mugs from Strength and Sunshine, because they're SO cute, and they're a great use for the 82 bottles of unused nail polish your probably have in your bathroom cabinet!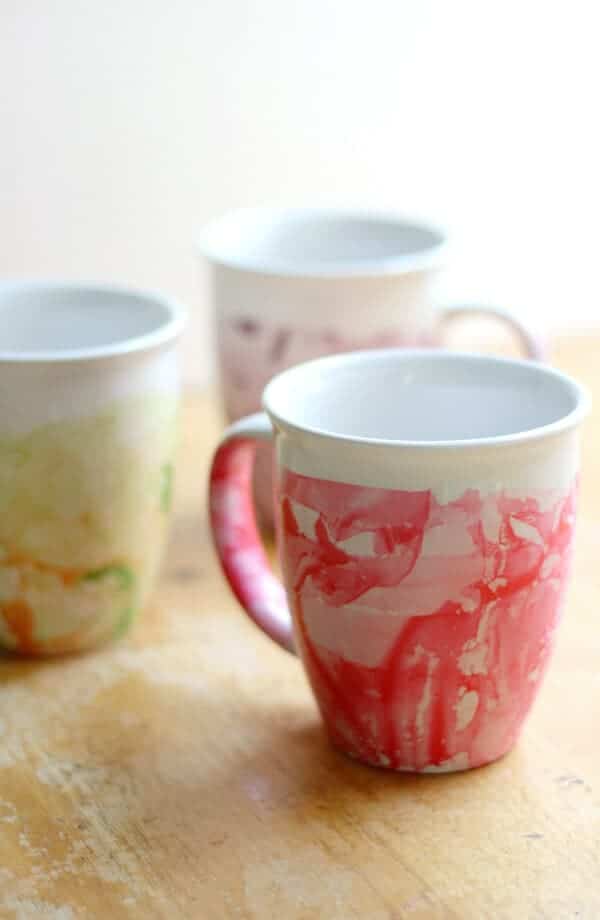 Cozy Wine Bottle Sweaters
Wine bottles are the go-to, especially when it comes to co-workers (or our wine-obsessed friend!). If you're gifting wine this year, head to your nearest thrift shop and get a few white, green, and red sweaters. Then cut them up into triangles and use them to wrap the bottles up. Add a festive ribbon to secure your wine bottle's new sweater.
DIY Spice Jars
Fresh dried herbs are a great gift idea for your friends and family that love to cook. If you've got an herb garden, you can dry your own herbs and package them in these cute DIY Spice Jars.
These little mason jars with homemade labels would also be perfect for salt and pepper shakers.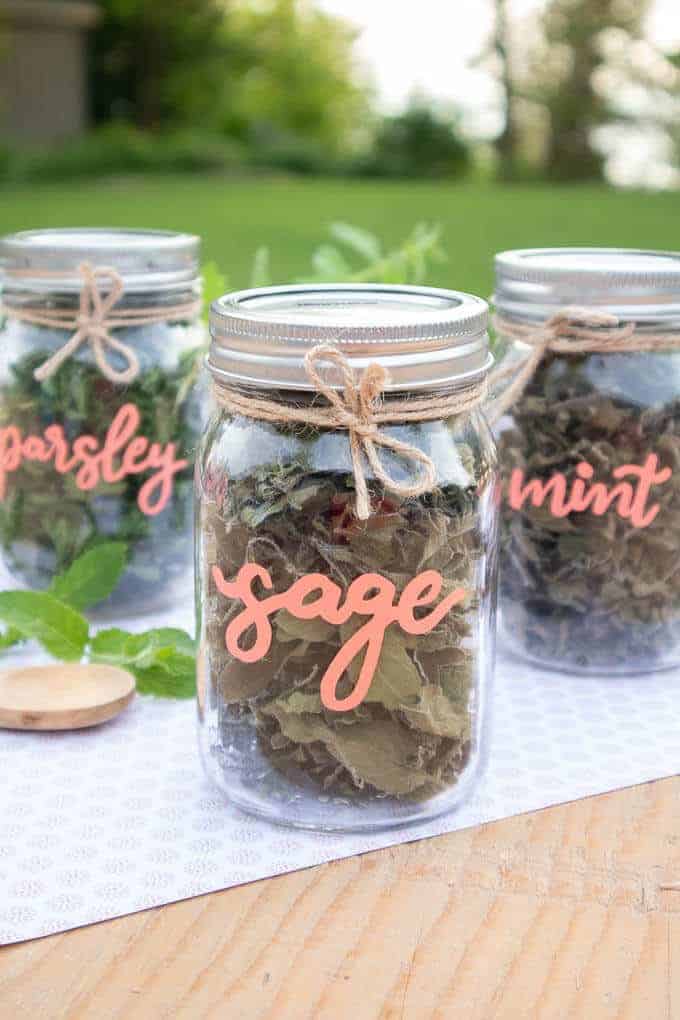 DIY Christmas Gifts for Kids
DIY Felt Toys
Felt pretend play toys are awesome DIY Christmas gifts for kids, because they're easy to make, inexpensive, and lightweight for younger kids.
This DIY Felt Gingerbread House Toy from Tikkido is so cute, and all of the felt decorations are stored inside the house, so it's super functional, too!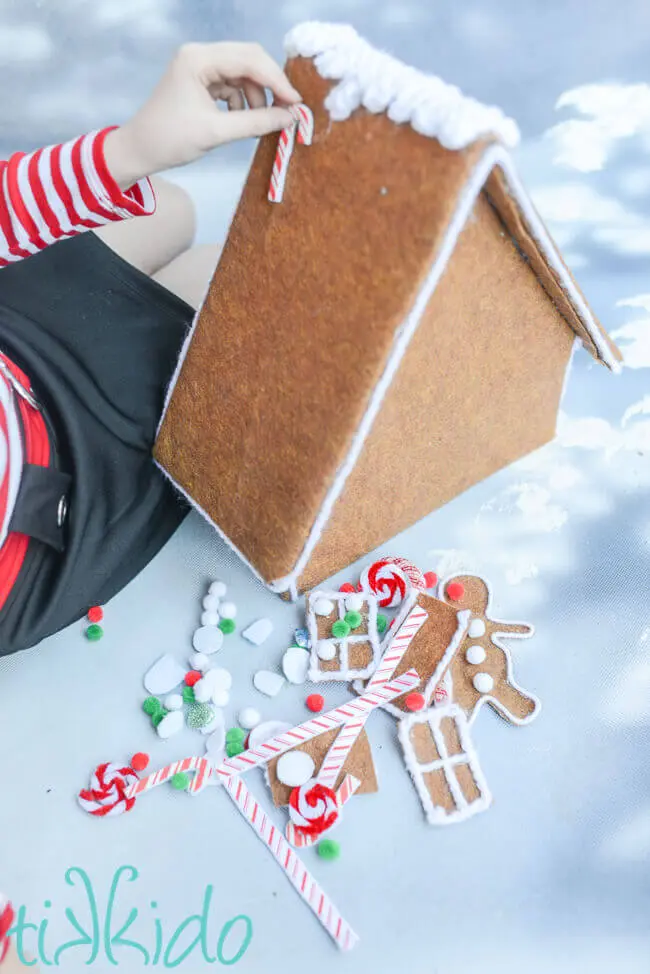 And this DIY Felt Cookie Baking Set from Teach Me Mommy is a great pretend play DIY gift for your toddlers! Let your little ones "bake" their own felt cookies while you bake real ones.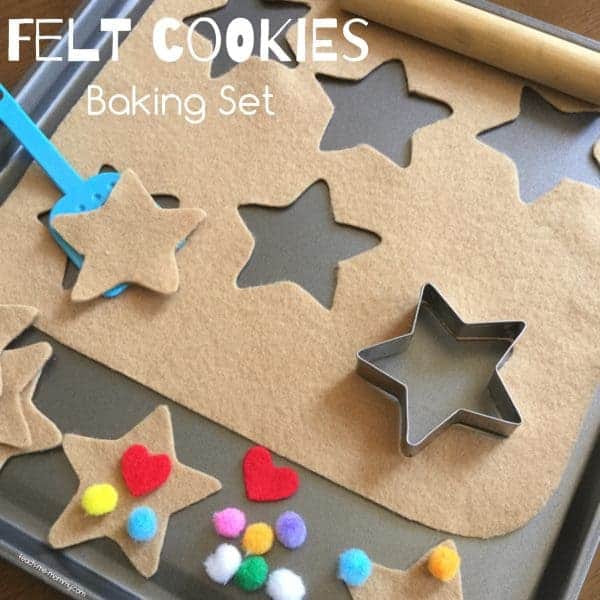 DIY Lego Organizer Tray
This DIY Lego Tray from The Handyman's Daughter is technically a Christmas gift for kids, but it's also a gift for you… anything to keep all of those Legos organized and off the floor, am I right?!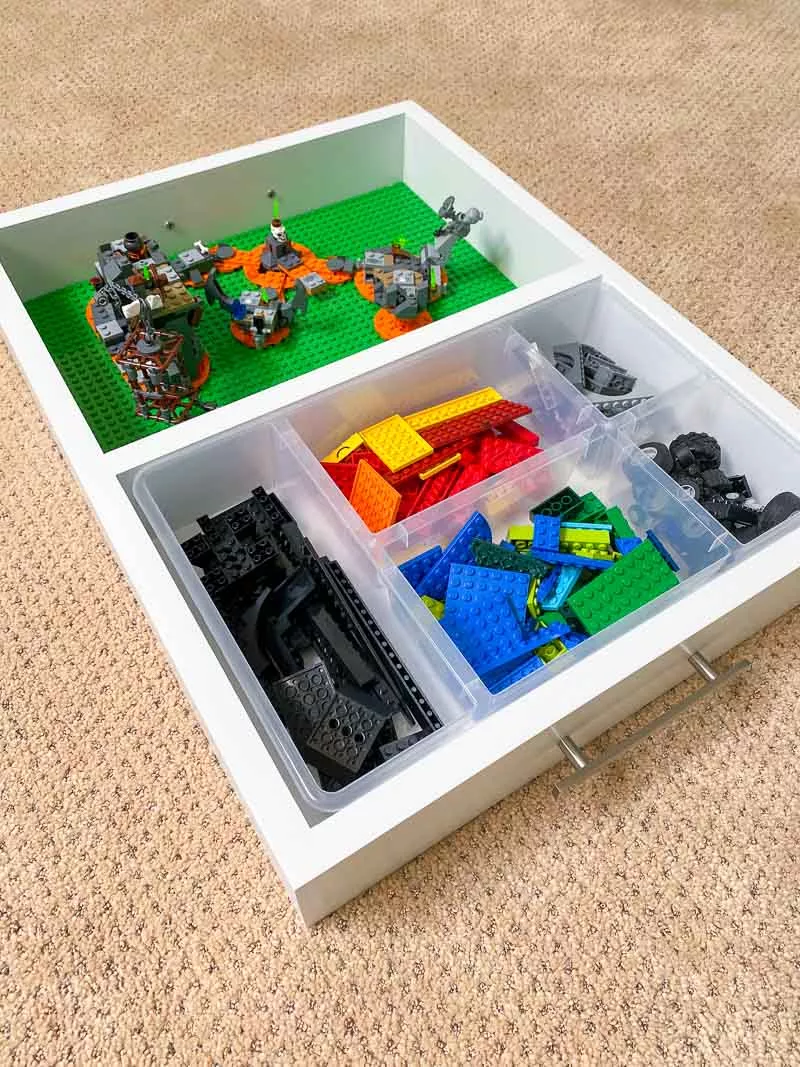 DIY Giant Jenga Yard Game
Any kids' game that doesn't involve a screen is a WIN in my book! Not only does this DIY Giant Jenga Game from Creative Green Living NOT run on batteries, but it's also meant to be played outside, making this a great DIY Christmas gift idea for kids that need to have a good excuse to put down the game controller.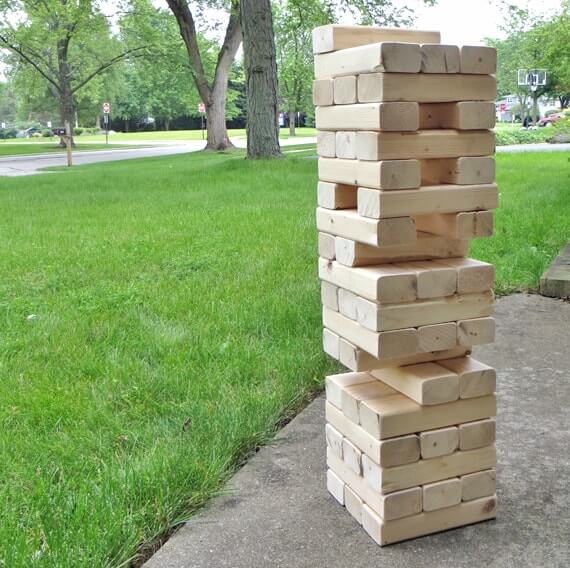 DIY Scrunchies
If you've got tween girls like I do, then there's no such thing as too many scrunchies! These DIY No-Sew scrunchies from One Crazy Mom would make great DIY Christmas gifts for girls, and you won't even have to get out the sewing machine!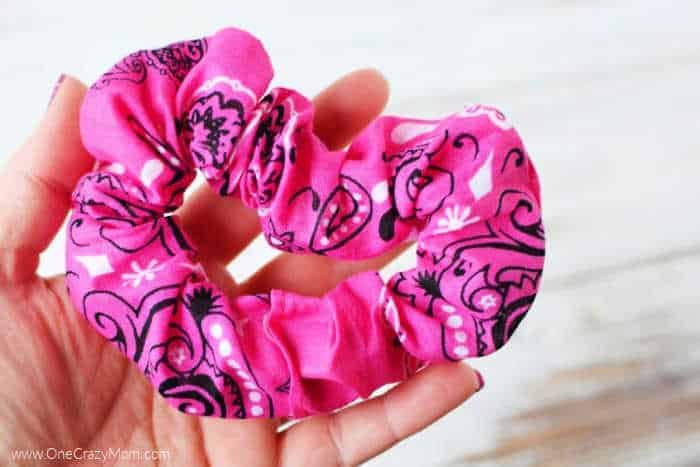 DIY Dollhouses
If you have some woodworking skills and little girls at home, then this DIY Modern Dollhouse from Barley and Birch is a great DIY gift idea! I love the bright colors of this modern beach house, and I'm sure Barbie would, too!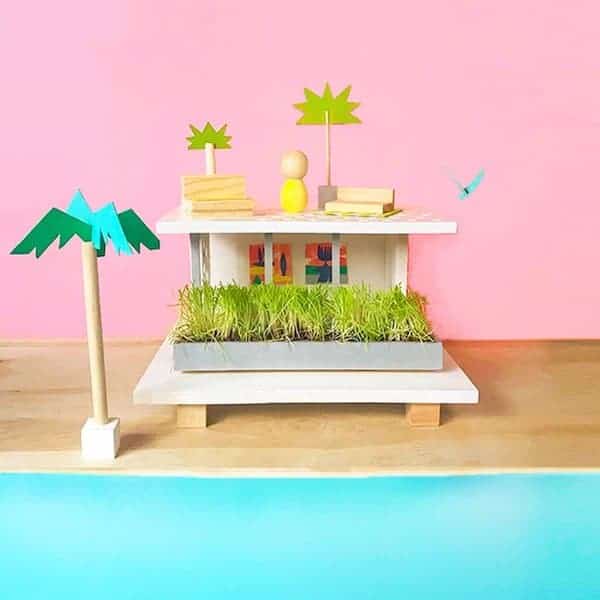 No-Sew Scarves to Give as DIY Christmas Gifts
My girls LOVE to make their own homemade gifts to exchange with their friends, but as a working Mama, I don't always have time to help them with big, elaborate craft projects.
So if you're like me and you need DIY Christmas gifts that kids can make all by themselves, then these No-sew Scarves from The Decorated Cookie are a great option! You could even change out the colors to more muted jewel tones to give to older girls.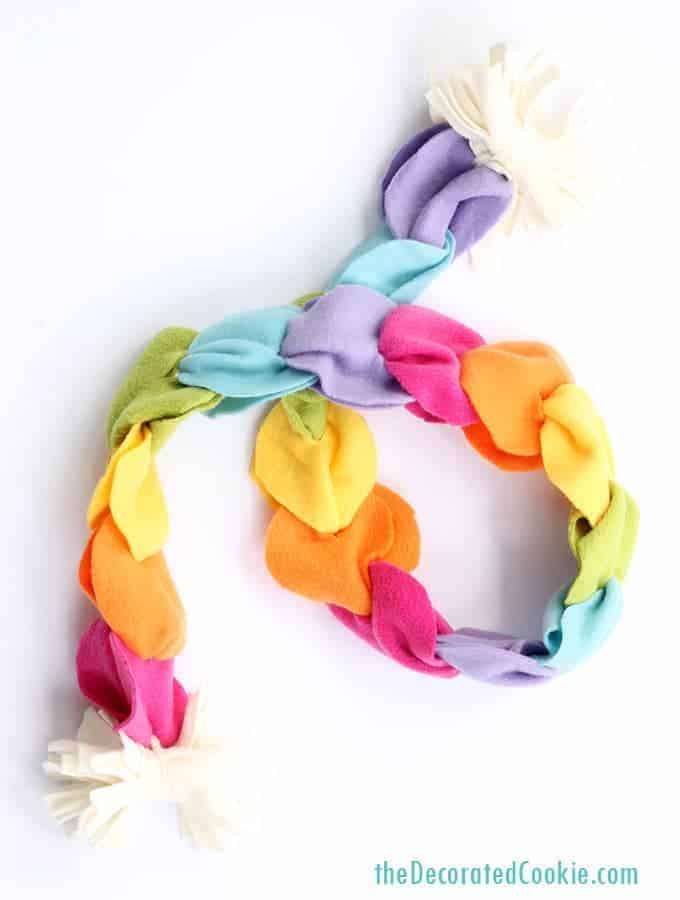 DIY Slime Gift Baskets
Most kids LOVE slime… I've personally bought 3 different slime kits on Amazon for my 8 year old daughter, so I can vouch for that! And I know she would love this DIY Slime Gift Basket from Hunny I'm Home DIY, too!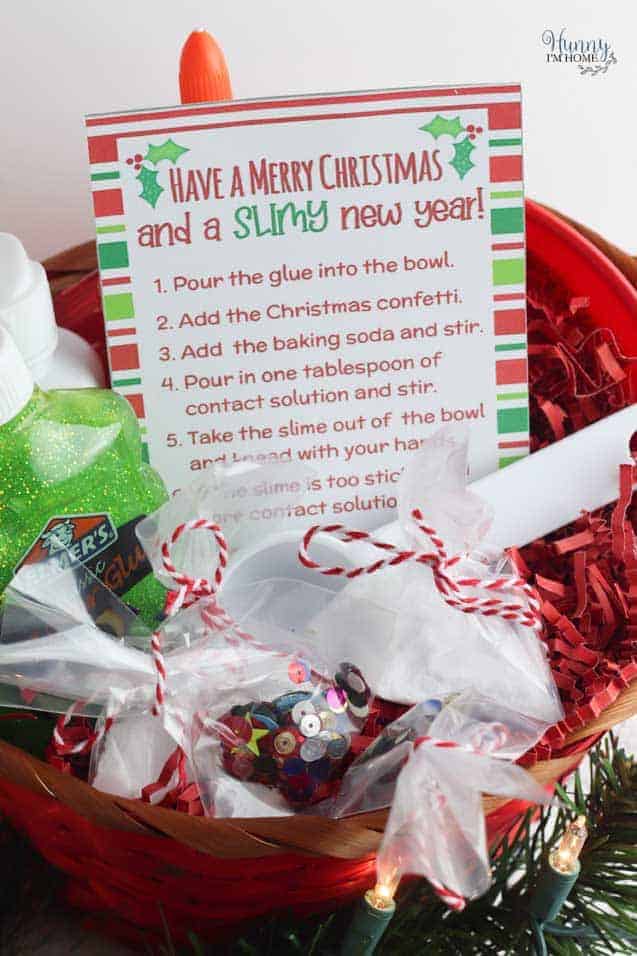 DIY Cupcake Kit
My youngest daughter LOVES to bake, so I know that she would love to have this DIY Cupcake Kit from Non Toy Gifts waiting under the tree for her on Christmas morning!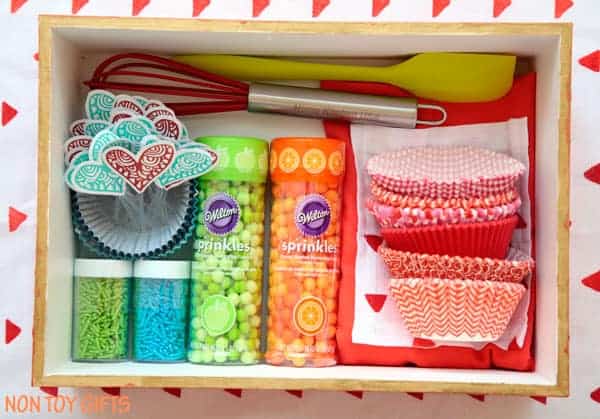 Edible DIY Christmas Gifts
Fudge to Make and Give as Gifts
Nothing says "Christmas" like homemade fudge! If you want to make this sweet treat for your DIY Christmas gifts this year, then try this yummy Sugar Cookie Christmas Fudge from Crayons and Cravings.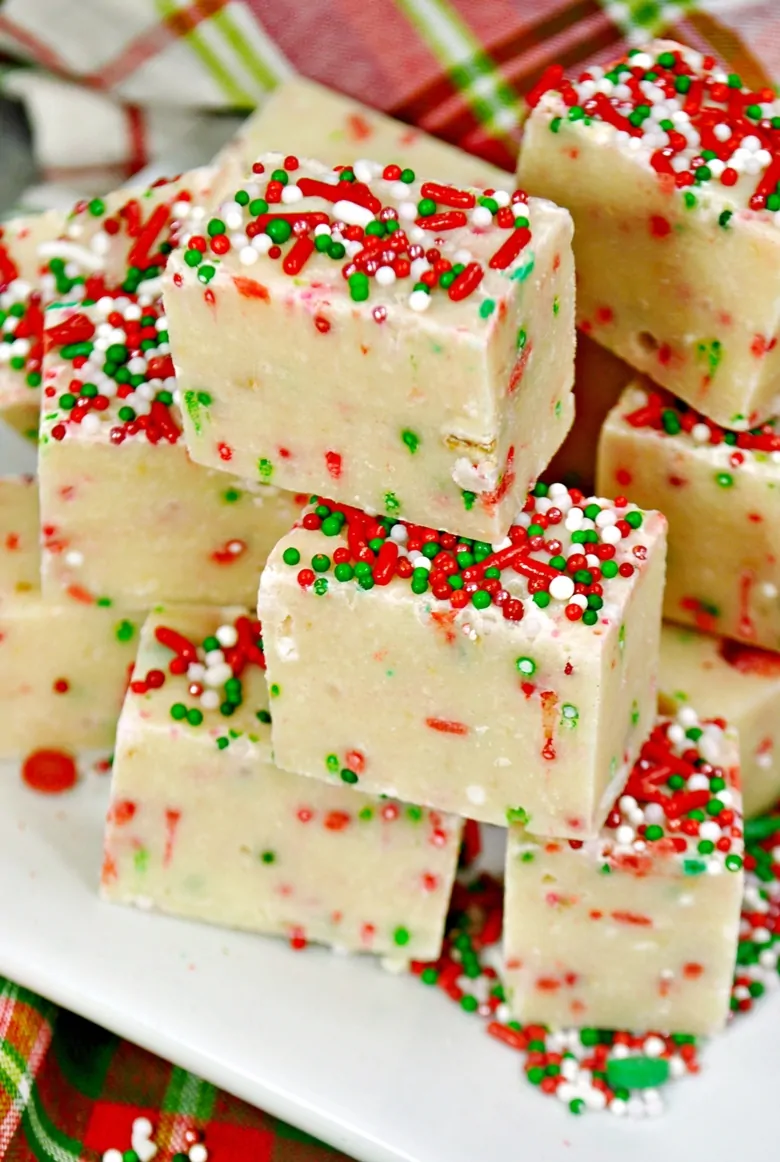 Or, this Red Velvet Fudge from The Country Chic Cottage is SUPER pretty, and the red color just screams "Christmas"!
You could even make a big batch of this fudge and the Christmas fudge above and add them to a pretty tin together for a "fudge sampler" Christmas gift! And send one my way while you're at it!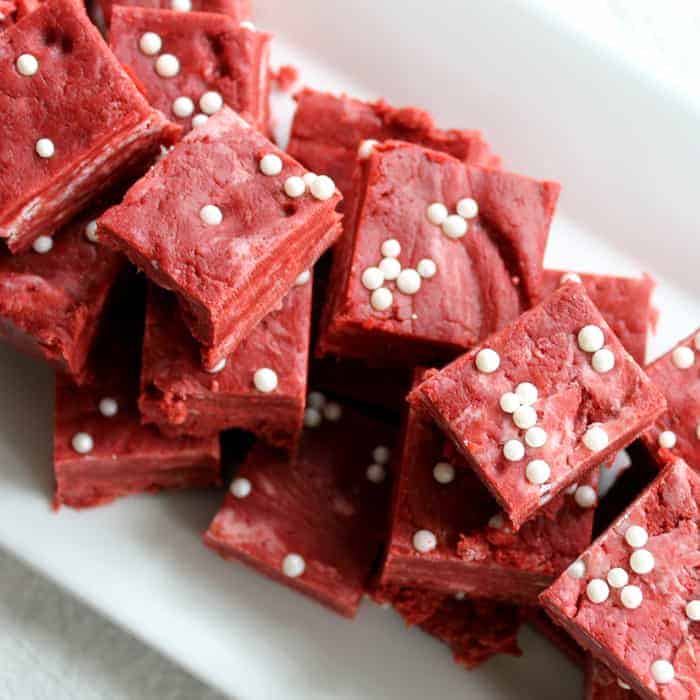 Edible DIY Christmas Gifts in a Jar
When you think of DIY Christmas gifts, you probably think of gifts in a jar! Mason jar gifts are awesome because you can easily decorate them for any holiday, and they're so pretty!
And when it comes to mason jar packaging, it doesn't get much prettier than these Cranberry White Chocolate Oatmeal Cookies in a Jar from Suburban Simplicity!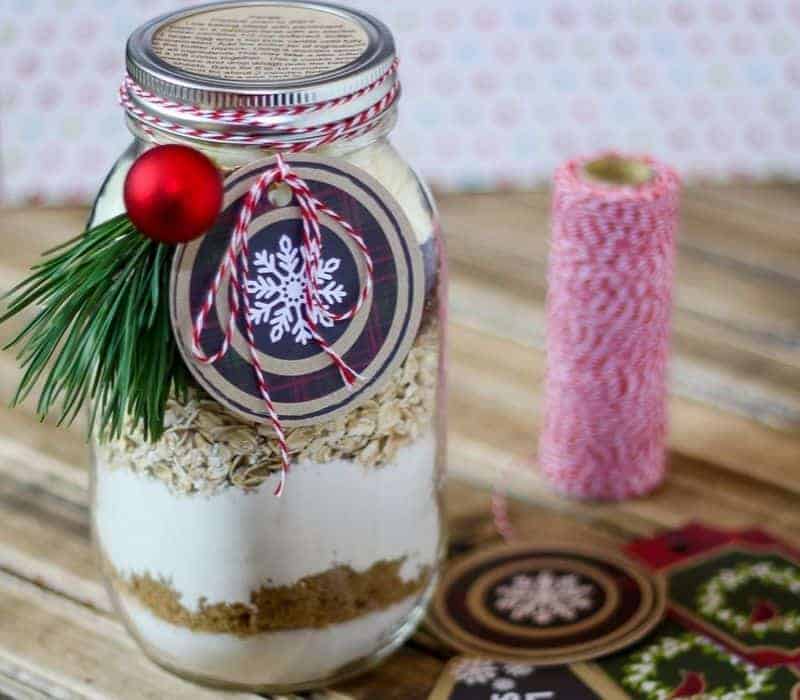 These Snowman Mason Jars filled with homemade white chocolate pretzels from Mom Wife Busy Life are also super easy and affordable gift in a jar ideas! Make your own chocolate covered pretzels with just 2 ingredients, and add them to these cute DIY snowman jars!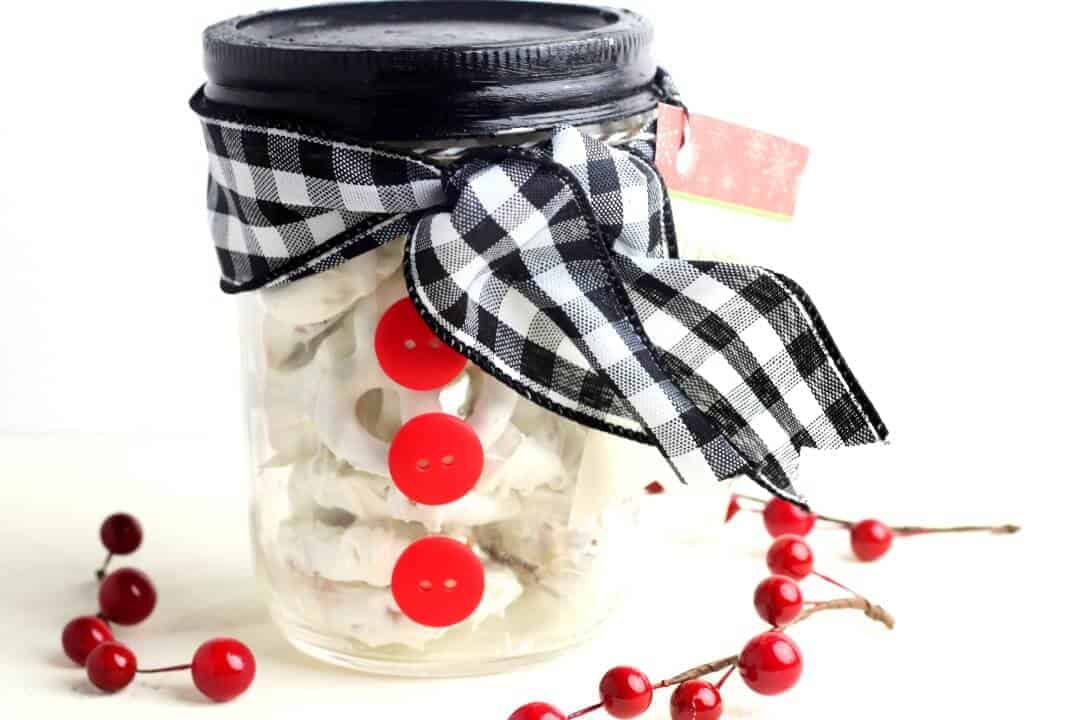 Or if you want the ultimate classic gift in a jar, then try this Holiday Hot Chocolate Mix in a Jar from Foodal. Aren't the cocoa layers so pretty?!
Homemade Christmas Candy Gifts
This Crockpot Christmas Candy from Recipes from a Pantry is festive, fun, and so easy to make! All that's needed are 4 simple ingredients and a few minutes of hands-on time and a crockpot to whip up these delectable candy clusters.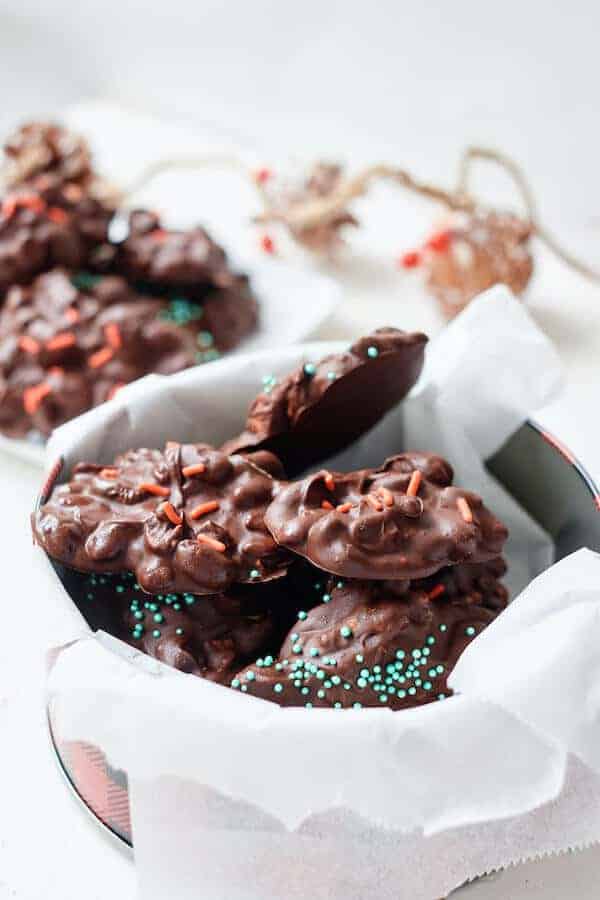 These Peppermint Oreo Truffles from The Flying Couponer would also be an awesome addition to a Christmas tin of homemade treats!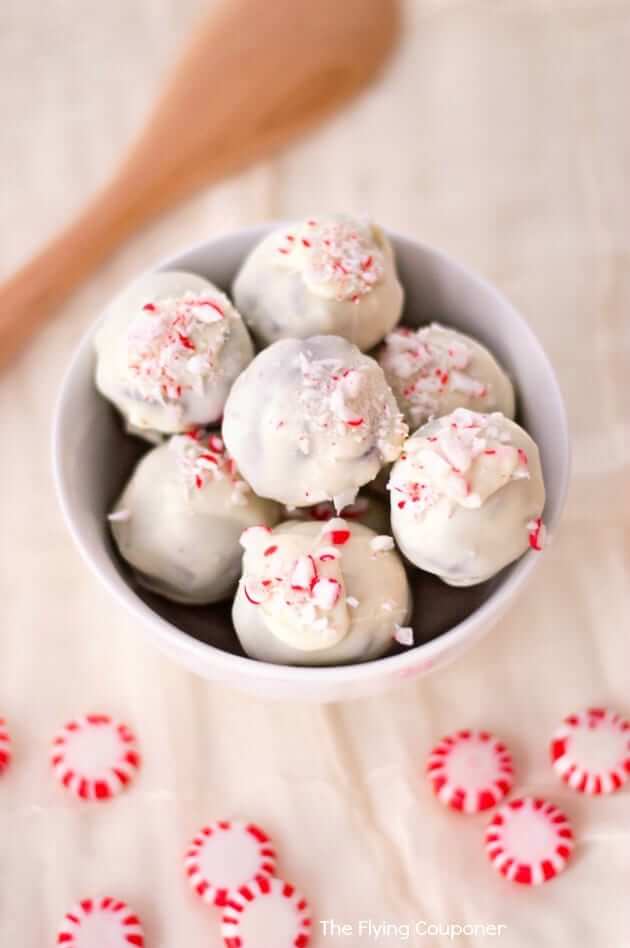 But who says that all of your DIY Christmas candy gifts have to be chocolate? Your foodie friends will appreciate these Gourmet Crystalized Ginger Candies from Foodal. And, did you know that ginger helps with nausea, making these DIY candy gifts great for your pregnant friends!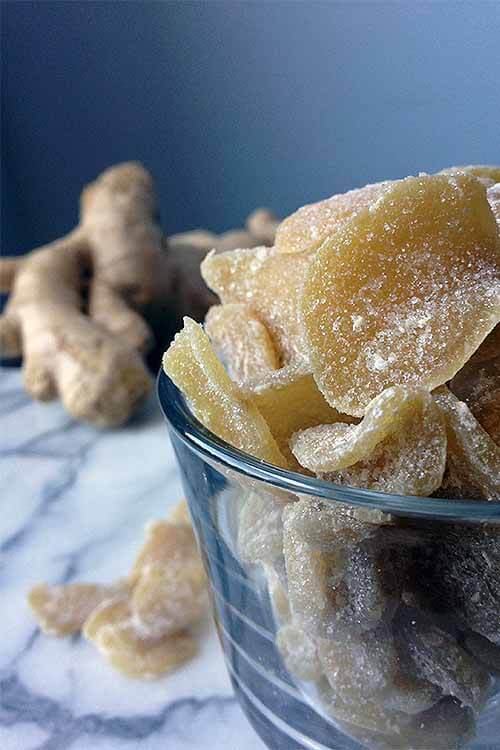 Decorated Chocolate Pretzel Rods
Decorated homemade pretzel rods are another awesome edible gift idea because they're so cheap and easy to make! You can buy a big bag of pretzel rods for around $3.00, then all you need is a few bags of candy melts or chocolate chips and you're on your way to cute homemade gifts!
If you're looking for cheap DIY Christmas gifts for a large number of people, like coworkers or the front office workers at your child's school, then these cute snowman pretzels from Dancing Through the Rain are a GREAT option!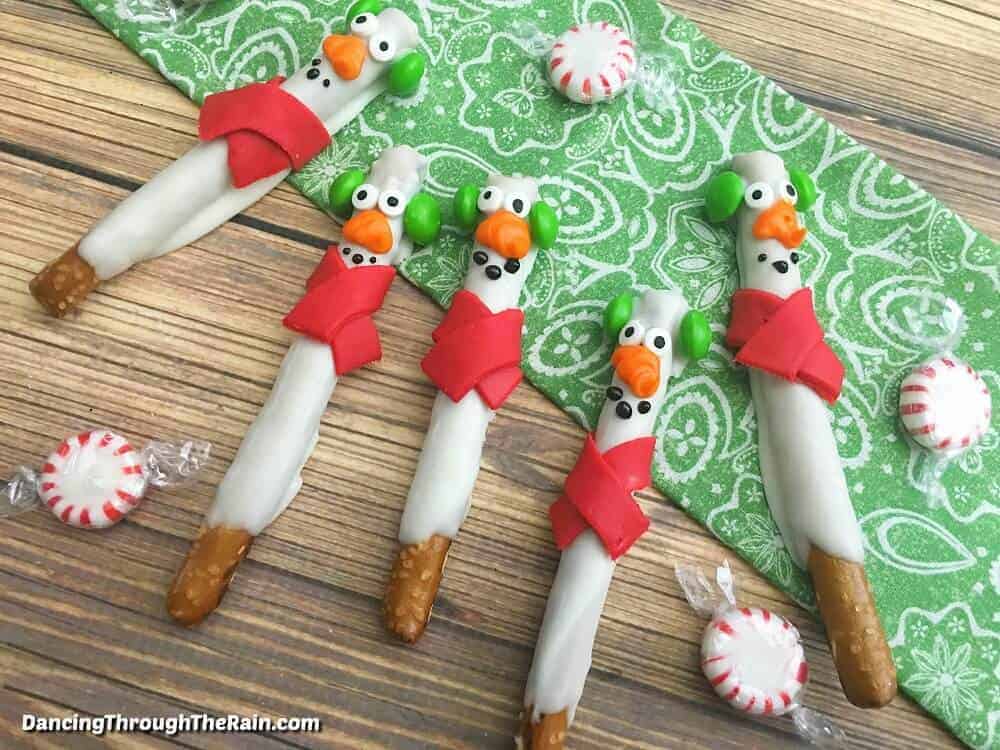 Gingerbread Cookie Wreath
This edible Gingerbread Cookie Wreath from Super Golden Bakes just screams "Give me as a gift!". It's so cute and festive, and delicious too!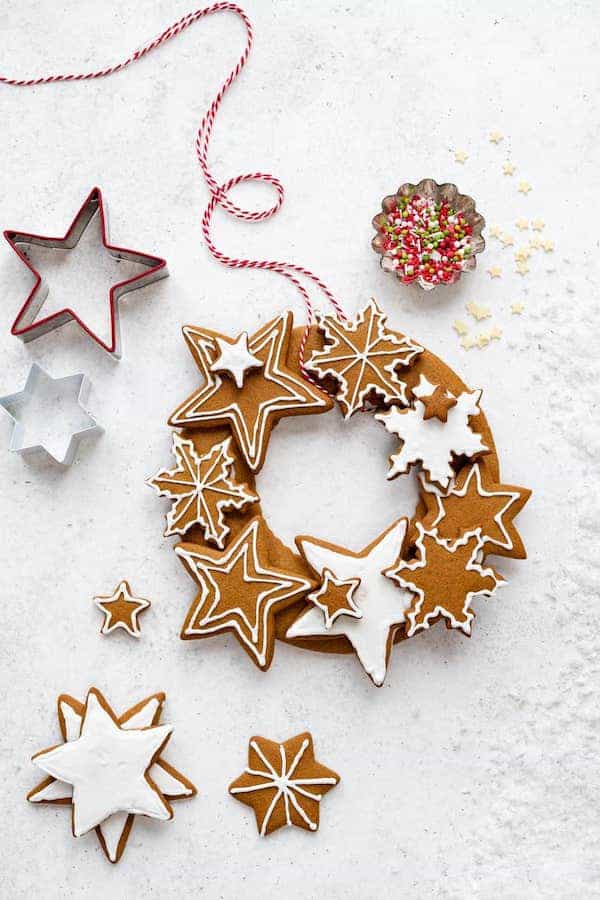 DIY Sangria Kit
This DIY Sangria Gift Idea from Fantabulosity is perfect for DIY Christmas gifts for your girlfriends, party hostesses, or even for Dirty Santa gift exchanges! Of all of the DIY gifts on this list, this is probably my favorite… though it will cost a bit more money than some of the other gift ideas.
Spiced Nuts to Give as Gifts
Spiced and candied nuts are one of my favorite treats, and I would be more than happy to receive these Easy Honey Roasted Almonds from Hint of Healthy as edible DIY Christmas gifts! Package them in cute mason jars, or even cellophane bags with pretty ribbon for an easy and yummy gift idea!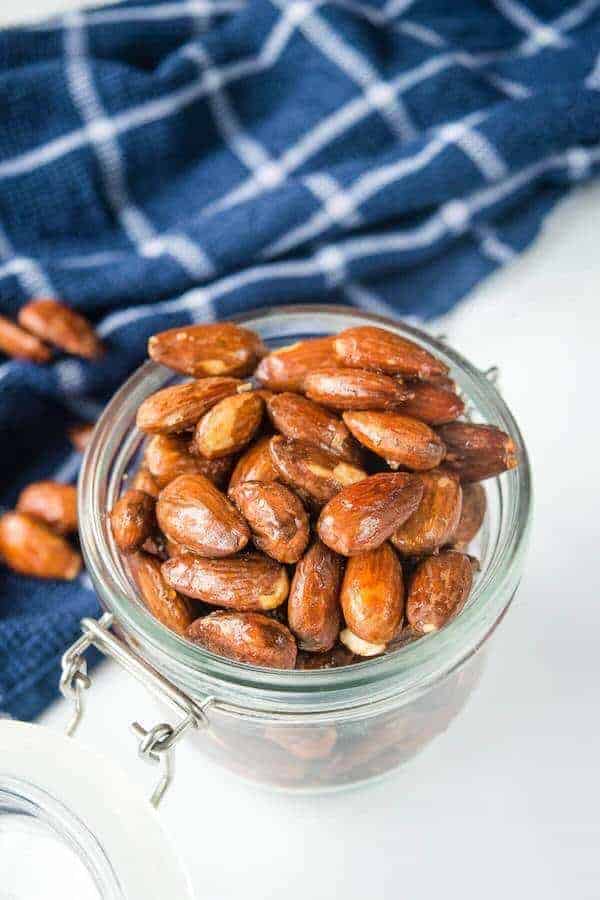 These Pumpkin Pie Spiced Candy Pecans are an easy edible Christmas gift idea also! Great for your friends that are never without a pumpkin spice latte once October hits!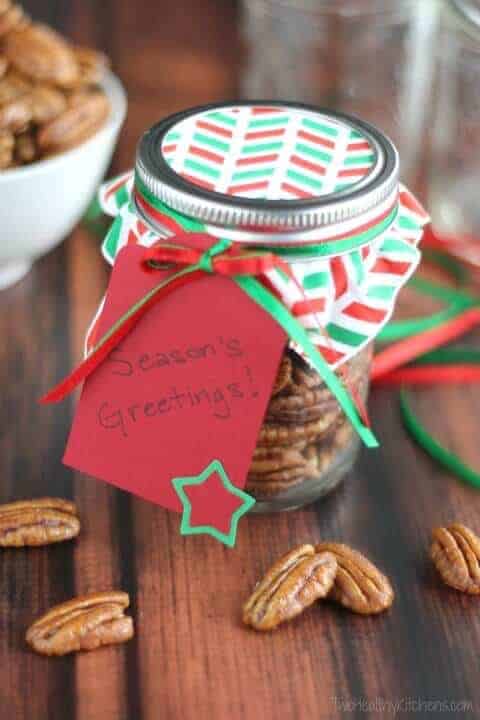 Or, if you want a good savory nut option, try these Spicy Maple Rosemary Roasted Nuts from Flavor the Moments. Great for your friends that DON'T have a sweet tooth!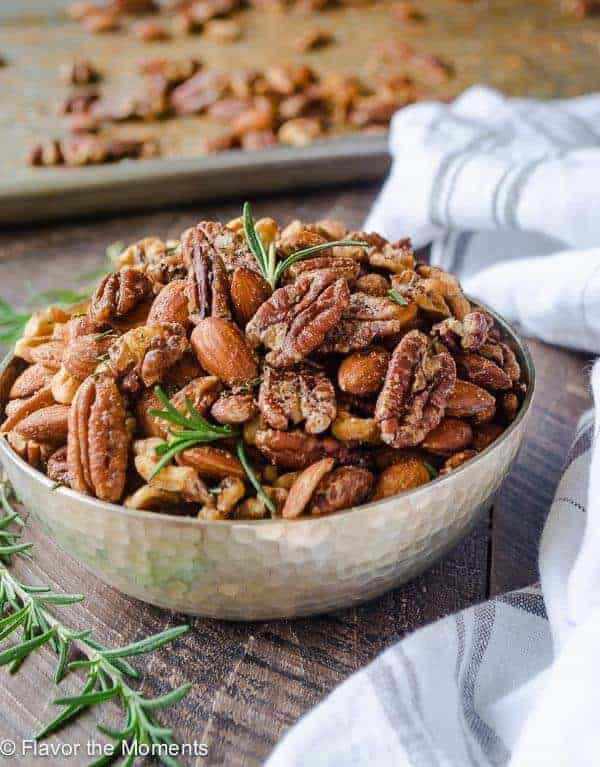 DIY Seasoning Blends
If you love to cook and even make your own spice blends for your recipes, then make some extra and add it to small mason jars for easy edible Christmas gifts!
You will love this easy Creole Seasoning Mix recipe from Recipes from a Pantry that takes just 5 minutes to whip up and effortlessly adds amazing southern flavor to your favorite dishes. Even better, this seasoning blend is made with a few everyday ingredients you already own and makes a great edible gift.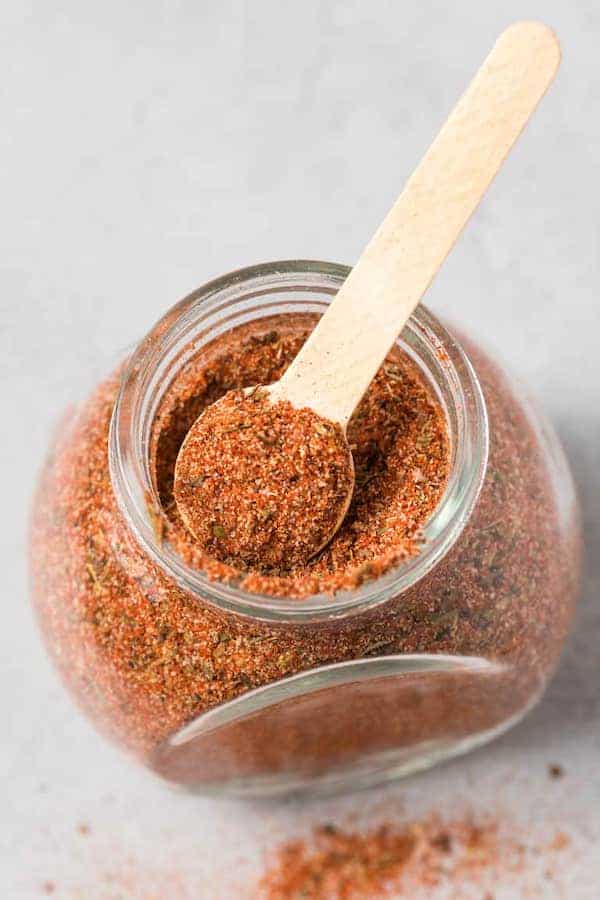 Or, if you want to make a sweeter blend of spices that's perfect for DIY Christmas gifts, then try this Homemade Gingerbread Spice Mix from Happy Foods Tube. It's perfect to add extra flavor to quick breads, pancakes, or muffins!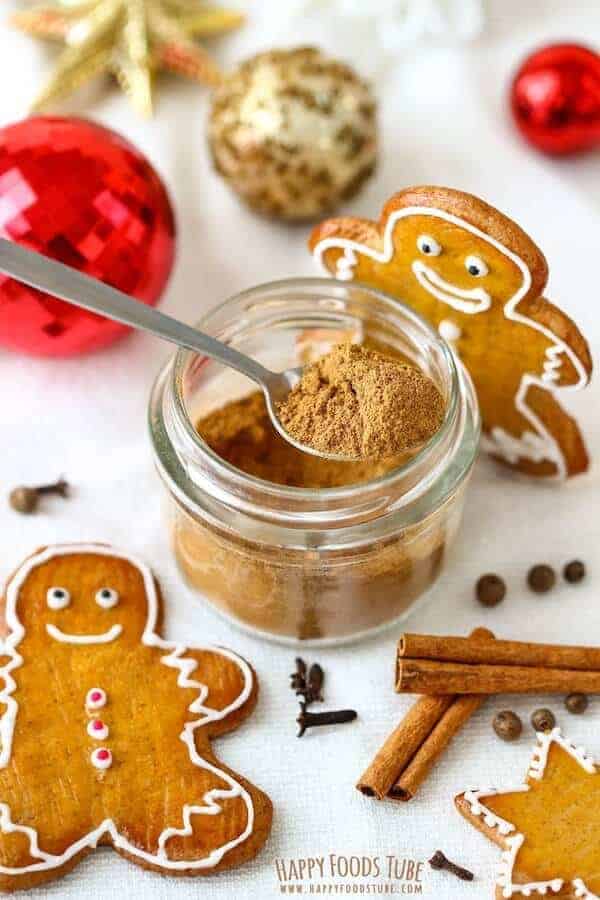 These homemade seasoning salts from Eating Richly are also great edible gift ideas because they're so versatile. Seasoning salt is probably one of the most used items in my spice cabinet, so I would LOVE to receive this edible DIY gift!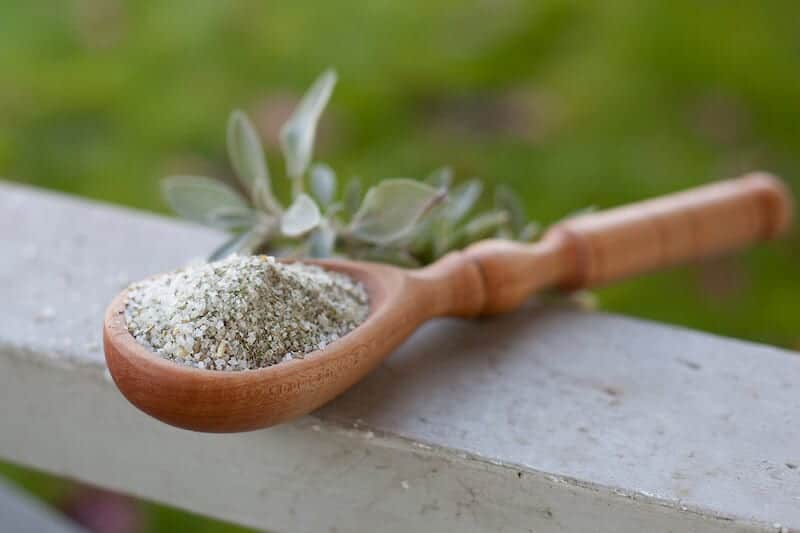 DIY Hot Chocolate Bombs
Probably one of the biggest crazy food trends right now is hot chocolate bombs! Not only are they pretty, they're also a fun way to make the perfect cup of hot cocoa.
These DIY Hot Chocolate Bombs are filled with hot cocoa mix and mini marshmallows. Just place one in the bottom of a mug, pour hot milk over top, and watch the bombs "explode" into the perfect cup of hot chocolate!
You can wrap up 2 or 3 of these in a cellophane bag with a pretty mug for an easy and inexpensive DIY gift idea!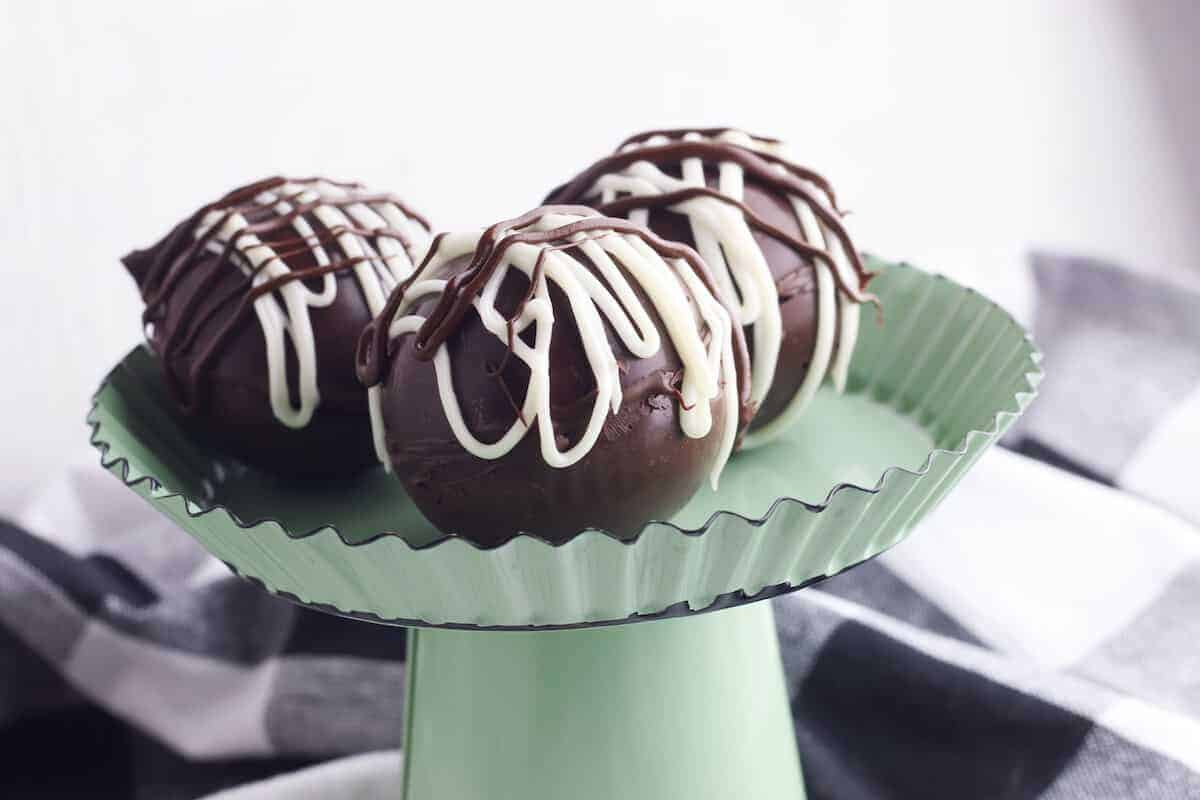 Christmas Cookies to Give as DIY Christmas Gifts
One of my favorite things about Christmas time is all of the homemade Christmas cookies! A few years ago, we had a neighbor that made about 7 different batches of Christmas cookies and packaged a few of each variety in a Christmas tin to give as yummy edible Christmas gifts.
I was SO sad when we moved, because I wouldn't be getting her Christmas cookie gift tins anymore!
If you want to make your own Christmas cookie gifts, then I HIGHLY recommend my Grandma's Cherry Coconut Cookies! They've got just the right amount of sweetness, and the pretty pink color makes them really festive, too!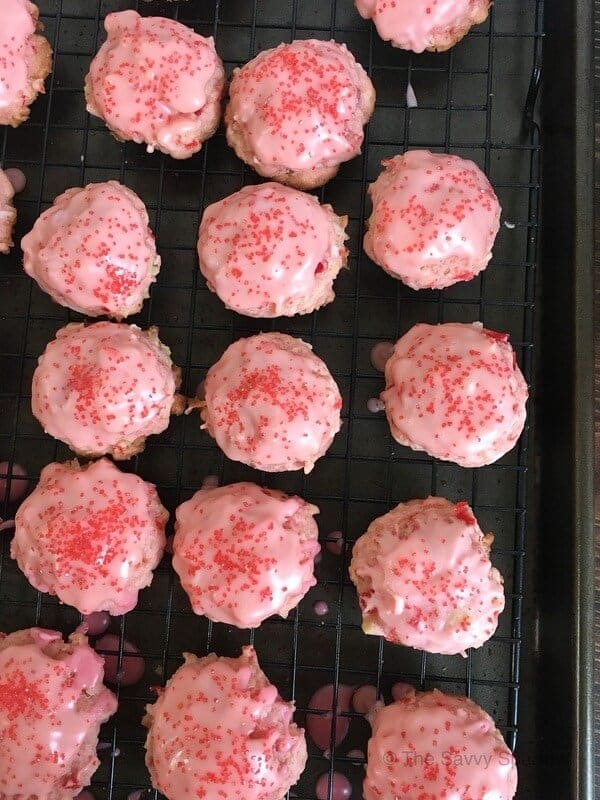 Or, if you don't want to make Christmas cookies completely from scratch, then cheat a little by decorating store bought cookies. These Rudolph Sugar Cookies are SO easy to make, and your kids will LOVE helping you decorate them.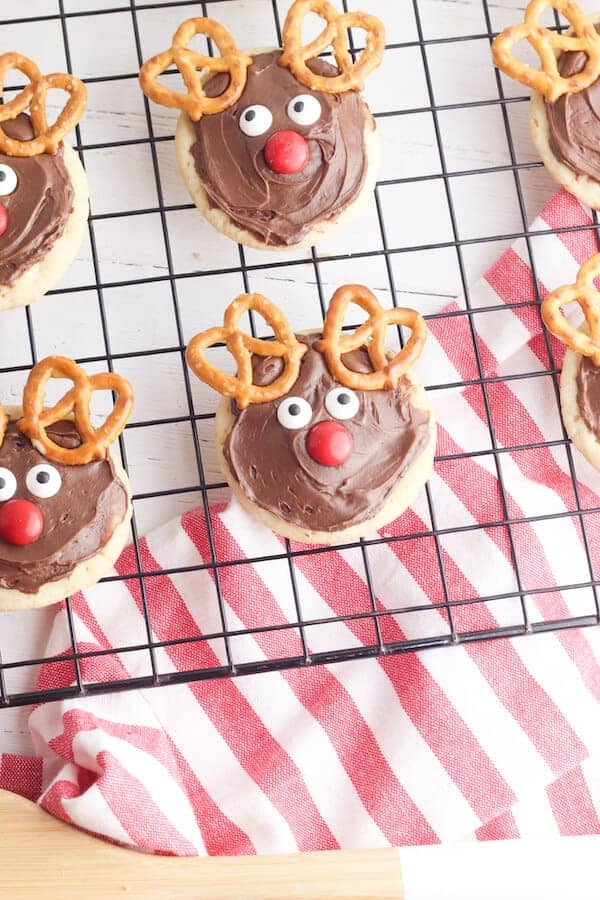 Or, decorate store-bought pizzelles (yummy crispy Italian cookies) to look like snowflakes for easy no-bake Christmas cookies! These pizzelles would be so cute wrapped up in individual cookie bags with a pretty ribbon and homemade gift tag.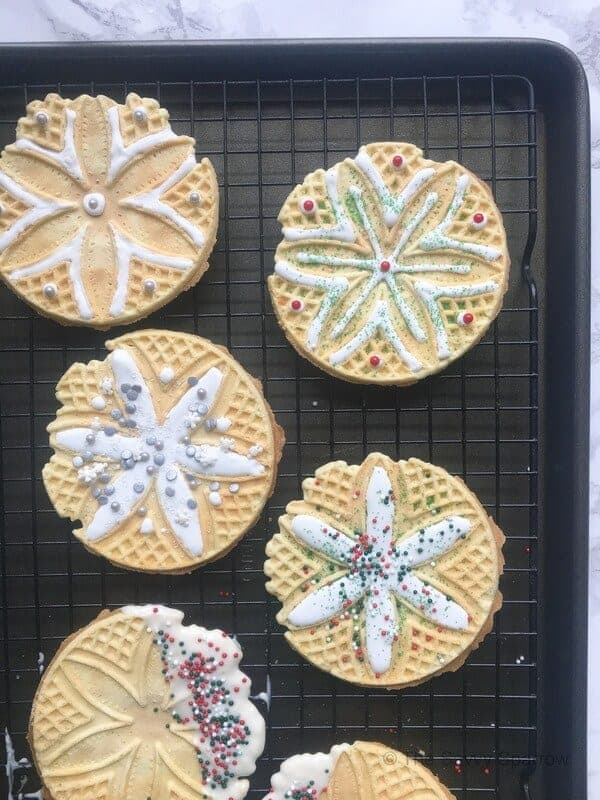 Chocolate Bark to Give as Gifts
Chocolate bark makes great edible DIY Christmas gifts because it's so easy to make, and you can customize it for different holidays by simply adding colored sprinkles or other decorations.
You can also make a big batch at one time, and then break it up into pieces and divide it between 6 or 8 jars, bags, or gift tins to create inexpensive gifts for everyone on your list.
This Chocolate Reindeer Bark from Dancing Through the Rain is so cute, and the fun Rudolph decorations make this edible gift perfect for families with kids.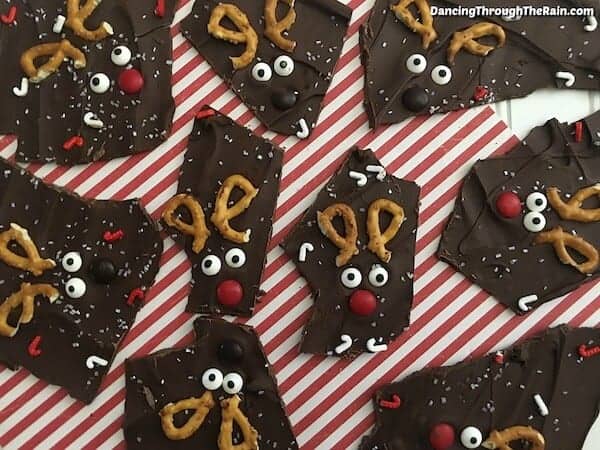 DIY Bath Products to Give as Christmas Gifts
Homemade Bath Bombs
Bath bombs are a gift you can never go wrong with, and they're also super easy to make yourself! Not only are they a perfect present for that friend who loves all things self-care, but you can also customize them with your favorite scents!
These Peppermint Bath Bombs from Bitz & Giggles are soothing and invigorating at the same time with festive peppermint notes.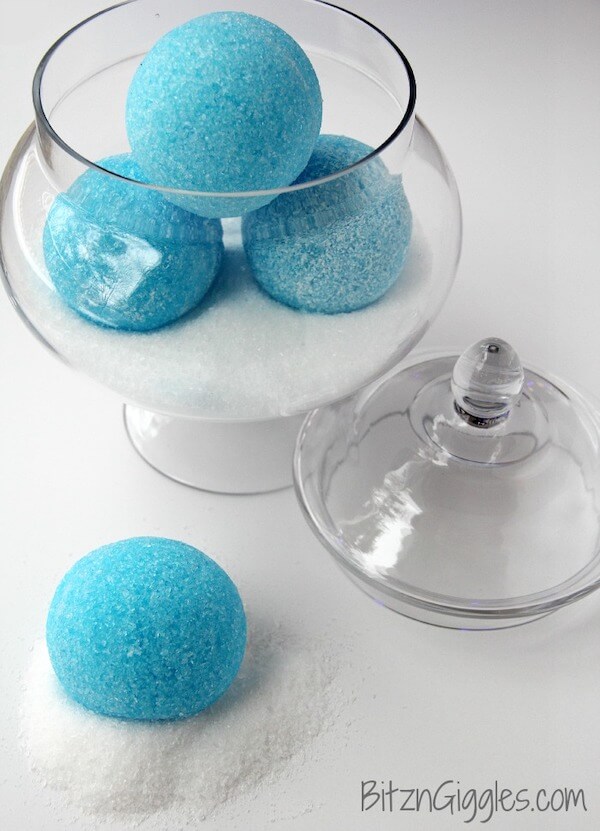 Or try a fresh citrus scent with these Homemade Orange Bath Bombs from Feast for a Fraction using ingredients that you probably already have at home!
These Heart Shaped Bath Bombs from Red Ted Art are another great option, and they're so easy that kids can make these DIY Christmas gifts all by themselves!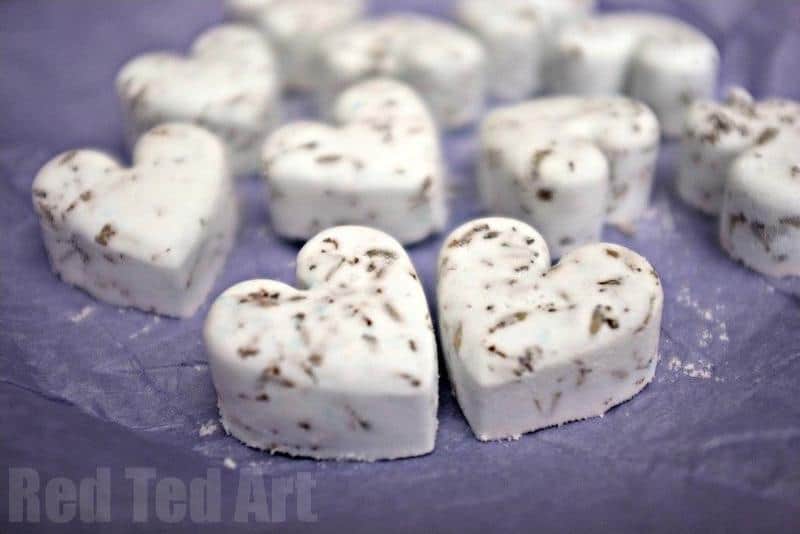 Homemade Bath Salts
If you've got friends that love taking baths and pampering themselves, then these Homemade Bath Salts from Attachment Mummy are perfect. Plus, they'll look so pretty on a vanity!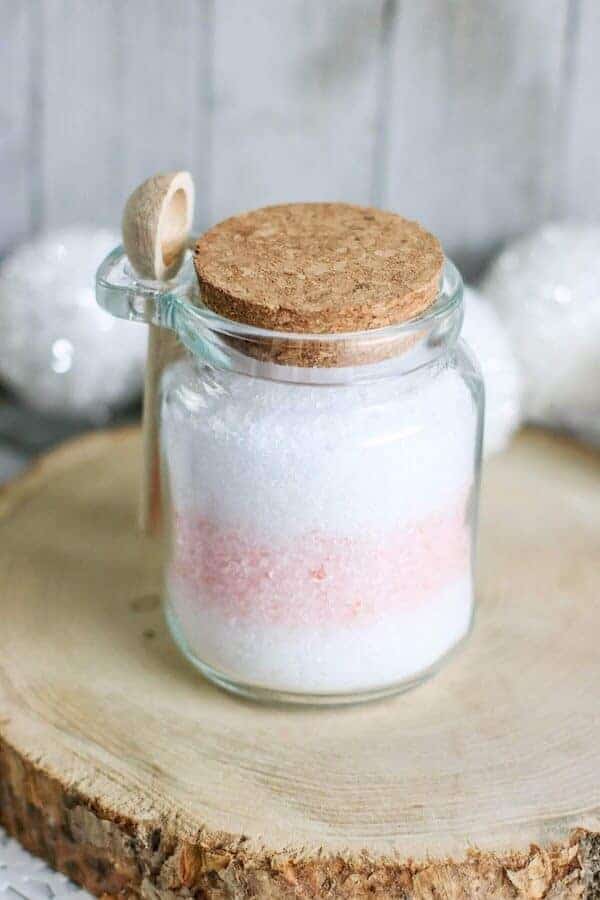 Soy Lotion Bars
Winter can be rough on your skin, so not only are these Soy Lotion Bars from Bitz & Giggles timely DIY Christmas gifts, they also REALLY work… go check out the before and after photos!
I would LOVE to have some of these DIY bath products in my stocking this year!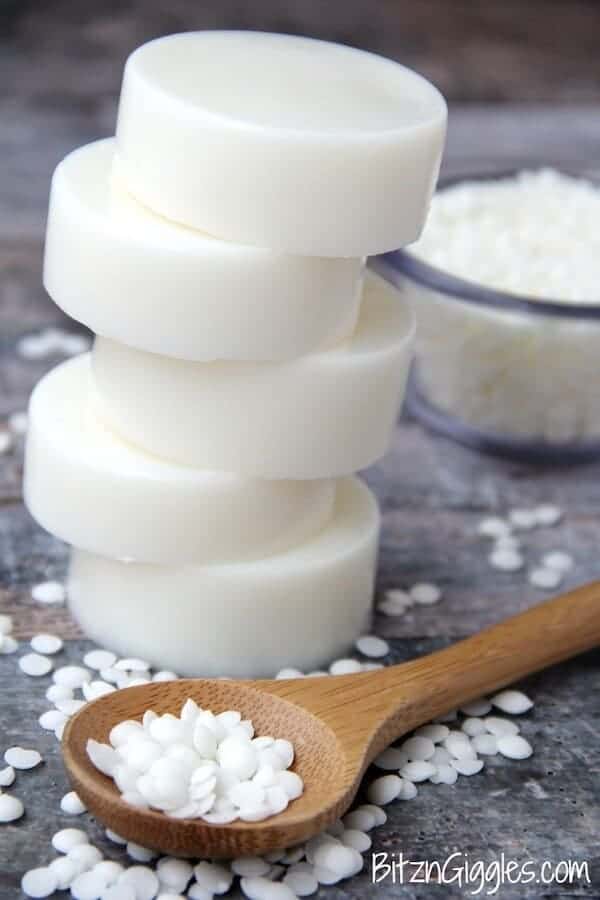 DIY Hand Soaps
If there's one thing that your friends and family probably can't get enough of right now, it's soap! So this easy DIY Lavender Hand Soap from Luci's Morsels is a great DIY Christmas gift idea!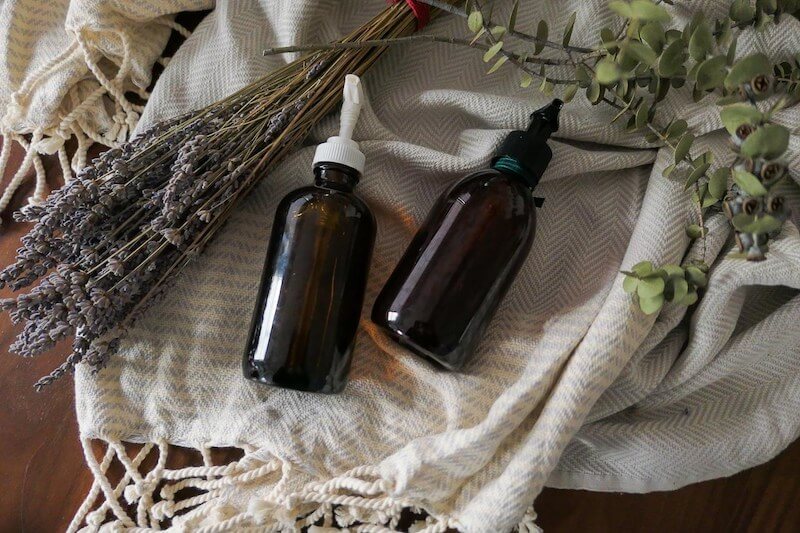 Body Scrubs to Give as DIY Christmas Gifts
Body scrub is yet another DIY Christmas gift idea that you can never go wrong with… especially in the winter months when our skin needs extra exfoliation! DIY scrubs are surprisingly easy to make and the best part is that you'll know they're organic and non-toxic.
This DIY Brown Sugar Scrub from Crayons and Cravings would make a great gift for your beauty product junkie friend, or even your co-workers!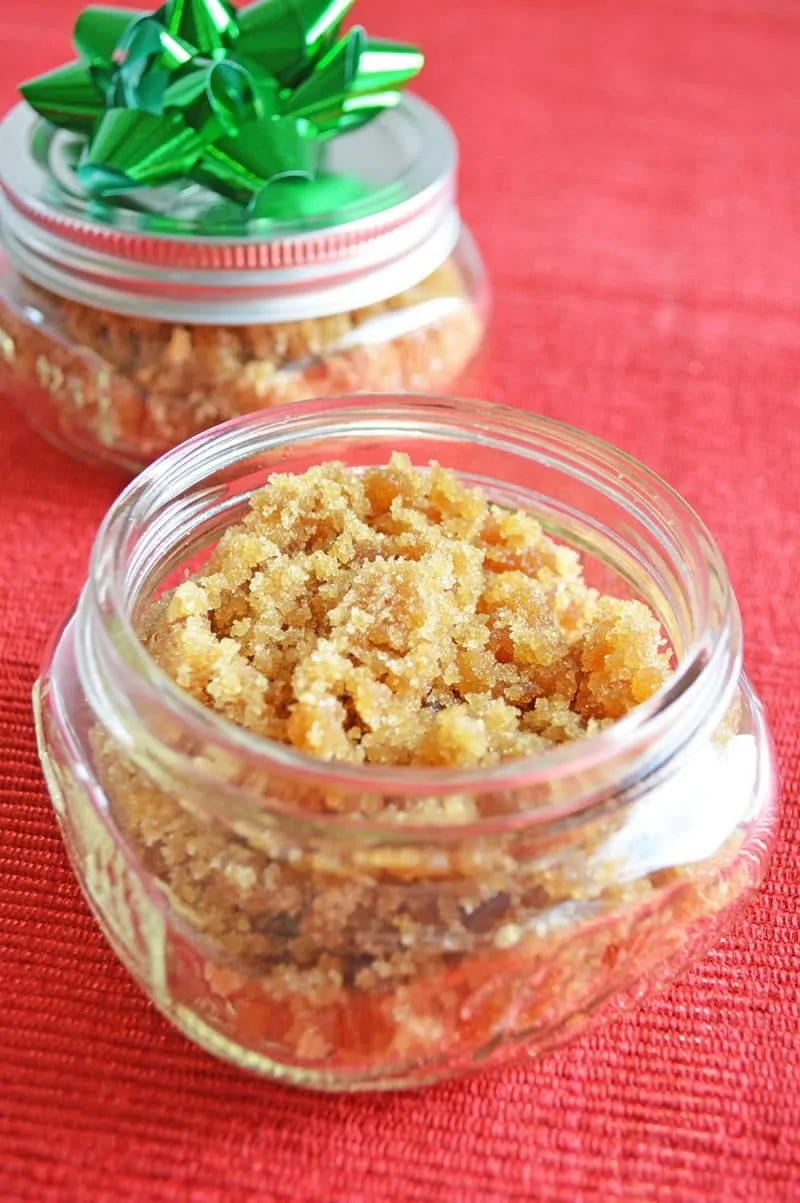 Or try this DIY Gingerbread Sugar Scrub from Suburban Simplicity for a fun Christmas-themed scrub!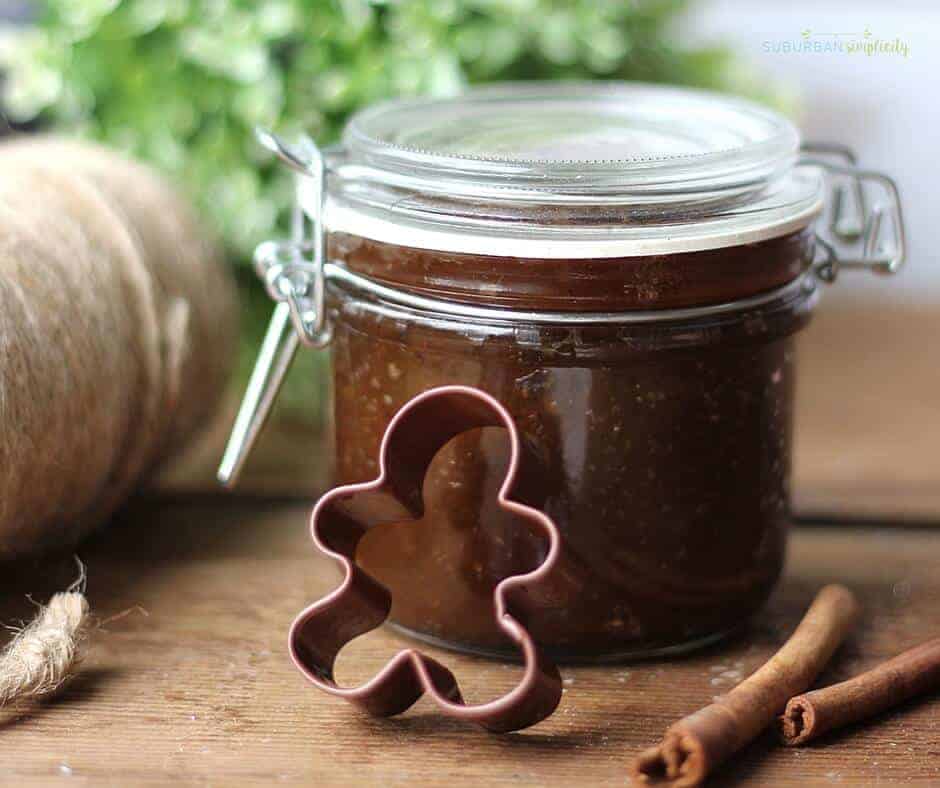 Homemade Chest Rub
This Homemade Chest Rub from Seven Roses is a great DIY self care gift, especially around the holidays when people tend to get the sniffles.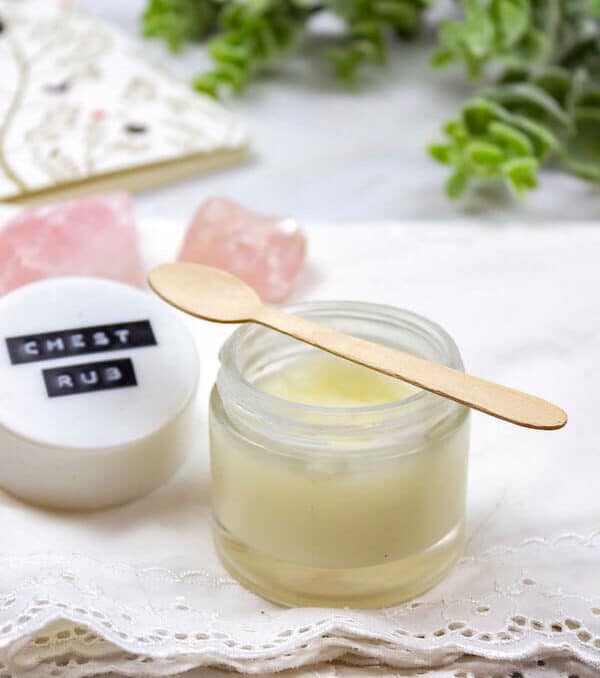 Jewelry and Accessories to Make as DIY Christmas Gifts
DIY Upcycled Earrings
Rather than making your DIY Christmas gifts completely from scratch, you can take a few shortcuts and upcycle items you already have laying around the house! These DIY Upcycled Earrings from Pretty Delightful make perfect use of an old pair of earrings, and the end result looks like a cute accessory that you would pay $20+ for at the store!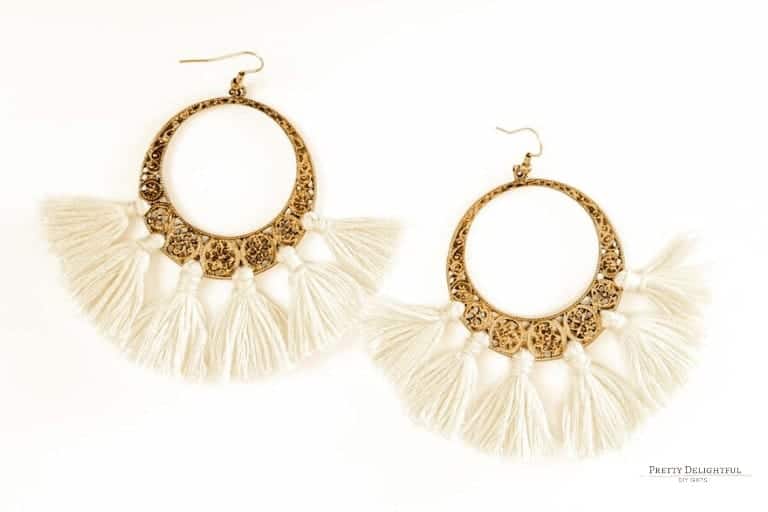 DIY Polymer Clay Jewelry
Polymer clay jewelry is all the rage right now… or so my daughter (who is MUCH cooler than me!) tells me. So these DIY polymer clay earrings are perfectly on trend… great for your fashionista friends!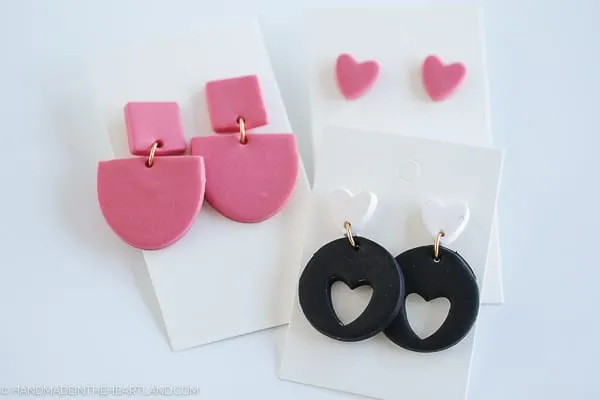 DIY Beaded Necklaces
Beaded necklaces are simple to make, and they're the perfect DIY Christmas gifts for your accessory-loving girlfriends!
This cute Wood Bead Necklace from Sustain My Craft Habit looks glamorous with the gold paint embellishments, and you could even use smaller beads for a different look.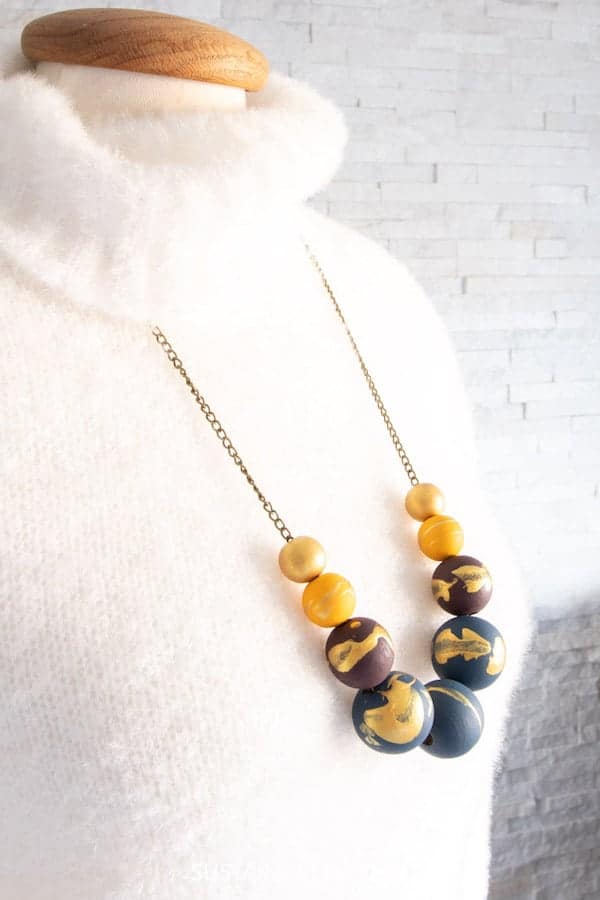 Handmade Scarves to Give as DIY Gifts
Scarves are a great accessory to give as DIY Christmas Gifts because you don't need to worry about getting the right size, or whether your friends prefer silver or gold jewelry tones.
I LOVE this Triangle Scarf with Tassels from Heather Handmade, and I'm sure the women on your Christmas list would love it too!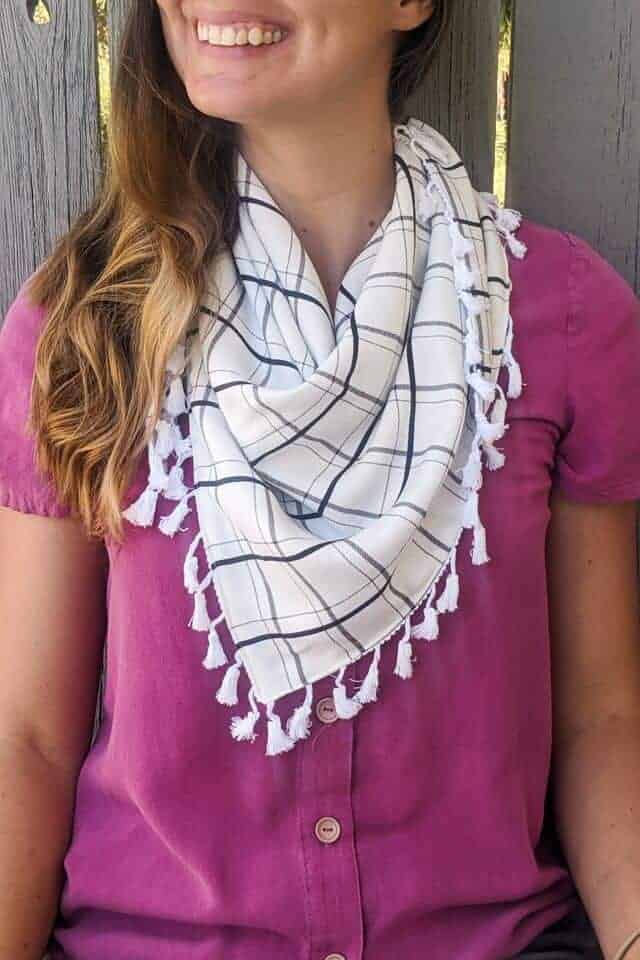 Or, if you want to gift a heavier winter scarf, then this Flannel Infinity Scarf from Swoodson Says is a great DIY gift also!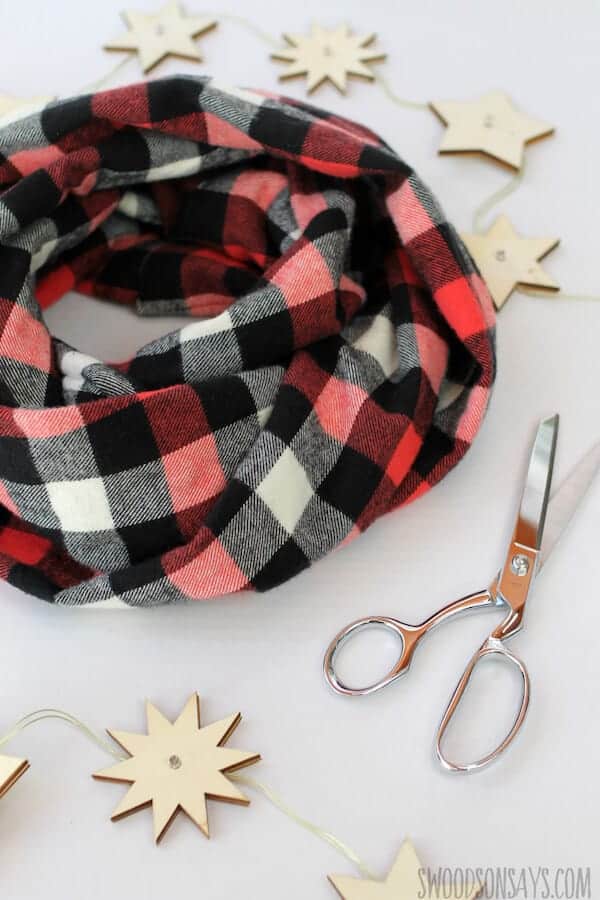 DIY Christmas Gifts for Men
Let's face it… men are SUPER difficult to shop for, so you would think that they would be difficult to CRAFT for also…
But not with these awesome DIY Christmas gift ideas for men!
I asked my own husband for his honest opinion on all of these DIY gift ideas, and he said that he would like to receive any one of them.
DIY Leather Cord Organizers
These DIY Leather Cord Organizers from Sustain My Craft Habit are so easy to make, and they look just like similar ones that you can buy on fancy websites for about $20 a piece! Change the heart shape to a simple circle, and these DIY Christmas gifts would be perfect for the men in your life, too!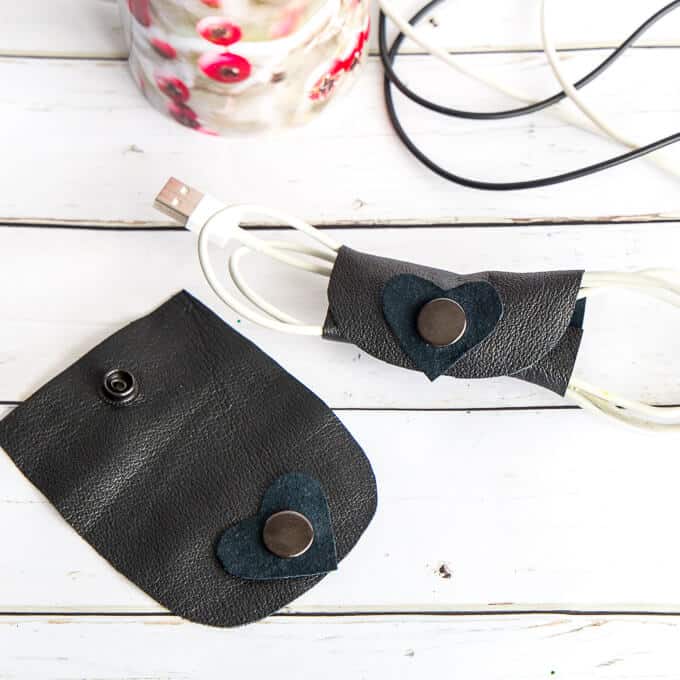 Homemade Beef Jerky
I don't know a single man that doesn't like meat, so if you're wondering what the heck kind of DIY Christmas gifts you can make for men, then this homemade beef jerky from Erica's Recipes is a safe bet!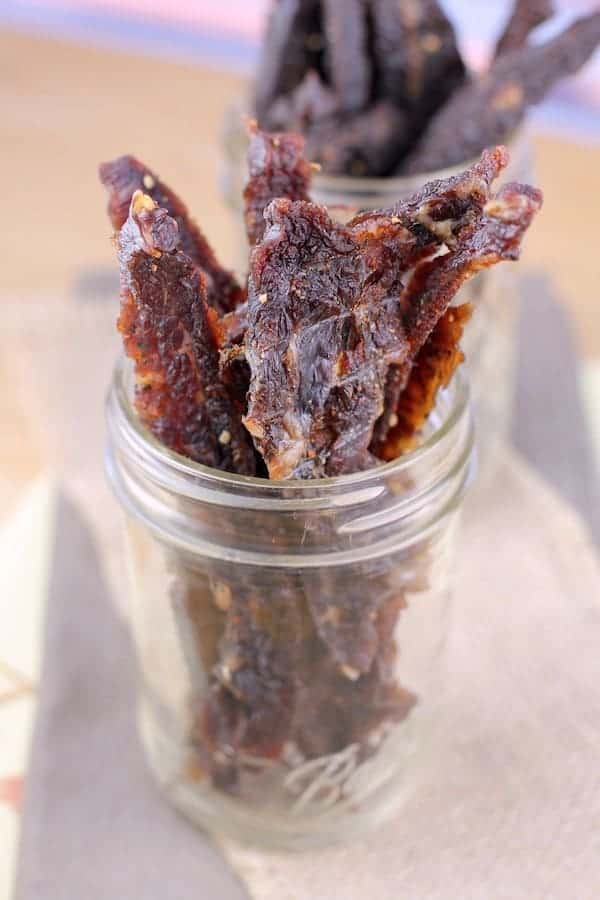 DIY Docking Station Gift
If your husband or brother is big into electronics, then this DIY Docking Station from Houseful of Handmade would make a GREAT homemade gift!
DIY Coozies
These Leather Mason Jar Mug Coozies from Doodle Craft Blog are perfect for your husband! The smooth leather makes these DIY gifts look expensive, but they're actually very affordable to make.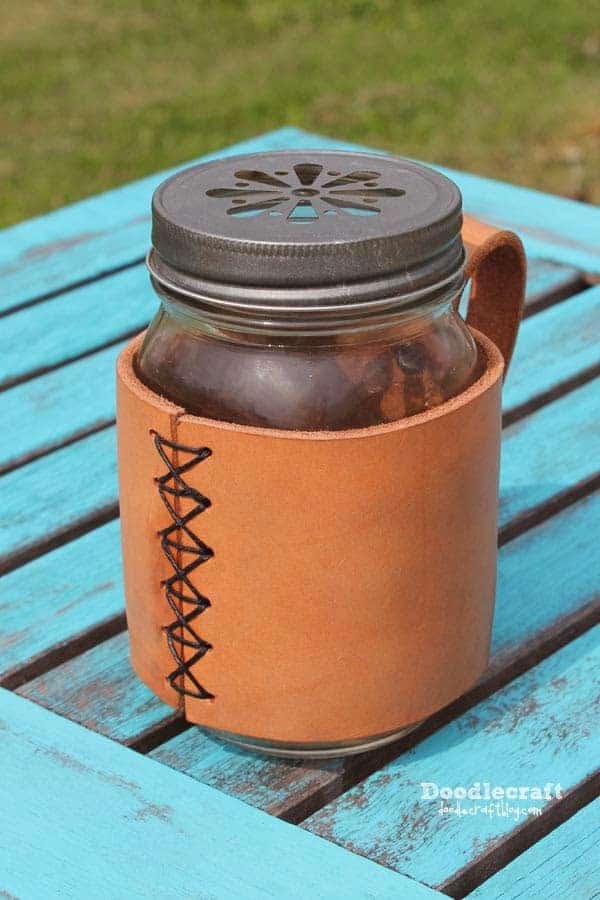 Fun DIY Money Gifts
If you need an easy DIY gift idea for your little brother, then you can't go wrong with cold hard cash! This cool Money Notepad from What Mommy Does is made with real dollar bills, but they're stuck together just like a pad of post-it notes. Such a neat way to give money gifts!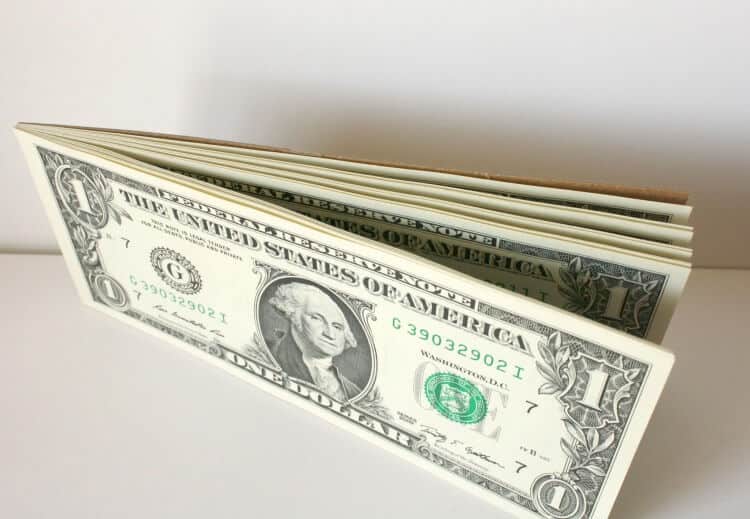 Lottery Ticket Wreath
If you're going to be doing a Dirty Santa gift exchange with coworkers, or you need an awesome gift for your brother, then this DIY Lottery Ticket Wreath from Crayons and Cravings should be on your list of must-make DIY Christmas gift ideas! What a fun way to give lottery tickets?!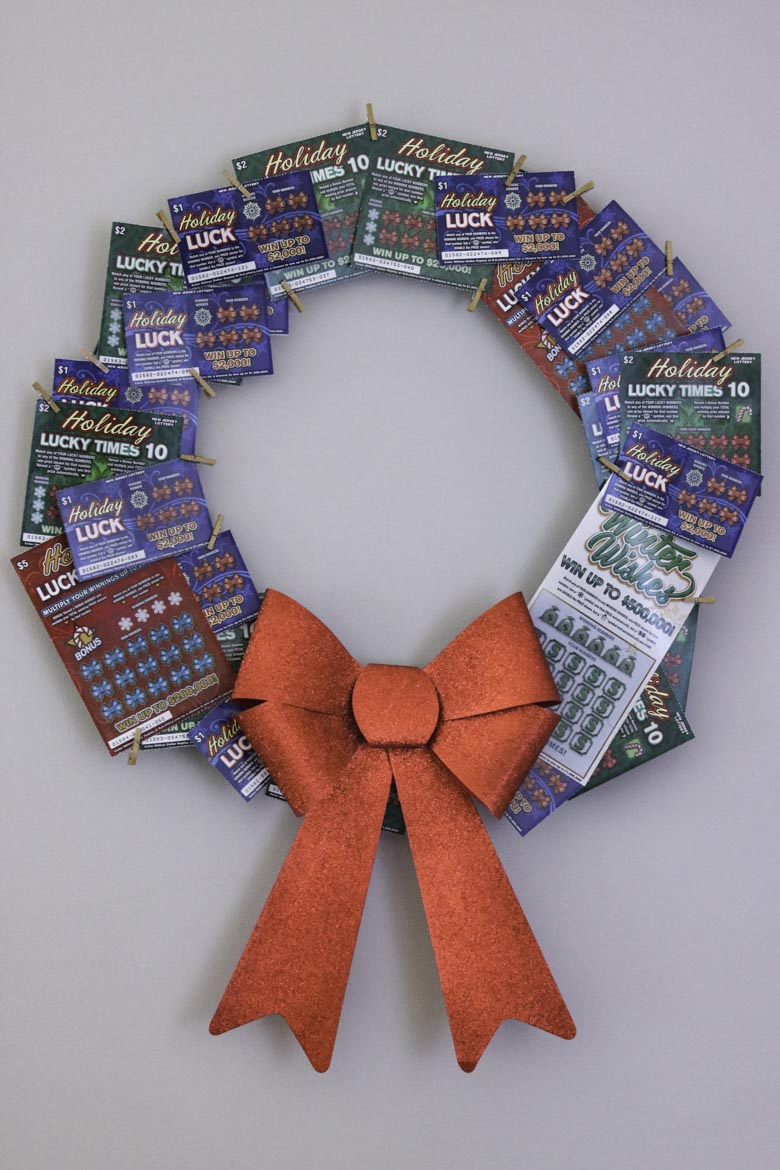 I hope you've gotten some great ideas for DIY Christmas gifts to make this year! Whether you're crafty or not, you can make your own awesome presents that you just can't find on Amazon.
Have you ever made your own Christmas presents? What are some of your favorite DIY Christmas gift ideas? Let me know in the comment section below!
And happy nesting!