These frugal Christmas tips will help you to stick to your budget and not overspend this Christmas, because the last thing you want is to be paying off Christmas debt well into the new year!
Christmas is right around the corner, and while it is the merriest time of the year, it's also the most expensive!
From decorations to stocking stuffers to gifts for 647 people, the holidays can do a number on your wallet. So it's important to save where you can, or else you'll be running up credit card debt and still paying for Christmas purchases that you couldn't really afford well into the new year.
But it IS possible to have Christmas on a budget…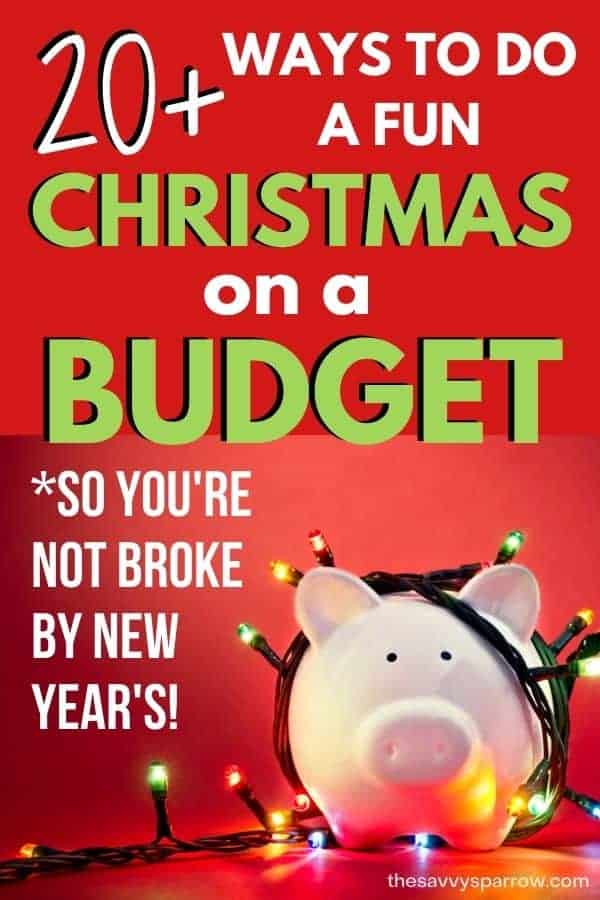 *This post contains affiliate links, which means if you click a link and make a purchase, I earn a commission at no additional cost to you. Thanks for your support!
Here are 20+ Frugal Christmas Tips so you don't completely blow your budget this holiday:
20+ Frugal Christmas Tips
1. Set up a Christmas Budget in advance, and stick to it!
It's one thing to go through the motions of writing down a Christmas budget, but it's another thing to actually use it. This Christmas, commit to setting a spending limit for each of your holiday expenses, and stick to that limit!
And remember, budget for the money that you actually have to spend… So if you determine that you'll need $700 to cover Christmas expenses, but you only have $500 saved, then cross some items off your list to avoid taking on additional debt for the holidays.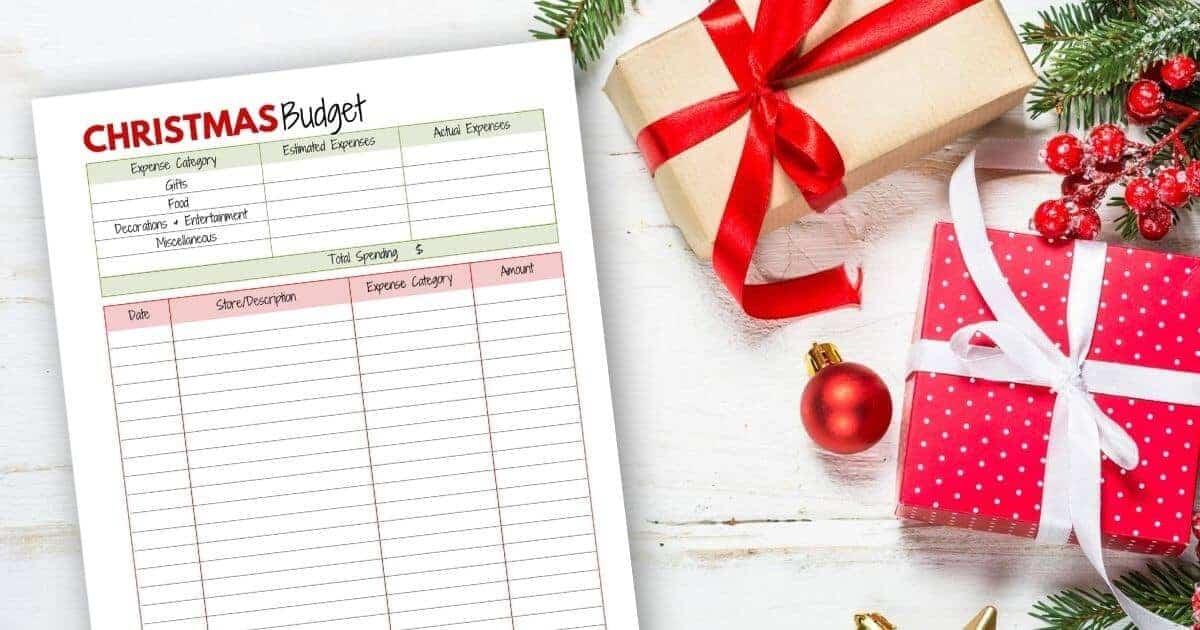 You can head here for 7 Easy Tips for How to Set Up a Christmas Budget that works for you, and grab a FREE printable Christmas budget worksheet!
2. Start buying Christmas stuff in January.
Whenever you see a sale that's too good to pass up, take advantage of it… even if it's in January!
Most retailers massively drop prices on leftover Christmas merchandise after the holiday. Like 80-90% off for Christmas gift wrap and special toys that were brought in just for the Christmas season.
Last year, I was able to score a LOAD of toys at 90% off after Christmas… I'm talking $3.00 toy Chemistry sets and $2.50 baby doll sets. I just added the gifts to my "gift closet" where I stored them until Christmas time.
Plus, by purchasing some of your Christmas gifts early, you'll be able to spread out the expense and give your wallet a little bit of a break in November and December.
And, yes, the Black Friday sales are nice, but all of the hype and the need to battle other shoppers for the best deals often leads to people just throwing things in their buggies purely out of FOMO (Fear of Missing Out!).
3. Take advantage of FREE Christmas events in your town.
You can probably find nativity pageants, Christmas tree lightings, drive-thru Christmas light shows and other fun and frugal Christmas activities for FREE right in your hometown.
Just type "Christmas events near me" into your internet search bar, or visit your city's tourism or events website for fun and free holiday activities to do with your family.
4. Do fun and frugal Christmas activities at home.
Not every Christmas activity has to cost you money. There are plenty of fun family-friendly activities you can do at home to celebrate Christmas on a budget.
Here are some fun and frugal Christmas activities to do at home with your family this year:
Roast marshmallows
Have a Christmas movie night – I HIGHLY recommend The Christmas Chronicles on Netflix, or go here for more awesome Family Christmas movies!
Bake cookies
Make a popcorn garland for your Christmas tree
Play a game of Christmas Charades – You can find some awesome free printable charades cards by searching Google.
Make hot cocoa
Make cards to send to local nursing homes or to soldiers overseas
Go on a Christmas Light Scavenger Hunt – You can grab a FREE printable Christmas Light Scavenger Hunt HERE!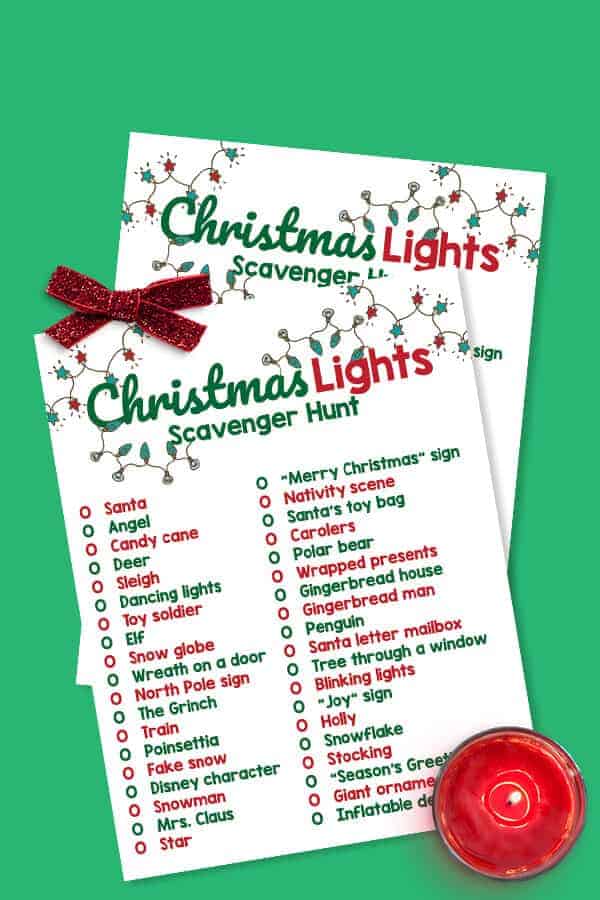 5. Plan holiday meals and snacks in advance to avoid buying too much.
Having a good game plan for your holiday meals and making a detailed shopping list of EXACTLY what you need to buy will help you have a frugal Christmas.
The key to grocery shopping for Christmas on a budget is to ONLY buy the things on your list… that way you won't be tempted by the new fudge-y holiday cookies or other impulse purchases.
6. Make your own Christmas cards and tags.
Christmas cards can be expensive, especially if you send the fancy customized ones with family photos and gold foil.
Instead, have your kids make homemade Christmas cards to send to family and friends this year. And if you want to do the traditional family Christmas photo, then just get a bunch of prints made and include them in the envelopes.
You can often get prints for FREE from apps like Shutterfly or FreePrints… you'll only need to pay for shipping.
7. Give homemade food gifts.
Homemade Christmas cookies or other baked goods are the PERFECT frugal Christmas gift ideas!
You can make a whole batch of delicious cookies (like my Grandma's Cherry Coconut Cookies or these super easy Rudolph Sugar Cookies) for less than $10, and then wrap them up in cellophane bags or cute Christmas tins from the Dollar Tree.
You could easily get about 4-6 Christmas gifts out of just one batch of cookies, making these great frugal gift ideas for teachers, neighbors, bus drivers, the mailman, and more!
Or, try these fun hot chocolate bombs for unique edible Christmas gift ideas!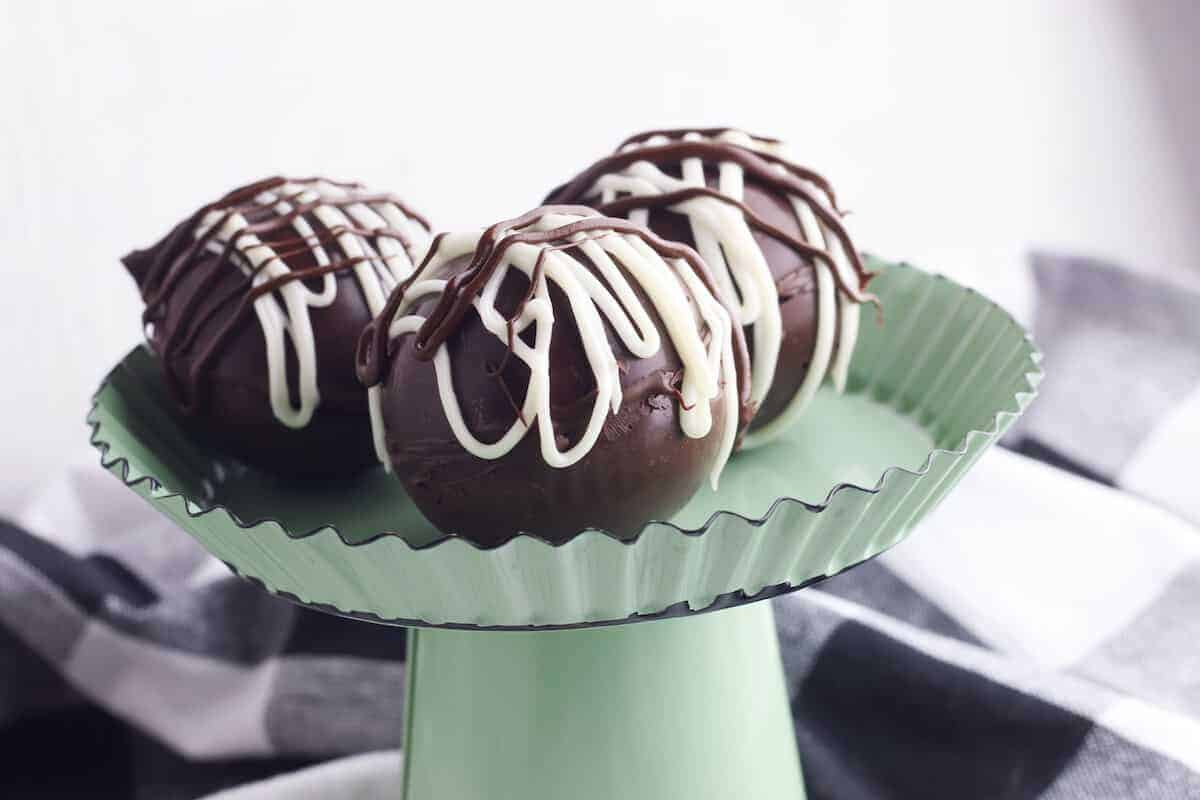 8. Do a few No Spend weekends leading up to Christmas.
A No Spend Challenge is a GREAT way to save a TON of money super fast! If you're feeling really ambitious, you can even do a No Spend month in September or October to save up for Christmas.
Our family consistently saves over $1,000 whenever we do a no spend month… and it's really not as scary as it sounds.
Go HERE to learn how to do a no spend challenge, and grab some free printable worksheets to help you stay on track!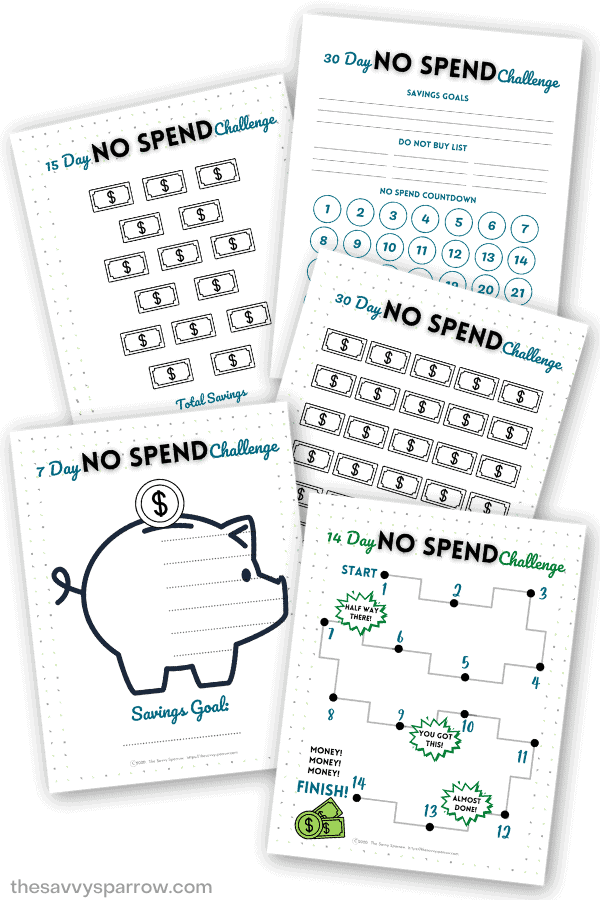 9. Gift your skills or time.
Do you have a special skill? Are you great at crocheting, or decorating birthday cakes? Or, if you don't feel like you have a single crafty bone in your body, I'm SURE you can wash a car!
Instead of spending loads of money on Christmas gifts this year, give the gift of your time! You can even make your own "gift certificates" that can be redeemed for your services.
A few years ago, I made my husband a car themed Christmas gift basket with air fresheners, a steering wheel cover, and a bunch of certificates that I printed out that said "Good for One FREE Car Wash". Then I would wash his truck for him throughout the year.
If washing cars isn't your thing, you could also give printable "gift coupons" for babysitting, yard work, baking birthday cakes, massages, etc.
10. Reuse Christmas gift bags and tissue paper.
This is one of the easiest frugal Christmas tips ever, because it takes NO time.
I'm a HUGE fan of saving gift bags and tissue paper throughout the year, and Christmas time is no different. Each Christmas, instead of trashing all of those Christmas gift bags and boxes, just fold them up and store them for next year. I even fold up gently used tissue paper and put it inside the gift bags to reuse it.
This is a HUGE money saver, plus it's good for the environment!
11. Price check carefully before you shop.
If you're not comparison shopping, you could be missing out on some big Christmas savings! You could easily pay $50 more for a gift, just because you didn't take the time to scout out the best price.
One of my favorite parts of Thanksgiving (besides the pecan pie, of course!), used to be looking through the Black Friday ads in the newspaper to find out which stores had the best sales on Christmas gifts. But now, price checking is much easier!
With today's technology you don't need to scour through loads of paper ads or drive to 18 stores just to find the best price on the gifts on your list. With price comparison apps, you literally just press a single button to find which store has the lowest price!
12. Make your own frugal Christmas decorations.
Christmas decorations can take a big chunk out of your Christmas budget, so instead of buying holiday decorations from the store, make your own for a fun and frugal Christmas activity!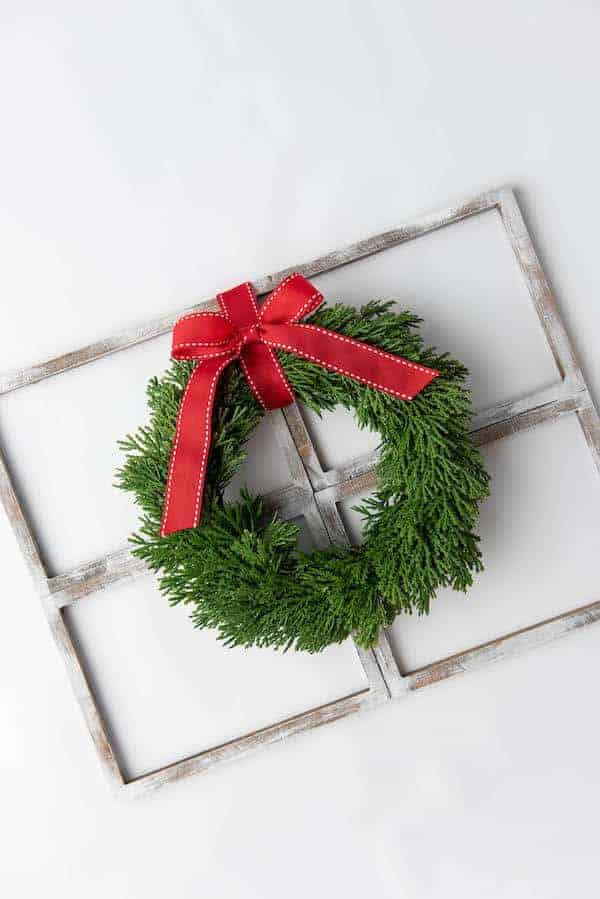 From rustic Christmas farmhouse window decor to DIY tabletop Christmas tree decorations, there are so many EASY DIY Christmas crafts that you can make to decorate your home for the holidays. Plus, you can let your kids help and turn your crafting session into family fun time!
13. Only use cash for Christmas purchases.
Did you know that about half of Americans spend more money than they make? Pretty scary statistic, right?! But if you ONLY spend cash this Christmas, then you won't fall into the debt trap.
One of my biggest frugal Christmas tips is to spend ONLY the money that you actually have. That means, no racking up a big credit card balance to purchase gifts that you can't afford, and then paying for those gifts (and added interest!) for the next 6 or 12 months.
With ONE exception… if you're disciplined enough to put your Christmas purchases on a credit card, and then pay off the entire balance before the next month's statement, then go for it! We personally put EVERYTHING on a credit card because of the cash back rewards that we earn, but then I pay off the entire credit card balance once every 7 days. So I'm actually making money, without being charged interest on the card.
14. Buy gifts from consignment stores.
For the past several years, I have bought my daughters' clothing gifts for Christmas from a local secondhand store, Once Upon a Child.
You can find GREAT deals buying secondhand, and the clothing still looks new. For instance, I regularly find Justice shirts for $4.00, when the same shirt would cost $20.00 brand new. Sometimes I'll luck out and find new-in-the-package toys there also!
15. Get cash back on your holiday purchases.
If you do your holiday shopping online, then you should ABSOLUTELY be using Rakuten! Rakuten is my favorite super simple way to earn cash back rebates on items that I'm already purchasing anyway.
All you have to do is sign up for a FREE Rakuten account, and then either download the browser extension or just search for the store that you're going to be shopping on the Rakuten website. With literally ONE click of an icon, you could get a cash back rebate!
Here is a screen shot of my Rakuten browser extension in action: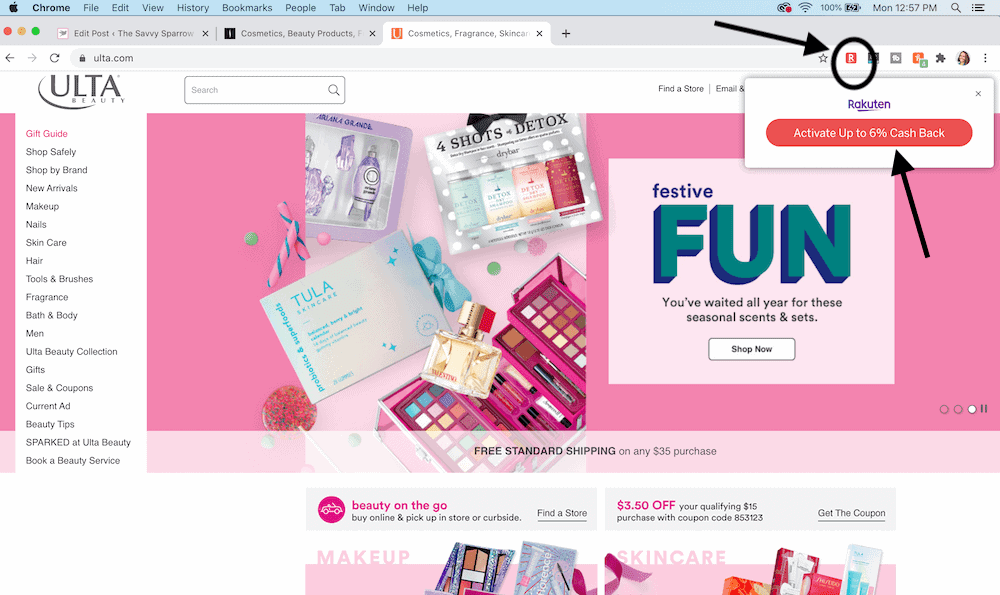 See the little "R" icon, and the button to click to activate 6% cash back at Ulta?
You can go here to read my full Rakuten review and see how to use it, or just go here to sign up and start earning cash back on online purchases!
16. Don't just buy gifts that are "wants".
Rather than spending money on a bunch of expensive toys that will probably get used for two weeks and then take up permanent residence in the bottom a drawer, purchase gifts that are NEEDS.
You're going to have to buy things that your kids NEED anyway, so why not wrap up things like socks, underwear, mittens, and toothbrushes and use them as "fillers" under the tree or in stockings.
I'm not saying to NOT buy your kids toys, but consider if they really need every single toy on their list… and if you really think they'll actually enjoy those toys for longer than a few weeks after Christmas.
I learned this the hard way…
Two years ago, my oldest daughter really wanted a build-your-own-computer/coding set for Christmas. It was really pricey ($250!), but we bought it anyway because it was the first time that she had ever really asked for a BIG gift for Christmas… plus, it was a computer building and coding set not a video game console, so we felt good about it… at least she would be learning a handy tech skill.
Fast forward to December 30th, and she had already built the entire computer, played around with a few coding games, and was done with the $250 gift. And it's been sitting in the back of her closet ever since.
17. Start some new frugal Christmas traditions.
From baking a birthday cake for Jesus to baking homemade cookies for your neighbors, here are some awesome Christmas traditions that your kids will LOVE!
And most of them are free or cheap, perfect for a fun and frugal Christmas!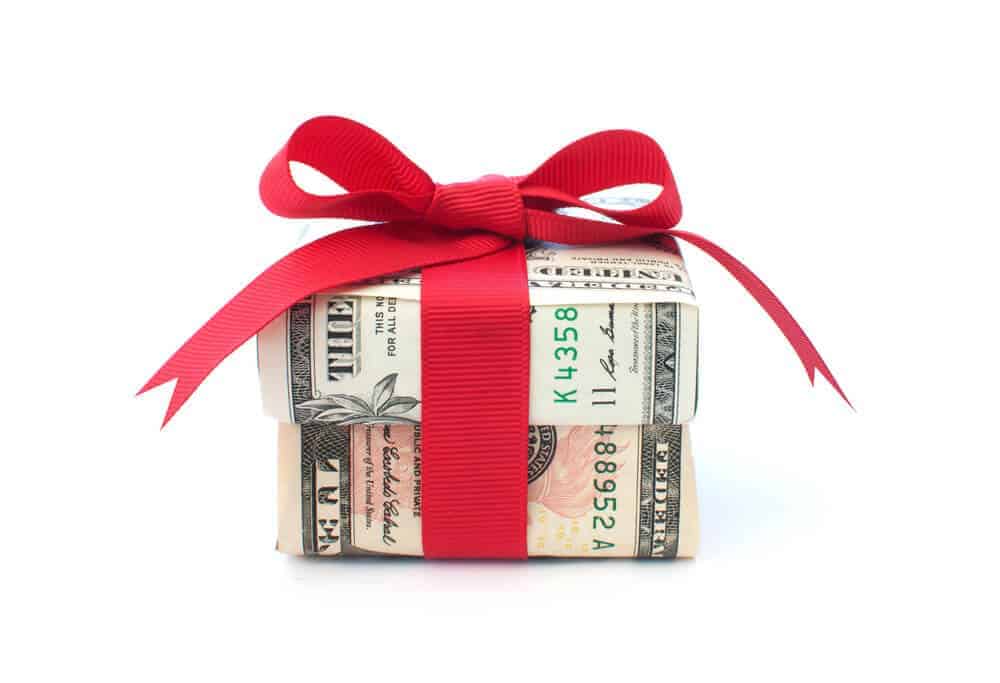 18. Reduce the number of people you buy gifts for.
Buying Christmas gifts for ALL of your family members, neighbors, kids' teachers, and coworkers can get super expensive, so to do Christmas on a budget, you'll need to reduce your gift list.
Do "Family Gifts"
Instead of buying 4 or 5 separate gifts for each person in a family (like your sister, brother-in-law, nieces, etc), just get ONE family gift. A family board game, a gift card to an ice cream shop and a pizza restaurant, or a "movie night" themed gift basket with some Redbox gift codes, popcorn, and candy are great examples of family gifts.
Buy gifts for the kids only
My husband's family does this every year, and it works GREAT! He has a HUGE family that gets together every Christmas, and instead of everyone having to purchase 30+ gifts for each family member, we only buy gifts for the kids.
19. Do Secret Santa instead of buying a lot of gifts for everyone.
A Secret Santa gift exchange is ideal when you have a large group of people, like co-workers or friends. With a Secret Santa exchange, you only need to buy a gift for one person instead of EVERY person.
Your family can also do a gift exchange, whether "secret" or not…
Just get your family members together and draw names to determine who will get a gift for each person. For instance, I have two siblings, both of whom have a spouse… that's 4 people that I would typically need to purchase a Christmas gift for. But instead, we all put our names in a hat, each person picks one name, and that is the person we buy a gift for.
20. Say "no" to things that aren't within the limits of your Christmas budget.
Saying "yes" is nice, but it can also be expensive.
Yes, you can get that super expensive electronic for Christmas.
Yes, we can host the party for fifty people.
Yes, we can run to Starbucks for the special new holiday drinks.
Yes, we'll go to that expensive steakhouse with you for Christmas Eve dinner.
Don't be afraid to say "no", especially if the ask is outside of your financial constraints.
21. Ask stores to price match.
Did you know that most big retail stores like Target, Walmart, and Best Buy have price matching policies?
It drives my husband nuts, but I regularly ask stores to price match competitor's prices or their own online prices, and just that simple ask has saved me HUNDREDS of dollars!
In fact, just last week I got Target to price match 3 different children's books that were each about $4.00 cheaper on Target.com… so I saved over $12.00 just in that one shopping trip!
So don't be afraid to ask for a price match… most stores will happily oblige to avoid losing the sale to a competitor!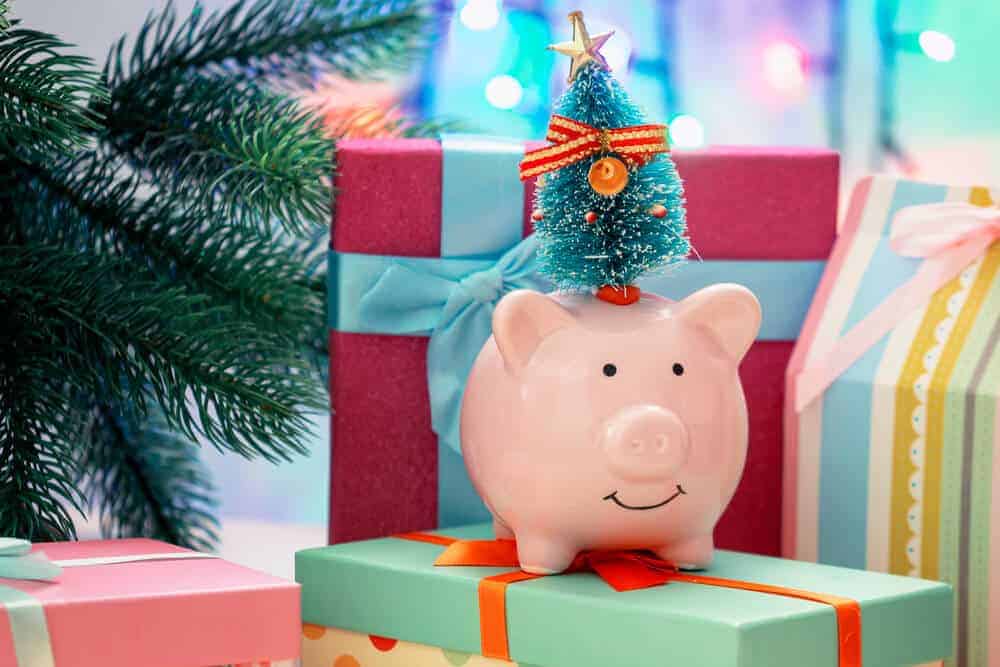 22. Make your own budget Christmas gifts.
Making your own DIY Christmas gifts is a GREAT way to save money on Christmas! Even if you don't have a single crafty bone in your body, you can still DIY some inexpensive gifts for family and friends.
Go here for 70+ DIY Christmas Gifts with homemade gift ideas for a wide range of skill levels!
23. Use money-saving apps for a frugal Christmas.
Yes, your phone can help you have a fun and frugal Christmas! I am a HUGE fan of using money-saving apps to cut costs throughout the year, but especially at Christmas.
Besides Rakuten that I mentioned earlier, you can also save money on Christmas by getting cash back from Ibotta. Plus, Retail Me Not is one of my favorites for looking for coupon codes, and Hip2Save is a great deal website (and app) that posts about a wide range of heavily-discounted products, from toys to housewares!
For a Frugal Christmas, remember the "reason for the season".
The most important frugal Christmas tip is to remember what Christmas is all about in the first place…
Christmas is NOT about gifts… no matter what your toddler thinks! It's about spending time with friends and family, and most importantly, Christmas is about the birth of Jesus.
It doesn't matter if you can't afford the $400 game console AND the $200 headphones on your kids' wishlist. What matters is that you're spending quality time with those you love.
So in order to have a frugal Christmas, you need to have a shift in mindset. Instead of thinking "Yeah, Christmas! UGG boots, Playstation, expensive theme park, shopping spree!" you need to be excited about the Christmas lights drives, family dinners, and the Christmas movie marathons with your kids.
Remember, memories are made of quality time together doing fun things, NOT gifts under the tree.
What are some of your best frugal Christmas tips? Do you regularly have Christmas on a budget, or do you tend to go hog-wild when it comes to buying gifts? Leave me a comment down below… I would LOVE to hear from you!
And check out some of these other Christmas posts: