A printable Christmas coupon book is an awesome last minute gift idea, because you don't have to run to the store and fight the holiday crowds! Simply print out the coupon book template, cut out the DIY Christmas coupons, and you've got an easy gift in just a few minutes!
A few years ago I was struggling with what to get my husband for Christmas…
He has high expectations around the holidays, and I would dare say that he actually gets more excited for Christmas morning than our two daughters do. So I always feel pressure to get him the perfect gift and load up his stocking with the best stocking stuffers.
This one particular year, there wasn't really anything specific that he wanted for Christmas, so I had to get creative… I made him a DIY Christmas coupon book filled with "coupons" that he could redeem for things like a back massage or an interior truck detail (done by yours truly!).
And he absolutely LOVED it!
These printable Christmas coupons make awesome gifts for your husband OR your kids! Use them as stocking stuffers, wrap the coupon book and put it under the tree, or add a single coupon to each day of your advent calendar. The possibilities are endless!
Here's how to make your own coupon books to give as gifts and some coupon ideas for you to steal: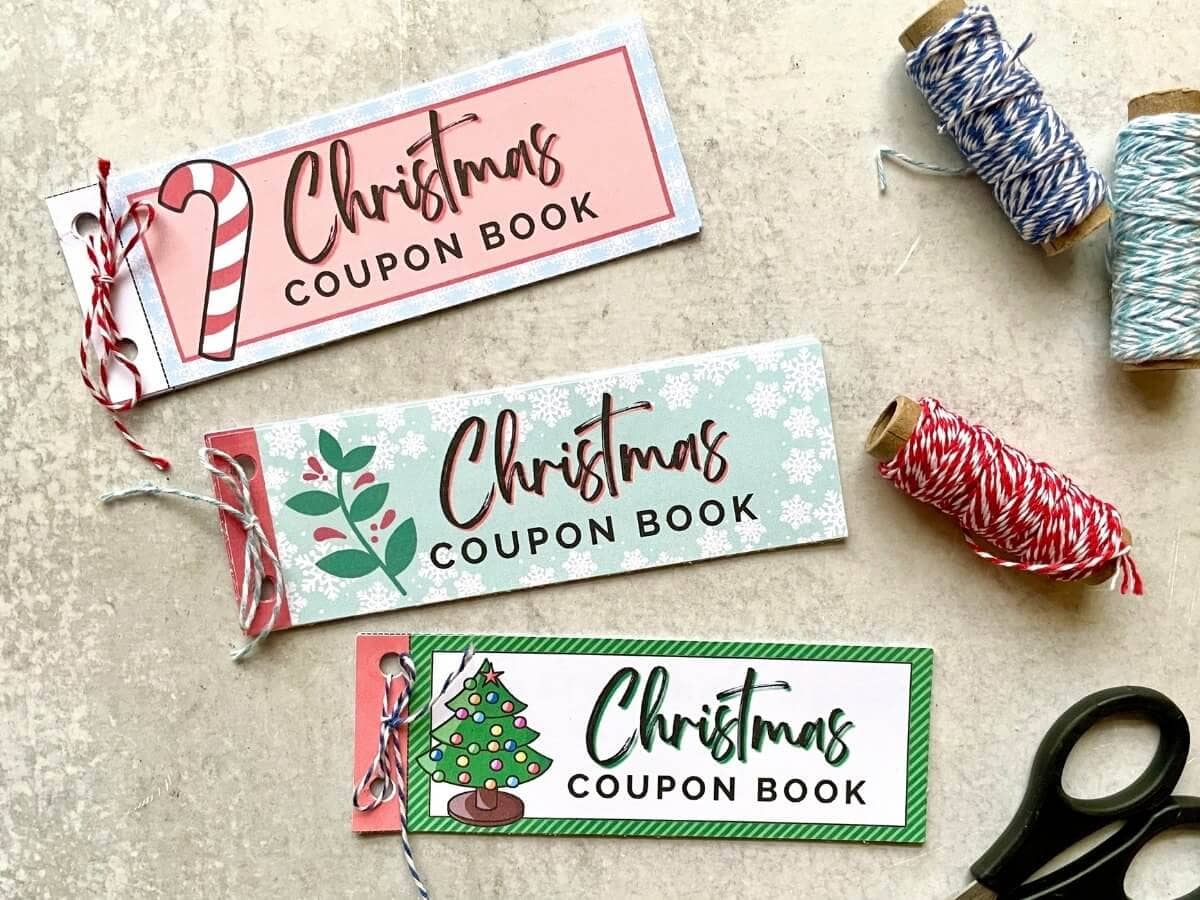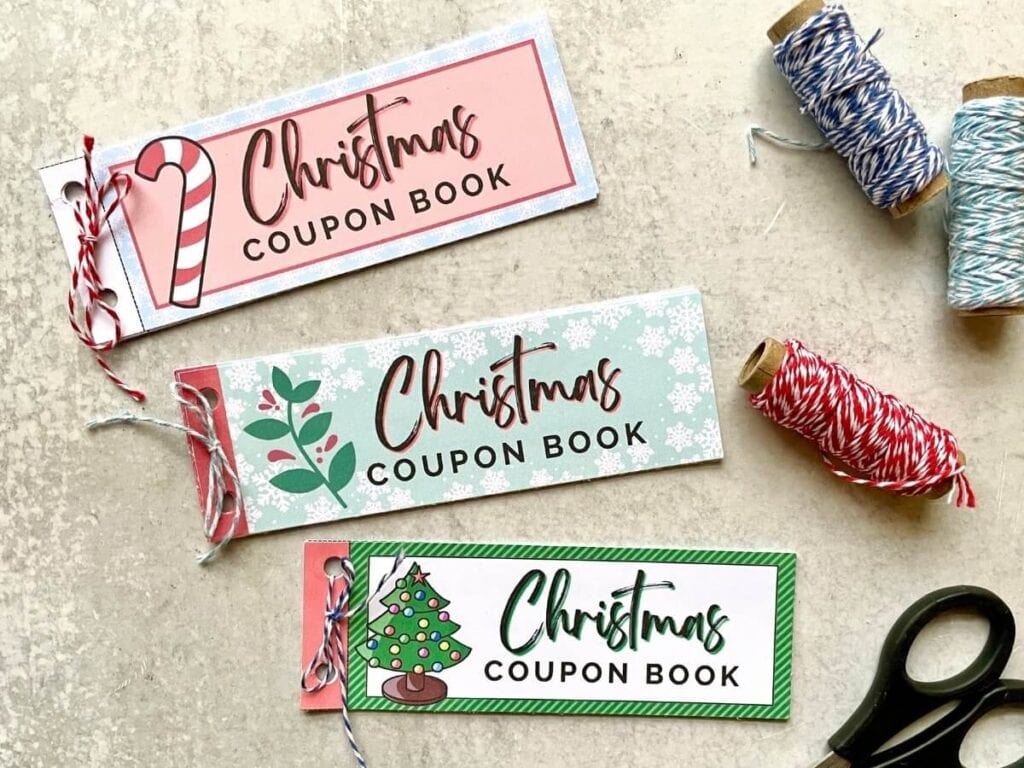 *This post contains affiliate links, which means if you click a link and make a purchase, I earn a commission at no additional cost to you. Read my full disclosure for more info.
Why are DIY Coupon Books a Great Gift Idea?
Here's why DIY printable coupons are one of my go-to Christmas gifts:
Printable coupon books can be made at the last minute.
When it comes to Christmas shopping, I'm the Mom that will be scrounging through the bare aisles of Target 3 days before Christmas trying to find last minute stocking stuffers. But gifting printable coupon books allows you to skip the last-minute holiday rush altogether!
Instead of fighting the crowds of procrastinators, you can simply print your own Christmas coupon book and assemble it a few days before Christmas… Easy peasy!
DIY coupon books are an inexpensive gift idea.
If you're on a tight budget for Christmas time, then a Christmas coupon book can help you not blow the bank. For just a few dollars, you can put together your own thoughtful book of coupons to give as gifts. As long as you include some inexpensive coupon ideas, like an ice cream cone or a McDonald's Happy Meal, then coupon books are awesome and cheap gifts!
Also, giving DIY Christmas coupons allows you to spread the cost out over a longer period of time. For instance, I gave my kids these Easter Bunny Money coupons in their plastic Easter eggs this year and, 4 months later, they still had some coupons left!
Christmas coupon books let you gift quality time together.
Toys and "stuff" are nice, but if you ask your kids or husband what they would rather have, they'll probably say quality time doing something fun, like going out to a movie together or trying that new restaurant that just opened nearby.
I love giving coupon books as Christmas gifts, because they're another way to sneak in some extra fun family time!
Supplies to Make Your Own DIY Coupon Book
printable Christmas coupon template – You can get my super cute DIY coupons at the end of this post!
printer
heavier weight copy paper or card stock – I like to use this 32 lb. printer paper for my colored printables because the end product looks much nicer than regular 20 lb. paper. Plus, the heavier weighted paper is less likely to get torn or wrinkled in a Christmas stocking.
paper trimmer or scissors
stapler OR hole punch and string or brads, depending on how you choose to put your coupon book together
How to Make Your Own Christmas Coupon Book
The beauty of this last-minute gift idea is that it's SO easy to make! Even if you're the furthest thing from Martha Stewart you can still DIY this handmade Christmas gift. Here's how to do it:
Step 1: Download the Christmas Coupon Book Template and Fill It Out
My printable Christmas coupons are fillable, which means you can actually type your coupon ideas directly on to the front of the coupon! Great if you have awful handwriting like I do!
Just follow these steps to type in the coupon book template:
Go to the Adobe website here and download and install the free Acrobat Reader to your computer. (If you already have Adobe Acrobat installed you can skip this step).
Open the Christmas coupon book PDF using Adobe Acrobat Reader… You should be able to right click on the file icon on your computer (wherever you saved it) and select Open With > Adobe Acrobat Reader.
Once the coupon book file is open, you're ready to start typing your coupon ideas in to the blue boxes.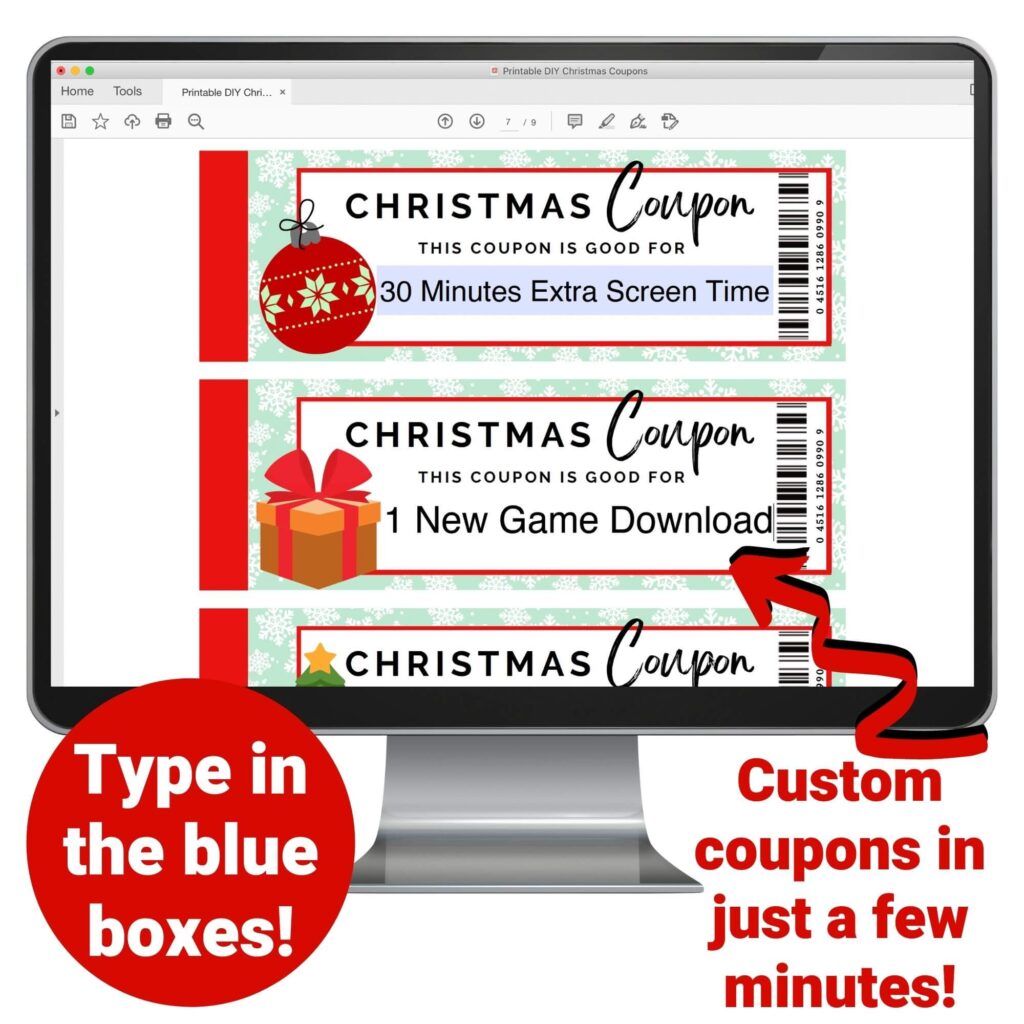 When you're done filling in all of the Christmas coupons, click File > Save As > and then name it whatever you like and save it to somewhere on your computer where you can easily find it, like your desktop.
Print out the coupons, and you're ready to move on to the next step!
If you don't want to use Adobe Reader to type in the editable coupons, you can simply print the coupons and fill them in by hand with a pen or marker.
Step 2: Print the Christmas Coupon Book
I printed the front and back covers for my coupon books on card stock so they were sturdier, and the interior coupon pages on 32 lb. printer paper.
I'm in LOVE with the end result: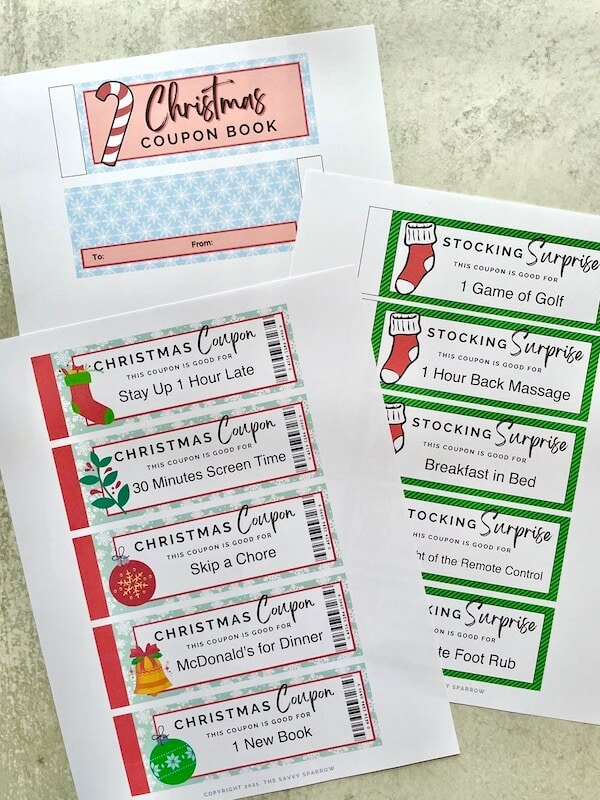 If you don't have a good color printer at home, I would highly recommend having your coupons printed at a print shop like Staples or FedEx Kinko's.
Step 3: Cut Out the Christmas Coupons
You can use scissors to cut out your coupons, but I prefer a paper trimmer because the cuts will be much straighter and you can put your book together more quickly. Great if you're making Christmas coupon books for all of your family members!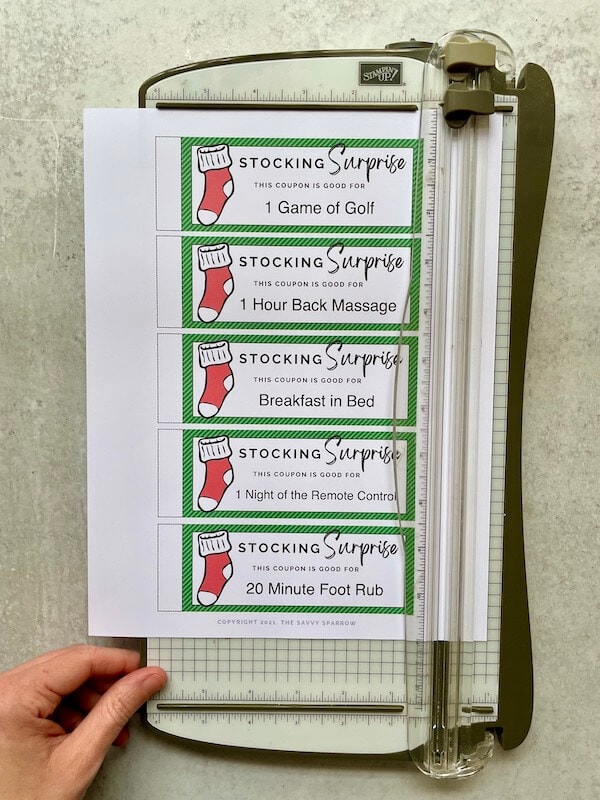 Step 4: Assemble your DIY Christmas Coupon Book
As I mentioned before, you have two main options for binding your coupon book together without spending a fortune on professional book binding… staples or hole punch. Here are instructions for both methods:
How to staple the Coupon Book together:
If you want to use a stapler, simply place the coupons in the order that you want them to appear in the book. Then, add the front and back covers and make sure that all of the pages are lined up straight. Finally, just staple twice on the left margin of the book. There is about a 1/2″ of space on the left side of the printables that's perfect for binding your book together.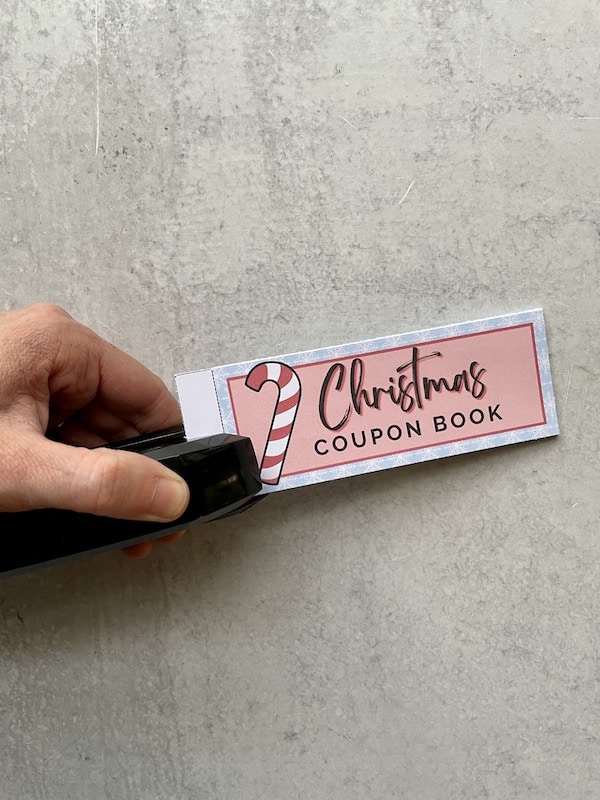 *Note – Unless you have a heavy duty stapler, you may only be able to fit about 4 or 5 coupons in your book if you choose to go with the staple method.
How to use a hole punch to put the Christmas Coupon Book together:
I prefer the hole punched coupon books, because I think the twine bows make them cuter!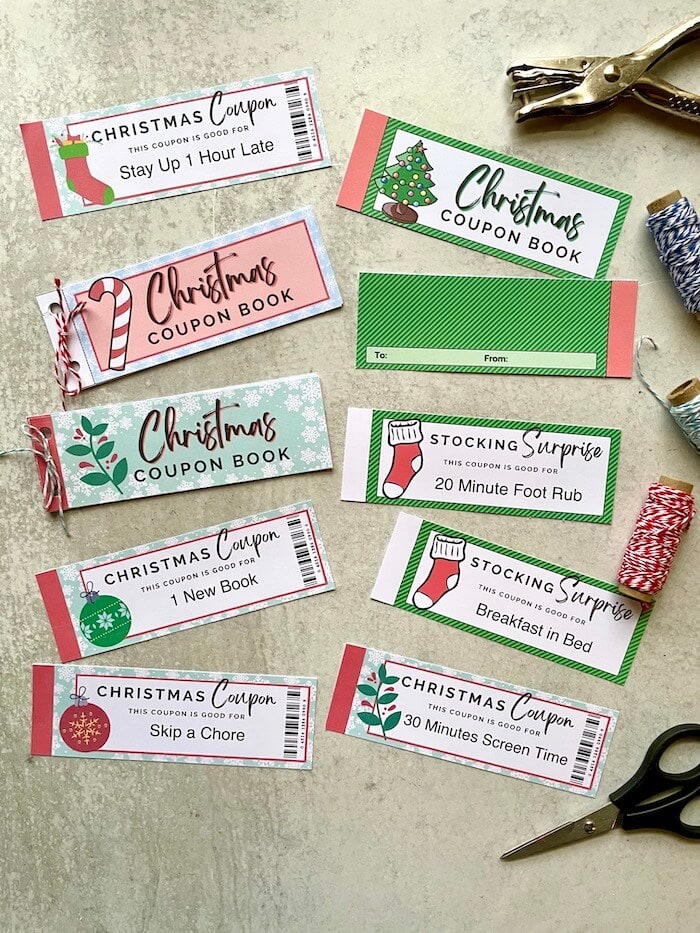 You have a few different options if you're going to use a hole punch to put the books together… either tie bows through the holes like I did, or use colored paper brads like these. The brad paper fasteners are probably the easiest method, but I didn't have any on hand.
I was able to hole punch about 6 coupons at one time (printed on the 32 lb. paper). And I didn't worry about measuring for the placement of the holes… I just eyeballed it, and they came out great!
Just punch one hole about 1/2″ from the top of the coupons and another hole about 1/2″ from the bottom, in the margin.
*Note – When you get to the back cover, make sure that you flip it around so that you punch the holes on the correct side. The margin for the back cover is on the right side, so that it faces outward when you put your coupon book together.
Coupon Ideas for Your Christmas Coupon Book
So once you've got your Christmas coupon templates downloaded to your computer, you may be at a loss for what types of "gifts" to put on the coupons… but don't worry! I've got LOADS of awesome Christmas coupon ideas for kids and adults!
And I even consulted my two daughters for their ideas… so these coupons are kid-approved (especially the Frappucino coupon!).
Christmas Coupons for Your Husband or Boyfriend
30 minute or 1 hour back massage
interior cleaning of his car
car wash
2 hours of watching football together
you make or buy his favorite dessert
takeout dinner from his favorite restaurant
breakfast in bed
1 hour of sleeping in late
he gets control of the remote for one night
1 date night
20 minute foot rub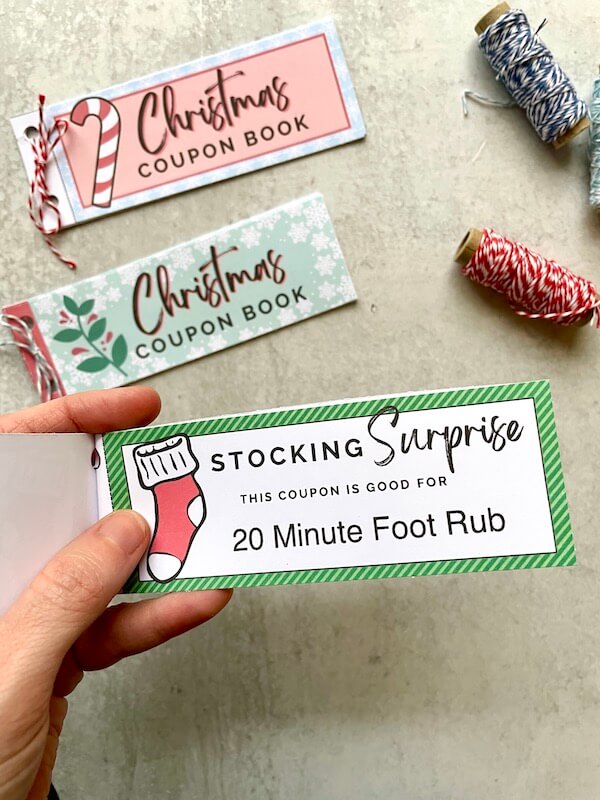 guys' night out
1 game of golf
1 lunch date
romantic dinner made by you
1 hour afternoon nap
theater movie of his choice
2 hours of "me" time
whatever you want – kind of like a "Wild Card" coupon that he can use for whatever his heart desires!
Christmas Coupons for Kids
Pick the movie for family movie night
Let Mom do two of your chores
Pick out a treat from the store
Breakfast for dinner
Pick what you want for dinner
Pizza for dinner
$20 to spend at Target
Get a Kid's Meal from your favorite restaurant
Stay up 1 hour late
Pick a dessert
1 Frappuccino – My kids' personal favorite coupons!
1 hour of video game play
Pick a game for the family to play
Pick a book from the book store
1 scoop of ice cream
1 doughnut
1 free tank of gas – Great coupons for your teenagers!
1 new app store or music download
1 slushie
$5 to spend at the Dollar Store
Making cookies with Mom
1 whole candy bar
Pancake breakfast on the weekend
Ideas for How to Gift the Christmas Coupon Books
You may be wondering how best to wrap up the coupon books and give them as gifts… Here are some great ideas for how to surprise your husband or kids with a DIY coupon book:
Use the coupon books as stocking stuffers.
Wrap up a single coupon with a gift that coordinates with it… For instance, I bought my husband an electronic back massager a few years ago and printed out a bunch of coupons that said "Good for One 20 Minute Back Massage".
Instead of assembling the coupons into a book, cut out the individual coupons and add one to each day of your advent calendar.
Wrap up the coupon book in a large cardboard box with a brick. The wrapped gift will be heavy, and the gift recipient will be surprised by the small paper gift inside. (This is an awesome way to wrap your Dirty Santa gift exchange gifts also!)
Have your Elf on the Shelf "deliver" the Christmas coupon books to your kids.
Printable Christmas Coupon Book Template
Want my super cute printable Christmas coupon book templates to make DIY coupons for your family this year? You can grab them in my shop!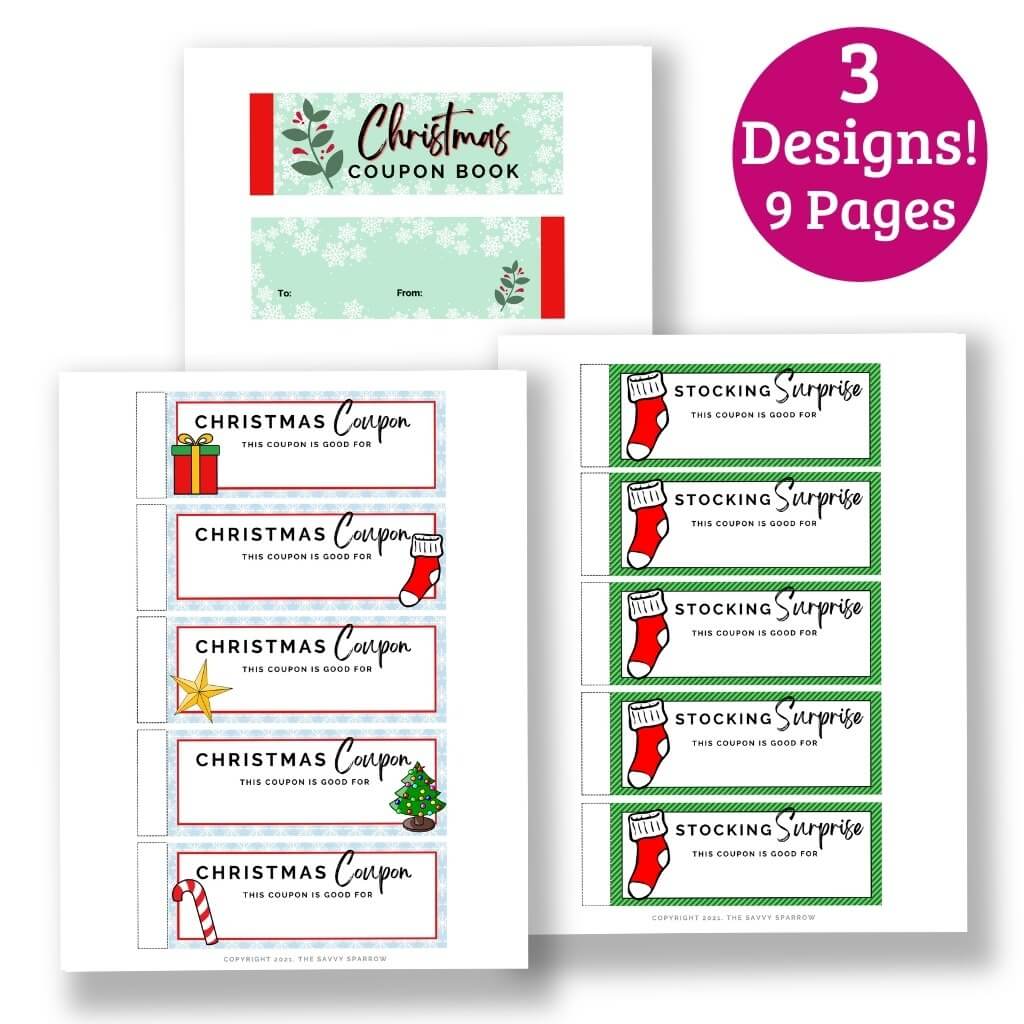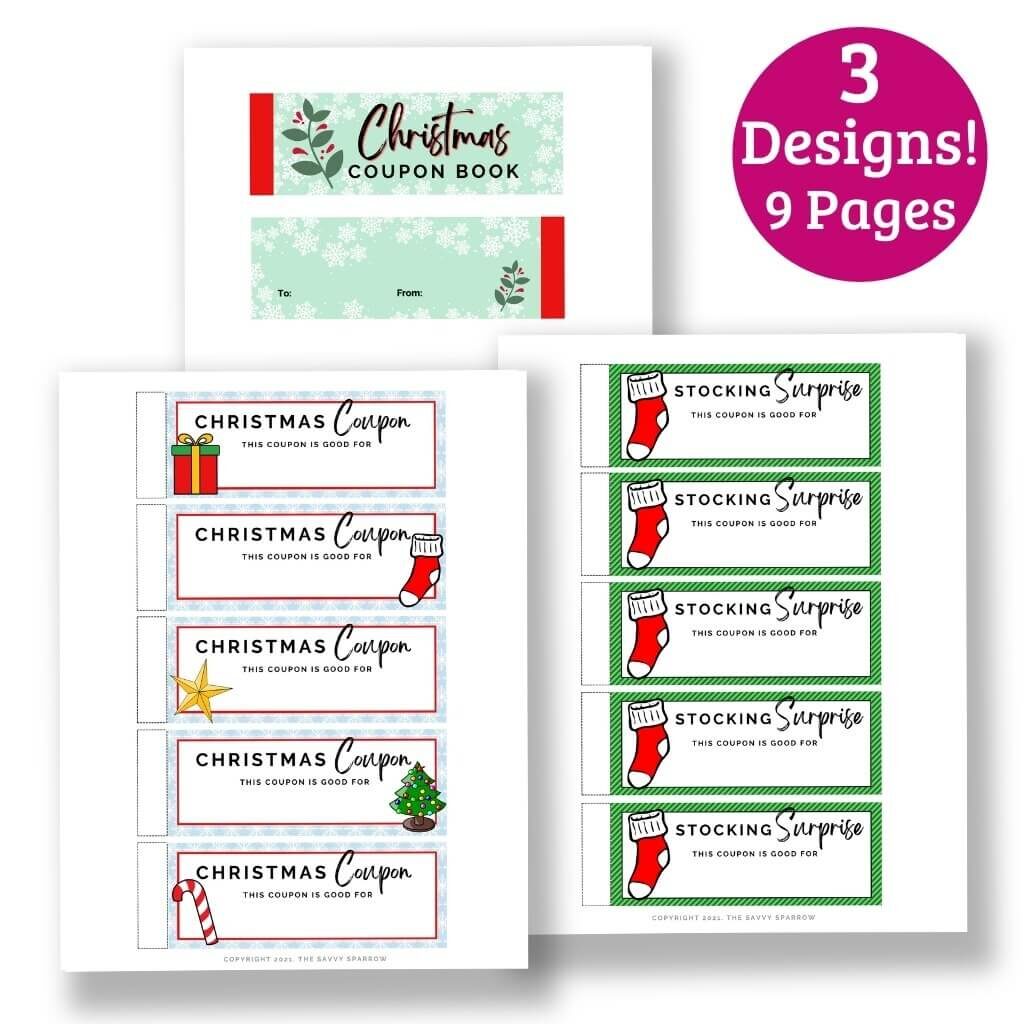 Get the Printable Christmas Coupon Books Here!
Looking for FREE Christmas printables? Check out these posts:
And don't forget to PIN this post for later… like when it's Christmas Eve and you need last minute stocking stuffer ideas: