If you're looking for fun ways to surprise your kids on Christmas morning, then this is it! Learn how to make Santa's footprints to show your kids that Santa really was at your house!
My kids stopped believing in Santa years ago. Even though they were only 8 and 6 years old at the time, the whispers of reality were starting to creep around school and plant seeds of doubt in their minds.
So when they flat-out asked me one day, "Mom, is Santa Claus real?", I told them the truth. And then, of course, their line of questioning continued. So I successfully killed off the Easter Bunny, the Tooth Fairy, and Santa Clause in one foul swoop. #MomOfTheYear.
If only I had made these Santa's Footprints sooner!
If you want some visual proof that Santa was at your house, then make Santa's snowy footprints leading from your fireplace to your Christmas tree. Your kids will be SUPER excited to actually see this little "proof" that Santa left behind (besides of course the empty plate of cookies!).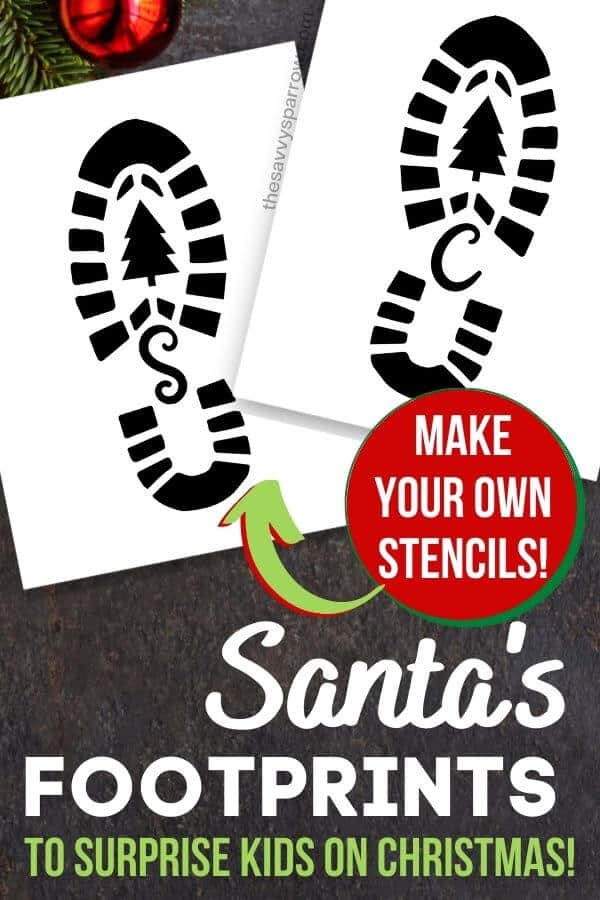 Here's how to do it:
Supplies Needed for Santa's Footprints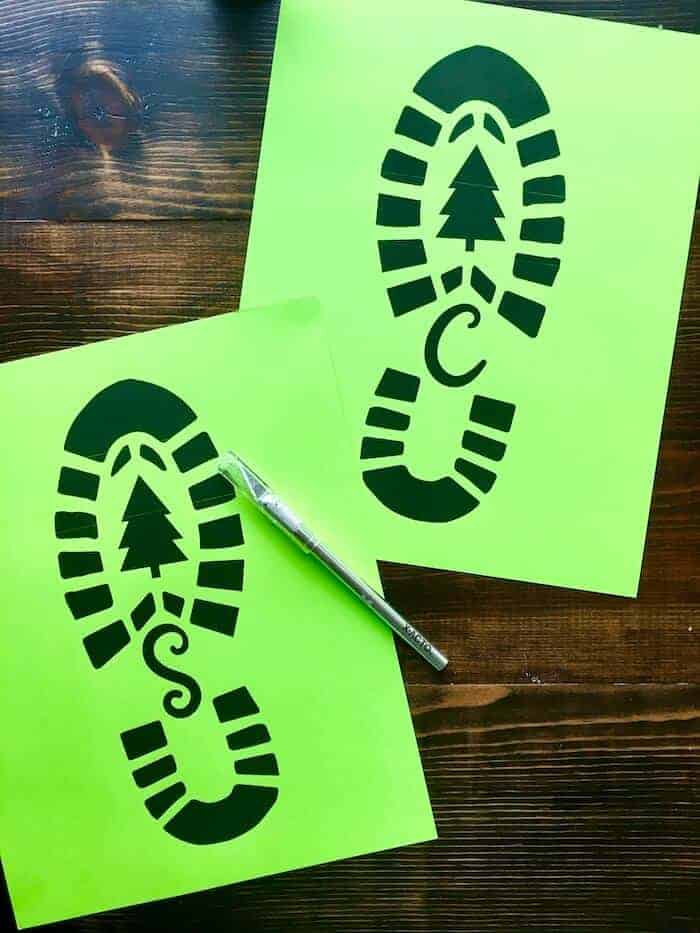 Here's what I used to make the snowy boot prints with stencils:
Free Printable Santa Footprints Stencil Template – You can grab mine down below! Or, you can also find some awesome Santa's footprints stencils on Etsy.
X-Acto knife – Or if you're not comfortable using an X-Acto knife, a pair of detail scissors works also!
Cutting mat – If you don't have a cutting mat, you can use a foam board from Dollar Tree like I did… but be SUPER careful so that the knife doesn't "skip" while you're cutting the template.
Card stock – You could probably use printer paper also, but you will just need to be extra careful when pulling the stencil off the floor.
Flour
Mesh strainer – which I used as a sort of flour sifter
*Note – I will tell you that I tried making the prints with a pair of my husband's boots, flour, and water, but the results were not NEAR as good as the stencil method. I had to wet the bottom of the boot to get the flour to stick, but then the majority of the flour ended up sticking to the sole of the boot instead of coming off on the floor like I wanted it to.
How to Make Santa's Footprints with Printable Stencils
1. Print Santa's Footprints Stencils on card stock.
My printable Santa's Footprints stencil is complete with an "S" and a "C", plus a Christmas tree shape, so it looks like Santa is wearing custom boots straight from the North Pole.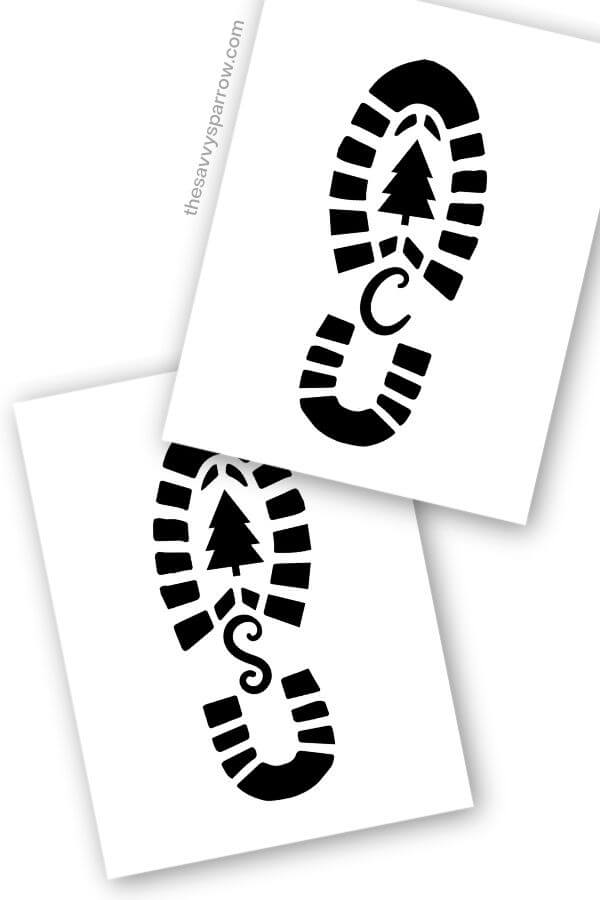 You can grab the free printable footprints template here!
I printed mine on card stock, which is what I recommend. The card stock holds up better under the weight of the extra flour when you are lifting it off the floor, plus your stencils will be more durable so you can use them year after year.
2. Cut out the dark areas of the template.
Using an X-Acto knife or precision scissors, cut out all of the black shapes on the stencil. If you're hesitant to use an X-Acto knife, then don't! A good pair of detail scissors works just as well with this stencil.
And don't worry about your cuts being 100% perfect. You can tell in the photo below that I didn't cut exactly on the lines, and my "snowy" footprints still look awesome on the floor!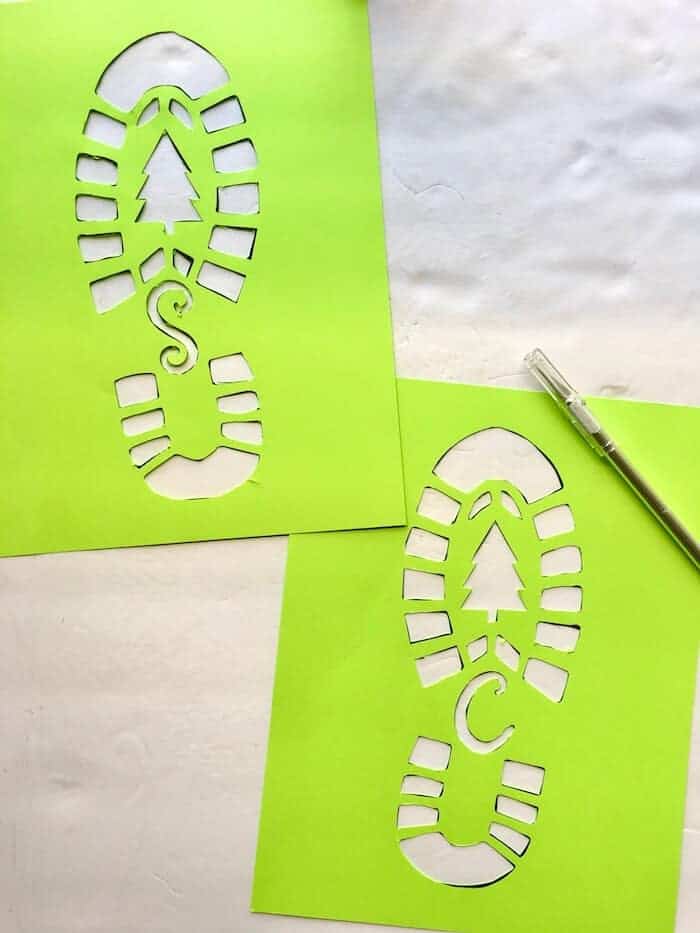 *CAUTION – The X-Acto knives are SHARP, so be extra careful cutting out the stencils!
3. Lay the stencils on your floor, and sift a light layer of flour on top.
I had to do a few practice boot prints before perfecting my method, but the "boo boo footprints" were super easy to clean up with just a broom and a dust pan.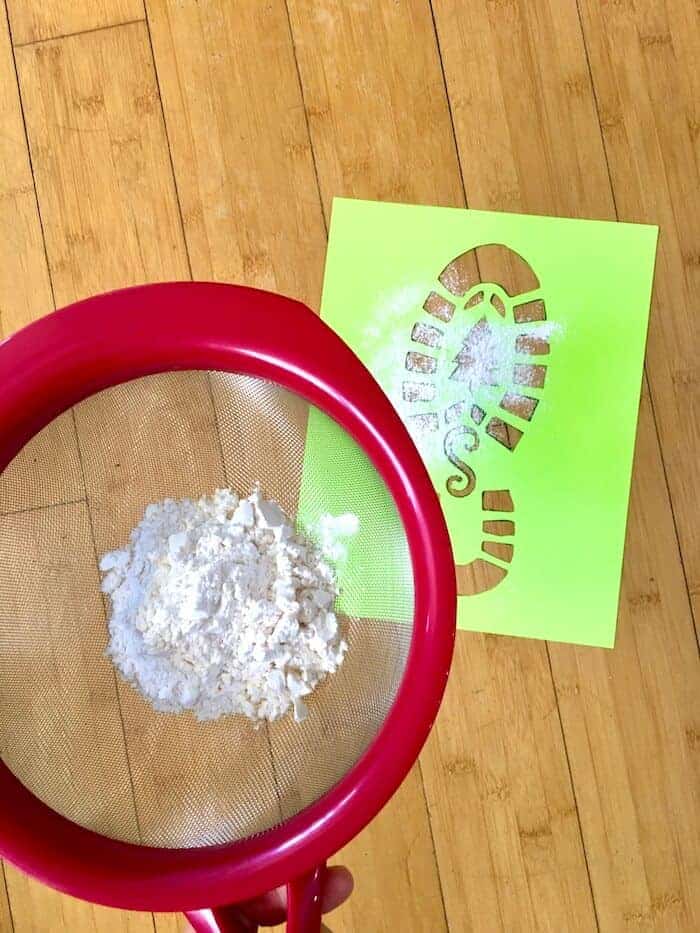 I found it easiest to do a light sprinkling of flour on top of the stencil. At first I piled the flour on top pretty thick so that I couldn't see any of my hardwood floor through the flour, but that's not necessary.
You'll get the hang of it pretty quickly, and then you'll be able to do a long line of snowy footprints that look perfect!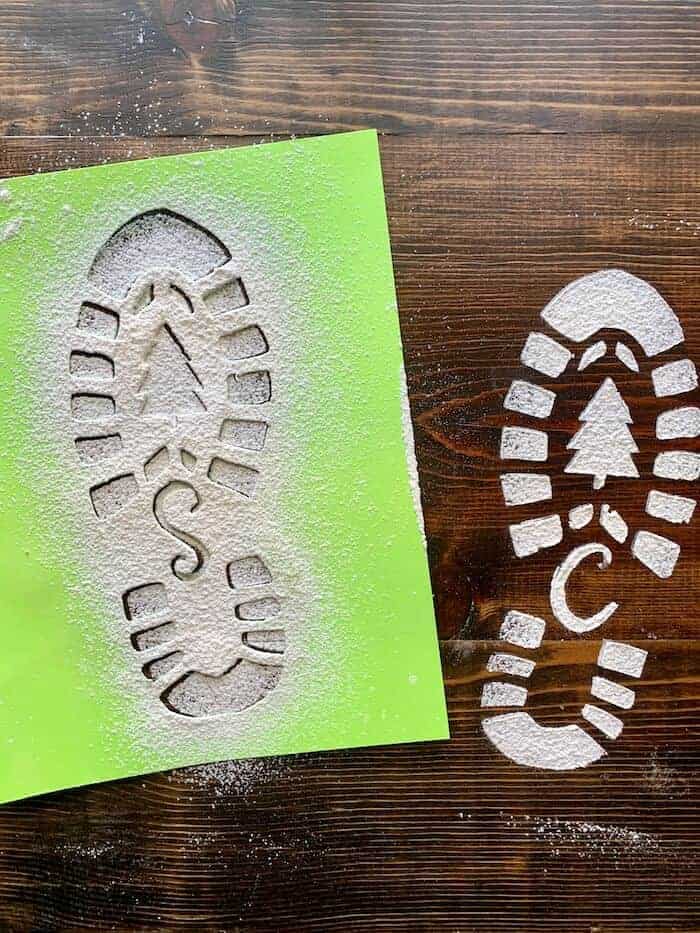 4. Carefully lift the stencil off the floor, and move on to the next "snowy footprint".
Just be warned, your first few foot prints probably won't look all that great! As I was trying to get a grip on the corner of the stencil to lift it off the ground, I accidentally moved it which made the flour underneath smear.
Very gently lift the stencil straight up off the floor, and you should be left with a perfect footprint!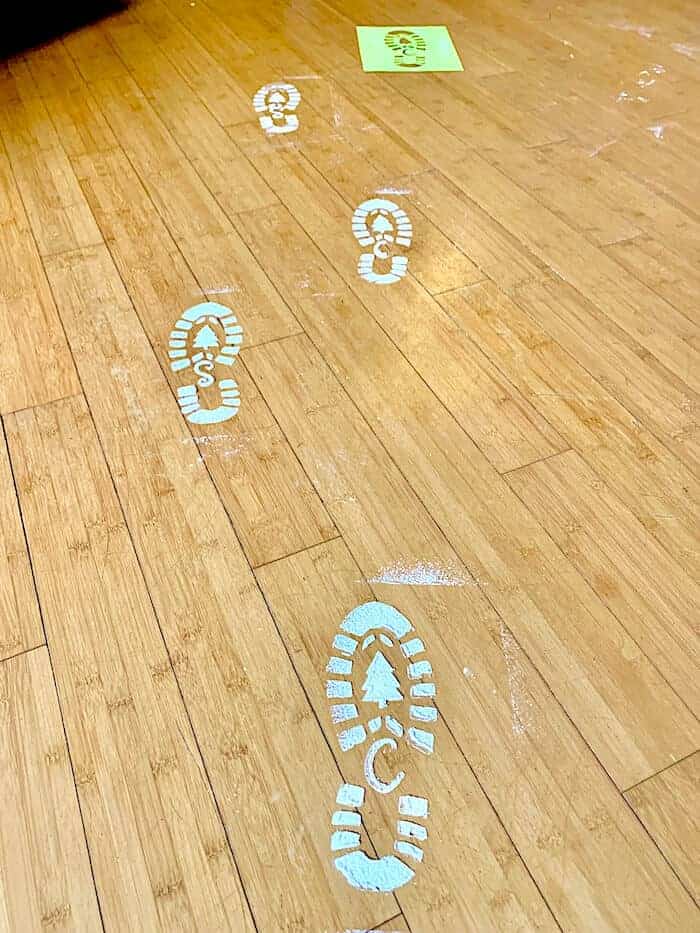 Then, just continue sifting flour on top of your stencils until you get a long line of Santa's footprints. If you don't have a fireplace, you can make a path from your front door to your Christmas tree. And if you don't mind a little extra clean up, you can even make a path to your kids' rooms to show that Santa was checking on them while they were sleeping!
And the best part of this fun Christmas surprise for kids… the clean up was SUPER easy! I just used a broom and dust pan to sweep up all of the flour. You could even jokingly scold "Santa" for not wiping his feet before tracking snow into your house!
If you have younger kids, then you should definitely add this fun idea to your list of Christmas traditions that your kids will LOVE! Right along with this free printable Christmas Lights Scavenger Hunt!
And if you want some other fun Christmas ideas, then be sure to check out these posts:
Or hop over to Love to Know for more Christmas morning surprise ideas!
And happy nesting!