Thinking about making the jump to a customizable planner, but not sure about the customizing process or which custom daily planner to try? Check out this Purpletrail Planner review for an in-depth look at one of the best custom planners for busy Moms!
My planner and I are attached at the hip. I would be lost without my daily planner and the treasure trove of reminders, appointments, and to-do lists hidden inside. So when I was asked recently to review a customizable planner from Purpletrail, I jumped at the opportunity!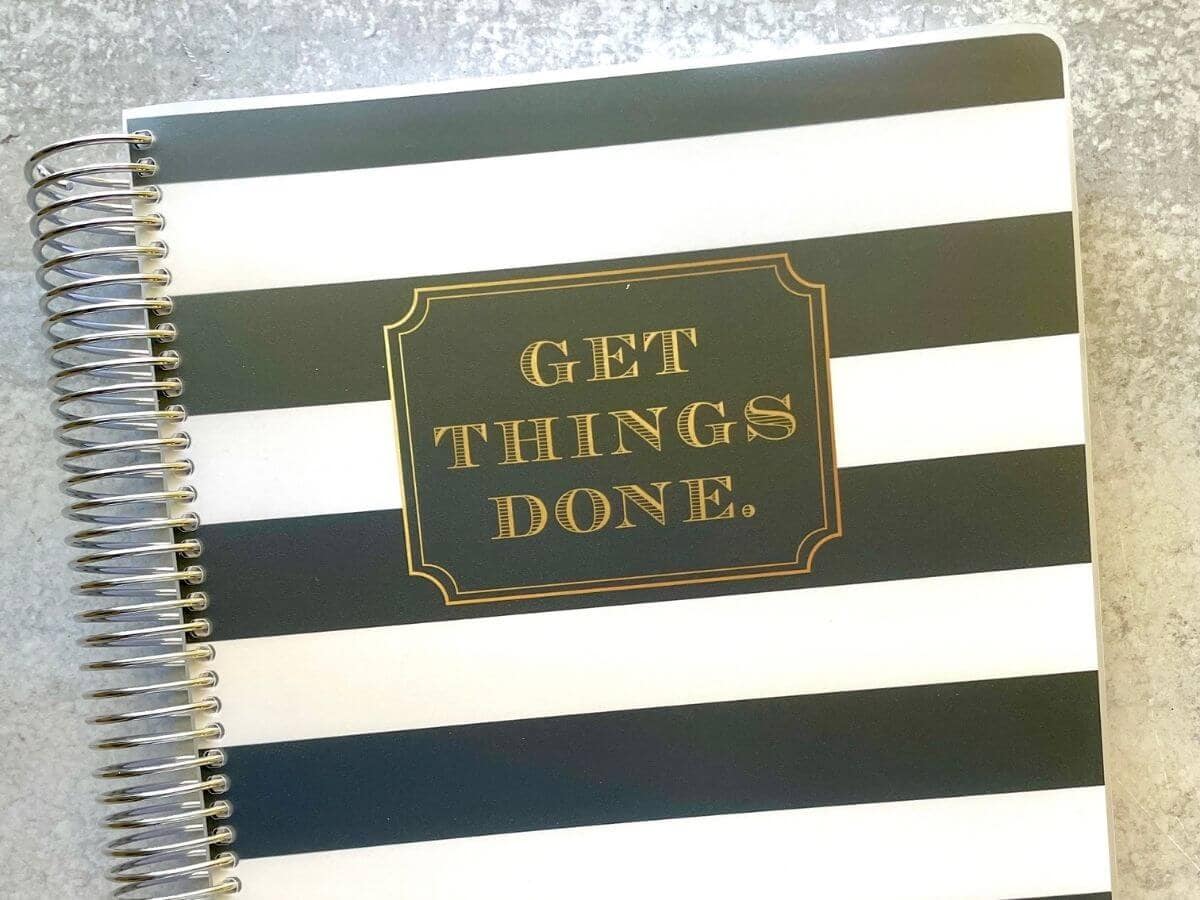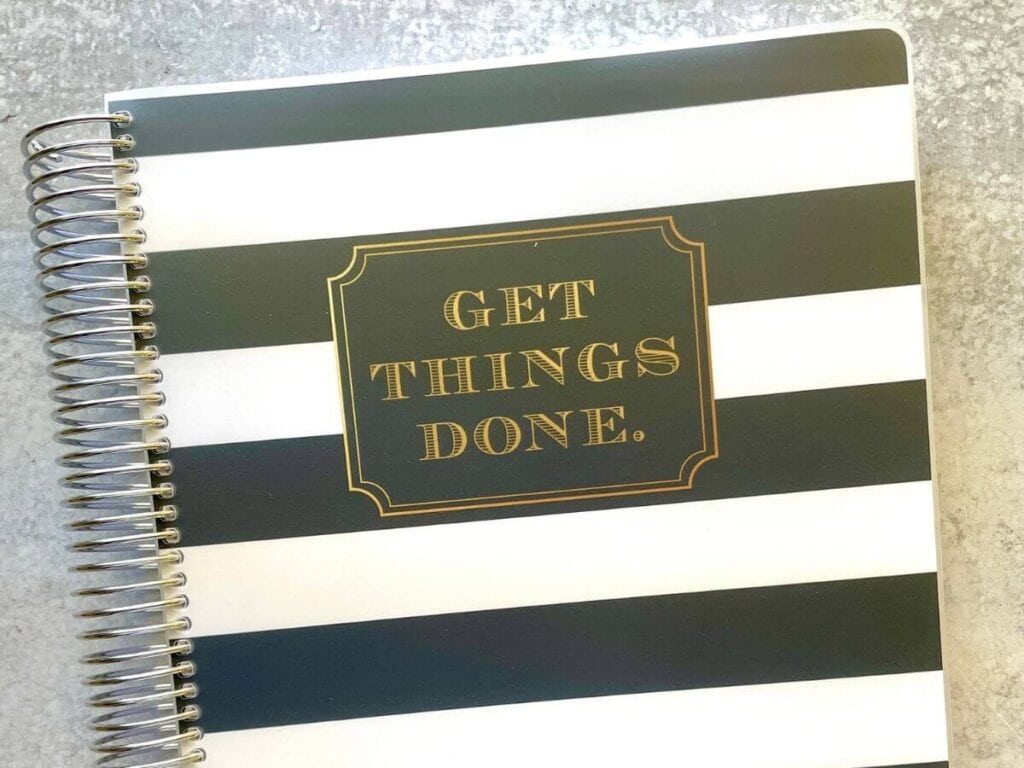 *This post contains affiliate links, which means if you click a link and make a purchase, I earn a commission at no additional cost to you. I also received my planner for free in order to write this review. Read my full disclosure for more info.
A good Mom planner can make all the difference when you're trying to manage a bunch of kids' after-school activity schedules, keep up with your own work responsibilities, and not let any meetings or appointments fall through the cracks. And if you're a fan of using a paper planner to manage the chaos, then you should check out the Purpletrail custom planners!
My Favorite Features of the Purpletrail Customizable Planner
Loads of Cute Planner Covers to Choose From
When I say there are LOADS of planner covers that you can choose from during the customization process, I'm not kidding! It literally took me a solid week to start designing my Purpletrail planner because I had such a hard time picking out just one cover design!
Whether you want something floral, modern, abstract, classic, or cheerful, you'll find a design that you love. And you can even customize the cover to include your name, the year, your favorite quote, etc.
Here's just a small sample of the covers available for your Purpletrail custom planner: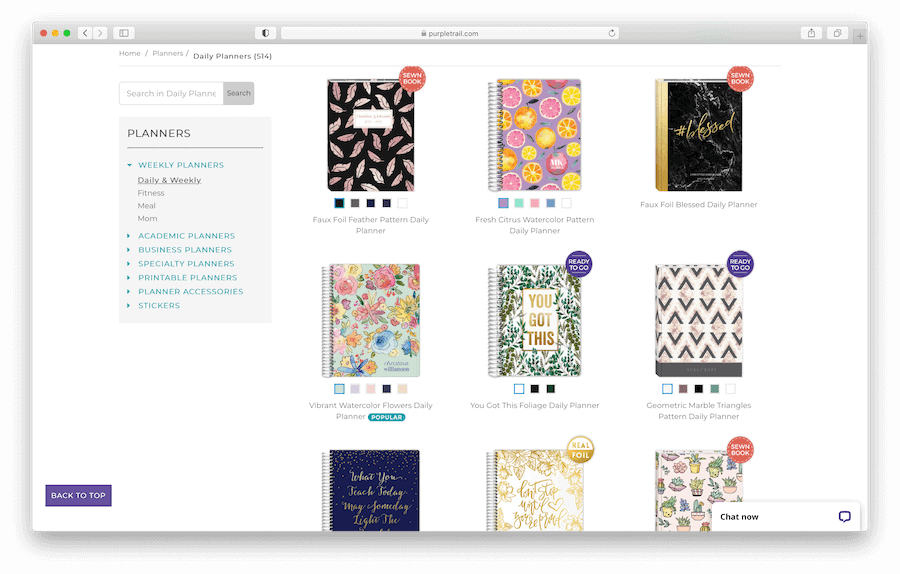 You can go HERE to check out even more Purpletrail planner cover options!
Personalize the Planner Cover with Your Name
This is another one of my favorite things about the Purpletrail customizable planners!
Customizing the planner cover is super easy in the user-friendly, drag-and-drop style window. As you can see in the screenshot below, you're able to change the font, size, color, and alignment of the text.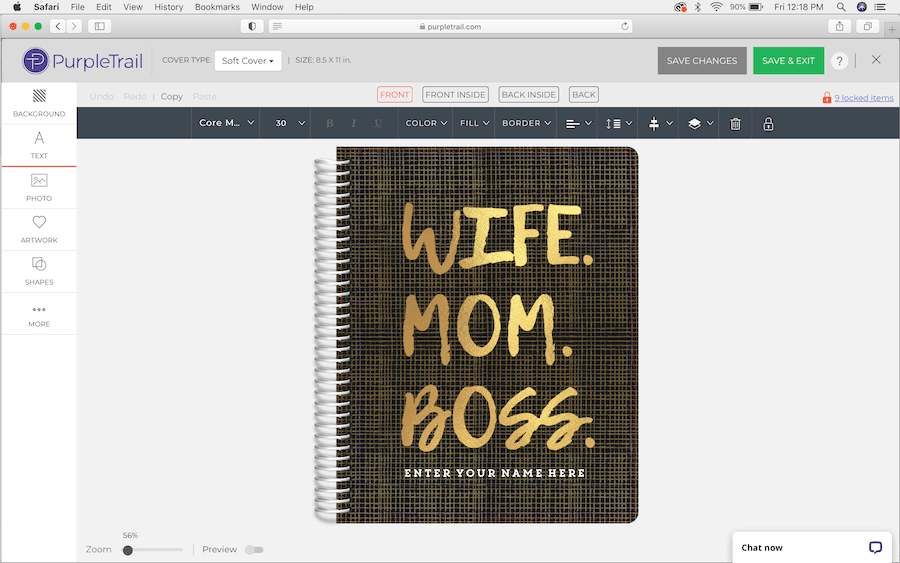 *This is the planner cover that I almost ordered… I was thinking that I could cut out the cover after I was done with the planner, and then I could frame it and hang it in my office as wall art!
Here's the planner cover that I finally decided on, a classic black and white stripe design. As you can see, I also personalized it with my name at the bottom: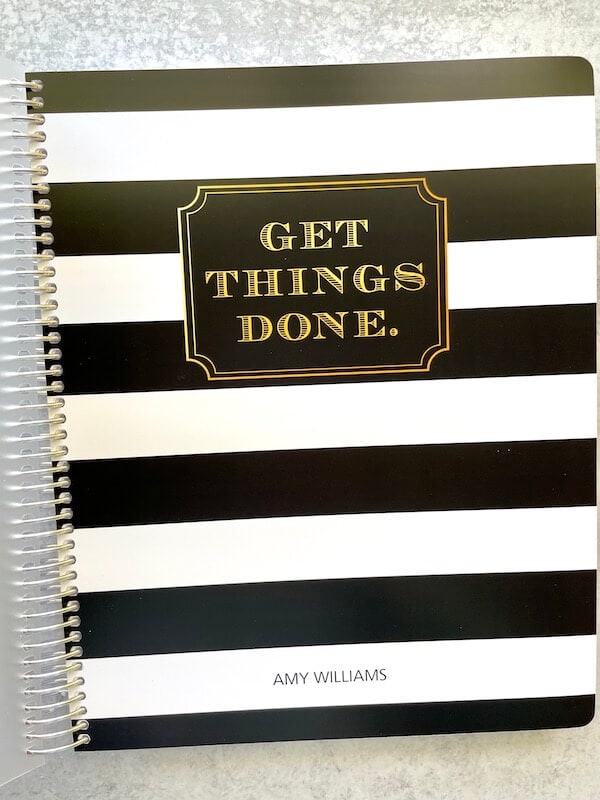 Choose Your Own Daily or Weekly Layout
One of the most difficult things for me when picking out a planner each year is finding one with just the right layout. As an avid Happy Planner user for years, I remember going to the store and flipping through a gazillion different planners looking for one that had a cute cover AND lined pages, and so often when I found a cover design that I liked, the layout on the inside didn't suit my needs.
But with the mix-and-match options of a customizable planner, you don't have to worry about sacrificing design for functionality, or vice versa.
With the regular customizable daily planners from Purpletrail, you can choose from the following layouts:
horizontal weekly
vertical weekly – This is what I chose!
vertical hourly – in 1 hour increments
vertical hourly – in 15 minute increments
3 section weekly – with 3 individual boxes listed under each day
quad weekly
one page per day – This option gives you a full page for each and every day, which is great if your schedule is super jam-packed or you want to use your planner to track daily habits, meal plan, etc.
two pages per day
monthly grid layout
My handwriting is crap (just being honest!), so a lined daily layout is essential for me. And I also used to use my planner to track my finances. The vertical weekly layout that I chose has plenty of space if your planner is usually jam-packed!
You can also choose from a variety of "custom" layouts like this cute option: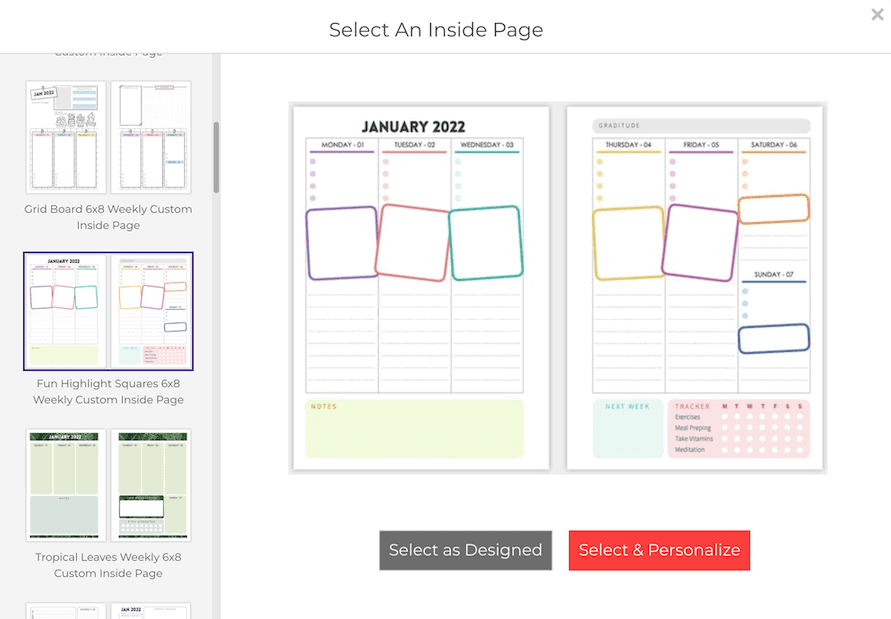 With the custom layouts, you can personalize the text on the interior pages to suit your needs, add or take away lined sections or bullet points, add shapes, etc. The possibilities are pretty much endless with your customizable planner!
Adding Sections to Your Custom Planner is a Great Deal
I'm all about getting the most "bang for your buck", so of course we have to discuss the value of ordering additional sections to be included in your planner. You can select from a HUGE variety of "add on pages" for just $3.95 for 24 pages. Here are the options:
lined notes paper
to do list pages – separated into boxes for 4 lists per page
password log – with space to include the website, email, username, password or hint – If you don't want to keep all of your passwords in your planner, you should check out my printable password log here!
checklist pages
graph paper
dotted grid paper
fitness tracker
nutrition tracker
travel itinerary – with packing checklists and info for flights, accommodations, car rentals, etc.
shopping list
habit trackers – You can also check out my free printable habit trackers here!
party planner
bill tracker
important dates – like a perpetual calendar where you can record birthdays, anniversaries, etc.
address book
baby tracker and keepsake pages
account tracker
appointment tracker
baby log – keep track of your baby's sleep times, diapers, feedings, etc.
a TON of options for teachers including: teacher and classroom info and logs, lesson plans, seating charts, reading logs, unit plans, field trip planner, etc.
puzzles and games added in to your planner – like Sudoku and word searches
Thick Pages So Your Planner Pens Don't Bleed Through
This is a BIG deal for me… and it's probably my number one pet peeve about other planners that I've tried in the past. If my planner pens bleed through the pages of my daily planner, it's a no-go for me.
But the customizable Purpletrail planner has thick and sturdy pages that stood up to my "pen bleed through" test!
And by the way, if you want to know which pens I recommend for using in your planner, check out this post – I recently tested 12 different pens and these are the BEST planner pens to buy!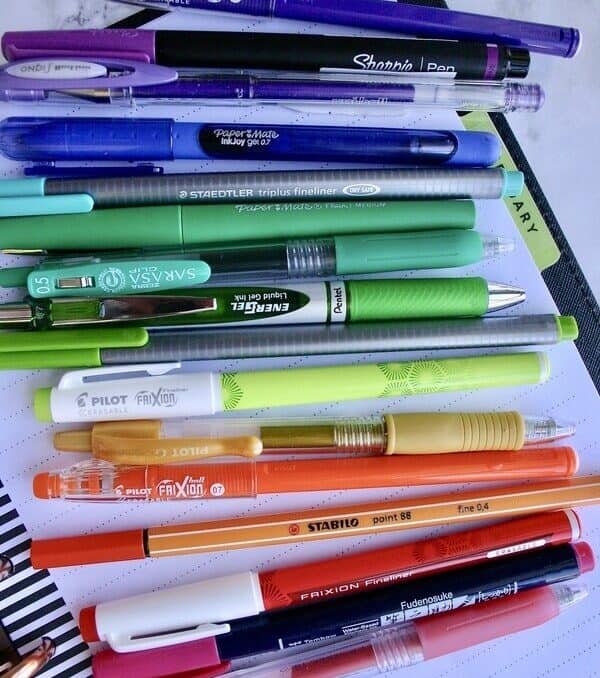 The Purpletrail Planner Design Process: What You Get to Customize
Designing your own personalized planner is easy on the Purpletrail website. You simply select which type of planner you want here, and then follow the onscreen prompts. You'll have different options to choose from in each window.
Here are some of the things you can customize:
Planner Type
You'll start your Purpletrail order by choosing which type of planner best fits your needs. I was struggling to choose between the classic planner and the Mom planner, but I ultimately decided that I didn't need to have separate boxes to keep track of my kids' and husband's activities for each day, so I went with an "everyday" planner.
However, if you have 2 or more kids and they are each involved in multiple extracurricular activities, then I would definitely recommend that you take a look at the Mom planner options. You even have the option to get the names of your kids printed on the planner pages next to their specific boxes! Here's what it would look like: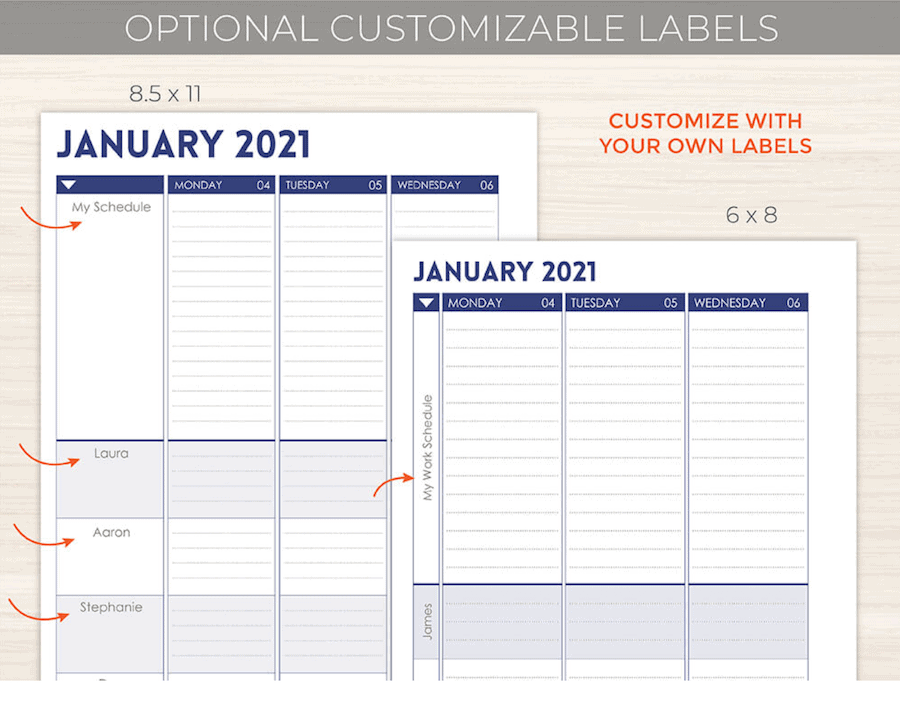 Here are the types of customizable planners you can choose from:
Regular daily and weekly planners
Mom planner – And be sure to check out my list of the best Mom planners here for other options!
Fitness planner
Meal planner
Teacher planner
Student planner
Homeschool planner
Business planners – for content creators, hair stylists, real estate agents, etc
Life event planners – custom planners that are specific to planning your wedding or pregnancy
Each planner includes a layout specific to the planner type. For instance, the layout of the teacher planner is perfect for lesson planning because it includes spaces for 7 different subjects and the days are Monday through Friday.
Planner Size
The Purpletrail custom planners are available in either 4.5″ x 6″, 6″ x 8″, or 8.5″ x 11″. I chose the larger size, and it has plenty of space to write down all of my to-do's, reminders, appointments, grocery list, etc.
Material for the Planner Cover
As I mentioned earlier, there are a TON of different custom planner covers that you can choose from when designing your planner. But in addition to the actual cover art, you also get to pick from a variety of materials. The Purpletrail planners are available with the following types of covers, based on how durable you need your planner to be:
synthetic cover with frost sheets – This is the cover material that I chose, because of its durability. The cover itself is flexible, like a very thick piece of card stock, and it's also waterproof and tear-proof. For extra protection, it also comes with thick frosted plastic sheets on the front and back to protect the actual cover.
laminated cover – This is a flexible 10 mil laminated cover. The website states that it is not as durable as the synthetic option for long-term use.
hard book cover – This planner cover is less prone to wear and tear since it has a hard cover. However, since I work from home and my planner basically stays on my desk all day, I didn't think a hard cover was necessary.
*Note – The "tiny planners" (4.5″ x 6″ size) are only available with the synthetic cover.
How Many Months and What Starting Month
Another great thing about Purpletrail is that you can choose how many months to include. And, instead of waiting for the new planners to drop in July or January like you would with the Happy Planner, Purpletrail allows you to choose which month you want to appear at the beginning of your planner.
The number of months available to choose from depends on which planner layout you pick. For instance, the one page per day layout will obviously be longer because each day is on its own page, so you can choose from 3, 6, or 12 months. The traditional vertical weekly layout like I chose is available in 6, 9, 12, 15, or 18 months.
There is an extra charge for the 15 and 18 month options, but it's a great value when compared to the cost of buying a whole new planner more frequently.
And each month has a cute and simple divider page with a tab to make it easy to find the month that you need: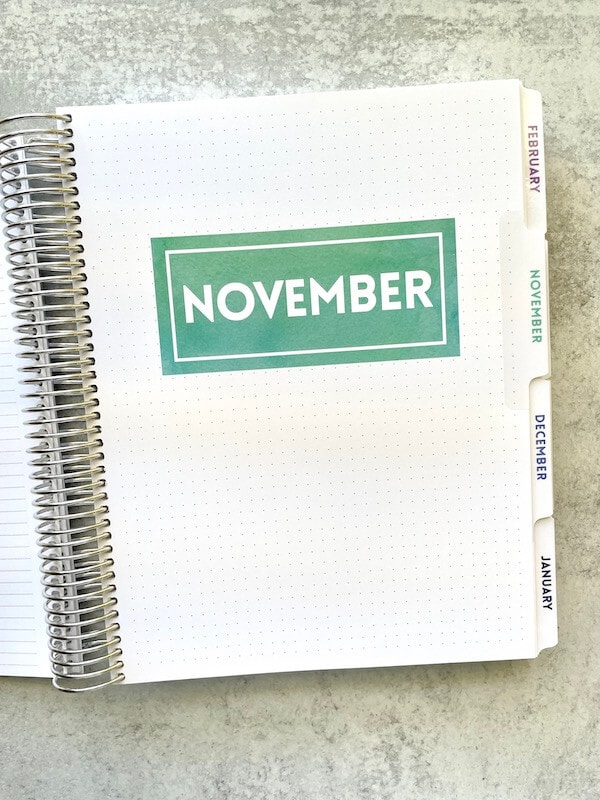 Black and White or Colored
You can also choose if you want the interior pages of your planner to be printed in color or black and white. I chose the color option, because it was the same price as the "neutral gray" option.
Here's a sample of the colors in the planner: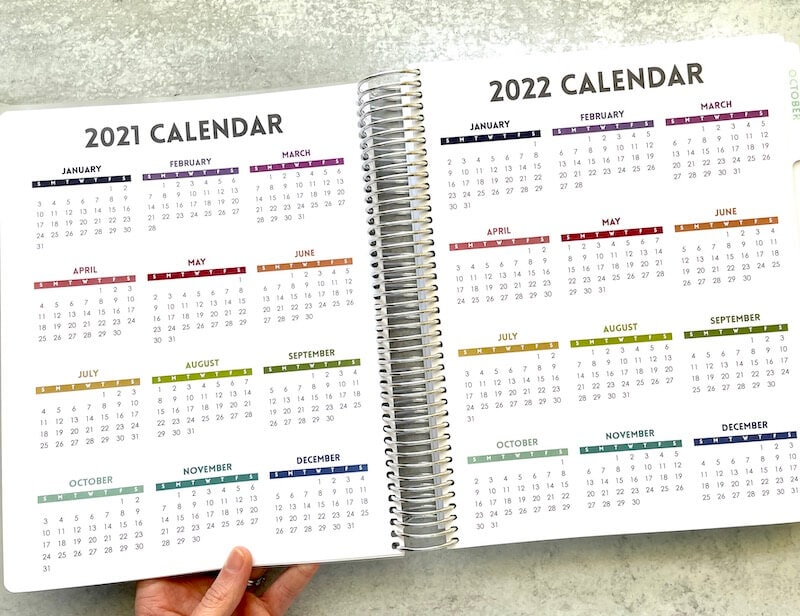 The colors are nice and vibrant, and I really like that they match my favorite planner pens… Hey, if I'm going to be using a planner everyday, I want it to look cute, right?!
Design and Layout of Interior Pages
As I mentioned above, another major selling point of Purpletrail custom planners is the ability to pick the layout of your planning pages.
If you like to use your planner as a sort of "daily to do list", then I highly recommend the "vertical weekly" layout like I got. There is a TON of space to write notes, grocery lists, to-do's and more on each day: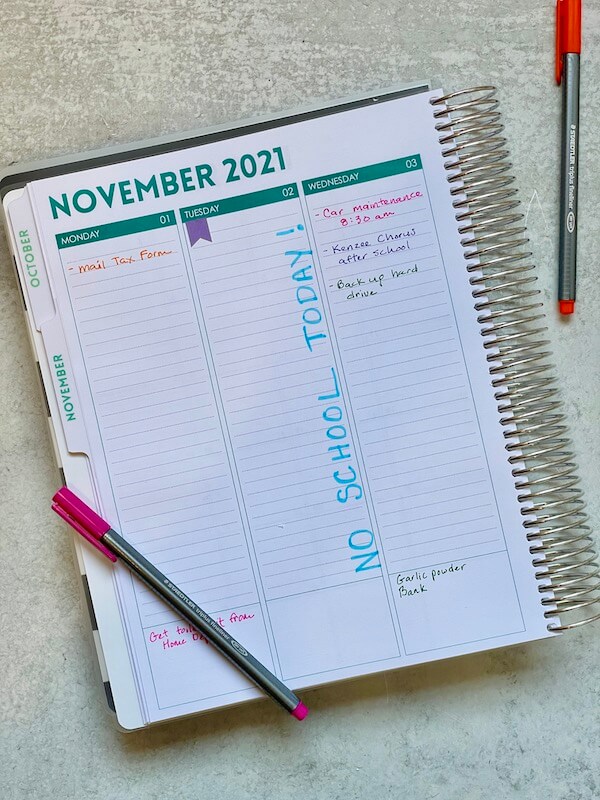 I especially like the blank boxes at the bottom of each day, which are perfect to keep track of items you need to add to your grocery list or to write an inspirational quote for each day.
Extras You Can Add to Your Personalized Planner
After you've picked out the type of planner you want, and you've chosen the planner cover and interior layout and design, you may think you're ready to add that puppy to the cart…
But, nope!
You can customize the planner even further by adding additional specialized sections. I've got a HUGE list of all of the add-on's you can choose from at the beginning of this post. But you'll have to narrow it down… due to planner length restraints, you can only choose 4 add-on sections.
I chose to add these sections to the back of my planner:
Password Log
Address Book – I like to have addresses of friends and family close by for when I need to send out Thank you's, Christmas cards, or invites.
Fitness Tracker
Notes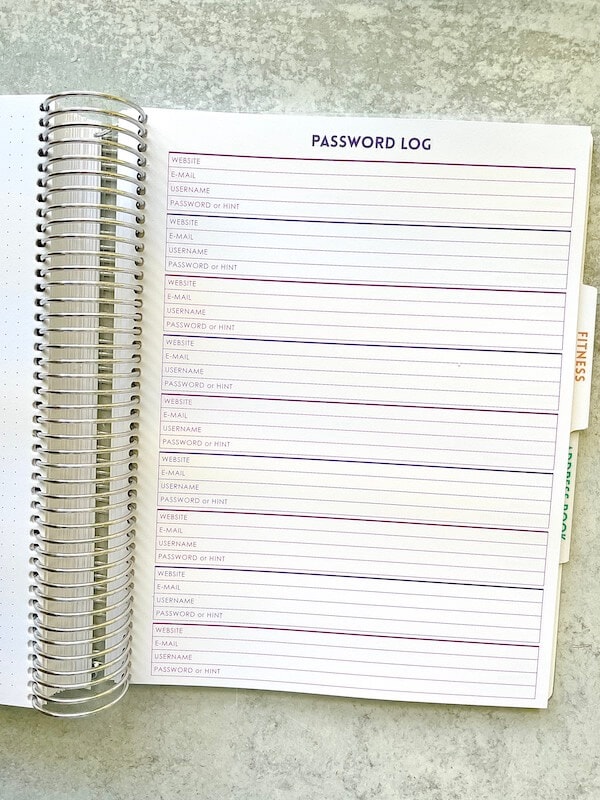 I like having all of my "extra" sections at the end of my planner, but you can also choose to have them inserted at the end of each month with the "distributed" option. For instance, if you add on the "Distributed Bill Tracker", then one bill tracker page will be added at the end of each month.
You can also choose to add a pocket folder or stickers… BUT…
The One Thing I Don't Like About Purpletrail
Okay, since I'm writing an honest Purpletrail review, I have to be honest…
I do not like their planner stickers. I chose the "Colorful Banner Stickers" because at just $1.95 for 76 stickers, it seemed like a great deal. However, I found the quality of the sticker sheet to be not so great. The stickers themselves are more of a matte paper texture, and I prefer a glossier type of sticker.
Also, the stickers were a bit difficult to peel off the backing for me, and the cuts around the sticker shapes didn't seem to be smooth.
If you decide to purchase a Purpletrail planner, I would suggest that you get your stickers from a different brand.
Flip Through My Customizable Planner with Me
The most detailed custom planner review is great, but there's nothing quite like seeing a product in action! If you're more of a visual person like me, then check out this video of me flipping through the pages of my new Purpletrail planner:
Bottom Line: Is a Purpletrail Custom Planner Worth the Money?
If you live and die by your paper planner, and you're looking for a fully custom option to keep your hectic life and work schedule organized, then I say YES!
While the price is higher than other daily planners, you get to pick out most of the design features to customize your planner exactly to your liking. And I especially like the option of extending the planner length to save money.
Depending on which planner layout you choose, you can add an additional 6 months for just $10.00, which helps to bring the cost down because you're able to extend the time before you have to purchase another planner.
Click HERE to check out Purpletrail Customizable Planners for Yourself!
Hope you enjoyed this customizable planner review! And be sure to check out some of my other planner posts:
And be sure to PIN this post for later, or when you want to treat yourself to a new planner!