These DIY mini Christmas wreath crafts are super easy to make with just a few supplies! Use them to create a holiday wall collage, hang them on your tree as ornaments, or use them in your holiday gift wrapping.
We host a big family Christmas party every year, so I'm always on the hunt for ways to decorate for the holidays without spending a fortune. And this year, I knew that I wanted to create a wall collage of different types of Christmas wreaths to hang around a Hot Cocoa Bar banner.
But to buy 6 or 7 different holiday wreaths wasn't in my budget, so I decided to DIY my own!
With just a few supplies (some of which came from Dollar Tree), I was able to create a beautiful and simple wall display of cute mini wreaths. Here's how I did it: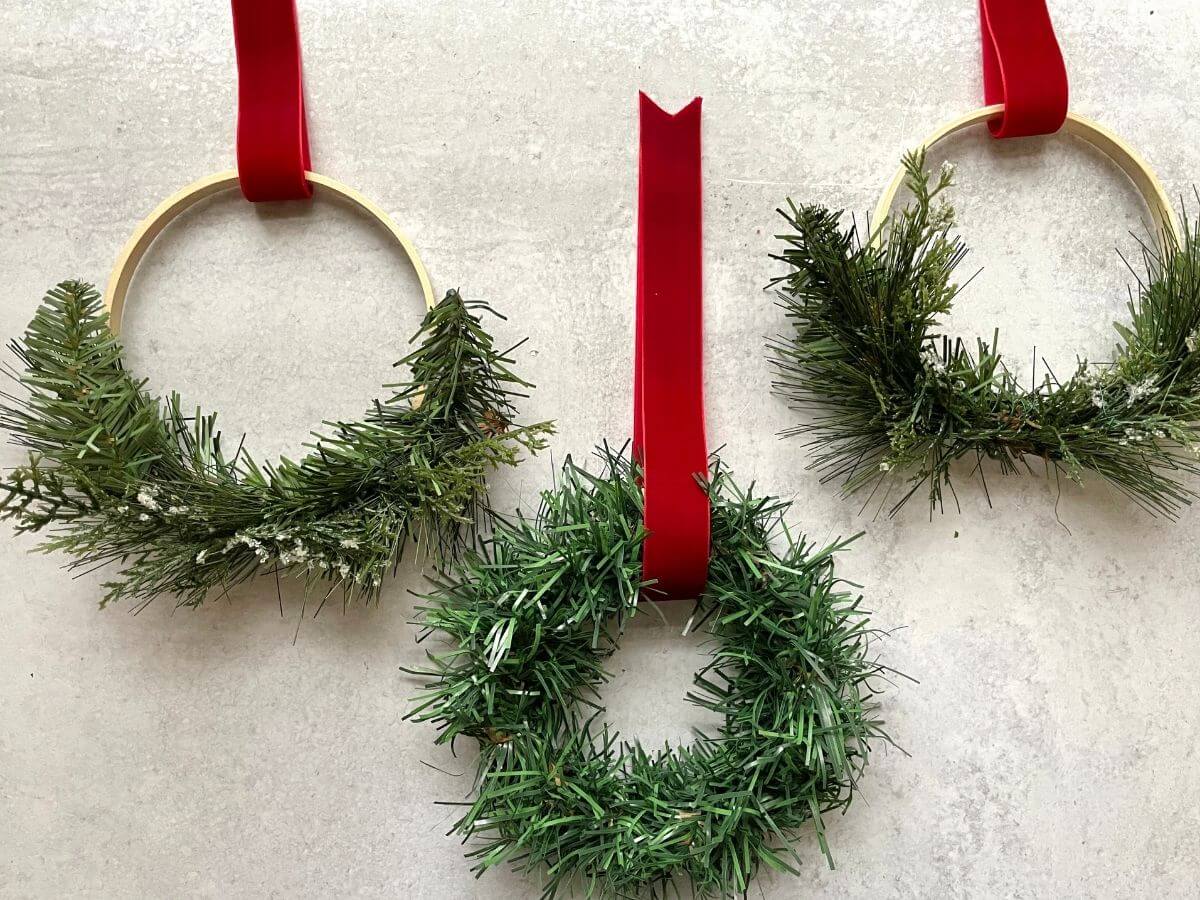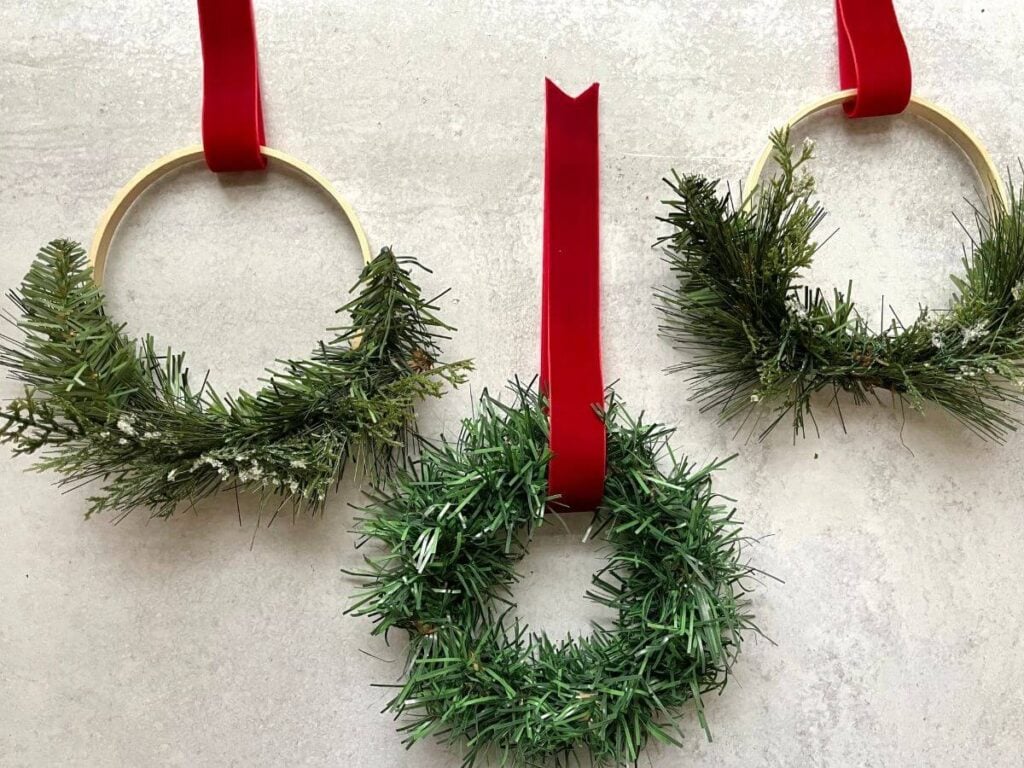 DIY Mini Christmas Wreath Supplies
I made two different types of wreaths to hang in my wall collage, one that was completely covered in garland and one hoop wreath style that only had evergreen stems on the bottom half.
Here are the supplies that I used to create my wreaths: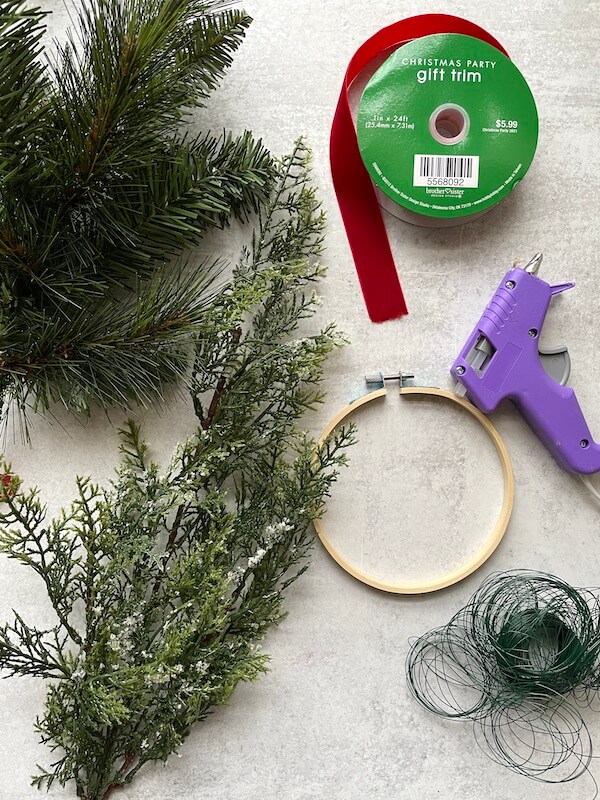 embroidery hoops – I used 5 inch hoops for my wreaths, but this method would work with pretty much any size. You can make two wreaths with each hoop.
green floral wire – If you want to make your wreaths with white or silver sprigs, then look for wire to match.
faux greenery stems – I used a few different types of picks in my wreaths, both of which came from Hobby Lobby.
evergreen garland – Mine came from Dollar Tree! I was able to create 2 5-inch wreaths with one 15 foot garland.
ribbon of your choice – I chose a red velvet ribbon that was 1 inch wide.
hot glue gun and glue sticks
scissors
How to Make Mini Christmas Wreaths
To make the wreath that has the evergreen garland completely covering it, I simply cut the garland in half (to 7.5 feet) and wrapped it around the entire embroidery hoop. The Dollar Tree garland is wired, so I was able to just wrap the end of it around once to secure it in place.
Here's how to make the hoop style wreath:
Step 1: Cut evergreen garland or floral picks.
First, start by cutting individual branches off of your evergreen stems. Both of the faux greenery stems I used were from Hobby Lobby, and the individual pieces on each one were about 4 inches long, which was perfect for the size of my embroidery hoops.
Step 2: Attach the first cut piece of evergreen to an embroidery hoop with floral wire.
Lay the first piece of greenery on your embroidery hoop, and wrap a piece of floral wire about 5 inches long around the piece to hold it in place on the hoop.
To avoid flattening the greenery too much, you can slide the wire in between the pine needles so that it is touching the base of the stem instead of sitting on top of the greenery pieces.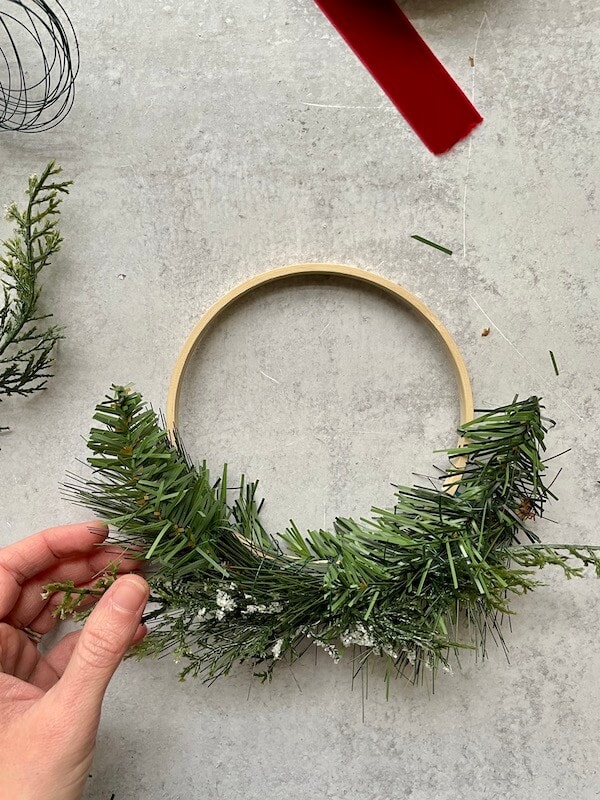 Step 3: Continue to add evergreen pieces to the mini wreath until done.
You can continue to add the evergreen or pine stem pieces to the embroidery hoop until your wreath is as full as you like. Leave some of the embroidery hoop showing on the top half, or completely cover the hoop with greenery… it's completely up to you.
If you're creating a wall collage of multiple wreaths, I suggest varying the styles of wreaths and the type of greenery used.
Step 4: Add a ribbon loop to your DIY Mini Christmas Wreath.
I used a pretty red velvet ribbon as the hanger for all of my mini wreaths. If you're going to create a wall collage of Christmas wreaths like I did, then I suggest sticking to one type of ribbon for all of your different wreaths so that the eye isn't too distracted.
To attach the ribbon loop, I simply cut a length of ribbon to about 14 inches. Then, I looped it through the top of the wreath and added a dot of hot glue about an inch down from where the two ends of the ribbon connected.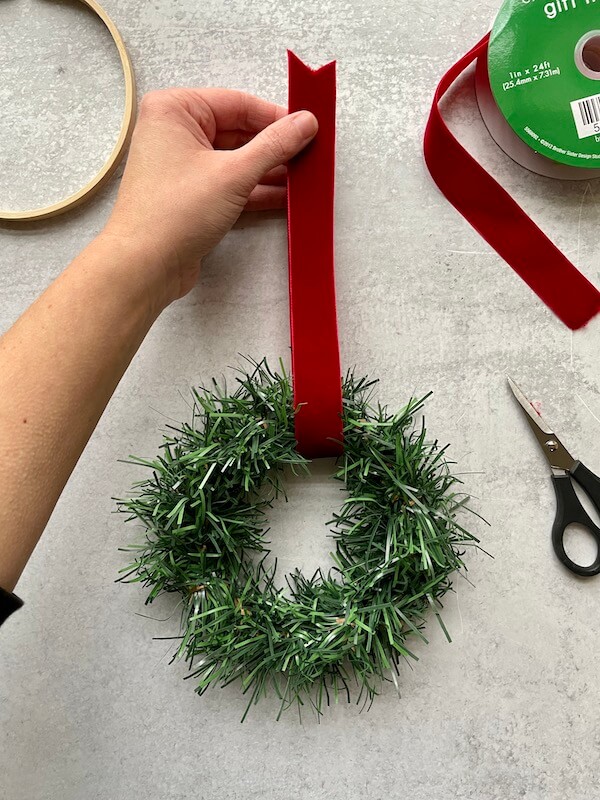 Then, once the glue was dry, I used scissors to cut a small "v" shaped notch out of the end of the ribbon hanger.
Ideas for Using Your DIY Mini Christmas Wreaths
The great thing about these DIY mini Christmas wreaths is that they're so versatile! Here are some awesome ideas for how to use your new Christmas crafts:
Use the Mini Wreaths as part of your gift wrap for larger presents. Tie a wreath on to a larger gift with some pretty ribbon and add a small free printable gift tag.
Use them as DIY Christmas Ornaments. Just add an ornament hook or a twine hanger for an easy ornament. You can also hot glue red pom poms or other decorations to the outside of your finished wreath craft.
Hang the wreaths on the backs of your dining chairs. Hosting a big holiday dinner? Loop the ribbon of the wreaths around the backs of your chairs for easy decor.
Hang the mini Christmas wreaths on your kitchen cabinets.
Attach a mini wreath to each side of your mailbox. These 5 inch embroidery hoop wreaths are the perfect size for holiday mailbox decor.
Hang the Mini Christmas Wreaths in a wall collage. You can make a few different types of wreaths and hang them with pretty red velvet ribbon in a modern wall display like I did!
The DIY mini Christmas wreath crafts look awesome hanging over my hot cocoa bar!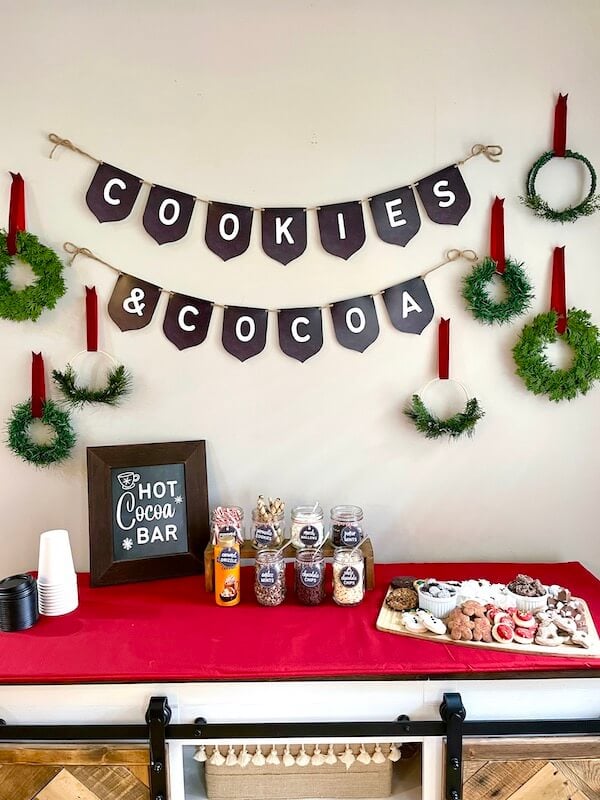 Other Easy Christmas Decor Crafts
If you loved this easy DIY mini Christmas wreath idea, then check out some of my other posts:
Or visit Good Housekeeping for even more DIY Christmas wreath ideas!
And don't forget to PIN this post for later: