If you're looking for ways to store passwords offline, then consider a printable password tracker. Just download and print the free printable password templates to create your own password log book.
Trying to remember 32,586 passwords is one of the most stressful things EVER!
How many times do you enter an incorrect password three times, click the link to reset your password, enter a new password, and then get the message "Your new password can not be the same as your old password."
Like… seriously!
And of course just about EVERY website that you use requires you to have an account with a username and password. Use a website to place online grocery orders? Need a password. Pay your electric bill online? Need a password. Want to order something from Target? What's your password?
So if you don't have a password log, then you're missing out!
A printable password tracker can help you keep up with ALL of those darn usernames and passwords. And some can even keep track of security questions and answers, too!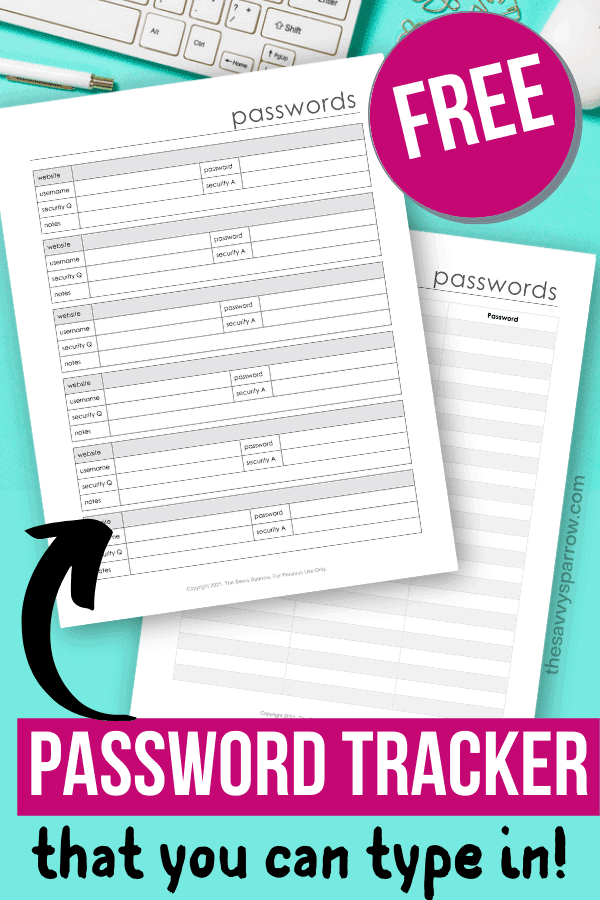 Here's how to make your own password tracker to store your passwords offline, and how a password log can help you stay organized!
Why You Should Have a Password Tracker
A recent study from NordPass found that the average person has over 100 passwords! That's crazy! And it's also crazy impossible to remember all of those different passwords without having them written down somewhere.
Here are some of the ways that a good organized password tracker can help you:
To save time
Not only is getting locked out of your online accounts frustrating, but it's also super time consuming!
Think about how many times you've had to go through the multistep process (with emails, verifications, new passwords, etc) when you have to click that dreaded "Forgot Password" button. Wouldn't it be easier (and much quicker!) to just open a password tracker and enter the correct password the first time?!
So your significant other has access to your accounts in the event of an emergency
Any sort of emergency situation can be stressful, but pile on an inability to easily access pertinent information like bank balances and scheduled credit card payments and those emergencies are even more difficult to deal with.
As the sole financial and household manager for my family, I take care of EVERYTHING, from paying the electric bill to balancing the checkbook. My husband doesn't even know the name of our mortgage company! So if something happened to me, then he would be in BIG TROUBLE! (That's the reason why I created my awesome Emergency Binder after I ended up in the ICU with heart failure and sepsis at the age of 26!).
But, having an organized and updated password tracker can at least make it easier for your loved ones to access information easily, without having to be on the phone for hours with different businesses trying to gain access to accounts.
So you can vary your passwords for extra security
Using the same password for multiple online accounts is a HUGE no no! So if all 100 of your passwords are your dog's name+your birth year, then stop what you're doing and go change them right now!
Of course remembering just one or two different passwords and then using those for ALL 100+ websites is much easier, but it's also much more dangerous in terms of cyber security. If just one of those websites has a security breach, then the hacker now has access to ALL of the online accounts that you have. No good!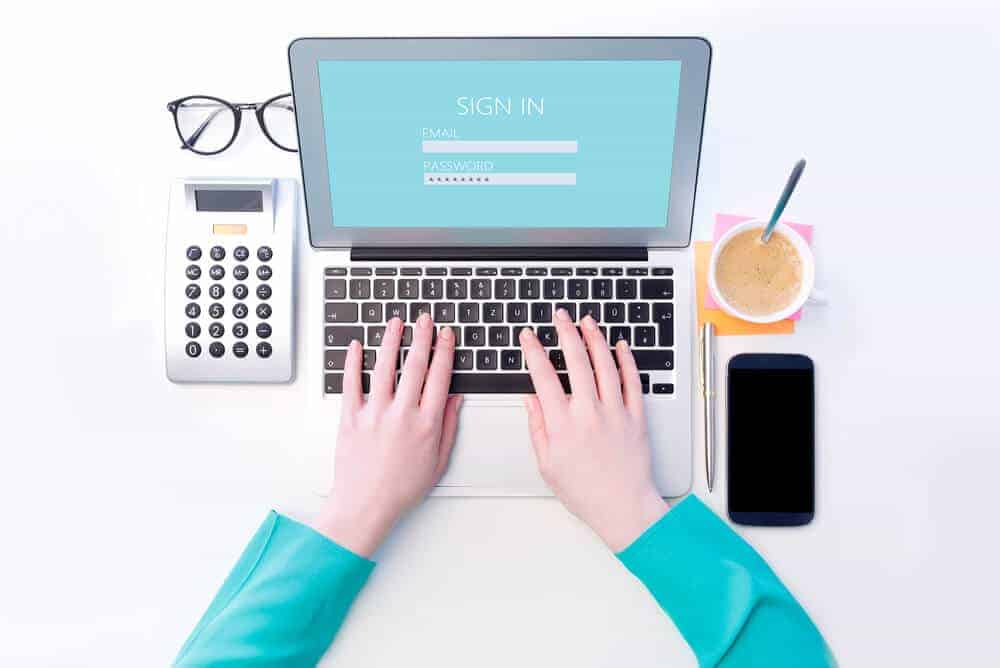 Things to Include in Your Password Tracker
Obviously you'll want to include the username and password for each website in your password book, but you can also include additional information about each online account.
Here are some things that you may want to record in your password tracker:
the full website
username
password
email address associated with the account
security questions and answers
space for additional passwords – Some websites require you to change your password once or twice a year, so you can just add additional passwords to each account in your password tracker.
You can also include a page specifically for other passwords that are not necessarily for website log-ins. For instance, password (or passcode) information for these types of electronic devices can be kept in your password tracker also:
cell phone passcodes
computer or laptop passwords – to access the computer itself
kids' tablet passwords
apple ID and passwords for app store access
kids' Chromebook passwords for school
Tips for Using Printable Password Trackers
Your usernames and passwords are extremely valuable pieces of information, so you should take every precaution to make sure that they are kept safe. If your passwords were to fall in to the wrong hands, then your bank account information, credit card numbers, and other important personal details could be exposed.
Here are some tips to protect your password tracker:
Consider leaving your password tracker at home and only jotting down the passwords that you use everyday to keep in your purse. That way, if you lose your purse, your entire library of passwords isn't exposed.
Don't store your password tracker in plain sight. Keep it in a drawer under other items where it is not easily accessible.
If you want to be extra stealth, come up with a "code" for your password tracker. For instance, you can add one to each number that appears in your actual password, and write that new number in your password keeper. Example – If your password is "Abcd3" then write down "Abcd4" in your password book.
Free Printable Password Tracker
If you only have a few passwords to keep track of, then a password tracker that consists of just a few loose pages is probably fine for you. And guess what?!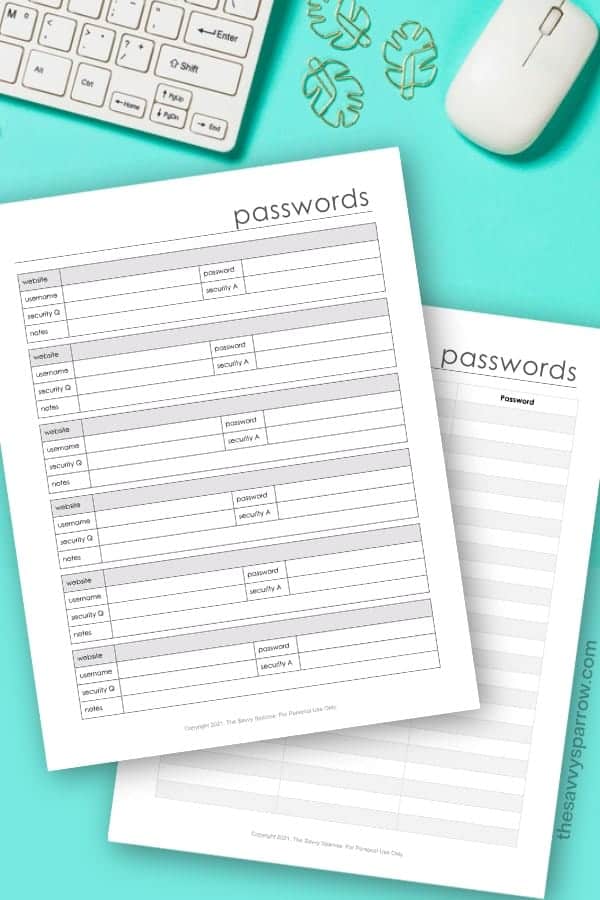 I've got two different FREE printable password trackers that you can use! Just use the form below to sign up for my FREE email newsletter, and you'll get the password to my FREEBIES library as a gift!
How to Type into the Fillable Password Templates
These printable password trackers are not only FREE, but they're also fillable, which means that you can type directly into them… perfect if you're handwriting is crap like mine!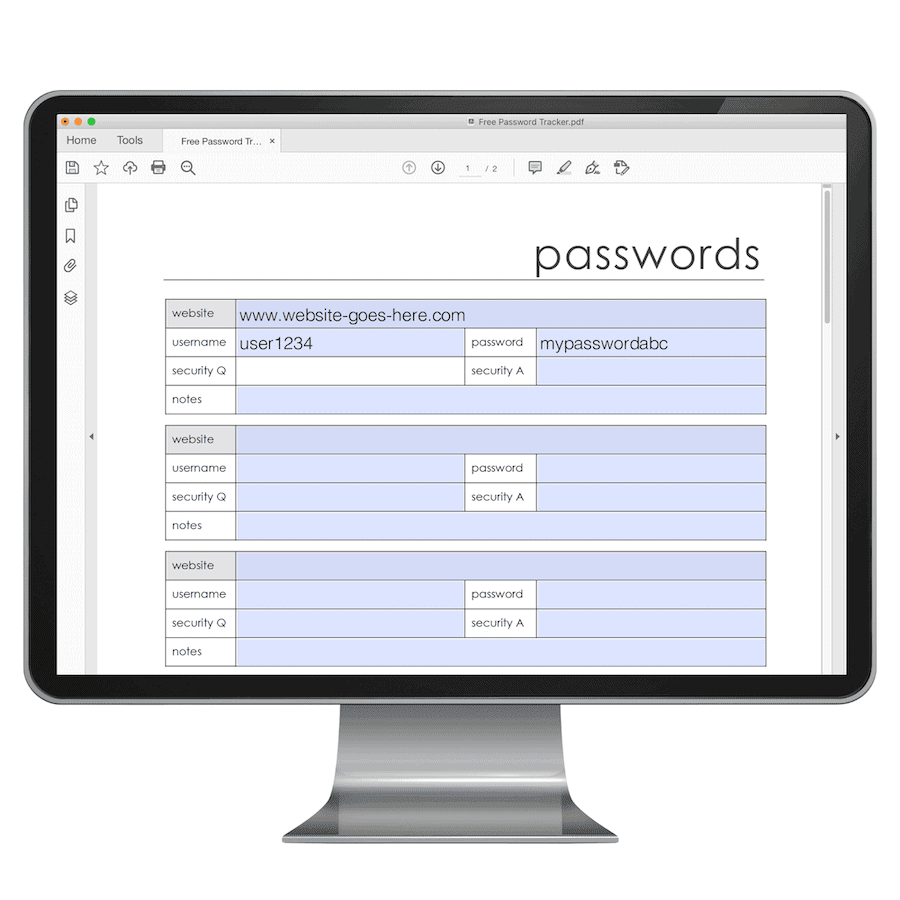 However, you will need to have Adobe Acrobat Reader (it's free!) installed to use the fillable feature. If you don't want to download Adobe Reader, then you can also just print the pages and write in your info by hand.
Here are the instructions for how to type your usernames and passwords directly in the password tracker templates:
Go to the Adobe website here and download and install Acrobat Reader to your computer. (If you already have Adobe Acrobat installed you can skip this step).
Open the free password tracker templates using Adobe Acrobat Reader… You should be able to right click on the file icon on your computer (wherever you saved it) and select Open With>Adobe Acrobat Reader. The trackers will then open in Reader.
Once the file is open, click File>Save As> and then name it whatever you like and save it to somewhere on your computer where you can easily find it, like your desktop.
Then you can start typing in your info… I would suggest typing in the first page of information, clicking the "Save" icon from the top left, and then exiting out of the document. Then, find it on your computer (wherever you saved it in step 3), and open it back up to make sure that your first page of info saved properly.
Make Your Own Password Log with a 3 Ring Binder!
If you're one of those people with 100+ passwords like me, then you may benefit from an entire password log book. And I can help with that, too!
This 87 page printable password tracker is beautifully designed and organized in alphabetical order, so you can easily find the password that you need.
Plus, it comes with 2 cute cover options that you can use in a 3-ring binder, or to create your own Happy Planner style cover, and templates to make your very own color-coordinated DIY Binder Tabs (visit this post to see how to make your own Divider Tabs with printables!).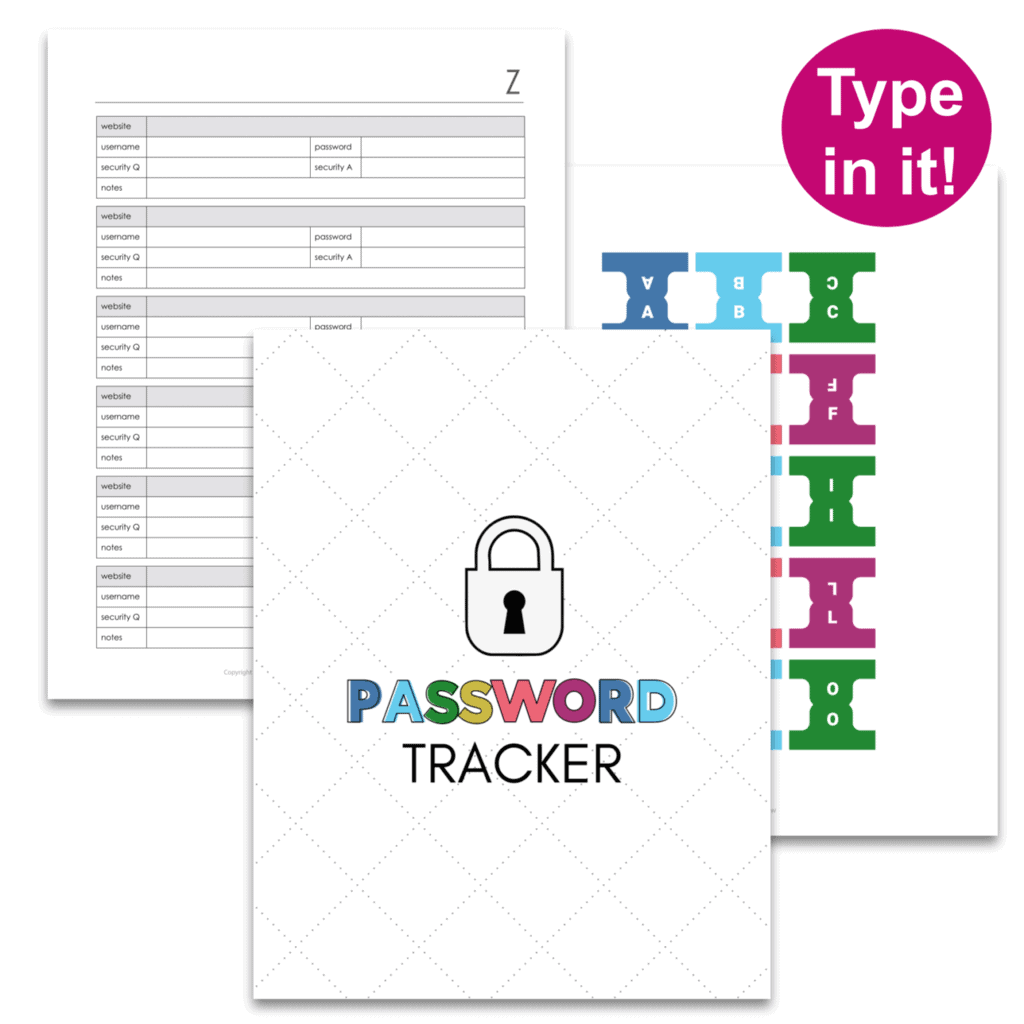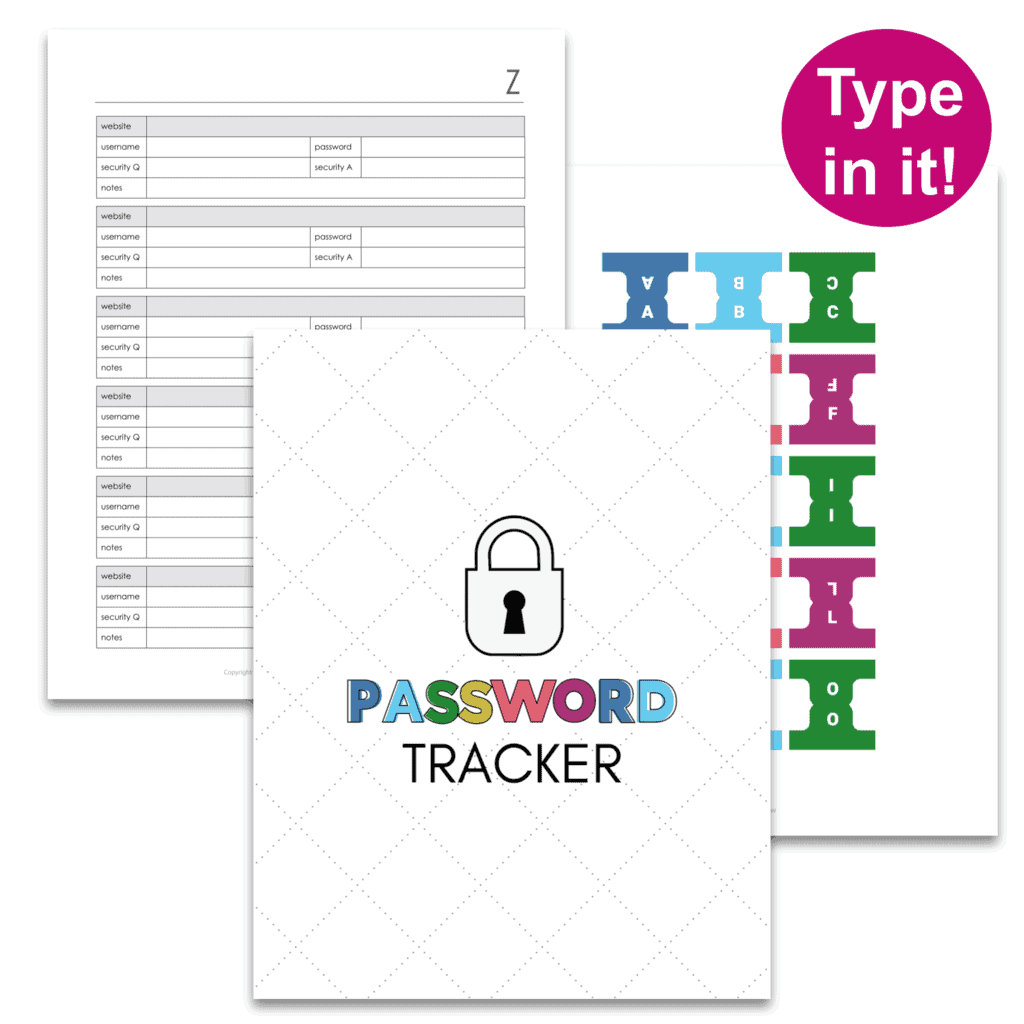 Check out the Ultimate Printable Password Tracker HERE!
And if you LOVED this easy organization idea, check out some of my other cleaning and organizing posts: