I love my husband, but putting the reasons why I love him into words is a challenge. Here are some tips to write your own "I love you because" list, plus 31 reasons to inspire you!
Have you ever had your husband or a boyfriend ask you, "Why do you love me?". And then you were stumbling over your words because you didn't know quite what to say.
Answering the question of WHY you love someone can be one of the hardest things to do, often because the words just don't seem sufficient.
I love you because you're kind, funny, smart, and compassionate just doesn't seem to cut it… because that could be anyone. And those reasons are generalized and boring.
My husband and I often remark that saying "I love you" isn't enough. Those words are so common, and you probably say them multiple times a day, that it's easy to take them for granted.
But giving reasons for WHY you love your husband can be much more powerful… It's easy to save "I love you", but it takes real thought to come up with great reasons why.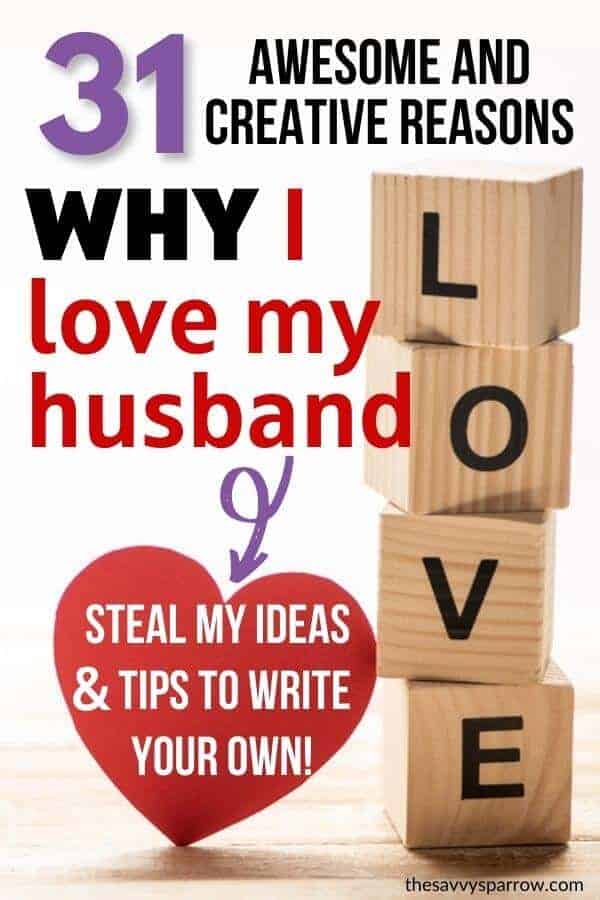 Here are some of the reasons why I love my husband, and inspiration for you to write out a list of your own reasons why you love your husband:
I Love My Husband Because…
He brings me caramel macchiatos, even though he thinks it's ridiculous to spend $5.00 on a cup of coffee.
He celebrates with me in my accomplishments.
He gently suggests ways for me to do better.
He picks up the slack when I need him to.
He's my triple threat… he cooks, he cleans, and he does laundry. (Sorry ladies, he's happily married!).
He loves me, even when my hair is in a messy bun (which is always) and I have zit cream on my face.
He cooks the best steak that I've ever tasted, even better than the $90 ribeyes that we had at a fancy steakhouse in Chicago.
When I ask him to do something, he does it… even if he has to watch a "how to" YouTube video first.
He'll put his bathing suit on and jump on the trampoline with our daughters in the middle of the pouring rain.
He cleans the shower because he knows that it's my least favorite job.
I love how he takes care of the people and things in his life, from brushing our daughter's hair to mowing perfectly straight lines in the front yard.
I love my husband because he's ambitious, even when I just want him to take a day off and watch Netflix with me.
He can strike up a conversation with anyone, anytime, anywhere.
He's a MAN… He can change a tire, operate any power tool, fix our leaky hot water heater, and build the most beautiful coffee table from scratch.
He puts me first, whether it's letting me choose the restaurant for dinner or asking if I mind if he goes fishing for the day.
He literally goes to work in snow, sleet, and hail to provide for our family.
He lets me be the boss, and he appreciates my need to manage everything from our finances to our weekend plans.
He does everything he can to put a smile on my face when I'm having a bad day.
He encourages me to take time for myself.
If he sees something around the house that needs to be done, like changing the laundry or getting the paint stain out of our daughter's carpet, he doesn't just wait for me to do it. He's proactive about helping with household chores.
I love my husband because other people love him. He's respected at work, and he's loved dearly by our family and friends.
I love him because he is a good man.
He trusts my judgement. Whether it's how to spend our money or how to raise our children, he truly values my opinion.
I love my husband because he cries during sappy movies. He has a sensitive side, and he's not afraid to show it.
He's texts me random pictures of sunrises.
He's playful… like when he dumps an ice cold cup of water over the shower curtain while I'm taking a shower.
I love him because our differences perfectly compliment each other. He's an extrovert, while I'm an introvert. He can't spell to save his life, but I'm a writer. I can't cook to save my life, but he was once an Executive Chef.
He calls to say "I miss you already", even when he only left the house 5 minutes ago.
He's easy to be around, and I truly want to spend time with him.
He calls me on the phone and sings "Have I Told You Lately that I Love You" by Rod Stewart, the song from our first dance at our wedding.
I love him because he's the first person that I want to call when something great happens.
It's not that I can't live without him, because I can… I can provide for myself, and I can take care of our kids. I could manage to make dinners every night if need be, and I could always hire someone to fix things around the house when they break. But I love my husband so much that I want him by my side, through everything.
He's my best friend.
Tips for Making Your Own List of Reasons Why You Love Your Husband
Making a simple list of reasons why you love your husband and you're thankful for him is a great way to show your love. But, if you're not a writer, it can be difficult to find the right words.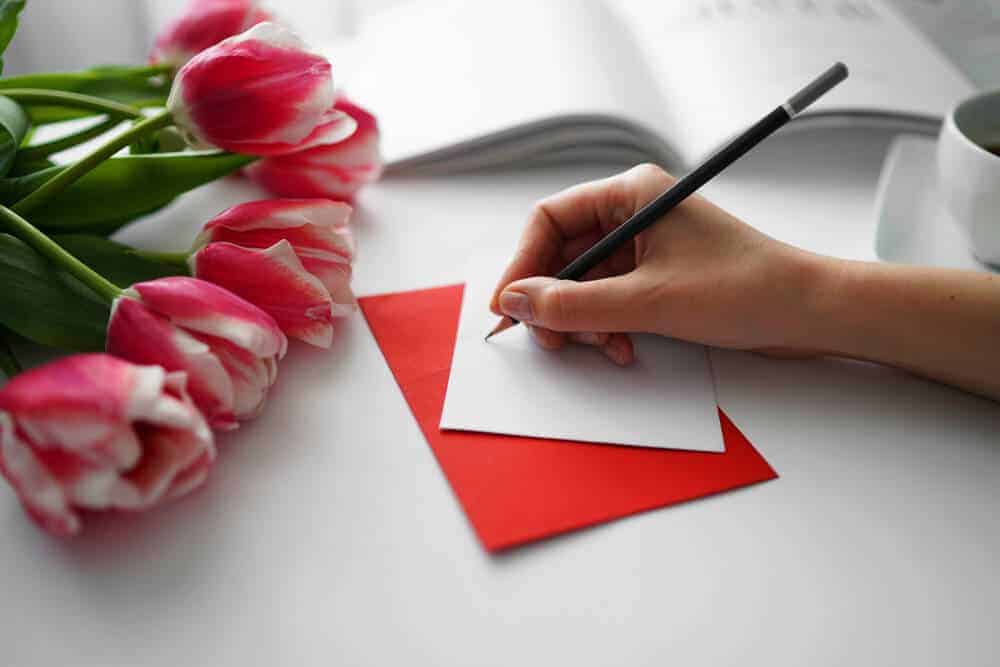 Here are some tips for coming up with your own list of reasons why you love your husband:
Don't use cliches. Phrases like "You're my soulmate" or "I don't know what I would do without you" can be impersonal because they're overused, and they could be referring to anyone.
Think of specific things you love about him. Just like in my list of reasons why I love my husband, I included lots of details… Instead of saying "You're a great father", I said "You jump on the trampoline in the pouring rain with our kids." That shows how he is a great father by being generous with his time.
Think about things he does well, and how those things have improved your life or marriage.
Have a good mix of funny and serious reasons why you love him.
Use a quote. If you're at a complete loss for words, swipe a good quote about loving your husband. For instance, you could quote F. Scott Fitzgerald: "I love you, and that's the beginning and end of everything." Here are some other great quotes about love!
I go into even more detail about how to put your feelings for your husband into words in this post: 10 Tips to Write the BEST Love Letters for Your Husband + Examples!
Ideas for Telling Your Husband Why You Love Him
So after you've got a great list of reasons why you love your husband, what should you do next? You may feel odd just blurting out one of the reasons randomly in conversation, so here are some easy ideas for telling your husband why you love him, and making it more special:
Make an "I love you because" dry erase board.
I made one of these DIY dry erase boards years ago to put on my husband's dresser. It's a fun and easy way to let your husband know that you appreciate him, and you can probably make one with items that you have laying around your house.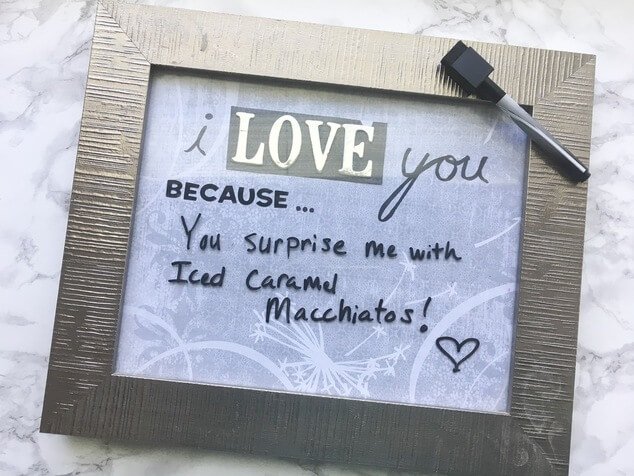 Just grab an 8″ x 10″ picture frame, print off a simple "I love you because…" page, and pop it in the frame. Then, use a dry erase marker to write on the glass of the frame. Or, you can also use scrapbook paper and letter stickers like I did above.
Then, you can change out the sentiment any time you feel like it by just wiping the marker off with a paper towel.
This is a great way to let your husband know that you appreciated something specific that he did for you that day, or just to let him know whenever you're feeling extra grateful for him.
Leave a post it note on his bathroom mirror.
Or his gym bag, or his lunchbox, or on his steering wheel. You could even leave him a note everyday for a month, with each day being a different reason why you love him. Then, mix it up and put the notes different places each day so that he's always surprised to find it.
I've also got some great love note ideas with printables like the one below here: Funny and Flirty Love Notes to Leave for Your Husband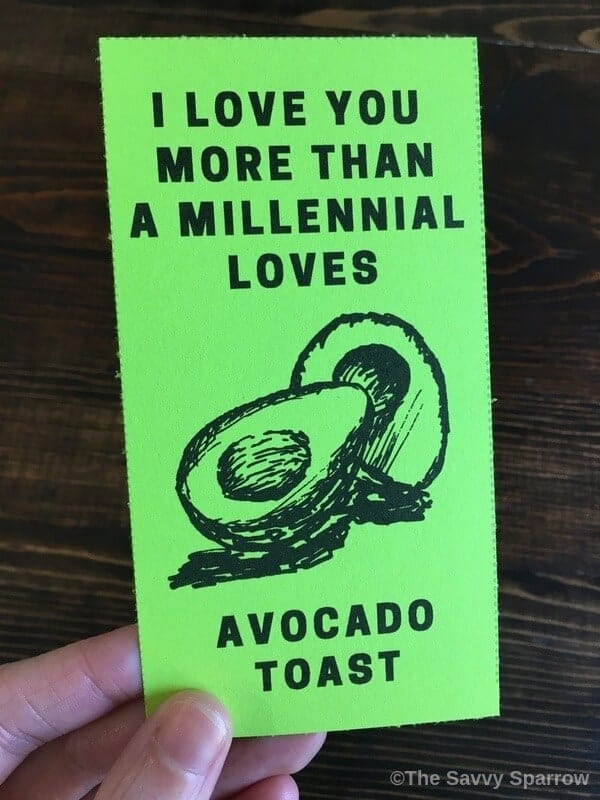 Send him a random text message.
Sometimes a simple text message is all it takes to say "I love you". I've got a great list of 31 text messages to send your husband here!
Try one of these other ways to show your husband you love him.
There are so many different ways to show your husband that you love him, from buying his favorite pint of ice cream at the grocery store just because to watching a football game with him on TV, even though you hate football.
And sometimes the best way to show him that you love him is through an act that best represents his love language. I've got LOADS of great ideas for how to show your husband love here: 50 Ways to Show Your Husband that You Love Him – Based on His Love Language!
What about you? What is one reason why you love your husband? Leave me a comment down below! I'd LOVE to hear from you!
And be sure to check out some of my other posts on marriage and relationships: