These easy kids meals for picky eaters are one of my best Mom hacks! When I have no idea what to make my kids for dinner, and I only have a few minutes (like less than 10!), I always fall back on these easy dinners for kids.
It's that time of year… the kids are at home and it seems like all they want to do is eat, eat, eat. But, of course, they don't want to eat just anything.
Leftovers – Nope!
What you and your hubby are eating – Nope!
Salad – Heck No!
Cereal – Yes… but not 5 days in a row. 🙂
Does that sound familiar?
True story – My daughter JUST NOW sent me this text, while I am in the middle of writing this post, which perfectly proves my point…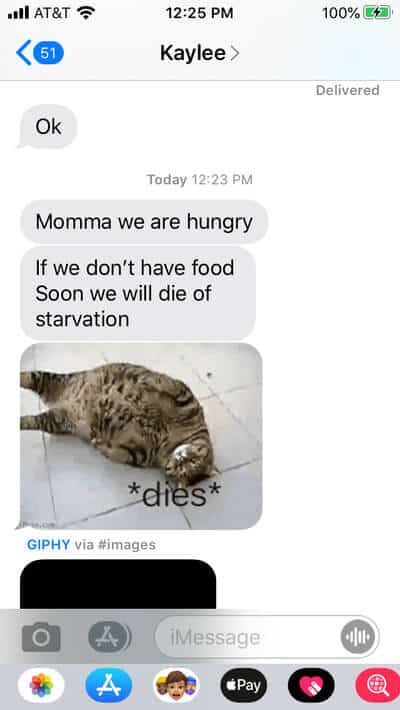 Kids, am I right?!
My husband is the culinary master in our family (my 8 year old daughter likes to tell people "Mommy can't even cook toast!"), and he often feels like a short order cook. He actually makes the joke that he should apply for a job at Waffle House because he has mastered making three different dinners every single night.
But sometimes he leaves it up to me to make dinner for our kids… *See above comment about how Mommy can't even make toast. 🙂
When that happens I usually whip out one of my go-to easy kids meals. The tried and true, kid-approved, and super easy dinners that I can make without risk of a kitchen fire.
And when I say "easy" I mean SUPER easy! Like, these kids meals can be made in about 5 minutes tops and with pretty much ZERO dishes to wash.
If you're struggling with what to feed your kids, then here are some easy kids meals perfect for picky eaters!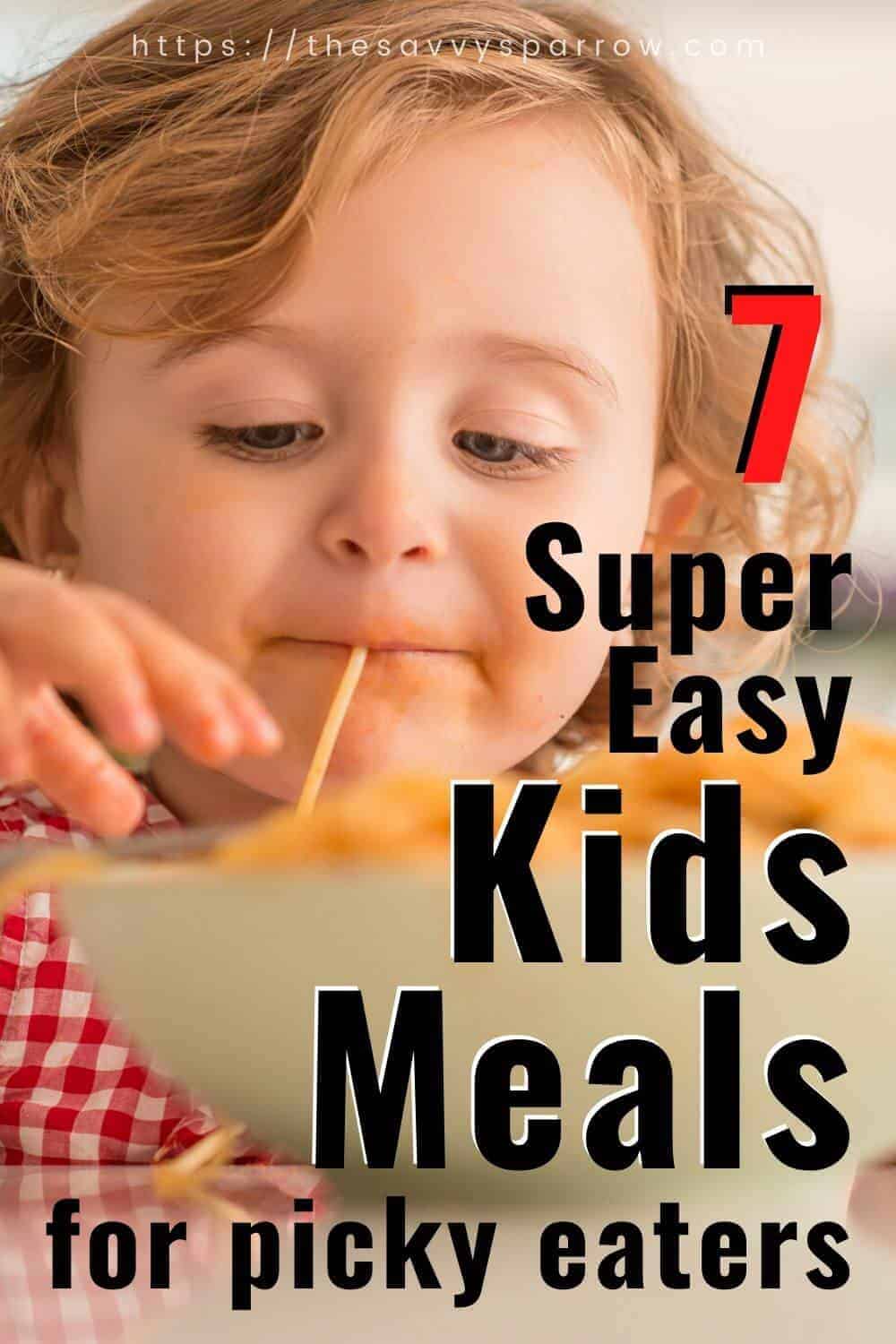 7 Easy Kids Meals for Picky Eaters
Hot Ham and Cheese
This is one of my 10 year old's favorite easy dinners, and it's so easy that she can make it herself.
Here's how to make yummy hot ham and cheese sandwiches for your kids in less than 2 minutes:
Put turkey or ham lunch meat and sliced cheese on a hamburger bun. I like to use 100% whole wheat buns.
Wrap the sandwich in a paper towel.
Microwave for 45 seconds.
And that's it! Pair this hot ham and cheese sandwich with some baby carrots and fresh fruit for an easy and healthy kids meal in under 2 minutes!
Tortizza
Tortizzas (or tortilla pizzas) are another favorite in our house. The great thing about a tortizza is that it's perfectly sized for kids. And, you can customize them with your kids' favorite toppings.
This is also a fun meal for your kids to help make! Plus, when kids are actually involved in the preparation of their own meal, they're usually more likely to eat it.
I often make tortizzas on low carb or whole wheat tortillas when I'm craving pizza but don't want to blow my diet, but you can also use plain white flour tortillas.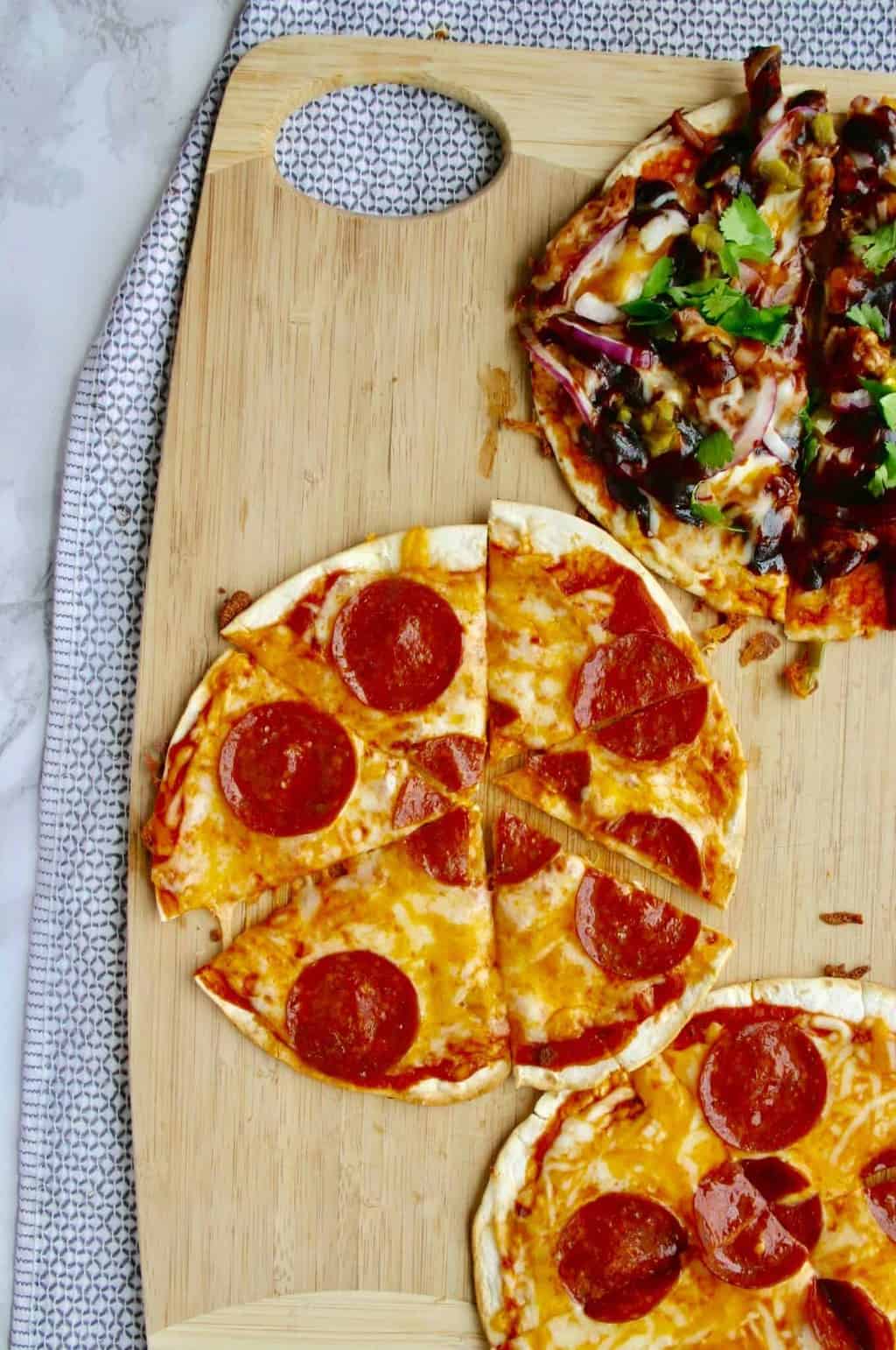 You can hop over HERE to learn how to make tortilla pizzas!
"Grilled" Cheese
Okay… it's not exactly "grilled" because I make it in the toaster oven so there is ZERO cleanup.
Here's how to make grilled cheese in the toaster oven:
Put two slices of American cheese between two pieces of bread to make your sandwich. We like to use whole grain bread to up the nutritional value.
Butter the top and bottom of the sandwich, or you can use Olive Oil baking spray and lightly spray the bread.
Place in the toaster oven.
Cook the grilled cheese on the "toast" setting of your toaster oven. I set mine to level 5 which is about medium, but use the appropriate setting for your oven.
We line the bottom of our toaster oven with aluminum foil for easy cleanup, so we don't worry about the tiny bit of cheese that may drip down. You can also toast your grilled cheese on a piece of aluminum foil to avoid drips.
Egg in a Hole
Or, a heart or a star or whatever cookie cutter that you have in your drawer.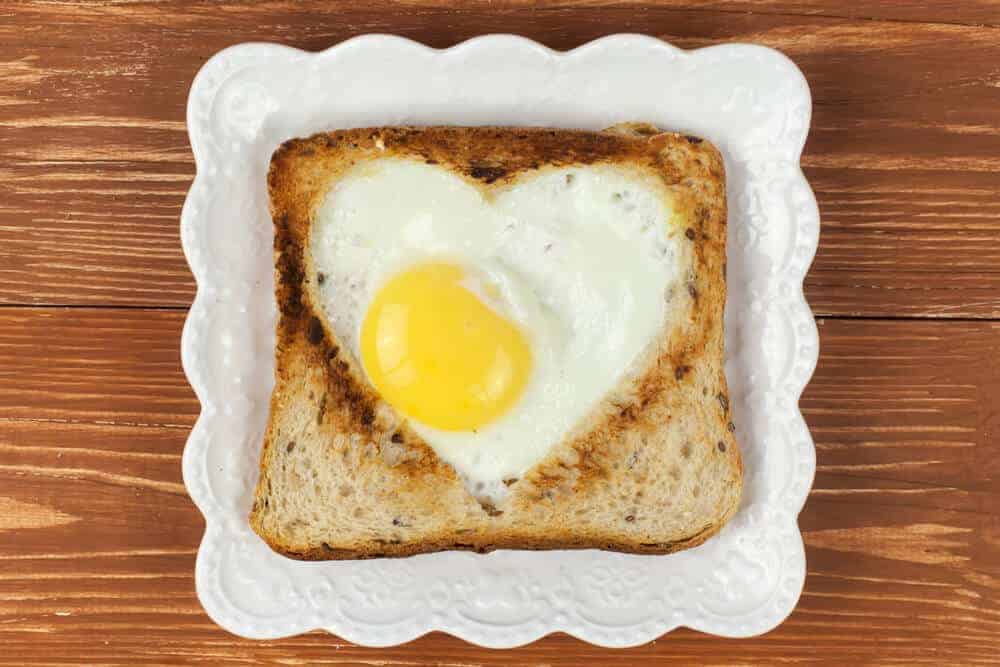 I started making egg in a hole for my picky eaters years ago when they were just toddlers. They love it, and it's so easy to make that even I can do it. 🙂
If you don't have a cookie cutter, you can cook an egg in a skillet (my kids like over-medium so the egg yolks aren't too runny), and just place it right on top of a piece of toasted bread.
I serve my egg in a hole with fresh fruit for a well balanced meal.
Snack Plates
Snack plates are GREAT easy kids meals for picky eaters, because you can easily customize them to fit your kids' preferences.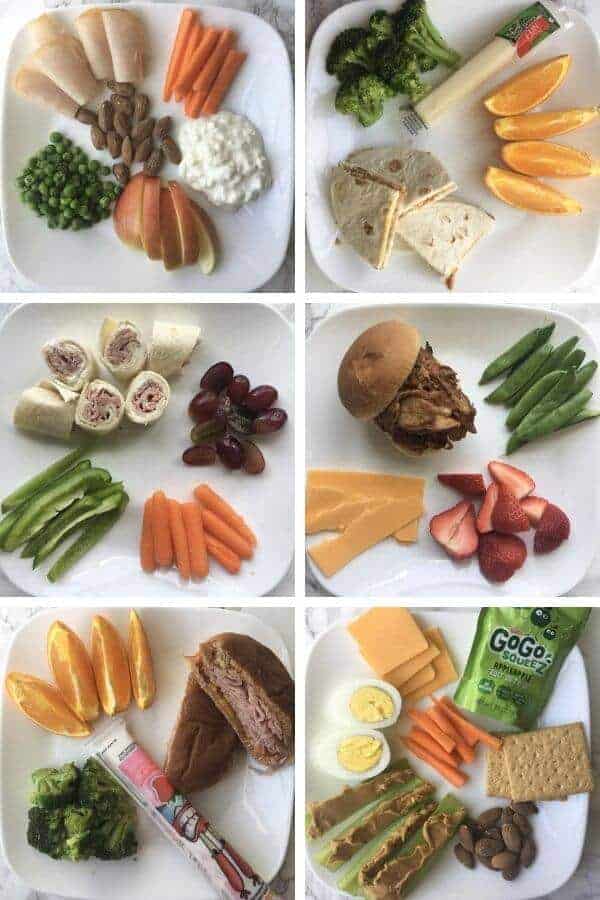 I've got a WHOLE list of healthy snack plate ideas for kids here! Plus, you can grab a FREE printable list of snack plate suggestions to hang on your fridge when you can't decide what to make your kids for dinner.
Turkey Cream Cheese Roll-Up
This is another easy kids meal that my daughters make for themselves. Here's how to do it:
Spread cream cheese on a tortilla.
Top with turkey or ham lunchmeat.
Roll up.
Cut in half and serve.
My 10 year old makes this a few times a week for her school lunch… and, YES, my kids make their own lunches. It's one of the chores on their printable chore chart!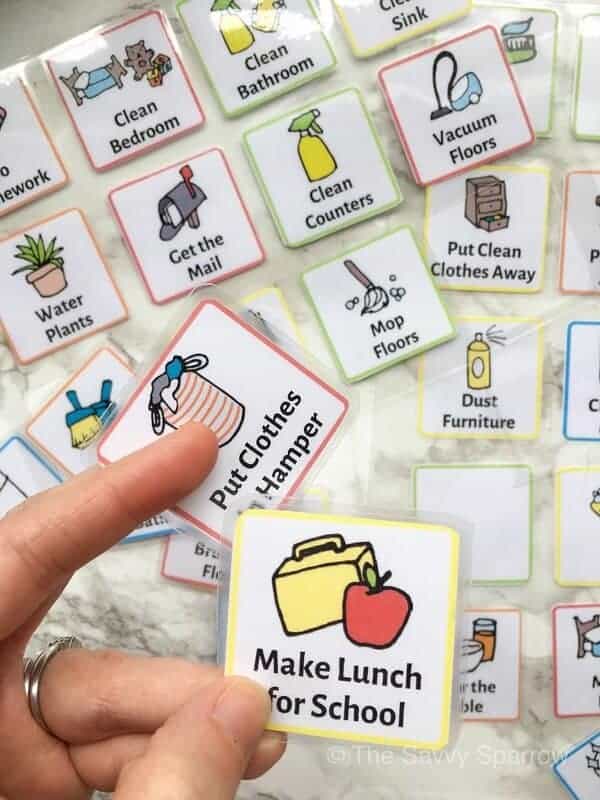 Go HERE to see my Chore Charts for Kids with Age Appropriate Chores!
Microwave Pasta
If your kids love pasta, but you don't have the time to cook it, then try microwavable noodles.
The Ready Pasta from Barilla is one of our go-to's for easy kids meals, especially since one of our daughters likes marina sauce and the other one is anti-tomato anything.
We just microwave one bag of the pre-cooked pasta and split it between two bowls. Then, we just add a pad of butter and parmesan cheese to one bowl and pour jarred spaghetti sauce on the other one. Each kid gets what she wants, and I don't have to slave away for 30 minutes in the kitchen. Win-win!
You can also add some microwavable turkey meatballs for some protein.
Or, if you're making butter and parmesan noodles, throw in some peas and diced ham for another yummy and kid-friendly meal with microwavable pasta.
Have a bit longer to make dinner? Check out these dinner ideas for picky eaters from Weelicious.
What about you, Momma? What are some of your favorite easy kids meals for picky eaters? Share your secrets with us in the comments down below!
And don't forget to PIN this post for later!
Happy Nesting!