Ever wonder how to keep a clean house when you're so busy doing ALL THE THINGS? What if I told you that you can keep your house clean even if you have kids at home? Here are 11 tips to help you keep your home neat and tidy, once and for all!
UPDATED February 2, 2021
Busy, busy, busy. If you're a Mom and a Wife… basically, if you care for anyone other than yourself, then you probably feel like there aren't enough hours in the day to accomplish everything on your to-do list.
It's darn near impossible to stay on top of piles of laundry, washing dishes, preparing three meals a day for three or more people, making sure that the kids make it to and from school and get their homework done, and everything else that a Momma has to do during the day.
And who suffers when there just isn't enough time to get EVERYTHING done?!
Your HOUSE!
*By the way, if you struggle with keeping up with everyday household management tasks, then read this post: The Home Management Binder to Get You Super Organized!
But, it doesn't have to be piles of junk here, tripping over toys there… You CAN keep your house clean, even if you're short on time.
Here are 10 easy ideas for how to keep a clean house: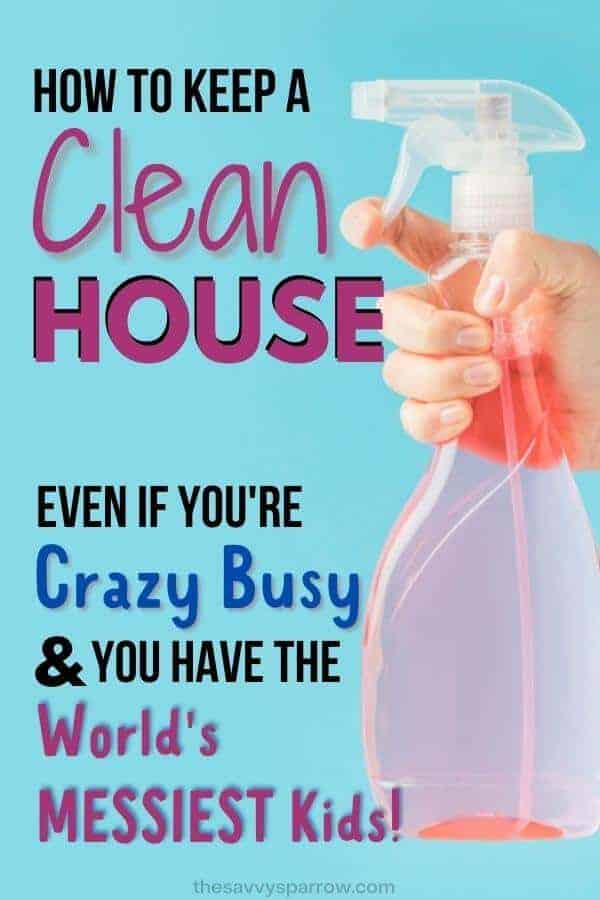 *This post contains affiliate links. If you click on one of these links and make a purchase, then I earn a commission, at no additional cost to you. Read my full disclosure here.
1. Avoid the morning rush.
From feeding your family to making sure that your kids have everything they need for school, mornings can be crazy. And with the craziness usually comes a big mess, because the last thing that you have time for in the morning is to clean up after yourself.
So, to keep a clean house try to alleviate some of the morning rush so that you actually DO have time to clean as you go.
Here are some things you can do for calmer and less messy mornings:
Go for easy breakfast options that don't leave a whole sink full of dishes. Microwavable breakfast sandwiches, toaster waffles, or pre-cut berries and yogurt are all great options.
Pick out your kids' outfits (and yours) the night before.
Try to wake up a little early…. Even setting your alarm for 15 minutes earlier will give you an extra 15 minutes to tidy up before you head out the door.
Prepare lunches, backpacks, and school folders the night before so you have a few extra minutes to tidy up in the morning.
2. Remember, it's now or later, when there's an even bigger mess.
The longer that you procrastinate on cleaning your house, the messier it will get. So if you want to know how to keep a clean house, the secret is to JUST DO IT, now not later.
If you notice a pile of dirty dishes in the sink, wash them right then when it will only take you 5 minutes to do, rather than later when the dishes are overflowing out of the sink and it's a much larger job.
Your house will stay cleaner if you don't put off cleaning it. Simple as that.
3. Install wall hooks to keep frequently worn clothing off the floor.
This is one of the very first things that we did when we moved into our new home, because I've GOT to have my wall hooks to corral clothes that I wear frequently.
If there are certain clothing items and pajamas that you wear multiple days in a row, or that don't need to be washed after every single wear, then you may not want to take the time to hang them in the closet or fold them and put them back in your drawers… especially if you're just going to be getting them out again tomorrow.
So try a simple DIY rack of wall hooks or even an over the door set of hooks like this one to keep your clothing off the floor and tidy.
I had my husband build me a simple rack with hooks in my closet for jeans, bras, sweatpants, and pajamas that I wear frequently but that don't need to be washed all the time. Then, when I'm done with something I can easily hang it on a hook instead of taking the extra time to fold it and put it away in a drawer.
4. Declutter!
Fewer things equals less mess, so if you want to know how to keep a clean house, then the first step is to declutter!
It's easy to hang on to old, damaged, or useless items assuming that they might come in handy some day… but trust me, that day will probably never come, and your clutter will only become a burden.
And, did you know that clutter causes stress? Yup, it's been scientifically proven that women especially are prone to higher levels of stress when their homes are a mess. So, decluttering will help you keep a clean house AND reduce your amount of stress! Win win!
If you need help with decluttering, I've got LOADS of posts and decluttering challenges to help you. Check these out: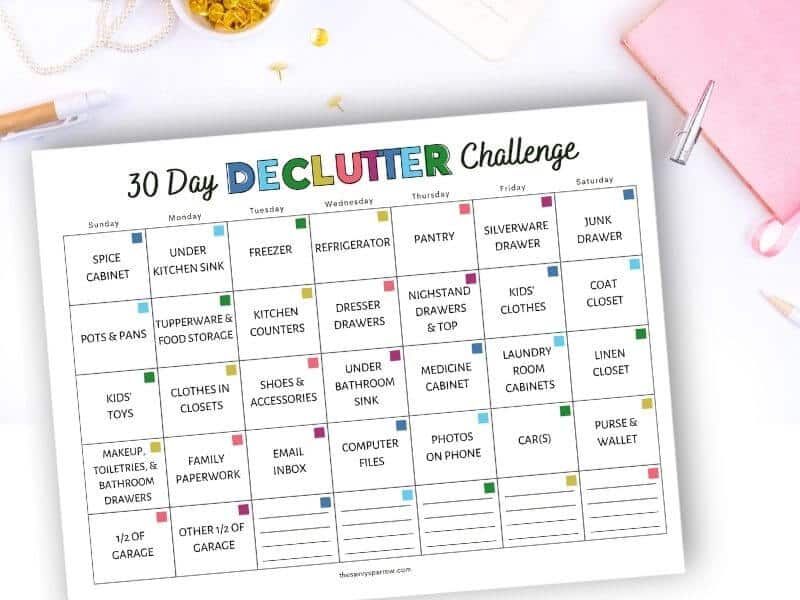 5. Opt for storage-friendly furniture.
A lot of households have storage issues, which makes it difficult to keep a clean house. So after you're done decluttering items that you don't need, try adding a few furniture pieces that have built-in storage to help conceal some of your stuff. If more of your belongings are out of sight or at least neatly organized, your home will look cleaner.
Here are some ideas for furniture with storage so that you can keep your home nice and tidy:
beds with drawers underneath – great for kids' rooms
ottomans with storage for extra blankets, magazines, toys, etc.
coffee tables with space to put decorative baskets underneath
nightstands with plenty of drawer space
You can also build an easy DIY mudroom on any blank wall (like we did in the photo down below) to keep backpacks, purses, and coats neat and tidy, but still easily accessible.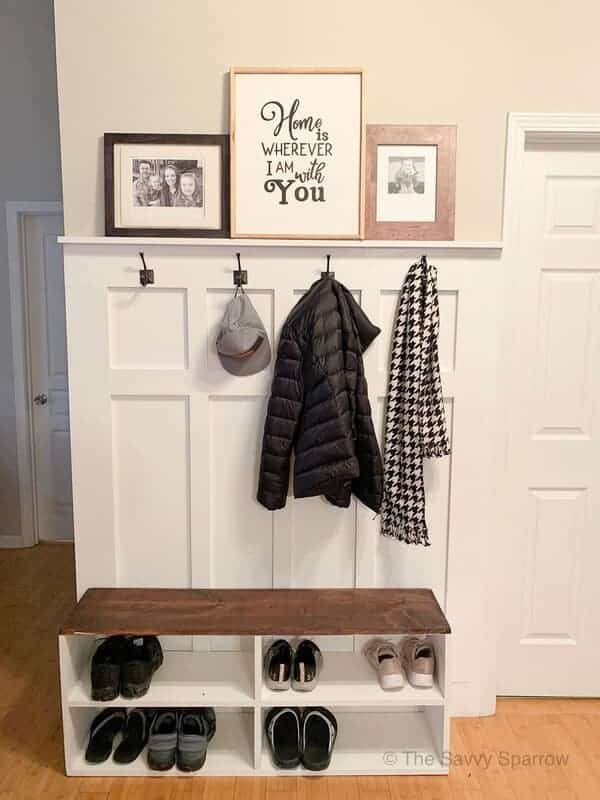 6. Designate one day a week as a "cleaning day".
Incorporating cleaning into your weekly routine is an essential part of keeping a clean house.
Try to set aside one day a week, or even just a few hours one day, to work on cleaning the house, uninterrupted. If you commit to getting the majority of your house work done on that day, then you won't have to worry about trying to find the time during the rest of the week.
And, after a few months, getting your housework done on your "cleaning day" will become a habit. And once it's routine, you'll be well on your way to keeping a clean house.
7. Use Printable Cleaning Checklists to help you keep a clean house.
Have you ever heard of "analysis paralysis"? It's basically the idea that you're so busy thinking about WHAT to do, that you don't actually DO anything…
And it can be a HUGE road block when it comes to keeping your house clean!
Some people just don't know where to start, but printable daily cleaning checklists can help because they give you a "road map" of what to do first, what to do second, and so on. Plus, you can cross things off the list as you go, which is HUGELY motivating and gives you a sense of accomplishment!
I've got some AWESOME FREE printable bedroom cleaning checklists here!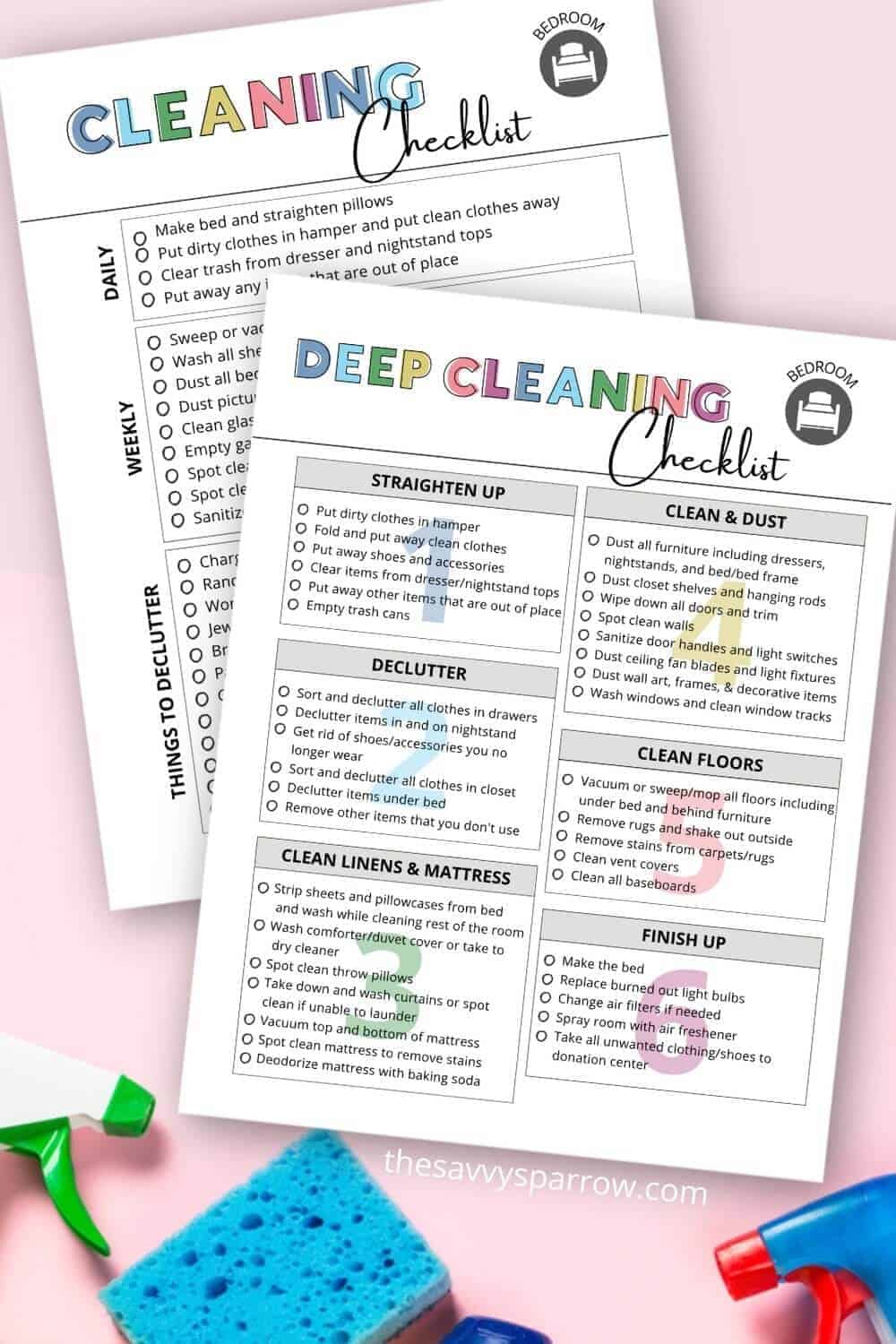 8. Spend those 10 extra minutes cleaning instead of scrolling.
How many times do you have an extra 10 minute gap in your day, when you're waiting until it's time to pick your kids up from school or you're waiting for dinner to finish cooking?
Instead of just "throwing away" that time by scrolling through social media, because you don't think that it's enough time to really get anything done, pick a few different 1 or 2 minute jobs to do. It doesn't seem like much, but you would be surprised at how much better your room with look after just a few minutes of concentrated and uninterrupted cleaning!
Here are some easy 1-2 minute cleaning jobs that you can knock out during those short lulls that you have during the day:
Keep your kitchen clean with these quick jobs:
Wipe the counters with a hot, damp rag.
Clear dishes from the dish drainer.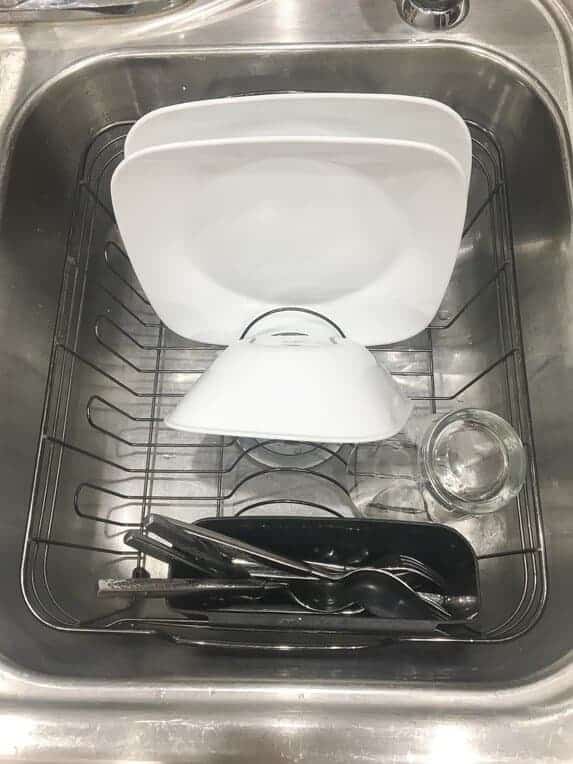 Relocate papers to their designated spots. Use a command center or mail basket for kids' school papers, bills, etc.
Hang up kitchen towels on their designated towel bars.
Load the dishwasher.
Sweep the kitchen floors.
Wipe down the front of the refrigerator with cleaning wipes.
Wipe down the stovetop. If you have a glass stovetop, I HIGHLY recommend this cleaner. This is what we use to easily remove burnt on food from our stove.
Quick and easy cleaning jobs for the living room:
Fold blankets.
Fluff up throw pillows and put them back where they belong.
Throw away any trash that is out.
Hang up coats, purses, and backpacks in their proper places.
Stack books and magazines neatly on the coffee table or put in magazine rack.
Put any toys in your "Put This Away Basket". Read more about this simple cleaning hack in my 7 Steps to a Clean House in One Hour!
Sweep the fireplace hearth.
Dust off the mantle – Karen from Decor Hint suggests using a fuzzy sock to dust. You can just slip it on your hand and easily clean nooks and crannies.
Keep your bathrooms clean with these quick cleaning jobs:
The bathrooms can be tricky to clean in just a few minutes! So when you only have a short time, just pick 2 or 3 of these small cleaning jobs that you can get done quickly:
Windex the mirror.
Wipe off the bathroom counter.
Quick clean the sinks and faucets. Even something as tiny as toothpaste splatters can make the bathroom seem dirty. Keep a container of Lysol wipes underneath the sink to quickly clean up splatters when you're done getting ready in the mornings.
Hang up all towels.
Replace the toilet paper roll – If your family is like mine they just leave the empty roll on the holder and then put the fresh roll on the ground!
Put magazines in their magazine holder/rack.
Empty the trash can.
Quickly clean the toilet bowl – You can often clean the toilet bowl in less than a minute with just a toilet brush… no chemicals needed!
Put toiletries back in their proper places.
When all else fails, spray some air freshener to give the illusion of a clean bathroom!
Quick cleaning jobs to keep the bedroom clean:
Yup, keeping your bedroom clean when you have a husband that drops his clothes right in front of (but not in!) the dirty clothes hamper can be a challenge!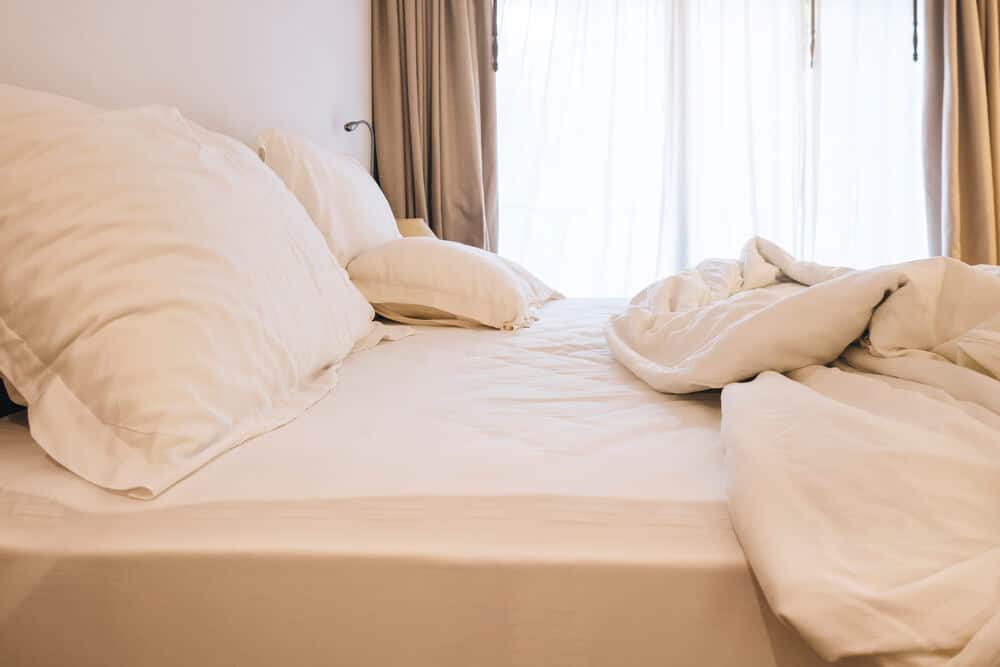 But here are some easy and quick cleaning ideas for the bedroom:
Put dirty clothes in the hamper.
Put throw pillows back on the bed.
Clean off the nightstand – Put clutter back in its proper place.
Put shoes away in the closet.
Fold bed blankets and put them back where they belong.
Remove any trash or dirty dishes from the bedroom.
Make the bed.
Fold blankets and put them away.
9. Let your kids help you keep the house clean!
Who says that Mom has to do all the work?!
I'm a firm believer in enlisting the help of your kids to keep up with the household chores. I even created these awesome printable chore charts for kids with age appropriate chores!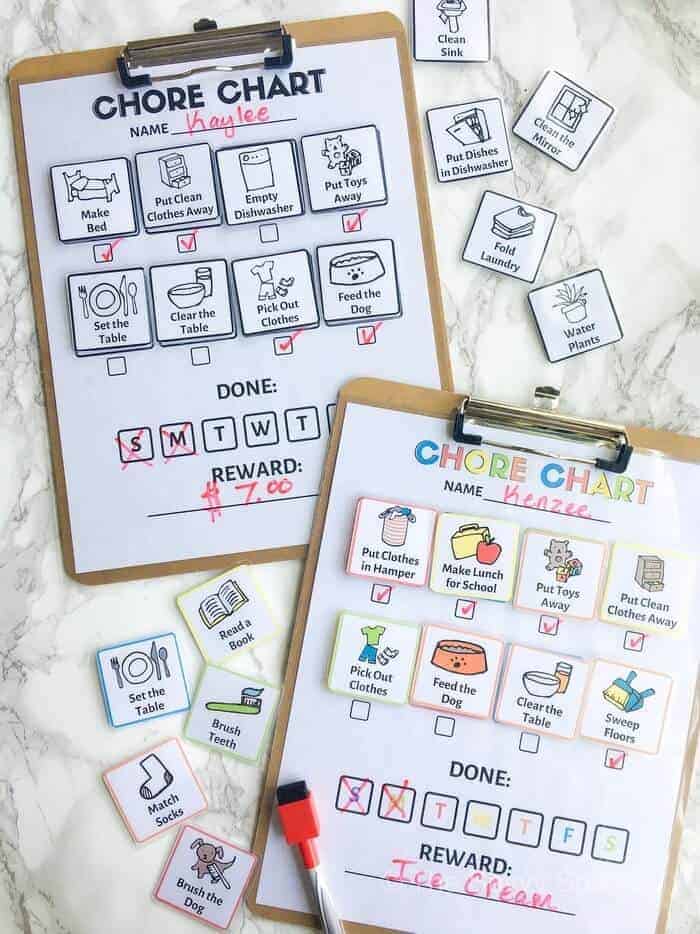 Here are some easy chores that your kids can do to help you keep a clean house:
Put their clean clothes away.
Put their dirty clothes in the hamper.
Put toys back in the toy box.
Take out the trash. – My daughter is 8 years old, and it's her job to take the trash out of the kitchen trash can when it's full, and replace it with a fresh trash bag.
Put dirty dishes in the sink.
Hang up jackets, purses, and backpacks where they belong.
Put shoes away.
Unpack lunchboxes.
Set up stuffed animals on the bed.
Fold blankets.
Make their own bed – Yes, my kids can make their own beds in one minute! Find out how HERE – How Zipper Bedding for Kids Can Make Your Life Easier!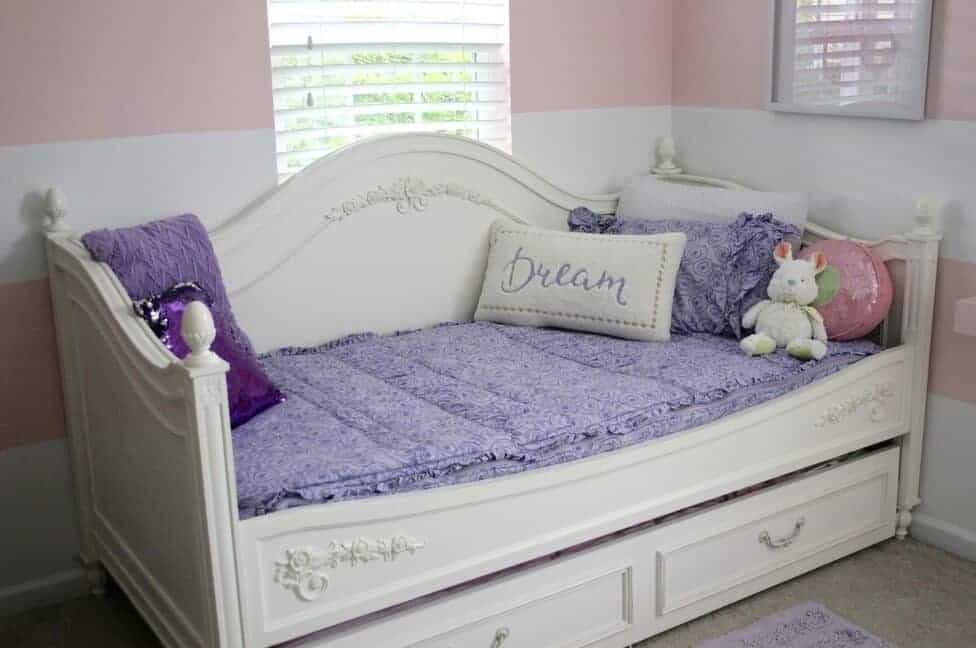 10. Make your own cleaning schedule, and hang it on the fridge.
A written out cleaning schedule is a great way to stay on top of the cleaning jobs that you need to get done.
Your cleaning schedule can be as simple as a regular wall calendar where you write one cleaning job to get done each day, or you can use a printable cleaning schedule like the ones in my Cleaning Planner: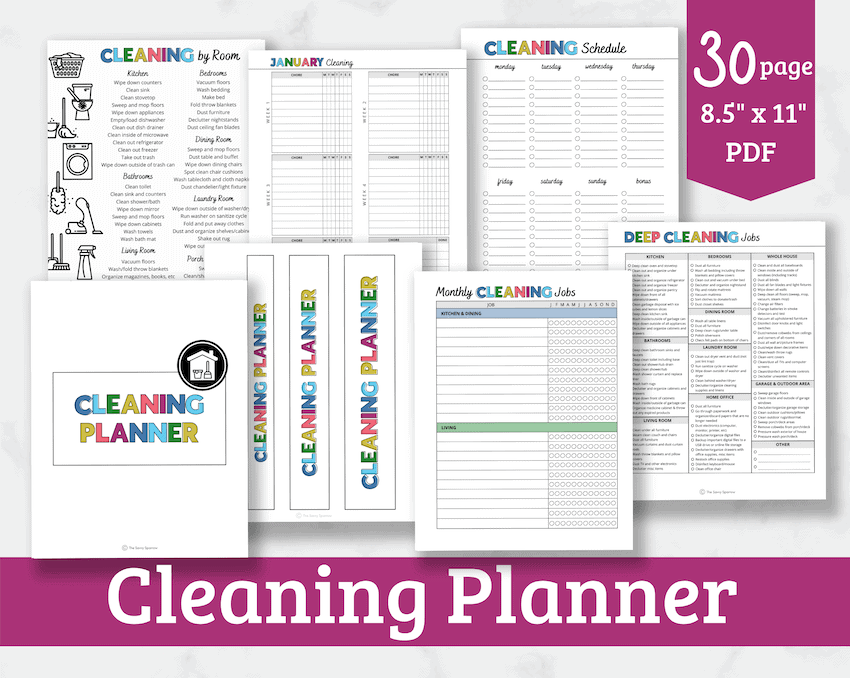 Check out the Cleaning Planner HERE!
11. Use technology to help you keep a clean house!
Sometimes there just isn't enough time for you to do ALL of the cleaning, so enlist the help of some cool cleaning gadgets that will make your life easier.
Here are some of the automatic cleaning tools that I use to help keep a clean house, even if I'm short on time:
A robot vacuum – I got this awesome robot vacuum about a year ago, after I noticed that I was spending about 20 minutes every single night sweeping my hardwood floors. Now, I just press a button and the vacuum does it for me!
Automatic toilet bowl cleaner – These little gel clings actually work to clean your toilet bowl with each flush, so you won't have to scrub it as often.
Cleaning brush attachments for a drill – We bought these cool drill attachments to make cleaning our showers and tubs easier. Now, I don't have to spend near as much time on my hands and knees scrubbing the grout! We just attach a scrub brush to the end of our power drill, and let the drill do most of the work.
In Conclusion
These easy cleaning tips may seem like no-brainers… like "Yes, Amy, if I've got trash on my nightstand then I'm going to throw it away."
But many people get overwhelmed easily by the mess in their homes coupled with the stresses of everyday life.
And when you're overwhelmed, it can be difficult to get motivated to keep a clean house. Plus, if you have kids and you know that the house will just be dirty again in a few days, you probably don't want to spend a TON of time cleaning.
So, you could easily throw in the towel before you even pick it up to dust… see what I did there?!
Many people look at cleaning as a HUGE task that's going to take hours to do… and who has HOURS to do anything? Sometimes you just need to change your mindset and focus on a new routine.
What about you? Do you have any cleaning hacks for how to keep a clean house? I'd LOVE to hear from you! Drop a comment down below!