If your house is a cluttered HOT MESS, then this 30 Day Decluttering Challenge can help! Grab the FREE printable 30 Day Decluttering Calendar to get started now.
Yeah, yeah… I get it.
You're too busy doing ALL. THE. THINGS. to worry about decluttering one room in your house, let alone the WHOLE entire house.
I've been there. But, decluttering doesn't have to be hard, and it doesn't have to take hours upon hours upon hours.
I recently got to work on decluttering my youngest daughter's room. She's a pack rat through and through, and she has such a hard time getting rid of anything. She had Valentine's cards from her Kindergarten classmates (and now she's in 2nd grade).
I try to explain to her that she, unfortunately, has the tiniest bedroom known to man, so she has to get rid of stuff. (You can get my best Small Bedroom Decorating Tips HERE if your kids have sardine can rooms, too!). But after telling her for the umpteenth time, and putting on horse blinders every night when I walk into her room to tuck her in, I finally decided to take action.
I fully expected to spend a minimum of 8 hours in her room, trying to sort through the clutter, so I was pleasantly surprised when we finished it in just one short night.
You see, decluttering doesn't have to be hard. And it doesn't have to take hours upon hours to complete.
By the way, if you're feeling extra ambitious and want to declutter your whole house in just ONE WEEK, then check out my 7 Day Decluttering Your Nest Challenge!
The trick is to tackle bite-sized areas of your house to declutter. Like focus on ONE drawer at a time instead of a whole room. If this micro-decluttering method sounds more your speed, then here's an awesome 30 Day Decluttering Challenge to help you out… one tiny area at a time!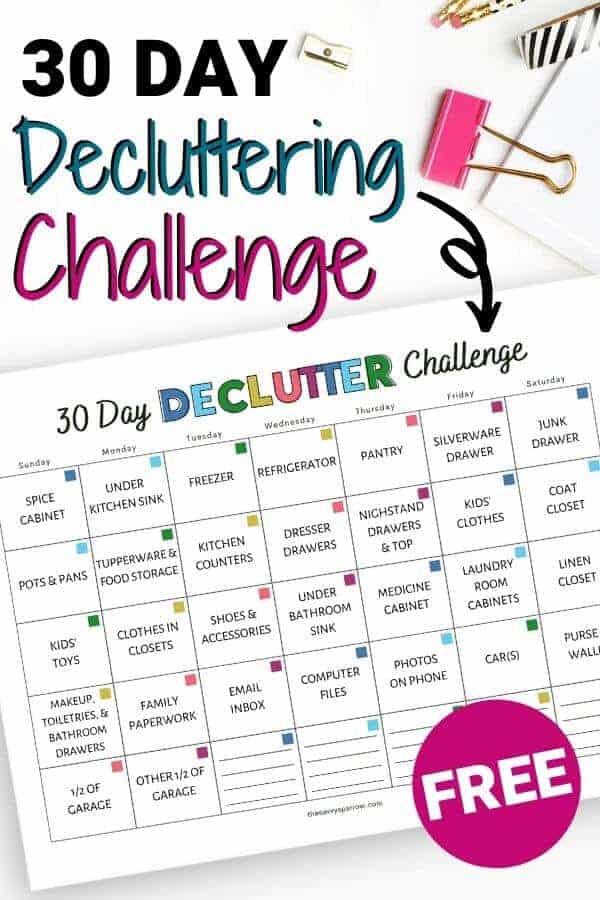 Why this 30 Day Decluttering Challenge Works
Small decluttering jobs make a big impact.
I don't know much about basketball, but I know that John Wooden, a famous basketball coach, said
Little things make big things happen.

John Wooden
Such a simple reminder that your small action steps can add up to your larger goals… Just like completing a series of small decluttering jobs can help you eventually have a clean and tidy home!
Dividing the decluttering into small jobs makes it easier and less overwhelming.
And here's another inspirational quote to get you going… In the words of Henry Ford,
"Nothing is particularly hard if you divide it into small jobs."

Henry ford
And that's exactly why I created this 30 Day Decluttering Challenge! It's easy to get overwhelmed if you think of your home as a whole, and then you think about all of the clothes, toys, and whatchamacallits that you need to declutter in your home.
But, if you break up the act of decluttering into bite-sized areas, you're less likely to get overwhelmed, and you're more likely to finish your organizing and decluttering jobs.
You don't need a TON of extra time to work on decluttering.
Let's face it… as busy wives and Moms, our time is seriously limited! And if you're like me, you definitely don't have 12 extra hours a day to spend on decluttering.
But with this 30 day challenge, you can sneak in small decluttering jobs while your kids nap or while you've got a roast in the oven.
*By the way, if you still feel like this 30 Day Decluttering Challenge is just too much work for you, then I also have a 30 BAGS IN 30 DAYS Challenge… So you can focus on removing JUST ONE bag of clutter from your home each day, and you'll have 30 bags of clutter out of your house in only a month.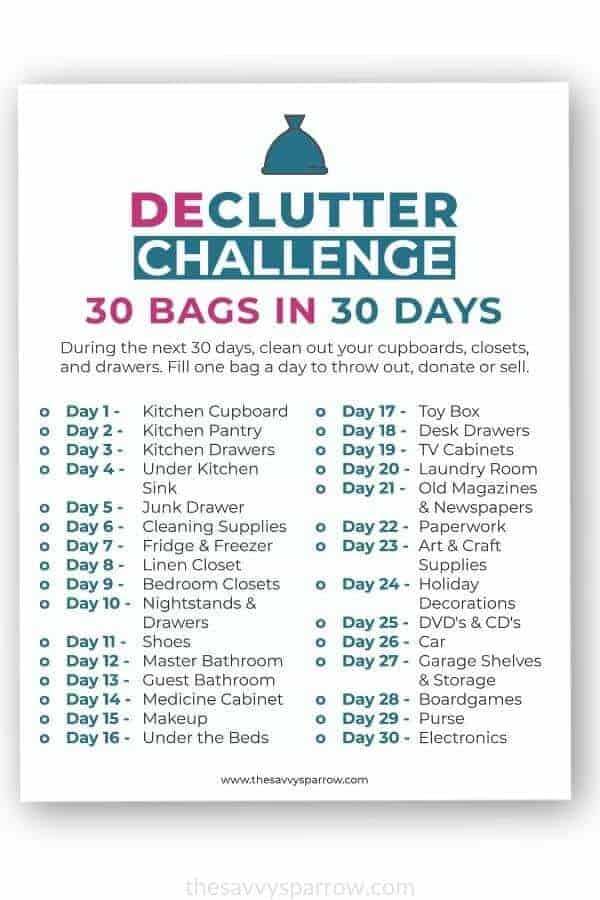 Click HERE to read about the 30 Bags in 30 Days Decluttering Challenge and grab the FREE Printable!
*This post contains affiliate links, which means if you click a link and make a purchase, I earn a commission at no additional cost to you. Read my full disclosure here.
How to Declutter ANY Space – The 5 Steps to Remember
Before we get started with the 30 Day Decluttering Challenge, let's talk about some important decluttering how-to's…
The act of decluttering is really quite simple. Go through your stuff, get rid of what you don't need or want, and organize what's left. And you can declutter ANY space, whether it's your sock drawer or your medicine cabinet by following these simple decluttering steps:
EMPTY
First you'll want to remove EVERYTHING from the space that you are decluttering to get a feel for what you have and what you want to get rid of. This allows you to start with a "clean slate" when you start putting things back.
EDIT
This step of decluttering refers to "editing down" the stuff that you have. Look through your big ol' pile of clutter that you just removed and pick out things that you don't need or want. Get rid of anything that you haven't used in the last year, or items that you are unlikely to use.
Also, ask yourself these questions when you're in the "Editing" process:
Have I used or worn this in the last year?
Does this item bring me joy? (as suggested by Marie Kondo)
Does this item have sentimental value?
Am I holding onto this item with the assumption that I may need it in the future?
Would somebody else benefit from having this item?
Is this item broken, missing pieces, or worn out?
Is this item expired (for medicines, makeup, and food products)?
Is there a better or more efficient way to store this item? (i.e., for paper clutter/photographs – can I convert this to digital format?)
GROUP
Then, after you've gotten rid of things you don't need or want, group like items together in piles. For instance, if you are decluttering under your kitchen sink, then you may group items like this:
Dish Cleaning Supplies – like dish soap, sponges, and dishwasher detergent
Household Cleaners – glass cleaner, toilet bowl cleaner, dusting spray, etc
Paper Products – trash bags, zipper bags, etc
Grocery bags
Misc – Other items that you store under the kitchen sink
CLEAN
Many people don't think about this step when decluttering, but why would you want to take the time to organize all of your stuff only to put it back into a dirty cabinet/drawer/bin/etc.
Take time to clean the inside of the area that you are decluttering before moving on to the next step. Wipe down the inside of your cabinets, drawers, and plastic bins with a hot damp rag to get rid of any dirt and debris. Or for areas like closets or the pantry, vacuum and dust before replacing things.
REPLACE
As in, put everything back in the area that you have decluttered. When you're putting things back, think about which items you use most frequently and organize those in the front so they are easily accessible. It's also nice to keep your items organized by the categories that you used to group them together. For instance, if you're doing your makeup drawer, keep all of your eye products together, all of your lip products together, etc.
Also, depending on the area that you are decluttering, you may want to invest in plastic storage bins or other organizers to keep everything neat and tidy. For small areas like bathroom and junk drawers, I HIGHLY recommend these small plastic drawer organizers that I used to organize my daughter's vanity drawer: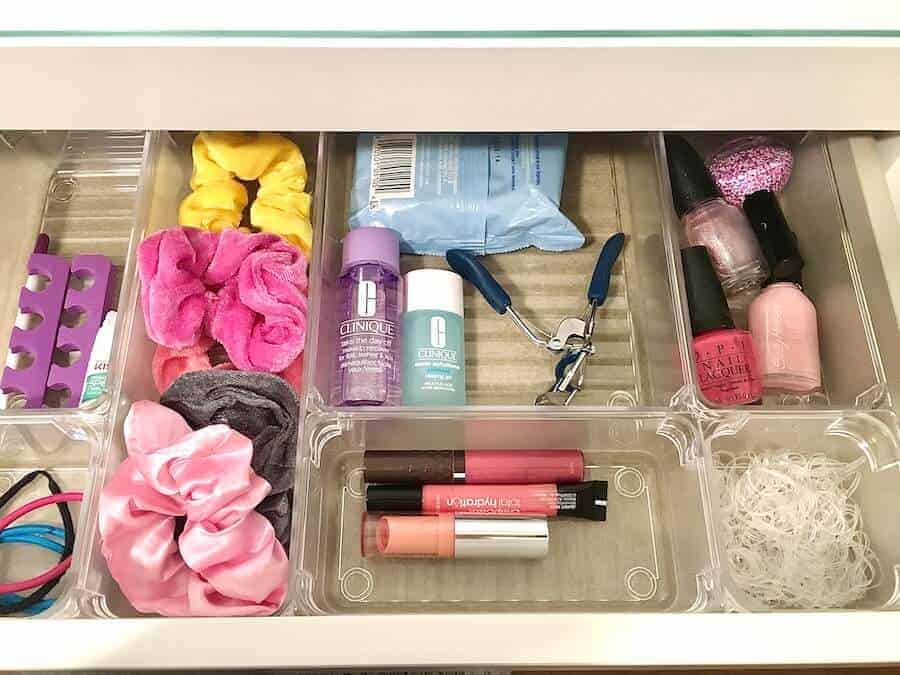 The 30 Day Decluttering Challenge
So without further ado, here is the decluttering challenge! Just imagine what your house will look like after 30 days!
I recommend that you print the free printable decluttering calendar (at the end of this post), and hang it on your fridge. Then, cross off each day as you complete the challenge. Crossing things off your list will give you a sense of accomplishment and motivate you to keep going!
30 Day Decluttering Challenge – Kitchen and Dining Areas
Day 1: Declutter the spice cabinet – Don't forget to trash expired spices or bottles that are 99% empty. You can also combine spices… For instance, if you have 2 bottles of chili powder and both are less than half full, combine them in the same bottle to free up space.
Day 2: Declutter under your kitchen sink – You may also want to invest in some plastic bins from Target to organize your cleaning supplies and paper products under your kitchen sink.
Day 3: Declutter and organize the freezer – You can also use my FREE printable freezer inventory sheet to keep track of what's in your freezer after you're done!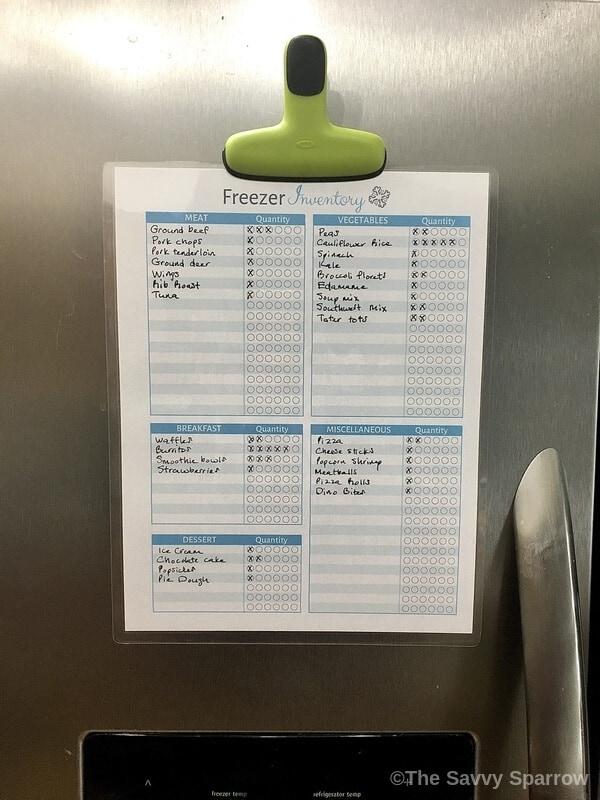 Day 4: Declutter and organize your refrigerator
Day 5: Declutter and organize your pantry
Day 6: Declutter your silverware drawer
Day 7: Declutter and organize your junk drawer – I recently did this in my own kitchen, because I was embarrassed to open my junk drawer in front of anyone! Check out my junk drawer organization tips HERE!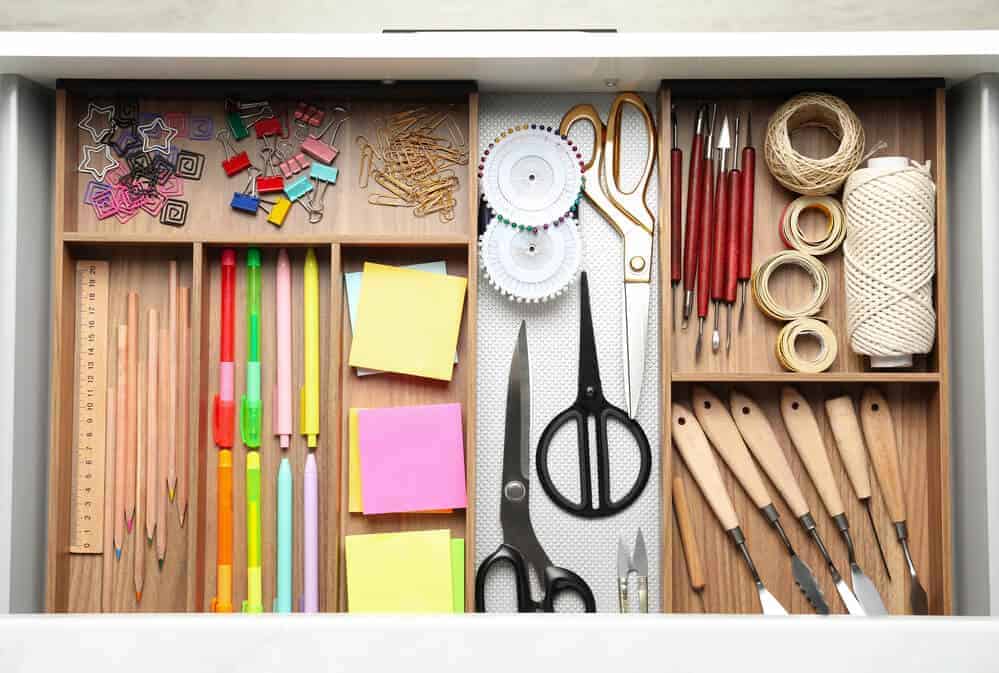 Day 8: Declutter and organize your pots and pans
Day 9: Declutter your Tupperware and other plastic food storage items – You'll definitely want to get rid of containers that don't have matching lids!
Day 10: Declutter your kitchen counters – Kitchen counters are a prime "drop zone" for most families, so they tend to get cluttered really quickly. Check out this post for how to keep your kitchen counters nice and tidy: How to Declutter Kitchen Counters Quickly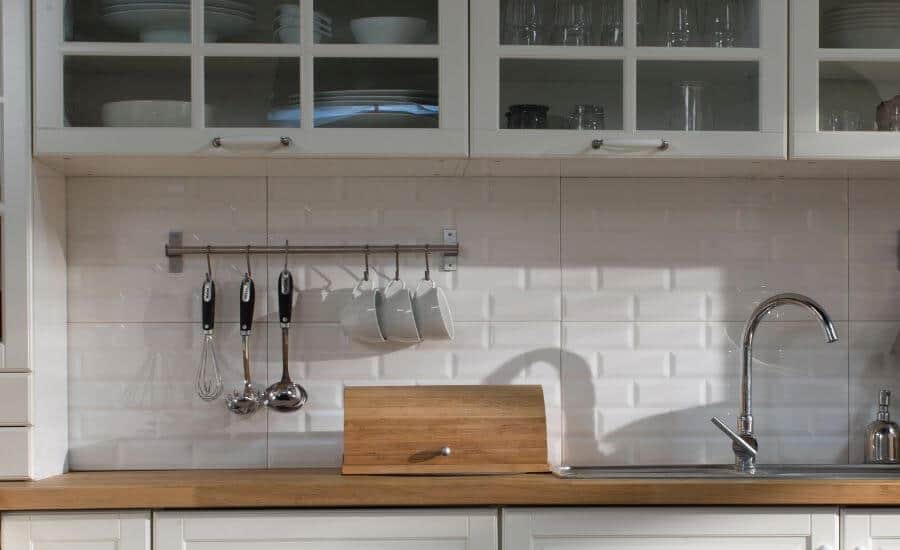 30 Day Decluttering Challenge – Bedrooms and Closets
Day 11: Declutter your dresser drawers – Remember, if you haven't worn something in the last year, you probably don't need it, unless it's a "specialty" clothing item like long underwear or a bathing suit.
Day 12: Declutter your nightstand drawers and top
Day 13: Declutter kids' clothes – If you have kids that are in middle school or younger, then you probably have a TON of old and outgrown kids' clothes laying around. Check out this post for what to do with them: What to Do With Old Clothes – 14 Awesome Ideas!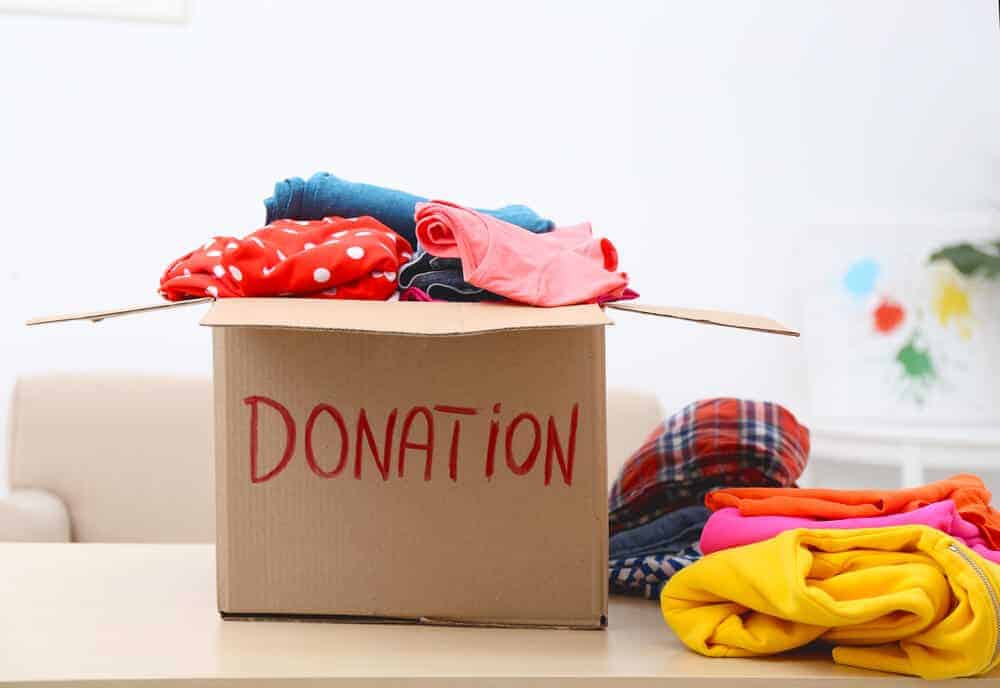 Day 14: Declutter the coat closet – This is a great opportunity to donate coats and winter accessories that you no longer wear or that your kids have grown out of to local churches or missions.
Day 15: Declutter kids' toys – If your kids are old enough, then I recommend that you have them help you. Just explain that if they haven't played with a toy in the last several months, then they should give it to a child that doesn't have as many toys as they do.
Day 16: Declutter the clothes in your closet – Let's face it… as women, we have a TON of clothes, that's why I recommend splitting up the decluttering into "sections" – first the dresser drawers, then the closet.
Day 17: Declutter your shoes and accessories – Jewelry, scarves, hats, shoes, etc.
30 Day Decluttering Challenge – Bathrooms and Laundry Room
Day 18: Declutter under the bathroom sink
Day 19: Declutter and organize your medicine cabinet – My medicine cabinet (which is basically a few shelves in my linen closet) was a HOT MESS! Read about how I decluttered and organized it so that I could quickly find what I needed here: How to Organize Your Medicine Cabinet in 6 Easy Steps. Plus, find out how I made these cute DIY basket labels: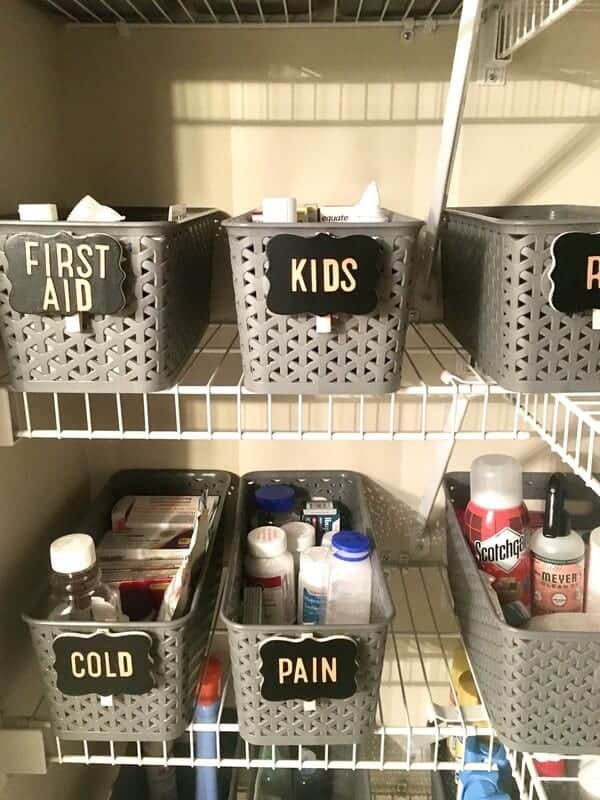 Day 20: Declutter your laundry room cabinets
Day 21: Declutter your linen closet
Day 22: Declutter your makeup and toiletry products/bathroom drawers – You already decluttered your bathroom cabinets, so now it's time to tackle the drawers. Splitting up the bathroom vanity into "zones" makes it less overwhelming.
*By the way, if you're already SUPER overwhelmed because your house is just a HOT MESS, then check out this post: How to Start Decluttering When Overwhelmed by the Mess.
30 Day Decluttering Challenge – Office Areas and Digital Clutter
Day 23: Declutter and organize family paperwork – I recently went through and set up an AWESOME filing system for all of our important documents. You can read more about it HERE: Organize Paperwork: How to Setup a Filing System for Family Papers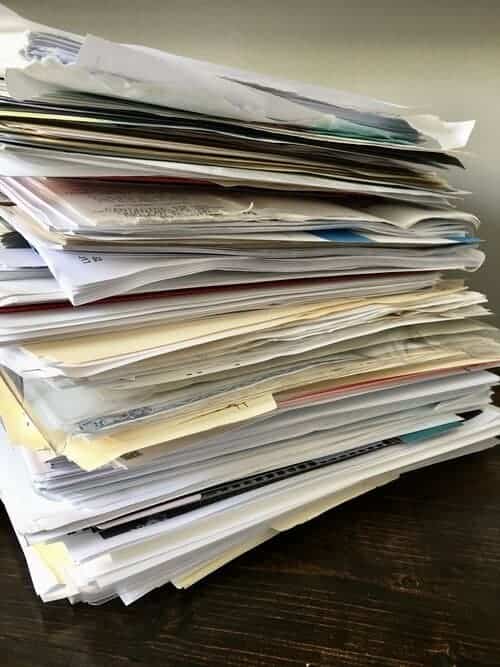 Day 24: Declutter your email inbox – Go through ALL of your email accounts (I have two business accounts and one personal!), and "trash" any emails that you no longer need, like expired coupons and sales emails, etc.
You can also set up Folders in your email account to store important emails that you don't want to get rid of, so they're not cluttering your inbox. I would suggest that you categorize your email folders to keep everything organized. For instance, you could group emails by business emails, medical and health-related emails, and family-related emails.
Day 25: Declutter your computer files – If finding one simple computer file is like hunting for a needle in a haystack, then check out these tips for how to declutter your computer files and grab a FREE downloadable computer wallpaper desktop organizer to keep all of those folders neat and tidy!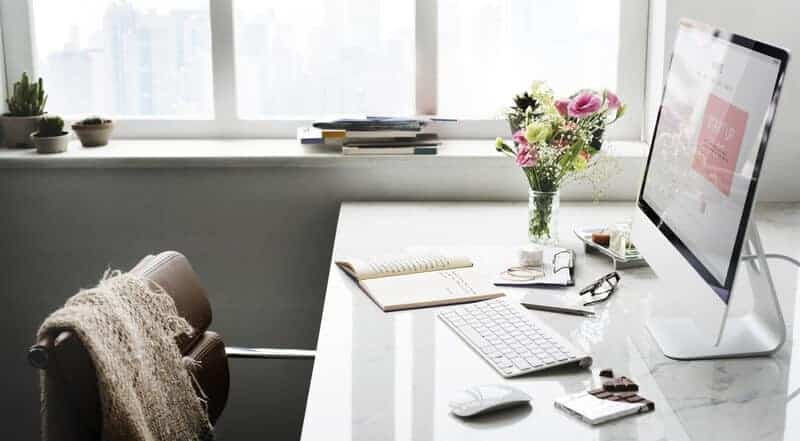 Day 26: Declutter and organize the photos on your phone – Asurion has some GREAT tips for how to organize your phone photos, with specific instructions for both iPhone and Android users!
30 Day Decluttering Challenge – Other Areas to Declutter
Day 27: Declutter your car – My favorite way to declutter my car is to just take a trash bag out to it, and put EVERYTHING from inside my car in the trash bag. The ONLY things that don't go in the bag are my registration, insurance cards, and the vehicle manual. Everything else gets put in the bag, and then I take it inside to go through the bag and see what I need to keep (put back in the car or in a designated spot in the house) and what I can get rid of.
Day 28: Declutter your purse and wallet – I have to do this about once a quarter, because I tend to just collect ALL of my receipts in my wallet, just in case I need them for tax purposes or to make a return.
Day 29: Declutter 1/2 of your garage – We saved the HARDEST part for last! Or at least that's how it is for me! Since the garage is such a large space, I divided it into two days to make it more manageable.
Day 30: Declutter the other 1/2 of your garage – If you don't need 2 days to declutter your garage (props to you!), then use this day to look around your house and declutter any other areas that you may have missed.
Get the 30 Day Decluttering Challenge Printable
Want the FREE printable 30 Day Decluttering Challenge to help you stay on track? When you sign up for my FREE email newsletter, I'll send you the printable as a free gift! Plus, you'll get access to my entire freebies library filled with habit trackers, kids' activities, holiday printables, and more!
Just use the form below!
Check out my other Decluttering Tips and Ideas
Want even more decluttering ideas… you know, since now you are a decluttering MASTER! Check out these posts: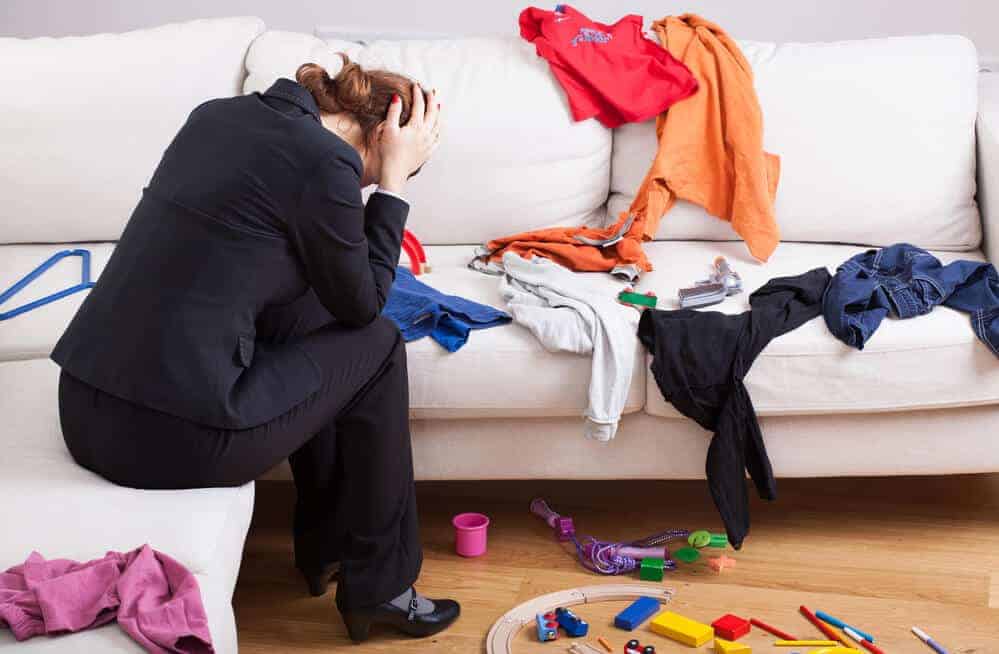 How to Start Decluttering When Overwhelmed by the Mess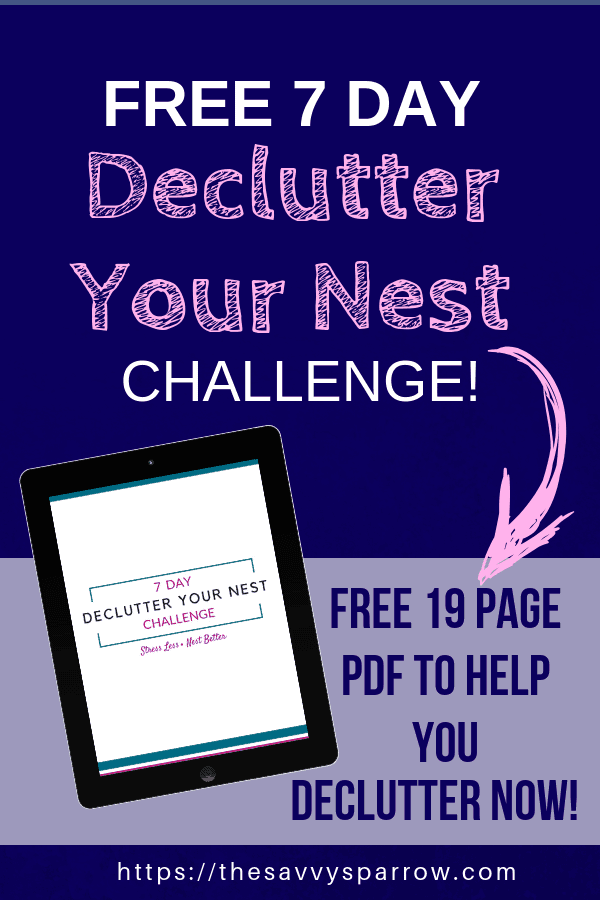 How to Declutter Your House in One Week – A 7 Day Room by Room Challenge!
And happy nesting!