Decluttering clothes seems to be one of the most difficult things to do.
Probably because you have 20 years (or more!) worth of outdated, worn out, or too small items that you're holding on to "just in case". Who else has their favorite pair of jeans from high school still hanging in the back of the closet, just in case you decide to take up pilates and go vegan and lose 30 pounds?
And it's hard to part with your old clothes when you think about how much money you spent on them. You would never just throw money in the trash, but that's essentially what you have to do when you start to downsize your belongings… You have to get rid of things that you spent your hard-earned money on.
It's a tough pill to swallow, I know.
But decluttering is also an essential part to keeping our stress levels low. No seriously, it's been scientifically proven that clutter causes stress, especially in women – That explains a lot right?
Just imagine how much better you would feel if you walked into your closet to get dressed in the morning and it looked like this: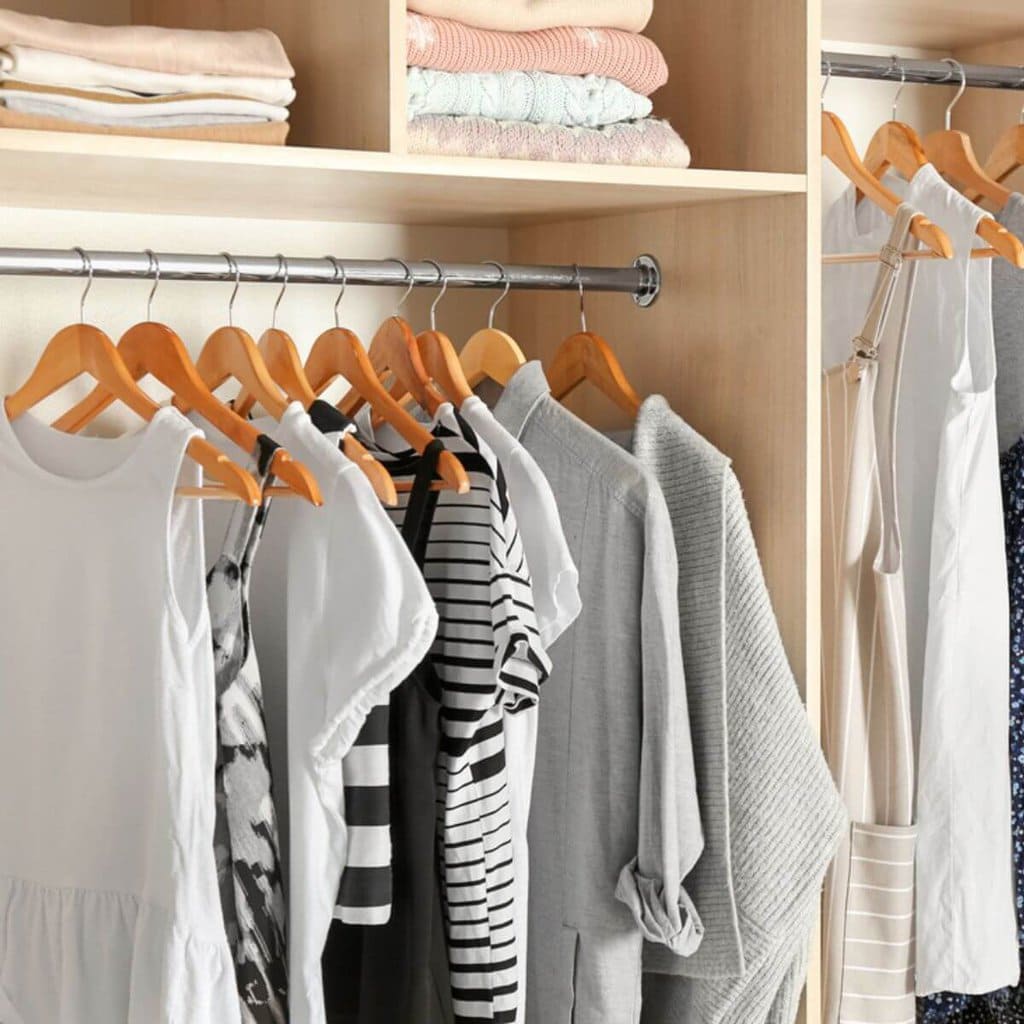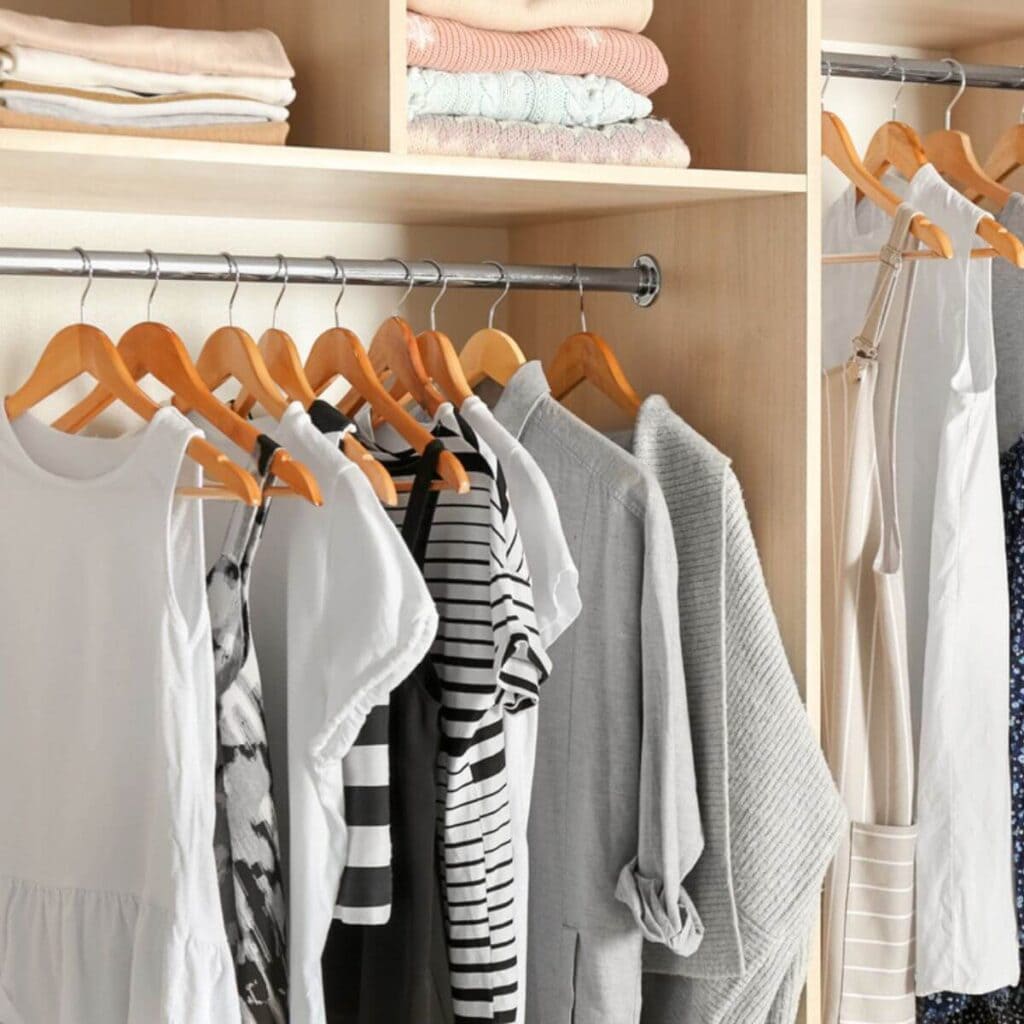 Let that be your motivation for decluttering your clothes, and then read on for some tips to finally start to declutter your wardrobe:
Before You Start Decluttering Clothes
Okay, I know that you're ready to jump in to decluttering your clothing, but let's set you up for success first!
Before you remove that first too-small baby tee that was cool in the 90's from your overstuffed master closet, you'll need two important things:
Time (preferably uninterrupted)
Don't start a big decluttering job if you know you have dinner plans in 45 minutes. Instead, make sure that you set aside enough time to complete this monumental task. That means putting your phone out of reach so you aren't tempted to grab it with each notification ding.
If you only have an hour or two to work on decluttering your clothing each day, then commit to getting one or two drawers done each day, or one clothes hanging rod.
Just picture a fashion-forward Thomas the Train… I think I can part with that tube top, I think I can get rid of those uncomfortable heels… If you believe it, you can do it! Stay motivated!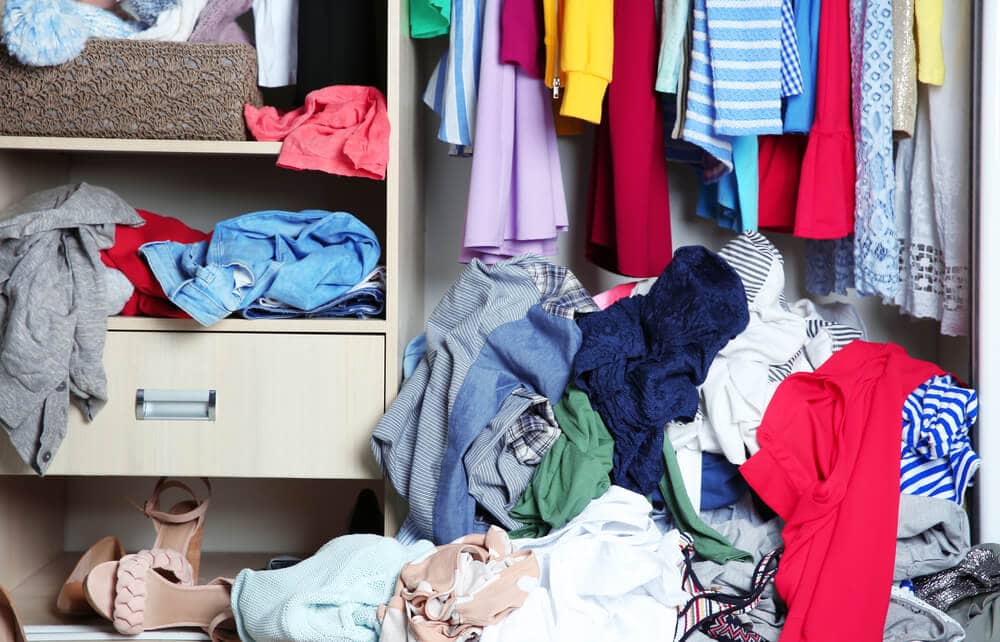 Questions I Ask Myself When Decluttering My Clothes
Once you've set aside time and you're in the right mindset, you're ready to start decluttering your wardrobe! You need to ask yourself some tough questions to determine what items you need and what you can get rid of. Think about these questions as you're sorting through your clothes to figure out what is going to "make the cut":
Have I worn this in the last year? If the item is a non-special occasion piece of clothing and you haven't worn it in the last 12 months, it's probably safe to donate it.
Does this clothing item bring me joy? (as suggested by Marie Kondo)
Does this clothing item have sentimental value? Like your wedding dress… you may want to keep that!
Am I holding onto this piece of clothing with the assumption that I may need it in the future? I have two formal dresses that I haven't worn in the last year, but I know that we're going on a cruise in the next 12 months, so I'll need to keep them.
Would somebody else benefit from having this clothing item? Your high school prom dress may hold a lot of sentimental value, but think how nice it would be for a less fortunate high school girl to be able to have your beautiful dress for her prom this year!
Is this item torn, missing buttons, or worn out? If so, chances are good that you won't wear it again.
How to Declutter Clothes – 7 Tips to Make it Easier!
Tackling any cleaning or decluttering project can be difficult, especially if you have loads of stuff and you don't even know where to start! These tips can help you learn how to declutter clothes in a way that's not overwhelming. You'll have a clean and organized closet in no time!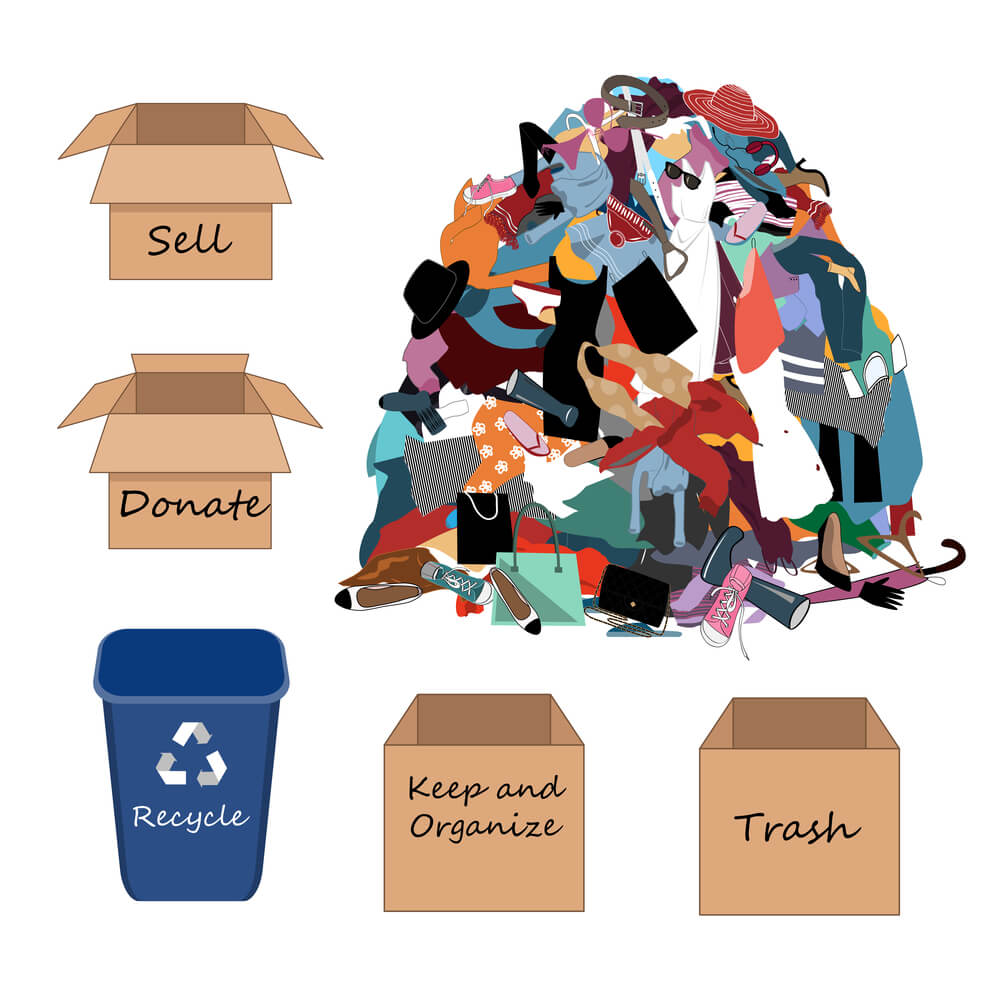 Tip #1 – Work with one drawer or shelf at a time.
This is my #1 decluttering tip for people that may be overwhelmed by the thought of downsizing their wardrobes, or any clutter in their homes – Break the project up into micro jobs. In fact, I believe in mini decluttering jobs so much so that I have a free printable one drawer decluttering challenge you can grab here!
Focus on just one drawer at a time, remove everything from that one drawer, and then sort through the items before moving on to the next drawer.
Here are some ideas for breaking your wardrobe up into micro-decluttering jobs:
Underwear drawer
Sock drawer
Bra drawer
Other clothing drawers in your dresser – one at a time
One closet shelf at a time
One closet hanging rod at a time
Shoes
Hats and other accessories
Winter coats and jackets
Tip #2 – Organize your clothing into piles.
Organization is the key to decluttering. You don't want to just start throwing stuff all together in a huge pile on the floor, because most of it will probably never make it out of your house and you'll be left with a bigger mess than when you started.
Instead, before you start to declutter your wardrobe, gather 5 or 6 large cardboard boxes and clearly label them as follows: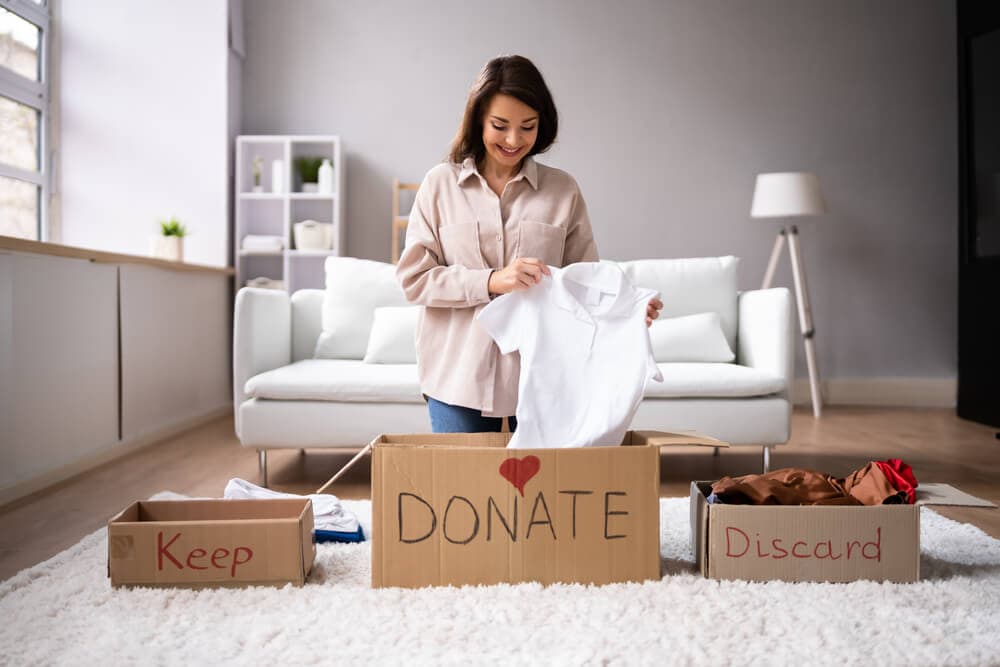 **Note – I prefer using cardboard boxes because then you aren't fiddling with opening the trash bag each time you need to put something in it.
Donate
This pile should include clothing and accessories to donate to local thrift stores, missions, or churches. Most of your decluttered wardrobe will probably end up in this pile!
Be sure that items from your donate pile are packed inside a trash bag or box that you no longer want. That way, it is easier to just drop off the whole box at the thrift store. Your local thrift store doesn't want items that are broken or missing pieces, or clothing with holes, so switch those to the trash pile.
Give Away to Family and Friends
This pile is for clothing items that are in good condition that you think your family or friends would love to have, like your favorite raincoat that just doesn't fit anymore.
Then when you're done, separate items that you decided to give away to family and friends into piles for each person. Make separate bags for each person's pile and label with his or her name. Store in your garage or the trunk of your car so that you have the items the next time you see that person.
Sell
Any wardrobe items that you feel are of value and are worth your time trying to sell on Facebook Marketplace, Ebay, or your local consignment stores can go in this pile.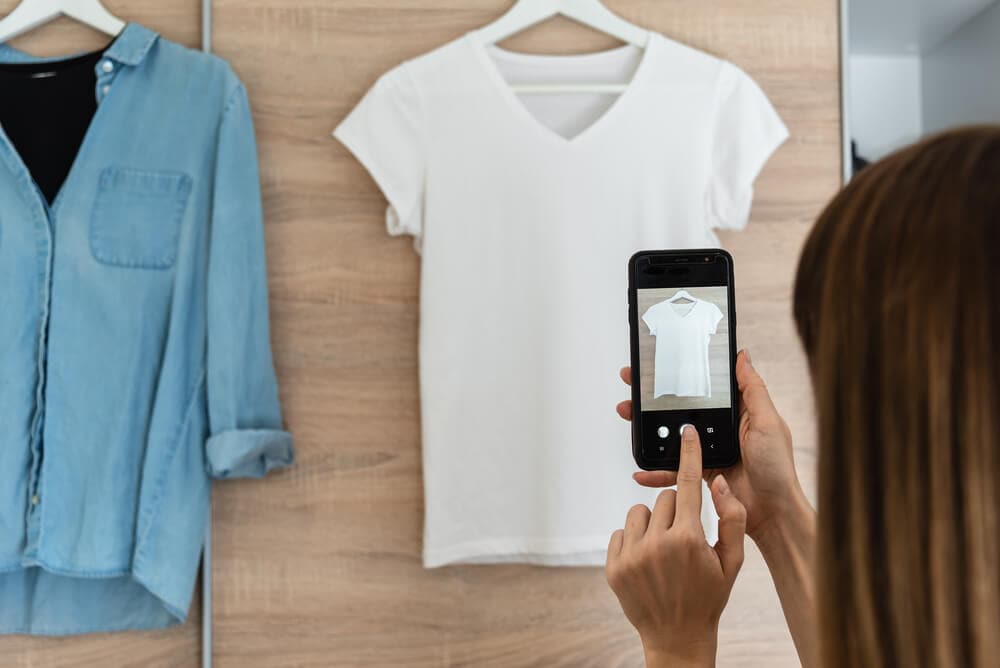 If you plan to sell a large amount of items to local seasonal consignment sales, decide if it is really worth your time to prep your items. Prepping items for seasonal consignment sales usually involves hanging them on hangers, pinning them in place, making price tags, and dropping off your items.
Or you can sell them at no-prep consignment stores like Plato's Closet or Planet Exchange for an easier option, or try my favorite online consignment site, thredup.com.
Relocate or Store
These are items that you want to keep, but that need to go in a different spot because they're purely sentimental or seasonal… For instance, you can relocate your winter coat to the entryway closet. Or store sentimental items in labeled totes for easy access when you need them.
Trash or Recycle
This pile is for your decluttered clothing that is in poor condition that needs to be thrown away or repurposed into cleaning rags, etc.
Optional (if you're handy) – Fix or Mend
Sometimes you have clothing that doesn't get worn because it has a missing button or a busted seam. If you still love the item and don't want to part with it, then commit to actually getting it fixed.
If a few months go by and you still haven't repurposed or fixed items in this pile, go ahead and trash them because it probably ain't gonna happen!
Tip #3 – Move less worn items to the front of your closet.
If you find that you REALLY can't let go of a certain item, like your favorite warm and cozy sweater, but you know that you haven't worn it enough to justify keeping it, then give it a second chance!
Move items that rarely get worn (but that you still love) to the front of the closet so that they're top of mind when you're getting dressed in the morning.
Tip #4 – Remove the clothing clutter immediately when you're done.
You know how you feel when you spend 2 hours perfectly mopping all of your hardwood floors, and then your teenage son comes home from football practice on a rainy day and completely ignores the front door mat?
Well, decluttering your clothes and then letting them sit in a corner of your bedroom for 2 weeks is kind of like that.
You did all of that work to declutter your wardrobe, but then you didn't actually get the clutter OUT of your house. So what happens? Eventually that unwanted clothing that you've already sorted through just gets thrown back in the closet because you have guests coming to visit and you need to tidy up the mess, or you just get tired of looking at the piles on the floor.
Instead, immediately after you're done decluttering clothes, take the donation boxes and put them in your car. And then drive to the closest thrift store or mission and be done with the clothing clutter for good… maybe even stop for a caramel latte on the way home as a reward for all of your hard work!
Tip #5 – Set a timer to stay motivated when decluttering clothes.
This tip is based on the popular time-blocking strategy for increased productivity, and it's something that I believe in whole-heartedly!
Block off an hour or two (or even 30 minutes) for decluttering, set a timer, and then work solely on sorting through your clothes until the timer goes off… No going to empty the dishwasher or checking the mail during this time.
You'll be amazed at how much you can accomplish with just one hour of dedicated and focused time!
Tip #6 – Invest in some clothing and accessories organizers.
Decluttering and organizing go hand in hand. After you get rid of unnecessary clothing clutter, you don't want to just put your items back in the closet or drawers willy-nilly. Instead, some good organizer bins or baskets can work wonders to really make your decluttered spaces look, well, less cluttered.
Whether you use sock organizers for your sock drawer or clothing dividers to insert in your drawers to keep your piles of tank tops from falling over on each other, some well-fitting organizers can really help your clothing look nice and neat. Plus, with the organization systems in place, you'll be more motivated to keep your drawers nice and tidy. That means no having to repeat these steps in another 3 months because you're drowning in too many clothes again.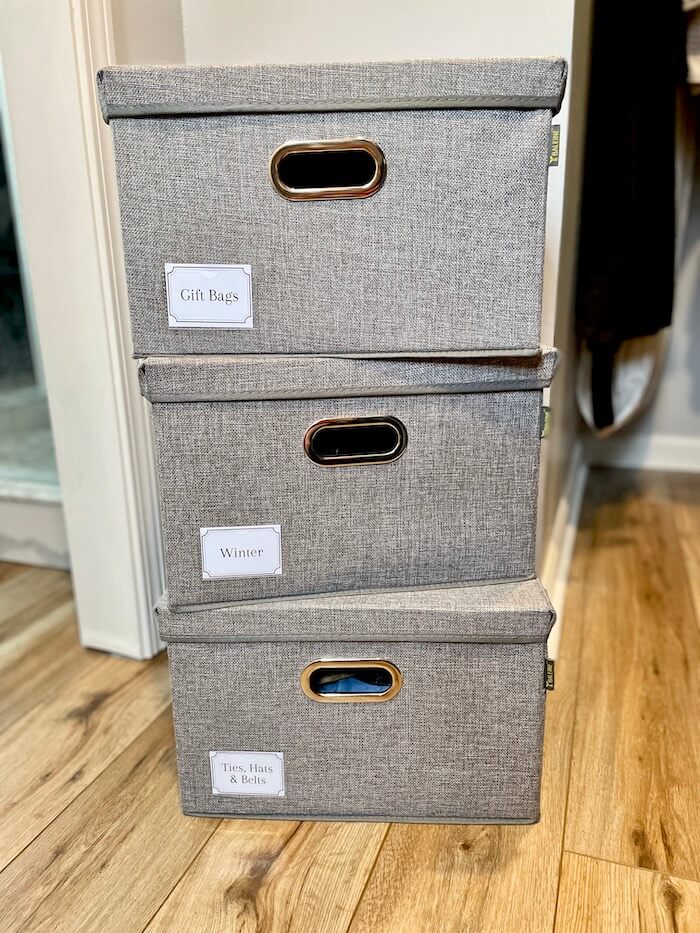 I recently organized the top shelves of my closet and bought these storage bins which I absolutely LOVE! Now I want to take the few extra seconds each time that I need something from one of those baskets to put the item back so my closet stays neat.
Hopefully the same will work for you!
Tip #7 – Find some closet inspiration!
How many times have you been scrolling through Pinterest looking at pictures of beautifully organized closets and wished that your closet chaos looked more like that?
Well, why not use those pictures as inspiration as you start to declutter clothes?!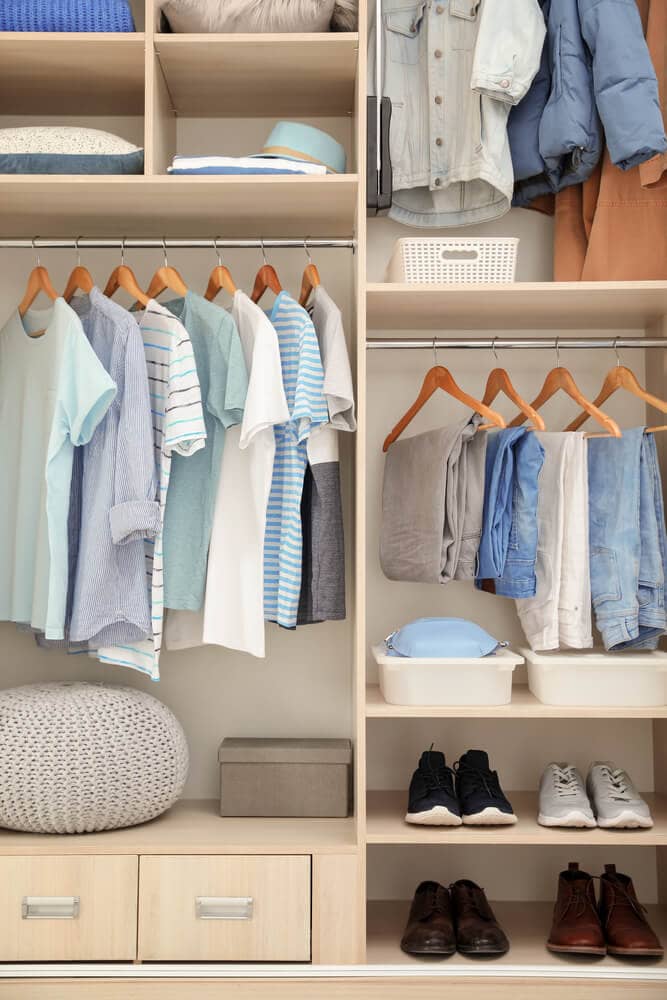 Find a few pictures of organized clothing drawers, dressers, and master closets and try to replicate them as you declutter and organize your own clothing. You can also pick out specific things in each picture that you really love… like maybe one photo includes matching black velvet hangers that look really nice. Or maybe another picture has sweaters neatly folded and placed in clear bins by color.
Find some inspiration to help you declutter and organize your own clothes, and see how close you can get to the closet of your dreams!
Other Decluttering Tips
After you're done decluttering clothes, you'll probably be motivated to tackle some other decluttering projects in your home! Here are some ideas for what to declutter next: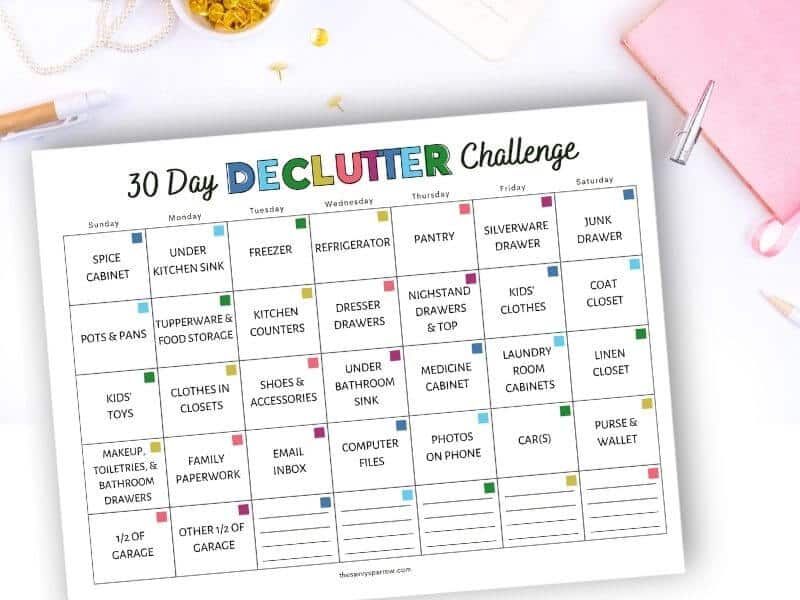 I hope you've gotten a few good tips for how to declutter clothes! Now go tackle that closet mess! And don't forget to PIN this post for later: