Overwhelmed by clutter and have no idea where to start? Get 10 easy tips for how to start decluttering when overwhelmed by the mess!
If there's ONE pet peeve that I have, it's CLUTTER! Walking in to my home and seeing piles of who-knows-what's is stressful! And I'm not alone…
In fact, a study done by UCLA's Center on Everyday Lives of Families, shows that mothers especially are susceptible to higher levels of stress if they feel that their homes are cluttered or messy.
So if you're a Mom like me, then that means you're probably overwhelmed with clutter and feeling stressed about it… which is why you're here!
Walking in to your daughter's room with horse blinders on only works for so long before you eventually feel the need to start decluttering. And if you're at that point that you can't just ignore the mess for any longer, then I've got some easy tips for you!
Having a big goal is great! But it can be overwhelming… unless you have a plan to accomplish it. These tips for how to start decluttering when you're overwhelmed will help you take the first step to getting that clutter-free house you've always wanted!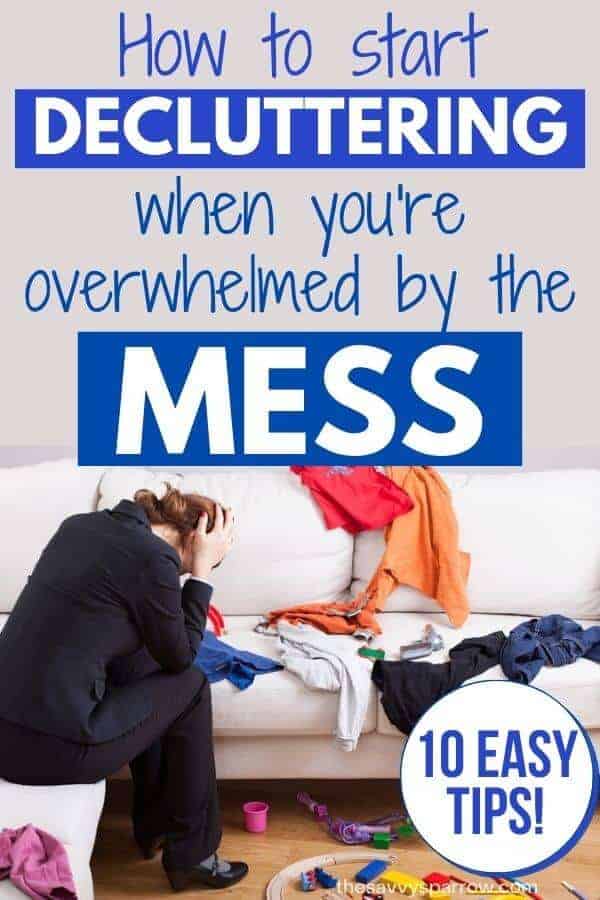 Just START Decluttering Already!
Yes, you may be too overwhelmed to declutter, but think of it this way…
Your clutter isn't just going to magically disappear… In fact, the longer you put it off, the worse it will become. If you've already got piles of extra stuff all over your house, then what's the harm in just adding one more toy or t-shirt or magazine to the pile, right?
Remember…
Clutter breeds MORE clutter!

Amy @ The Savvy Sparrow
It's important to take the first step to declutter, before your clutter mole hill turns into a clutter mountain.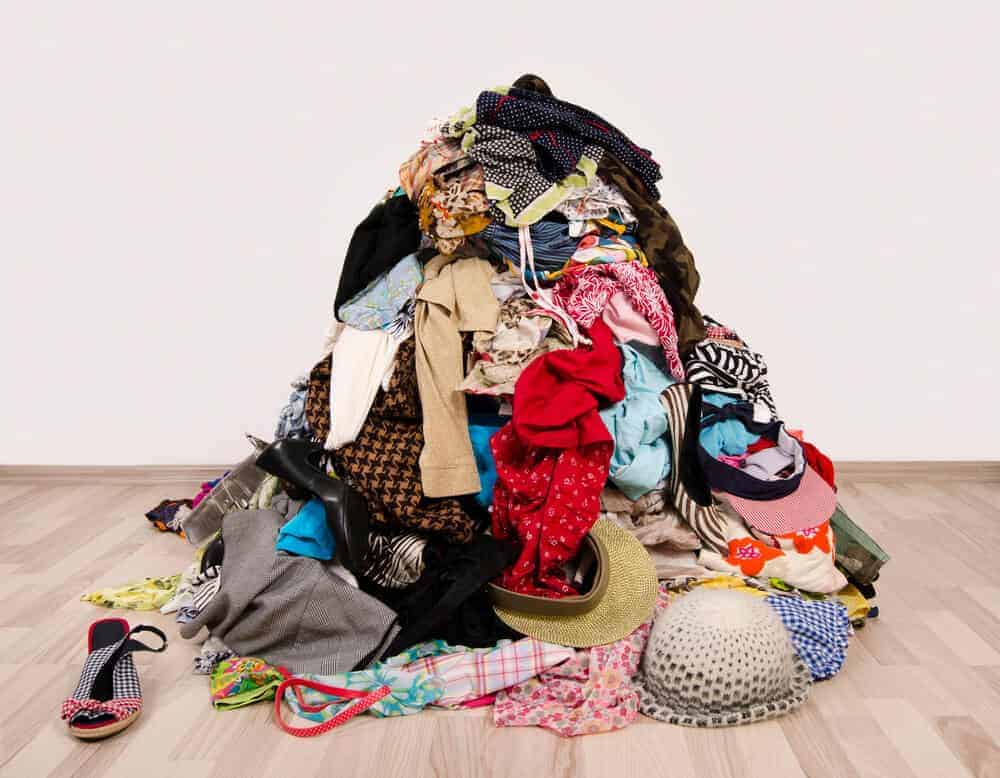 So the first tip for how to start decluttering when overwhelmed is to JUST START!
You can't win the race if you're stuck at the starting line!
Here are some tips to start decluttering, even if your house is a MESS and you're completely overwhelmed:
10 Tips for How to Start Decluttering When You're Overwhelmed
Tip #1: Declutter one small area at a time.
If you're faced with a whole house that's filled with clutter, then of course you're going to be overwhelmed! Even the most organized person wouldn't know where to start decluttering if every single room needs attention!
The key to start decluttering when you're overwhelmed is to break the HUGE job of decluttering into small, bite-sized decluttering jobs.
There are a few ways to do this… First, you can pick one room and split it up into smaller zones within that room. For instance, you could divide the bedroom into smaller areas like:
Nightstand
Under the bed
Sock and underwear drawers
Clothing drawers
Shoe rack
Closet shelves
Hanging clothes
Then tackle one small area each day, and after one week, your bedroom will be completely clutter-free and you can move on to the next room.
Or, you can also use my printable 30 Bags in 30 Days Decluttering Challenge! Just print out the 30 day decluttering checklist, and commit to removing one bag of clutter from your home everyday for a month. You'll be amazed at how much neater your home will look on day 30!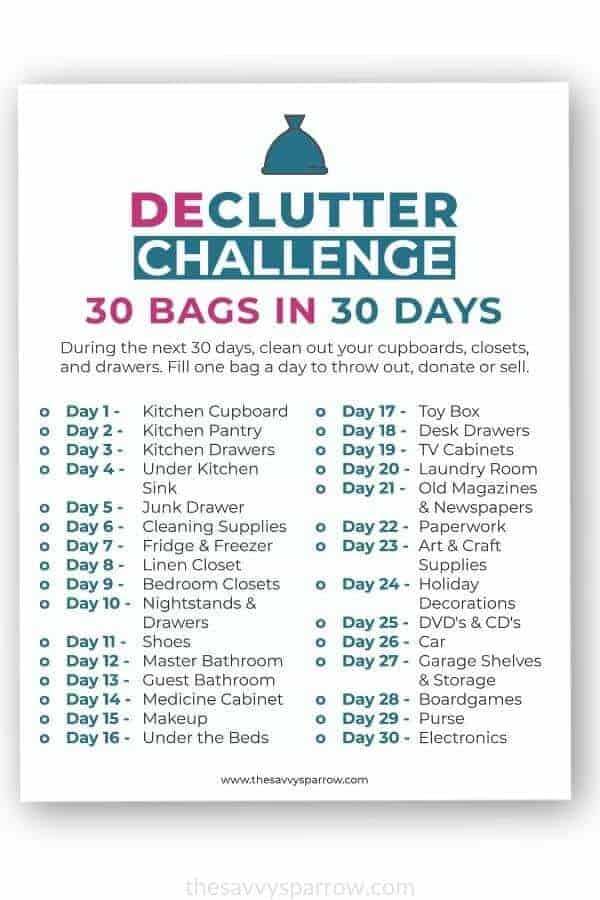 Tip #2: Start decluttering with the VISIBLE clutter.
There is nothing worse than working for hours on a project and feeling like you have nothing to show for it… Like mopping your entire house right before an army of kids comes trampling in with muddy shoes.
So start on the clutter that you can actually SEE, rather than what's lurking inside your junk drawer or under the bathroom sink.
Visible clutter can often be found in these areas:
Kitchen counters – This is a hot spot for clutter, because most families use their kitchen counters as a "drop zone" when they walk in to the house. Get some great tips for How to Declutter Kitchen Counters Once and For All here!
Coffee table and end tables – Old magazines, newspapers, and little knick knacks are all visible clutter, or clutter that you can't NOT see because it's just out!
Mud room – If you have a mudroom, then you probably pass through it every single day. Unorganized shoes, bags, and miscellaneous items all contribute to the overall cluttered look of your home.
Bathroom counters – Look for under-counter storage solutions so that you keep your countertops clear.
Any flat surface – Pretty much any flat surface (dining table, dresser top, etc) can serve as a clutter zone!
Once you finish with some of the visible clutter you'll have the satisfaction of a nice new clean and organized space, and you'll be motivated to keep going.
Tip #3: Set a timer each day.
Starting a monumental task when there is no end in sight is overwhelming! So give yourself a finish line to look forward to each day.
Start a timer when you begin decluttering, and commit to working on your clutter, uninterrupted, until that timer goes off. So that means putting your phone down so you're not getting distracted!
Even if you can only declutter for 30 minutes each day, if you're fully invested in those 30 minutes, you'll be amazed at what you can accomplish in such a short period of time!
*This post contains affiliate links, which means if you click a link and make a purchase, I earn a commission at no additional cost to you. Read my full disclosure here.
Tip #4: Blare some "pump up" music.
There's a reason why people listen to music while they're working out. It can be very motivating.
And I don't know about you, but I need some serious motivation when I'm staring at 52,000 Legos and 3 years worth of junk Happy Meal toys! And my motivation just happens to come in the form of Taylor Swift and "Mom's Best Friend", my Amazon Echo.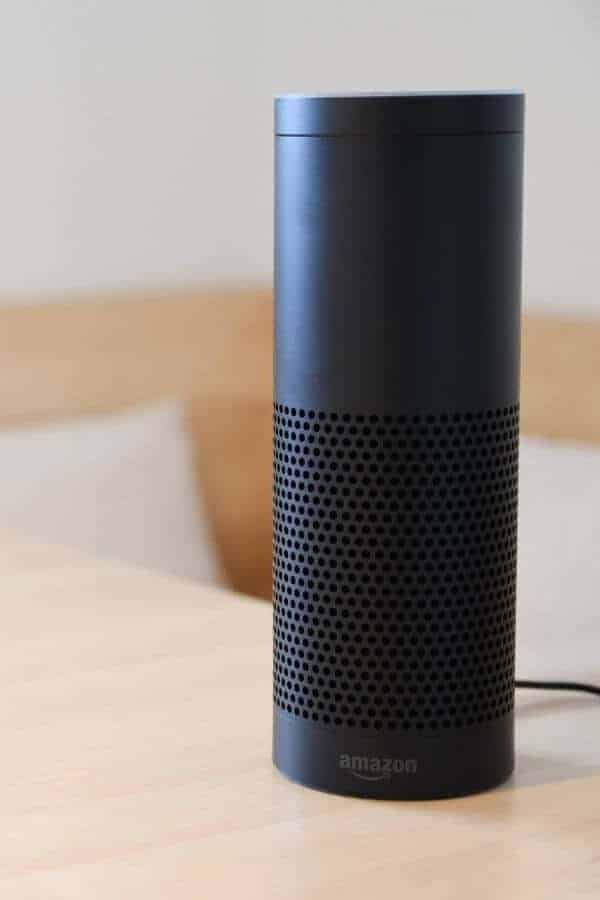 Whether I'm trying to clean my whole house in one hour or declutter the junk drawer, I like to ask Alexa to play my "Cleaning Playlist", filled with upbeat songs to get me moving.
Plus, music can be a great way to distract yourself from the overwhelm, while not ACTUALLY distracting you from the task at hand… if that makes sense! 🙂
Tip #5: Use a checklist of individual items to declutter.
Sometimes if you're overwhelmed by a task, it's best to have a checklist to help you through it.
You can grab my FREE printable list of 100+ Things to Declutter from your Home HERE!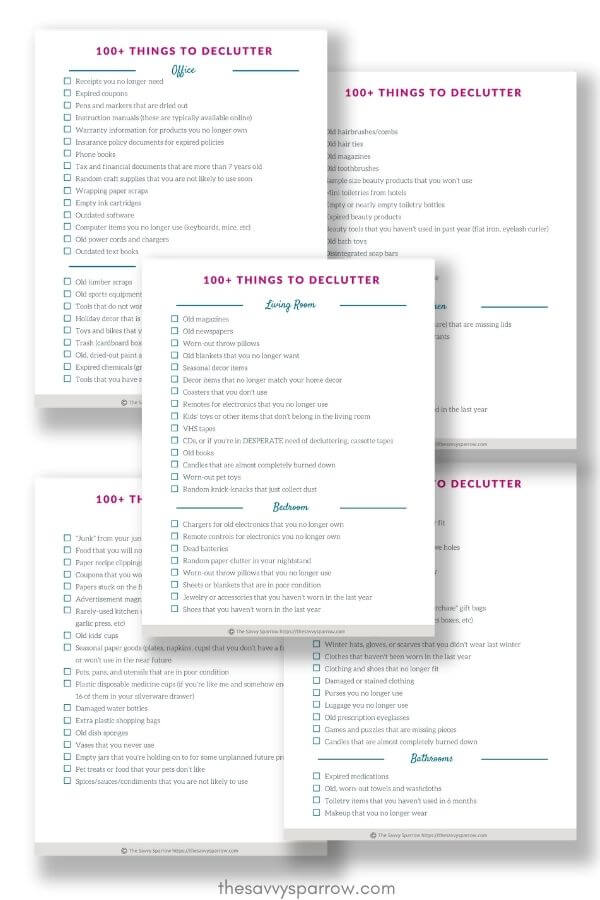 Just print out the checklist, and go through it one room at a time. This printable list can be your "road map" if you want to know how to start decluttering when overwhelmed!
Tip #6: Ask yourself the hard questions.
Let's face it… it can be hard to declutter. You spent your hard earned money buying all of these things, so the thought of just getting rid of stuff can be overwhelming.
You could also be overwhelmed with decluttering because you're afraid that you may get rid of something and then realize a week later that you need it. Then, you've got to turn around and spend money on something that you just trashed.
Sound familiar?
To help ease your overwhelm, here are some questions you can ask yourself about each item:
Have I used this item in the last year?
Have I worn this item in the last year?
Does this item bring me joy? (as suggested by Marie Kondo)
Does this item have sentimental value?
Am I holding onto this item with the assumption that I may need it in the future, but I haven't used it in over a year?
Is this item broken, missing pieces, or worn out?
If you start decluttering by asking yourself these questions, it will be easier to make the decision of whether or not to get rid of your items.
Tip #7: Envision the finish line, a clutter-free home!
Won't it be nice to walk into your home after you've decluttered and not feel completely stressed out and overwhelmed by the mess?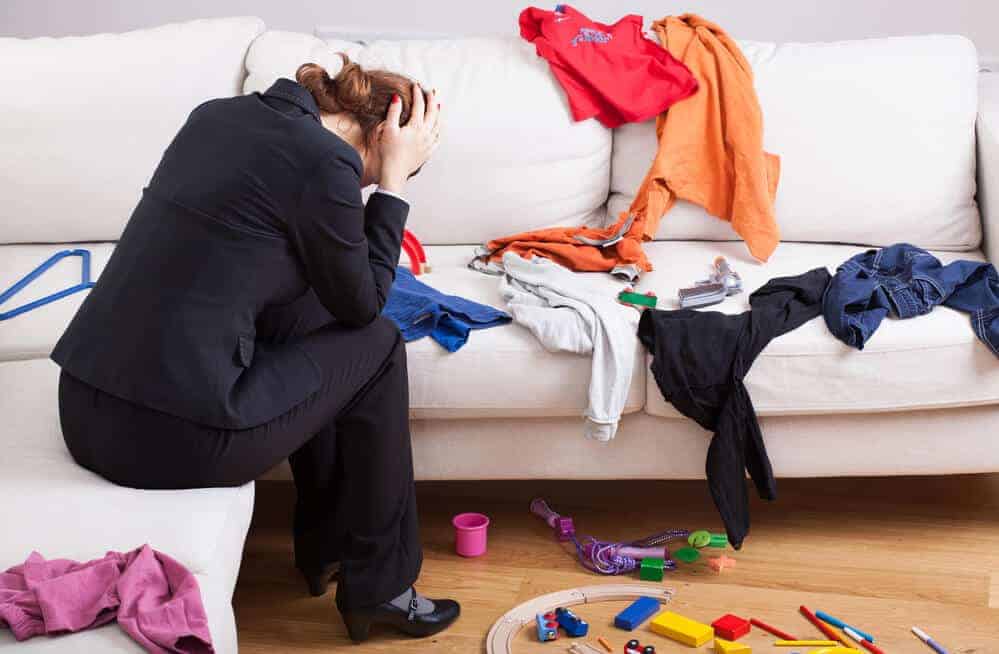 Rather than focusing on the things that you're giving up, like that tabletop S'mores set that you used once three years ago, think about what you'll be gaining, like extra space in your kitchen cabinets.
Tip #8: Try a printable Decluttering Challenge!
A printable challenge is a great way to hold yourself accountable when you're overwhelmed with decluttering.
I've got loads of great free printable decluttering challenges, like this 30 Bags in 30 Days Challenge or this 100 Things to Declutter List, but if you're feeling really motivated, you can try my most ambitious decluttering challenge, The 7 Day Declutter Your Nest Challenge!
This decluttering challenge gives you a blueprint for how to declutter and organize your entire house in just one week. Plus, it's filled with other decluttering tips like the how to prepare for a big decluttering session and what to do with certain items as you declutter.
Tip #9: Have a plan for stuff that you can't get rid of.
"If you don't have a plan, then you're planning to fail"… or something like that.
Go in to your decluttering session with a clear plan of what you're going to do with all of your stuff. Separate all of your clutter into categories like:
Trash – For items that are in bad shape or broken and can't be donated or given to family or friends
Sell – For higher value items that you want to put time into selling
Donate – For gently used items
Relocate – For items that you want to keep that need a proper home
If you don't have a plan to immediately remove your clutter, then there's a good chance that it will never actually make it OUT of your house.
Tip #10: When you're overwhelmed with decluttering, remember "Progress over Perfection"!
This is a motto that I try to stick to in my professional life, but it applies to decluttering also!
Perfectly rolling up every single t-shirt in your drawer to look like a little burrito and then neatly organizing them in rainbow order LOOKS cute, but that takes some major time! Time that you probably don't have… especially if you have young kids.
So rather than focusing on getting everything PERFECT, focus on making PROGRESS!
Okay, now START decluttering!
I hope this post is the kick in the rear that you needed to start decluttering, even if you're overwhelmed by your mess! Remember, the first step is to actually take the first step! Just START decluttering, and as you slowly clear away the mess, you'll be motivated to keep going. Your beautiful flooring is hiding under there somewhere! 🙂
And if you don't start now, you may end up looking like this…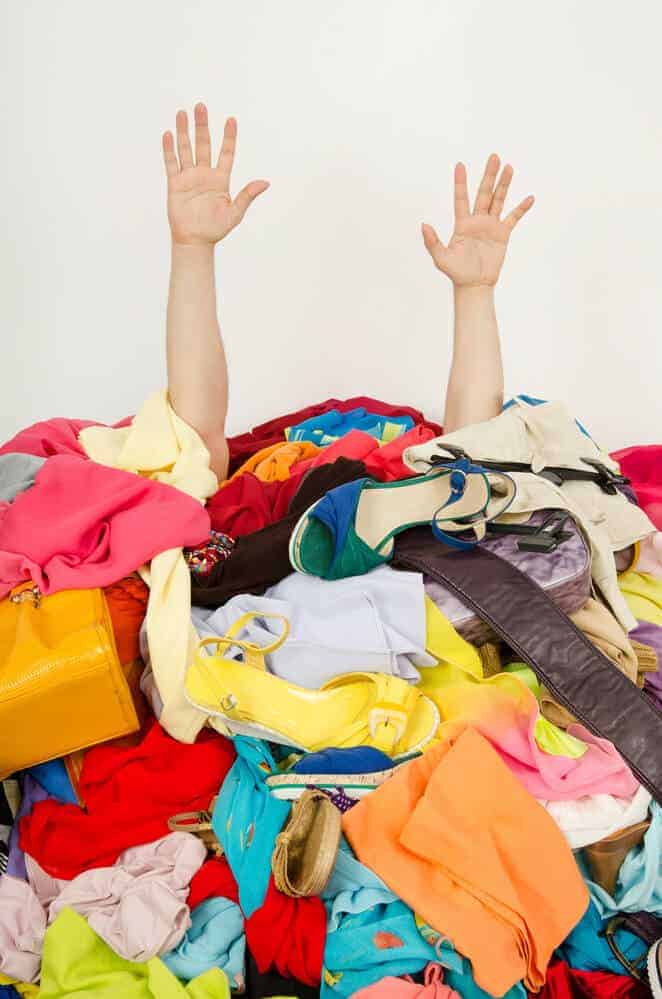 After you tackle your decluttering, check out some of these other cleaning and organizing posts:
And happy nesting!