Learn how to organize your medicine cabinet in just a few simple steps! Use some of these category ideas for medicines, ointments, and toiletries to organize stuff so you can actually find it!
It seems like I'm always collecting new medicines…
Kids get lots of bug bites… go buy some anti-itch cream.
Husband's back hurts… pick up some pain reliever from the store.
Ate too much pizza… time to restock the Tums.
Medicine and first aid supplies are as necessary as food. And sometimes you've got to buy a whole bottle of medicine that you'll take once and then forget about for 8 months… until the next sun burn, poison ivy rash, or bad sushi experience.
And what does that mean… A cluttered medicine cabinet!
So I finally decided to organize my medicines and toiletries in such a way that I can find everything I need at the drop of a hat. Because the last thing you want is to be rifling through 73 bottles of expired who-knows-what's at 3 am.
If you want to tackle this small area of clutter in your home too, then here are my best tips for how to organize your medicine cabinet…
But first, just so you can all feel better about yourselves, let's take a look at my BEFORE photo: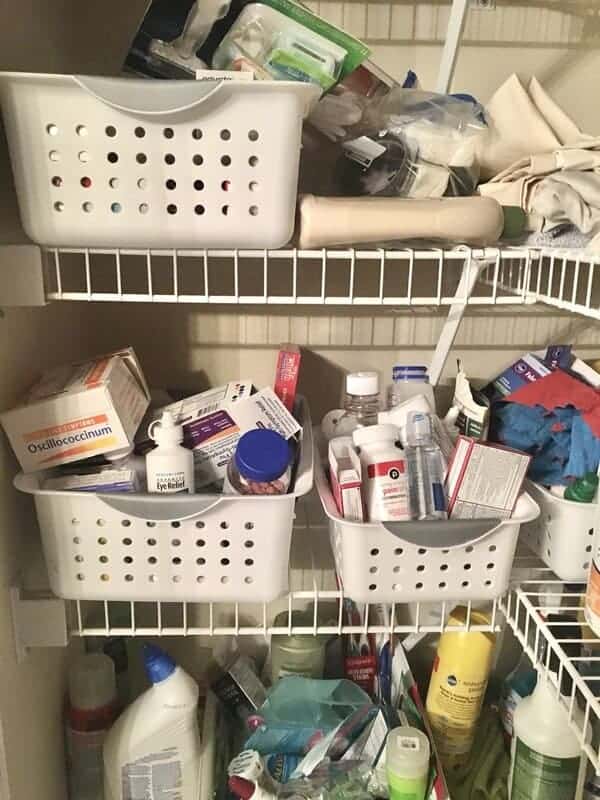 *As you can see, I already had storage baskets in a very pathetic attempt to organize my closet. But, if you don't LABEL your storage baskets, and you're not consistently going through them to get rid of the junk and clutter, then cute storage baskets can't help you.
And now, the AFTER… a NICE organized medicine cabinet: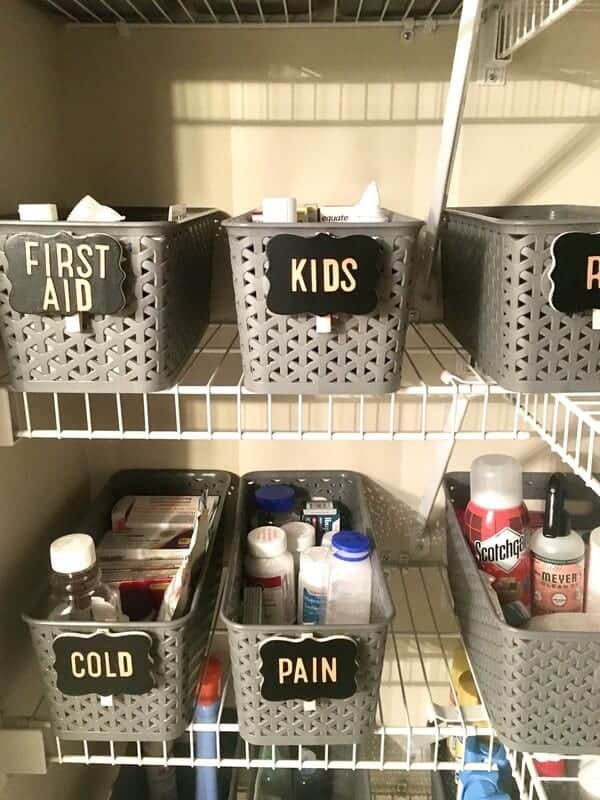 *This post contains affiliate links, which means if you click a link and make a purchase, I earn a commission at no additional cost to you. Read my full disclosure here.
Organize Your Medicine Cabinet in 5 Easy Steps
Step 1: Take EVERYTHING out
Just like organizing your freezer or any other space for that matter, I find it best to FIRST take everything out so you can start with a clean slate.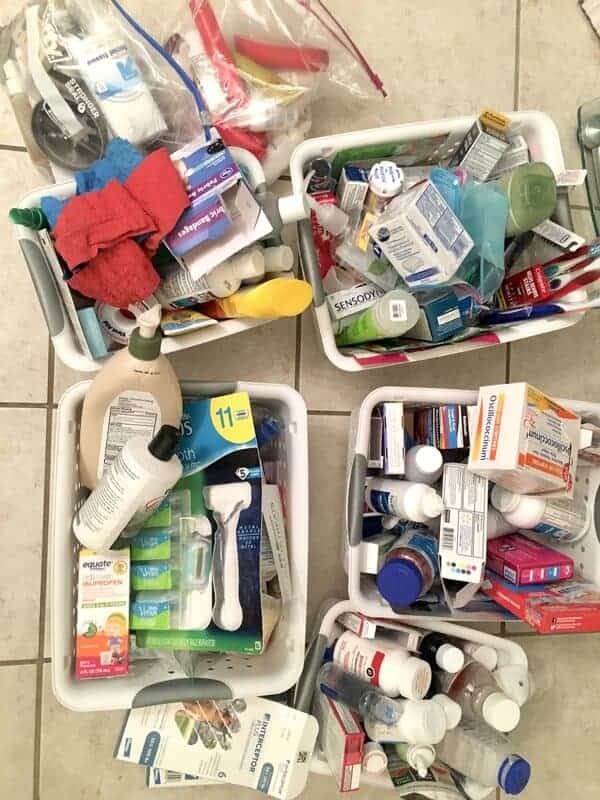 Lay all of your medicines, toiletries, first aid supplies and whatever other items you keep in your medicine cabinet out on the floor so that you can see what you actually have.
I guarantee just by doing this, you'll end up getting rid of a lot of junk that somehow ended up in your medicine cabinet, because you were just "saving it for a rainy day".
Embarrassed to say it, but I found little sample packs for sleeping aids that were FIVE YEARS OLD! I know they were that old because the coupons in the package expired in 2015. Oops!
Step 2: Wipe down the interior of your medicine cabinet or storage bins
After you remove all of your items from your cabinet or bins, you'll have some dust/dirt/baby powder/etc left over. Be sure to wipe that crud out with soap and water before putting things back in there.
When I organized my medicine and toiletries closet, I noticed that my bins were SUPER old and yucky, so I just replaced them with nice and new, matching bins from Target.
They were REALLY affordable (just $4 each!) , and they make my closet look much more organized since they all match!
Step 3: Throw away any expired medicines or first aid supplies
After you get everything OUT, it's time to throw stuff AWAY. You're bound to have at least a few bottles of expired medicines or sample packets that you haven't used in 5 years.
If your medicine cabinet doubles as toiletries storage like mine does, then you probably have a TON of other garbage items that are just creating clutter, too. Shampoo samples that you've pulled out of magazines, or even half empty packages of razors that are taking up extra space.
Here's something I pulled out of my cluttered medicine cabinet: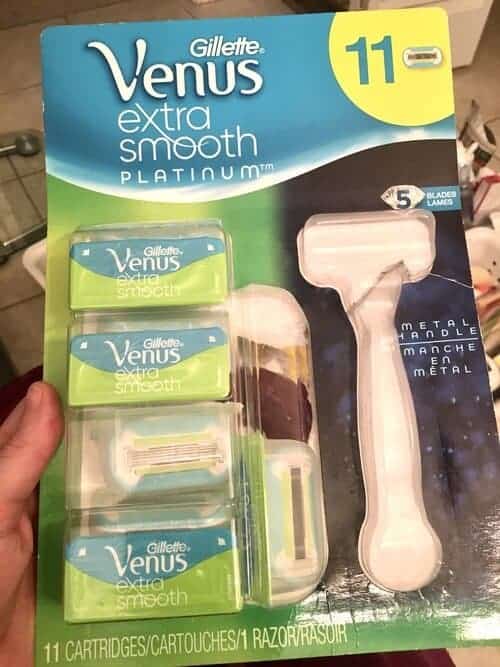 See how much space that extra cardboard takes up? The razor and some of the cartridges are gone, but yet I've kept this GIANT packaging. So instead, I removed the unused razor cartridges and stacked them in my "Body" storage bin to free up some much needed space.
Step 4: Sort all medicines in storage bins by category
After you've gotten rid of the trash in your cabinet or closet, it's time to sort everything that's left. I found it easiest to lay out all of my empty storage bins on the floor and then fill them with medicines and toiletry items in the same category.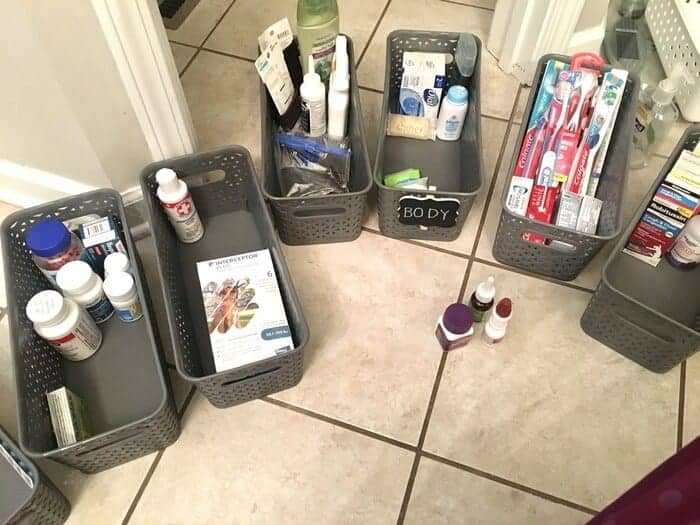 You can get some ideas of categories to use down below!
These bins from Target are GREAT, because they are perfectly sized to hold just the right amount of medicines and supplies for each category. Plus, I like the long and narrow design, because they fit nicely on my shelves.
Step 6: Label!
After you've sorted your meds, then it's time to label your bins so that you can easily find what you need.
I used chalkboard tags from Michaels. They came attached to clothespins already so they were super easy to attach to my baskets, and they were ONLY 50 CENTS each! You can't beat that!
I bought a white paint pen, and I originally planned to just handwrite my labels, but then I did two and remembered how crappy my handwriting is, so I bought scrapbook letter stickers instead!
You can also use a label maker like this one (affiliate)… I LOVE my Dymo label maker and I use it all the time, like when I organized my important documents in this easy filing system.
And be sure to visit this post to see exactly how I made my SUPER CUTE DIY Basket Labels for my linen closet/medicine cabinet!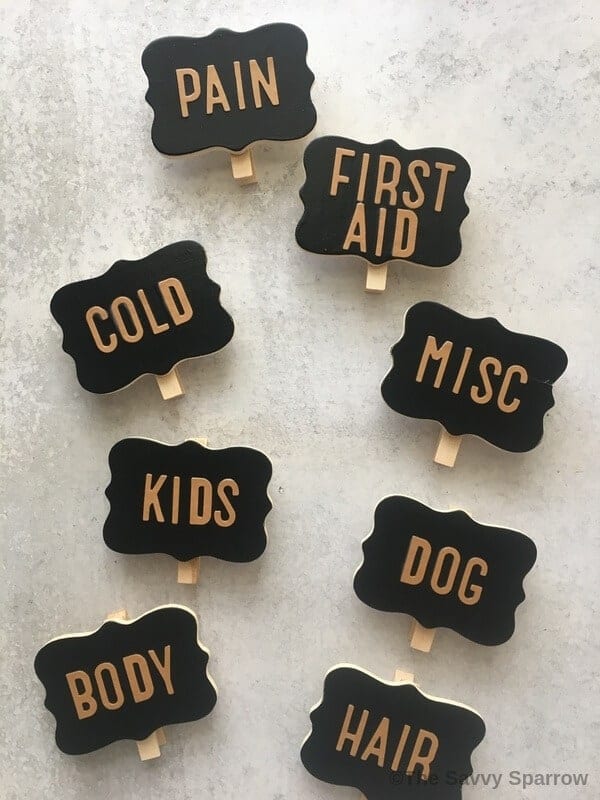 How to Group Medicine So You Can Find it Easily
If you have a TON of medicines, then it's important to have a good organization system, and that means CATEGORIES!
Group all of your first aid supplies, medicines, and ointments by category so that you can quickly find what you need, rather than having to sort through a big pile of who-knows-whats.
Here are some category ideas to organize your medicine cabinet:
Cough – cough syrups, cough drops, chest rub, etc.
Cold and Flu
General Pain Relief – acetaminophen, ibuprofen, etc.
First Aid – bandages, anti-itch lotions, antibiotic ointments, gauze, alcohol wipes, etc.
Allergies
Rx – Prescription Medicines
Kids – includes all children's medicines
If you have a medicine/toiletries/miscellaneous closet like I do, then you may want to store some of your other supplies in the same types of baskets with similar labels for a cohesive look. I labeled my other baskets this way:
Hair – extra shampoo and conditioner, hair ties, etc.
Teeth – extra toothbrushes, travel toothpastes, mouthwash, etc.
Body – extra body lotions, razors, baby powder, etc.
Dog – dog shampoo, flea and tick medicines, heart worm medicines, etc.
Cleaning – cleaning supplies that I keep in the bathroom
Travel – for mini toiletry items, sample sizes, etc.
Misc – for the extra items that don't fit into another category
You can also visit this post from Good Housekeeping on Linen Closet Organization, if your medicine cabinet is ALSO your linen closet, like mine!
Medicine Cabinet Organization Supplies
To organize your medicine cabinet, you're probably going to have spend a little bit of money for storage bins, labels, and other organization supplies. I spent less than $60 to organize my entire medicine and toiletries closet, which was money VERY WELL spent in my opinion!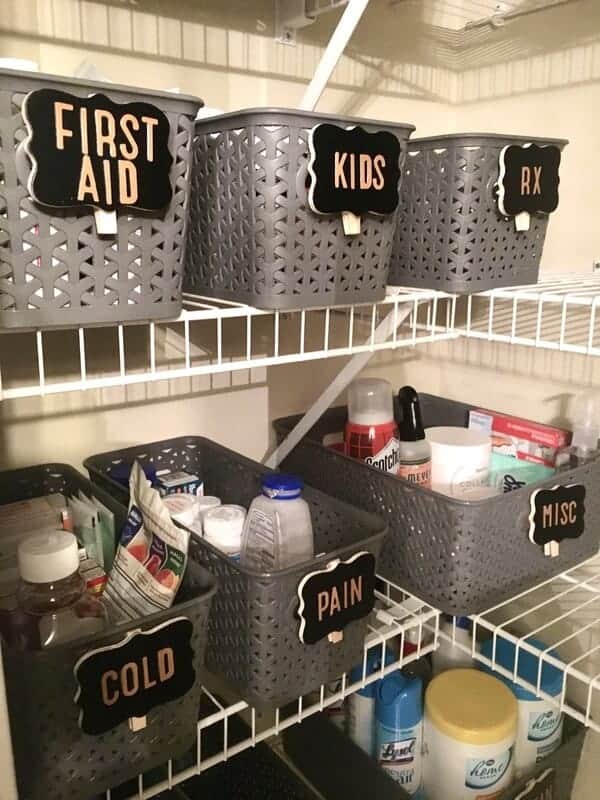 Here are the supplies that I used:
You can go HERE for an easy tutorial on how to make storage labels without a Cricut! This is exactly how I made my chalkboard labels for my medicine cabinet organization!
Why I didn't use CLEAR bins to organize my medicine cabinet…
Clear plastic bins are a popular choice for organizing closets, pantries, and cabinets. However, I'm not a huge fan of using clear bins with label stickers because you can SEE the items inside the bins.
Yes, I understand that you may want to see what is inside to find things easily, BUT if you've got your bins neatly labeled and organized, then you don't need to see what's inside. And CLEAR bins tend to make organized spaces look disorganized and cluttered, in my opinion.
Just imagine a clear purse… it doesn't matter how neat and clean it is on the inside, it is going to distract the eye from your cute outfit.
So I try to stick to solid color or basket weave type storage whenever possible. I also LOVE storage bins with lids, but they are definitely more pricey, and since I had to purchase so many bins to organize my medicine cabinet, I went with plastic basketweave storage bins.
Want even more organization tips? Check out some of my other posts on Decluttering and Organizing your home:
And don't forget to PIN this post for later!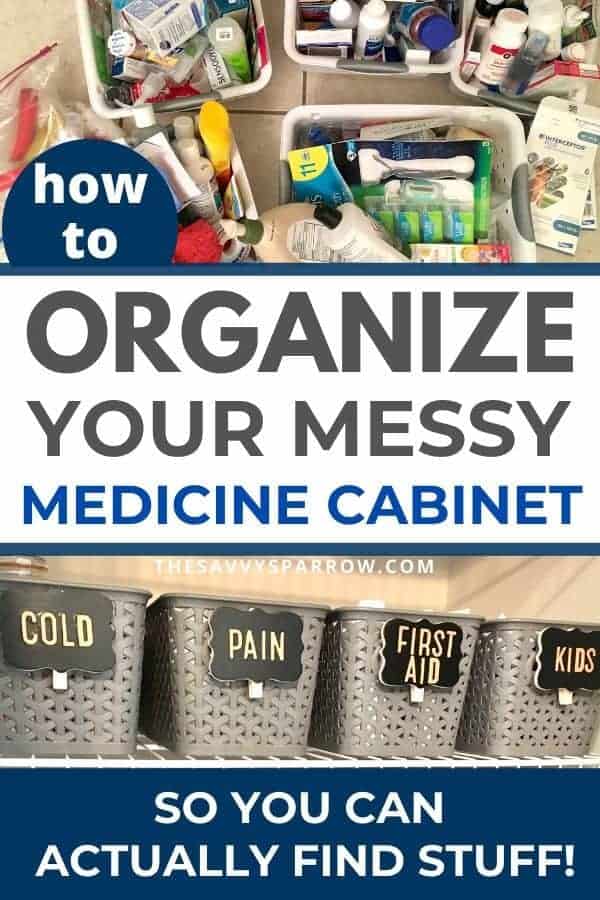 Happy Nesting!