This cute printable summer planner is the ultimate resource to help you plan your summer break!
Summer will be here before you know it, and so will all of the fun festivals, outings, play dates, and parties! But then towards the end of July, you'll probably feel like the summer time flew by and you didn't get to do even a third of the fun activities on your summer bucket list!
At least that's how it was for my family last year.
I'm already starting to feel super busy as the school year comes to a close and my calendar is filling up with award ceremonies and field days. So to stay on top of our summer activity schedule, I created a printable summer planner to use this year!
It's filled with calendars, bucket lists, reading challenges, and more, and my summer planner PDF is a great way to stay organized and not forget a single farmer's market or Netflix series that you want to enjoy this summer.
Here's what's included in the summer planner, and how you can put together your own summer binder for your family's activities!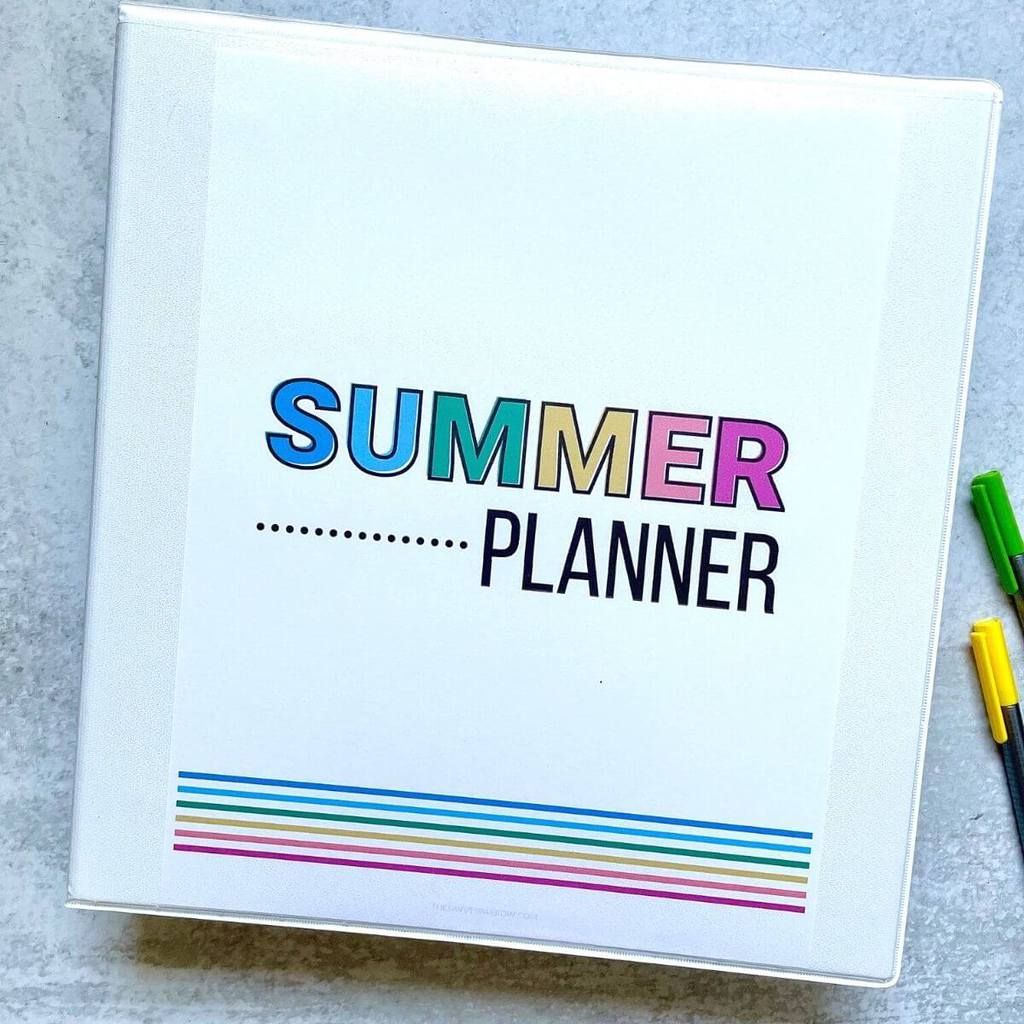 What's Included in the Summer Planner Printable
Here are some of the pages that are included in my printable Summer Planner:
Calendars for May, June, July, and August
The printable summer calendars come in both Sunday and Monday start dates and are perfect for keeping track of events, festivals, or summer trips that you have planned.
You can also choose one fun activity idea for each day of summer break from my big list of summer activity ideas below, and use these summer calendars as activities calendars. Just write one activity on each day like I've done in the picture below. You can even get your kids to help you plan the activities for the month!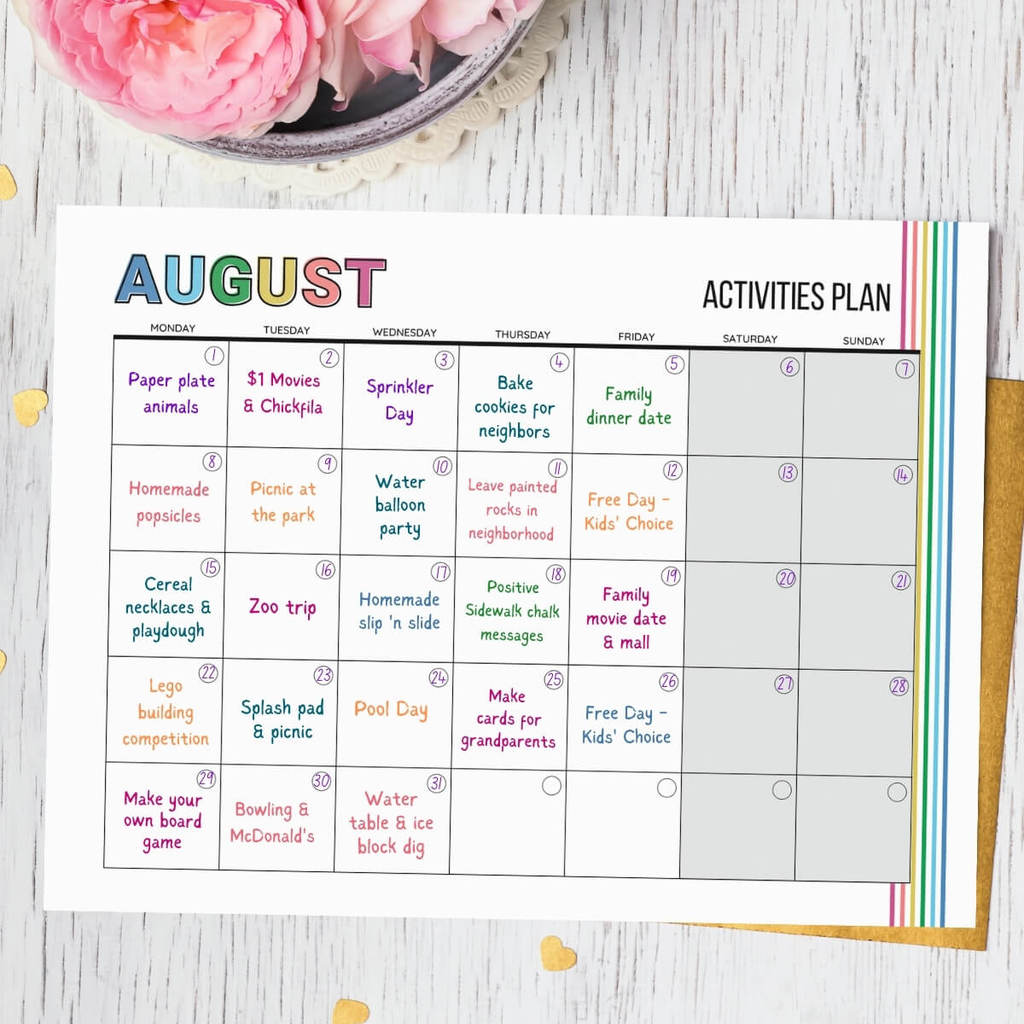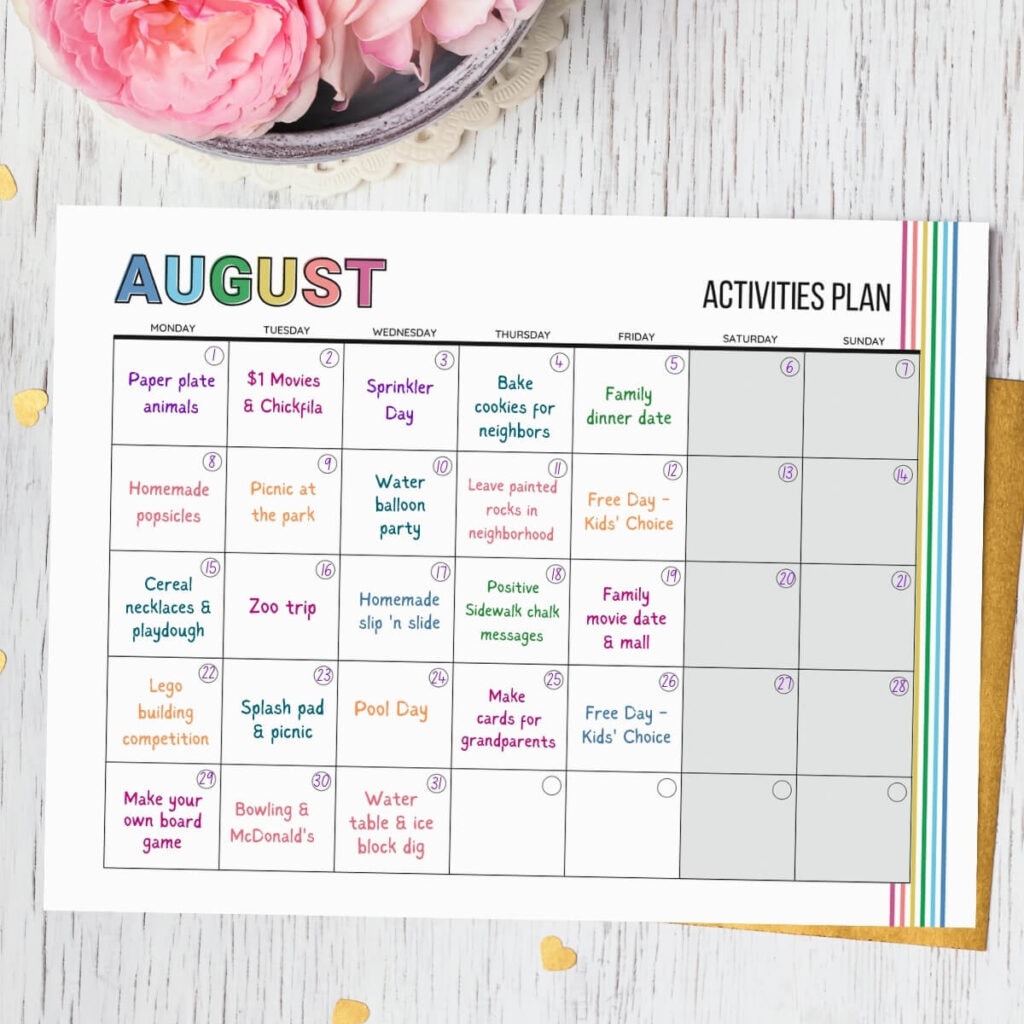 Here's a sample of the August calendar with a Monday start date, but you also get a Sunday start date version as well!
And the summer calendars are undated, so you can use them year after year! Just print out a new summer planner PDF at the end of each school year!
Summer Bucket Lists
The summer planner includes two different summer bucket list templates. One is divided into sections like read, visit, make, learn, etc. And the other one is more of a list format for you and your kids to keep a running list of the fun summer activities that you want to do.
Making a summer bucket list for my kids is one of my favorite things to do because it involves them in the planning of their summer break. Be sure to check out my full post on Summer Bucket Lists for a free printable!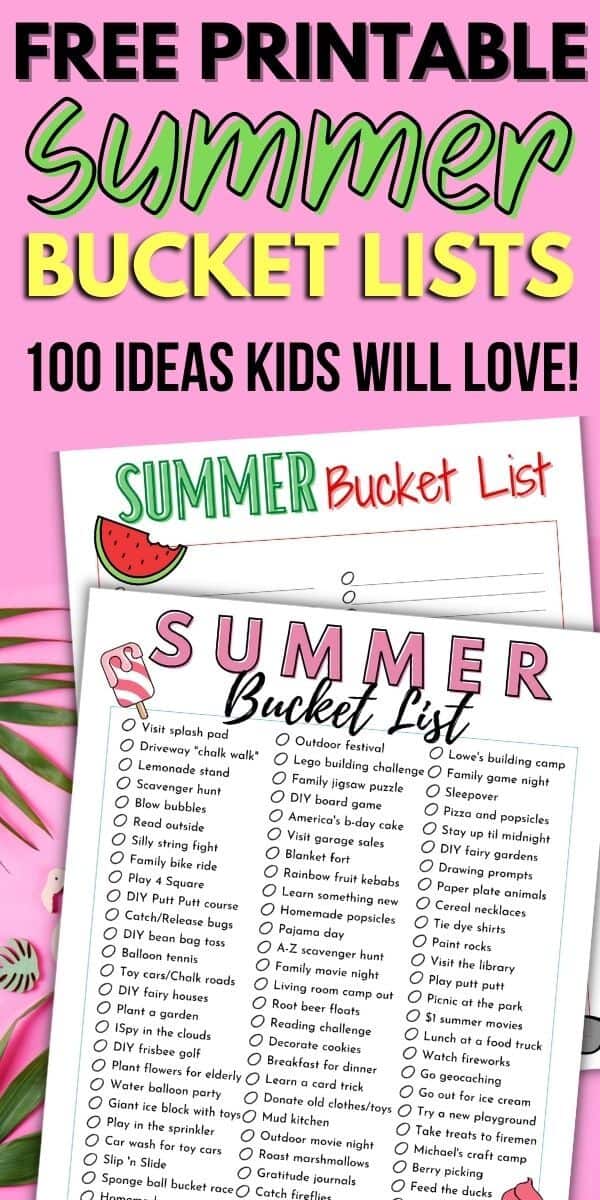 A Summer Activities Weekly Schedule
Another fun way to plan your summer is with a weekly activities schedule! The schedule that's included in the printable planner has some ideas for what fun activities you can do with your kids for each weekday. Here's what's included on the Weekly Activity Planner:
Make it Monday
Take a Trip Tuesday
Water Wednesday
Thoughtful Thursday
Fabulous Fun Friday
For each day of the week, I've also included some fun ideas to go along with the theme for that day. You can use my suggestions or come up with your own ideas!
And the printable is super cute, so you can hang it on your fridge or add it to a clipboard in your family command center for your kids to follow along with the daily themes!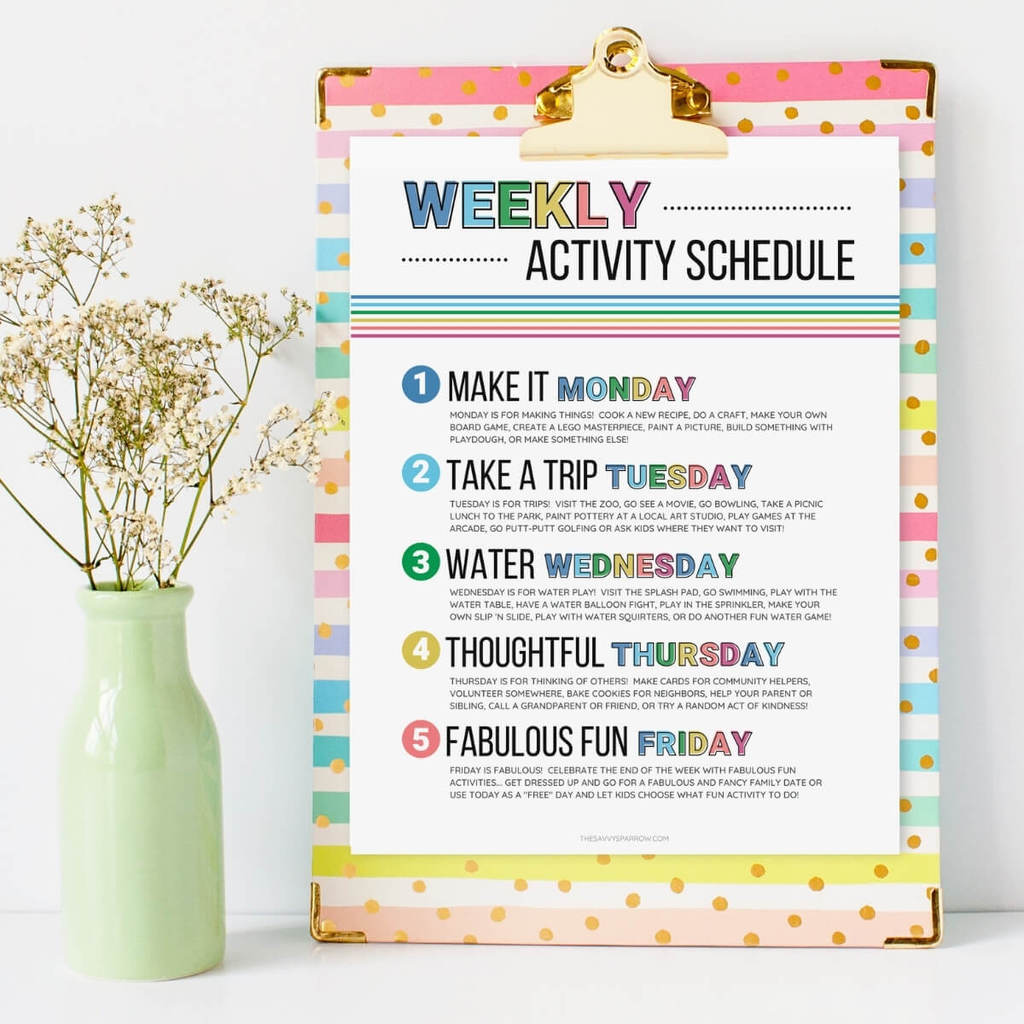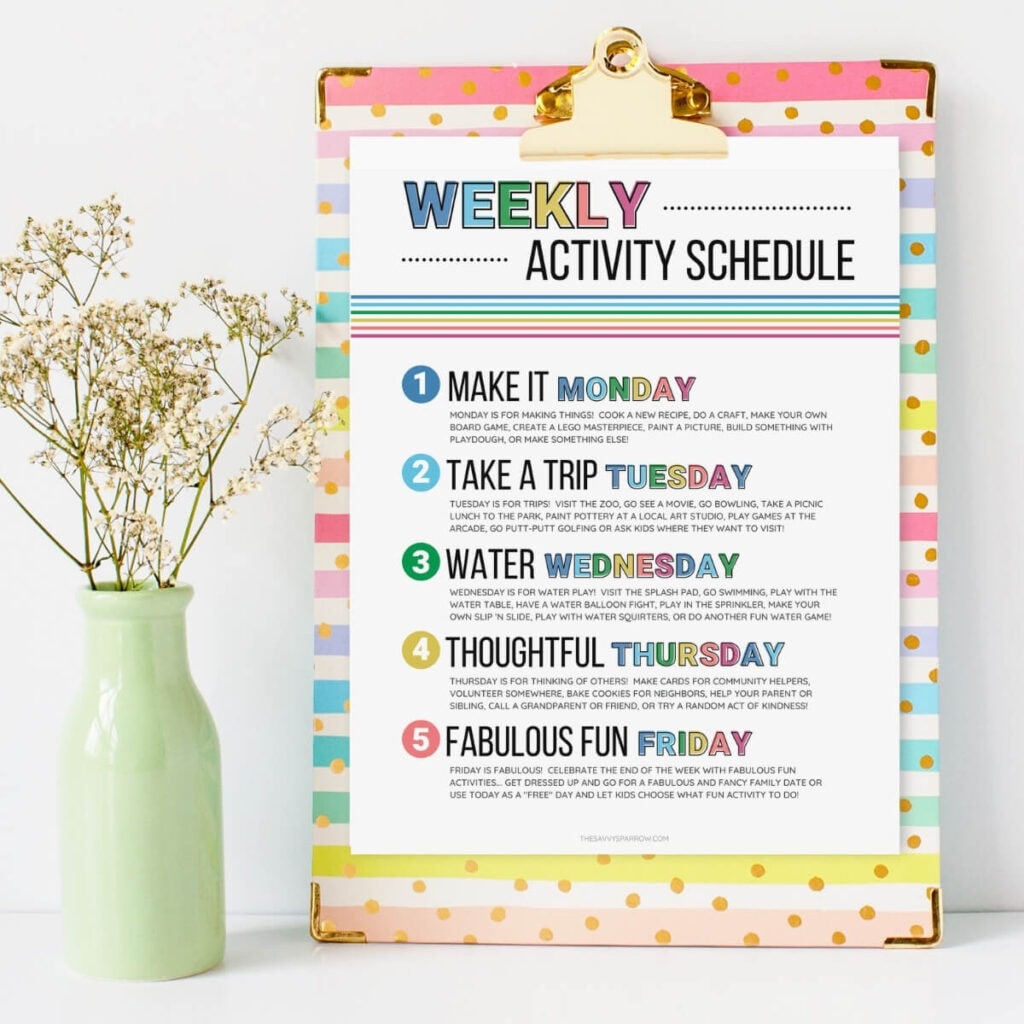 Summer Activity Ideas
If you want some fun ideas to add to your activities calendar or bucket list, then I've got you covered! This printable sheet is the perfect addition to your summer planner… Just refer to it when your kids are bored or you've run out of things to do by mid-July!
Daily and Weekly Summer Planner Pages
A summer planner wouldn't be complete without actual planner pages, right?! Choose from a one page weekly planner or a two page layout… and if you're super detail-oriented like me, then you'll LOVE the daily planner page also. You can even print multiple copies of these pages to use year round.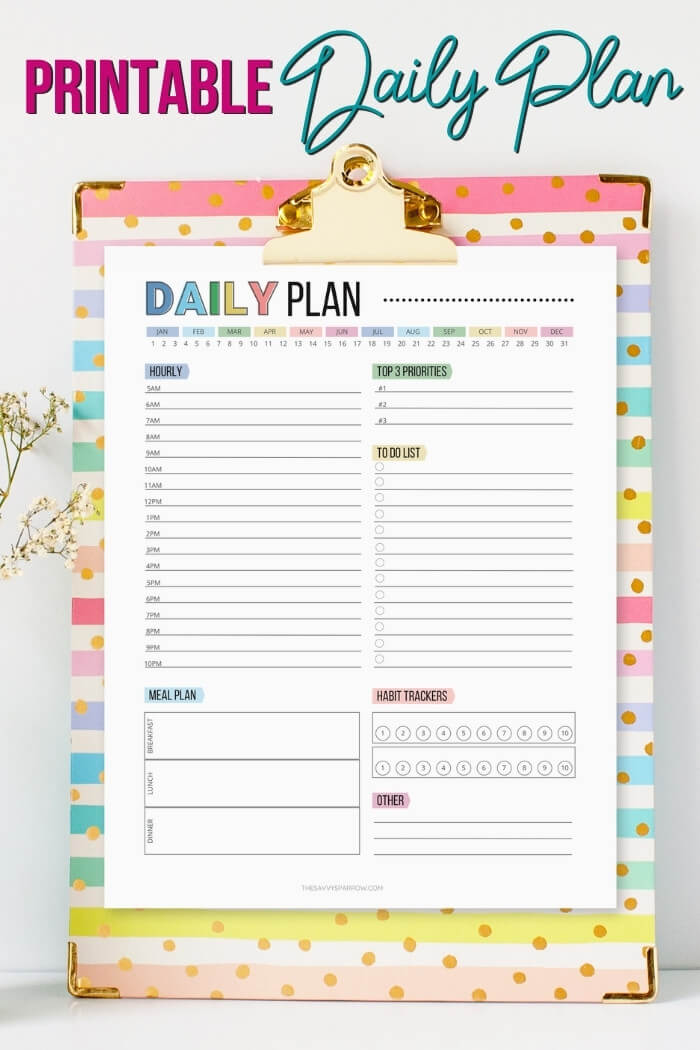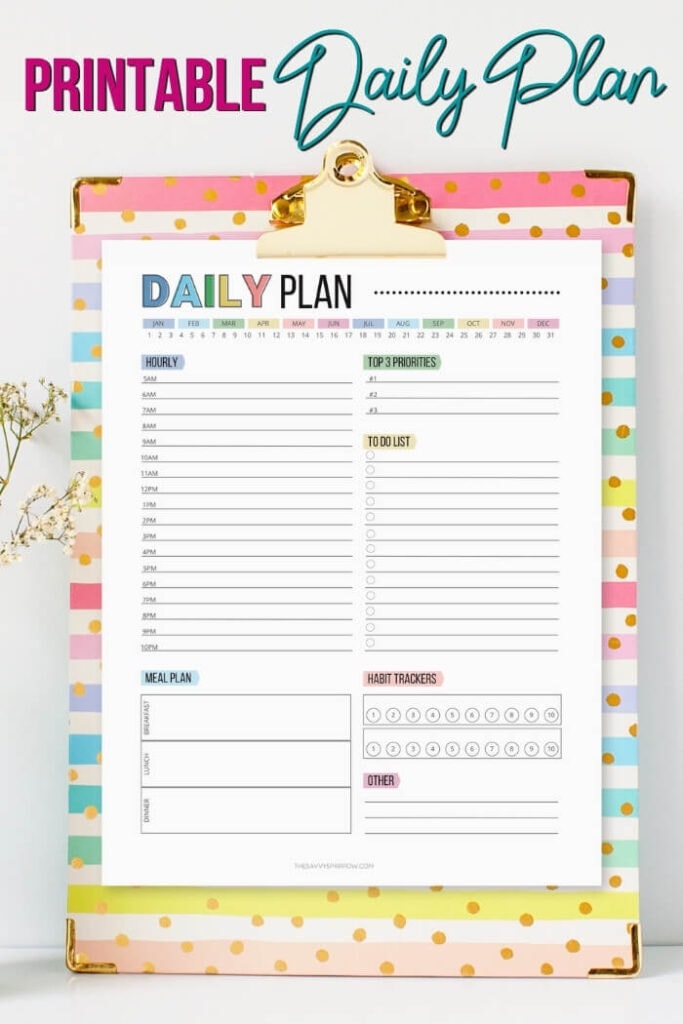 Summer Camp Planner
If you have multiple kids, or just one that has a TON of interests, then it can be difficult to keep track of all of the fun summer camps. The summer camp planner page is perfect for that, and includes details like:
camp name
location and address of the camp
dates and times of the camp
cost
lunch and/or snacks provided
other notes for each summer camp
Summer To Do List and Chores Lists
These blank list templates are perfect for staying productive over the summer! You'll get one page for summer chores and one for summer to-do's, so you can keep track of things that both you and your kids need to get done.
Want some free to do list printable templates? Hop over to this post: 80+ Lists to Make to Stay Organized When You're Overwhelmed
Trackers for Books, Movies and TV Shows, Crafts, Recipes, and Places
Full confession… I'm looking forward to binge-watching more than one TV series this summer after my kids get in bed. So I've already got my Movies and TV Shows tracker filled out and ready to go!
The Summer Planner PDF also includes logs for books you want to read over the summer, crafts you want to make, recipes to try, and places to visit, so you don't forget a single thing! And you're not stuck searching through your watch lists or Pinterest trying to figure out what to do next.
Reading Trackers
The summer reading trackers that are included in the Summer Planner printable are a great way to encourage kids to read more over the summer!
You can keep these sheets in your planner or binder, or print one out for each child and let them mark off a space on their tracker every time they finish a book… Kind of like the old Pizza Hut Summer Reading Program for kids – Yup, I'm a child of the 90's and I read all summer long just to get my free personal pan pizza!
BONUS Kids Activity Cards and Screen Time Coupons!
As a special bonus, you'll also get my super cute printable Kids' Activity Cards and Screen Time Coupons! These are a $12 value, and they come completely FREE with your purchase of the Summer Planner!
The kids' activity cards are perfect for creating an Activity Jar (kind of like an I'm Bored Jar), filled with fun activities for kids to do at home this summer! And the super cute "Activity Ideas for Kids" tag is included too!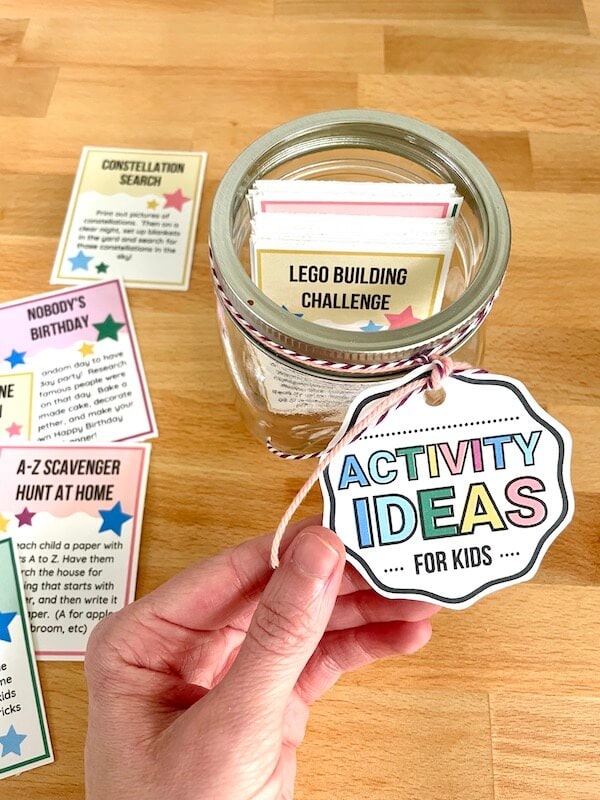 How to Make Your Own Summer Planner
Making your own summer planner with these printable planner pages is super easy! Just follow these steps and you'll be nice and organized for summer time:
Print the summer planner pages. I prefer to use a heavier weight printer paper (but not card stock) for my planner pages, like a 24 or 28 pound paper. The thicker paper looks nicer for colored printables, in my opinion. I would also suggest printing the activity cards and screen time coupons on white card stock.
Hole punch the pages that you'll store in your binder. You may prefer to laminate some of the worksheets and hang them on your fridge or display them on a clipboard in your family command center. For instance, the weekly summer activity schedule could be displayed somewhere in your home to remind your kids of the activities for that day.
Add the summer planner pages to a 3 ring binder.
Start filling in the planner pages with fun activities that you want to do and events that you want to attend!
Get the Printable Summer Planner
Want to grab my Printable Summer Planner? It's available in my Shop! Just click the link below to check it out, and don't forget, you also get my Printable Kids' Activity Cards and Screen Time Coupons FREE with your purchase!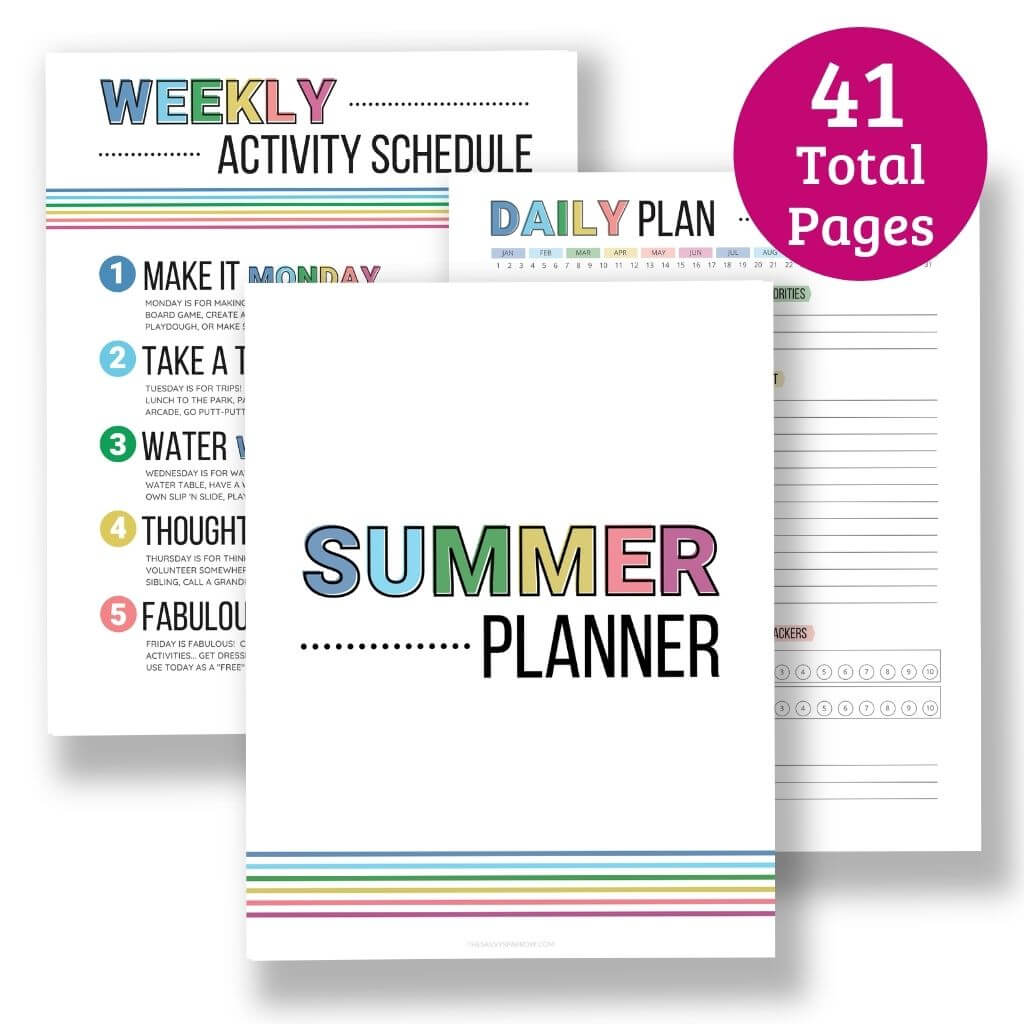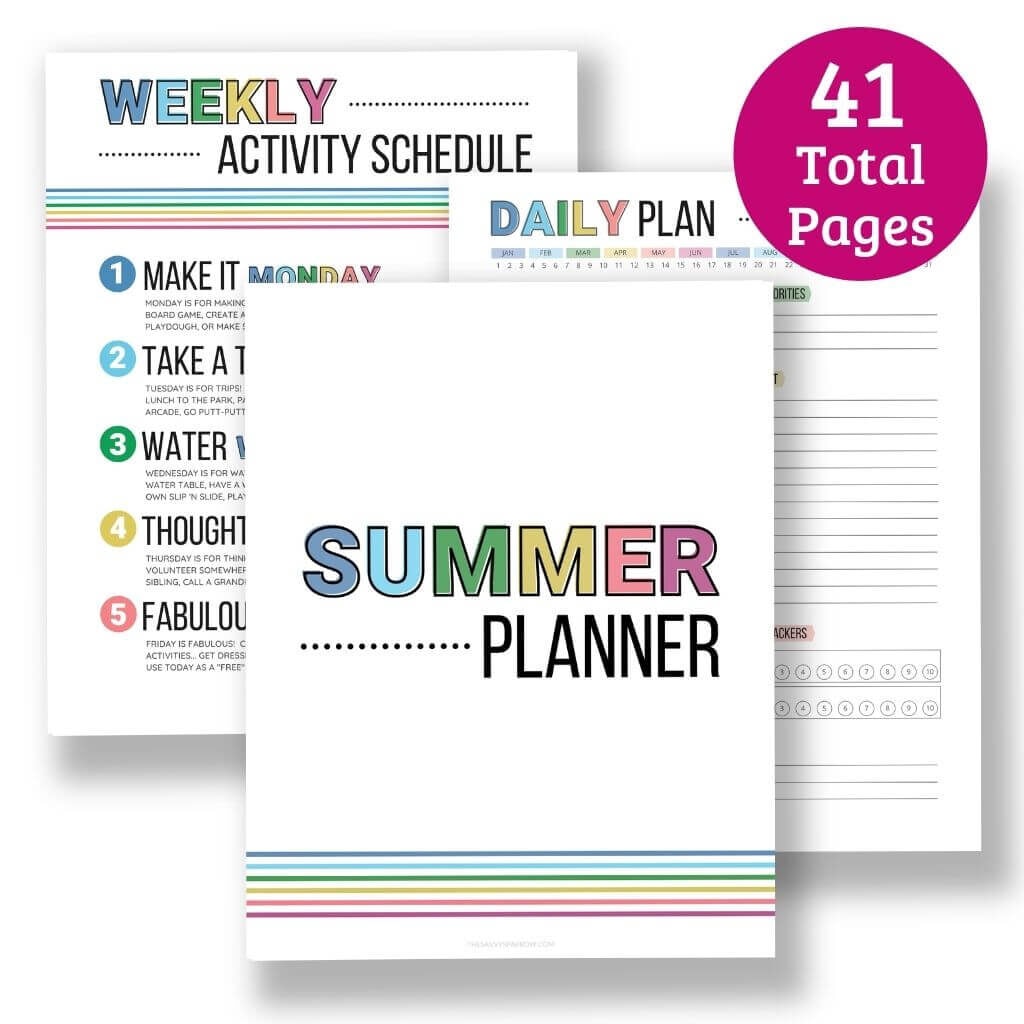 Click HERE for the Summer Planner PDF and BONUS!
I hope these cute summer planner printables help you stay organized this summer, and I hope your kids LOVE them too! What are your favorite summer time activities? Are you a jam-packed summer or slow and lazy summer type of person? Leave me a comment down below! I'd LOVE to hear from you!
And don't forget to PIN this post for later: