Want to organize your outfits each week to make your mornings less stressful? Use these free printable days of the week clothes organizer tags to plan your outfits and organize your closet! Great to use for yourself or to help your kids pick out their school outfits!
As my daughters get older, picking out their school outfits for the day has become a big deal.
From the perfect earrings to what socks they should wear with their Converse high tops, getting dressed in the morning is now a super important part of their morning routines. After all, they can't walk out the front door in the morning if they don't look like they just stepped out of an American Eagle store window display… or so they think!
But even if your kids aren't outfit-obsessed just yet, picking out school clothes in advance can be a big time saver!
You can definitely use a hanging closet shelf system with five fabric cubbies that hang from one of the clothes rods in your child's closet. But I've always found those to be pretty bulky, and they usually lose their shape after awhile and begin to look messy. And my daughters don't need any help with making their closets look messy!
So I decided to develop my own day of the week clothes organizer system using printable clothes hanger tags.
Here's how to organize your kids' closets with an easy to use clothes hanger system that is sure to make your mornings a little less stressful: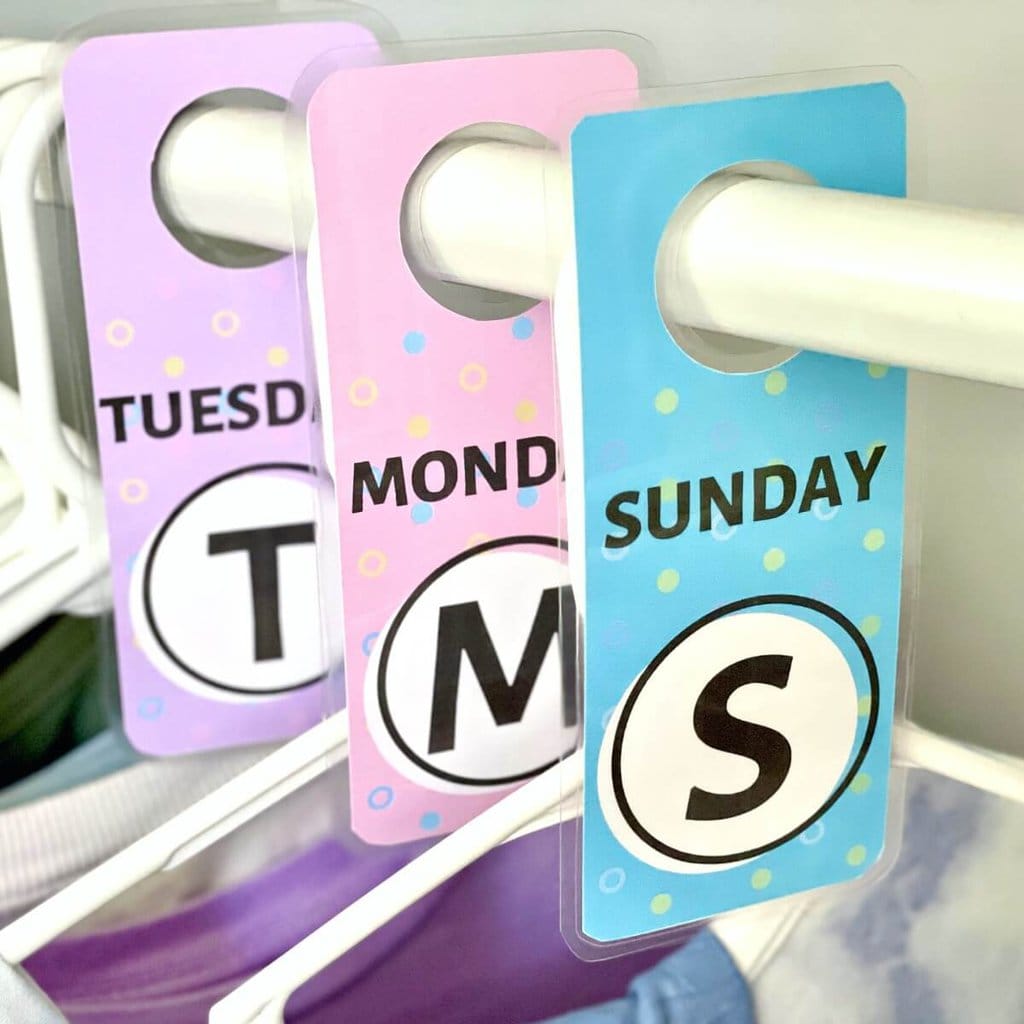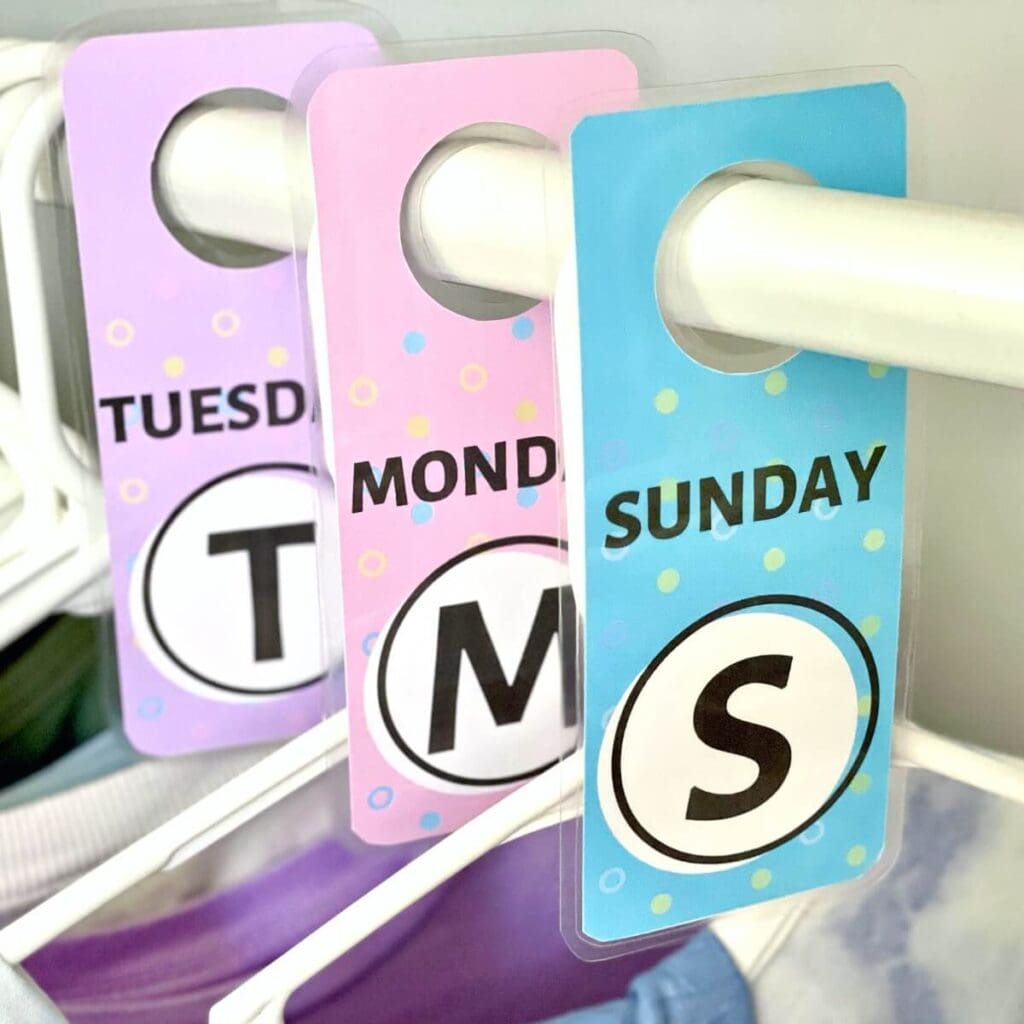 *This post contains affiliate links, which means if you click a link and make a purchase, I earn a commission at no additional cost to you. Read my full terms of use for more info.
Ideas for Using the Days of the Week Closet Tags
There are so many different ways that you can use these printable clothes hanger tags for your kids or yourself. Here are just a few ideas:
Have your kids plan their school outfits each day. Hang the complete outfit (top and bottoms) on a coat hanger, and place the day of the week clothes tag on the hanger.
Group hangers for a complete outfit, and use the day of the week tag as a closet divider. Hang one shirt or sweater, one pair of pants, one jacket, etc. all on individual hangers but placed together on a closet rod. Then, place the day of the week printable closet divider on the actual closet rod to keep that day's outfit separated.
Use the printable clothes organizer tags to organize your own closet. Print and assemble the closet divider tags that say shirt, pants, skirts, dresses, etc. and use them to organize your clothing by type.
Cut the printable clothes organizer tags into squares and laminate them. Then, use them as labels for drawers instead of closet hangers.
Supplies for DIY Clothes Hanger Organizer Tags
To make your own closet hanger tags to organize your clothes you will need these supplies: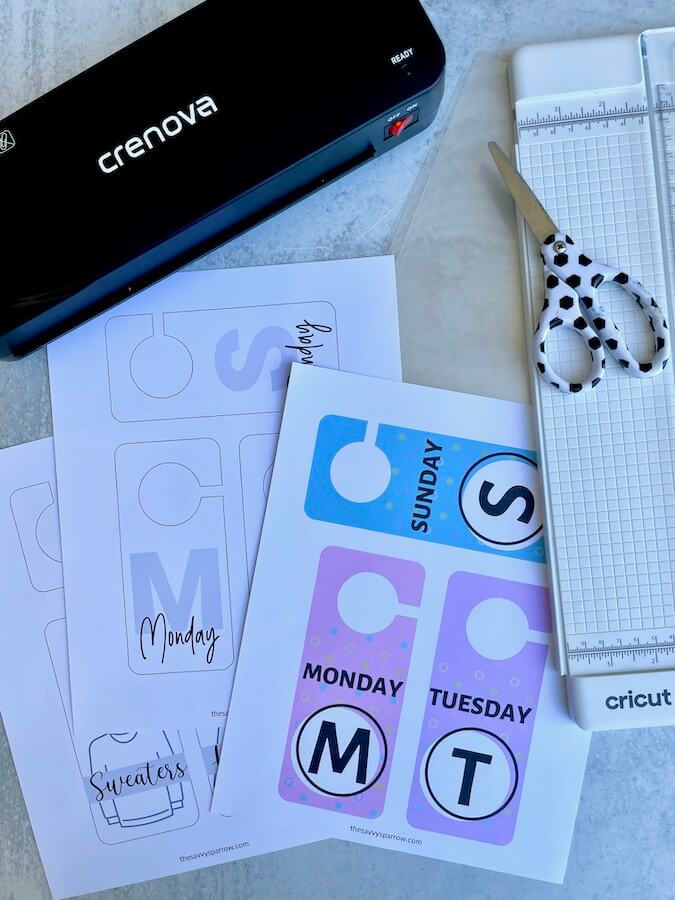 free printable closet hanger organizer tags – You can download whichever designs that you like best down below!
regular white printer paper or white card stock – For best results, I recommend laminating your hang tags. But, if you aren't planning to laminate them, then I would definitely suggest printing the closet divider hang tags on white card stock so they're sturdier.
scissors or paper trimmer – I used a combination of both to cut my tags out.
laminator and laminating pouches – I have this laminator and these laminating pouches, and I HIGHLY recommend them both! I use my laminator for a TON of different home organization printables like my weekly cleaning schedule template and my freezer inventory sheet!
How to Make Days of the Week Closet Organizer Tags with Printable Templates
Step 1: Print and cut the days of the week clothes hanger organizer tags.
Print the days of the week clothes hanger tags on your paper of choice, and then cut them out around the outer border like this: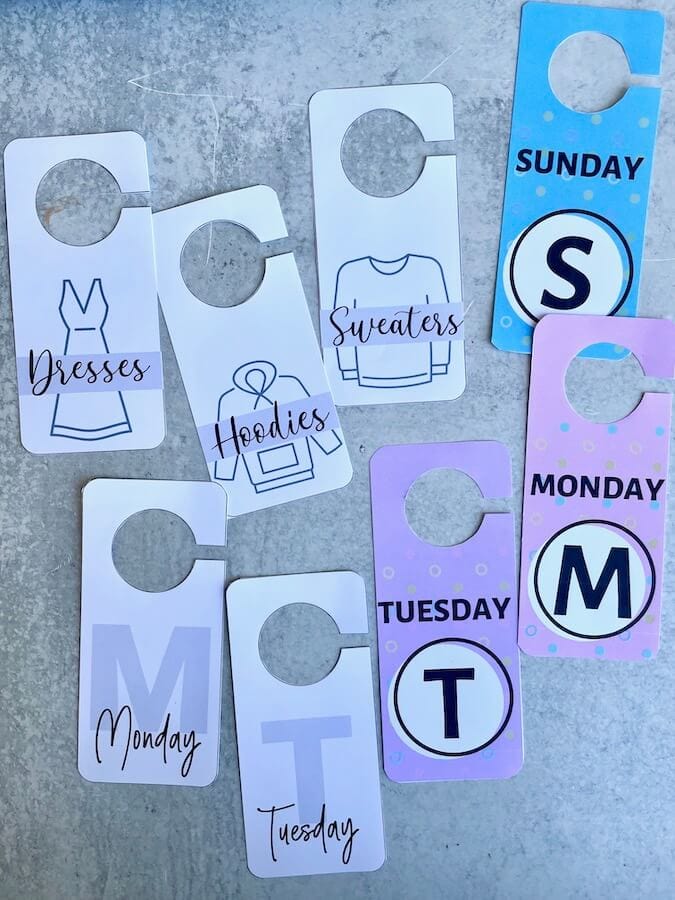 If you're going to be laminating the closet divider tags (recommended), then I suggest printing on regular printer paper or even a slightly heavier weight paper like 32 lb. weight.
If you're not going to laminate the tags, then definitely print on a white card stock.
*PRO TIP – The holes in the top of the tags are sized to perfectly fit my daughters' standard size closet rods. If you find that the holes are too small after you cut out the tags, then you can cut the circle a bit larger to fit your closet rods. Make sure to test the closet hanger tags before laminating them.
Step 2: Laminate the clothes hanger tags.
Once the closet dividers are cut out, it's time to laminate them. Laminating the tags helps to protect them from wear and tear, and it will keep them looking nicer in your closet.
*Note – If you don't have a laminator at home, then you can take the printable tags to an office supply store or print shop to get laminated. I used to get all of my home organization printables laminated at FedEx Kinko's for about $3.50 per sheet, but then I decided to just buy my own laminator because it actually saved me money.
Here are some tips when laminating the day of the week clothes hanger tags:
You will definitely have to cut out the hanger tags completely before placing them in the laminator pouches. You can't laminate the full page of tags and then cut them, because then the lamination seal will be broken.
Leave about 1/4″ of space around the edge of the hanger tags when laminating them.
You can line up the straight edge of your tag with the straight side of your laminating pouch to save some time cutting and to get a nice straight, finished edge on your tags.
Your tags should look something like this in the laminating pouch before going through the laminator: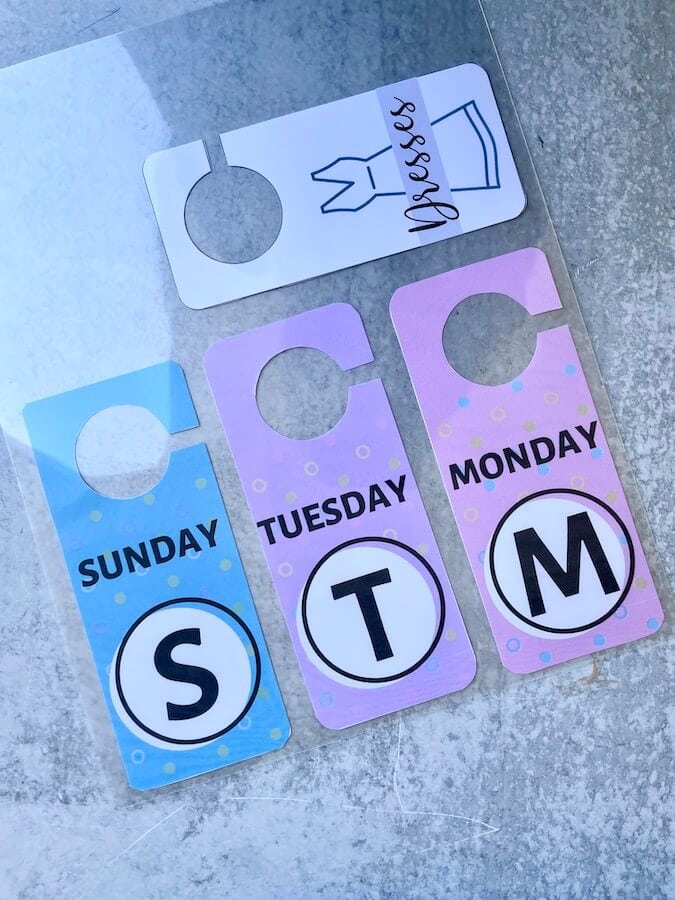 Then, just follow the instructions for your laminator and be sure to lay the laminated page flat for about 5-7 minutes after it goes through the machine so it can cool down.
Step 3: Cut out the laminated days of the week clothes hanger tags.
After the lamination pouch has completely cooled, just cut the tags out. I preferred to cut the long straight edges of the tags with my paper trimmer, and then I used scissors to cut the circle in the top.
As you're cutting the tags out, be sure that you leave enough of a clear edge all around the tag so that the lamination seal doesn't break. See the sample photos in this post as a guide!
*VERY IMPORTANT – When you're cutting the side slit on the right side of the top circle, just cut one slit right in the middle instead of cutting out a wider strip in the lamination. This will help the tag stay on the clothes hanger.
Step 4: Hang the clothes hanger divider tags in your closet for easy organization!
Then, it's time to organize your kid's closet (or your own) using your DIY clothes organizer tags!
These cute tags with different clothing items printed on them are perfect for your teen's closet: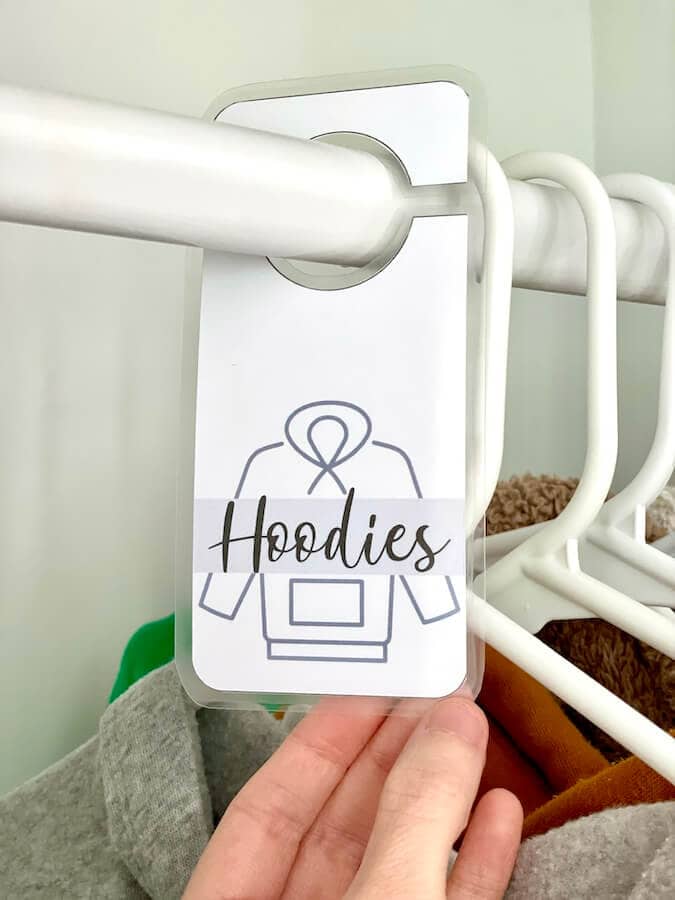 Or use the days of the week clothes hanger tags to help your child pick out his or her outfits for the week! You can hang the closet dividers on the actual clothes hanging rods or hang them on the clothes hangers with a complete outfit like this: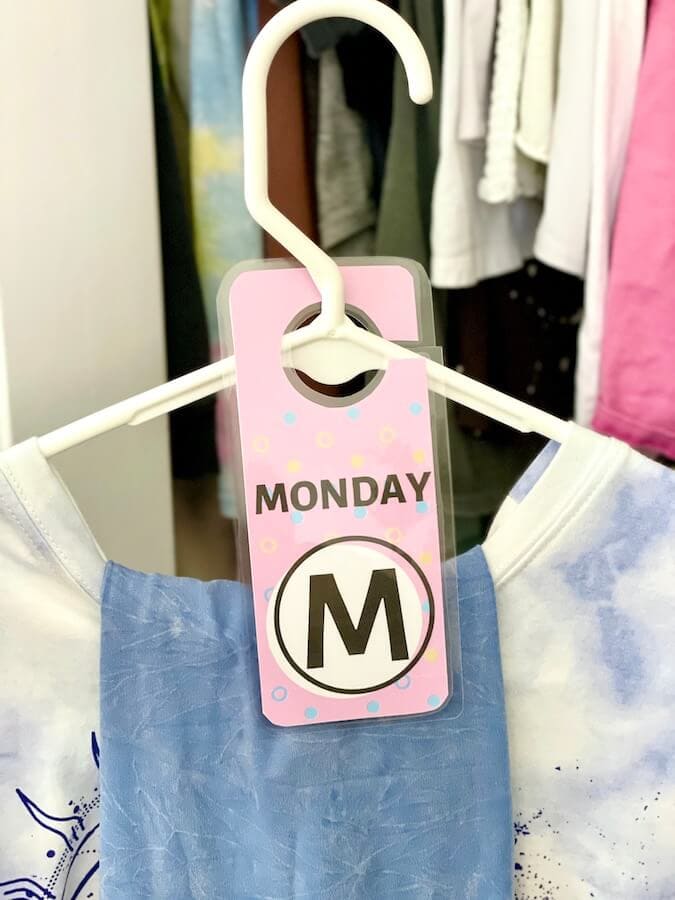 Free Printable Day of the Week Clothes Organizer Tags
Want to grab the free printable closet hanger dividers to organize your closet and plan your outfits for each day of the week? Just click on the links below the tags that you want to use! A new window will open in Dropbox and you can download the files from there… Just reach out to me if you need any help!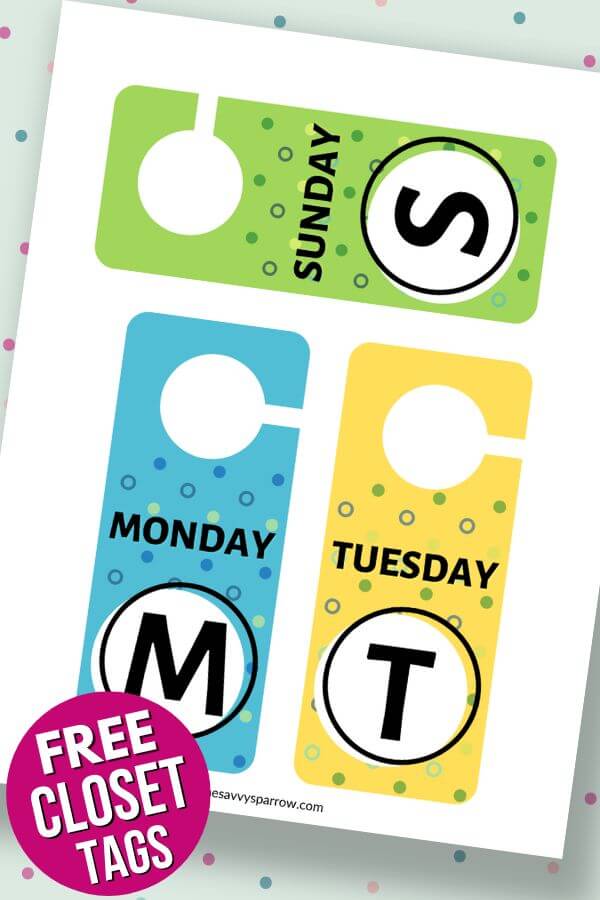 Blue and Green Boy's Day of the Week Clothes Hangers – CLICK HERE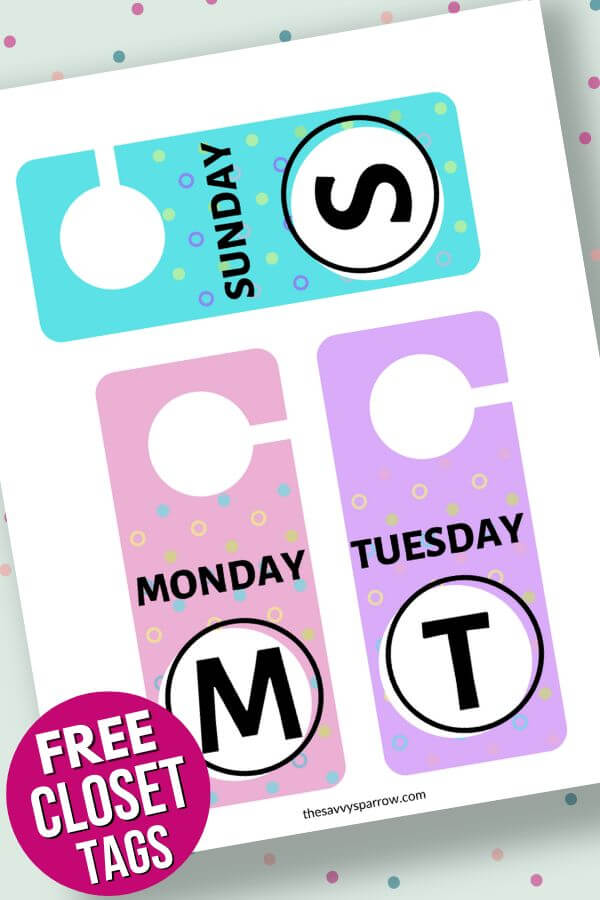 Purple and Pink Girl's Day of the Week Closet Tags – CLICK HERE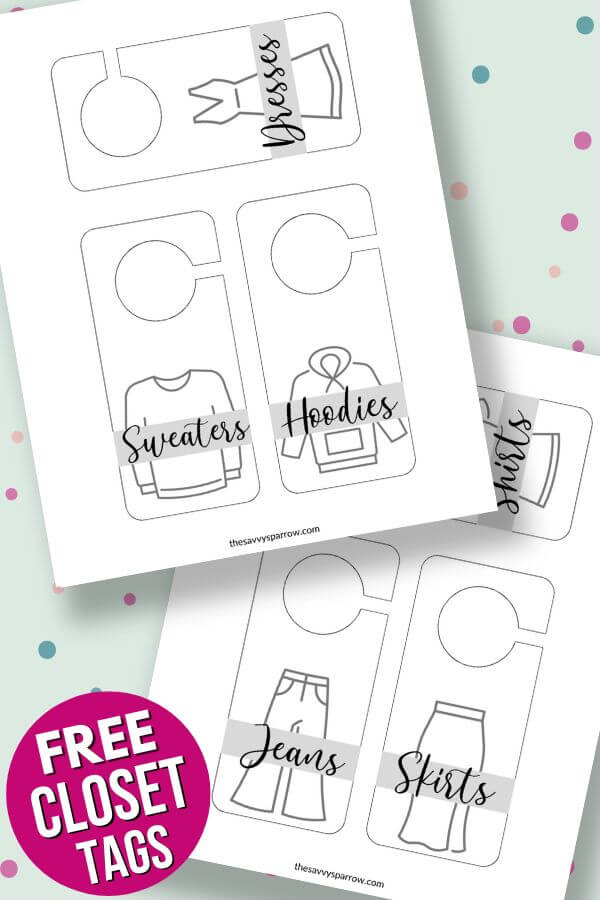 Clothes Organizer Tags by Clothing Type – CLICK HERE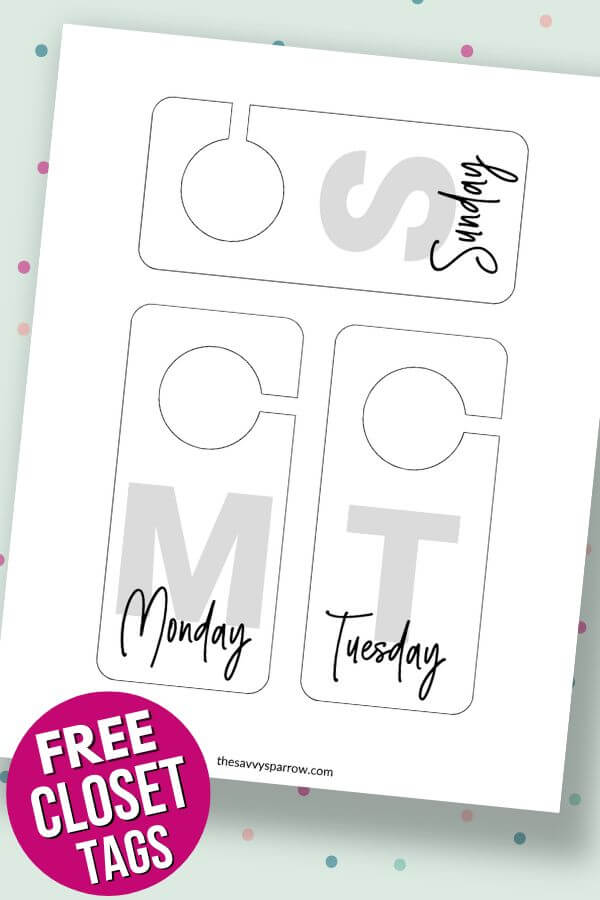 Modern Gray Day of the Week Clothes Hanger Dividers – CLICK HERE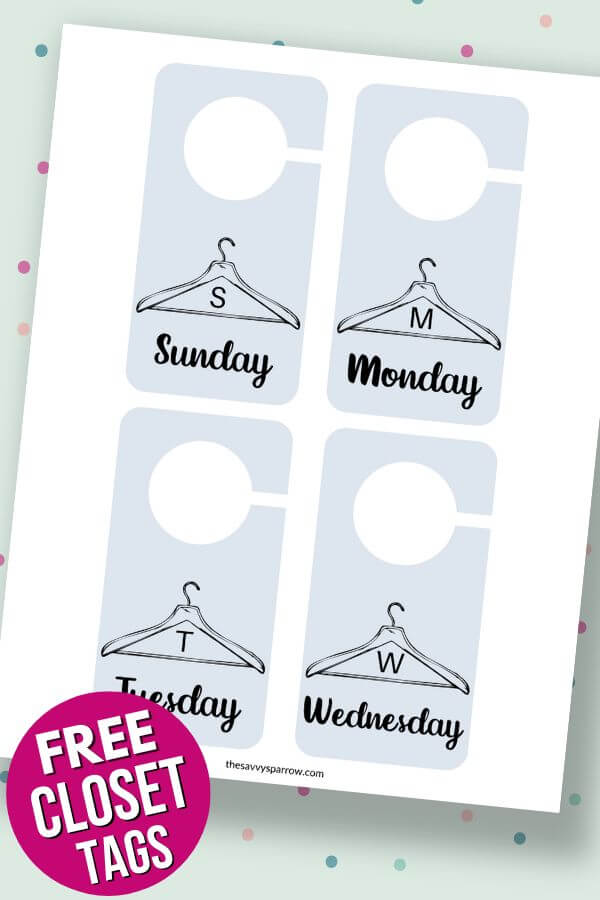 Light Blue Day of the Week Clothes Organizer Tags – CLICK HERE
Other Clothes Organizing and Decluttering Tips
Need some other tips for organizing your clothing or getting your kids ready in the morning? Check out some of these other ideas: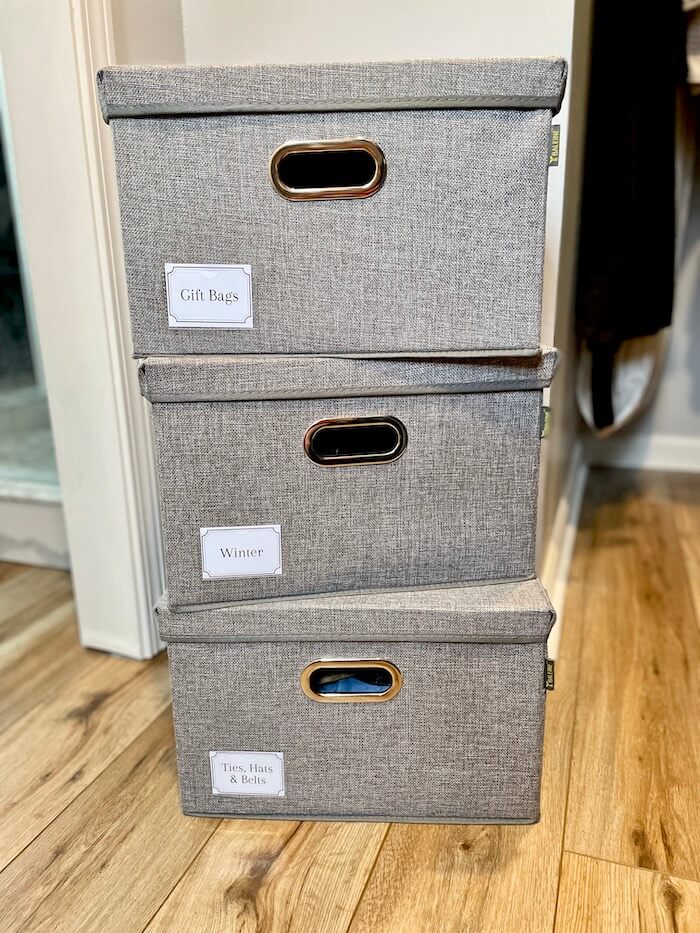 My Top Shelf Closet Organization Hack – I recently decluttered and organized all of the junk on the top shelves of my closet, and I absolutely LOVE the new bin system that I set up! Grab the free printable storage bin labels and see what AWESOME closet storage bins that I used here!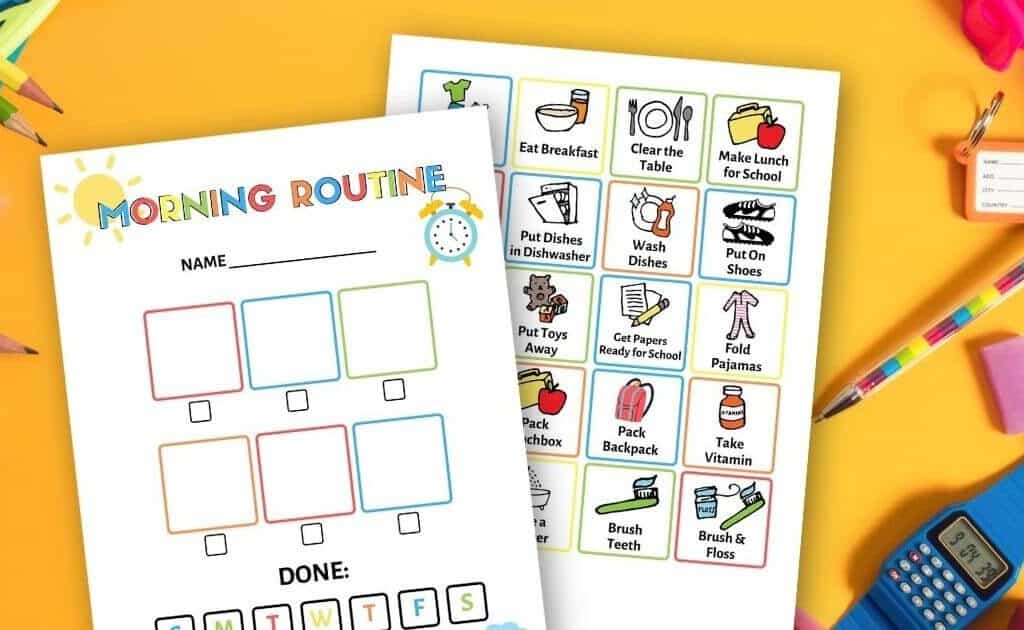 Kids Morning Routine Chart to Make Mornings Easier – Want to help your kids with their morning routine? Use these printable charts and picture cards to keep your kids moving in the morning! Great to teach your little ones responsibility and independence!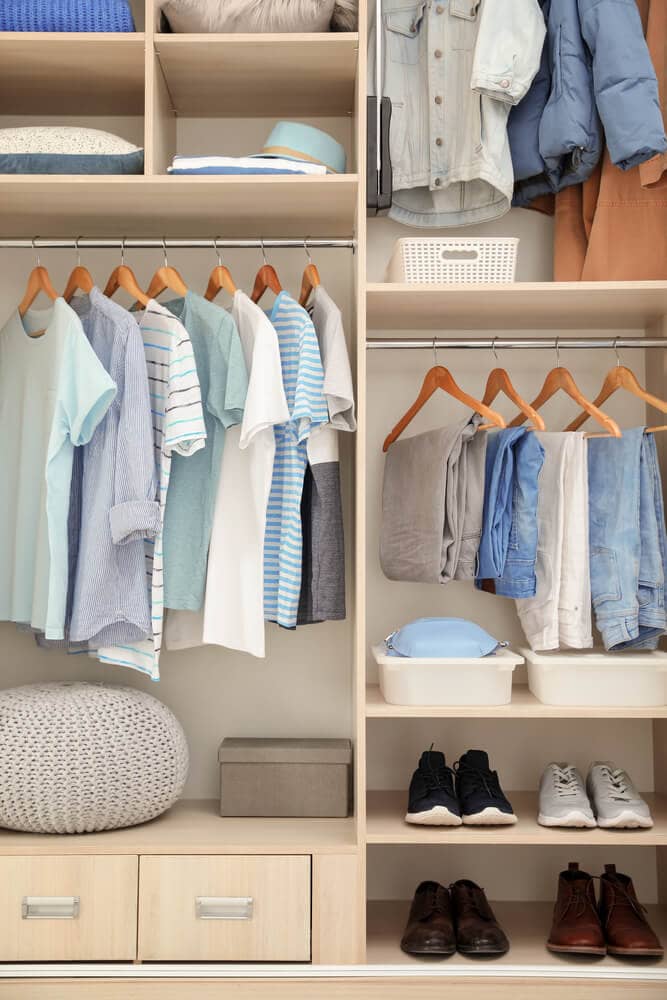 Decluttering Clothes – 7 Tips to Downsize Your Wardrobe Now! – Read these tips if your closet is out of control messy and you need to declutter and get rid of some clothing!
I hope you LOVE these day of the week clothes organizer tags to organize your kids closet! If you print them out and use them, leave me a comment to let me know what you think!
And don't forget to PIN this post for later: