If your week is super stressful, and your morning routine needs a serious makeover, then you need these Sunday routine ideas in your life! These are the things I do on Sunday to have a happy and stress-free week…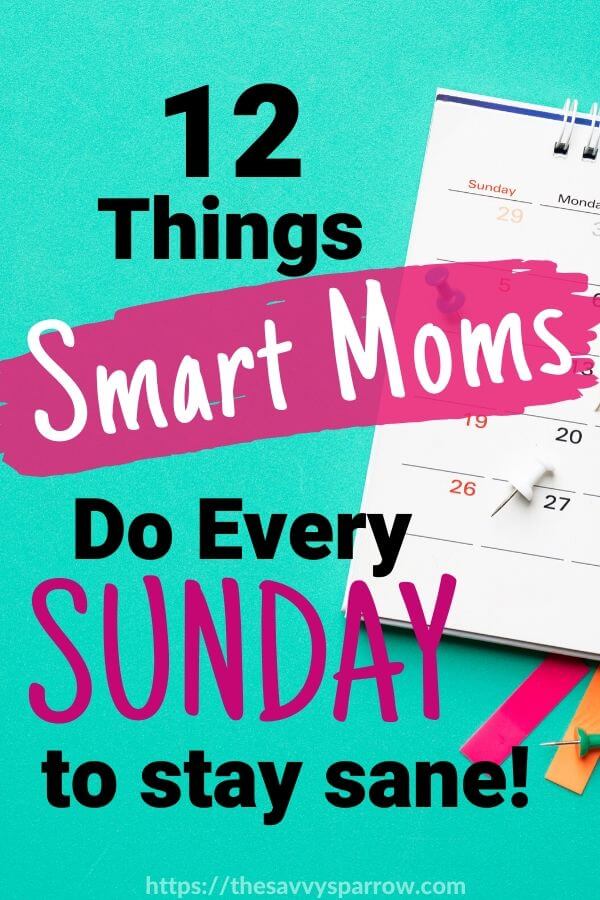 Back to school time is here… and gone are the days of sleeping in until 8:30am, rolling out of bed, and making pancakes in your pajamas while your kids play Legos together on the living room floor…
Nope… not anymore…
It's October and the school year is in full swing, so maybe your day looks a little more like this…
Jump out of bed at 6:15am after realizing that you pushed snooze on your iphone one too many times…
Frantically wake up your kids while simultaneously powering up the Keurig…
Step on a Lego…
Pour cereal…
Wake up kids (again)…
Pull covers off kids…
Search dryer for the ONE shirt that your tween has to wear today…
Throw a piece of cold pizza in your kids' lunchboxes…
Toss in a pack of fruit snacks so they have a well-balanced meal…
Go through your kids' backpacks silently wishing that they didn't have homework that they were supposed to do last night…
Yell at kids to eat their cereals faster…
Let them skip teeth-brushing in hopes of making it to the bus stop on time…
Rush out of the house without a bra (hopefully your t-shirt is baggy enough)…
Hope that your 7 year old remembered to put on underwear…
Get to the bus stop just in time…
And then realize that your kids left their lunchboxes laying on the kitchen counter…
Hope that they have extra money in their lunch account…
Hurry back home before the neighbors realize that you're not wearing a bra…
Walk in the door and wonder who ransacked your house in the 5 minutes that it took you to go to the bus stop…
Proceed to have a Mommy Meltdown…
If any of that sounds familiar, then I have some AWESOME tips for you!
Yes, we do have the occasional crazy, pull-your-hair-out kind of mornings at our house…
But most of the time we're dancing around the kitchen to Taylor Swift while we get ready.
If you want to trade your stressful morning "routine" for fun dance parties, too, then check out these tips for Sunday Routine Ideas for an Easy Week with Kids:
*This posts contains affiliate links, which means I earn a commission from these links at no additional cost to you. Read my full disclosure here.
12 Things to Do for Your Sunday Routine So You Don't Have a Mid-Week Meltdown:
Plan school outfits for the whole week
I have to give credit to my youngest daughter for this idea… the same daughter that came up with the idea for this 2 Ingredient Edible Finger Paint. (Future Mommy blogger, maybe?)
At the start of the school year she said to me, "Mommy, on Sunday I'm going to get ALL of my school outfits out for the whole week."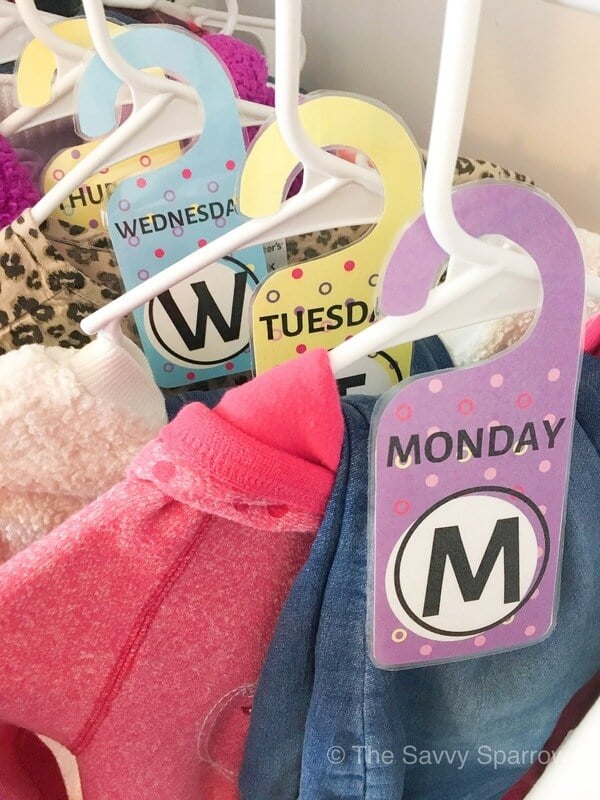 I about fell on the floor. This was the same daughter that told me that she couldn't pick up two toys off the floor at the same time because she "didn't have octopus arms".
And then she said, "And I'm going to hang each outfit on its own hanger in my closet."
What… I didn't even think she knew what a coat hanger was! 🙂
But this genius idea (courtesy of my 7 year old) has been a game changer when it comes to stress free mornings. And now it's a permanent fixture in our Sunday Routine.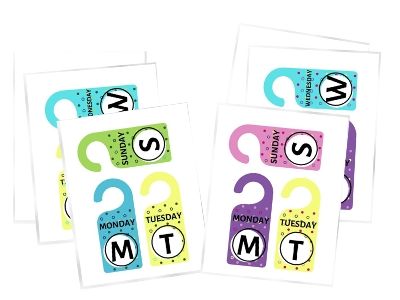 I was even inspired to create some Day of the Week Coat Hanger Labels that you can print out for FREE!
When you sign up for my FREE email newsletter below, then I will send you the password to my FREEBIES library as a gift, where you can find these printable closet organizers and loads of other free printables. 🙂
Prep lunch box items as part of your Sunday Routine ideas
Making lunches each night is probably one of my LEAST favorite Mommy chores. After I get the mountain of dishes washed from dinner, then I immediately have to start working on the next day's meals.
I make my husband's lunch for work each night, and I used to make my daughters' lunches also, until they decided that they were going to start making their own lunches.
I didn't protest…
But, I DO make sure that they have enough healthy lunch options that are already prepped and ready to go in the fridge so that all they have to do is pick out what they want.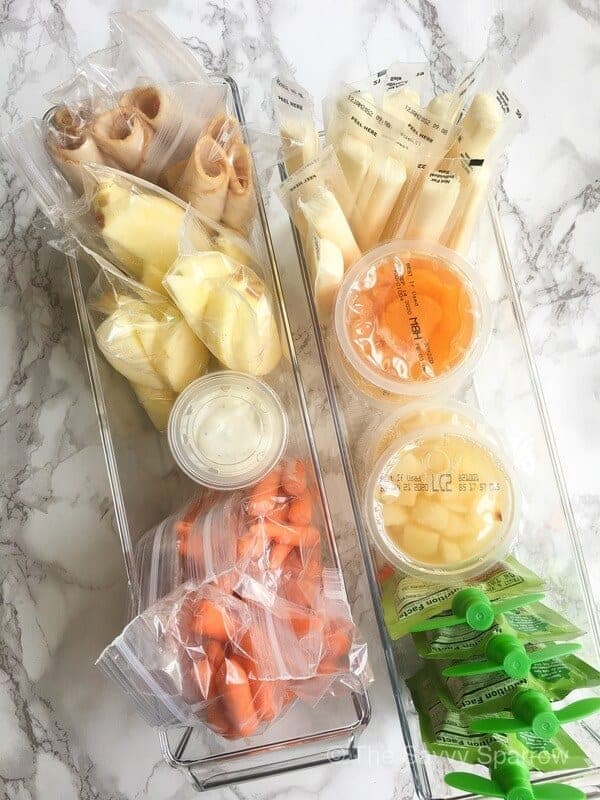 Apple slices, string cheese, baby oranges, carrot and celery sticks, turkey rolls… these are all lunch items that I prep as part of my Sunday routine for an easy week with the kids.
I bag up the prepped lunchbox items in snack size zipper bags and store them in handy refrigerator bins. (These bins are perfect for grab-and-go lunch items!) (affiliate)
That way, we aren't scrambling to make lunches 10 minutes before the bus picks up… and my kids have no excuse to not make themselves a healthy lunch since I have nutritious lunch options ready to go for them.
Check chore charts
Chore charts are a great way to encourage kids to help out around the house. As a Mom, you're probably busy doing ALL THE THINGS, and there's no reason why your kids can't help you out.
That's why I make it a habit as part of our Sunday Routine to go over my daughters' chore charts to see how they did for the previous week and to discuss any special jobs that I want them to get done for the upcoming week.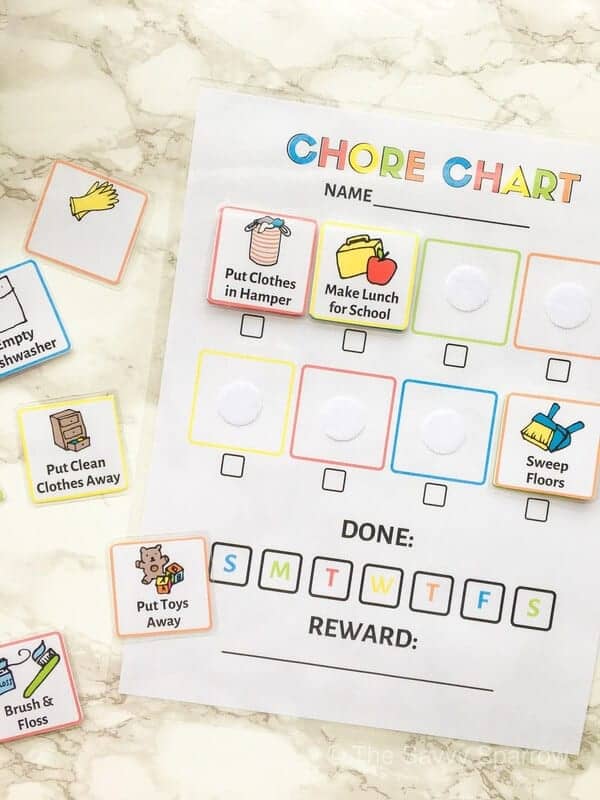 I use our chore charts to teach my kids about responsibility, independence, and work ethic. And they earn an allowance each week to teach them about working towards a goal and being financially responsible.
My friends are surprised to find out that my daughters' (ages 10 and 7) make their own lunches for school, and come home and start studying their spelling words without being told to do so. But my parents did a great job of instilling in me a sense of self-accountability, and I want to do the same for my girls.
And chore charts help me do it! (Plus, it's nice to get help folding laundry and sweeping the floors!)
Do laundry
My Sunday Routine ideas wouldn't be complete without tackling the mounds of laundry.
During the week, we're so busy with church, homework, playdates, and extracurricular activities that laundry (literally) gets pushed to the side.
So, every Sunday I make it a point to catch up on all of our laundry… I'm talking perfectly bare dirty clothes hampers and all of the folded clothes put away (instead of in their temporary home on top of the dryer).
Getting the laundry done as part of my Sunday Routine helps me to not feel so overwhelmed on Monday. It's like starting the week with a clean slate, which is much less stressful than an overflowing hamper on Monday morning.
Go through kids' folders on Sunday mornings
If you have kids in elementary school, then chances are they have a take-home folder of important notes and graded assignments.
I like to go through my kids' folders as part of my Sunday Routine in preparation for the upcoming school week.
We discuss any important events that will be taking place that week, and we go over graded school work to see where improvements can be made.
If you wait until Monday morning to do this, then chances are you'd just take a quick glance at graded papers as you throw them into the trash. Kids pick up on that, and if they notice that you're not taking an interest in their school work, then they are less likely to try their best.
Organize important papers for the week
I recently added some adorable and super useful wire wall baskets to my family command center, and they have been a game changer!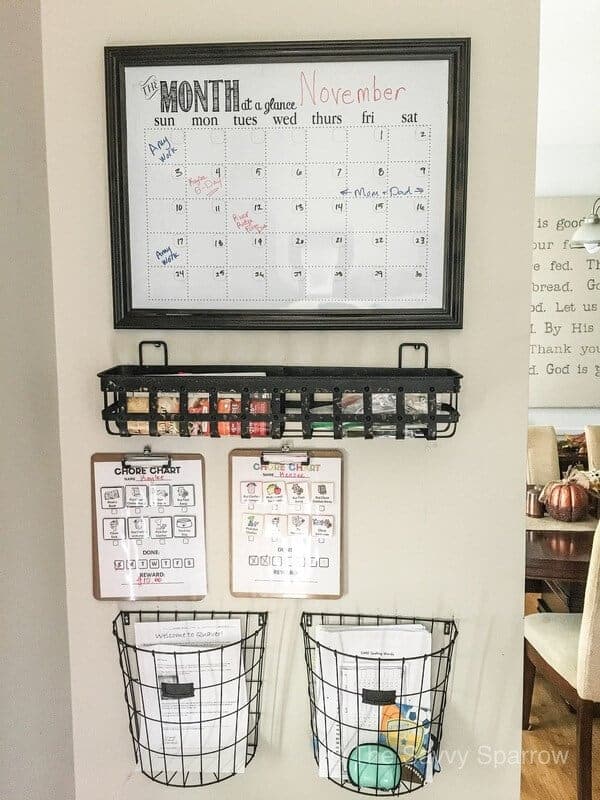 As part of my Sunday Routine, I check all of the papers (field trip forms, school newsletters, etc) to prepare for the upcoming week. Then I have the kids' paperwork done and ready to go for the week, so I'm not trying to fill out forms and prep stuff 5 minutes before the bus comes.
These wire wall baskets are absolutely PERFECT for a family command center because each child has their own basket, and the baskets are plenty big enough to fit papers, folders, books, and other odds and ends.
I picked up my baskets in the clearance section of Michael's, but you can find similar ones here (affiliate).
Update your calendar as part of your Sunday Routine
It's also a good idea to update your calendar as part of your Sunday routine ideas.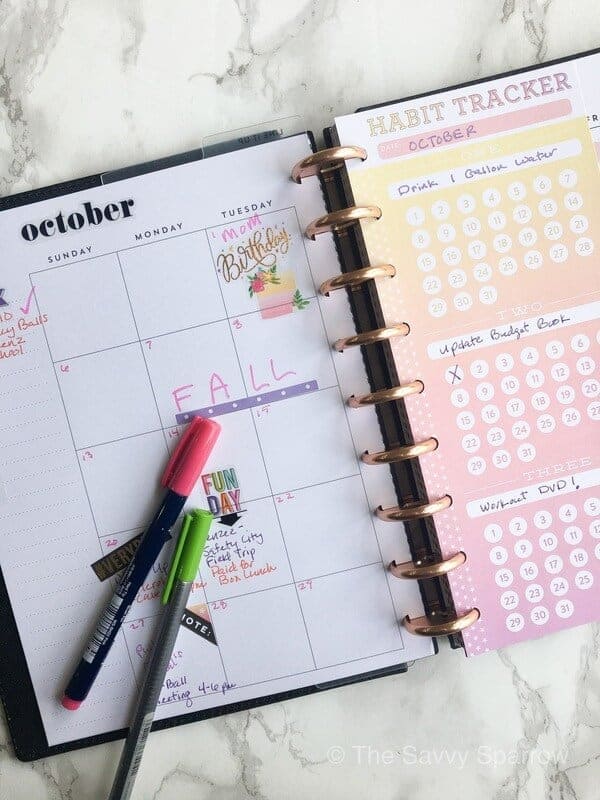 I cross reference my Happy Planner with my important notes/papers that are kept in my family command center to make sure that I have everything written down, so we don't forget about anything.
Meal plan for dinners as part of your Sunday Routine
Sunday is a great time to plan dinners for the week ahead.
Your Sunday Routine can include:
checking your fridge and pantry for ingredients that you already have
jotting down meal ideas for each day based on what you have on hand
making a grocery list of items that you need for the week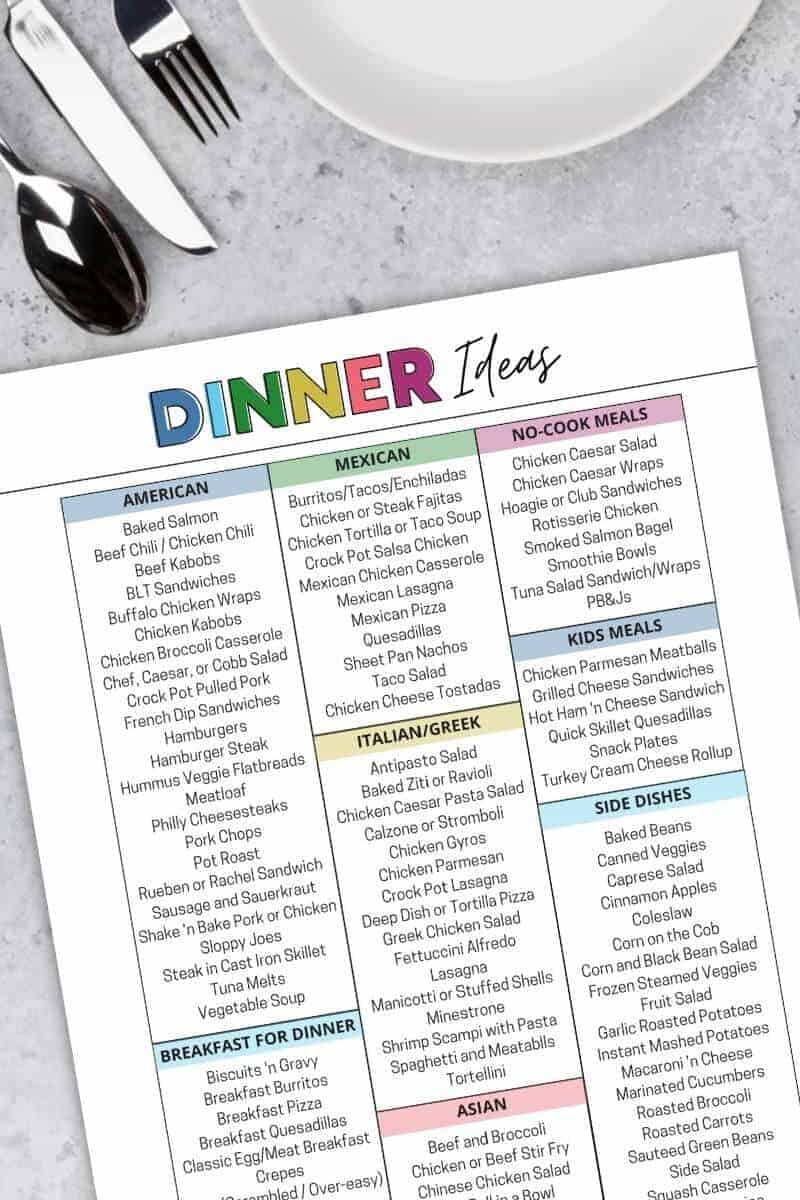 Go HERE for a HUGE list of meal ideas and grab a free printable meal plan template!
By meal planning and making one big grocery list as part of your Sunday Routine ideas, you can save time by eliminating trips to the store to pick up one or two forgotten items.
Create a To-Do List for the week
Besides just adding important dates and events to you calendars, you can also create a weekly to-do list as part of your Sunday Routine ideas. This is different than updating your calendar with important events and appointments.
Rachel from A Mother Far From Home suggests making a list of things that you want to accomplish in a 7 day period, which is much less intimidating than adding EVERYTHING that you want to get done (but probably won't have time for!) to your list.
Your weekly to-do list could include errands to run and special chores that you want to complete for the week.
Tidy up
Did you know that clutter and mess causes stress in women? Yup, it's been scientifically proven.
So in order to have a stress-free week with kids, set aside a half hour in your Sunday Routine to tidy up the house a bit.
I'm not suggesting that you break out the mop or scrub the baseboards. Just walk around the house throwing things into your "Put This Away" basket. Read more about a "Put This Away" basket and get tips for How to Quick Clean Your House here!
Or, if your house needs a lot more than a quick clean, then check out this post for How to Declutter Your Whole House in One Week (with a 19 page checklist to help you!).
Share the workload
Who says that Mom has to do ALL THE THINGS?
Libby from Because Mom Says suggests assigning every family member a different room to clean or one special chore to do as part of her Sunday Routine ideas.
I LOVE this idea! You know what they say… "Many hands make light work."
By tackling the housework together as a family, you can not only reinforce the importance of responsibility for your kids, but you can also free up some of your Sunday time to relax and recharge for the upcoming week.
Meal prep on Sundays
If you're really on top of things, and you've tackled all the things on this list of Sunday Routine Ideas and you've still got time to spare, then you can be extra ambitious and meal prep on Sundays.
Occasionally, we will fire up the grill on a Sunday after church and cook a whole bunch of chicken breasts and a few pork tenderloins. Then, we just refrigerate them and we have lots of meat pre-cooked and ready to go during the week.
We use grilled chicken breasts for salads or yummy low-carb casseroles like this Low Carb Chicken Broccoli Casserole. And pork tenderloin reheats well for Pork Fried Cauliflower Rice, or BBQ Pork Tortilla Pizzas!
And there you have it… some awesome Sunday Routine ideas to make your week less stressful!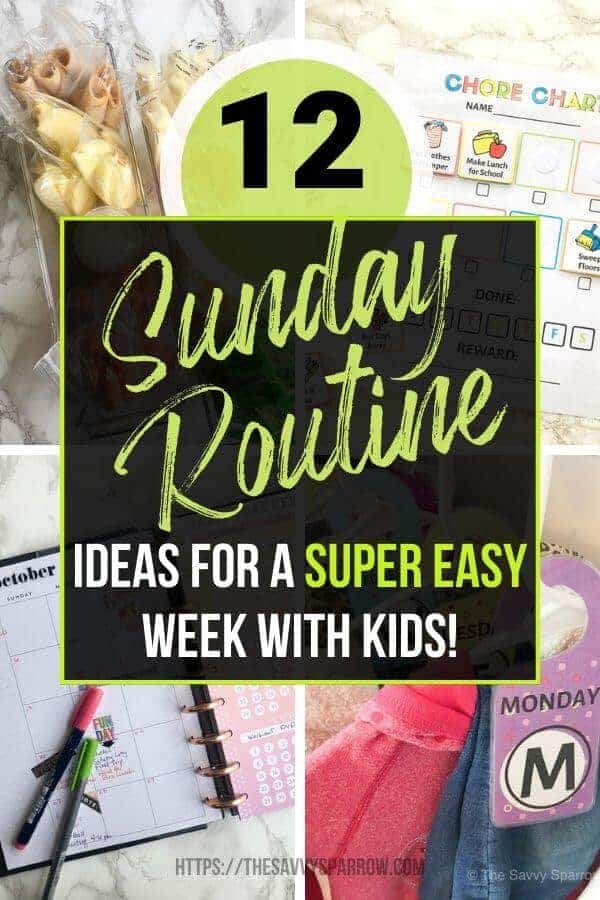 These are all things that help us to start our weeks the right way… with a Monday morning dance party, instead of a Monday meltdown!
I'd LOVE to hear from you guys! What are your Sunday Routine ideas that help you make it through the week? Leave me a comment!
And happy nesting!