These Happy Mother's Day tags are perfect for tying on a pretty potted plant or gift bag for your Mom! Download the free Mother's Day gift tags to print now!
Mother's Day is right around the corner, so maybe you're searching for the perfect gift to show Mom how much you love her… and to say "Thanks" for all of the times that she silently cleared the food trash from your nightstand after she asked you 3,245 times not to leave it there. Or perhaps to say "Sorry" for all of the times that you forgot to empty your pockets of the miscellaneous hard candy and sticks of bubble gum before throwing your clothes in the hamper.
But I digress…
Let's face it, moms do a lot for us. They are our cheerleaders, our confidants, and our personal chefs (just to name a few). That's why it's important to show them how much we appreciate them, especially on Mother's Day.
And in appreciation of all of Mom's hard work over the years, the least you can do is print out a pretty Happy Mother's Day tag and tie it around your last-minute box of chocolates gift that you grabbed near the checkout at the grocery store.
With so many designs to choose from, you'll be able to find the perfect tag to match your mom's personality. So, print out your favorite design, attach it to your Mom's gift, and get ready to make your mom feel extra loved this Mother's Day. Trust us, she deserves it!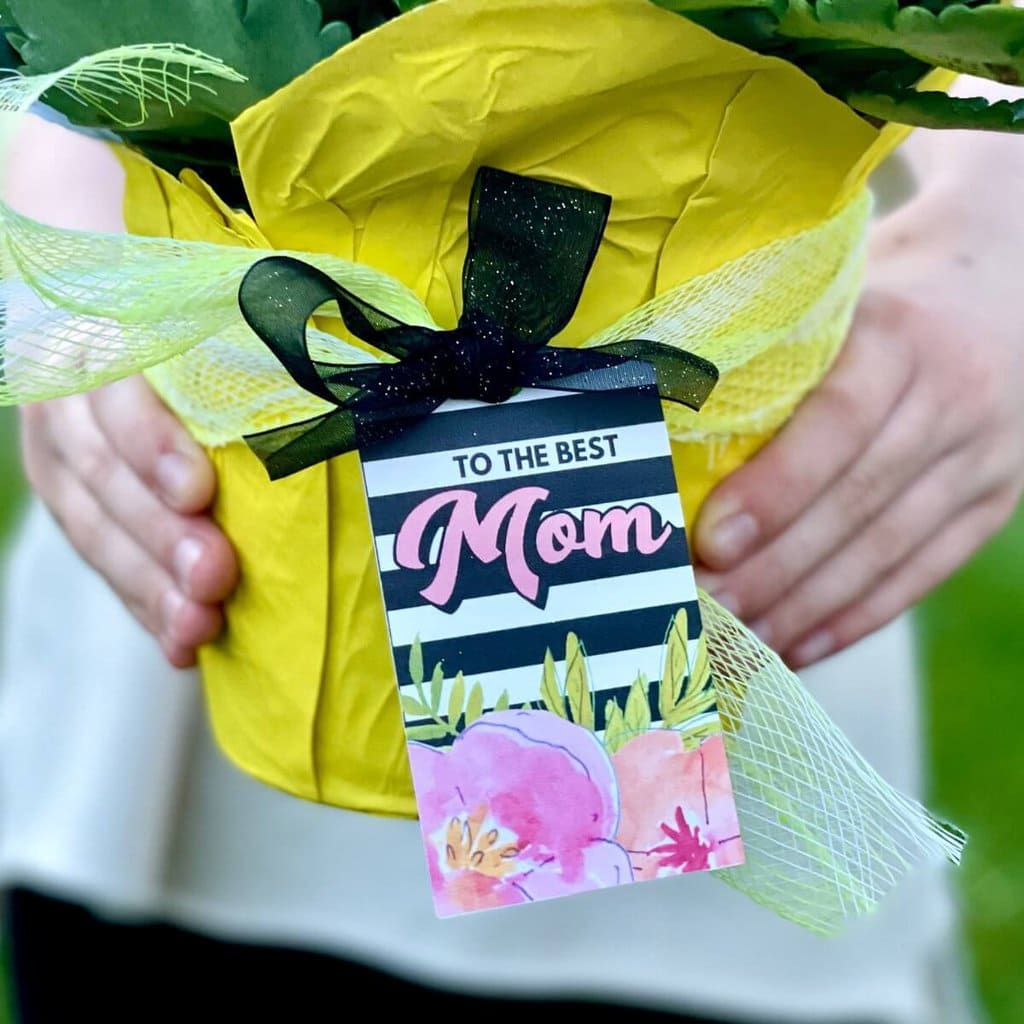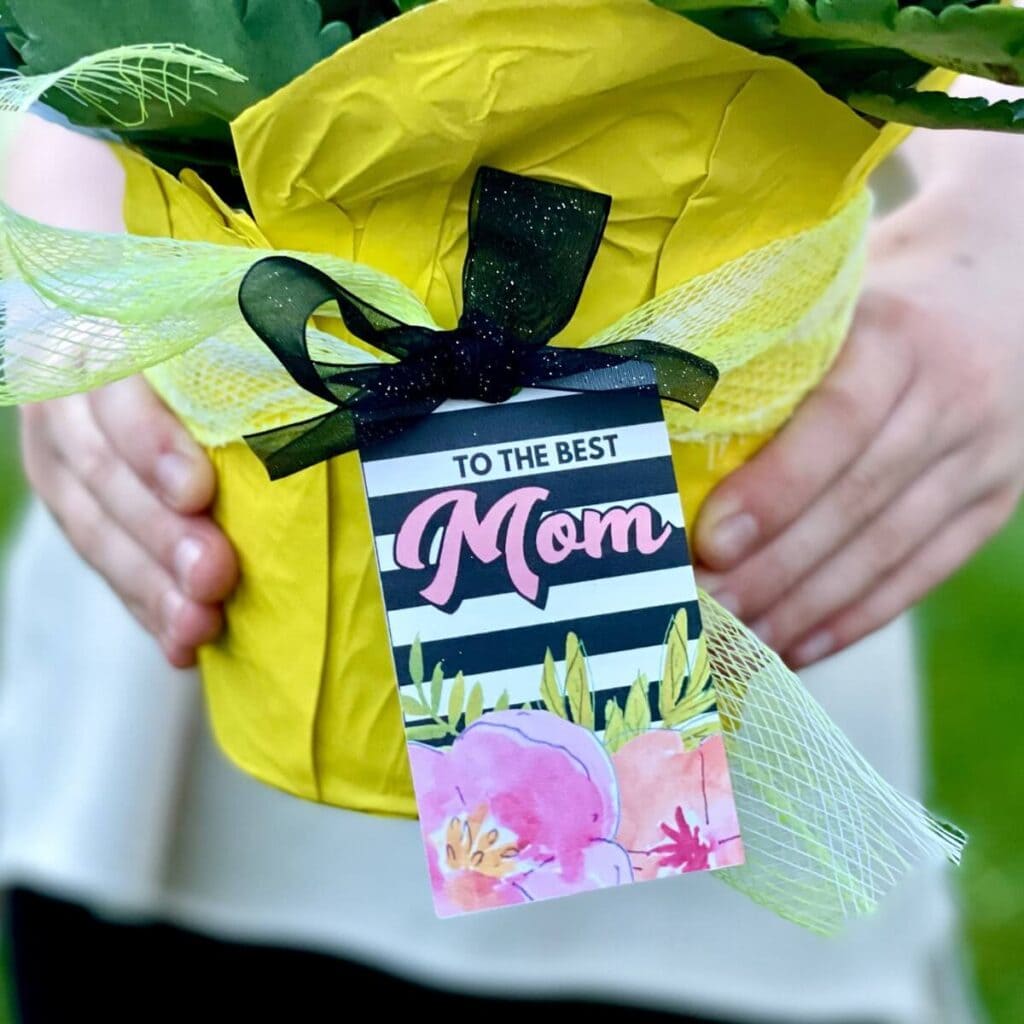 Ideas for Using a Happy Mother's Day Tag
There are so many creative ways to use these Happy Mother's Day tags to make Mom feel extra special, and to show her that all of her sleepless nights didn't go unnoticed. Here are just a few ideas:
Use the free printable gift tags on your gift bag. Getting Mom something that needs to be wrapped? Add a little something extra to the gift with a cute printable gift tag for Mom!
Tie a Mother's Day gift tag around a pretty potted plant or flower. Use pretty ribbon and a cute tag to dress up a simple potted plant like this one that I found at Trader Joe's: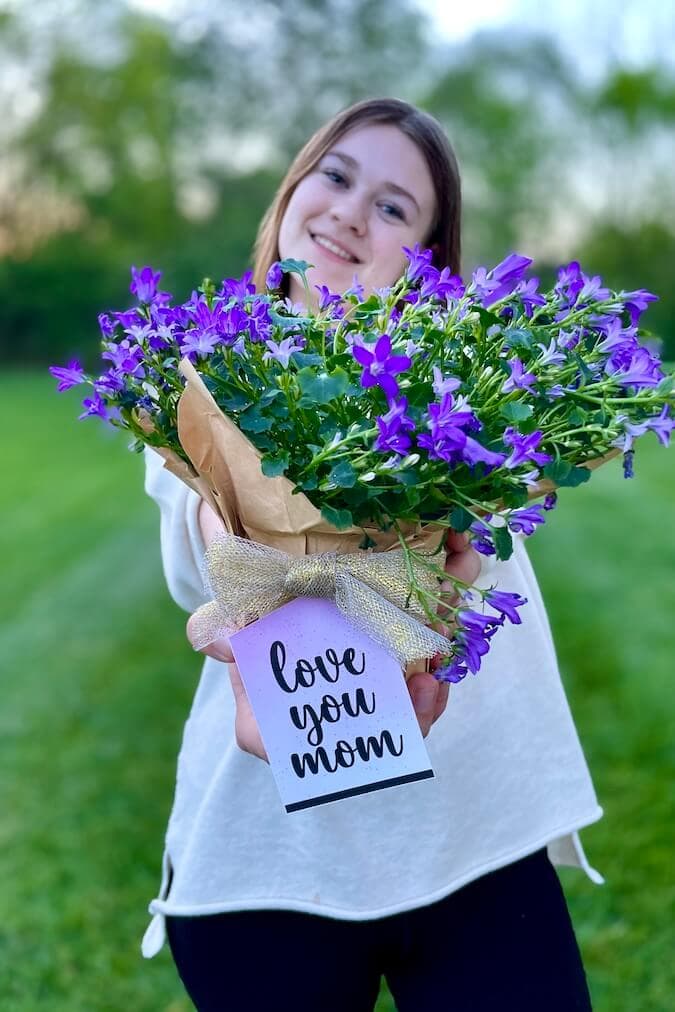 Use a printable tag as a bookmark. Print out your favorite gift tag design from the end of this post, and slip it into a new book to give your Mom.
Add a Happy Mother's Day tag to a nice box of chocolates. Attach the gift tag with some pretty ribbon to fancy up a box of her favorite candy or chocolates.
Use the free printable gift tags in your place settings. Hosting a Mother's Day brunch with multiple moms (like your sister, grandma, mother-in-law, etc)? Tie a gift tag around the napkin and silverware at each place setting for a thoughtful detail that's sure to impress!
Use the Mother's Day tags as a floral pick. Instead of tying it around the pot, cut off the upper triangle tag part, and turn it into a floral card. If your potted flower or plant has a plastic pick, just swap out the card for this prettier one like this: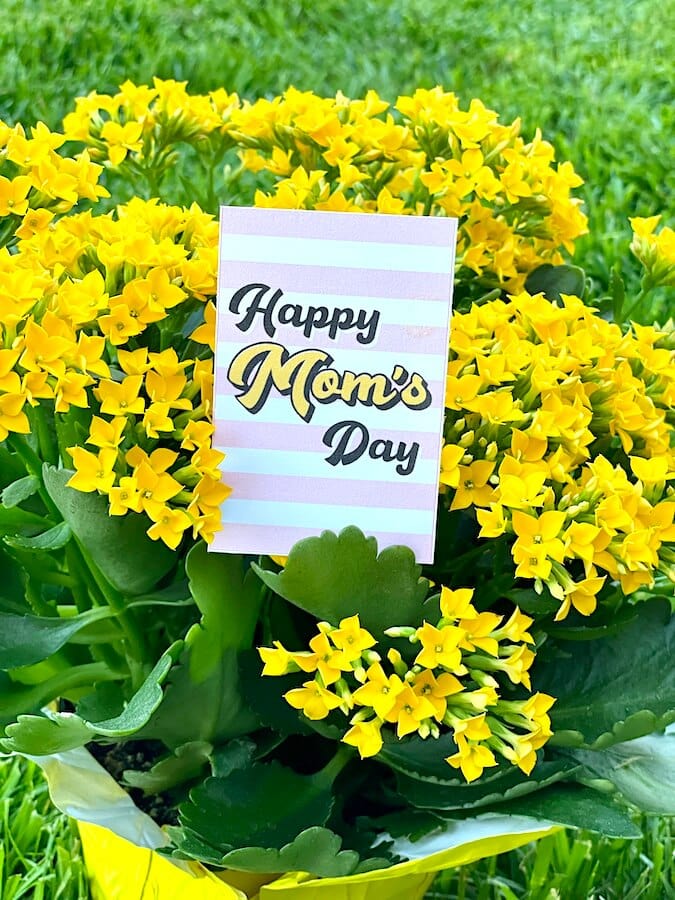 No matter how you use them, the free printable gift tags for Mom are a fun and easy way to add a personal touch to your Mother's Day gifts.
Tips for Printing and Cutting the Gift Tags
Want to use these Happy Mother's Day tags on your gifts for Mom this year? Here are some quick tips for printing and assembling the gift tags: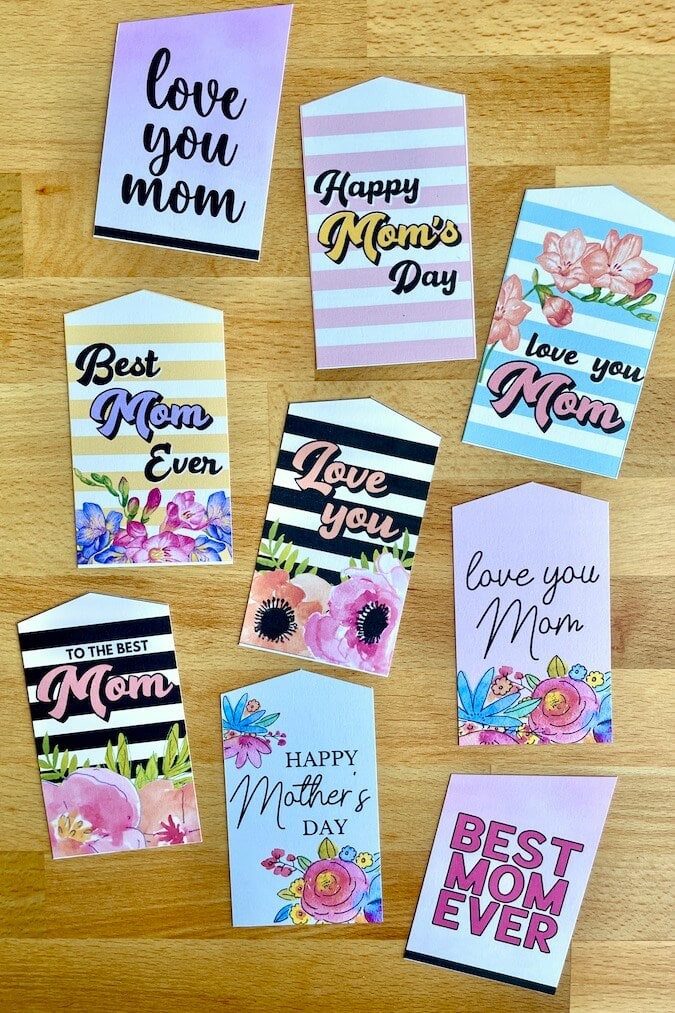 Print the tags on 65 lb. white card stock if printing from home. I find that heavier weight card stock doesn't go through my printer well.
Need smaller tags? Just adjust the "Scale" in the print settings before printing.
After you print the Happy Mother's Day tags, lay the card stock on a flat surface for the ink to dry. Depending on your printer, the paper may have a tendency to curl from the wet ink if you don't let it dry properly before cutting out the tags.
Use a paper trimmer to get clean and straight cuts and make your Mother's Day gift look super nice!
Use a hole punch to punch a hole through the top of the free printable gift tags.
For a super pretty gift, color coordinate the ribbon that you use to the gift tag and the gift packaging. For instance, I added a black glittery ribbon and some lime green mesh ribbon to compliment the Mother's Day tag below: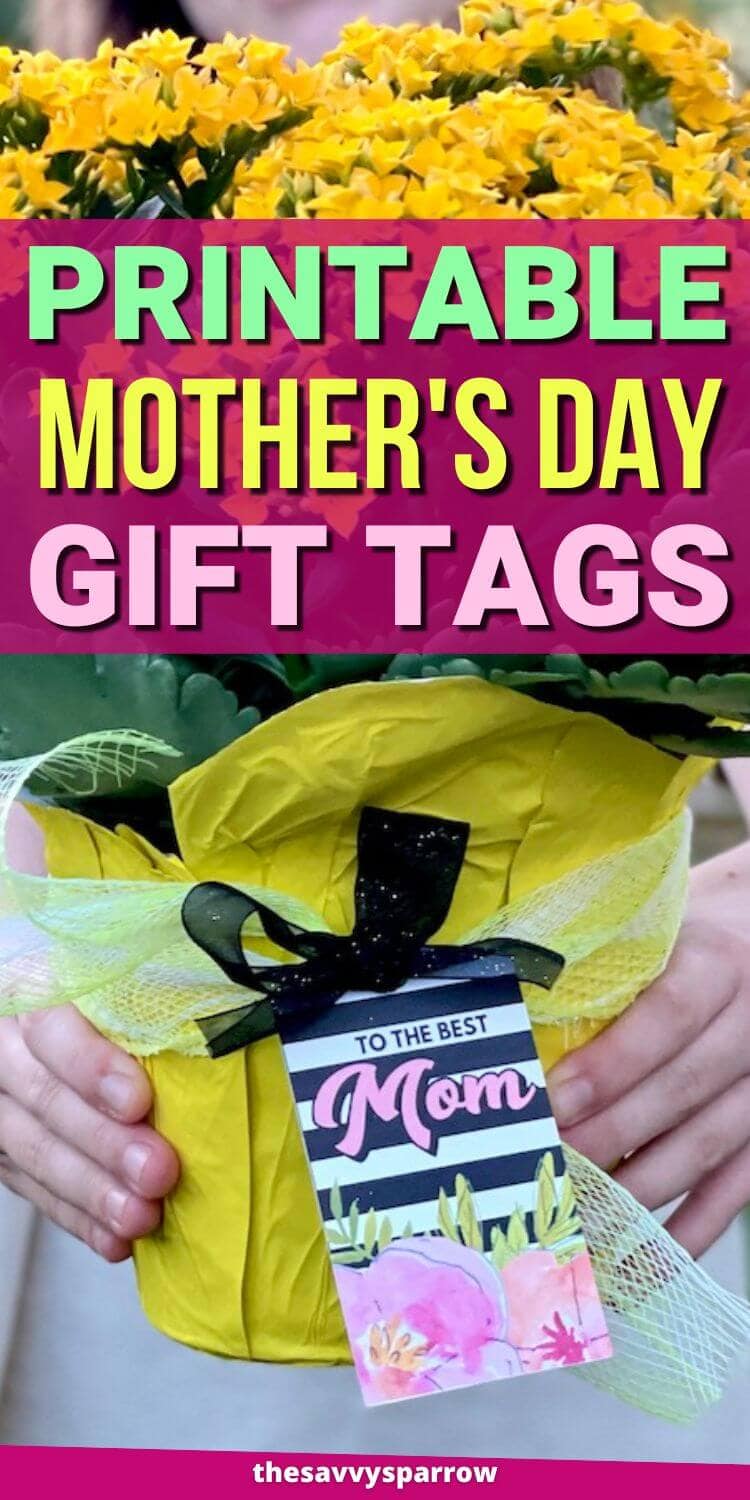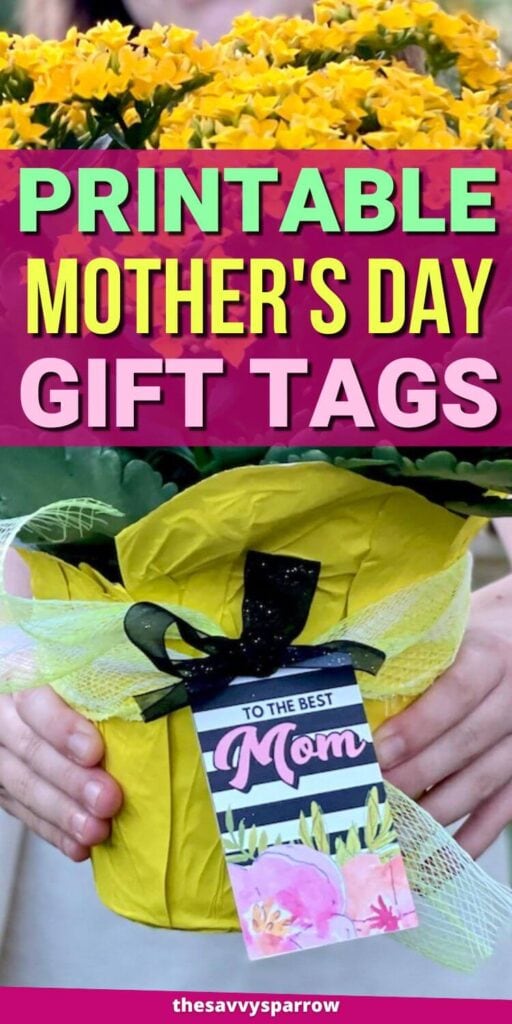 Free Happy Mother's Day Gift Tags to Print
These free Happy Mother's Day tags are super easy to download and print at home! Just follow these instructions:
Click on the link below the gift tags that you want to print.
A new window will open in Dropbox. All of the gift tag PDF files are stored in Dropbox.
From the Dropbox window, just click on the icon in the top left to download the printable Mother's Day tags to your computer or phone.
Open up the file on your device and select "Print". Easy peasy!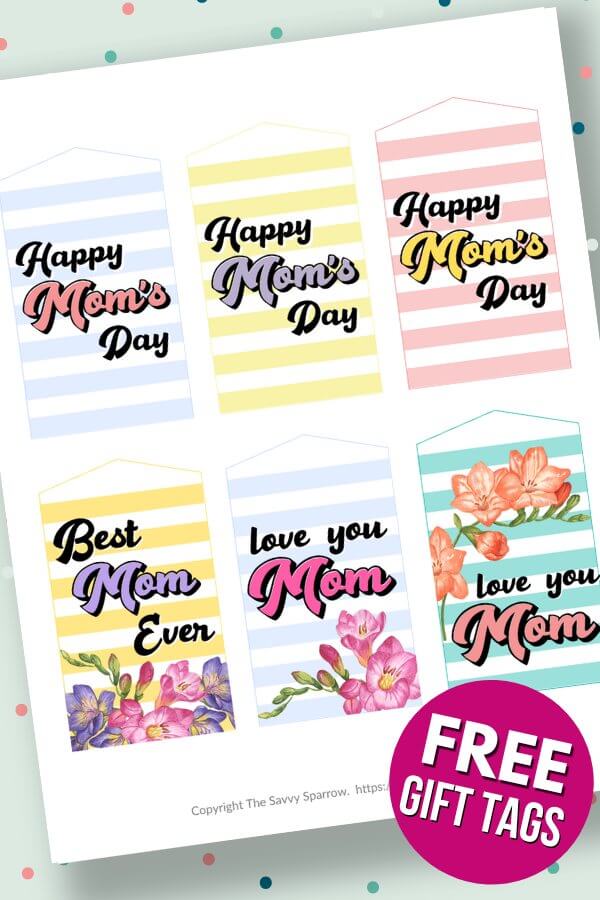 Pastel Stripes and Floral Mother's Day Gift Tags – CLICK HERE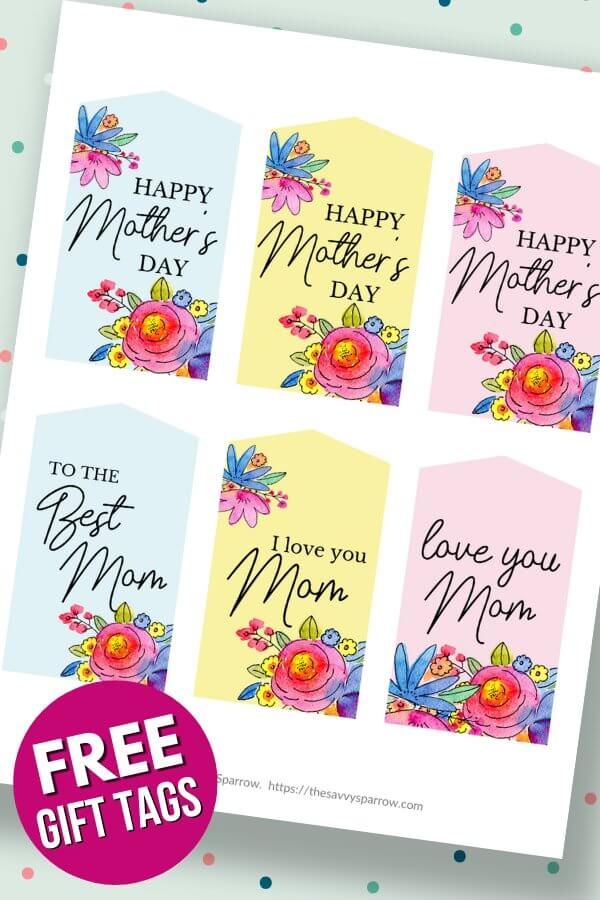 Spring Watercolor Flower Gift Tags for Mom – CLICK HERE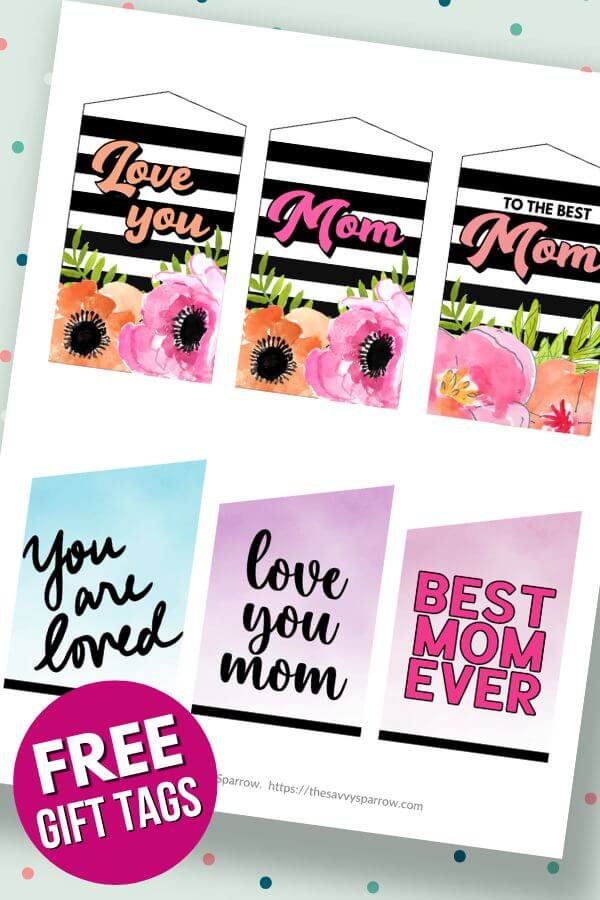 Bold and Graphic Mother's Day Tags – CLICK HERE
I hope you LOVE these Happy Mother's Day tags! And when Father's Day rolls around next month, be sure to come back and check out some of these Father's Day printables:
If you use the gift tags for Mom, then be sure to leave me a comment down below! I LOVE hearing about how you all use the printables that I work so hard to create!
And don't forget to PIN this post for later… There are 18 different Mother's Day gift tags after all, so you can come back next year and print out a different tag to use!