This Father's Day coupon book made from a printable coupon book template is an awesome gift idea for Dad! Grab the printable DIY coupons for him now!
Father's Day is right around the corner, and if you're anything like me, you wait until the last possible minute to figure out a gift for Dad… and it probably consists of some stale pasta noodles haphazardly glued on to a piece of construction paper with some of your kids' crayon doodles in a necktie shape.
And while pasta art is a popular gift for Father's Day, why not switch things up and give Dad a different gift this year?
I started giving DIY coupon books made from printable templates to my husband and my kids a few years ago for Christmas gifts and Easter basket stuffers… and these DIY printable coupons are now one of the gifts that my family looks forward to the most!
So of course I had to create a coupon book template for Dad, perfect for Father's Day coupons! Here's how to make this awesome Father's Day coupon book and some coupon ideas that Dad will LOVE: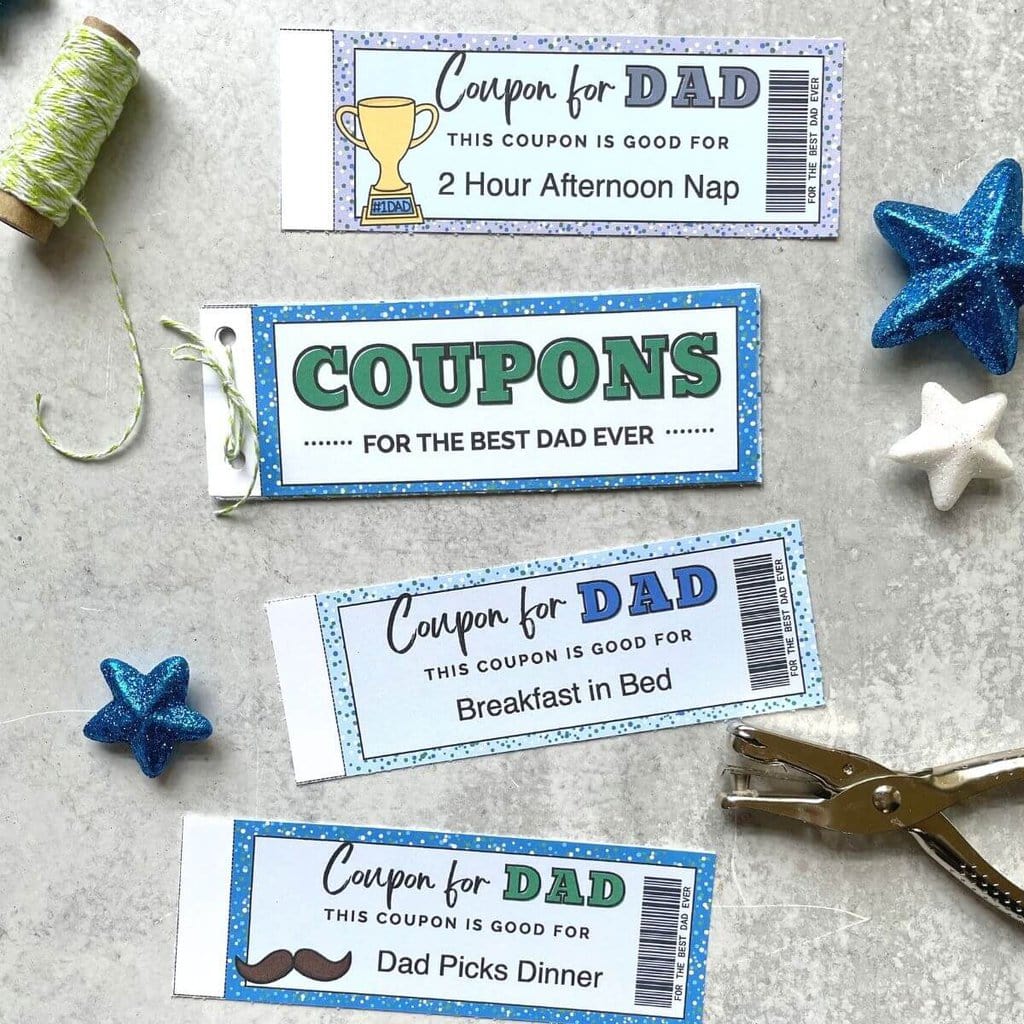 *This post contains affiliate links, which means if you click a link and make a purchase, I earn a commission at no additional cost to you. Read my full disclosure and terms of use for more info.
Supplies to Make Your Own Coupon Book for Dad
printable coupon book template – You can get my super cute DIY coupons for Dad in my shop!
printer
heavier weight copy paper or card stock – I like to use this 32 lb. printer paper for my colored printables because the end product looks much nicer than regular 20 lb. paper. Plus, the heavier weighted paper is less likely to get torn or wrinkled in Dad's dresser drawer. I used white card stock for the coupon book covers.
paper trimmer or scissors – Scissors work fine, but I recommend a paper trimmer for straight cuts and a nicer looking coupon book.
stapler OR hole punch and string or brads, depending on how you choose to put your coupon book together
How to Make a Coupon Book for Dad
This coupon book for Dad is super easy to make at the last minute… And it's a great gift for the Dad that has everything and is difficult to shop for. Here's how to do it:
Step 1: Download the Coupon Book Template and add your own coupon ideas.
The printable Father's Day coupons that I used for my husband are fillable, meaning you can type directly in to them to create your own custom coupons. Great if you have awful handwriting like I do!
Here's how to type in to the coupons PDF template… It may seem like a lot of steps, but I promise it's really easy: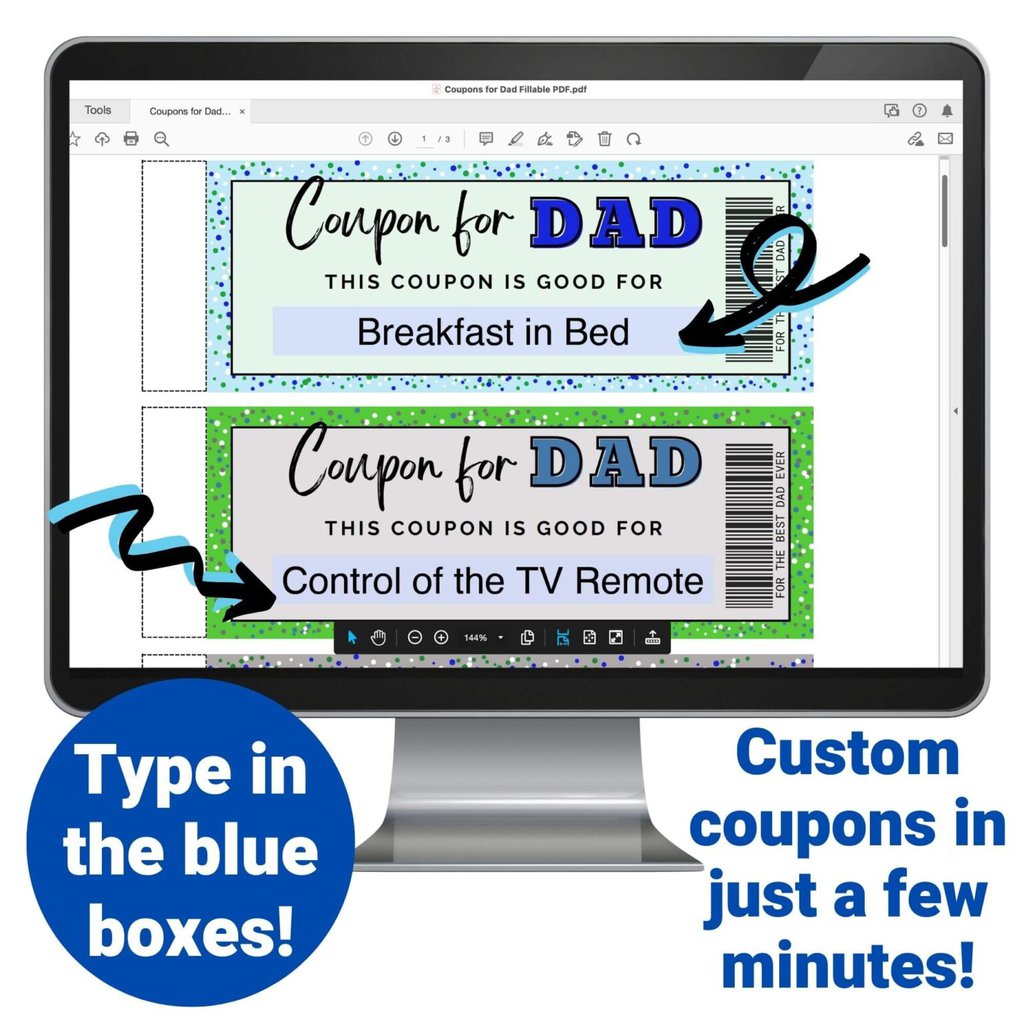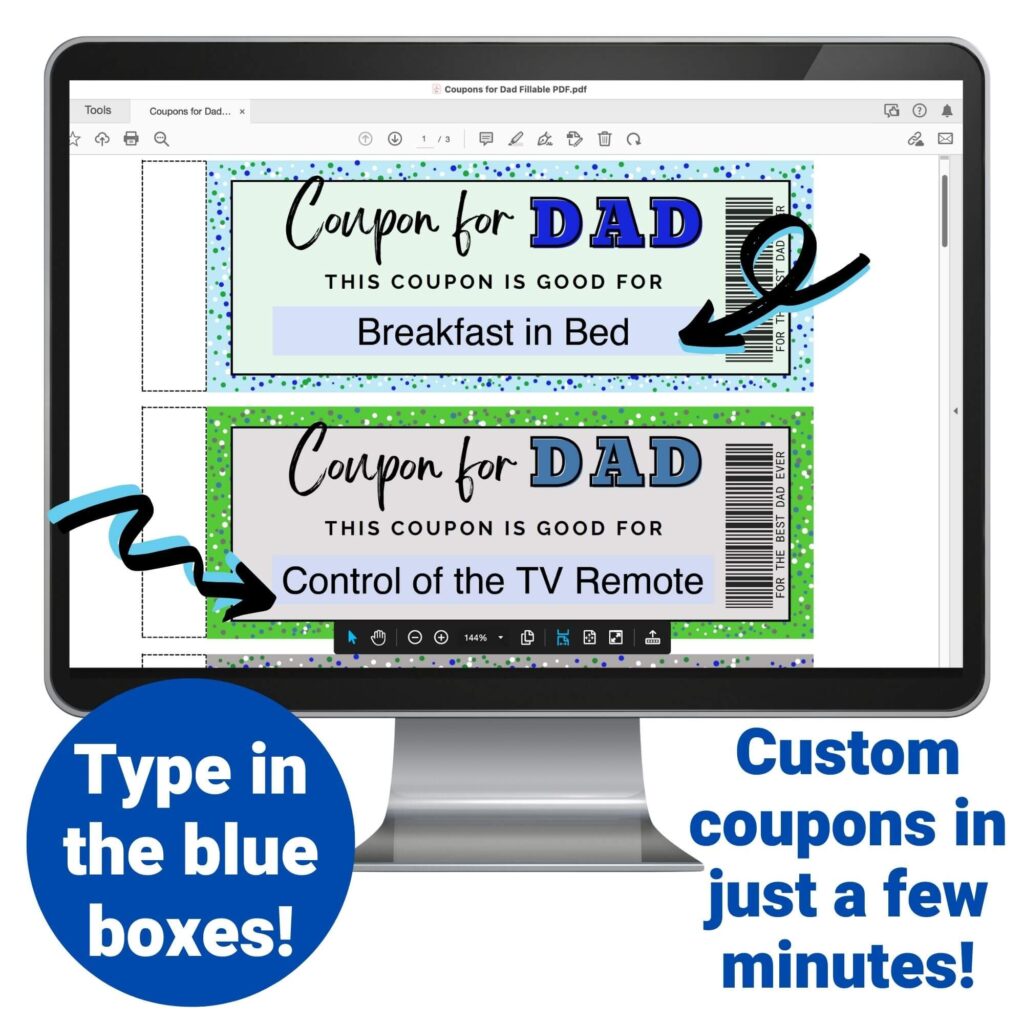 Go to the Adobe website here and download and install the free Acrobat Reader to your computer. (If you already have Adobe Acrobat installed you can skip this step).
Open the Father's Day coupon book PDF using Adobe Acrobat Reader… You should be able to right click on the file icon on your computer (wherever you saved it) and select Open With > Adobe Acrobat Reader.
Once the coupon book file is open, you're ready to start typing your coupon ideas in to the blue boxes.
When you're done adding in your coupon ideas to the template, click File > Save As > and then name it whatever you like and save it to somewhere on your computer where you can easily find it, like your desktop.
Print out the coupons, and you're ready to move on to the next step!
And don't forget to fill in the "From" section on the back of the printable coupon book for Dad also!
Of course, if you don't want to actually type in to the coupons, you can also print them and write in them by hand, or have your kids fill them in.
Step 2: Print the Father's Day coupons for Dad.
I suggest printing the front and back covers of the Father's Day coupon book on white card stock, because it's sturdier and your finished coupon book will look nicer. For the interior coupon pages, you can use regular printer paper or a slightly heavier weight paper like 28 or 32 lb. paper. I prefer using this thicker paper for colored printables, because the inks don't show through as much as they would on regular 20 lb. paper.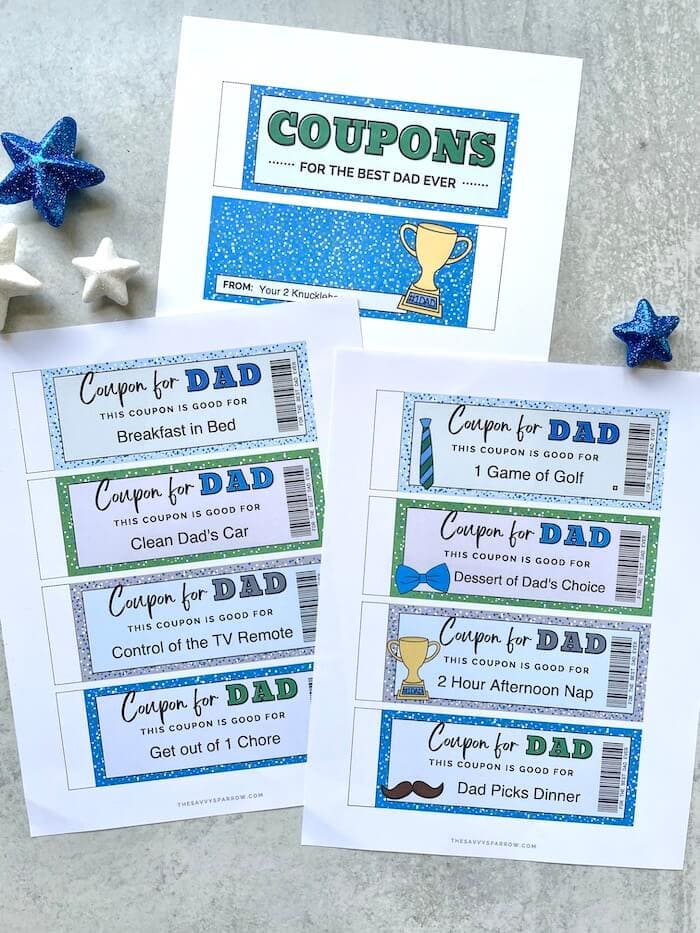 If you don't have a good printer at home, then you may want to print your coupons at a print shop like Staples or Kinko's for better quality coupons.
Step 3: Cut out the DIY coupons for Father's Day.
Just cut the coupons and the coupon book cover along the outer edges. I used a paper trimmer to make it super quick, but scissors would work fine also.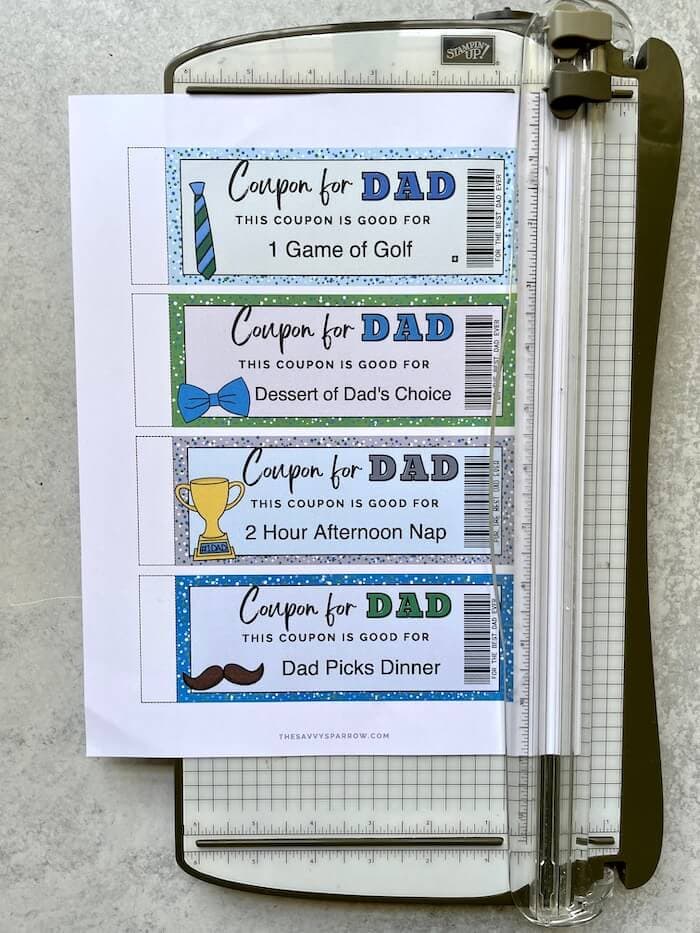 Step 4: Assemble your DIY Father's Day Coupon Book!
You have a few different options when it comes time to assemble your Father's Day coupon book:
hole punch and twine or yarn tied into a bow – This is what I did for the sample in this post!
a stapler
colored brads
Each of these "binding" options for DIY coupon books is easy to do, but I find that just stapling the books together is the quickest and easiest. The only drawback of using a stapler, however, is that you probably won't be able to get more than 8 coupons in your book unless you have an industrial strength stapler.
*If you want more details on how to put your own homemade coupon book together, I go over each of these methods in this post: Christmas Coupon Book Template – Awesome Printable Gift Idea!
Father's Day Coupon Ideas for Dad
Need ideas for what types of coupons for Dad to put in your printable Father's Day coupon book? I've got you covered!
Here's a huge list of Father's Day coupon ideas that you can use… and these are great for Dad's birthday or any other time that you want to make a coupon book for him, too!
breakfast in bed
clean out Dad's car
wash Dad's car
1 hour of watching football together
family sporting event date
make Dad's favorite dessert
takeout dinner from Dad's favorite restaurant
breakfast in bed
1 hour nap
Dad gets control of the remote for one night
take out the trash for Dad
Dad picks the movie for family movie night
Dad picks the game for game night
2 hours of "me" time
get out of 1 chore
someone else mows the lawn
go out for ice cream
Printable Father's Day Coupon Book Template
This super cute Father's Day coupon book template PDF is available in my shop! Just click the link below to check it out: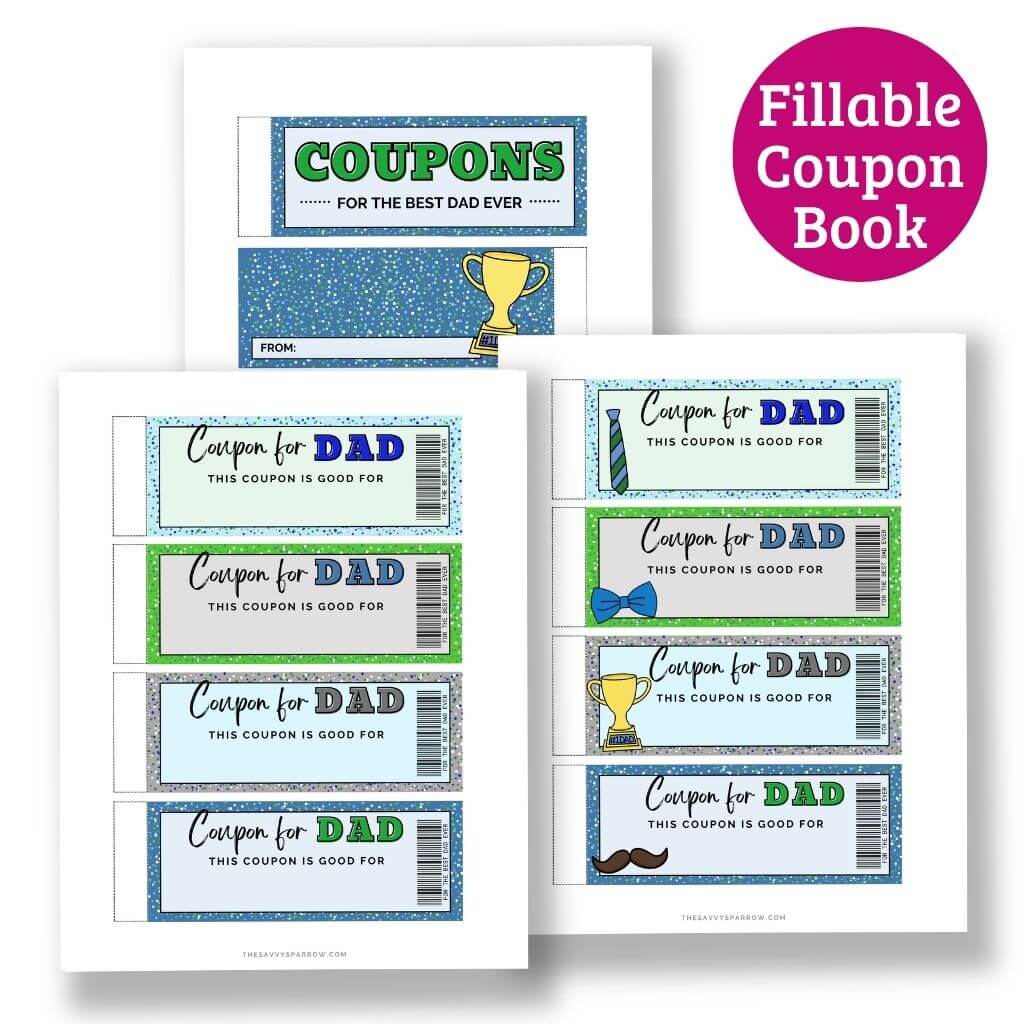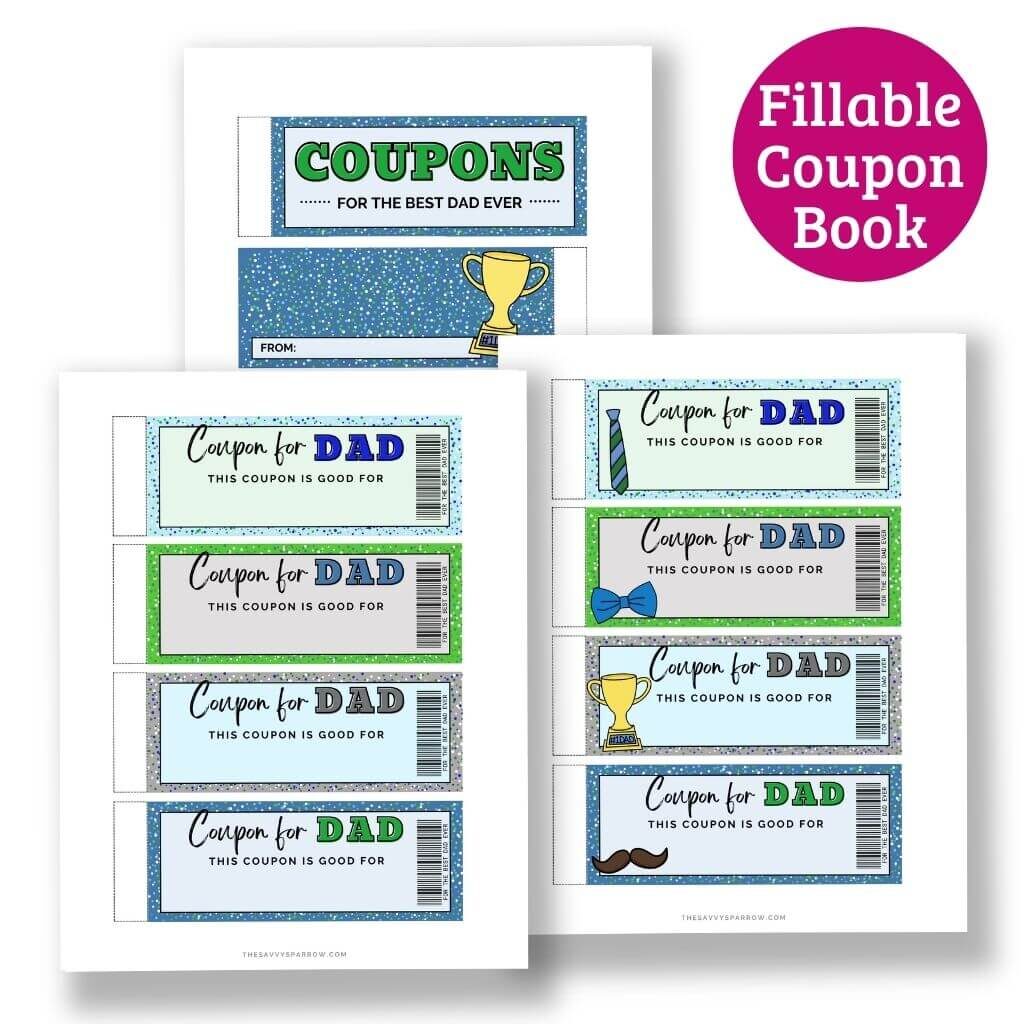 Click HERE for the Printable Father's Day Coupon Book!
I hope you loved this easy last minute Father's Day gift idea! What kind of coupons would your husband enjoy? Leave me a comment down below… I'd LOVE to hear from you!
And be sure to check out this post for a fun Father's Day card idea: Folded Tuxedo Card Craft – Fun Father's Day Card for Dad! Grab the free printable template to make this cute card for Dad to go along with your coupon book!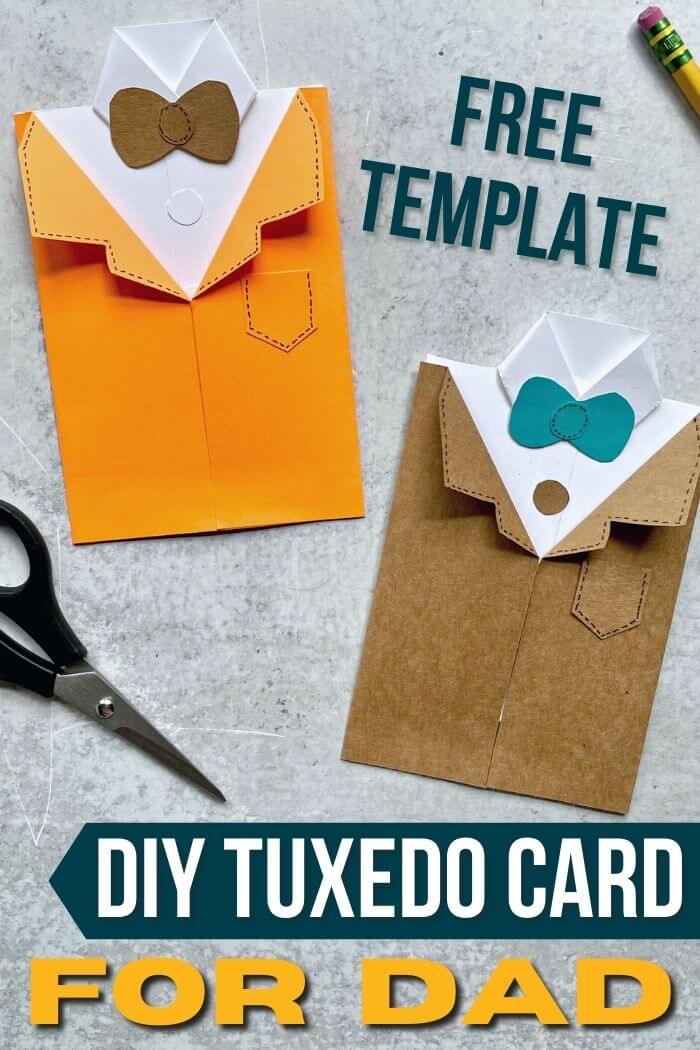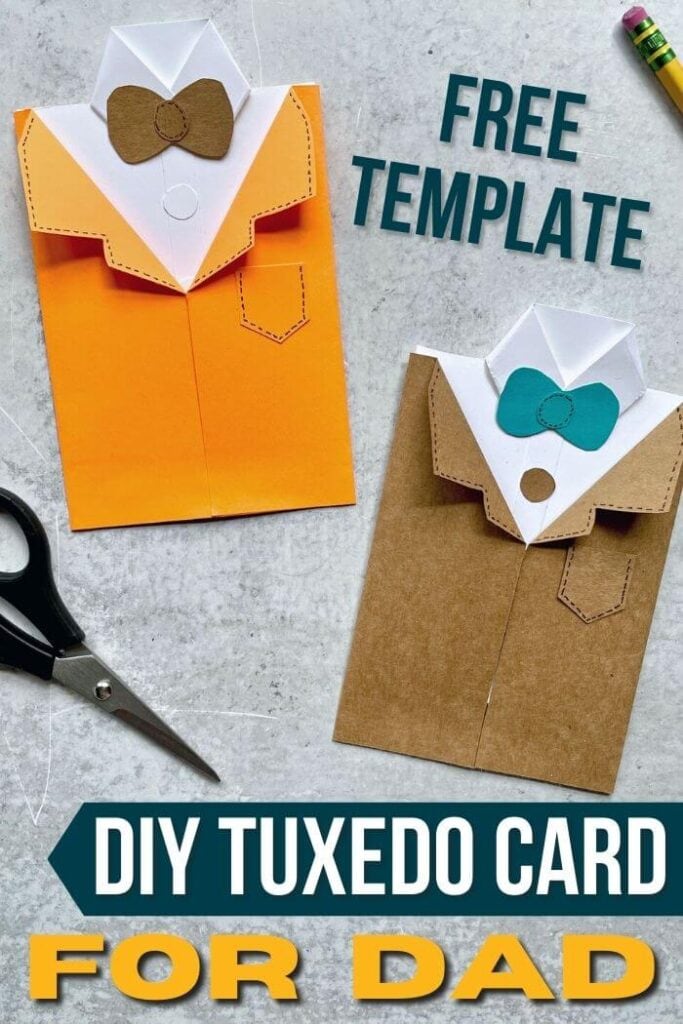 Don't forget to PIN this post for later: