Looking for fun and easy 4th of July party favors for kids? They'll LOVE these ring pop gifts with printable "Let Freedom Ring" gift tags!
Fourth of July is right around the corner, and to celebrate we often host a little get together of family and friends. We've got lots of kids in our extended family, and my daughters like to invite their neighborhood friends also, so I'm always on the hunt for extra special things to do for the kids.
In years past, I've made this Fourth of July Flag Cake with store-bought treats like brownie bites and Twinkies, but this year I was wanting to do something a little easier that could be used as a "grab and go" party favor as guests head out the door to go home.
And when I was browsing the aisles of Dollar Tree searching for inspiration, it hit me in the middle of the candy section… 4th of July Ring Pop Party Favors with printable tags that say "Let Freedom Ring"!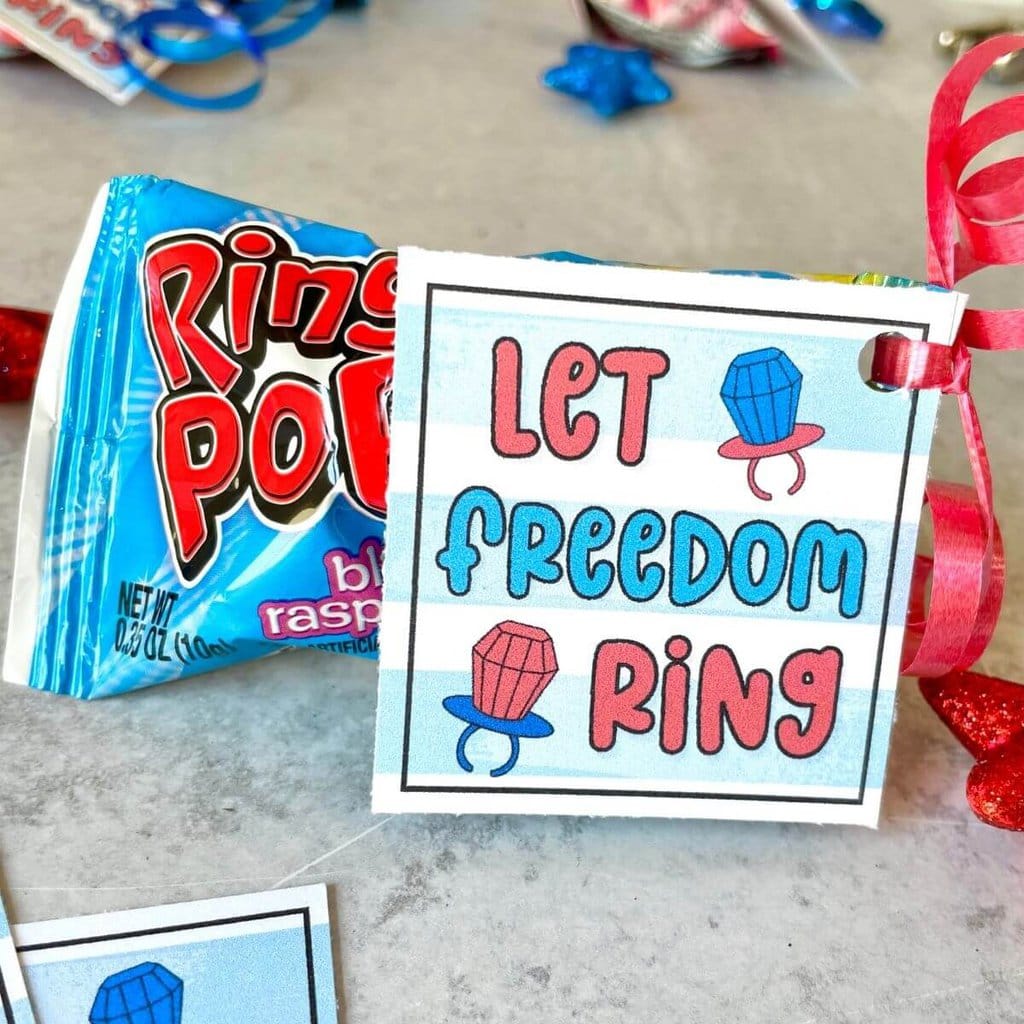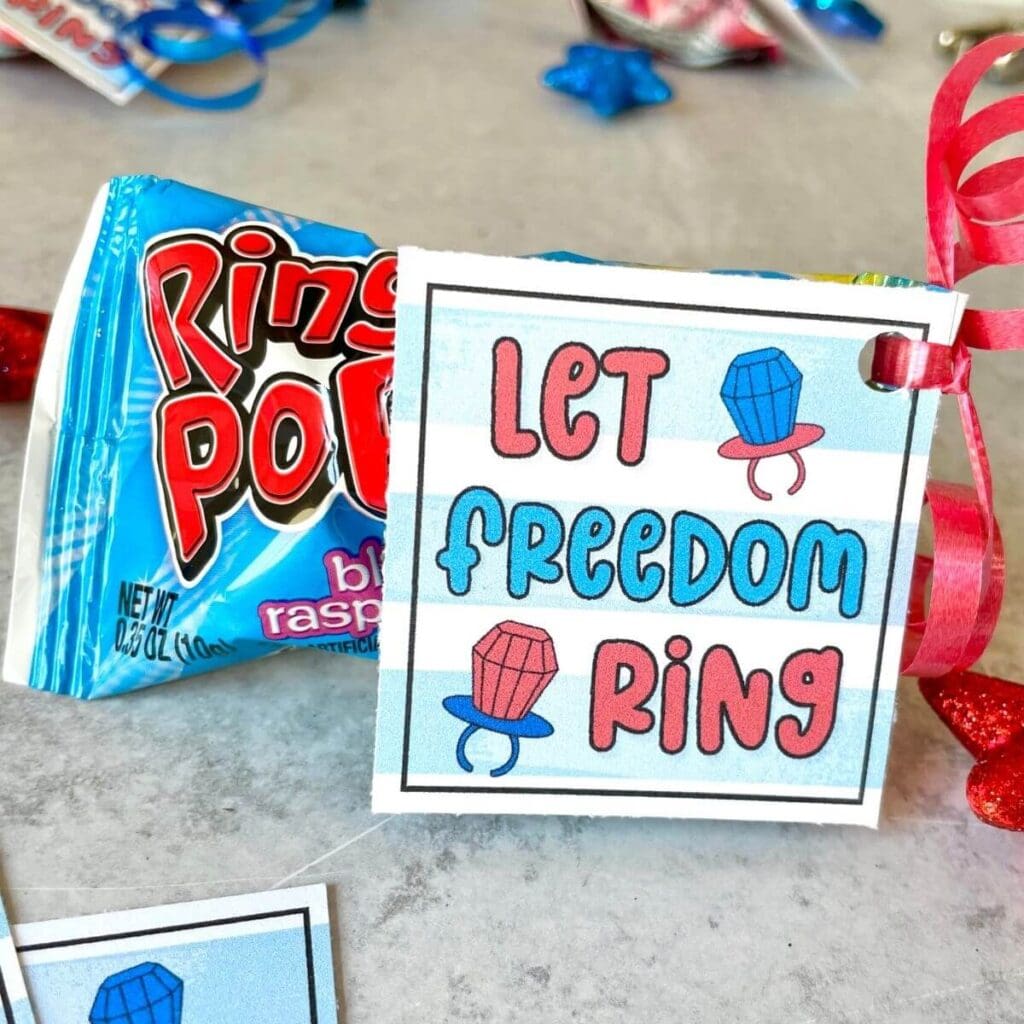 Even if you don't host a big party, these cute July 4th treats are awesome to drop in your neighbors' mailboxes or to pass out during summer playdates. Here's how to make these easy patriotic candy treats:
Supplies Needed
Make your own 4th of July party favors with ring pops using these supplies: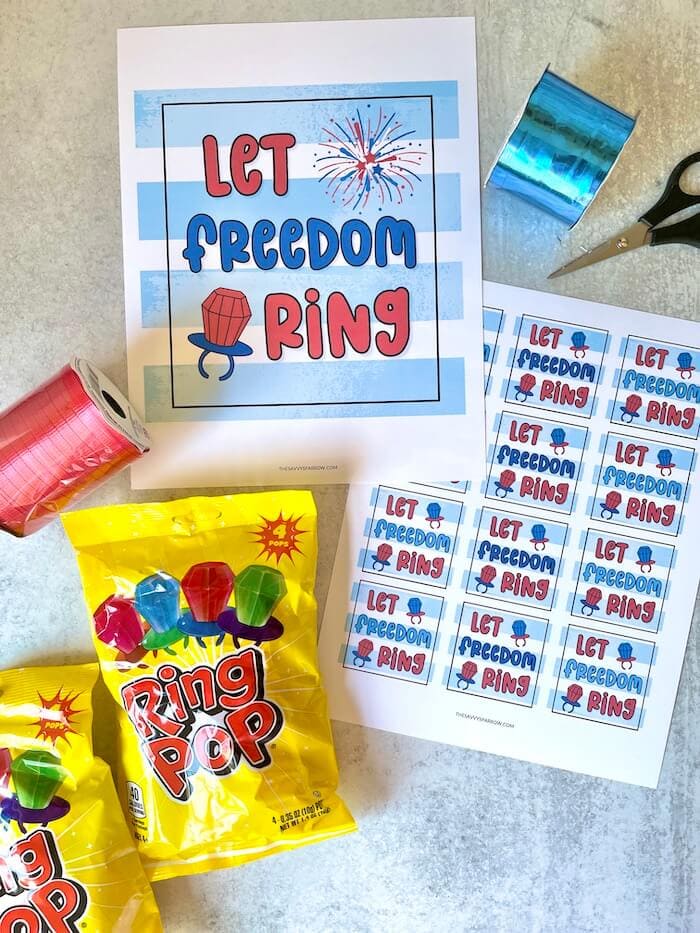 individually wrapped ring pops – You can usually find 4 packs of ring pops at Dollar Tree.
white card stock
scissors or paper trimmer
hole punch
curling ribbon
"Let Freedom Ring" ring pop printable favor tags – Available in my shop down below!
Make Individual Ring Pop July 4th Party Favors
If you want to make individual party favors to give to the kids at your July 4th party as they head home, then you can use the smaller, individual-sized "Let Freedom Ring" printable gift tags. These favor tags are super easy to use for patriotic party favors: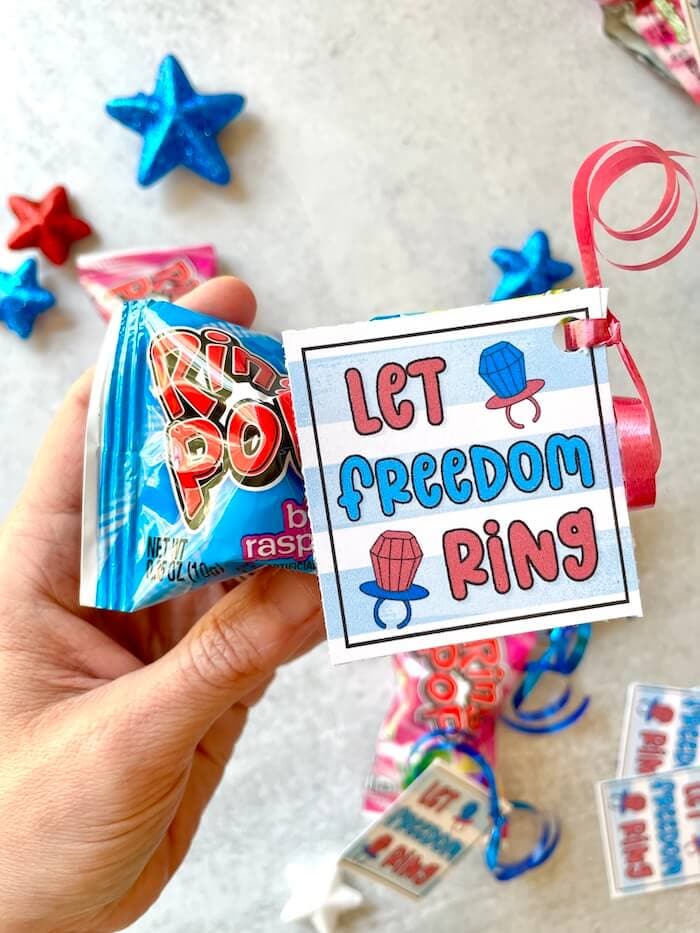 Print the "Let Freedom Ring" gift tags PDF.
Cut out the individual favor tags.
Hole punch the top right corners of the favor tags and the individually wrapped ring pops.
Use curling ribbon to attach the patriotic gift tags to the ring pops.
Make a Bowl of July 4th Ring Pop Favors
If you don't want to create individual party favors with the ring pops and small favor tags, then you can set out a large bowl of ring pops on your dessert table instead. The printable 4th of July party favor tags include a larger sign that can be added to a bowl or basket like this: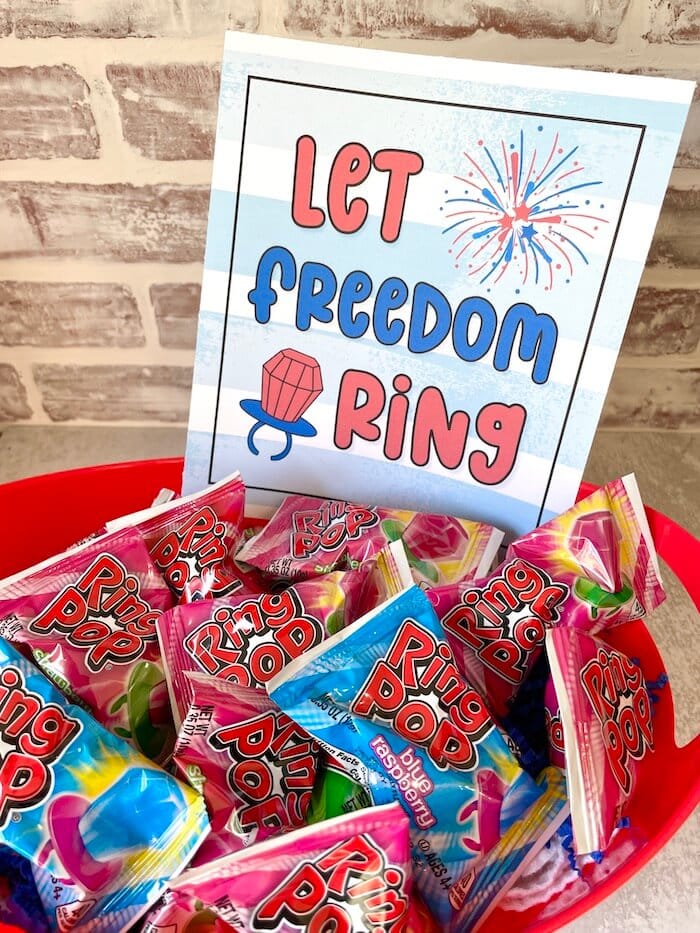 You can add some blue or red paper shreds or tissue paper to the bottom of the bowl, fill the bowl with individually wrapped ring pops, and add the printable "Let Freedom Ring" ring pop sign to the bowl.
A super cute addition to the buffet table at your Fourth of July party, don't you think?!
Printable Let Freedom Ring Favor Tags
These super cute printable ring pop July 4th favor tags are available in my shop! Just download, print, and make your own Fourth of July party favors for kids this year!
Get the "Let Freedom Ring" Ring Pop July 4th Favor Tags HERE!
And don't forget to PIN this post for later: