Y'all know that I'm always looking for kitchen shortcuts, and this easy no-bake flag dessert takes the cake! Haha… pun intended! If you're looking for easy patriotic desserts to make for the 4th of July then you're in the right place.
Yes, I know… there are a gazillion no-bake 4th of July cake ideas on Pinterest. But most of them get their red, white, and blue colors from strawberries, blueberries and whipped cream. And a patriotic cake with berries and cream doesn't exactly sound like the greatest idea for a hot summer day. Especially if your refrigerator is already stuffed to the brim with mayo-based salads.
So, I put my thinking cap on and came up with this idea, inspired by my No-Bake Valentine's Brownies for Kids (which are pretty much the easiest and most versatile dessert idea imaginable).
Just swap out the pink frosting and you've got an easy red, white, and blue dessert that's perfect for your 4th of July picnic. Here's how to make this super cute no-bake flag dessert for your next patriotic party!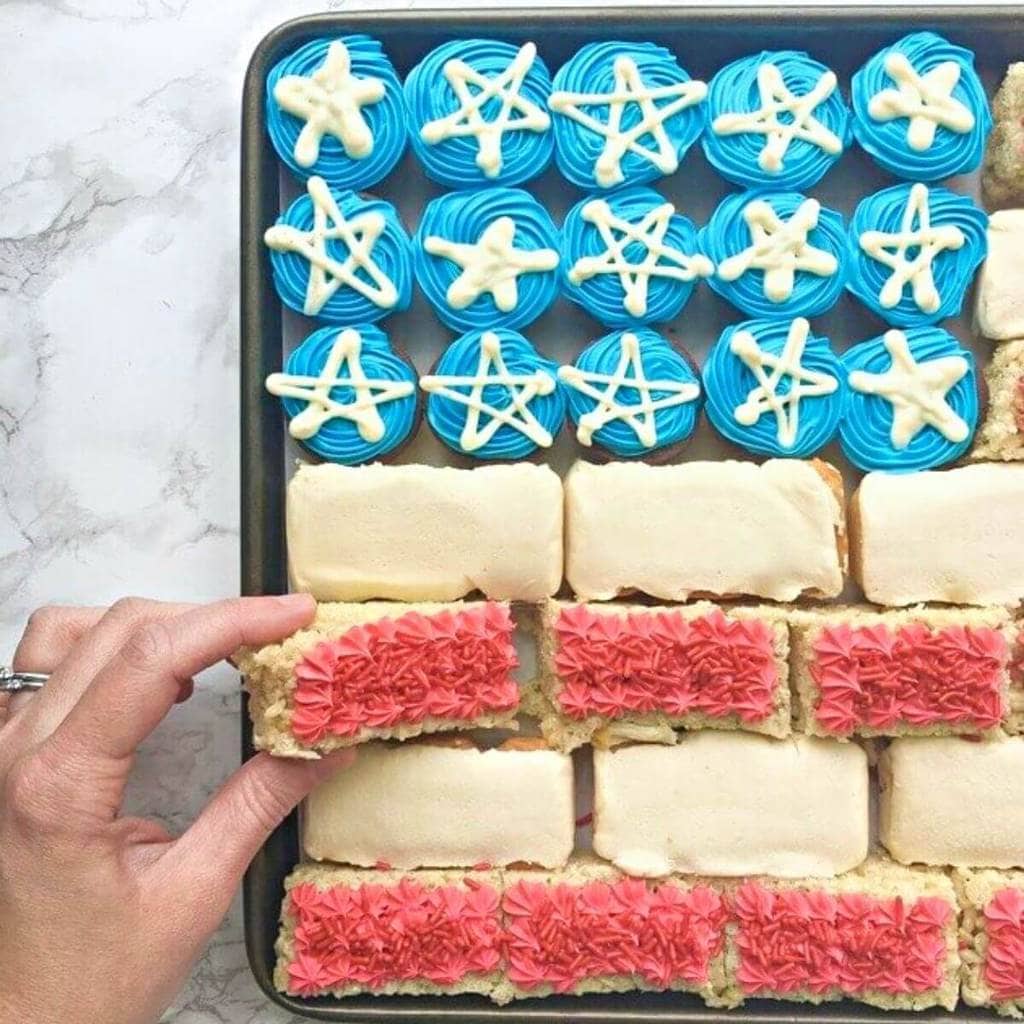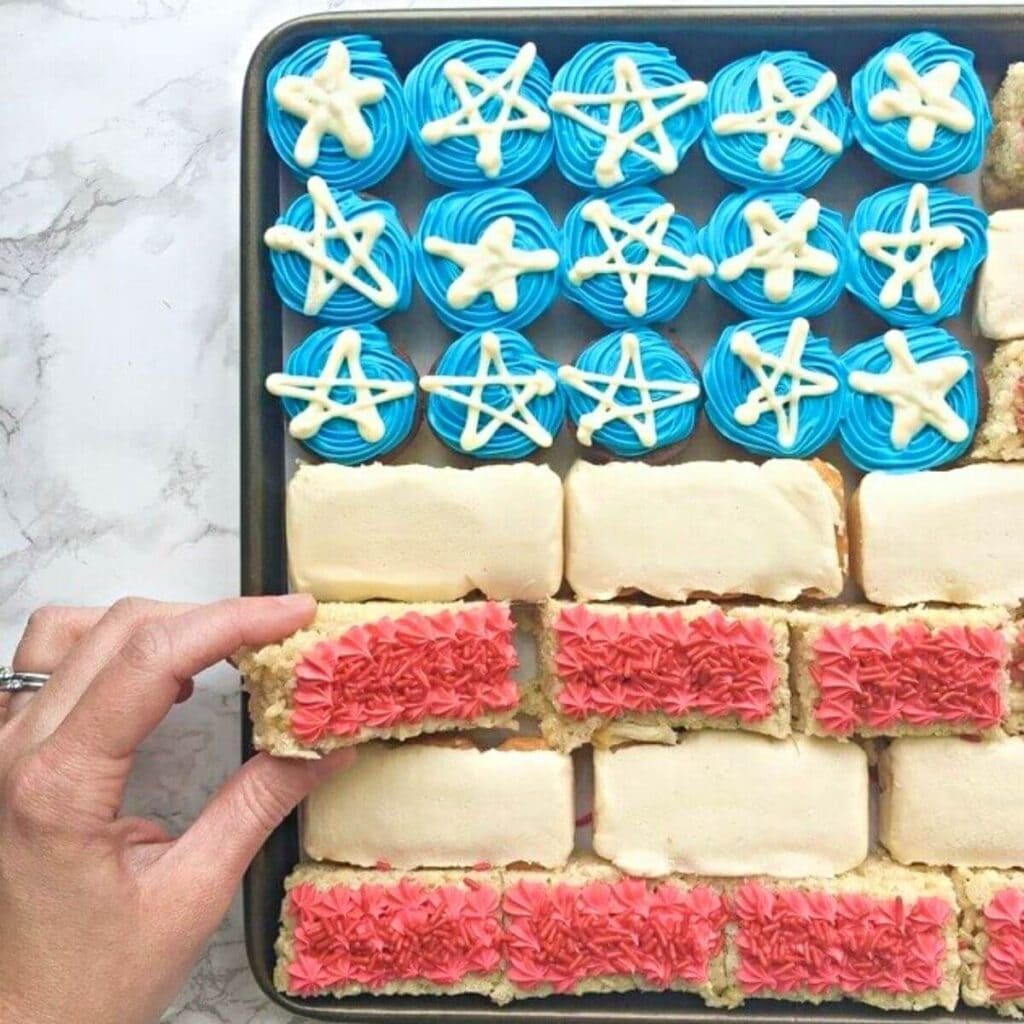 How to Make a No-Bake Flag Dessert with Store-bought Treats
This no bake 4th of July dessert idea is so easy that it's almost embarrassing. But everyone that knows me knows that I'm not a baker, so they won't be surprised when I show up to the July 4th party with this easy flag cake… and actually, the kids will probably LOVE this dessert… No healthy berries in sight! Haha!
Step 1: Gather your ingredients.
This easy patriotic flag dessert only takes a few store-bought ingredients, and some icing piping skills. Here's what you need to make the flag cake:
packaged brownie bites – I used the Entenmann's Little Bites, but any small brownie bites will work just fine.
Rice Krispies treats – you can make your own or buy the giant sheets of pre-made Rice Krispies treats and cut them down to size
packaged Twinkies or other snack cakes – preferably with white frosting
canned icing
red and blue food coloring
white candy melts
large baking sheet
icing bag and tips
wax paper
Step 2: Arrange your store bought treats in a flag shape.
Next, it's time to play a little Tetris with your snack cakes and baking sheet.
Cut your Rice Krispies treats into bars that are the same size as your snack cakes. Then, simply lay out all of your kid-friendly desserts to form an American flag shape like this: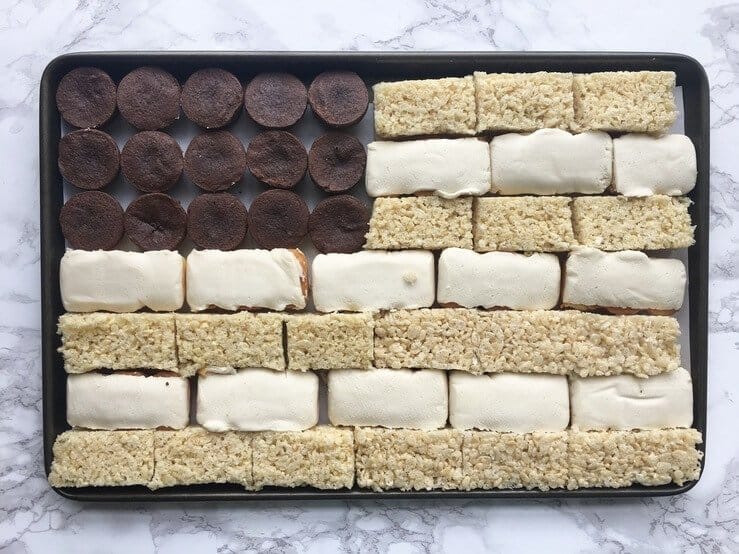 Step 3: Mix your red and blue icing and decorate the flag cake.
For the icing, just separate a can of vanilla frosting into two bowls. Tint one bowl with red food coloring and the other with blue. Then, put each color in a piping bag and decorate however you want.
I did a swirly star pattern (probably not the correct decorator's term!) for the blue iced brownie bites, and I piped individual red stars with a star tip on top of the Rice Krispies treats.
Side Note – No matter how much "Christmas Red" food coloring that I used, I still couldn't get American flag red, so I just added red sprinkles on top of the red icing to get a deeper red color.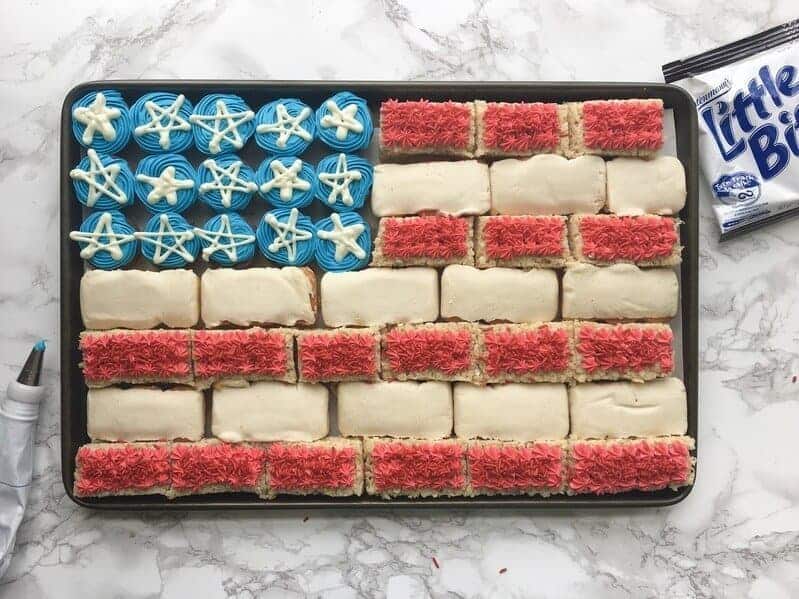 Step 4: Melt white candy melts for the stars on the no-bake flag cake.
After the snack cakes are decorated with red and blue icing, it's time to create the cute white stars to set on top of the brownie bites. And even though they look fancy, these white candy melt stars are a cinch to make (remember, non-baker here!).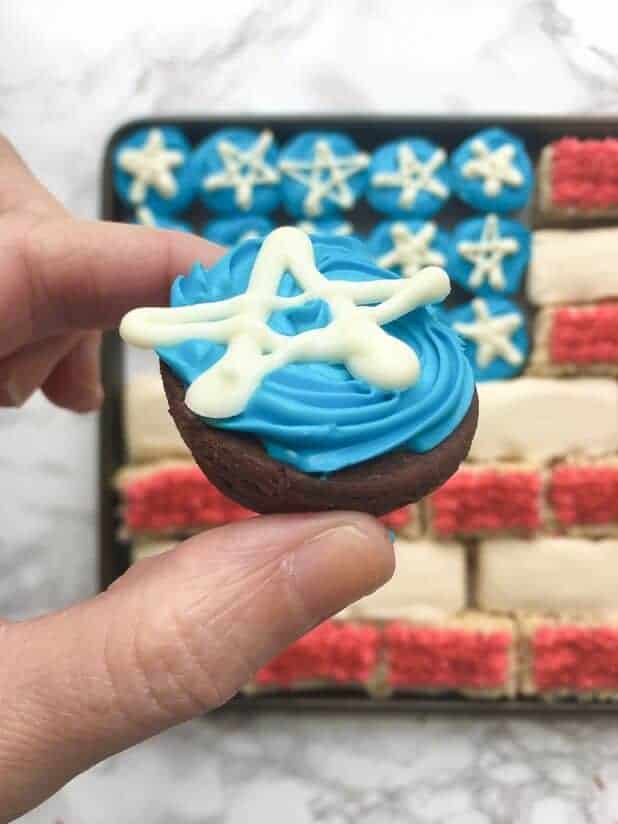 Just melt white candy melts in a microwave-safe bowl. Pour the melted white candy into a ziploc bag after it's cooled down a bit. Cut a small hole in one corner, and "pipe" stars onto a piece of wax paper. Let the stars dry fully, and then carefully remove them from the wax paper and transfer one star to the top of each brownie bite.
Not gonna lie, super proud that I made these cute stars all by myself: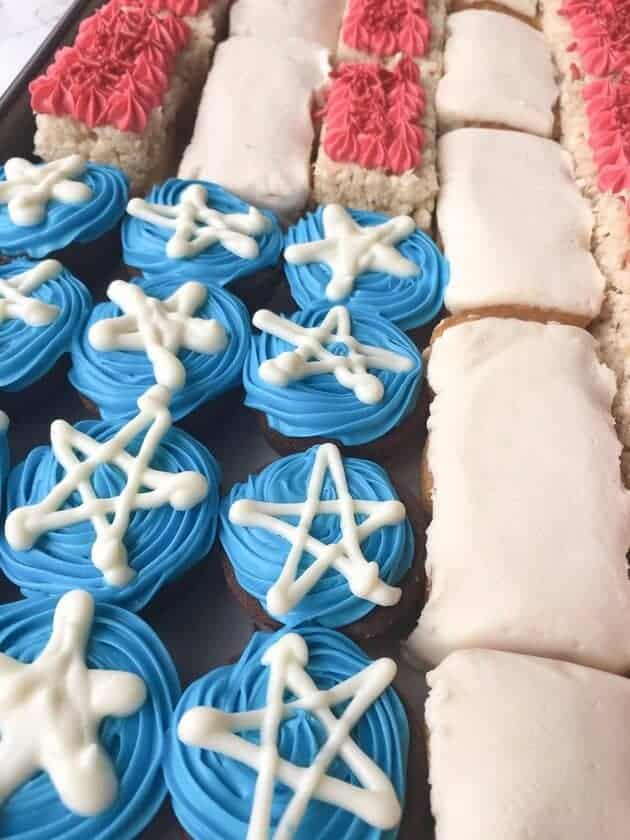 And trust me when I say, if I can make this red, white, and blue dessert, then you can too!
I hope you loved this easy 4th of July flag cake idea! The kids will surely love it and, since this no bake flag dessert is already pre-portioned and ready to go for your 4th of July party, it's the perfect easy patriotic dessert for your potluck. Just like a pull-apart cupcake cake, minus the mess.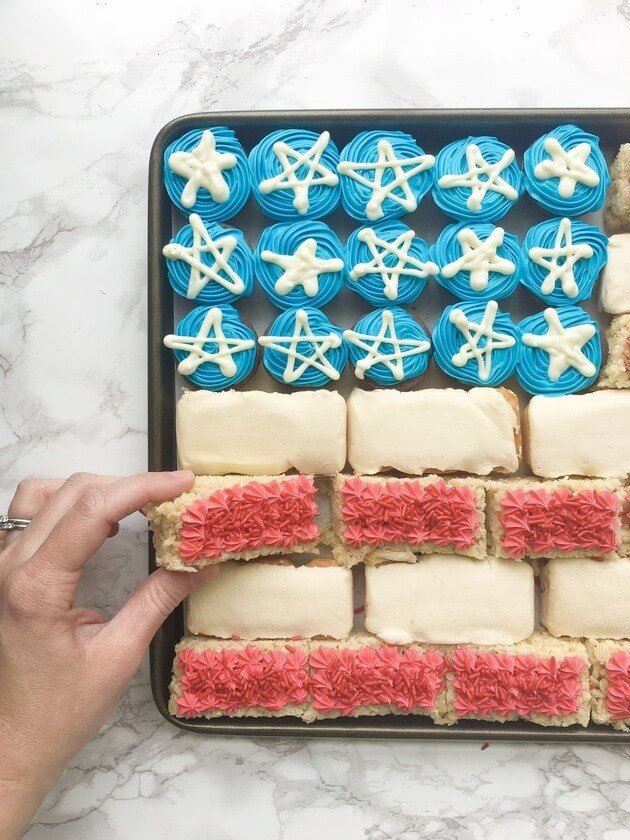 And, all of the ingredients are just fine to stay out of the refrigerator, making it the perfect red, white, and blue flag dessert for your 4th of July picnic!
Here's the "recipe" (if you can even call it that!) for this easy no-bake flag cake dessert:
Yield: 24 servings
No-Bake Flag Dessert for 4th of July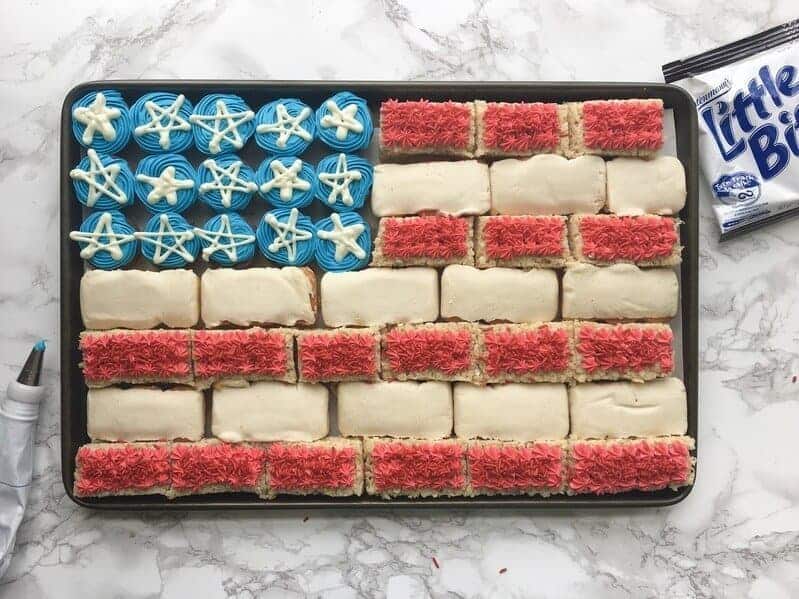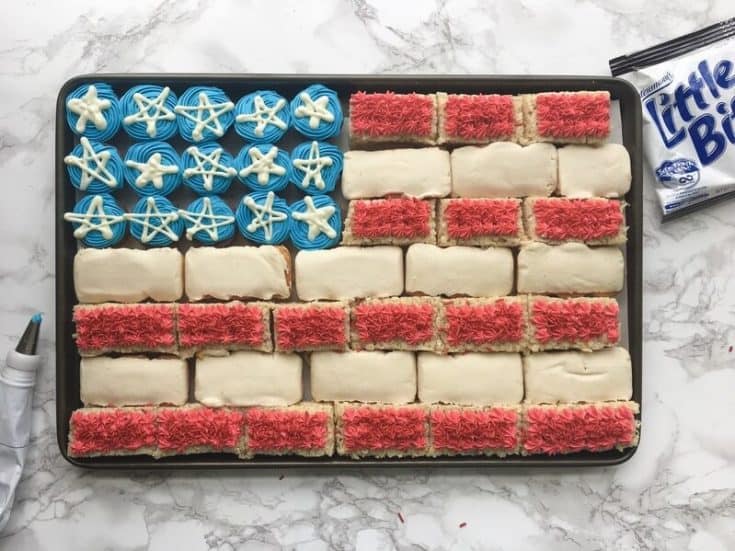 This no-bake flag dessert is one of the best, easy 4th of July dessert ideas because it doesn't require refrigeration. Make this easy flag cake if you need 4th of July picnic ideas to feed a crowd. Even the kids will love this no-bake patriotic dessert!
Prep Time 20 minutes
Cooling Time 10 minutes
Total Time 30 minutes
Ingredients
1 box store-bought brownie bites
1 box store-bought snack cakes (like Twinkies, Little Debbie, Hostess, etc) pre-decorated with white icing
1 pan of Rice Krispies treats (homemade or store-bought)
1 can store-bought vanilla icing
1 bag white candy melts
red and blue food coloring
red sprinkles (optional)
Instructions
Cut Rice Krispies treats into bars that are the same size as your snack cakes.
Assemble flag shape on a large cookie sheet using alternating rows of Rice Krispies treats and snack cakes for the stripes and brownie bites for the star area.
Separate the canned frosting into two bowls, about 1/3 of the can in one bowl and 2/3 of the can in the second bowl.
Tint the 1/3 bowl using blue food coloring until desired color is reached.
Tint the 2/3 bowl using red food coloring.
Fill 2 pastry bags (one with red and one with blue) and pipe Rice Krispies treats stripes with red and brownie bites with blue.
Melt white candy melts in a microwave-safe bowl according to package directions.
Allow candy melts to cool a bit and then transfer to small ziploc bag or pastry bag.
Cut a small hole in the corner of the ziploc bag and pipe star shapes (about the same size as the top of the brownie bites) onto wax paper.
Allow stars to cool completely and place on top of decorated brownie bites.
If you want to spend a bit more time in the kitchen this 4th of July, then check out my Momma's Blue Ribbon Chocolate Sheet Cake that's perfect for summer picnic desserts! Yes, she did win a blue-ribbon at the state fair for this one!
And don't forget to PIN this post for later: