You know the Mom that bakes the most perfect homemade brownies with fresh ground flour from the wheat fields in her backyard and then meticulously places rainbow sprinkles using tweezers? Yeah… I'm not that Mom. Amazon Prime and rotisserie chickens are my best friends, and I'm not about to spend 2 hours baking and decorating brownies that could rival the likes of Martha Stewart. So when I sign up to bring the Valentine's Day treats to my daughter's class party, I make these easy No Bake Valentines Brownies: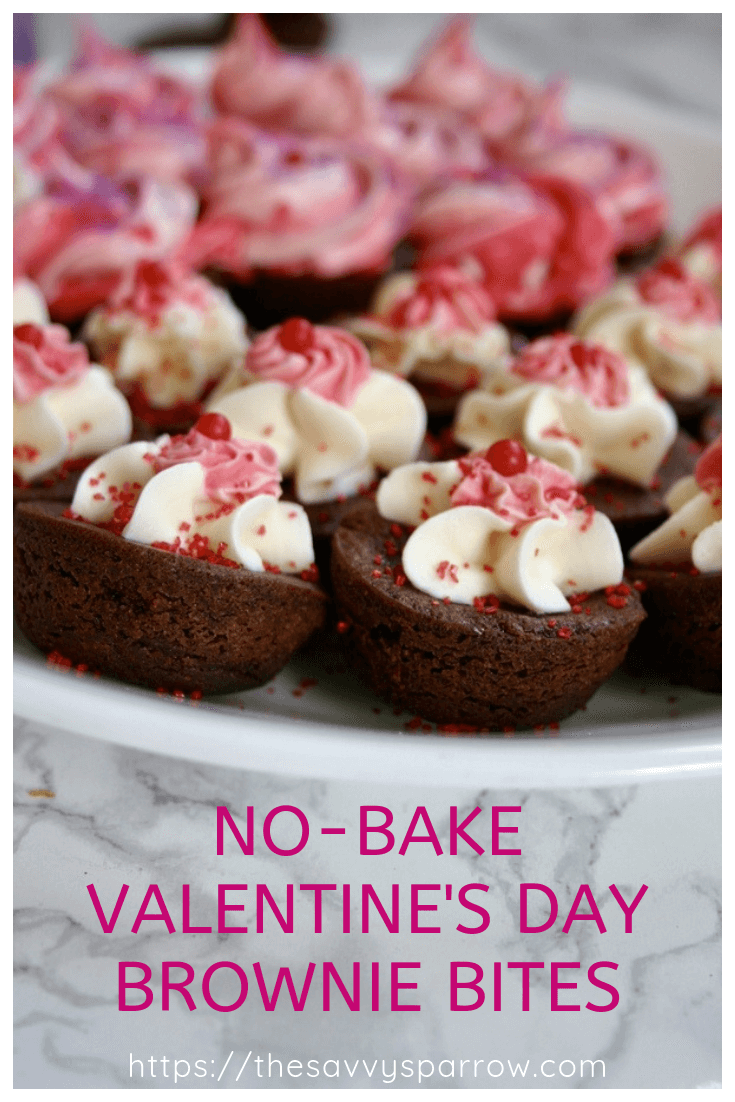 Okay, technically they're brownie bites. But they're still super cute, without all the stress of actually turning on the oven and dirtying up the kitchen.
What's my secret? Store-bought brownie bites!
I used Entenmann's Little Bites brownies, but you can also use the pre-made brownie bites in your grocery store's bakery department. I scored these on sale for BOGO.
And, yes… I even cheated on the icing.
Because most kids I know don't care if it's homemade sugar or store-bought sugar… all they know is that it's yummy sugar! 🙂
So, I opened a can of Duncan Hines vanilla frosting, added a dab of gel food coloring that I already had on hand, and mixed it up.
Then came the hardest part of these easy no bake valentines brownies… I actually got out a piping bag and a large star tip and piped the colored icing onto the brownie bites.
To get the multi-colored ombre effect, I filled one pastry bag with the pink icing and another pastry bag with the white icing. Then, I set both bags into a larger pastry bag and attached the star tip to the large bag. That way the icing colors are separated until they are piped out.
Although, if you want to make these super-duper easy you can just use a butter knife to quickly frost them. But, you know… instagram picture. 🙂
If I didn't spend the extra 5 minutes making them pretty, then I wouldn't have this photo: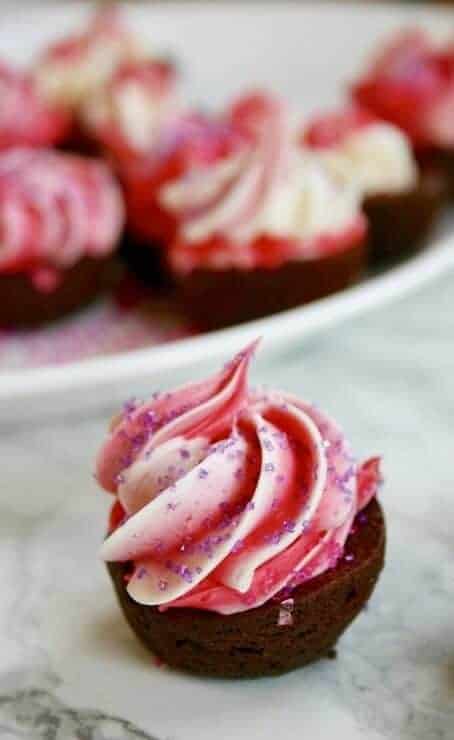 Priorities, am I right?
I hesitate to leave an actual recipe here, because these easy no bake Valentines brownies are pretty much just a few store-bought ingredients put together to look like a fancy dessert. But, in case you want the "recipe" here it is:
Yield: 8 Servings
Easy No-Bake Valentines Brownies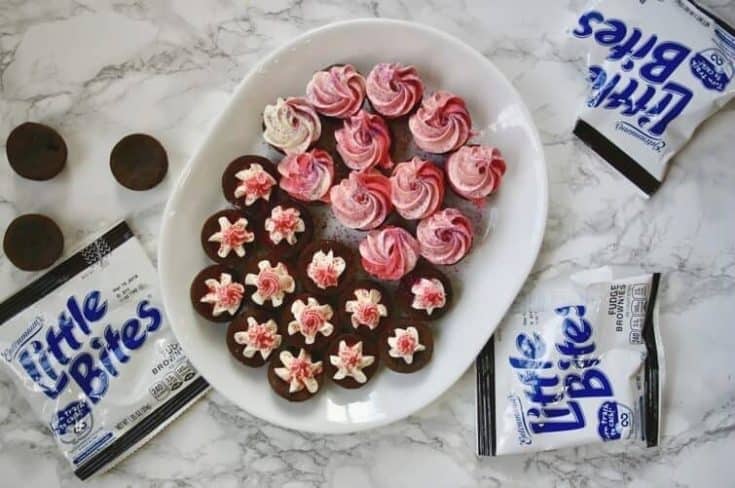 These no-bake Valentine's brownies are so easy, that they don't really even need a recipe. Just add your favorite canned frosting, food coloring and store-bought brownie bites for a sweet and easy treat!
Prep Time 8 minutes
Total Time 8 minutes
Ingredients
25-30 brownie bites, store-bought
1 can frosting, store-bought
gel food colors of your choice
sprinkles
Instructions
Add your choice of gel food colors to icing and mix well until you have the desired color.
Frost brownie bites. For fancy brownie bites, use a piping bag and decorator's tip.
Top with sprinkles of your choice.
Nutrition Information:
Yield:
8
Serving Size:
3-4 brownie bites
Amount Per Serving:
Calories: 261
Total Fat: 16g
Saturated Fat: 4g
Trans Fat: 0g
Unsaturated Fat: 11g
Cholesterol: 39mg
Sodium: 187mg
Carbohydrates: 29g
Fiber: 0g
Sugar: 2g
Protein: 3g
Nutrition information isn't always accurate.
Want to make this quick and easy treat for other holidays? Just swap out the icing colors, pile that icing high, and you'll be the favorite Mom in the class!
Have more time to make dessert? Try my Mama's Blue Ribbon Chocolate Sheet Cake… though be warned… your kitchen won't be near as clean after this sweet treat!
Or, for a fun and interactive Valentine's Day dessert, try this Homemade Chocolate Fondue!
What are your best short-cuts for class party treats? Leave me a comment and help a fellow Mama out. 🙂