If you struggle with making dinner every night, then you're in the right place! I've rounded up the best tips for how to make cooking dinner easier!
I will have to admit though… I had to consult my hubby on this post. I don't cook a thing, unless it comes out of a box or involves two pieces of bread and some lunchmeat. (Besides these Best Ever Mini Chocolate Chip Pancakes that my hubby taught me to make!) But, I do know that every night many of you struggle with cooking dinner. Planning, shopping, measuring, boiling, baking, washing… it can be stressful to prepare dinner. Especially if you're a super busy Mama and dinner time is squeezed between homework and soccer practice.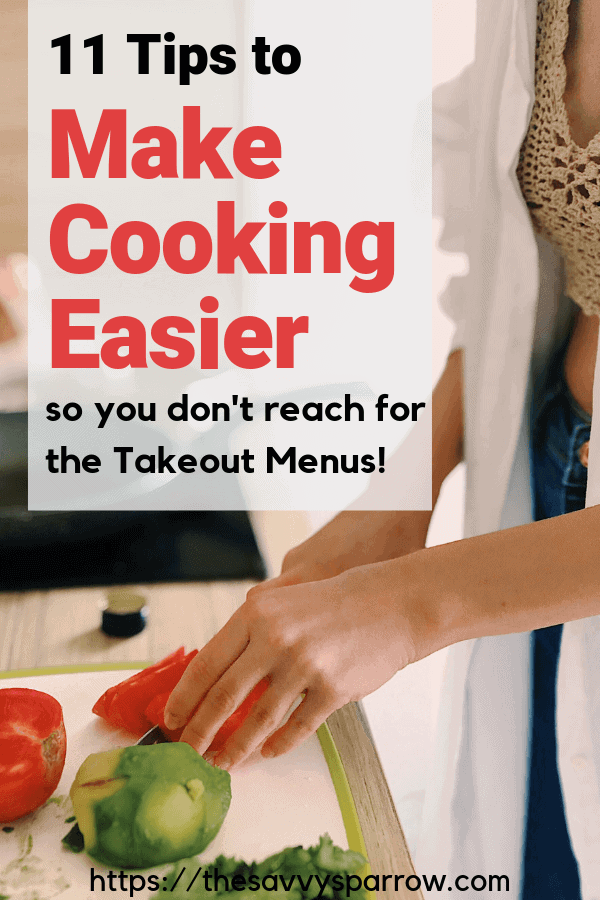 *This post contains affiliate links, which means I may earn a small commission from these links at no additional cost to you. Read my full disclosure here.
But, what makes me… er, him… qualified to tell you how to make cooking dinner easier?
I'm glad you asked!
Yes, it is true that my incredible husband has worked as an Executive Chef at a high-end steakhouse, but even more relevant is his experience in the US Navy. For four years, he ran a kitchen that was responsible for feeding over 3,000 people three meals a day. And you thought it was stressful cooking dinner for your family. 🙂
So, without further ado, here are his best tips for how to make cooking dinner easier:
How to Make Cooking Dinner Easier:
1. Make a Double Batch and Freeze One for Later
Right now in our freezer we have whole meals of chicken enchiladas, chili, and lasagna. If my husband is cooking something that takes a bit more effort like lasagna, he makes two separate pans. On occasion, we will also have a large amount of leftovers (like when he makes a big pot of chili and only the two of us eat it), and we will freeze enough for a second dinner.
For chili or other non-cream based soups, I prefer to freeze in ziploc bags because then I can just thaw the whole bag overnight in the fridge and dump it into a pot to reheat. For meals that need to be baked in the oven to reheat, I just go ahead and freeze them in a lidded Pyrex dish with plastic wrap to prevent freezer burn. Then, I thaw them overnight in the fridge and just pop the whole baking dish in the oven for a dinner that takes basically ZERO effort.
2. Use Pre-Made or Pre-Prepped Ingredients
Costco rotisserie chickens are a favorite in our house! When we don't want to just have the chicken for dinner as-is, we pull it off the bone and use it for a wide variety of tasty and easy recipes. Our Low Carb Chicken Broccoli Casserole with Cauliflower Rice and our Low Carb Barbecue Chicken Tortilla Pizzas are both made with rotisserie chickens. We've also used rotisserie chicken for Buffalo Chicken Wraps and as the protein on big 'ol salads.
Speaking of salads, if you are in desperate need of tips to make cooking easy, then buy pre-washed and cut salad mixes. Yes, you will pay a premium, but it will save you time versus chopping your own lettuce and washing the knife and cutting board.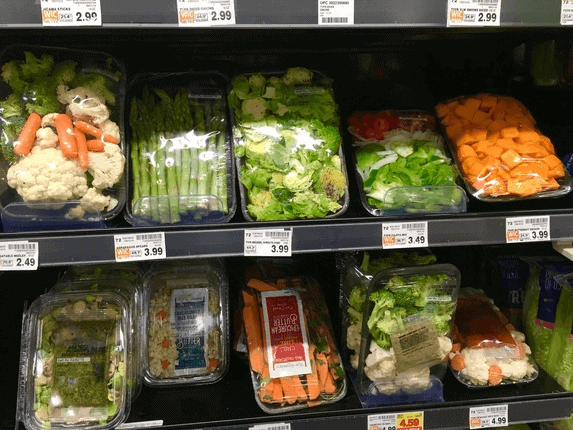 You can also purchase pre-prepped fresh veggies for various recipes to make cooking easy. Diced onion, husked fresh corn, shaved brussel sprouts, and sliced peppers are just a few of the convenient produce items available at my local store. Save yourself some time by grabbing these convenient ready-to-go packs. But be warned, going this route will cost you a bit more money.
3. Have Someone Else Do the Planning for You
Half the battle of cooking dinner is figuring out WHAT to cook. And if you want to know how to make cooking dinner easier, then try out a meal planning service.
How many times have you stood in front of your open fridge, scanning the shelves full of food, and thought to yourself "What am I going to make for dinner? We don't have anything!". Or, do you feel like you're competing in a solo version of Chopped each night? Like, what can I make with raspberries, dijon mustard, and bologna?
Planning dinners, finding recipes, and creating shopping lists can take FOREVER! So, have someone else do it for you.
One of my favorite meal plan services is The Dinner Daily. You put in your dietary restrictions, what types of proteins you enjoy and how frequently, and your favorite grocery store and The Dinner Daily creates custom menus for you based on what is on sale at your store. Plus, if you don't like one of the recipes you can easily switch it out for a new one. Once your weekly menu is created you can instantly download a shopping list for your whole week's meals. It couldn't be easier!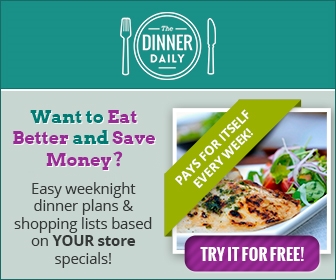 4. Prep Extra Ingredients
When I'm peeling and cutting carrots, I prep more than what I need for that night's dinner because the peeler and cutting board are already dirty. Hearty vegetables like carrots and onions will stay good in the fridge for several days, so go ahead and prep extras that you need for upcoming meals.
I pack carrot and celery sticks in my daughters' lunch boxes, so if I am prepping them for dinner, then I go ahead and make them for their lunches too. Less work for Mommy later!
5. Use Your Grocery Store's Curbside Pick-Up
Going to the grocery store with your mile-long list, your bouncy toddler, and your coupon app can be enough to make any Mom reach for the Takeout menus. So skip the grocery store altogether and order your groceries through your store's app for Curbside Pick-Up. If you're lucky enough to have a store nearby that offers this service, then USE IT. I don't even have to get out of the car when I use Kroger's curbside pick-up. I just pop open the trunk and they load my groceries right into my car. Yes, please!
6. Be Prepared – Thaw out meat
Once a week, I do an inventory of my freezer and transfer meats that we will be cooking for that week to the fridge to thaw. There is nothing worse than realizing at 4:00pm that you forgot to thaw out tonight's ground beef for tacos. Your kids were looking forward to Taco Tuesday and now it looks like Tuna Salad Tuesday.
You can have a plan for dinner, but you must be prepared to execute that plan. And it's hard to make tacos with a rock-hard frozen block of ground beef.
7. Keep the Pantry Stocked with Staples
Rice, pasta, canned tomatoes, canned beans, olive oil, flour, soy sauce… these are just a few of the staples that we make sure to have on hand at all times. Let your favorite recipes dictate what pantry staples you should keep stocked.
You don't want to make your life harder by starting to prep dinner only to realize that you're missing a key ingredient.
8. Repurpose Leftovers
Leftover grilled chicken turns into a delicious Greek Chicken Salad or Grilled Chicken Quesadillas or Low Carb Arroz con Pollo with Cauliflower Rice. Leftover Beef Pot Roast gets transformed into Vegetable Beef Stew.
My husband is not a fan of eating leftovers. Like, at all. But he is fantastic at adding a dash of this and a pinch of that to use leftovers to make something completely new. And most of the time, what he makes is super simple because a main portion of the meal has already been prepared.
For instance, if he makes a pot roast in the slow cooker one night, then we refrigerate any leftovers. For the next night's meal, we literally dump the whole pot roast (sauce, potatoes, carrots, and all) into a dutch oven, add a bag of frozen mixed vegetables and a can of beef stock, and dinner is done.
I don't cook, but even I could do that! 🙂
9. Breakfast for Dinner
Yes, we eat breakfast for dinner once a week. And I'm not ashamed of it. My kids LOVE having breakfast for dinner, and it's usually much easier to make.
We make a big pan of scrambled eggs or a delicious veggie-packed frittata. And if we're feeling extra lazy, then we'll make "cheater" egg-in-a-hole.
How do you cheat at egg-in-a-hole, you ask? We just make over-easy eggs in the skillet and pop the buttered bread into the toaster oven. Then just top your toast with your finished egg. It looks like egg in a hole, except you save yourself a few steps by not actually cutting the "nest" out of the middle of the toast. Our kids love it, and they don't care that their eggs are homeless. 🙂
FYI – If you love crispy bacon for breakfast (or dinner) save yourself some clean-up and flipping and cook your bacon in the oven. I like my bacon so crispy that it disintegrates into bacon dust when you bite into it. Like so crispy that if you accidentally drop it on your plate then it cracks. I cook bacon on a baking sheet lined with aluminum foil in a 350 degree oven for about 25 minutes. It's perfect every time, and I'm not left scrubbing grease off my stovetop.
10. Two Words – "Slow Cooker"
Get it out of the cabinet. Dump in a little of this and a little of that. Plug it in. Turn it on. And do your cooking on auto-pilot.
If you want to know how to make cooking dinner easier, then dust off your crock pot
. With your crockpot, you don't even have to be home to cook dinner, which is great for busy Moms. Run your errands, pick up your kids, and come home to a finished meal.
11. Minimize Clean-Up
Aluminum foil is my best friend. Anytime that we're cooking something on a sheet pan, I cover it with foil first. Then, when dinner is over and I'm staring at a pile of dishes, at least I know that I don't have to wash a crusty sheet pan that doesn't even fit in the sink.
What are your best cooking tips for how to make cooking dinner easier? Leave me a comment with your best tips and help other over-worked Mamas out! And check out these easy yummy recipes that will help you to cook a fabulous meal without the extra stress of looking up the meaning of sous-vide: