The Melting Pot is an absolute favorite restaurant of ours. Something about dipping solid carbs into liquid carbs just excites me! 🙂 And we love The Melting Pot's chocolate fondue so much that we used to go there a few times a month and just order dessert… way back in the day before kids and a mortgage. Now we bring the fondue fun home with our own homemade chocolate fondue.
Pair this yummy melted chocolate with your favorite dippers for a decadent and easy interactive dessert.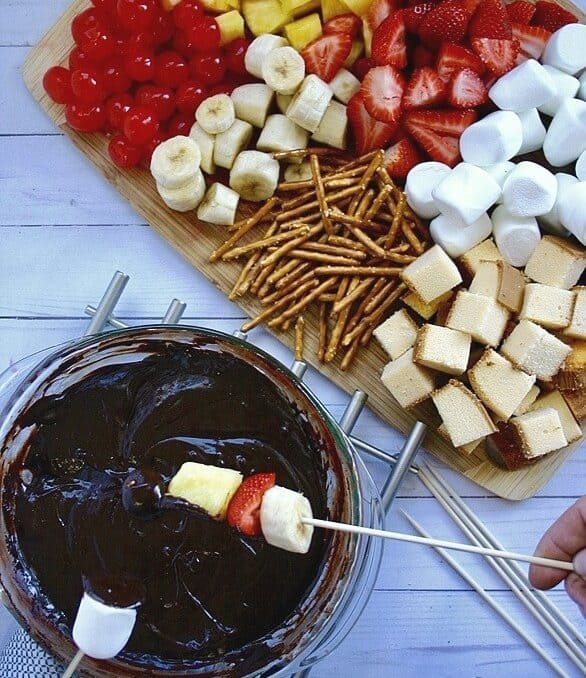 This homemade chocolate fondue has become a Valentine's Day tradition in our house. The kids absolutely LOVE it! And hey, at least they're getting their fruit servings in.
BTW – This is also my rationale behind apple pie, strawberry cheesecake, cherry cobbler, and pretty much any other dessert that includes fruit which, remember, has a substantial place on the Food Pyramid.
But the absolute best thing about this homemade chocolate fondue is how easy it is to make. No fancy fondue pot or fondue forks needed!
How to Make Chocolate Fondue
Step 1: Gather Your Ingredients and Prep Your Fondue Dippers
The perfect homemade chocolate fondue starts with… what else… chocolate! We used semi-sweet chocolate chips, but you can also use chocolate baking bars in this recipe.
Here's everything you need to make your own chocolate fondue:
Good quality chocolate chips or chocolate baking bars (like Ghiradelli's)
Heavy cream
Chunky peanut butter – this is the not-so-secret ingredient to Melting Pot's Chocolate Fondue
Vanilla extract
Fondue dippers of your choice
I was going for the dessert charcuterie look, so I just piled my dippers high on a cutting board: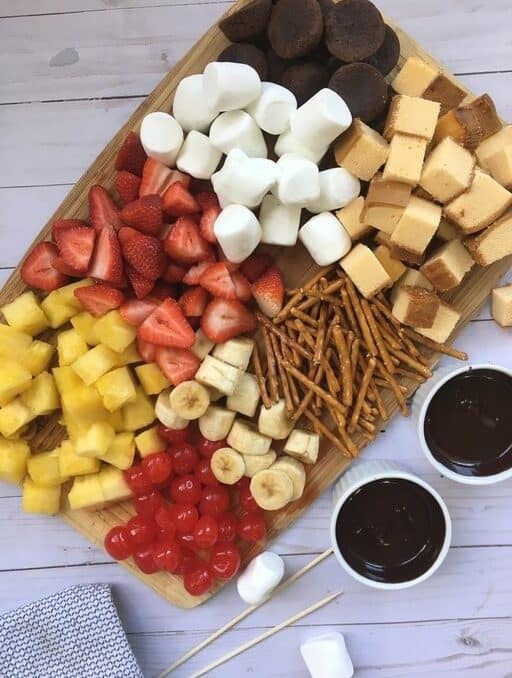 Want to know what to use as dippers?
Easy Dipper Ideas for Homemade Chocolate Fondue
To make this homemade chocolate fondue recipe even easier, use pre-cut and packaged treats as dippers. Here are some great ideas for dessert fondue dippers:
SaraLee Pound Cake (in the freezer section) – Just thaw and cut into cubes
Entenmann's Brownie Bites
Pretzels rods
Marshmallows
Maraschino cherries
Pre-cut pineapple
Strawberries and bananas
Apple slices
Fresh baby orange segments (like Halos)
Rice Krispy Treats – Cut into cubes
Mini chocolate chip cookies
And be sure to prep your dippers and lay them out on a platter BEFORE you start melting your chocolate. The chocolate fondue will come together quickly, and it's best to serve it fresh, so you won't want to wait until your dippers are ready to serve it.
Step 2: Melt chocolate using the double-boiler method
If you don't have a fancy fondue pot or a double-boiler, no need to run out to the store! Here's how to make your own "double-boiler" to melt chocolate for homemade chocolate fondue:
How to Make Your Own Double-Boiler
Just fill a saucepan with about 2 inches of water and heat over medium low heat until it reaches a low boil.
Then, take a heat-proof bowl (like a metal mixing bowl) and set it on top of the saucepan. You want your bowl to rest above the heat from the boiling water, but not touch the water.
Dump your chocolate chips (or cut pieces of a chocolate baking bar) into the bowl that is resting on top of your saucepan.
The steam from the water in the saucepan will melt the chocolate. Stir the chocolate frequently until smooth.
Here's what your melted chocolate should look like at this point: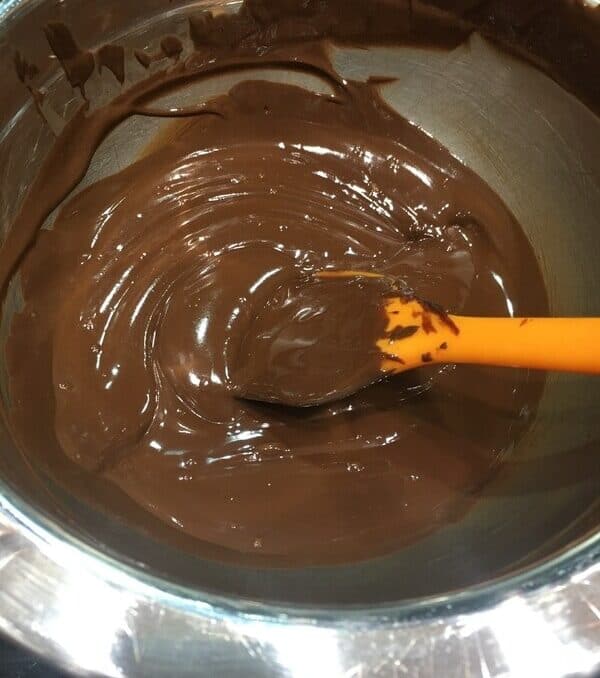 This is the method that we always use to melt chocolate.
*Tip – If you happen to accidentally burn your chocolate, don't worry! It happens to the best of us (raising hand!). Don't trash it! I know from experience that you can add a few tablespoons of hot water to the burnt chocolate and stir and it will be good as new!
Step 3: Heat heavy cream in a small saucepan
You want to heat the heavy cream over medium low heat, just until you see it steaming. Do NOT bring the cream to a boil.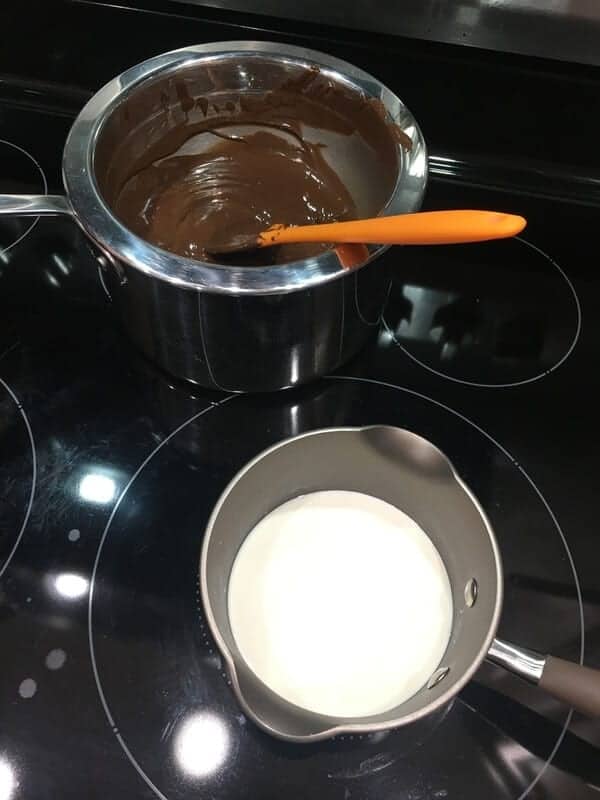 Step 4: Add heavy cream to melted chocolate and stir until smooth
Pour the heated heavy cream into the melted chocolate and stir until your chocolate fondue is smooth.
For a thinner consistency, you can add a tablespoon of cream and stir until combined until you get the desired consistency.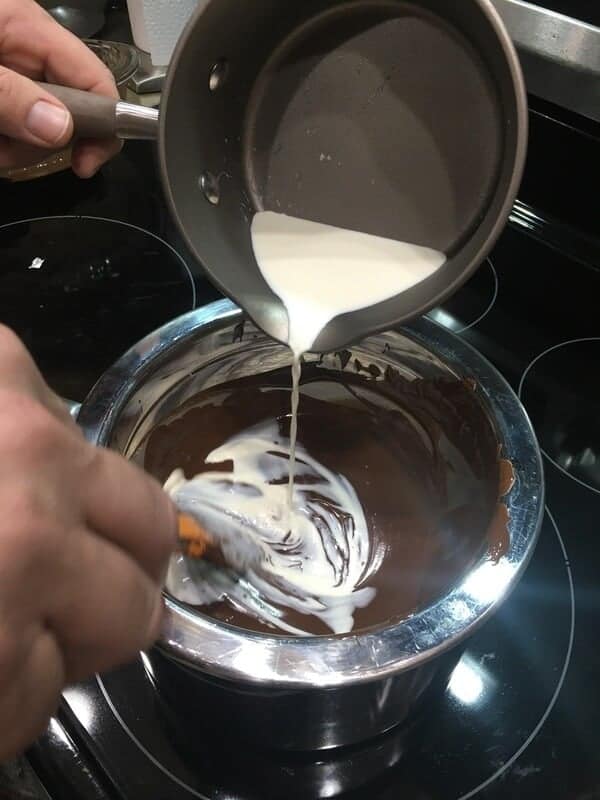 Step 5: Transfer homemade chocolate fondue to a serving bowl or individual ramekins and serve immediately
It's best to transfer your fondue to a serving bowl, so that no one burns their hands on the hot mixing bowl.
If you have kiddos joining you for fondue, I recommend giving each child their own individual ramekins. That way, your kiddos can double-dip all they want, and if they accidentally lose a strawberry in their chocolate, it's easier to fish it out.
And don't feel like you need to rush out and buy fondue forks! We used long wooden skewers and they worked perfectly!
Low carb diet, what?
We'll start the diet again on Monday. 🙂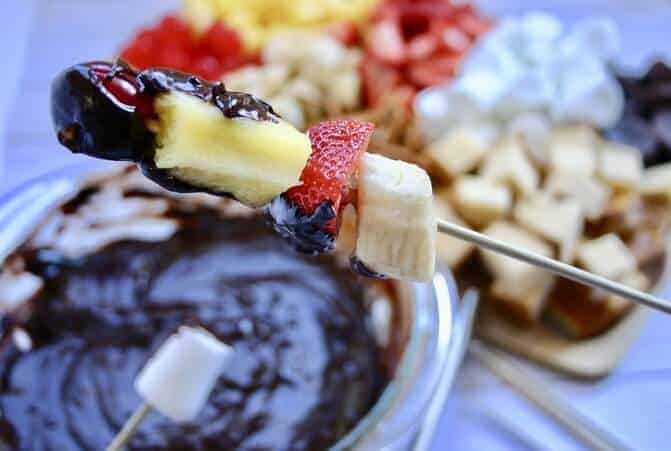 Try this homemade chocolate fondue for a Valentine's Day treat or make it with your hubby during a fun stay at home date night! You won't be disappointed!
And, if you're looking for a great portable chocolate dessert to feed a crowd, check out my Momma's Blue Ribbon Chocolate Sheet Cake. Don't tell anyone, but the secret ingredient is cinnamon! 🙂
Or, if you're like me and chocolate is your weakness, then here's an excuse to eat chocolate for breakfast, too: Best Ever Mini Chocolate Chip Pancakes (from a $1 muffin mix package)!
Yield: 6 Servings
Homemade Chocolate Fondue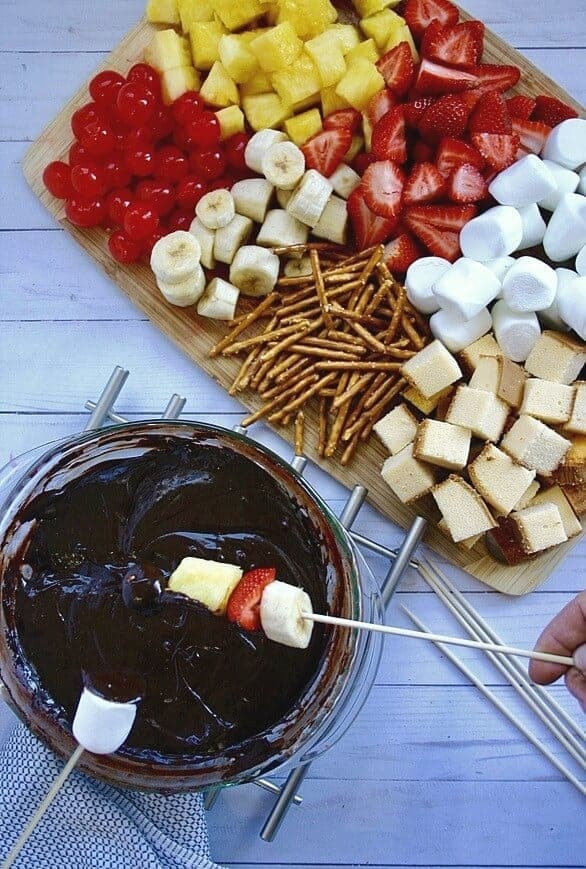 If you're looking for an easy, fun, delicious dessert then try this homemade chocolate fondue recipe! This interactive dessert couldn't be easier to make, and it's the perfect treat for Valentine's Day or a stay at home date night. No fondue pot needed!
Prep Time 10 minutes
Total Time 10 minutes
Ingredients
For the Chocolate Fondue
12 oz chocolate chips (semi-sweet, milk, or dark)
1/2 cup heavy cream
2 tbsp chunky peanut butter
1/4 tsp vanilla extract
Your Favorite Dippers
Pineapple chunks
Strawberries
Marshmallows
Maraschino cherries
Pound cake
Brownie Bites
Instructions
Bring a saucepan with about 2 inches of water up to a low boil on the stovetop.
As the water is heating, rest a heat-safe bowl on top of the saucepan so that it is just above the water. You want your bowl to be heated by the boiling water, but not actually touch the water. Be sure to use a hot pad to not burn yourself during this process. 🙂
Dump the chocolate chips into the heat-safe bowl. Melt the chocolate chips, stirring frequently.
In a separate small saucepan, heat the cream over medium low heat until you see steam rising from it. Do NOT let it boil.
Add the cream to the melted chocolate, and stir until smooth.
Add vanilla extract and chunky peanut butter and stir until combined.
Remove from heat and pour into serving bowl or individual ramekins. Serve immediately with dippers of your choice.
Notes
If you accidentally burn your chocolate: Add one tablespoon of boiling hot water at a time, stirring in between, until desired consistency is reached.
Nutrition Information:
Yield:
6
Serving Size:
6 Servings
Amount Per Serving:
Calories: 469
Total Fat: 30g
Saturated Fat: 16g
Trans Fat: 0g
Unsaturated Fat: 12g
Cholesterol: 31mg
Sodium: 98mg
Carbohydrates: 54g
Fiber: 5g
Sugar: 43g
Protein: 6g
Nutrition information isn't always accurate.