If you want ideas for how to decorate around a TV, or how to disguise or hide a TV completely, then this is the post for you! From DIY TV frames to DIY TV gallery walls, these TV wall decor ideas will help you deal with the 60″ elephant in your room. 🙂
Do you ever notice how the beautifully-designed rooms that you see all over Pinterest all seem to be missing one important element… a TV?!
Yes, it would be nice to live in a shiplapped haven with the cutest chippy furniture and cream colored throws… but not if I can't unwind at the end of the day and watch a little Netflix, right?
Let's face it…
TV's aren't cute.
A 60″ black box in the middle of a room just doesn't go with anybody's decor.
So, want to know how to decorate around a TV and still have a Pinterest-worthy room?
Here are 8 great tips from some of your favorite home decor bloggers, because…
BLOGGERS HAVE TVS, TOO!
(Though you rarely seem them!).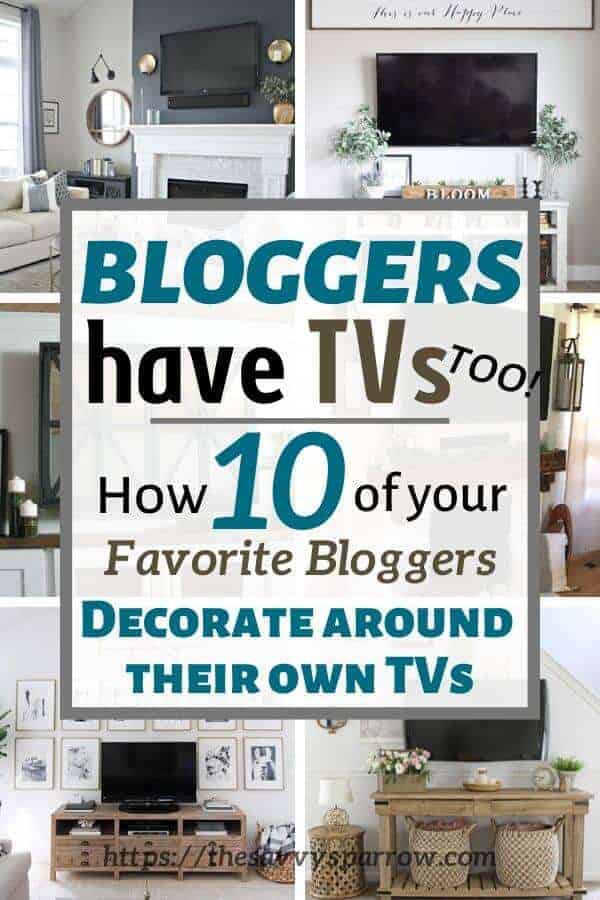 10 Ideas for How to Decorate Around a TV
Shiplap or plank the TV backdrop
Sometimes the ONLY place that you can hang your monstrous TV is above your fireplace…
AND THAT SUCKS!
You miss out on the opportunity to decorate above your mantle with cute, seasonal decor and large statement art pieces.
But, you don't have a choice because of furniture placement, and you decide to sacrifice cuteness so that you don't have to sit with your neck turned 90 degrees to watch The Bachelor.
I completely understand, because our living room set up is the same way.
So, we decided to embrace it…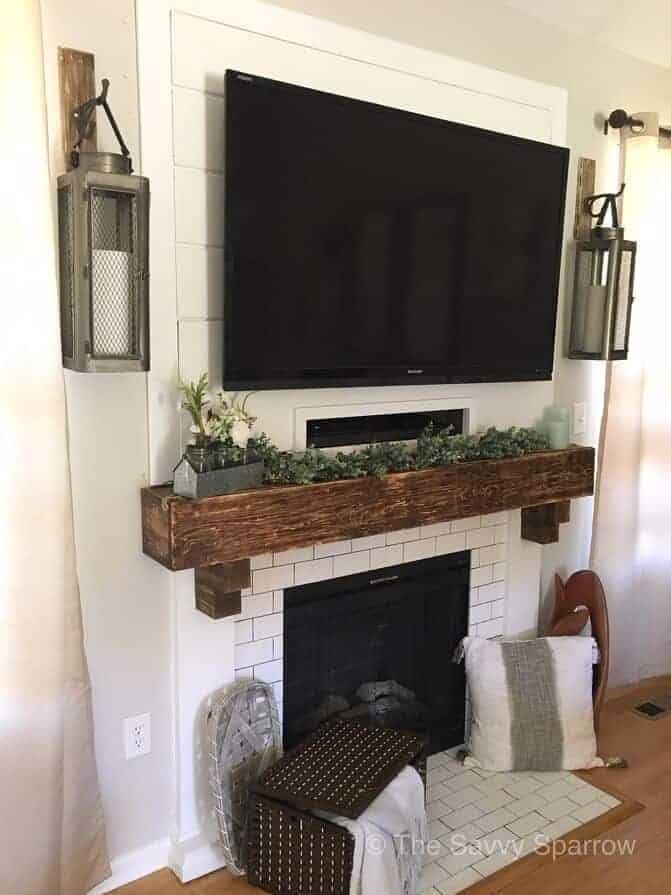 We "framed out" our TV with faux shiplap and a frame made from 1″ x 4″s, and then to add a little touch of farmhouse, we hung lanterns on either side of it.
By the way, did you notice my adorable subway tile on my fireplace?
Well, guess what…
It's NOT tile!
GO here to see how I created faux subway tile with paint to give my fireplace a quick trip out of the 90s!
Want a darker background? Try planking your TV wall with navy blue plank paneling like A Turtle's Life for Me did: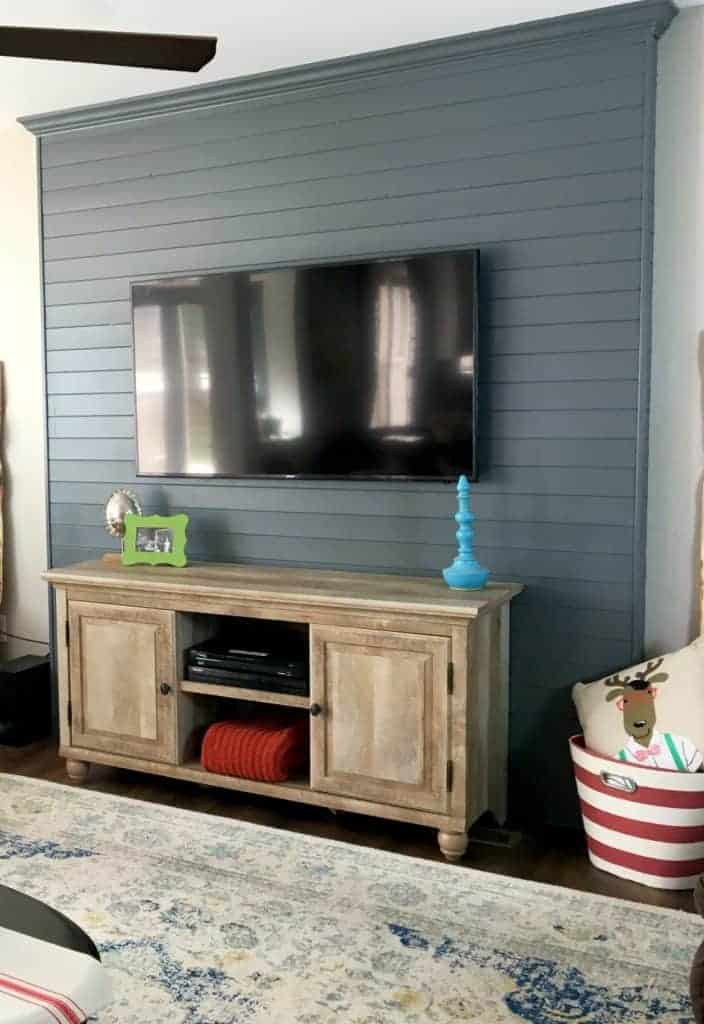 I LOVE how the dark blue accents the TV wall AND helps to make the darkness of the TV not so distracting to the eye.
Paint the wall behind your TV a dark color
A great way to disguise your TV without getting out the power tools is with dark paint.
To decorate around a TV, paint the wall behind it a dark color so that the TV doesn't stick out like a sore thumb, just like Thrifty Decor Chick did in her living room: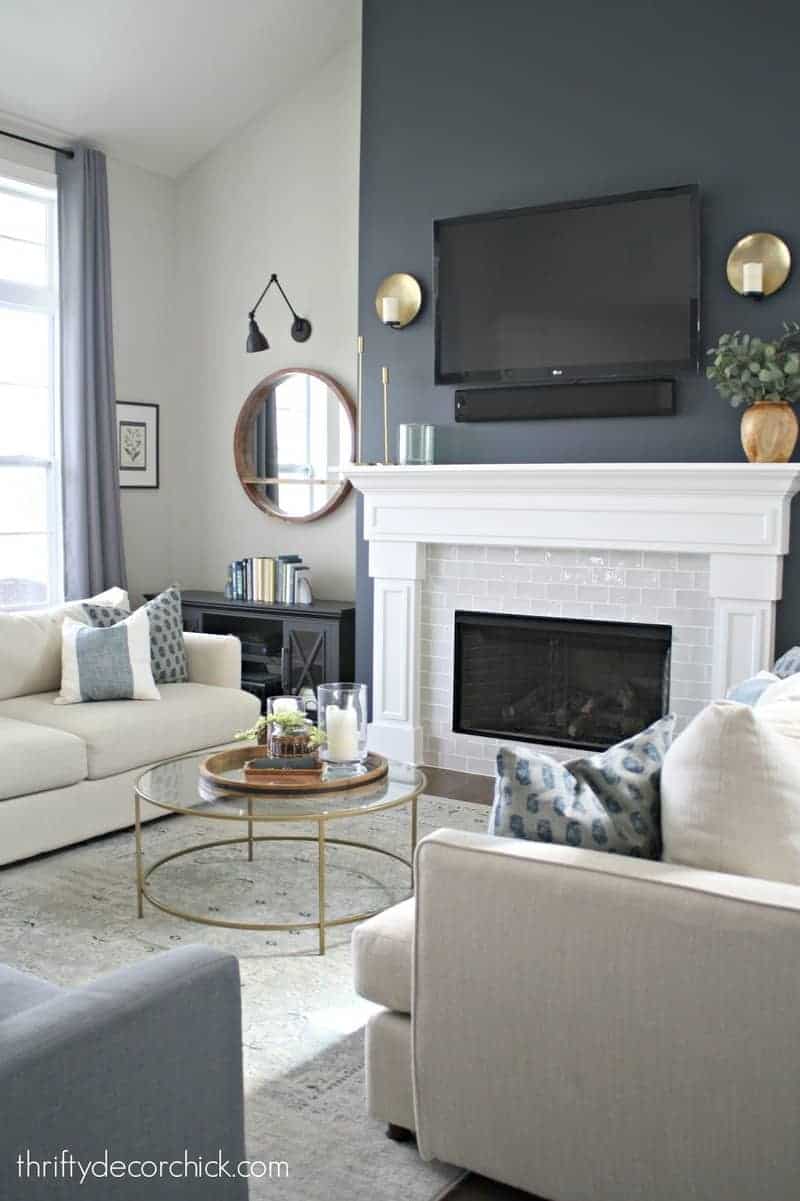 If you want to decorate around a TV, PLUS add some drama to your wall, then try painting the wall behind your TV even darker. This black and white TV gallery wall from Rain on a Tin Roof is major goals:
Yes, painting anything in your house BLACK, let alone a whole wall, can be super-intimidating, but the key is to add black on an accent wall so as not overwhelm the space.
Try an eclectic TV gallery wall of neutral pieces
Who says that you can't have your TV hanging in front of your wall decor? Feel free to overlap your TV in front of an eclectic gallery wall the way that The Honeycomb Home did here: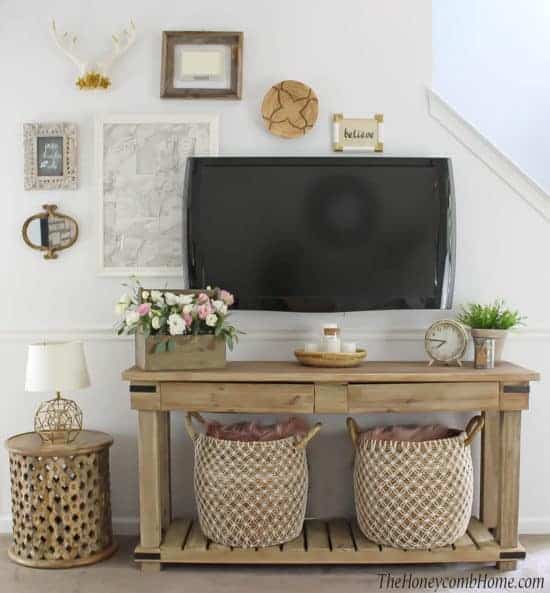 I love how the natural texture of her baskets compliments the wood decor pieces that she has hanging on her TV gallery wall.
Build a DIY TV frame
A DIY TV frame is a great way to decorate around a TV. And, as a bonus, a tv frame hides all of the ugly wires that are visible from the sides.
The DIY TV frame from Lovely Etc. is a great example of a simple yet cute way to frame your TV to make it less of an eye sore: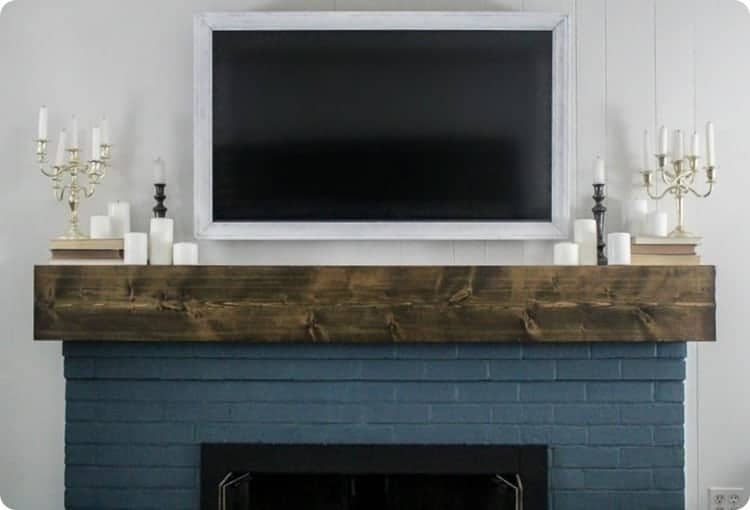 I love how she painted her DIY TV frame to match the wall behind the TV, but you can also frame your TV in a stained wood to accent it like a picture frame.
Build a DIY TV wall cabinet
What tv? I don't see a tv? I just see a cute mirrored wall hanging…
If you want to completely hide a tv, try this Pottery Barn-inspired DIY TV wall cabinet from Frugal Family Times!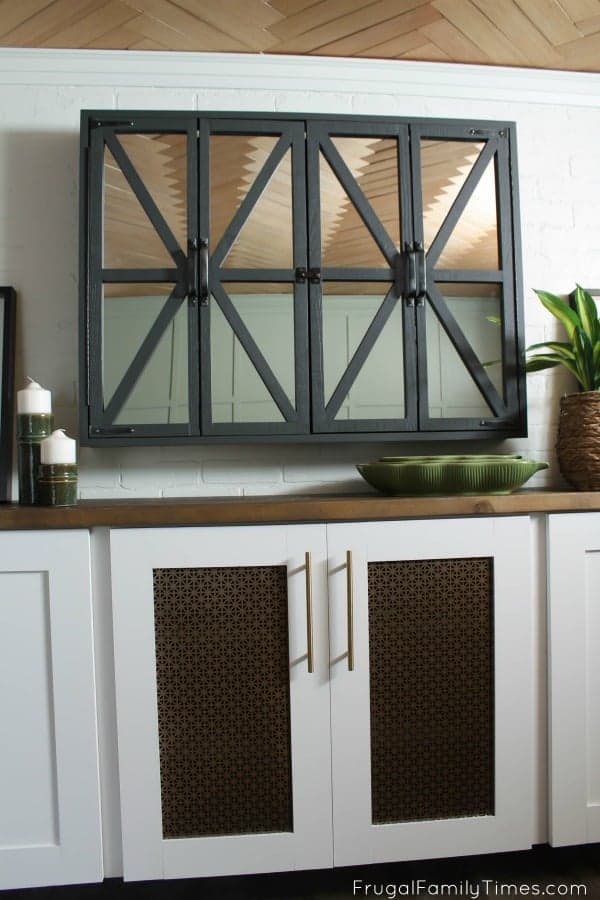 The mirrored doors are on hinges so you can easily open up the DIY tv wall cabinet to catch the latest episode of the Real Housewives. Then, when your husband pulls in the driveway from work, you can quickly hide the TV again and look busy folding laundry. 🙂 (Just kidding, Boogs! I don't really watch TV while you're at work!).
Build DIY shelves around the TV
A large DIY entertainment unit is a great way to decorate around a TV. Plus, the right shelving unit gives you extra storage AND takes up space on your wall so that the TV doesn't look like it's all alone in a huge, blank space.
I LOVE these DIY industrial shelves that Twelve on Main built around her TV: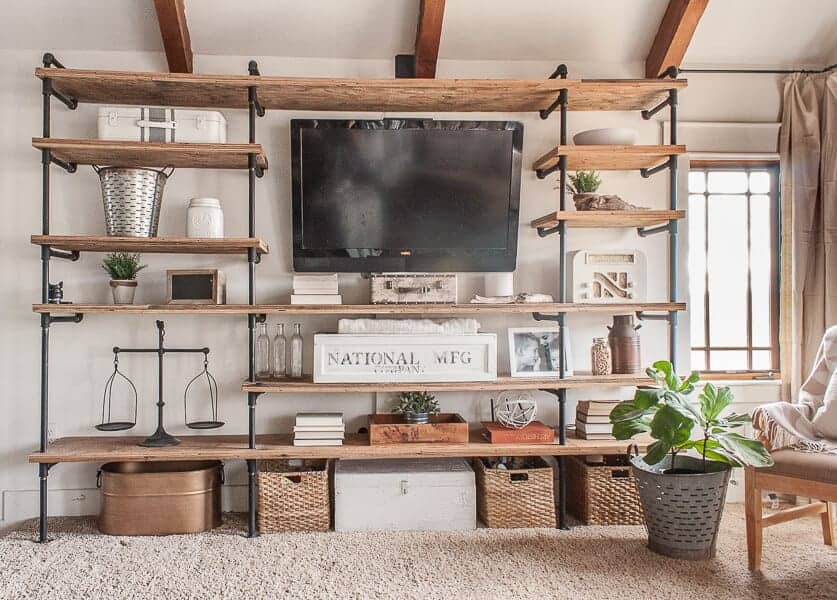 Add some faux plants around the TV
Faux plants (or real ones if you have a greener thumb than I do!), are a great way to brighten up a large, black TV.
Trying framing your TV with some greenery like Repurpose and Recycle did on her TV wall:
You can even swap out the plants seasonally to change up your look throughout the year. Try evergreen for winter and lamb's ear for spring.
Incorporate the TV into a symmetrical gallery wall
Let's face it… gallery walls can be super intimidating.
Many of the gallery walls you see on Pinterest seem to have about 82 different pieces of art work, with mismatched frames that still somehow work together, in a pattern that you could never recreate without spending 3 months of your grocery budget.
Symmetrical gallery walls with a few key pieces are much easier to DIY. And a gallery wall is a great way to incorporate your TV into your decor, rather than just trying to camouflage it.
I love the way that Tidbits and Twine added a gallery wall around her TV, making the TV a focal point while still staying true to her French farmhouse style: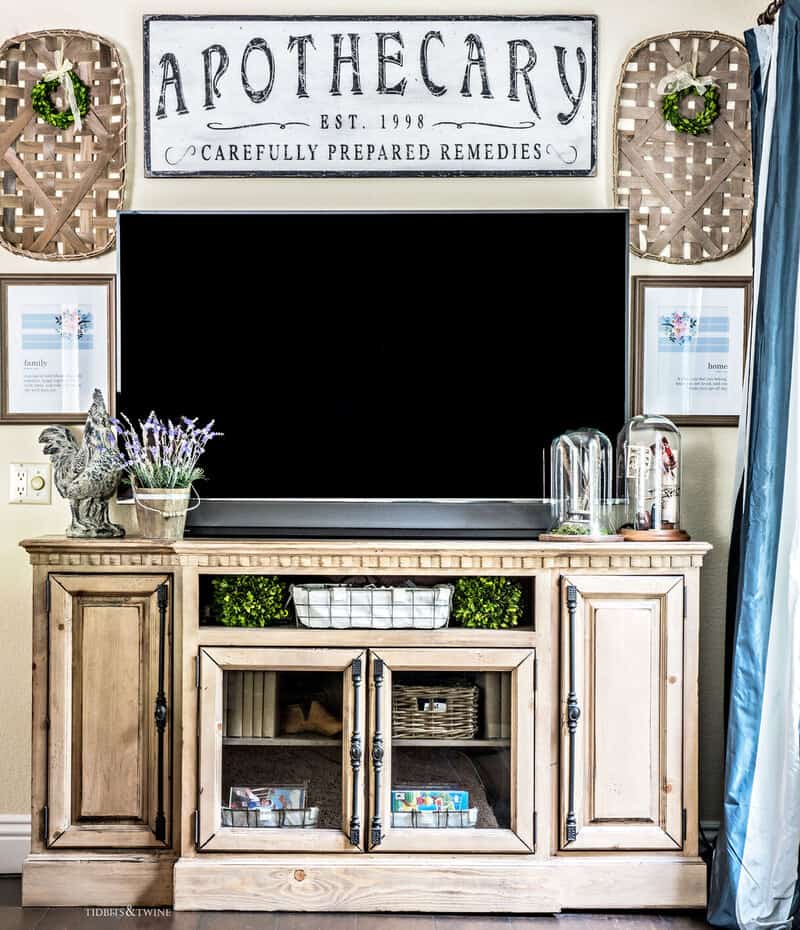 Use the same style frames in your TV gallery wall
A big 'ol black box is enough of an eyesore without adding art work in 12 different frame finishes around it.
If you decorate around a TV with a gallery wall, then keep it simple by framing all of your art in the same type of frame.
Hang large art work above your TV
A large sign or piece of art hung above your TV is a great way to tie your TV wall decor together!
Try a long and narrow wood sign with a quote that works year round, like Cherished Bliss did here: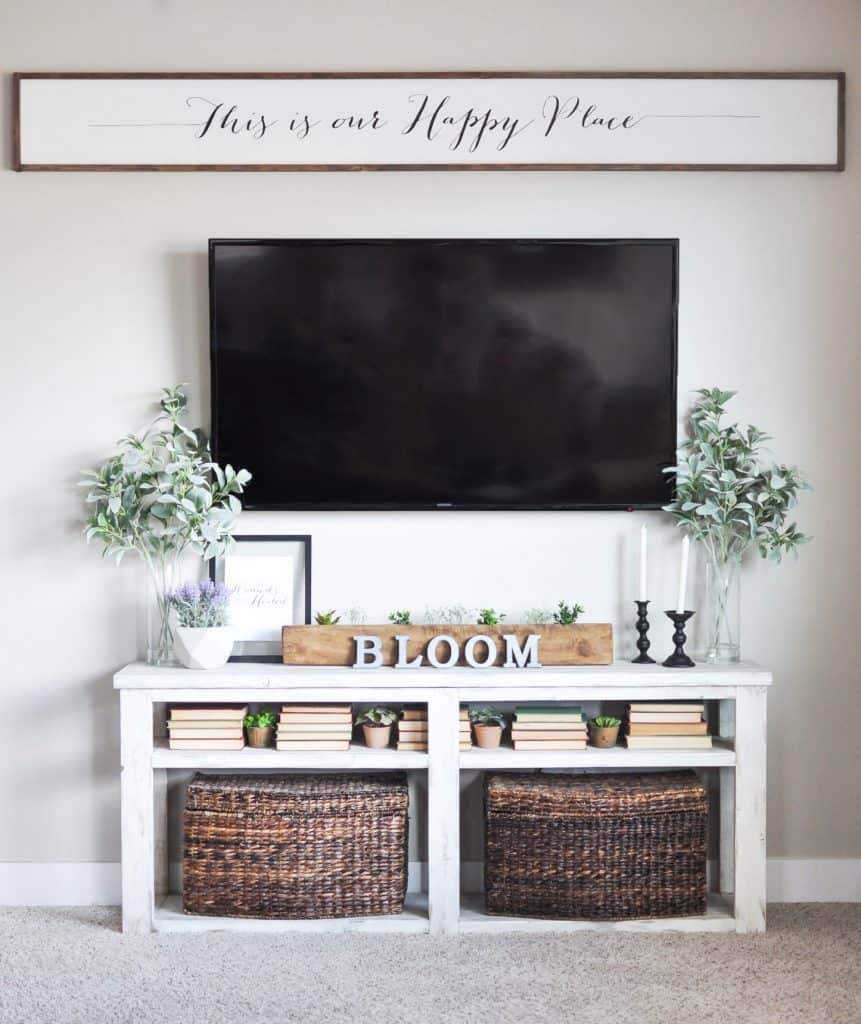 Why, yes! In front of the TV is my happy place… especially if I have a snack in hand that contains buttercream frosting. 🙂
You can head over to Cherished Bliss to see how she made this sign with her Cricut, or if you don't own a Cricut, head here for an easy way to make DIY wood signs.
And there you have it… how to decorate around a TV, inspired by some top home decor bloggers!
Hope these ideas have inspired you to create a beautiful TV gallery wall, or to try… (gasp!)…painting a wall black!
And be sure to check out some of my other popular DIY home decor posts:
DIY: Turn a Blank Wall into a Mudroom